"For to us a child is born,
to us a son is given;
and the government shall be upon his shoulder,
and his name shall be called
Wonderful Counselor, Mighty God,
Everlasting Father, Prince of Peace"
Isaiah 9:6
Once again, we invite you to our kitchen porch.  It was first seen here:  In Awe of Autumn.  We occasionally add a new decoration or a new wrinkle to an old standard when preparing for Christmas. Most of us do change out a few things from time to time. Wear and tear gets it's way and replacements must be found. But, there are those traditions, objects, displays, and items that we hang onto as long as possible. These "old ways" help keep memories alive! It's amazing too, how each year bringing out the old also stirs our hearts with new thoughts and a fresh awareness of things to come. Yes, Christmas is a celebration of a "one of a kind" past event, but at the same time it is a declaration of a glorious event yet to come. So, doing it like we've done it for years is great for both memories and future hopes. In the words of a George Strait song…."So leave the world behind you, let the spirit find you, and have an old time Christmas for old times sake"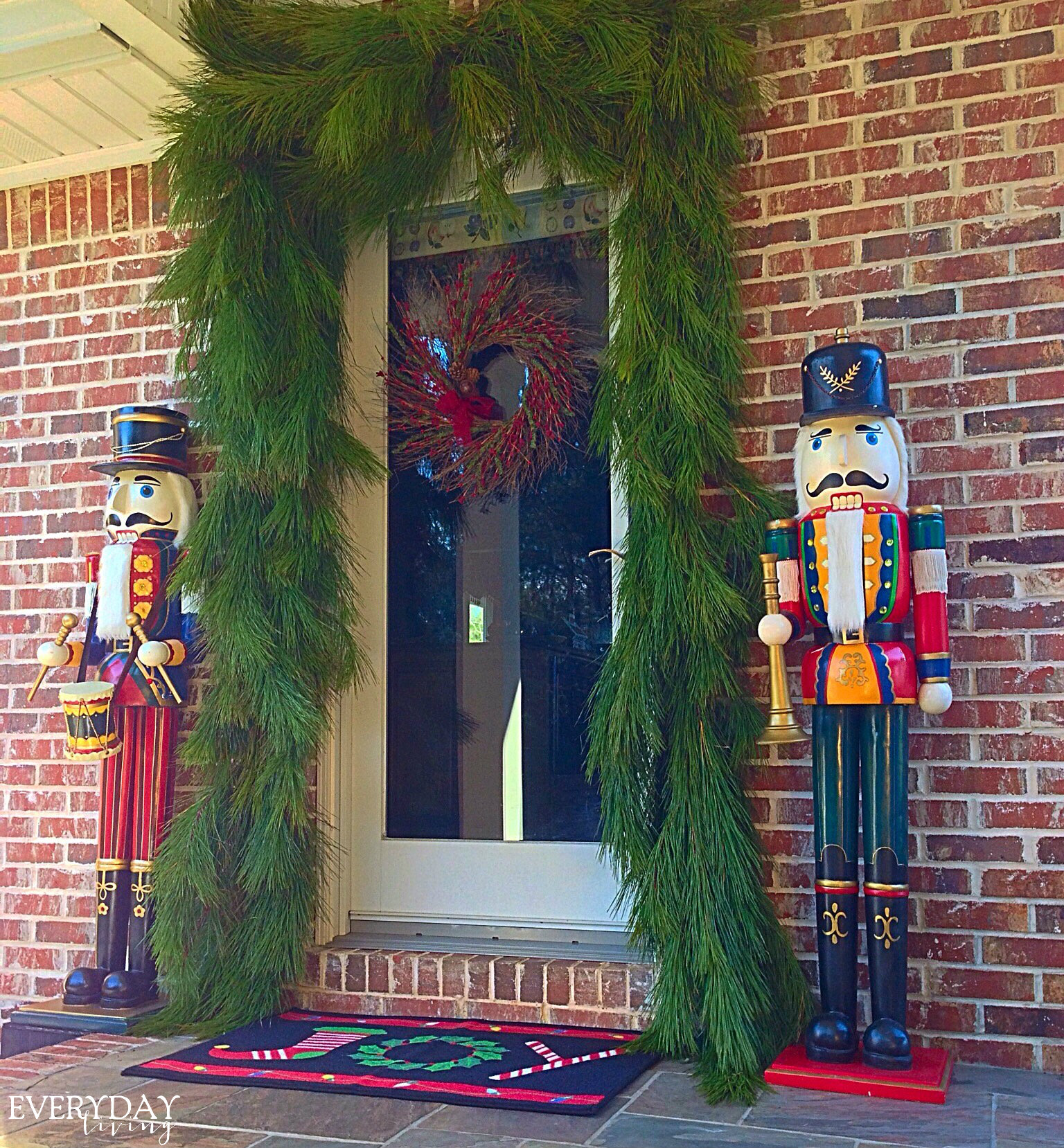 The large nutcrackers have welcomed guests to our kitchen porch for many years!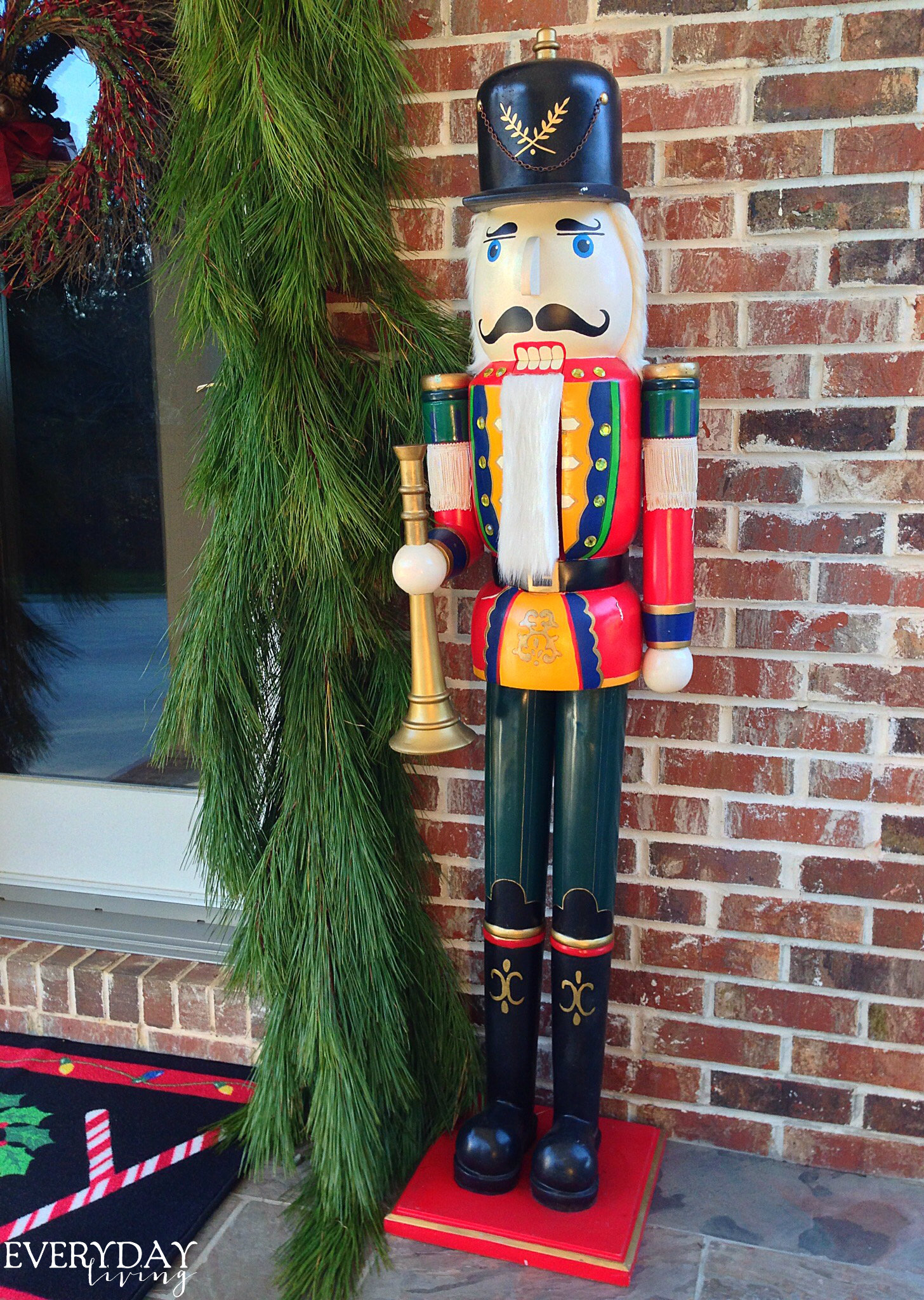 Believe it or not, we bought these wooden nutcrackers at Wal-Mart
We love their bright and festive colors, and they stand almost five feet tall!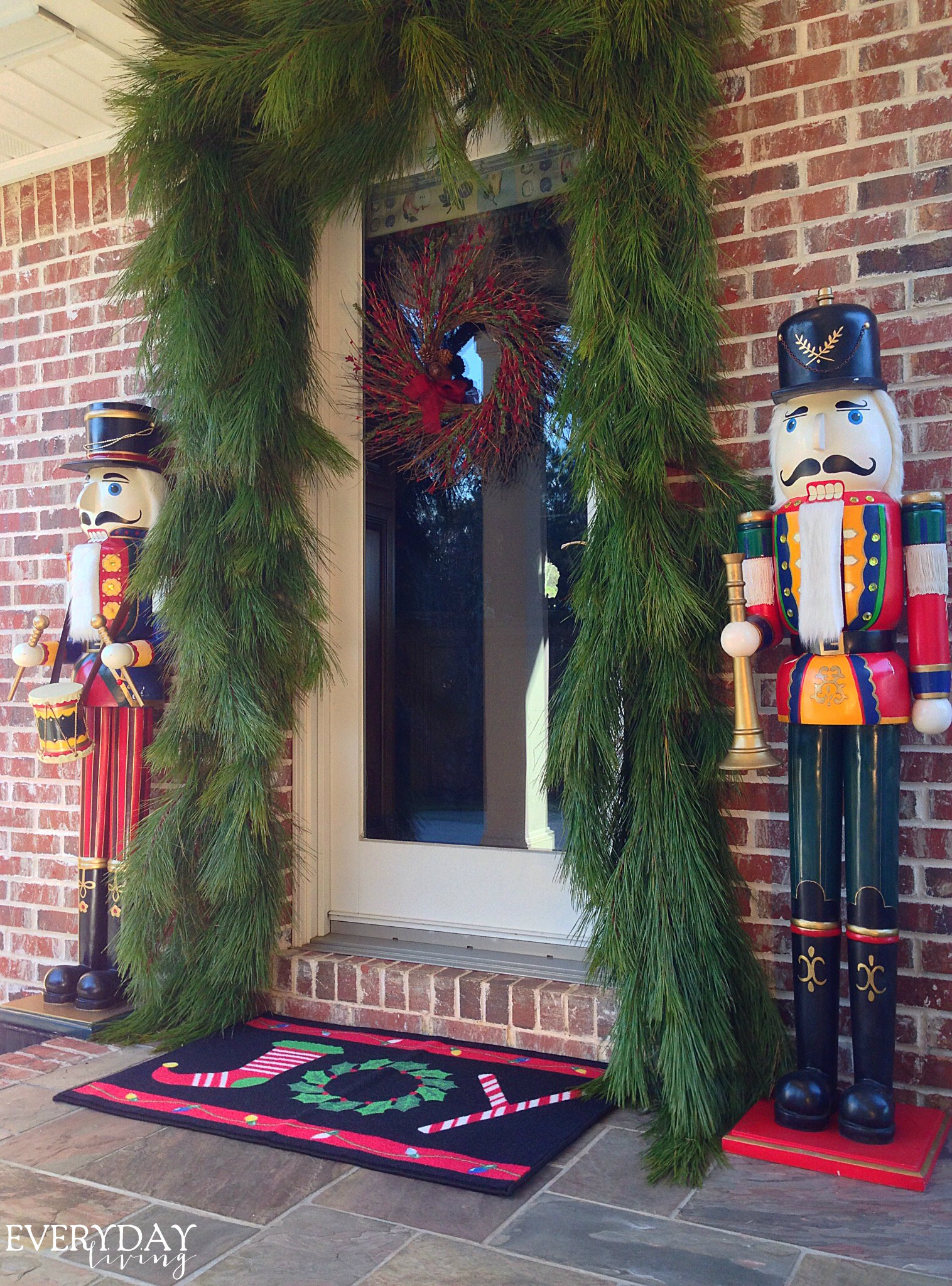 Butch always cuts fresh pine for our door.  It smells like Christmas when you walk up the steps!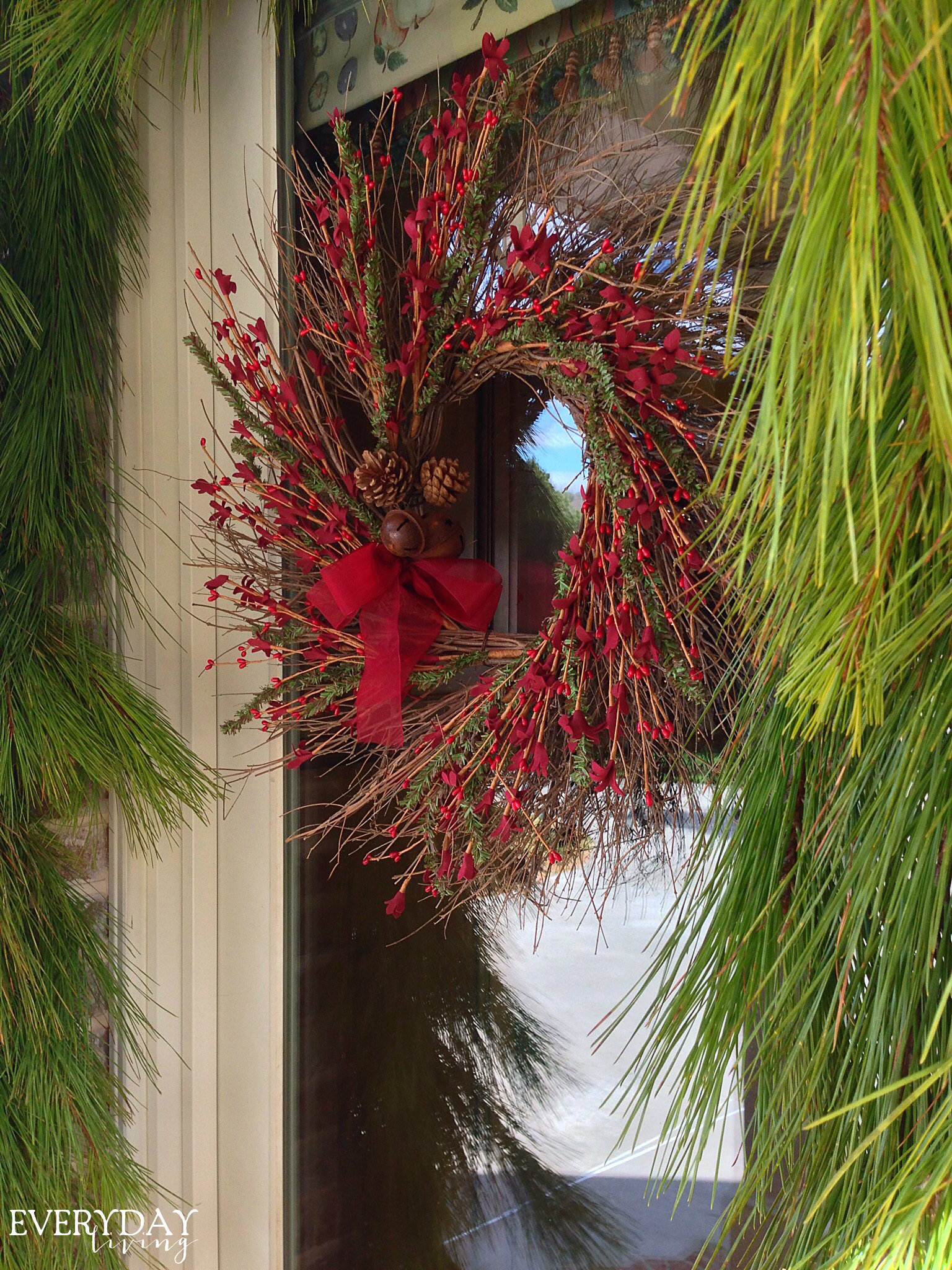 A simple wreath is all that is needed!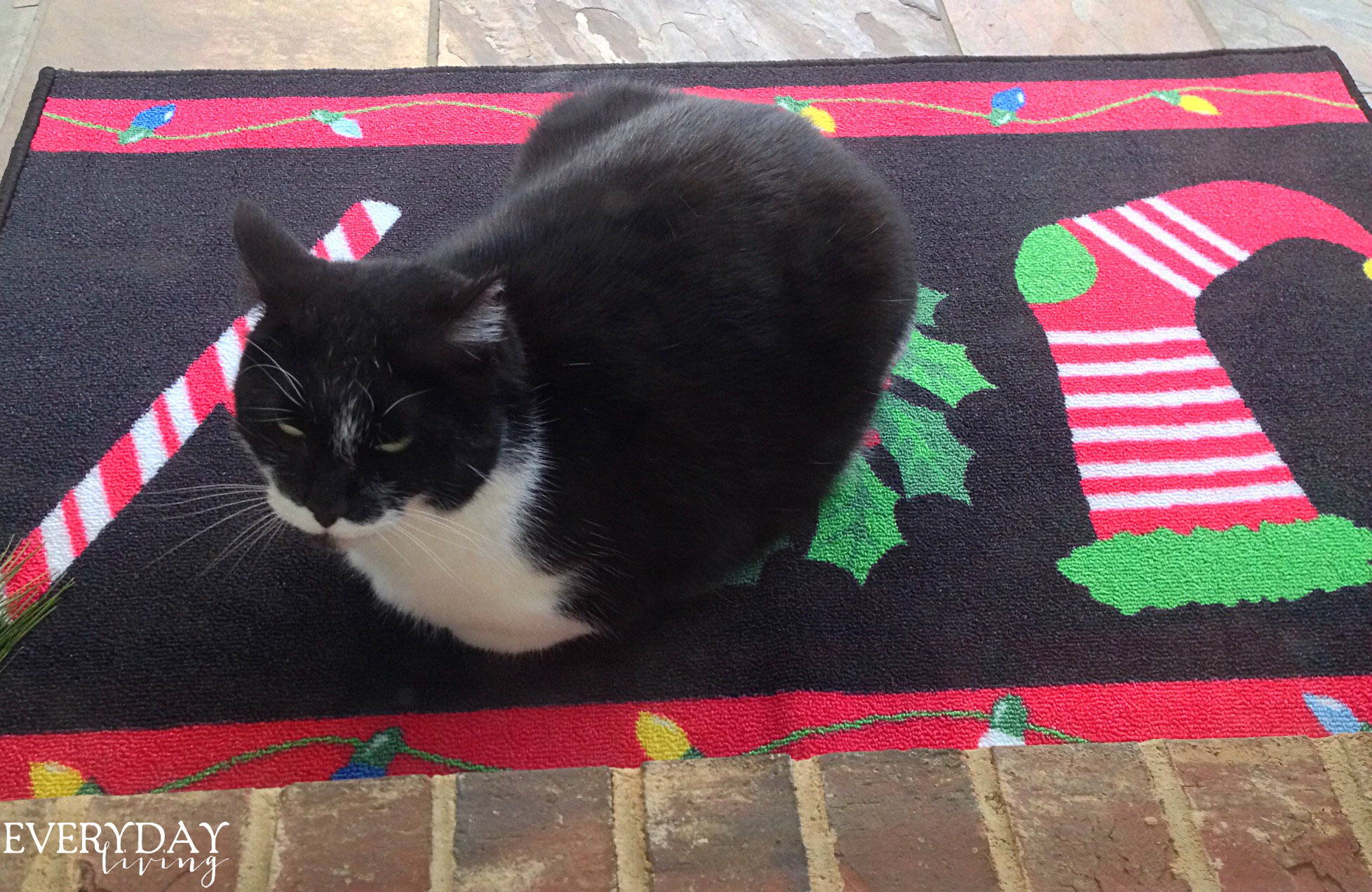 We have to be careful when choosing a door mat, Oreo is very finicky!  I think he approves!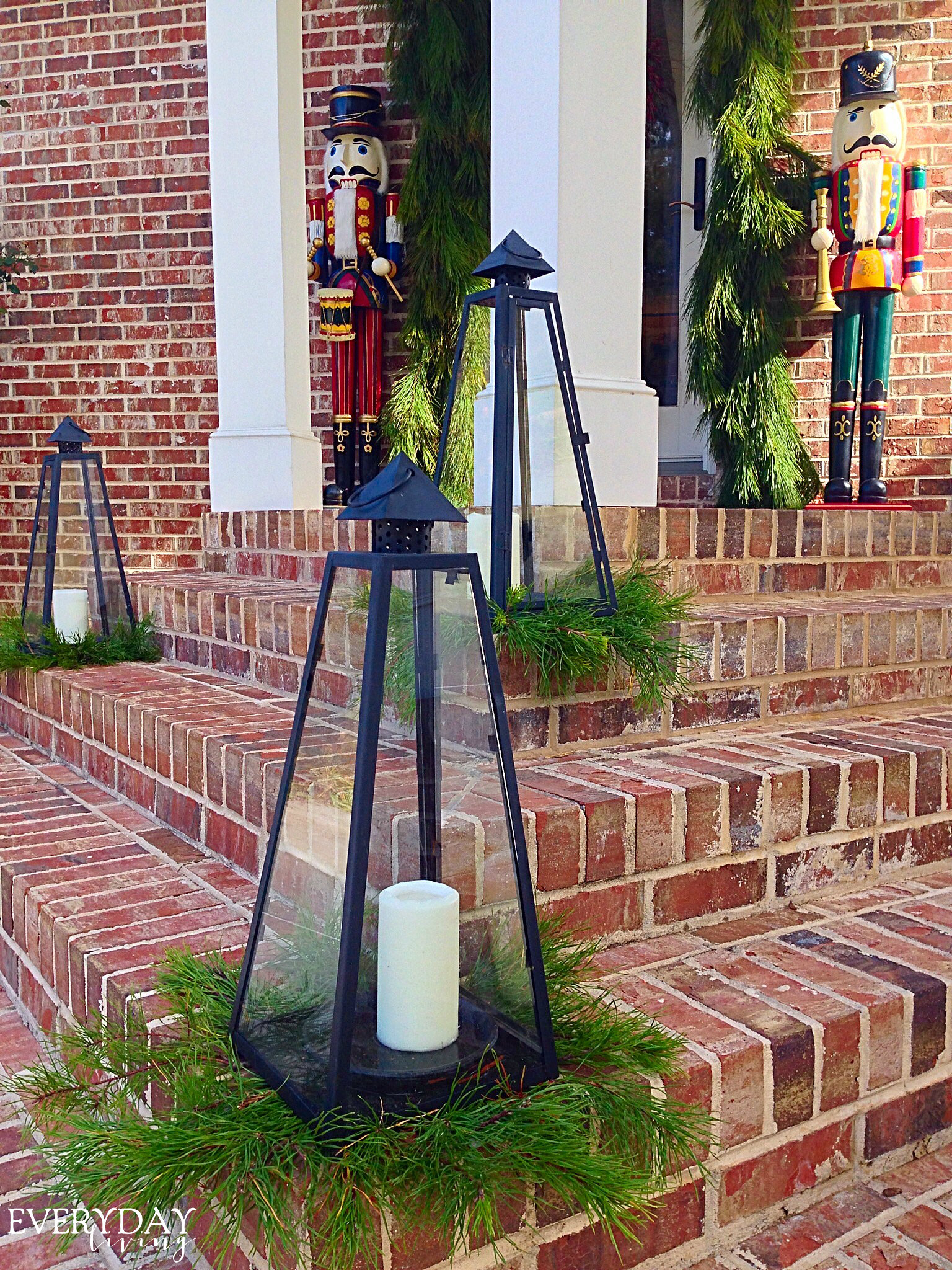 Candle lanterns light the steps at night!
It is almost dark and the candles are burning as Christmas music plays outside when guests arrive!
Photo bombed by Oreo!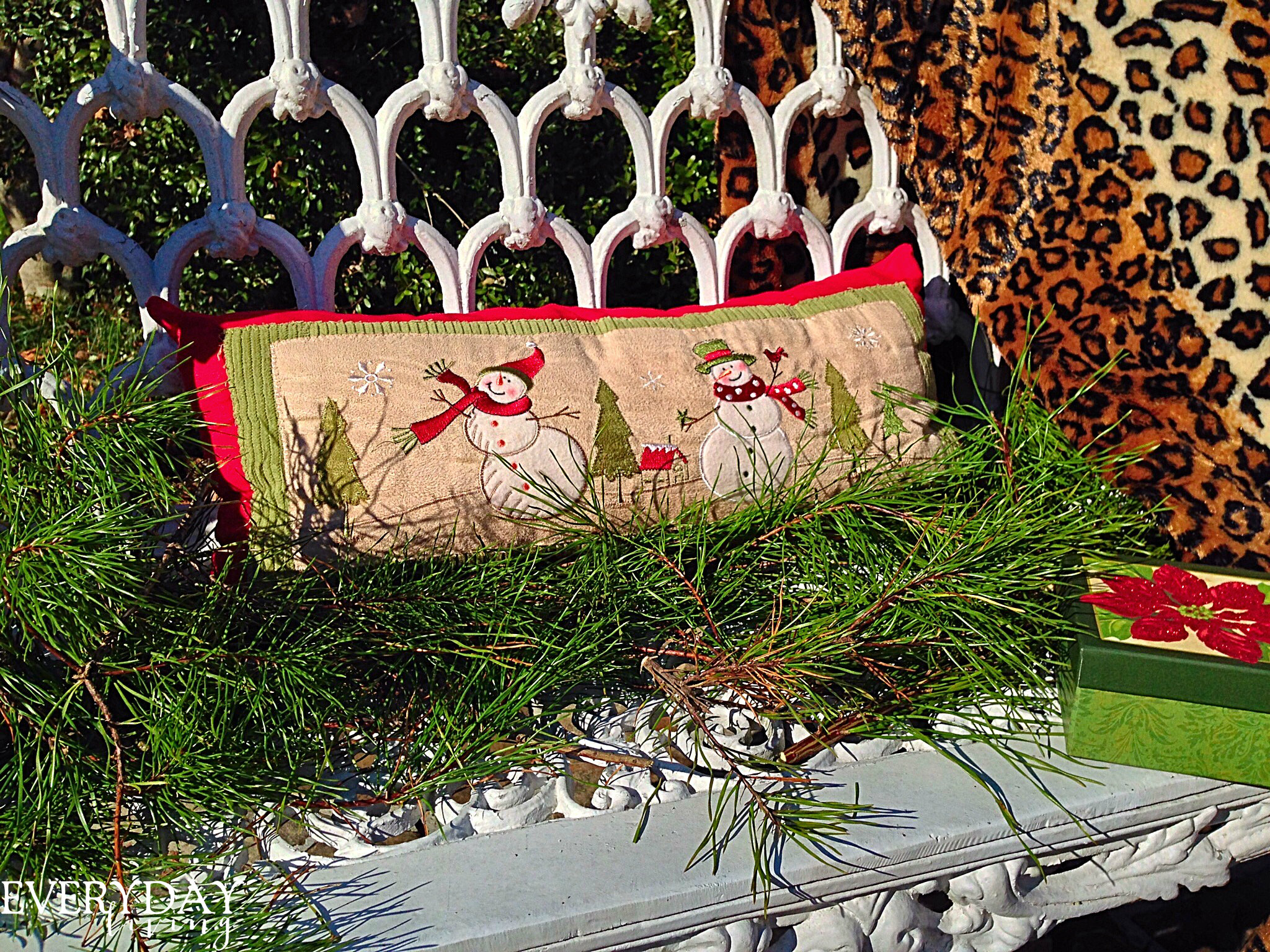 Bench offers Christmas cheer
This is a detached garage which is often confused for a guest house.  We have talked about converting it for guests or an office for Butch.  But, where would all of his junk be stored if we made that decision?!  Butch built this building at least twenty five years ago.  For most of those twenty five years, we have decorated its front door and windows for Christmas!  Santa was made by my friend, Delilah so very long ago!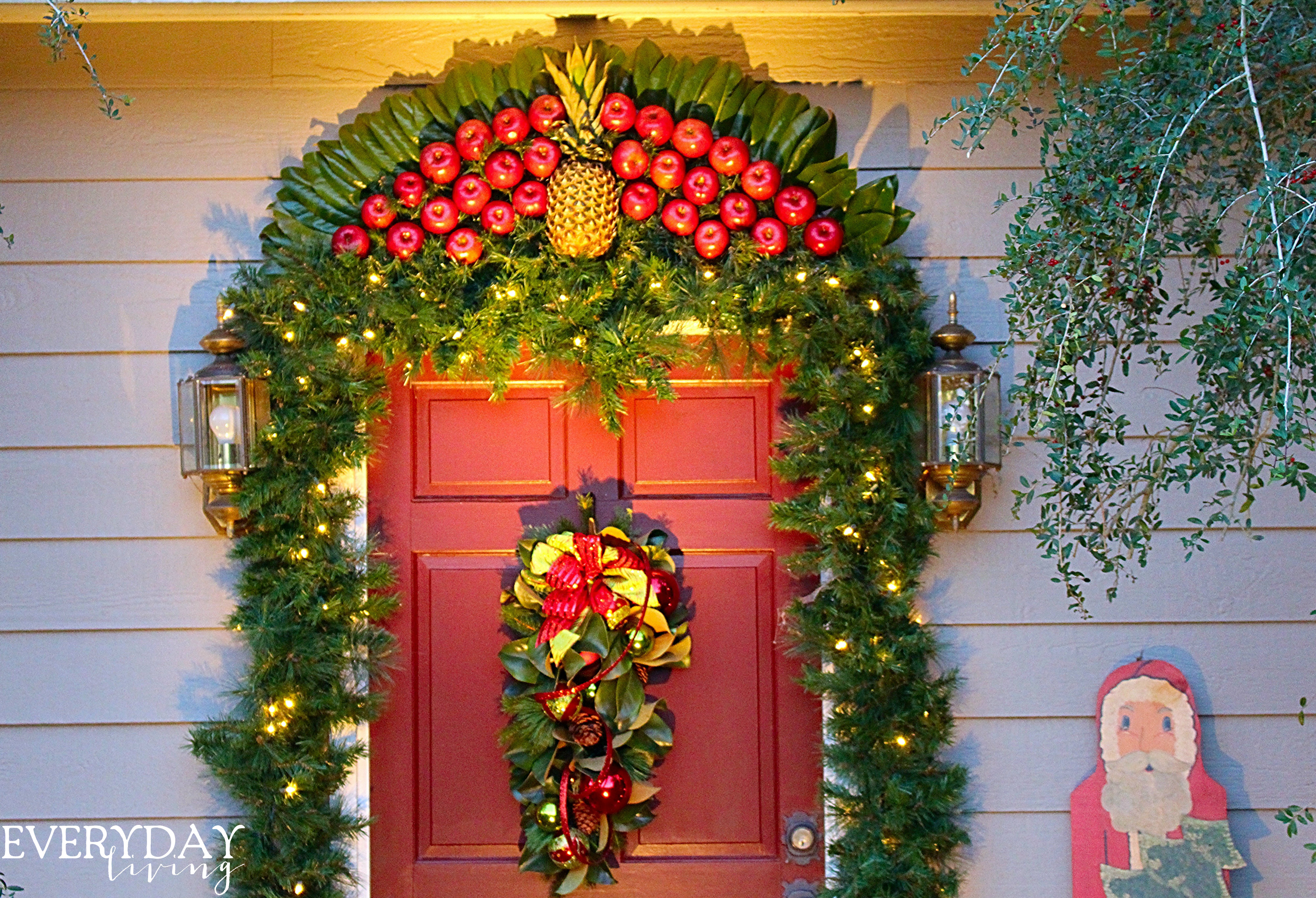 On our first trip to Colonial Williamsburg in the late 1970's, we saw their beautiful fruit fans over the doorways.  Southern Living magazine (I am a long-time subscriber), a few years later gave instructions on how to make the fan.  And ever since, Butch has made this beautiful apple fan with a pineapple for its center as a symbol of hospitality!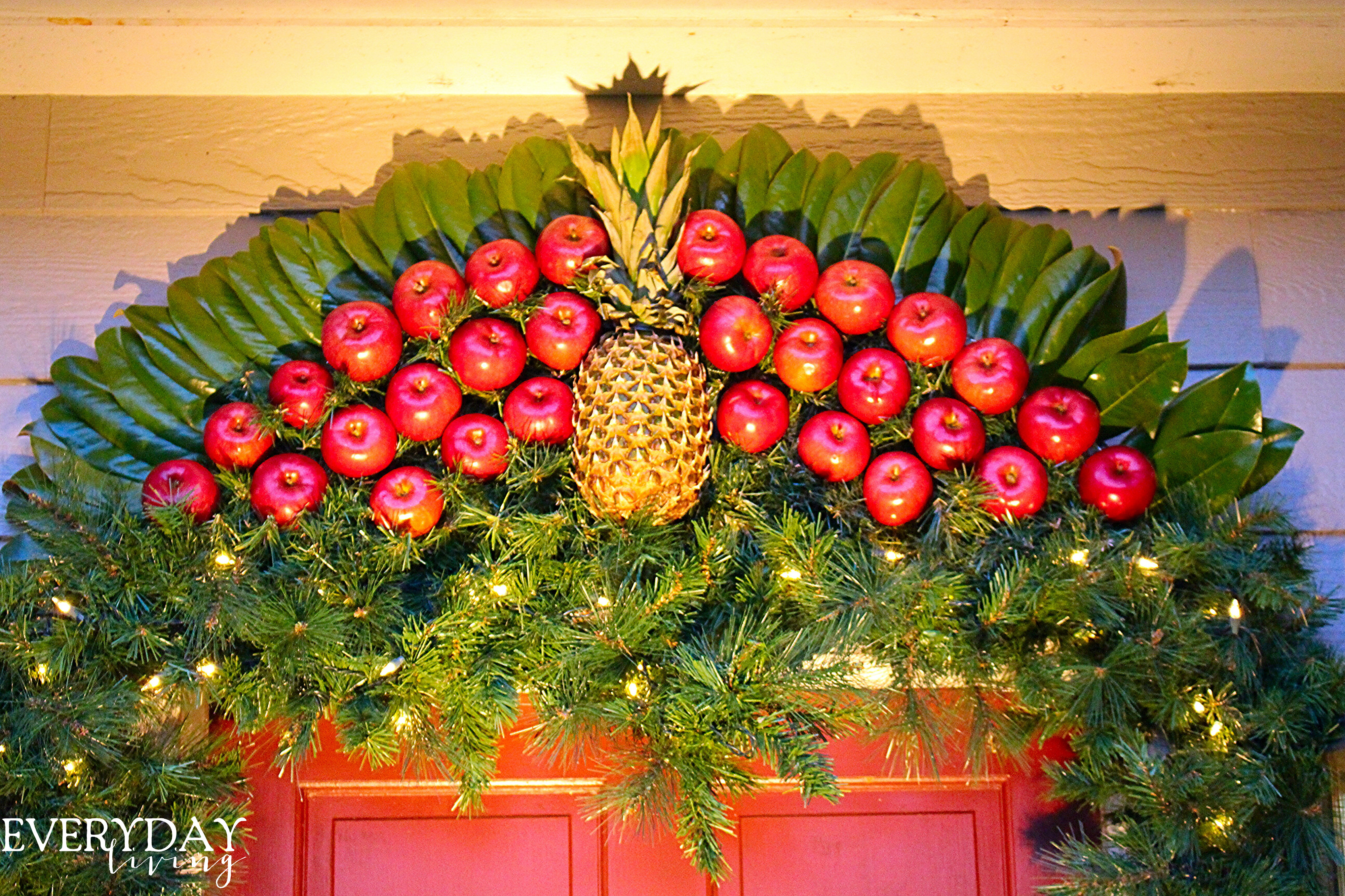 "O Come All Ye Faithful
Joyful and triumphant,
O come ye, O come ye to Bethlehem.
Come and behold Him,
Born the King of Angels;
O come, let us adore Him,
O come, let us adore Him,
O come, let us adore Him,
Christ the Lord"
-O Come All Ye Faithful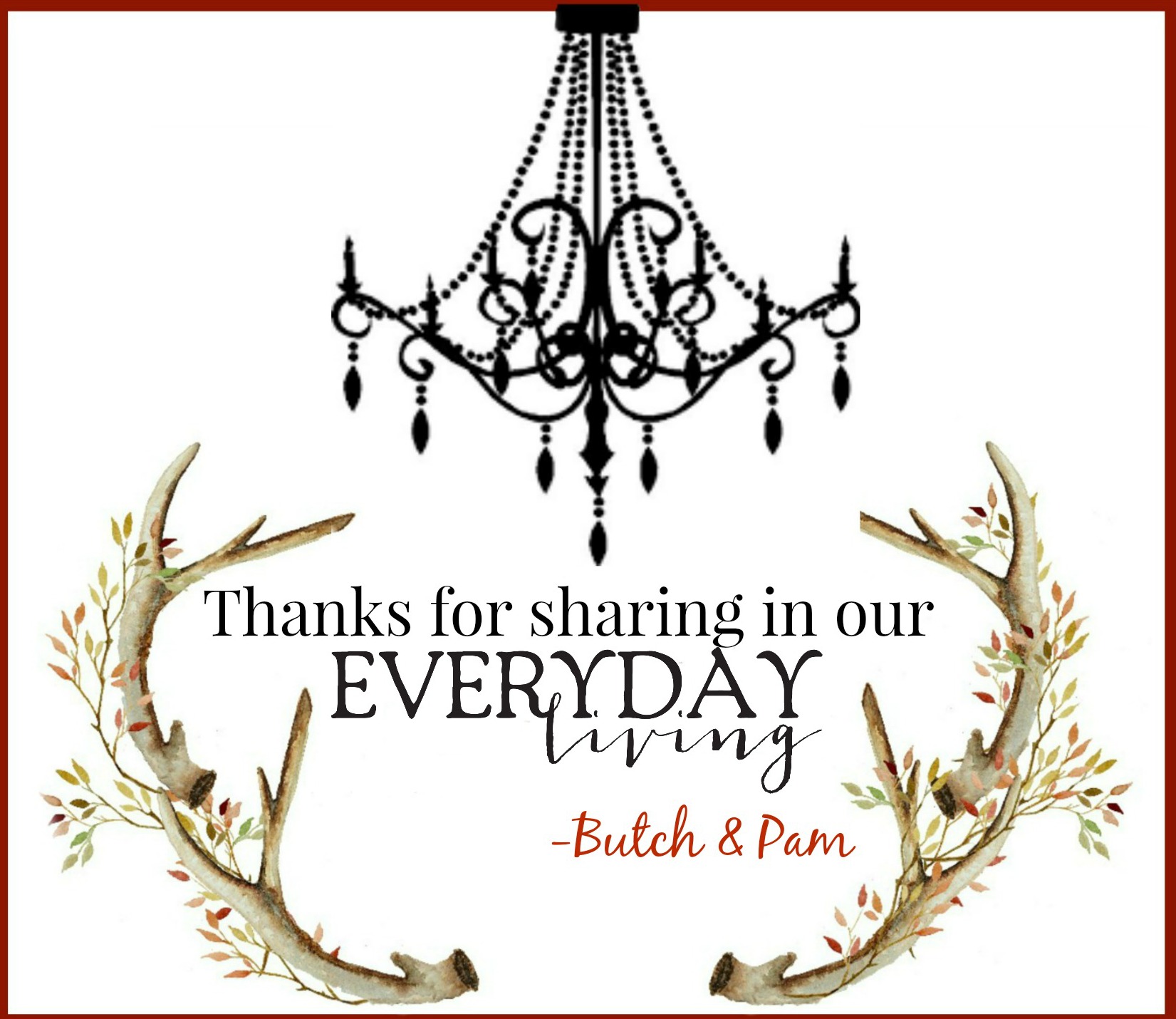 Linking with Pieced Pastimes, It's Overflowing, Be Different Act Normal, Silver Pennies , By Stephanie Lynn, Life on Lakeshore Drive, Thoughts From Alice, Creatively Living, Rustic-Refined, Three Mango Seeds, Pink When, Mod Vintage Life, Coastal Charm, Knick of Time, My Uncommon Slice of Suburbia, The Dedicated House, Dwellings-Heart of Your Home, Savvy Southern Style, Ivy and Elephants, French Country Cottage, From My Front Porch To Yours, Stone Gable, Confessions of a Plate Addict,Worthing Court, Between Naps on the Porch, Cedar Hill Farmhouse, A Stroll Thru Life, The Style Sisters, The Charm of Home, The Winthrop Chronicles, Cornerstone Confessions, A Delightsome Life, Imparting Grace, Craftberry Bush, Posed Perfection, Katherines Corner, The Vintage Farmhouse,  My Romantic Home, Chic On A Shoestring Decorating, Rooted In Thyme, Share Your Cup