"Angels we have heard on high, sweetly singing o'er the plains,
And the mountains in reply, echoing their joyous strains.
Gloria, in excelsis Deo! Gloria, in excelsis Deo!
Come to Bethlehem and see, Christ whose birth the angels sing;
Come, adore on bended knee, Christ the Lord, the newborn King"
-Angels We Have Heard on High
We highlight Tuesdays with our"tablescapes " but another way to describe it around our house would be "table escapes".  Gathering around the table with family and friends for any occasion is the great escape.  We can put the difficult parts of everyday living aside for a little while as we break bread together.  It's not only a time of enjoying good food, but a time of laughter, reflection, sharing, and caring.  Even heavy hearts and tired souls can find rest and encouragement around the table.  Perhaps you experience this at your gathering place, wherever and whenever that might be.  It is our prayer that you do!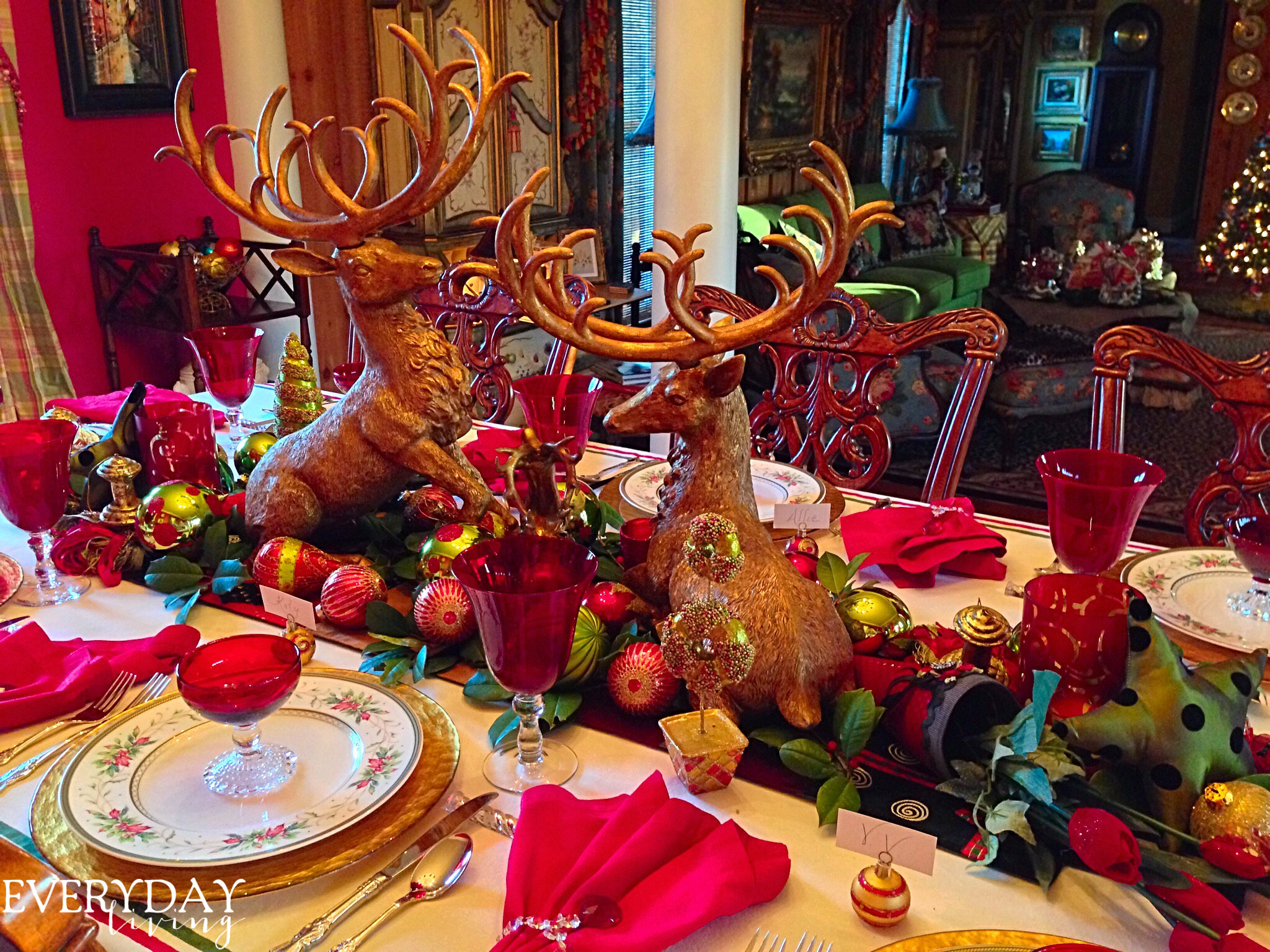 The gold deer are the focal point of our Christmas dinner table.  Often I place a large centerpiece on the dining table and once the guests are seated I remove it so we can enjoy conversation.  These deer were purchased many years ago from Kirkland's.  They always show up somewhere during "the most wonderful time of the year"!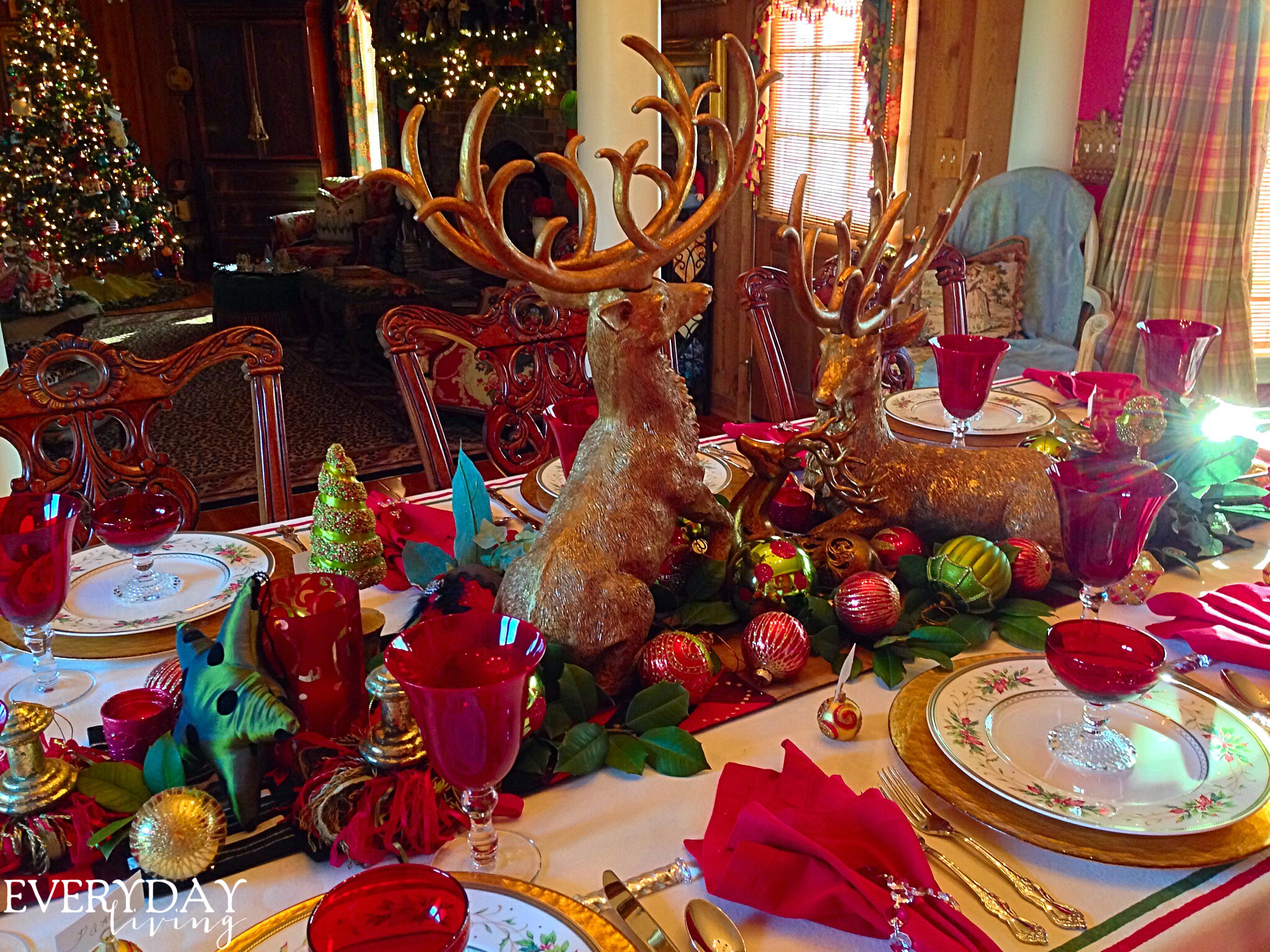 I placed a runner on top of of the tablecloth.  You can't see much of it, but I like the way it becomes the foundation for all the ornaments.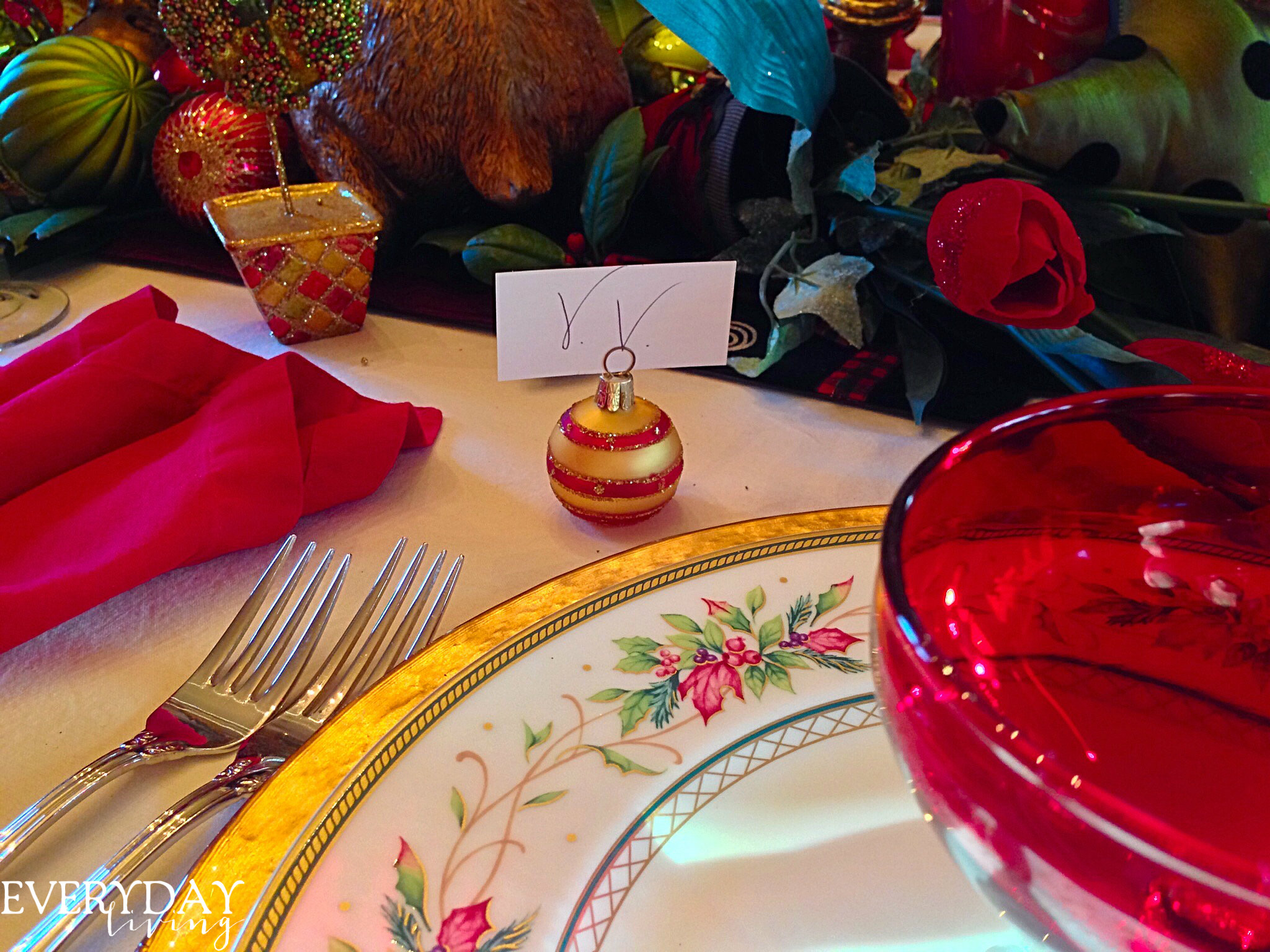 I do not remember where I found the ornament place card holders, but they always make an appearance during the Christmas season.  The gold chargers are glass and have an elegance that is sometimes hard to find.  I purchased these at Hobby Lobby, but they no longer stock them!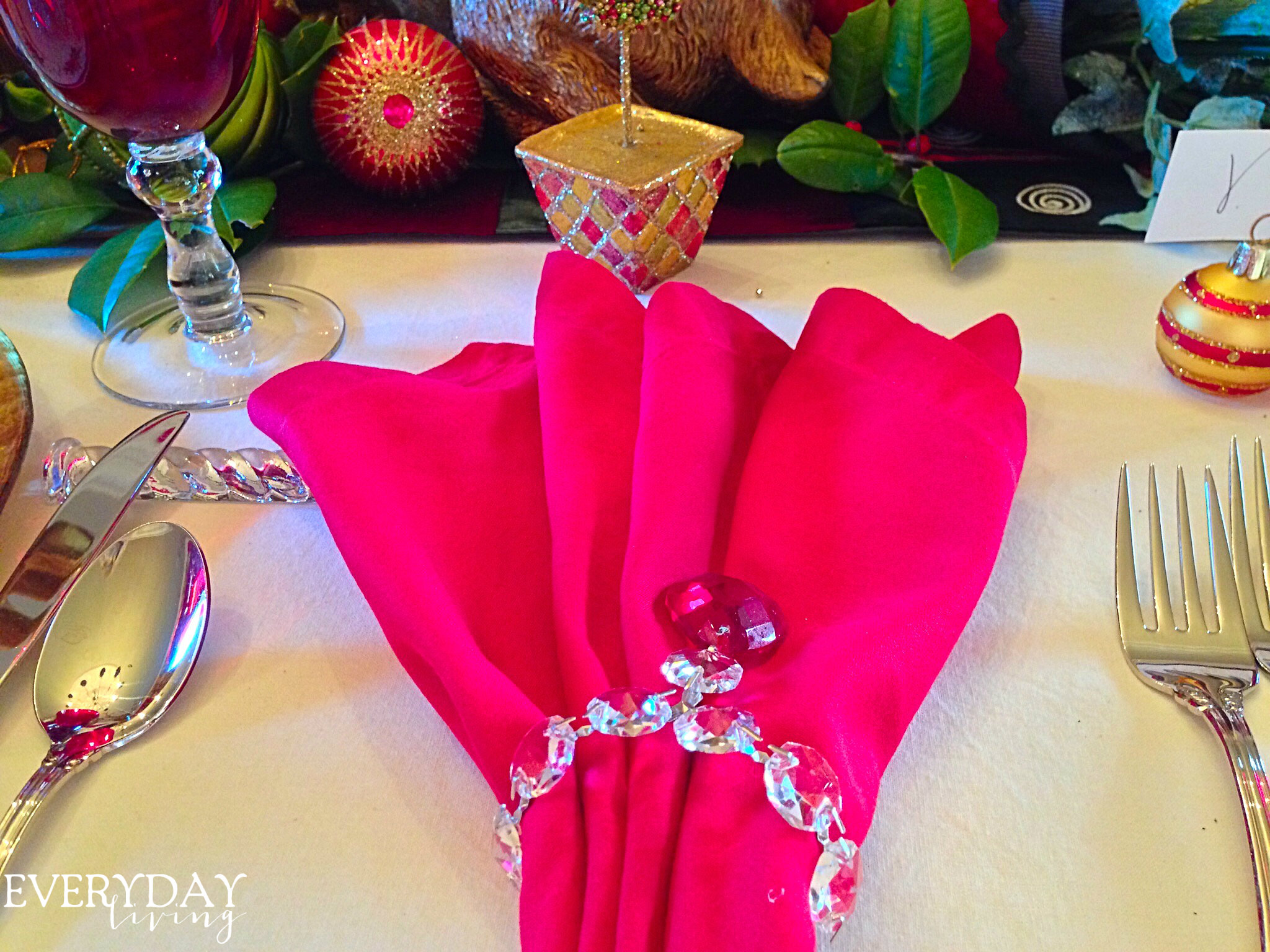 A little glam for the red cotton napkins!  The faceted crystal napkin rings are by Fifth Avenue Crystal and I found them at Tuesday Morning a few years ago!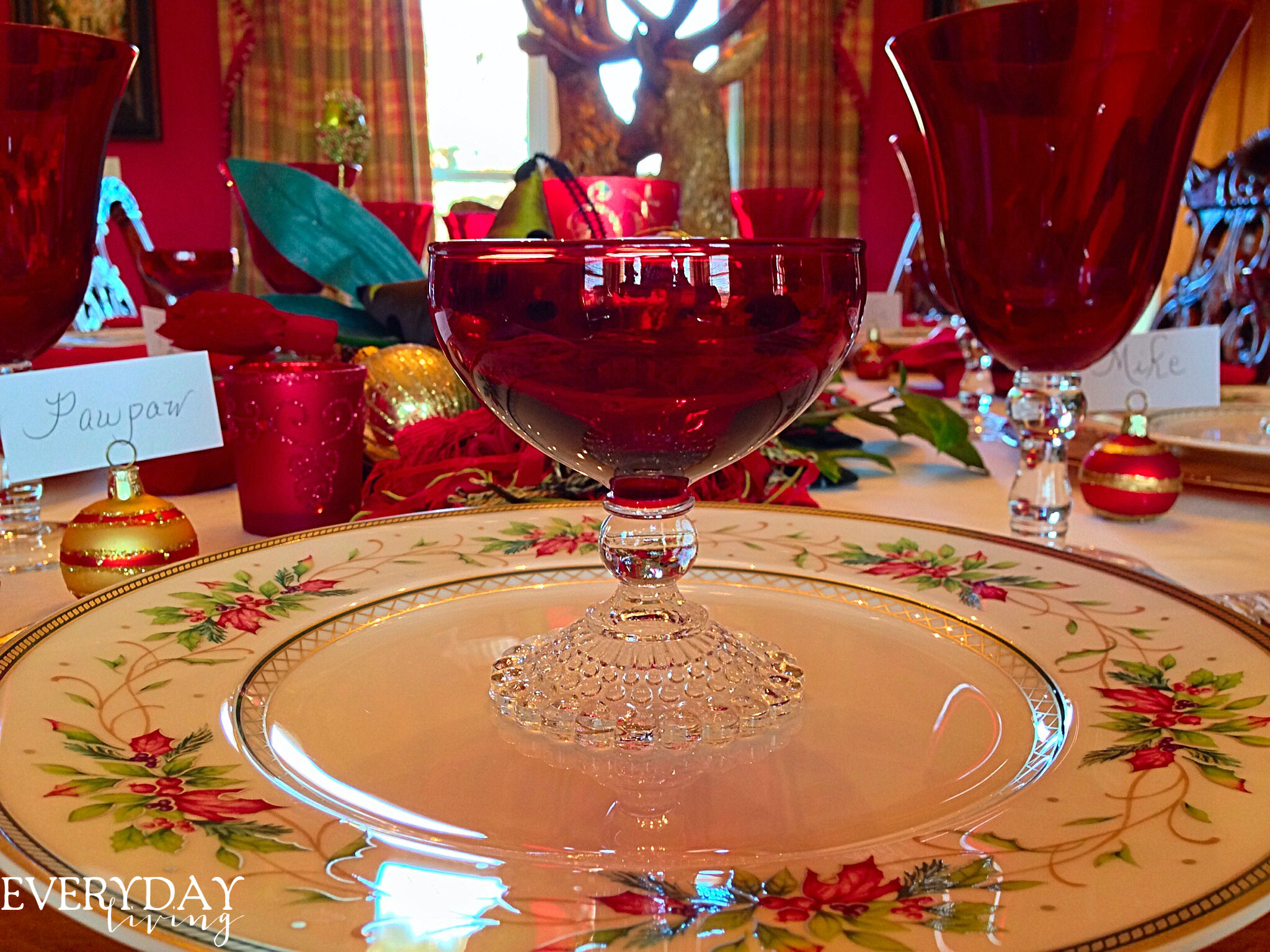 The Fitz and Floyd china appeared a couple of weeks ago here: 'Tis the Season.  The beautiful ruby red sherbets were a gift from my long-time friend, Kathy!  They will be used for my Mother's delicious ambrosia recipe that is always a must-have for my Daddy!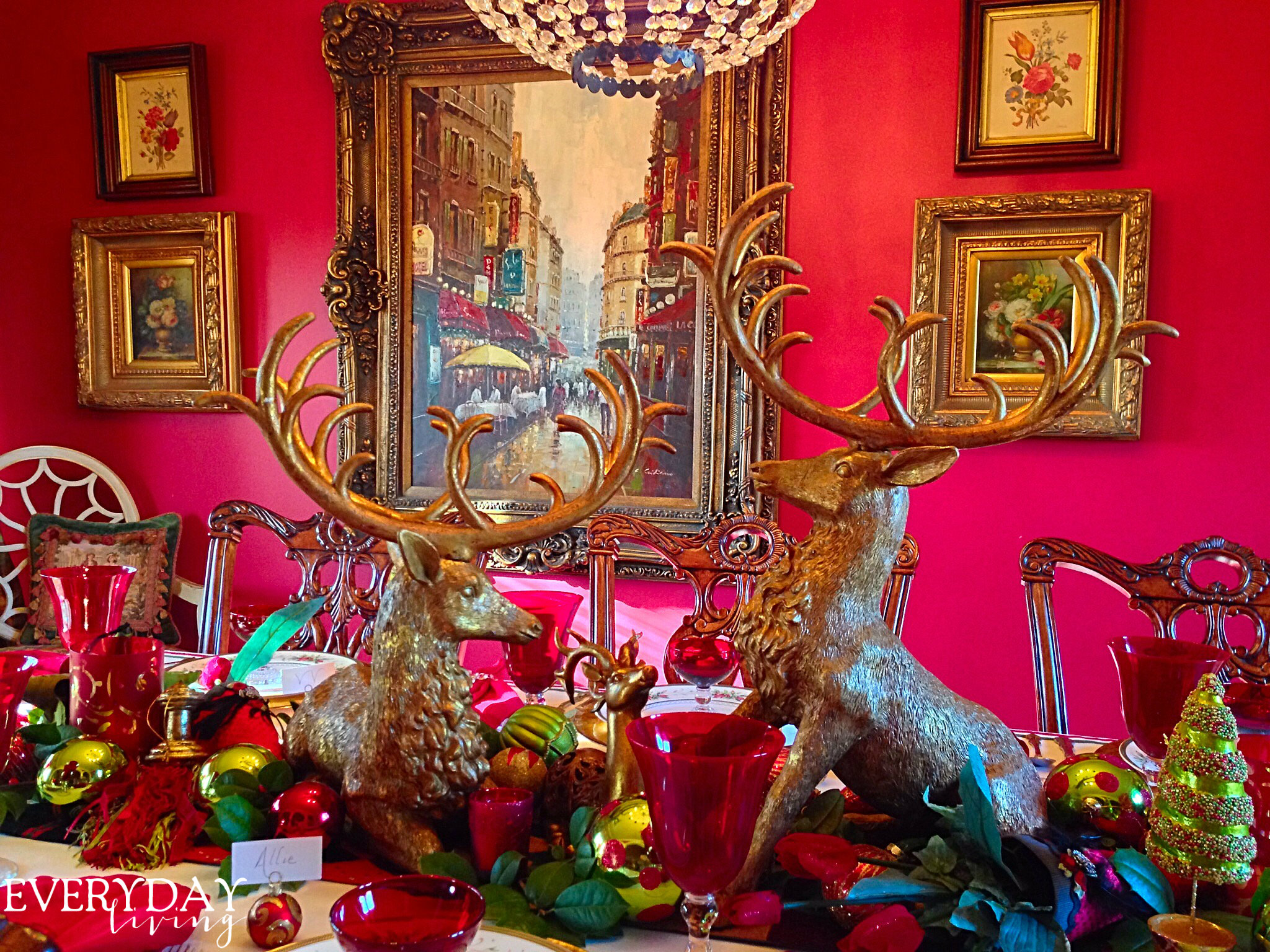 Some of you have asked the color of my dining room walls…Mediterranean Spice by Benjamin Moore.  I have never tired of it and I love the drama of a red room!  Perfect anytime-but especially Christmas!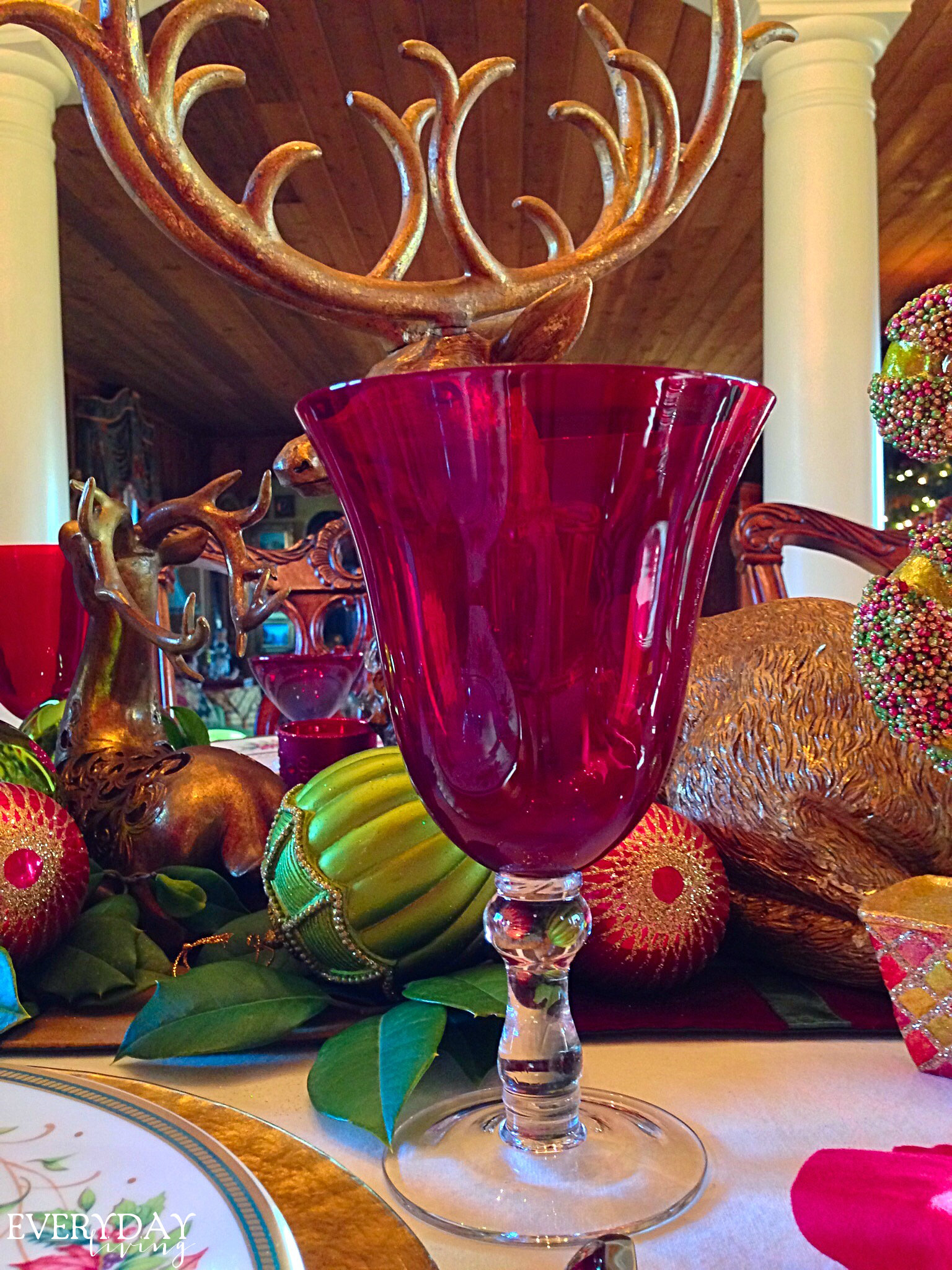 The ruby red stemware appeared here: A Very Merry Birthday!
I wanted to show the beauty of this Williams Sonoma Indian cotton cloth.  Along the border are six different Christmas carols depicted.  I have enjoyed using it for several years!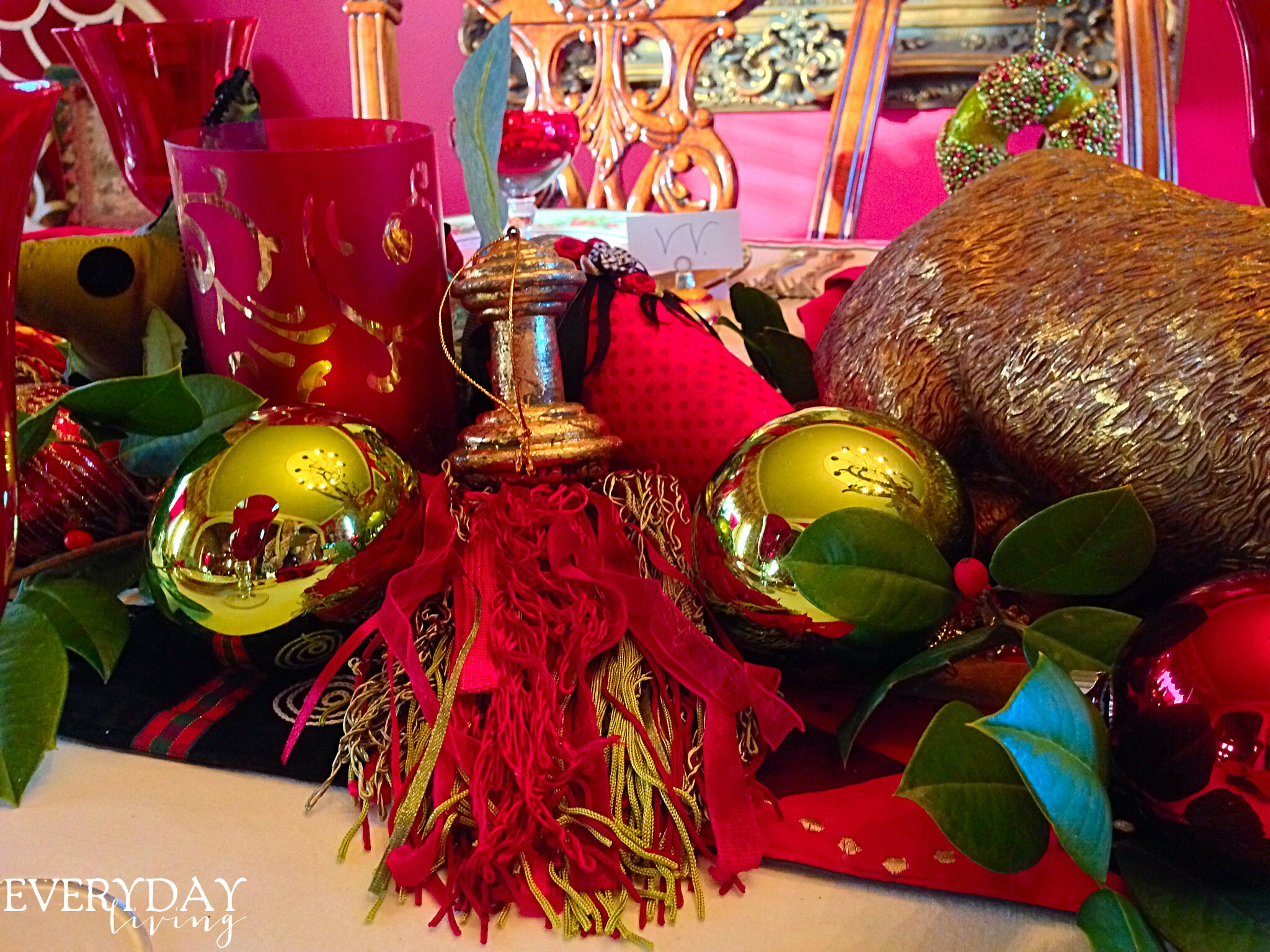 The center of the table is decorated with an assortment of ornaments, including this gorgeous tassel!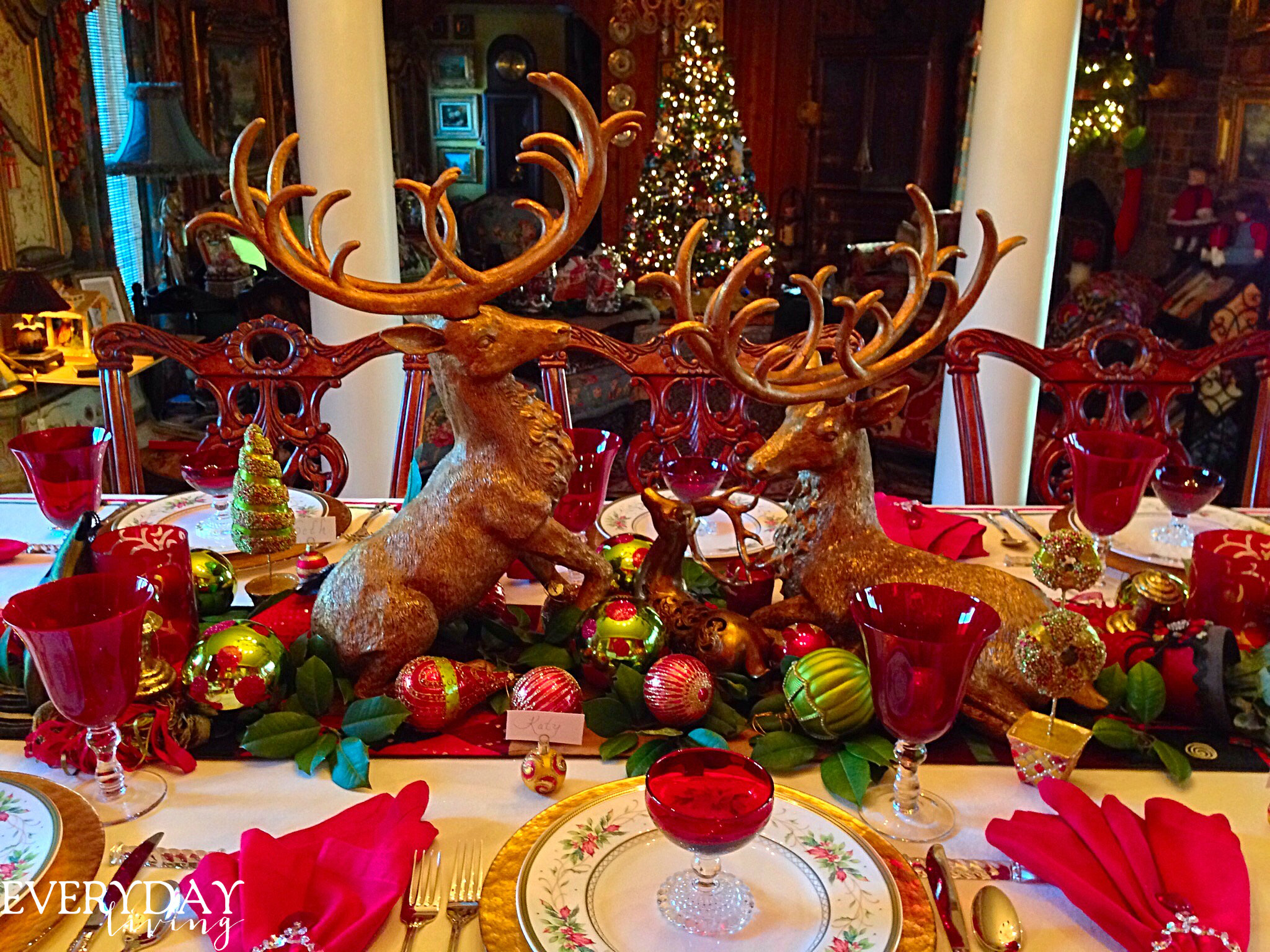 More ornaments with sprigs of fresh holly!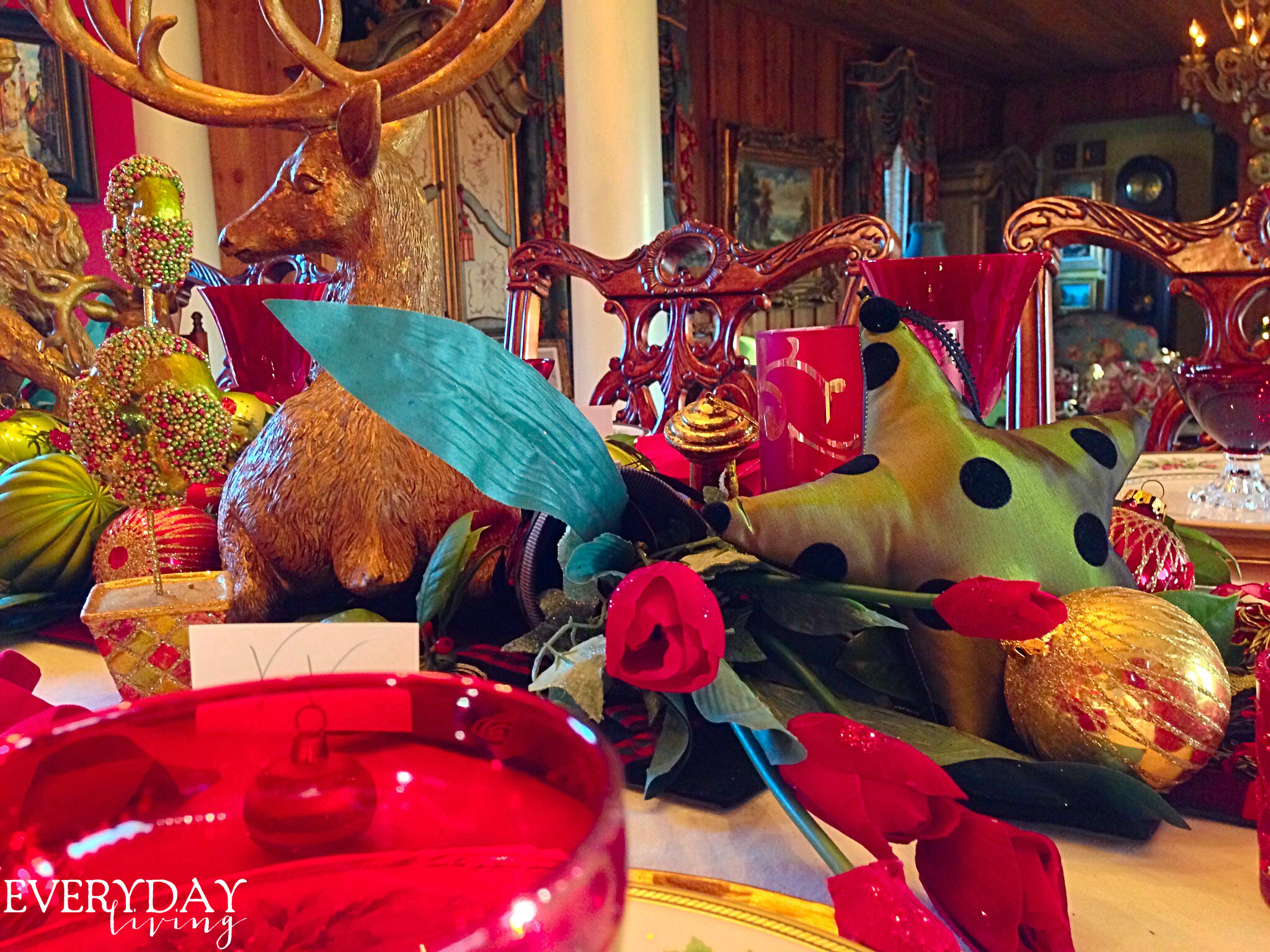 I added a couple of bouquets of glittered faux tulips!
We enjoy using the large nativity in our dining room!  I always have five or six nativities in our Christmas vignettes.  You can see a few of them here:  Miracles & Mangers.  Without the birth of the Christ-child, there is no Christmas.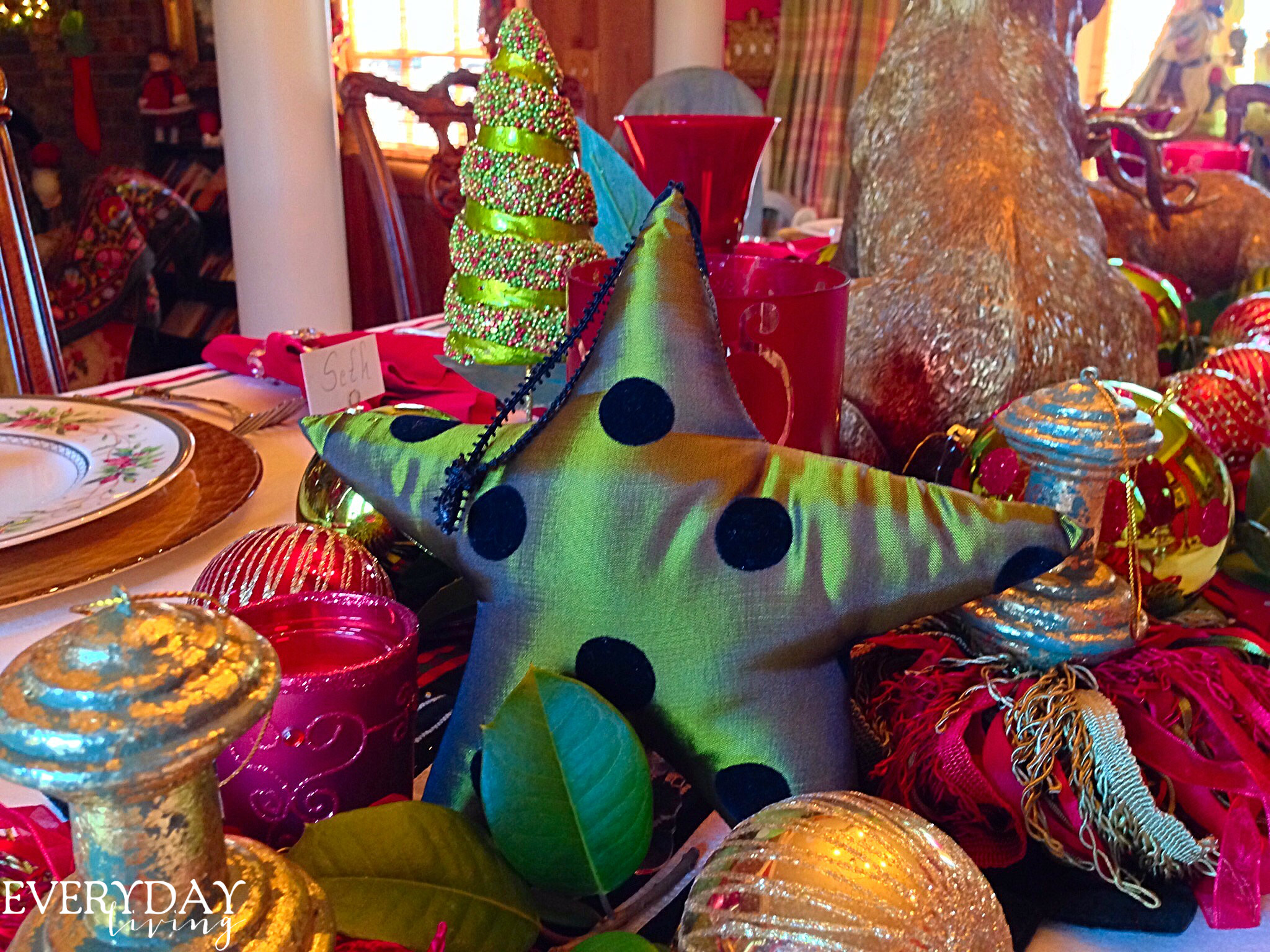 A couple of cute polka dot stars are gracing the table!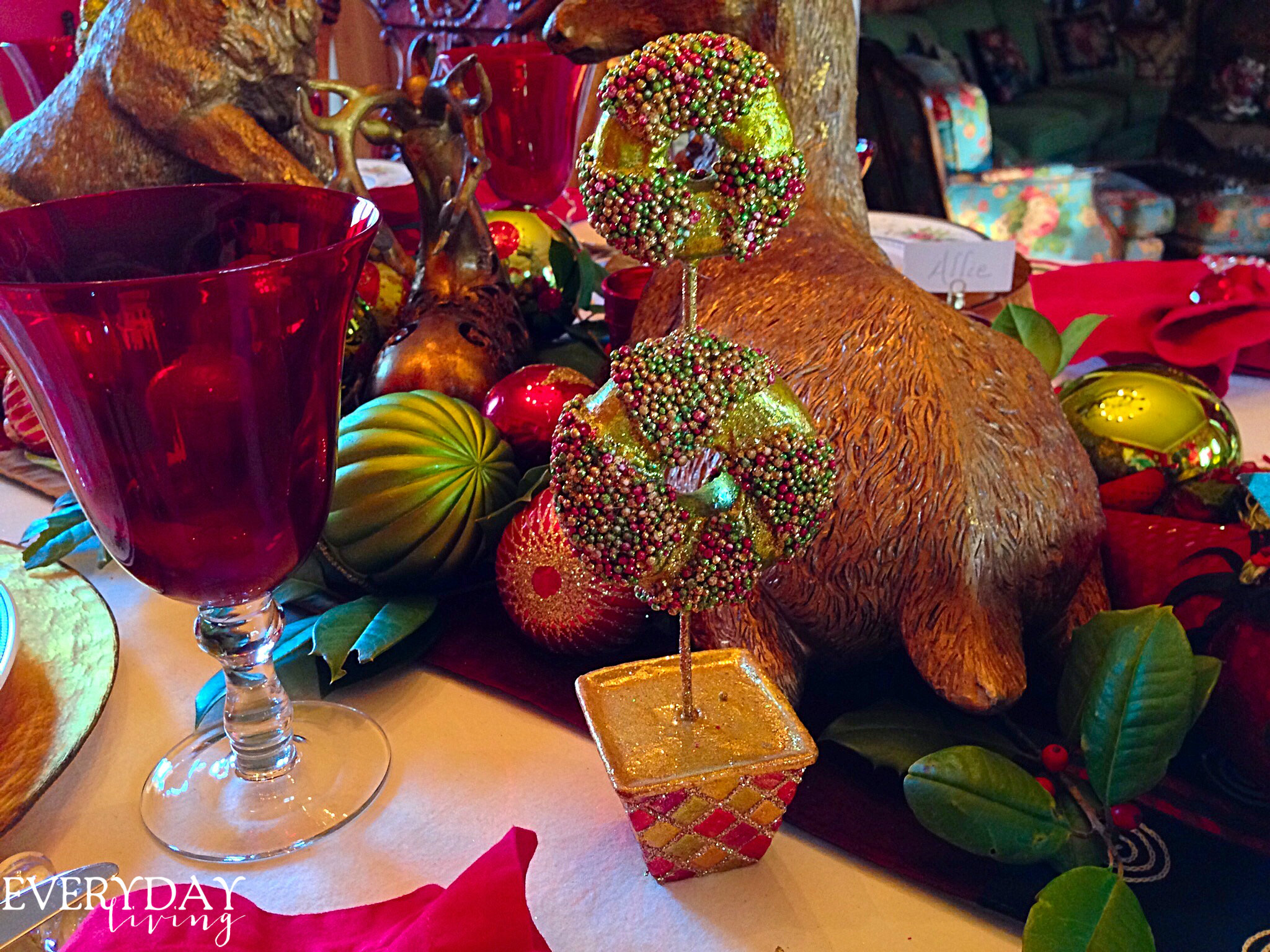 As you can see, I used an assortment of different ornaments, but their commonality is their colors…red, gold, and
a lime green!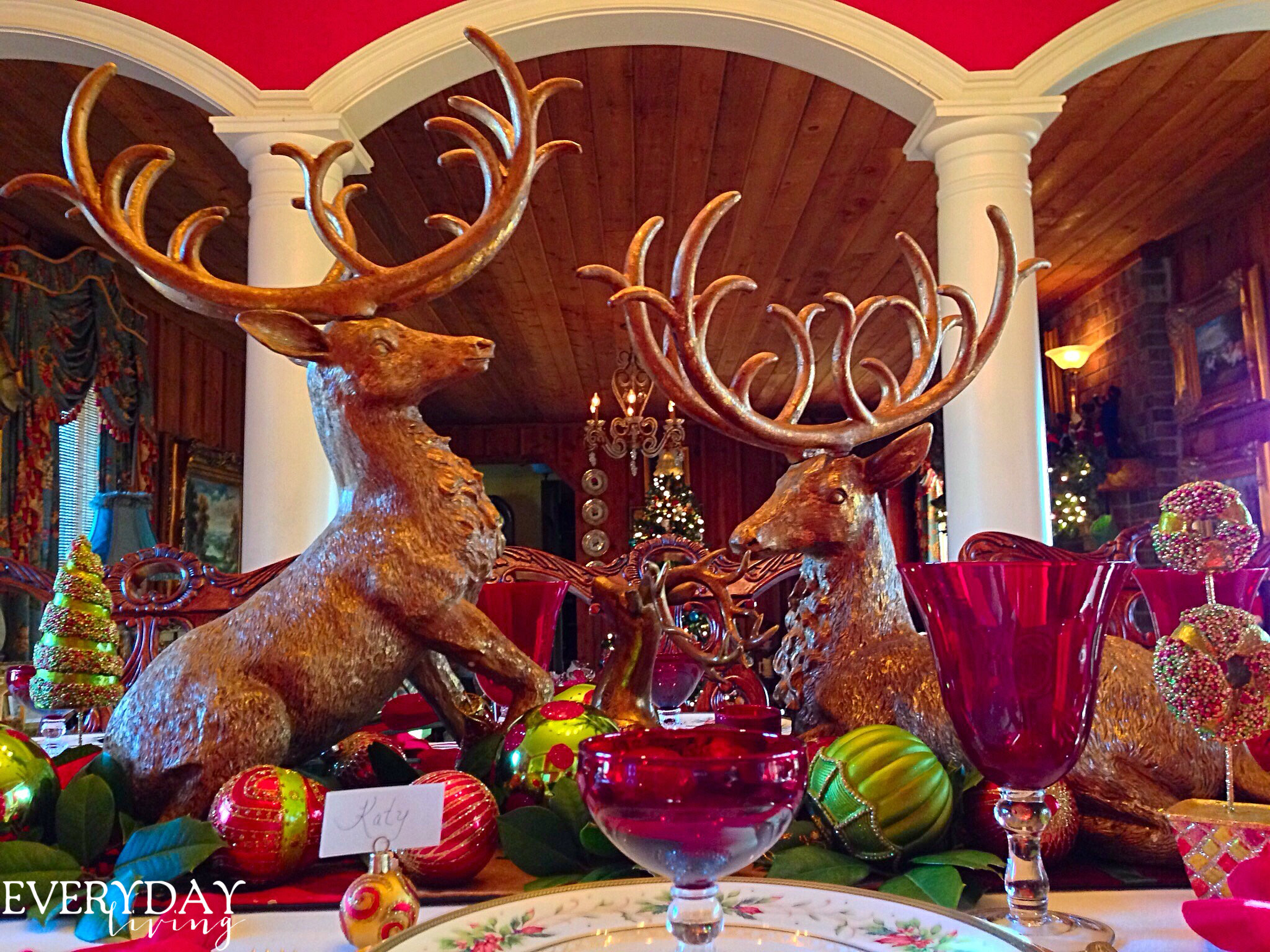 "And suddenly there was with the angel a multitude
of the heavenly host praising God and saying,
"Glory to God in the highest,
and on earth peace among those with whom he is pleased!"
Luke‬ ‭2‬:‭13-14‬
Linking with Pieced Pastimes, It's Overflowing, Be Different Act Normal, Silver Pennies , By Stephanie Lynn, Life on Lakeshore Drive, Thoughts From Alice, Creatively Living, Rustic-Refined, Three Mango Seeds, Pink When, Mod Vintage Life, Coastal Charm, Knick of Time, My Uncommon Slice of Suburbia, The Dedicated House, Dwellings-Heart of Your Home, Savvy Southern Style, Ivy and Elephants, French Country Cottage, From My Front Porch To Yours, Stone Gable, Confessions of a Plate Addict,Worthing Court, Between Naps on the Porch, Cedar Hill Farmhouse, A Stroll Thru Life, The Style Sisters, The Charm of Home, The Winthrop Chronicles, Cornerstone Confessions, A Delightsome Life, Imparting Grace, Craftberry Bush, Posed Perfection, Katherines Corner, The Vintage Farmhouse,  My Romantic Home, Chic On A Shoestring Decorating, Rooted In Thyme, Share Your Cup