"She is like the ships of the merchant;
    she brings her food from afar.
 She rises while it is yet night
    and provides food for her household
    and portions for her maidens"
Proverbs 31:14-15
As I said last week, gathering around the dining room table is one of our favorite things to do in our home.  Coming together for meals has been a part of my life for as long as I can remember, with each meal bringing distinct memories- ones that I have carried with me throughout my life! My mother always had people in our home for meals, and I have tried to follow suit, welcoming friends and family to our table.  You can catch a glimpse here:  Sunday Tradition.  One of my favorite aspects about cooking is discovering and sharing new recipes.  I have them written on envelopes, notebook paper, deposit slips, and even some on recipe cards.  They have been collected through the years from family and friends, each telling a story!  Each one captures a special time, a place, a person, or an emotion.  In short, I love the memories and stories that food has given me!
Years ago, I scheduled an appointment with a nail technician on a very cold December morning.  Have you ever felt like you have known someone for years, even though you just met?  As we talked, it became evident our hearts were knitting together with common interests. For the next 19 years, we spent countless hours in conversation as I sat across the table while she filed, buffed, and polished. We shared our everyday living as we laughed, cried, and reminisced. She took genuine concern and interest in my life, always asking if we had upcoming travel plans, what decorating projects I was working on, how Butch was doing, etc. You get the idea.
"The best things in life are meant to be shared"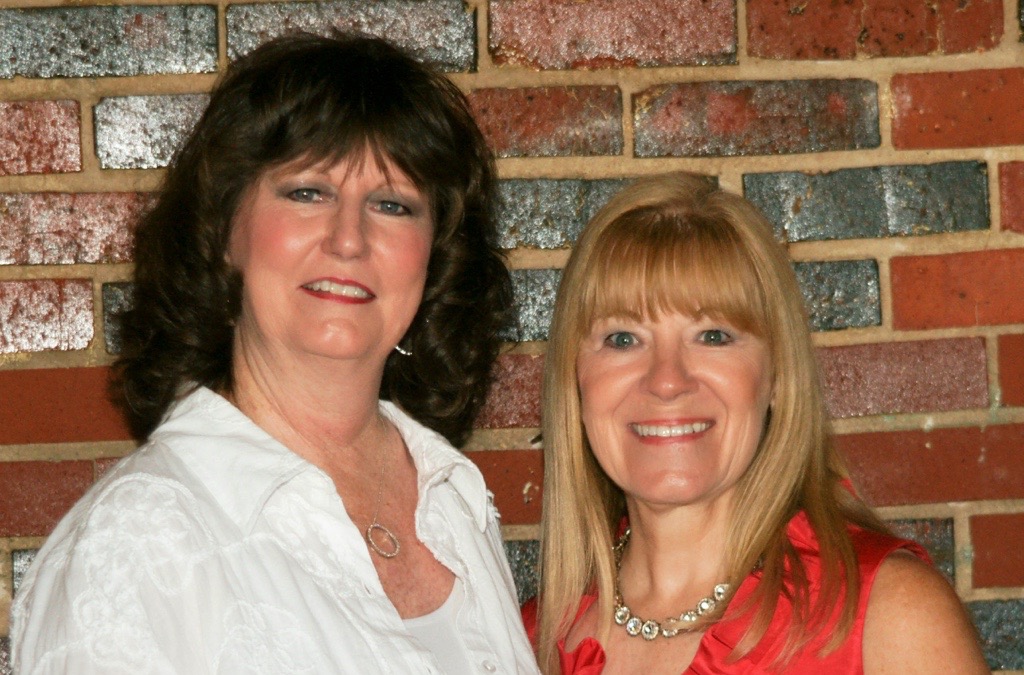 Since we both loved to cook, the subject came up naturally. We discussed menus for holiday meals, special events, or that night's dinner. We have been able to exchange many recipes and menu ideas through the years. She retired in March of last year and I so badly miss our long talks we enjoyed on a weekly basis, but she remains close in my heart. The countless hours and recipes we shared together will not soon be forgotten. I am reminded so often of her gifts of love, encouragement, and kindness. She suggested this recipe a couple of years ago when I was planning a Sunday lunch for friends and family. It is one of my favorites and one that I prepare often.  I hope you will try and enjoy "Lima Beans and Smoked Sausage" from the kitchen of my precious friend, Janice.
I gathered all the ingredients for this recipe-fresh beans are always best-but frozen ones work fine. I always recommend home-made chicken stock, but if you are in a pinch for time, by all means use the box kind!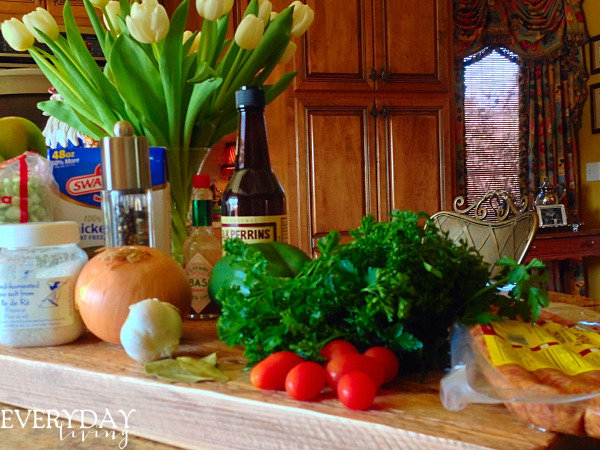 I strongly recommend purchasing a good salt…It really makes a difference!  I try to always have "Fleur de sel", this jar is a sea salt hand harvested from France and is a great finishing salt!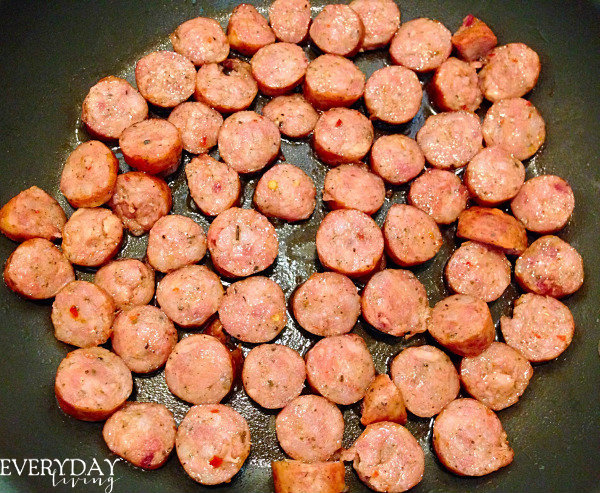 The recipe is actually Lima Beans with Prosciutto.  Our grocer did not have prosciutto on Friday, so I substituted with Conecuh Sausage which I have often done!  This smoked sausage is made right here in Alabama.  If you can find it in your area,  it is excellent for this recipe.  Smoked turkey or ham can also be substituted.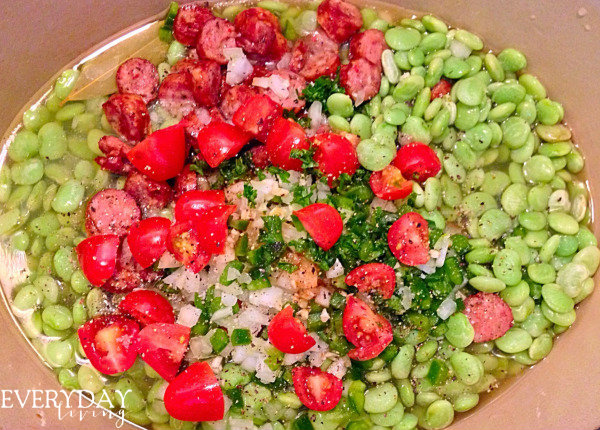 The ingredients are assembled in my Mother's wonderful Le Creuset Dutch oven!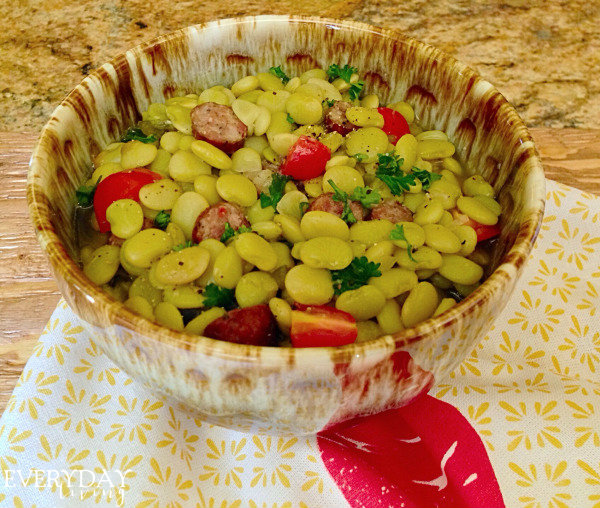 I have never been a huge fan of lima beans, but this brings them to a whole new level.  I always use the baby variety.  This recipe is great using butter, black-eyed, pink-eye, crowder, or lady peas!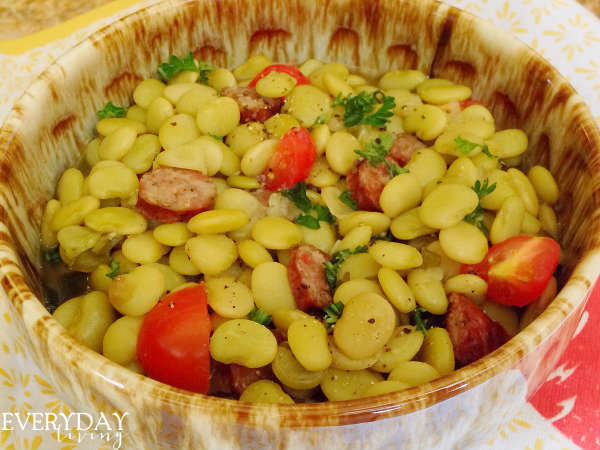 During the summer when my basil is growing, I will add it before serving!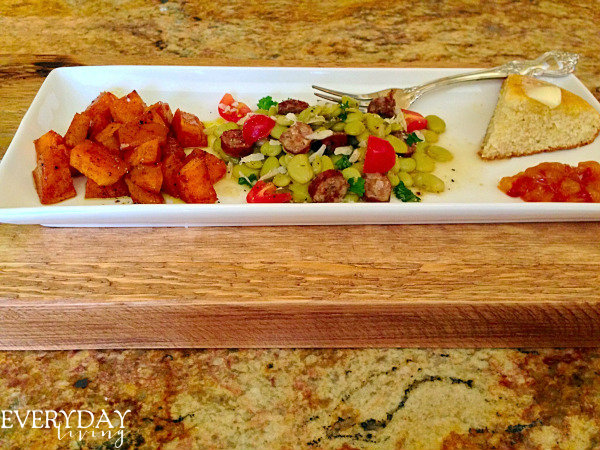 The recipe doesn't call for it, but I add freshly grated parmigiano reggiano!!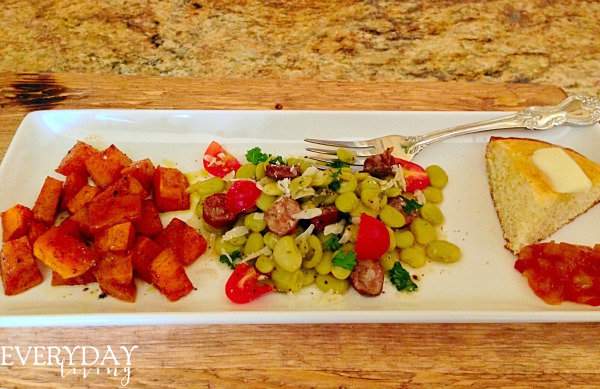 The beans and sausage serve as the main dish.  For dinner Saturday,  I added roasted sweet potatoes with olive oil, honey, and cinnamon, and my Mother's recipe for Southern corn bread, and  Vidalia onion relish! Butch said this meal was off the charts delicious!!  Love compliments from my sweetie!
Linking with Pieced Pastimes, It's Overflowing, Be Different Act Normal, Silver Pennies ,Life on Lakeshore Drive, Thoughts From Alice, Pink When, Mod Vintage Life, Coastal Charm, My Uncommon Slice of Suburbia, The Dedicated House, Dwellings-Heart of Your Home, Savvy Southern Style, Ivy and Elephants, French Country Cottage, From My Front Porch To Yours, Stone Gable, Confessions of a Plate Addict,Worthing Court, Between Naps on the Porch, Cedar Hill Farmhouse, A Stroll Thru Life, The Style Sisters, The Charm of Home, The Winthrop Chronicles, Cornerstone Confessions, A Delightsome Life, Imparting Grace, Craftberry Bush, Posed Perfection, Katherines Corner, My Romantic Home, Chic On A Shoestring Decorating, Rooted In Thyme, Share Your Cup, The Enchanting Rose, Alabama Womens Bloggers