"The fear of the Lord is the beginning of knowledge;
fools despise wisdom and instruction."
Proverbs‬ ‭1‬:‭7‬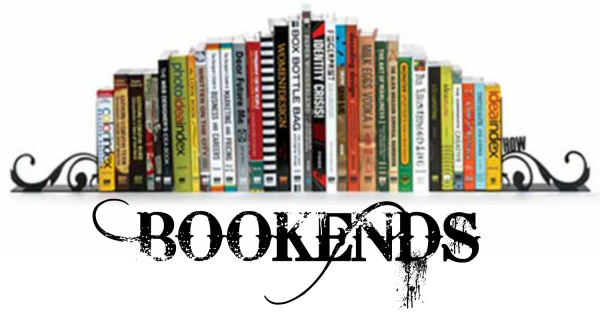 As an interior decorator, I have organized, accessorized, and styled scores of book cases!  I guess you could say it is one of my fields of expertise.  The problem that most people encounter is the lack of books to fill large built-in bookcases. That would never be a problem in my home! We have hundreds of books and need a library in order to enjoy them and to locate them when we need a particular volume! (See here: My Dream Library). The reason bookcases are problematic is they can look bare from a lack of books or swing the pendulum and be overdone with too many trinkets.  There needs to be balance!  Bookshelves should be inviting with interesting objects and great books that are actually read!  I love old leather books and use them often, but my favorite are books with their worn dust jackets that add color and warmth to a room!  Today I am showing you a small five-shelf bookcase and how I styled it both with books and accessories!  My hope is that you find inspiration and encouragement to experiment with displaying your books and keepsakes.  The walls are hand rubbed in shades of turquoise  and appear brighter in the photos!  But we all know by now that I am a girl who loves color!!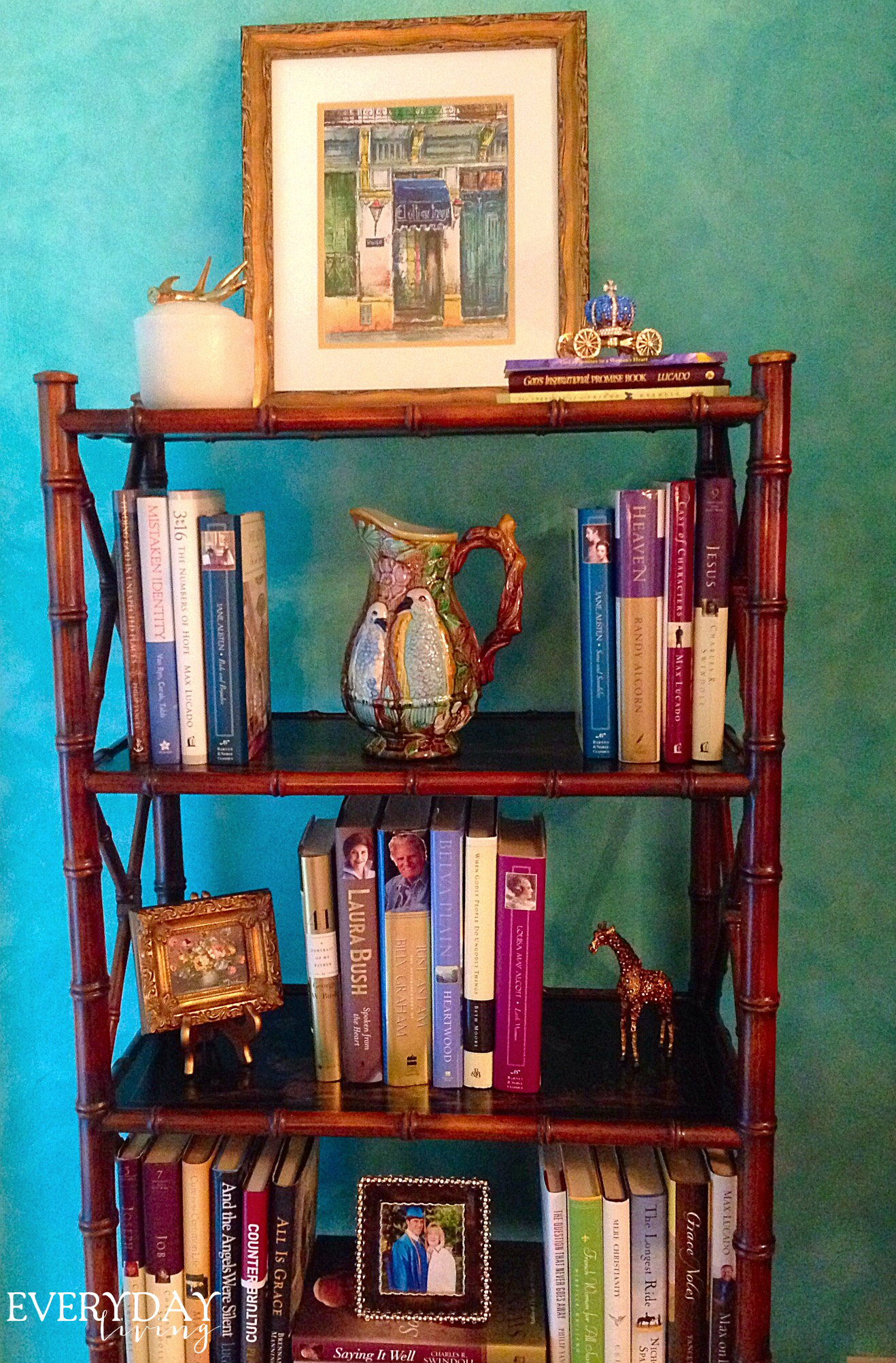 All shelves display books, as you will see throughout.  This photo
shows the top four shelves with books and accessories!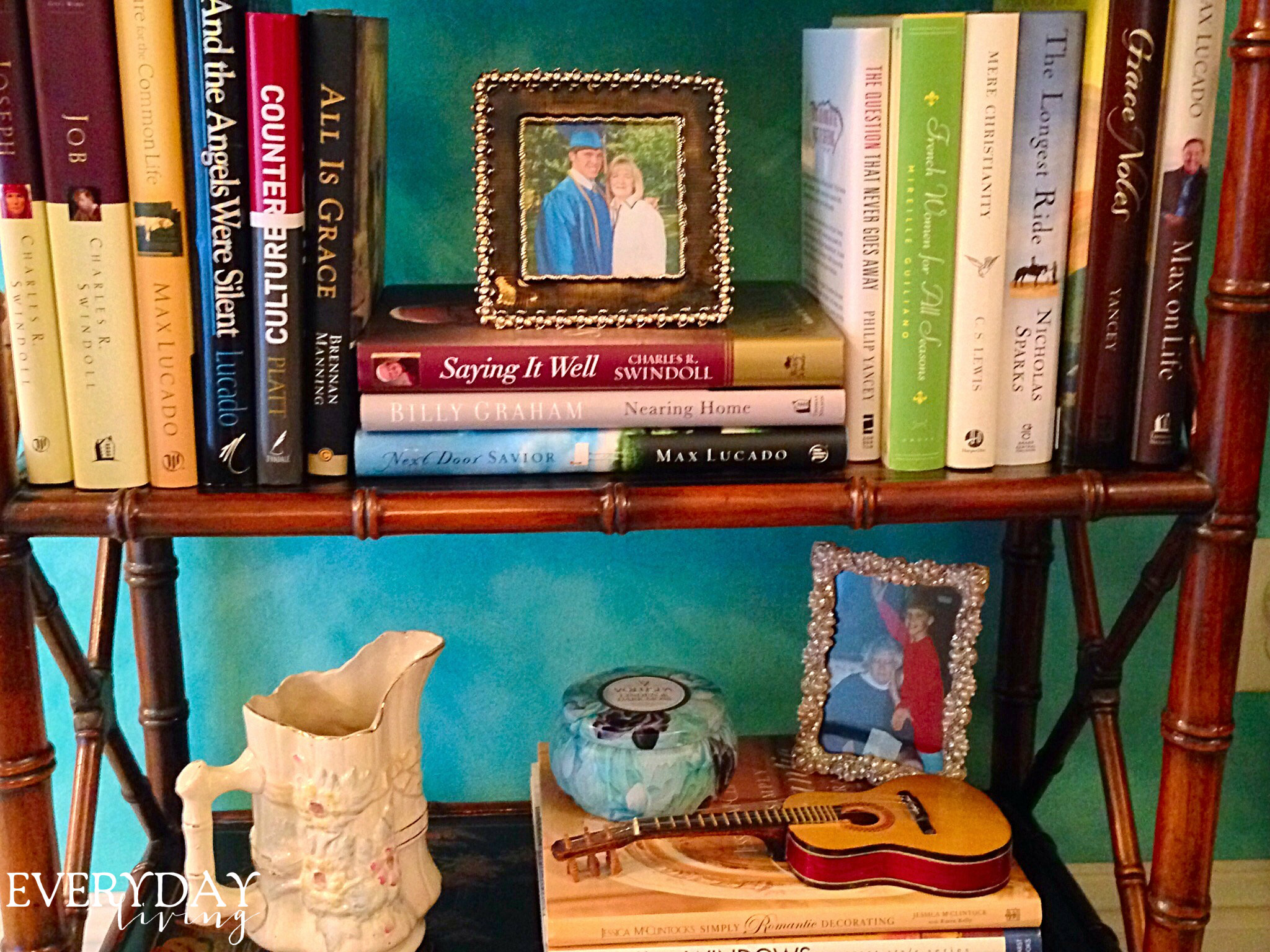 The bottom two shelves are shown here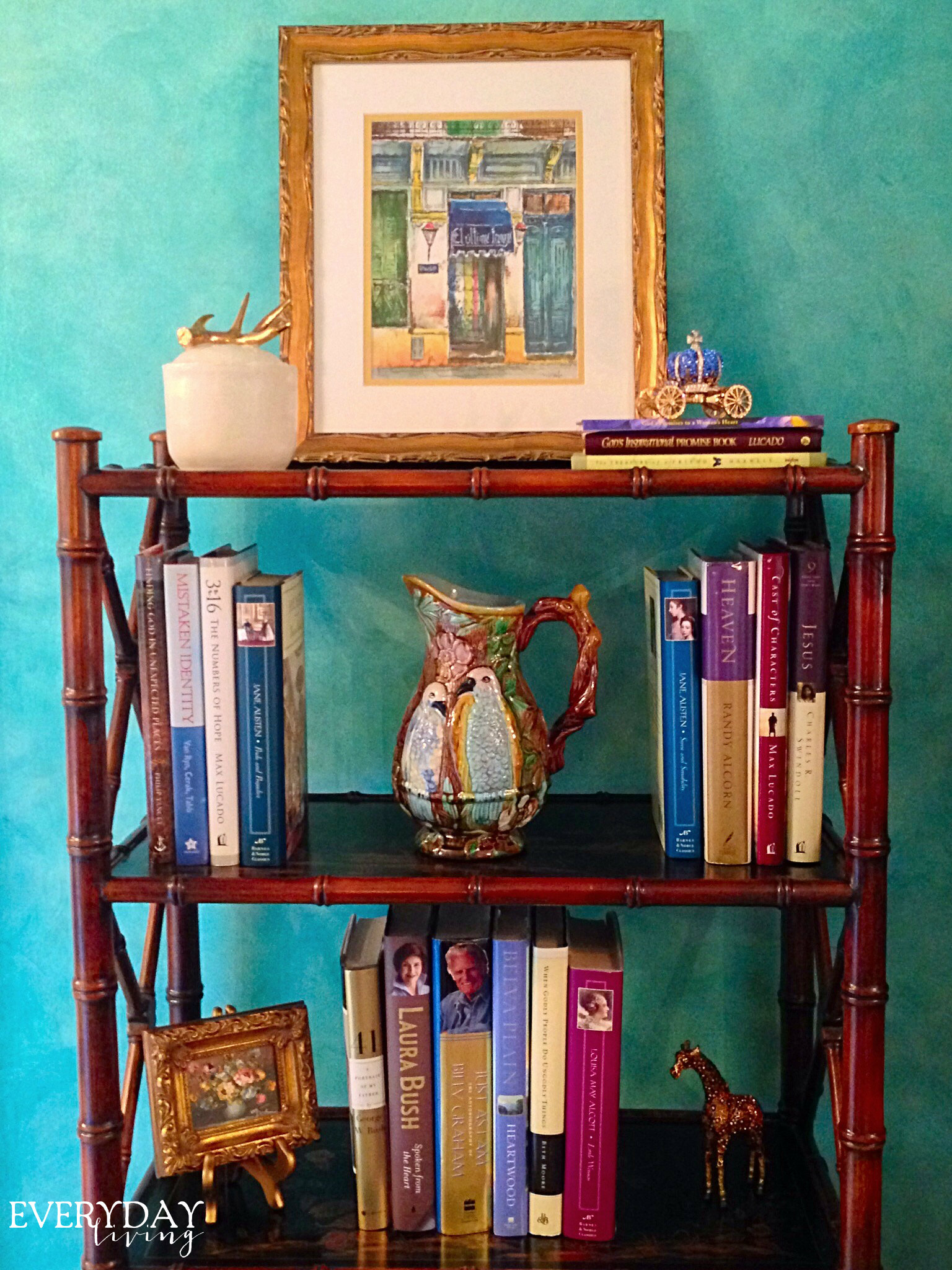 You might find it hard to believe, but there are 37 books
on the five shelves!
 The top shelf holds an original watercolor painting I bought in
Buenos Aires, an antler box, and a stack of books with a
jeweled carriage on top.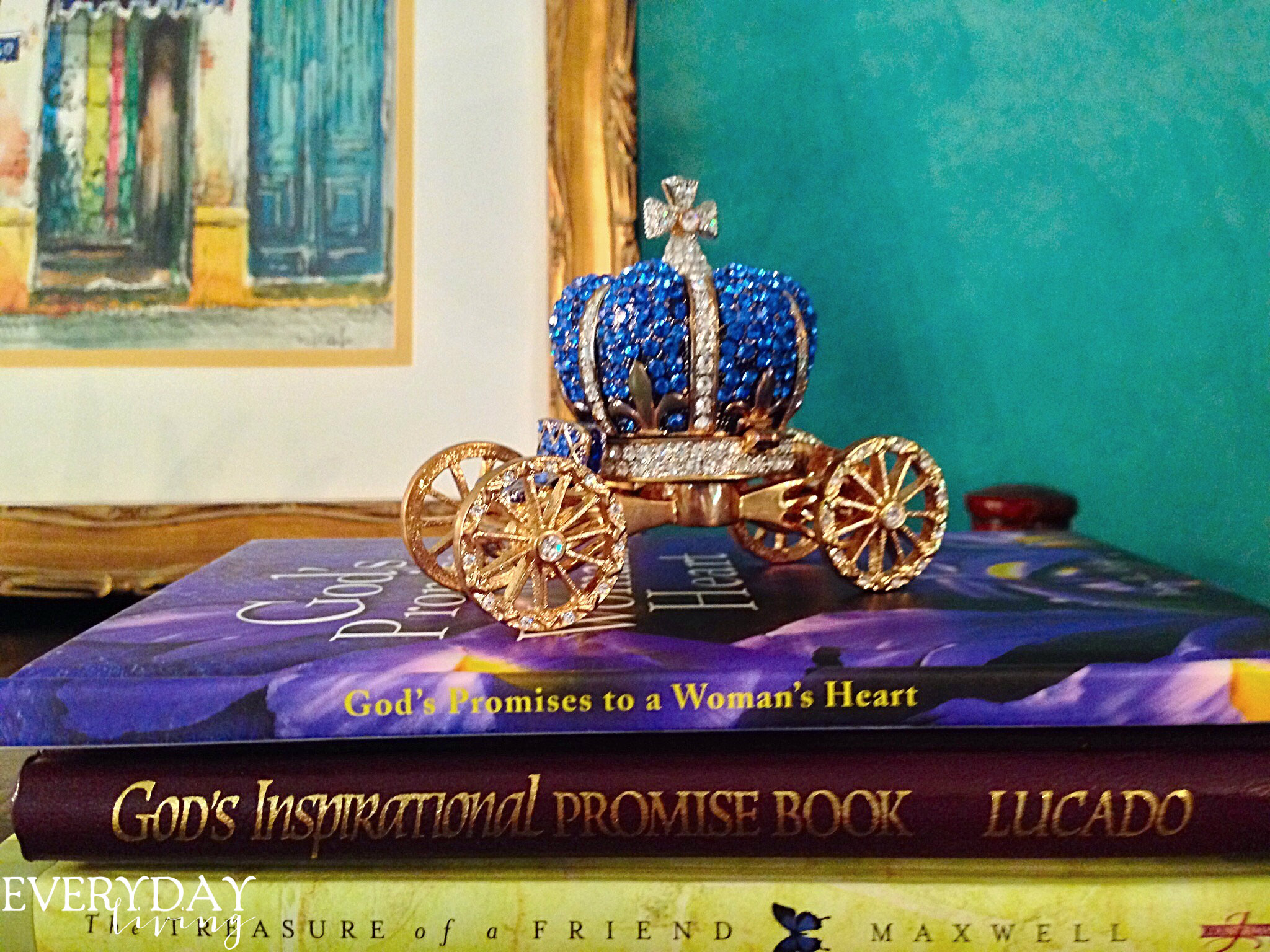 I have a collection of jewel boxes and this one adds a little
glam to a small stack of devotional books, which by the way, I would recommend all three!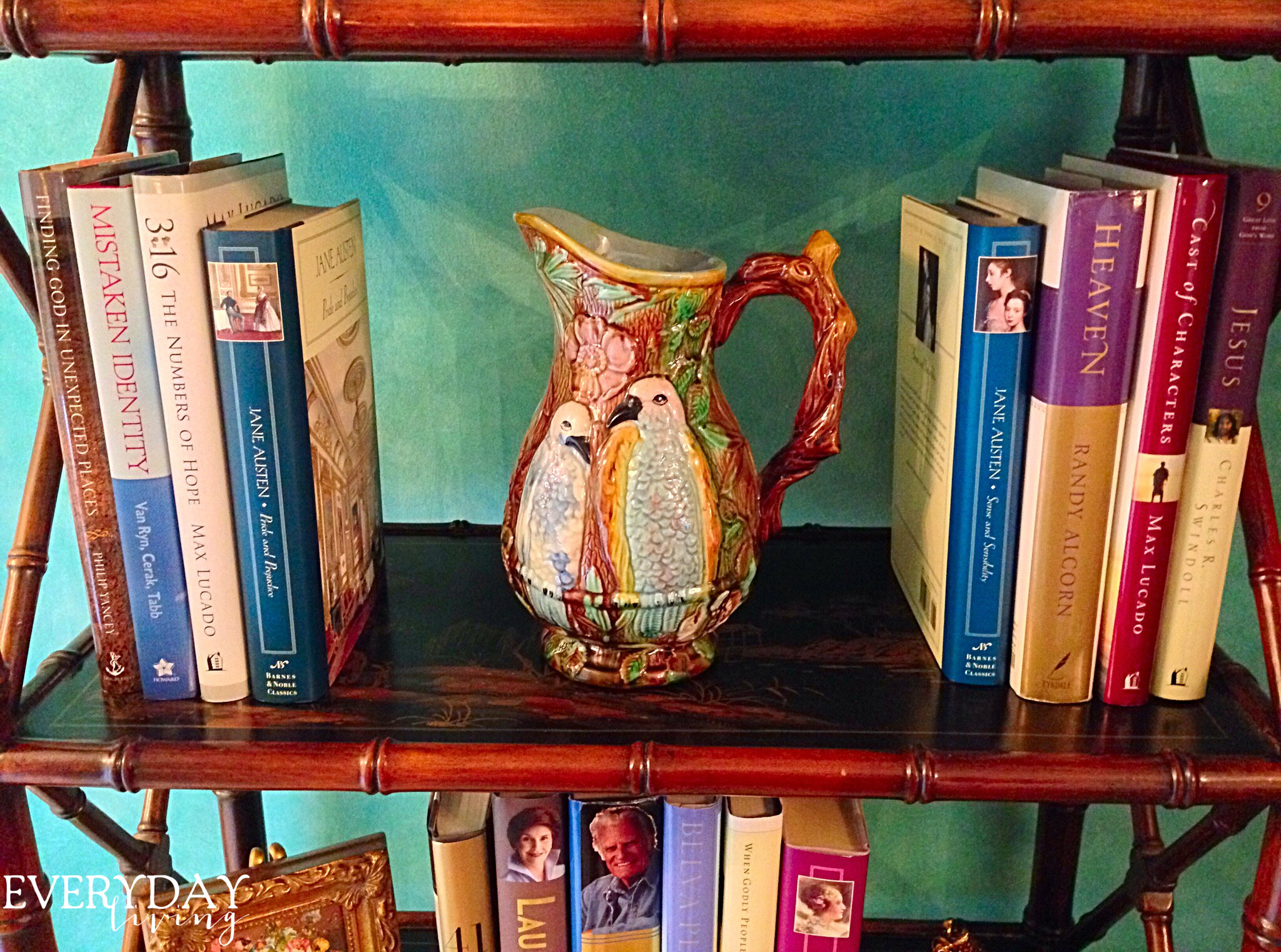 The second shelf has books on either side of a majolica pitcher!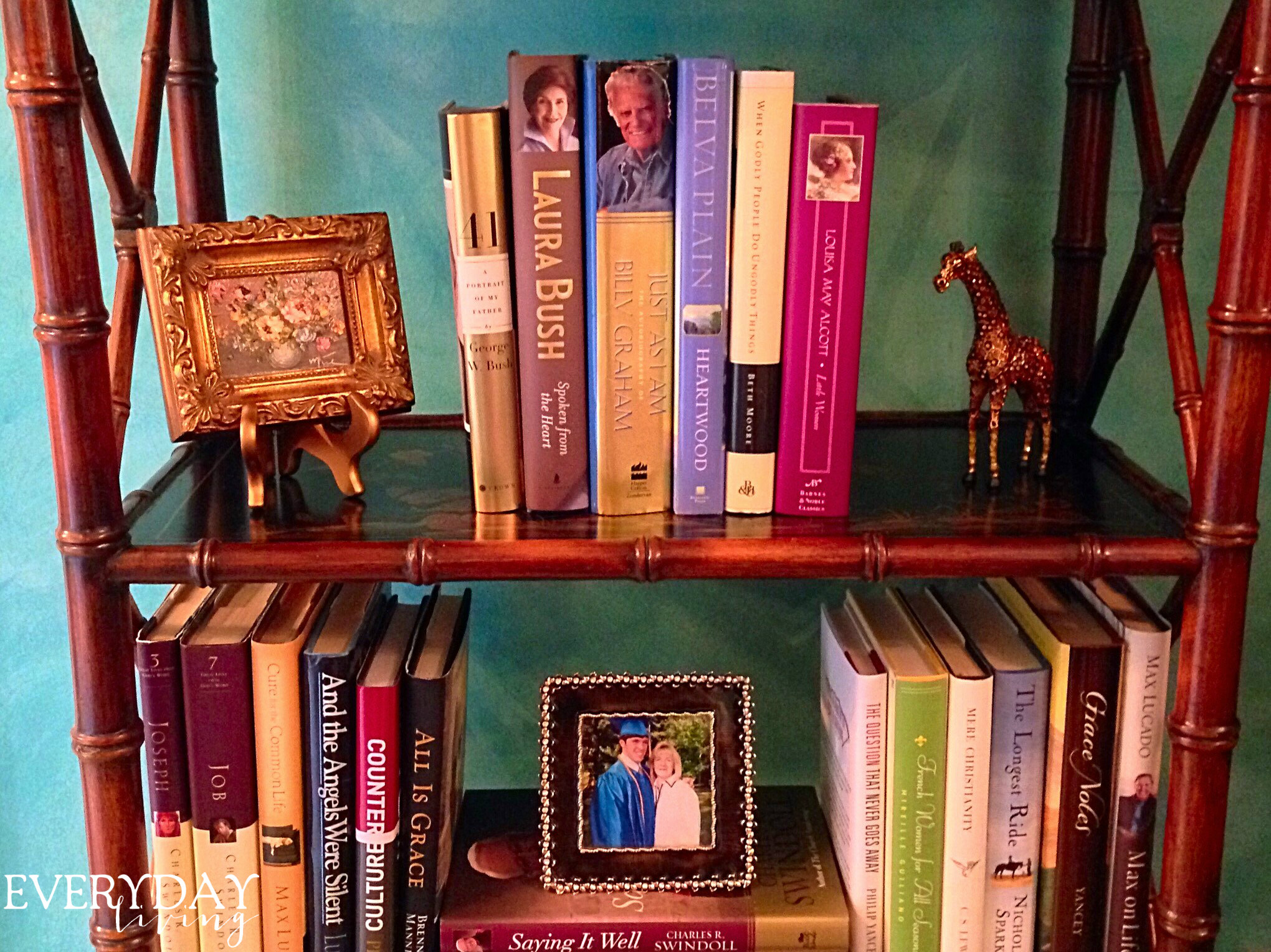 The third shelf centers books in the middle with accessories
on either side.  On the right side you will see a jeweled giraffe!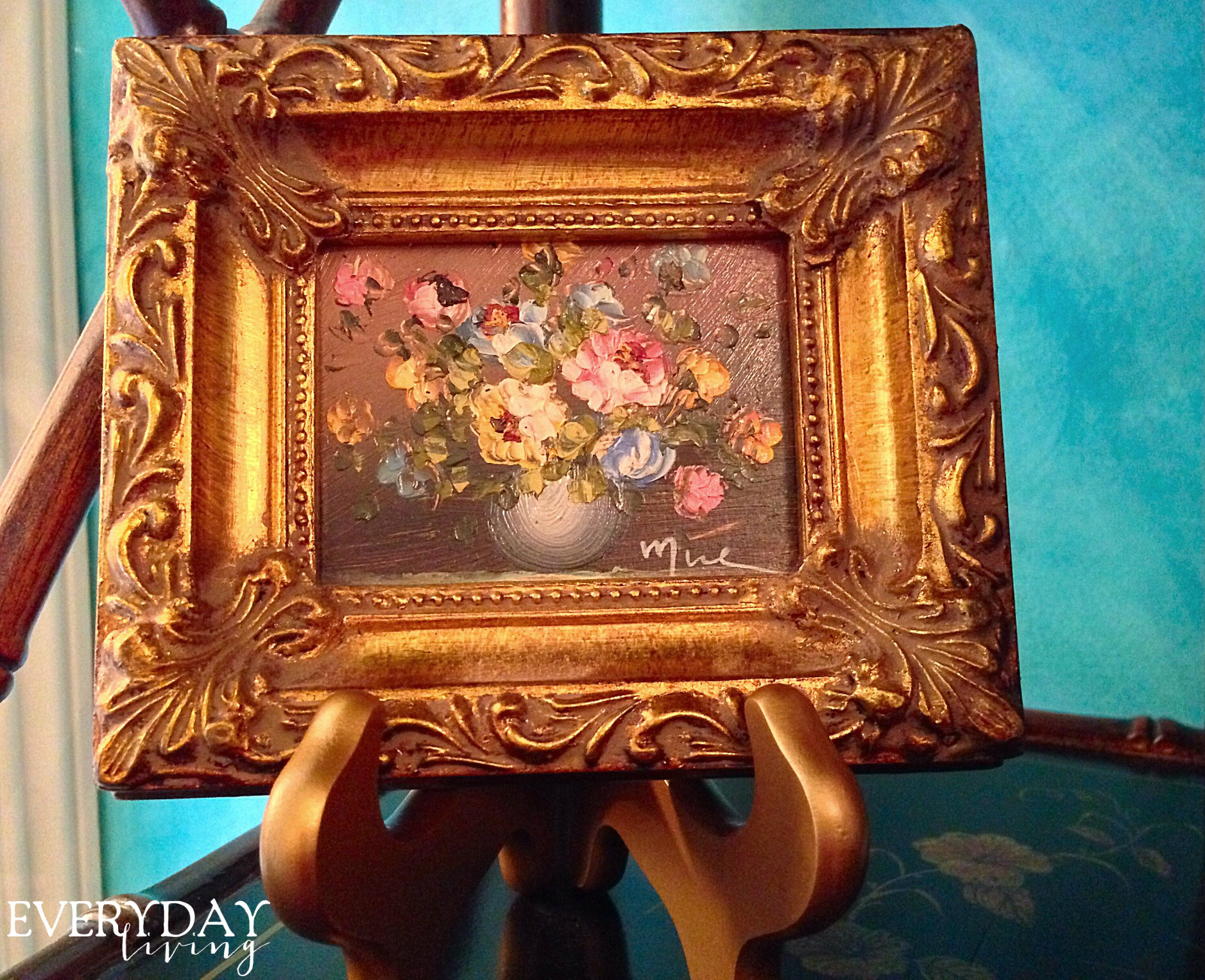 The left side of the shelf holds a mini floral oil painting on an easel!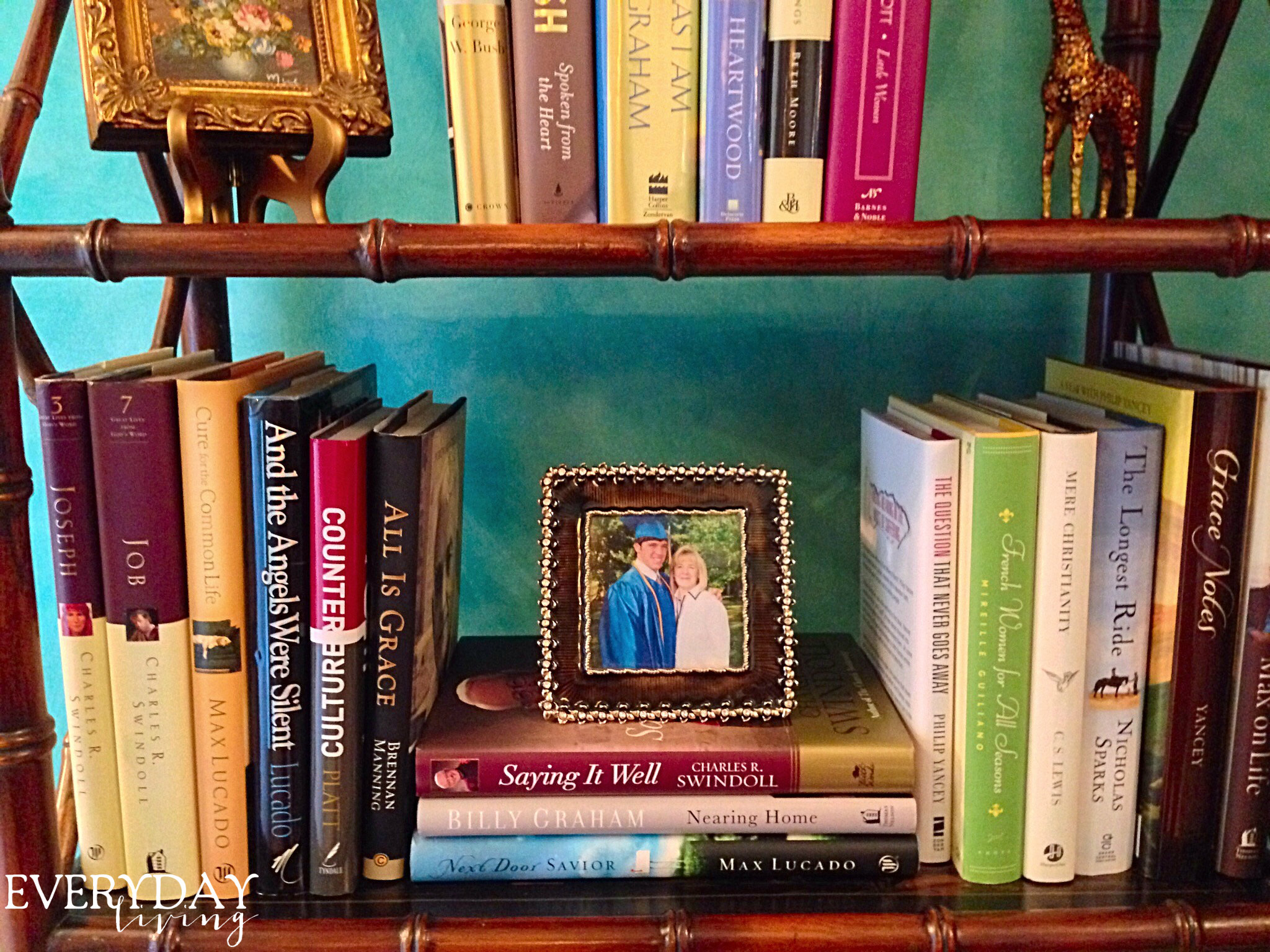 Accessories aren't always necessary!  It is perfectly ok to have an
entire shelf of books standing.  But to peak interest, I have stacked
books in the middle and topped them off with a family photo.
I always want the spines of the books in view!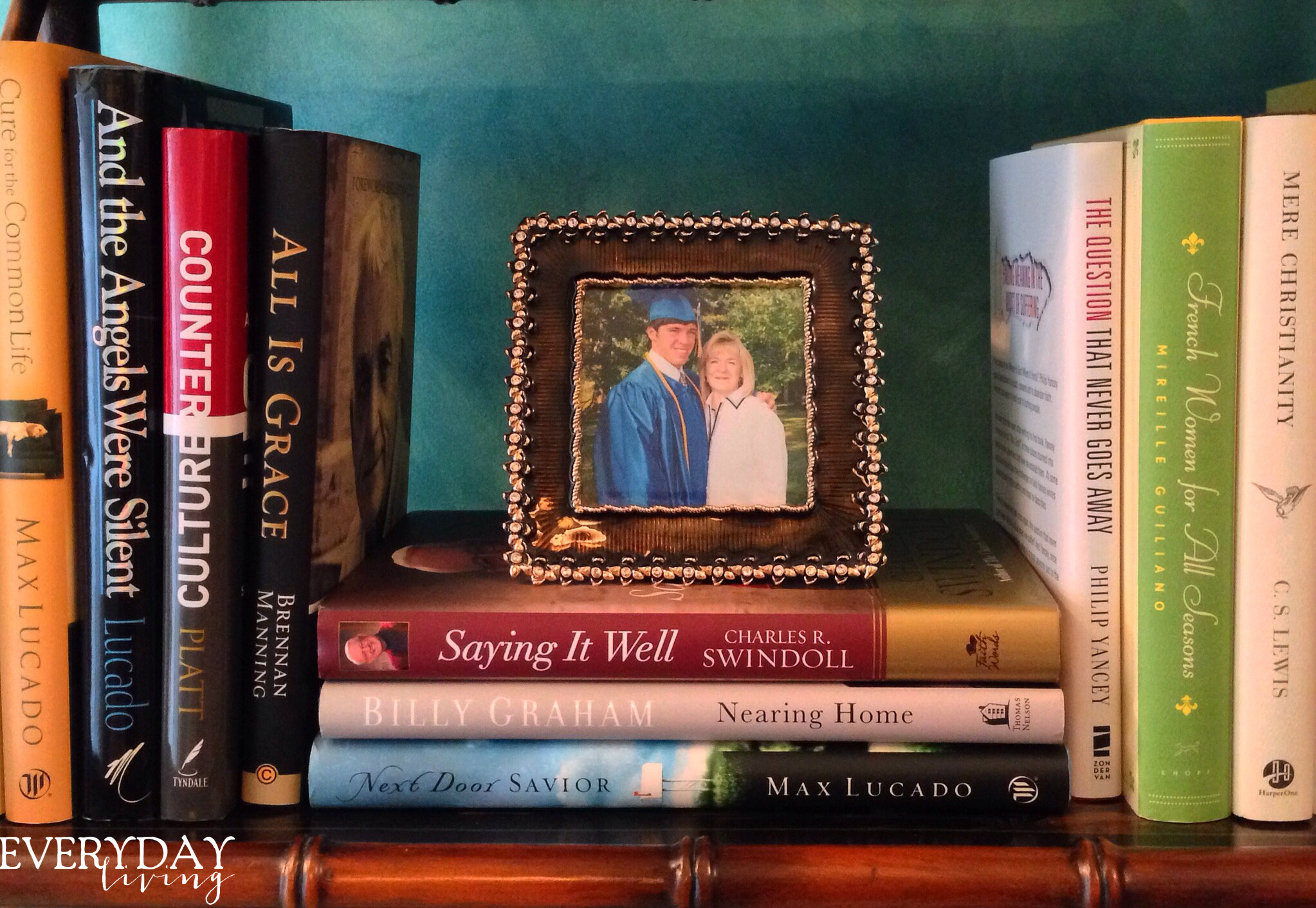 Bookcases provide an excellent place for family photos, adding a
personal touch!  A small jeweled frame holds a picture of
Seth and me at his graduation!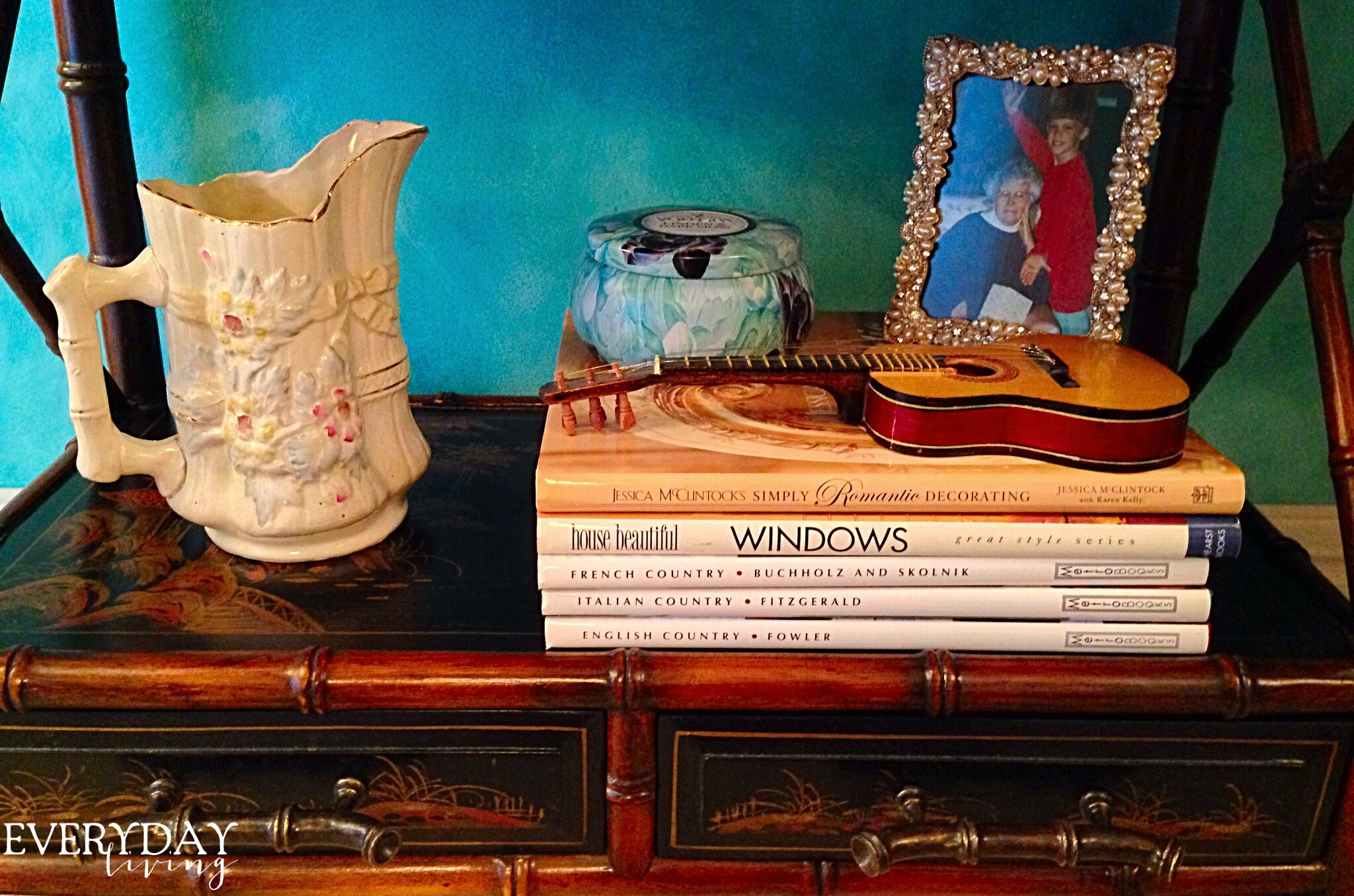 The bottom shelf has a stack of decorating books with
accessories on top that include a family photo, a fabulous
scented candle, and a special guitar!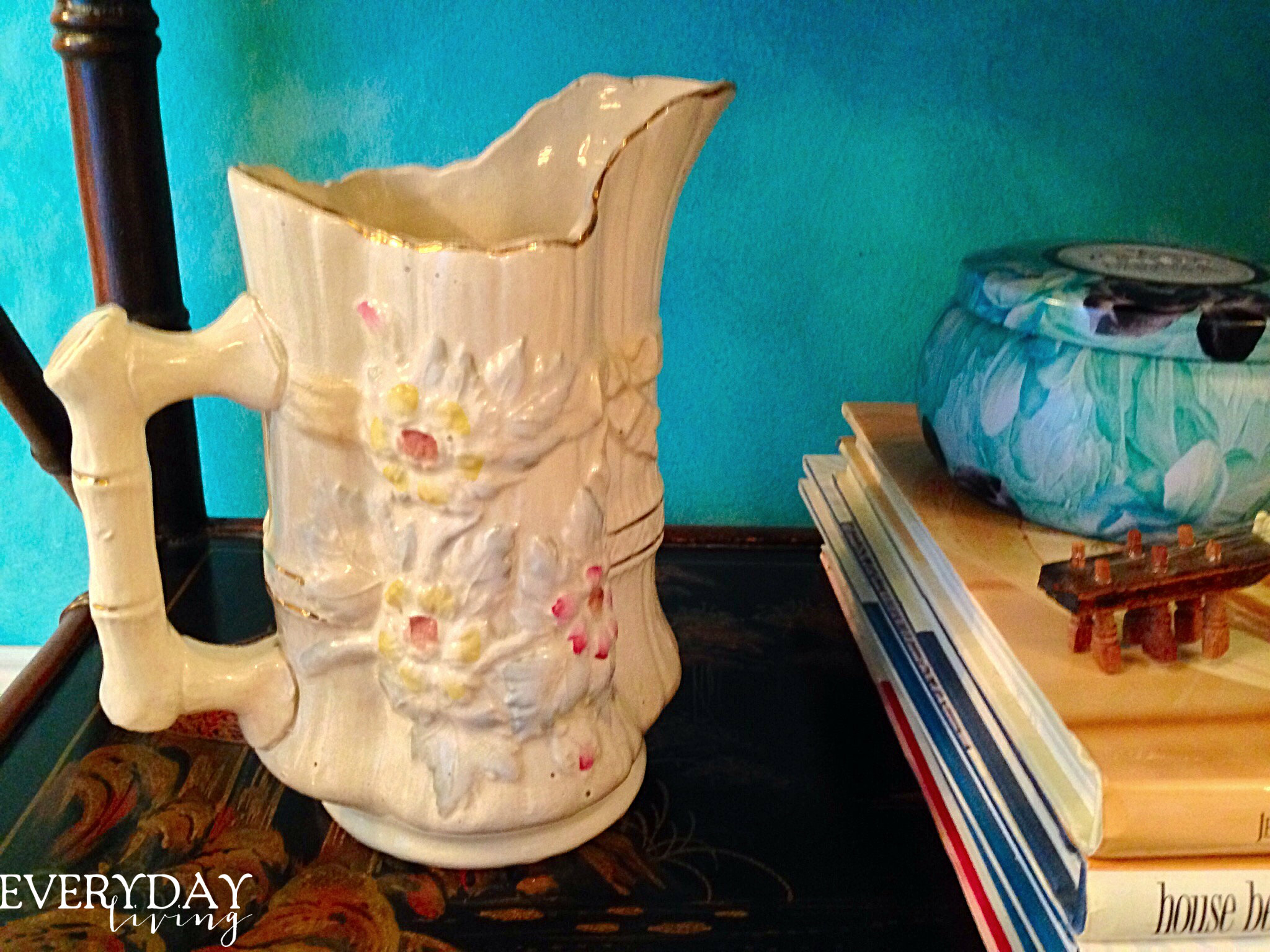 On the left is an old majolica pitcher bought at a benefit auction!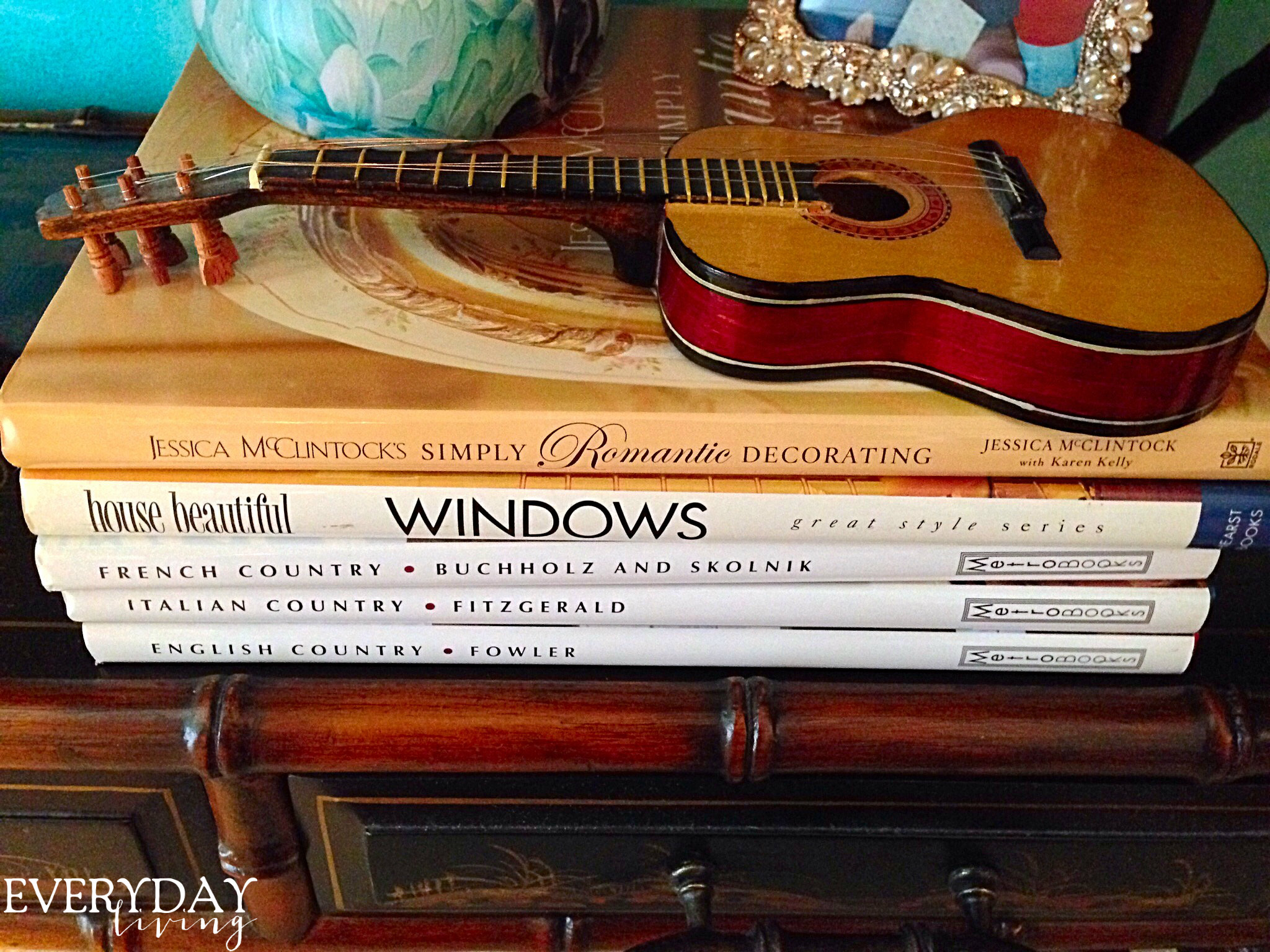 Butch is an excellent guitarist and a friend gave him this
beautifully crafted wood miniature!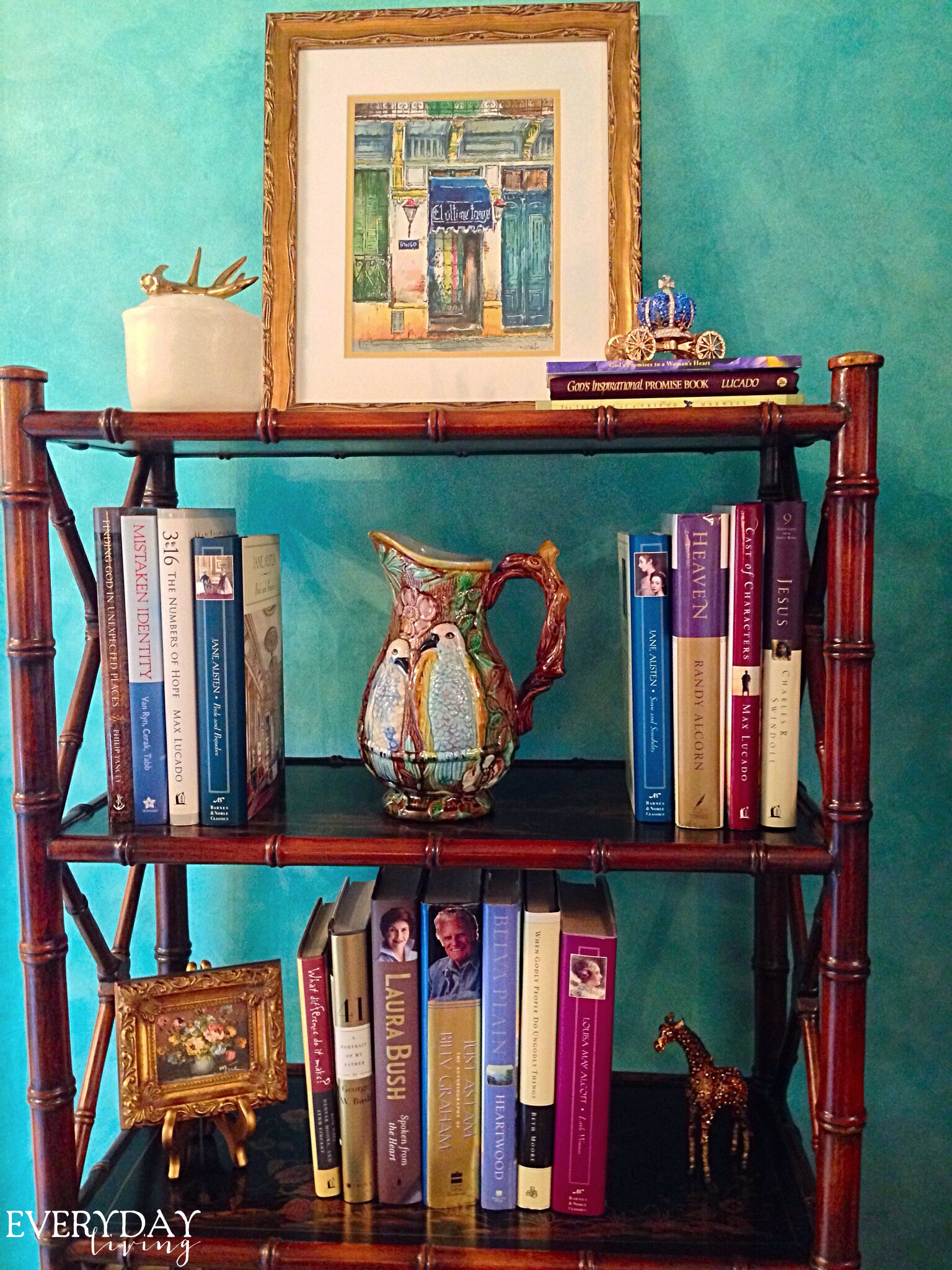 Notice every shelf is different in the way the books are organized.
This makes the bookcase more exciting!  The accessories add
color and balance…and most importantly they are treasured
items and we enjoy them on display!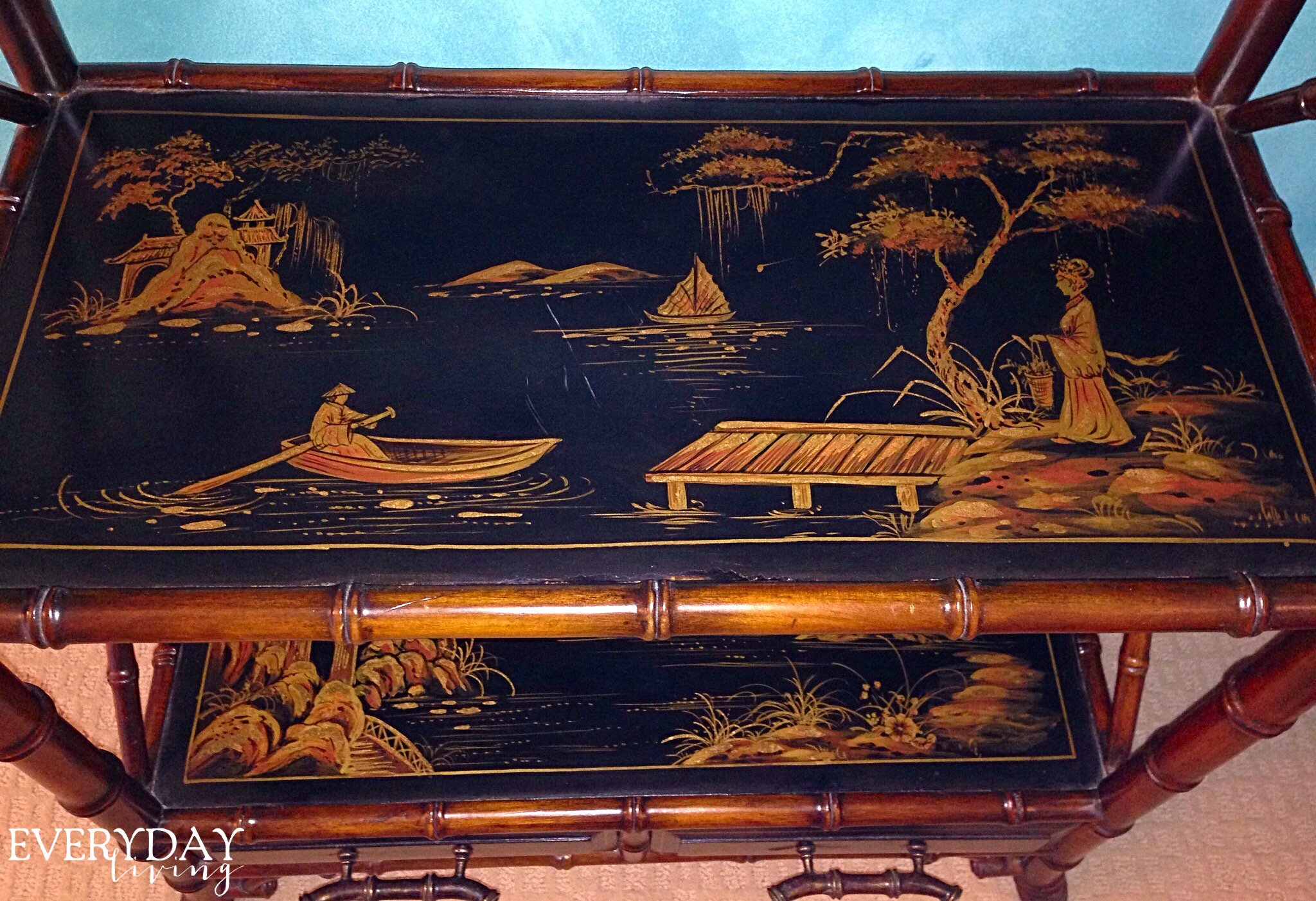 The chinoiserie bookcase by Maitland Smith has a different scene
painted on each shelf.  This piece, I am sure, is meant for displaying
a few objects and not for books hiding its beauty!  Any shelf
is an invitation for me to stack books!
"We read to know that we are not alone"
       -C.S. Lewis
Linking with Pieced Pastimes, It's Overflowing, Silver Pennies, Life on Lakeshore Drive, Thoughts From Alice, Pink When, Mod Vintage Life, Coastal Charm, My Uncommon Slice of Suburbia, The Dedicated House, Dwellings-Heart of Your Home, Savvy Southern Style, Ivy and Elephants, French Country Cottage, From My Front Porch To Yours, Stone Gable, Confessions of a Plate Addict,Worthing Court, Between Naps on the Porch, Cedar Hill Farmhouse, A Stroll Thru Life, The Style Sisters, The Charm of Home, The Winthrop Chronicles, Cornerstone Confessions, A Delightsome Life, Imparting Grace, Posed Perfection, Katherines Corner, My Romantic Home, Chic On A Shoestring Decorating, Rooted In Thyme, Share Your Cup, The Enchanting Rose, Alabama Womens Bloggers