"A friend loves at all times…"
Proverbs 17:17
 Over the last year, I have been able to spend some time with my long-time friend Patti in her beautiful home in Raleigh, NC.  We share so many common interests:  a love for travel, food, antiques, and decorating to name just a few.  Although on each visit, it was cloudy and rainy, we enjoyed time inside her gorgeous home doing a few things that we love: drinking Snickerdandy coffee, arranging tablescapes, and munching on cheese straws and "aggression cookies".  As an interior decorator, I have been privileged to work with Patti on her classic Georgian home, a beach house, and a mountain retreat.  She is the happiest in rooms of blue and white with a touch of yellow and red!  I think you will agree that her passion for blue is evident!
This is a warm and cozy room for reading or sharing conversation. The gold camelback sofa and side tables are antiques.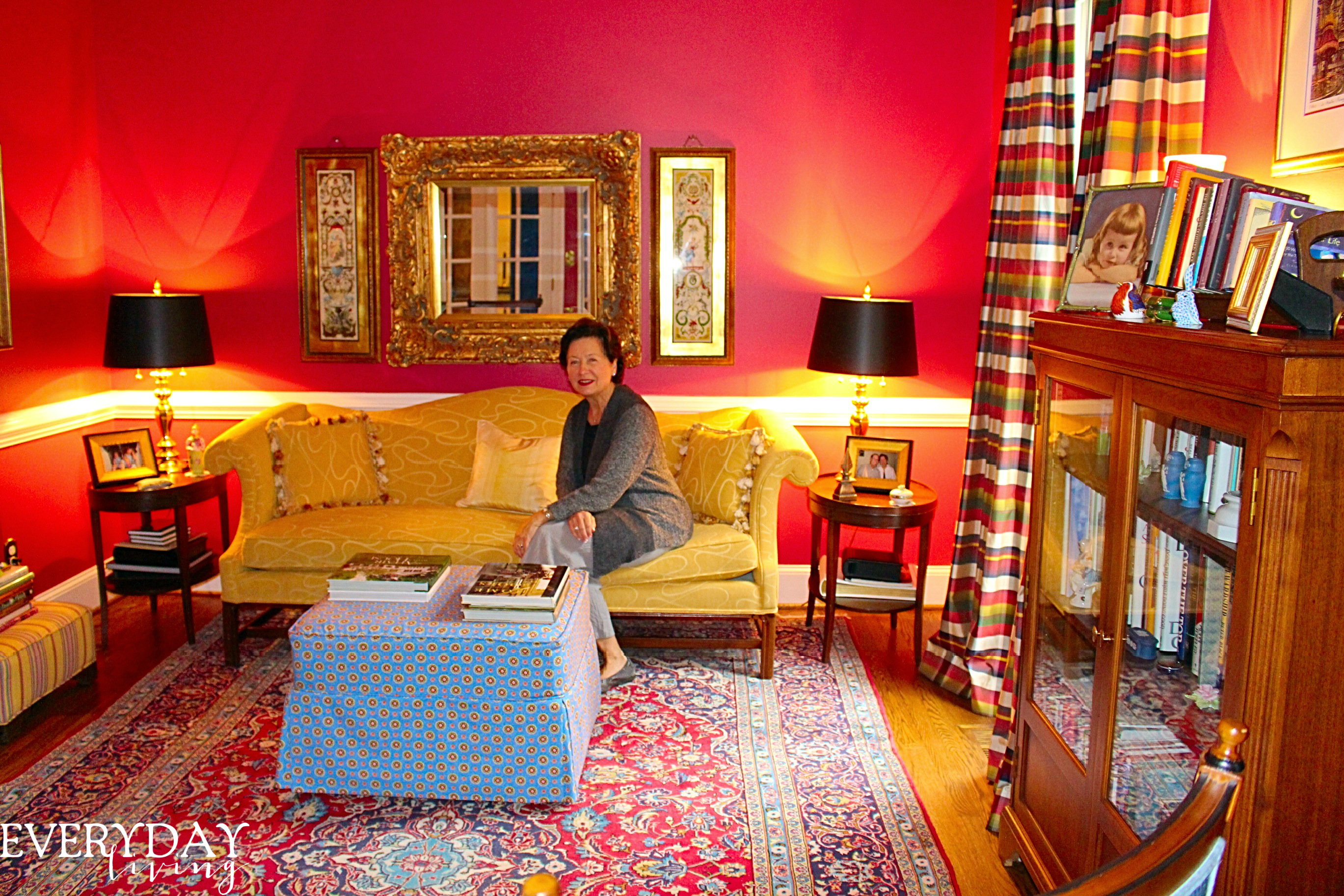 With many family photos and momentos, this is one of Patti's favorite rooms!  The rug is an antique Oriental.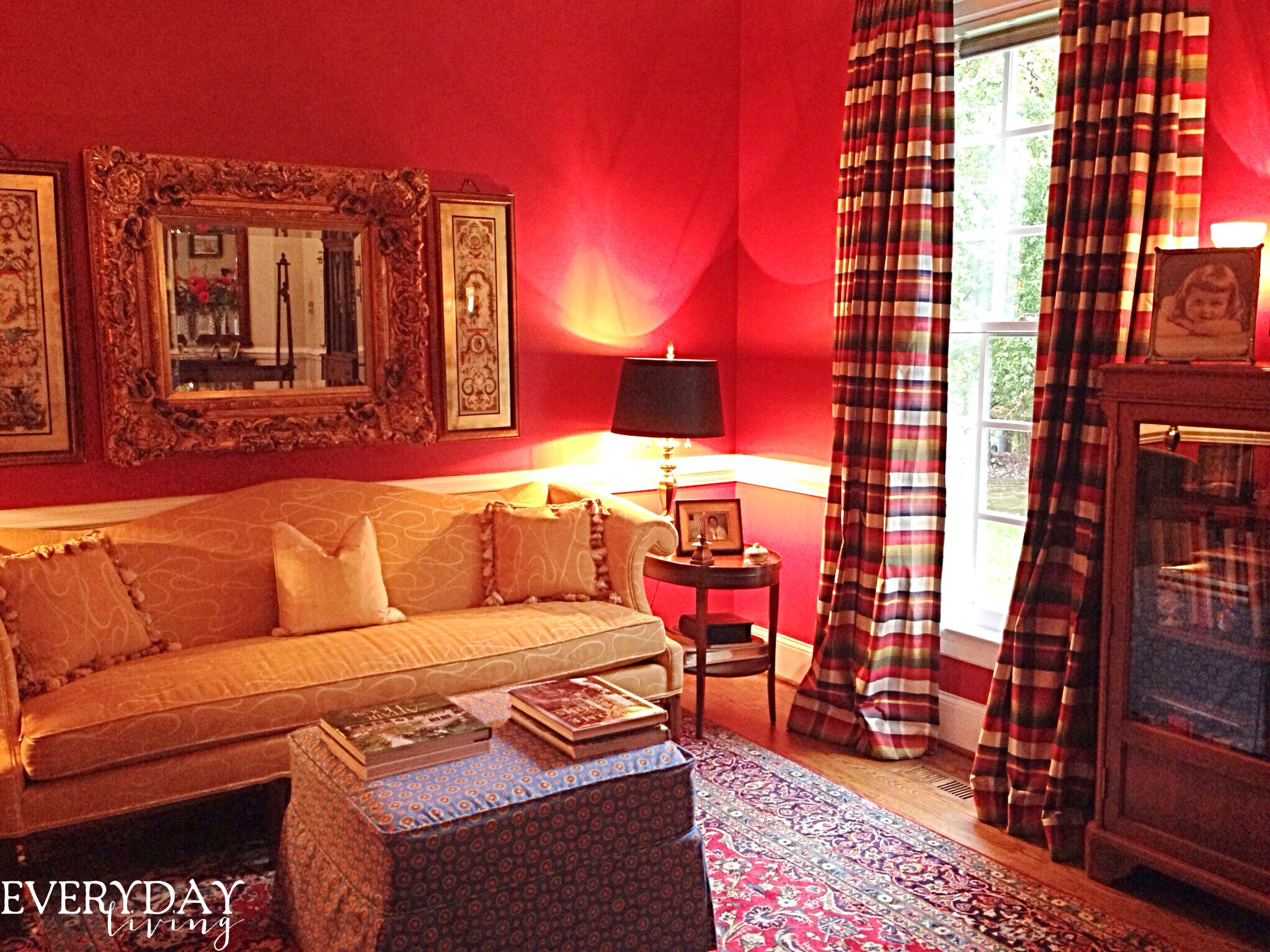 Lush silk window treatments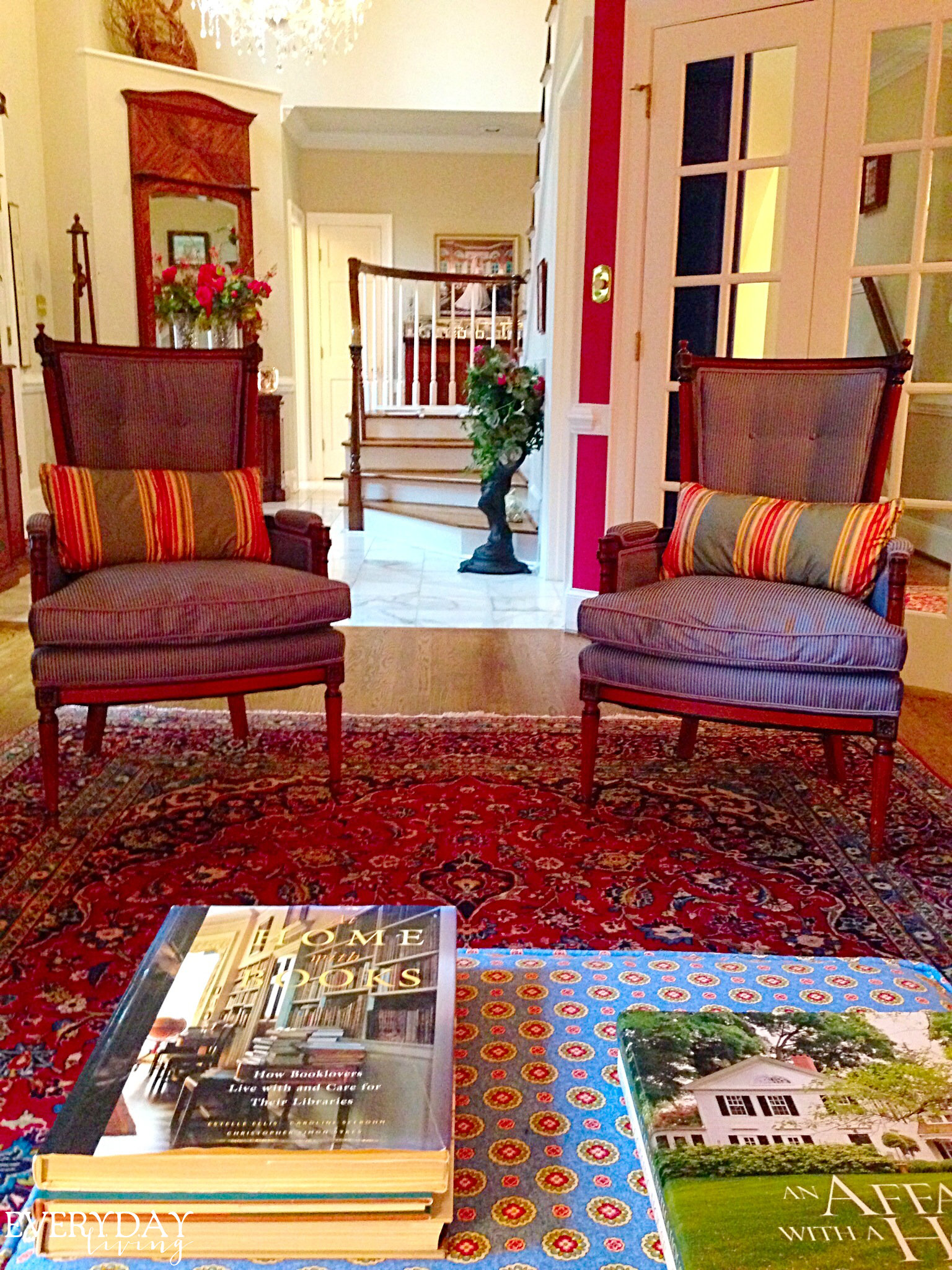 Pair of antique French side chairs upholstered in silk with silk striped pillows
The striking red wall color is Benjamin Moore's Mediterranean Spice.  This is the same as in my dining room–I have never tired of this lipstick red!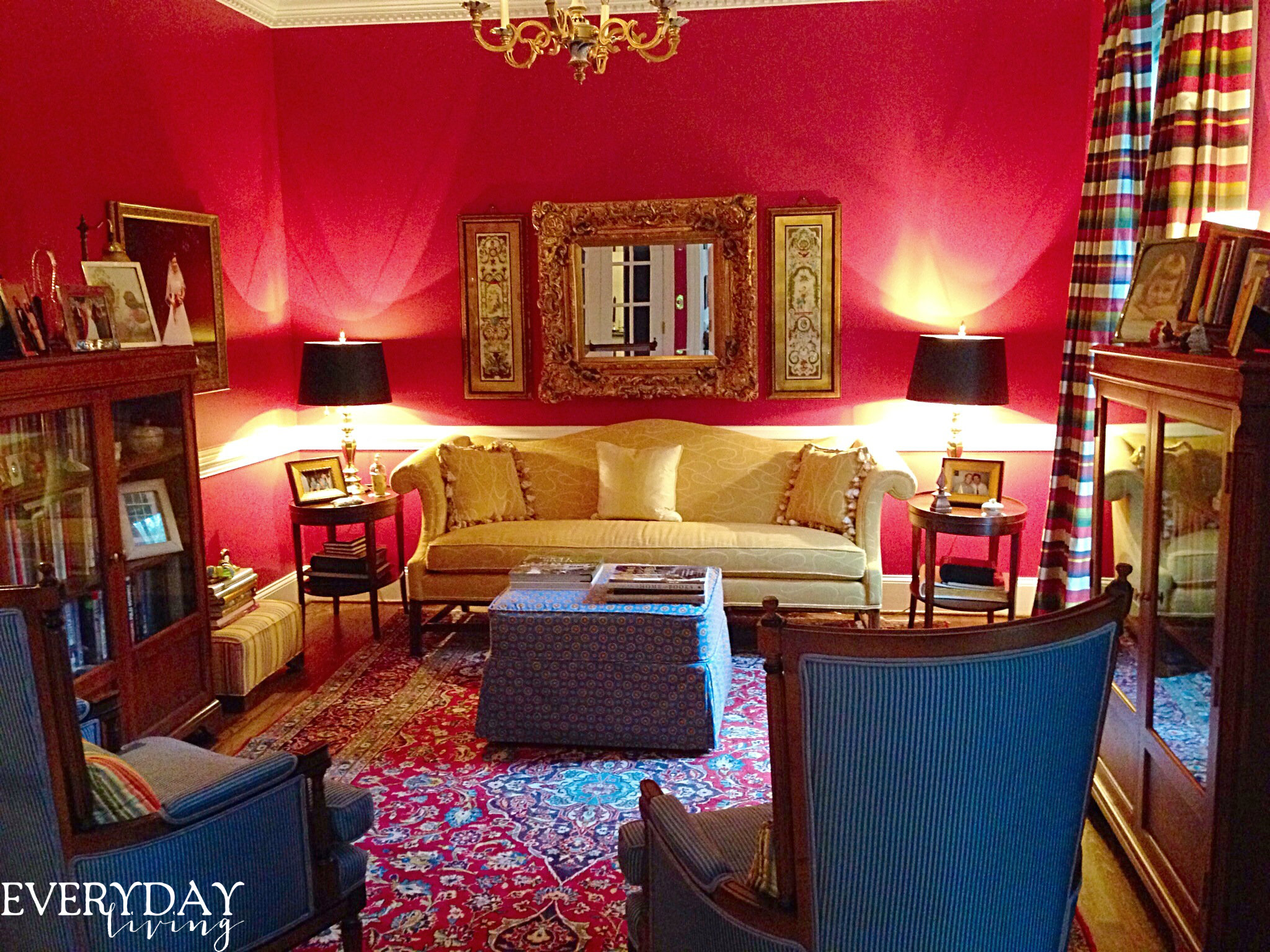 Patti loves books, just as I do.  Two bookcases, two stools, and an ottoman hold some of her collection.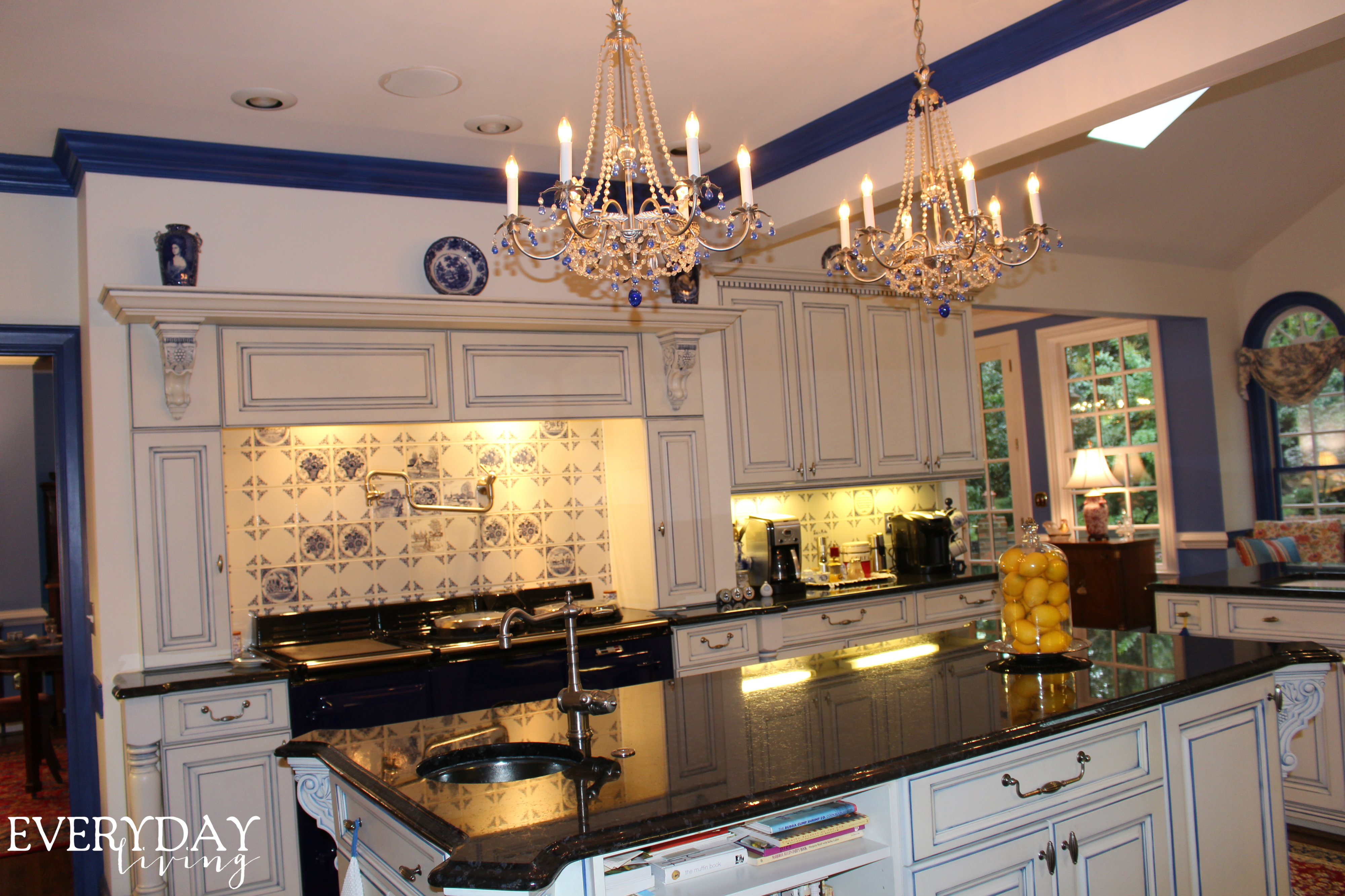 The blue and white kitchen is a cook 's dream-which is very appropriate as Patti is an excellent cook!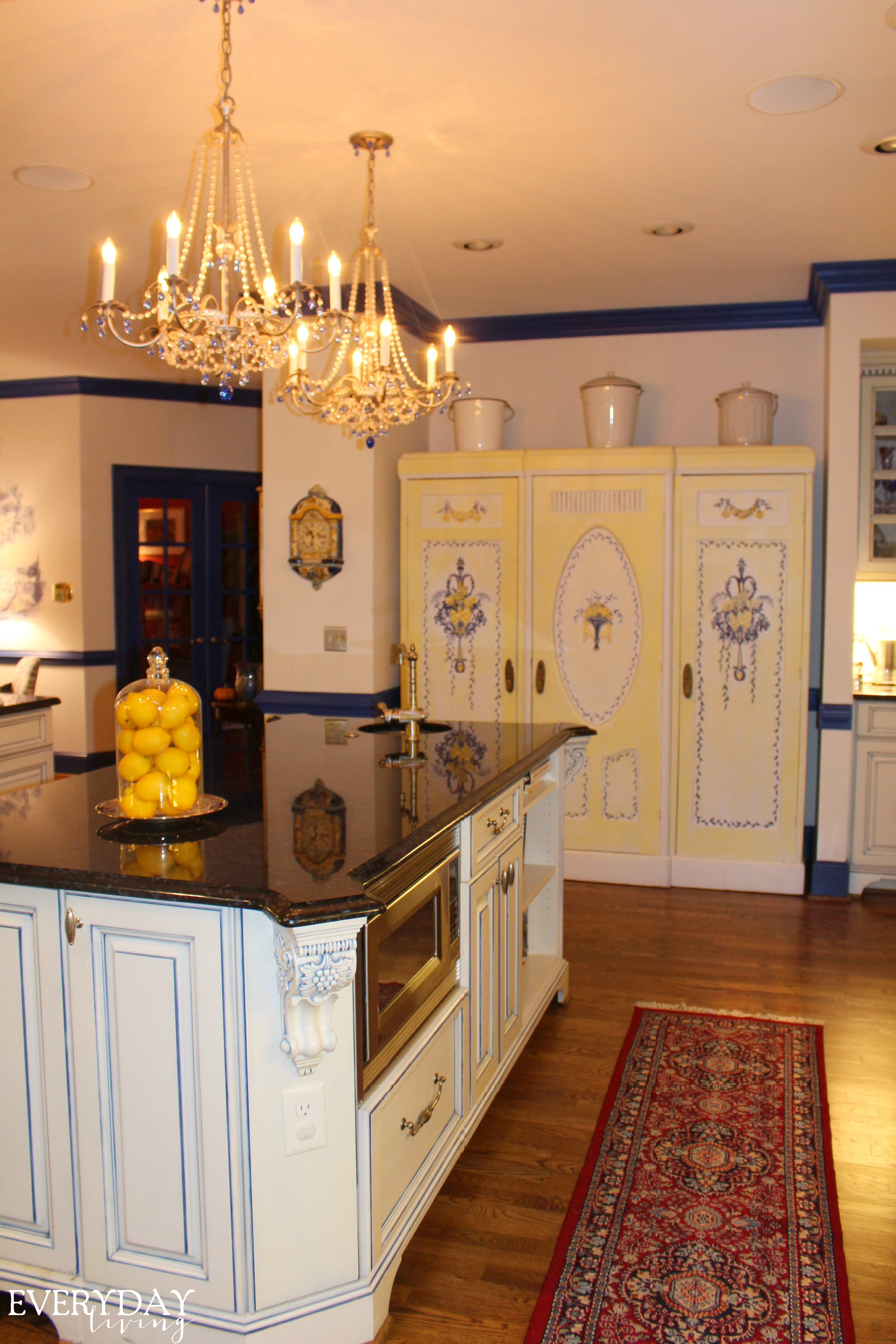 Schonbek chandeliers with cobalt blue crystals light the blue butterfly granite island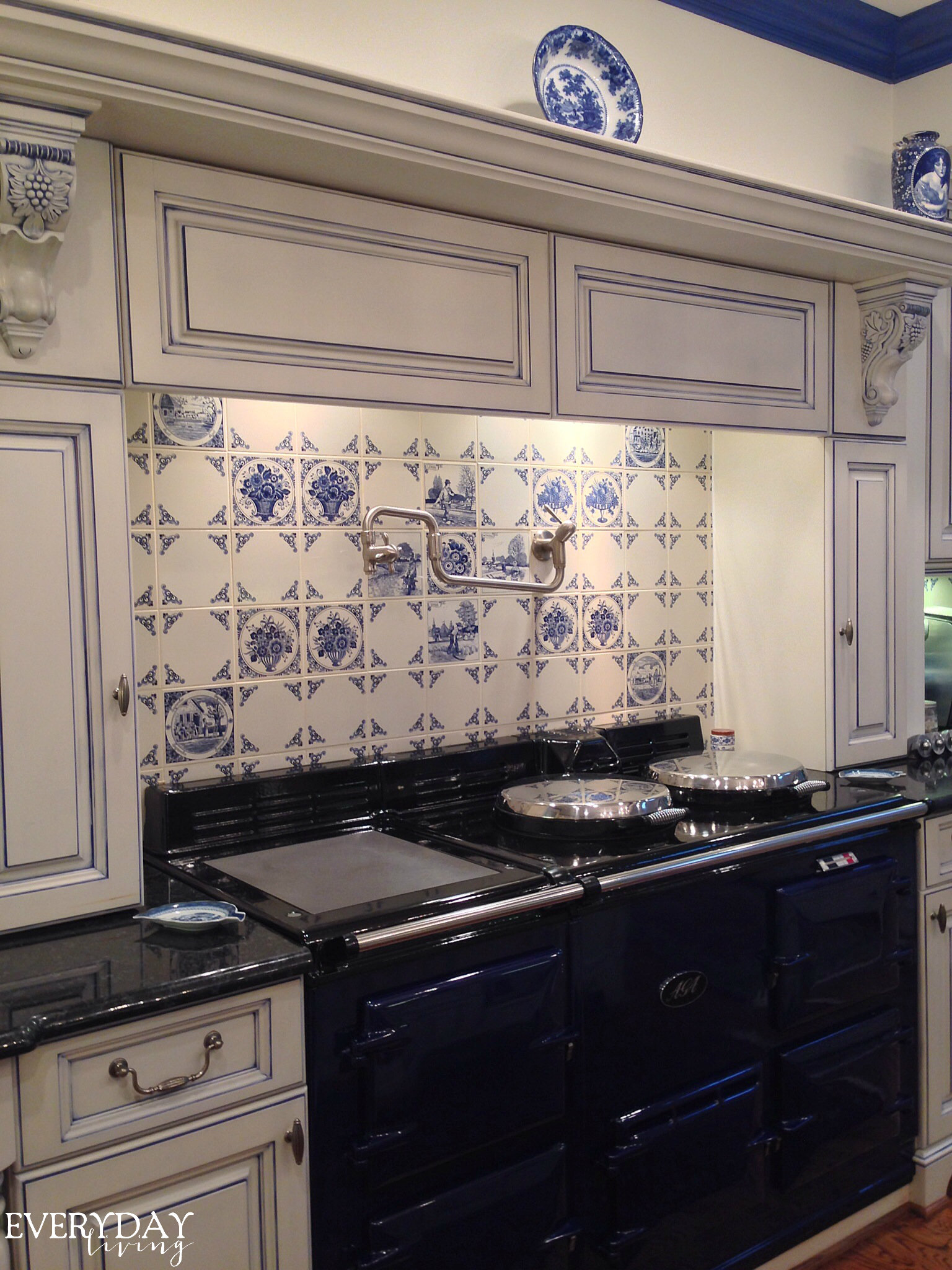 A cobalt blue AGA stove with imported Delft tile backsplash.  One of the selling points of an AGA is that it produces the "perfect fried egg".  As we were standing in the kitchen, Patti's husband, Mike, insisted that she fry an egg to show us!  And, indeed, it was the perfect fried egg!  Afterwards, Patti mentioned that having an AGA was a lifelong dream of hers to which Mike responded, "Really?!  That's funny, because I never knew that!"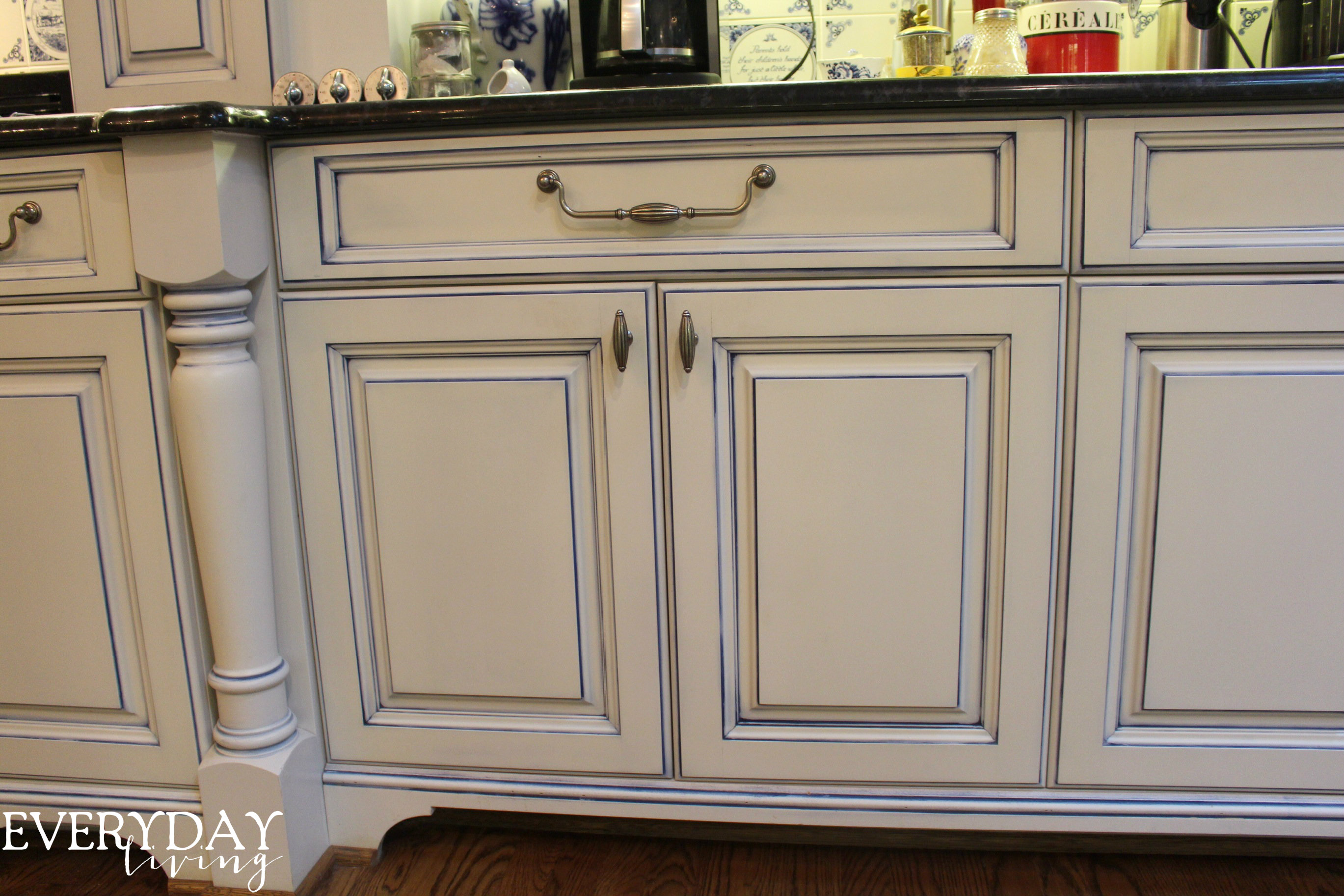 Detail of the glazed cabinetry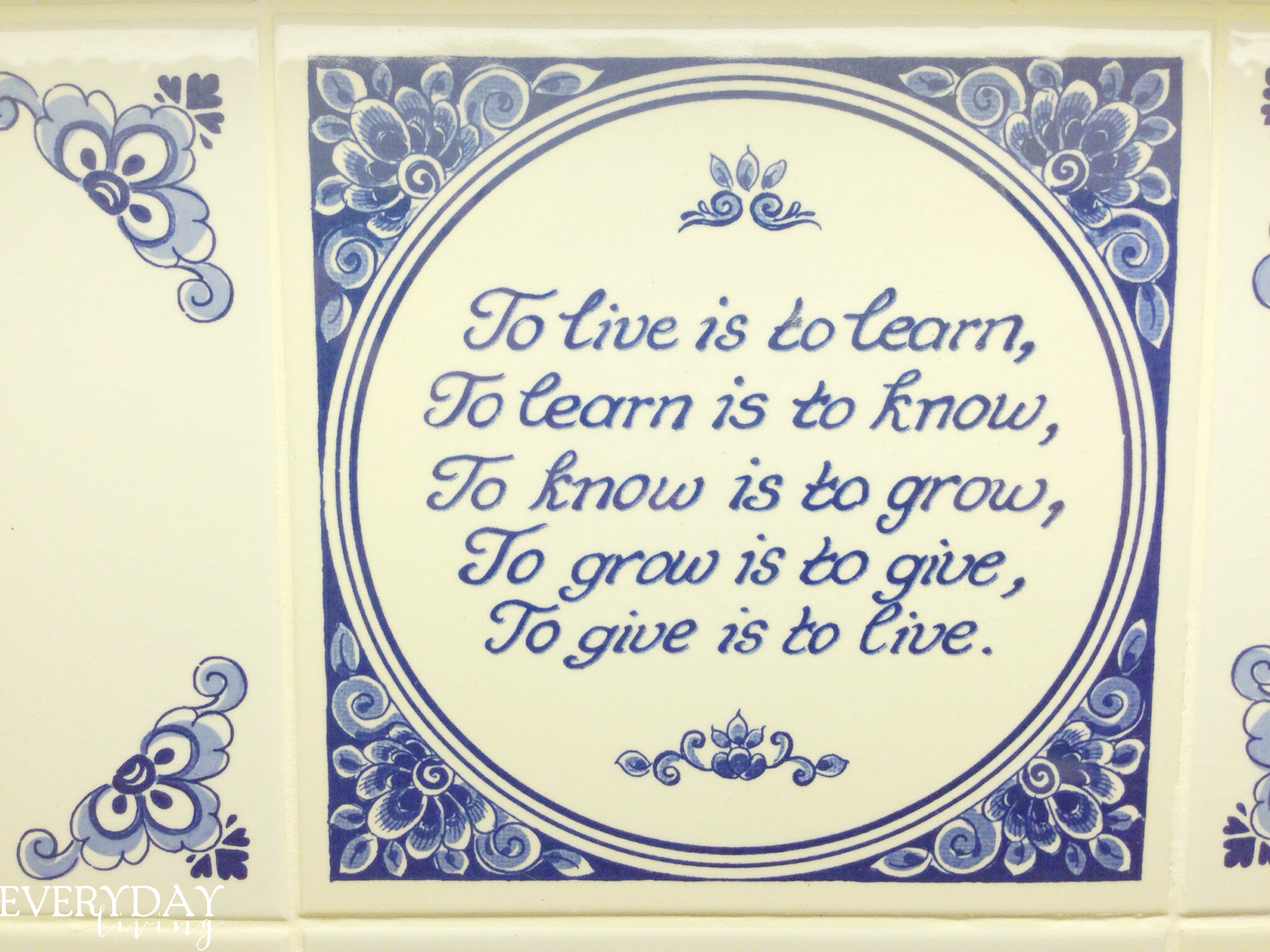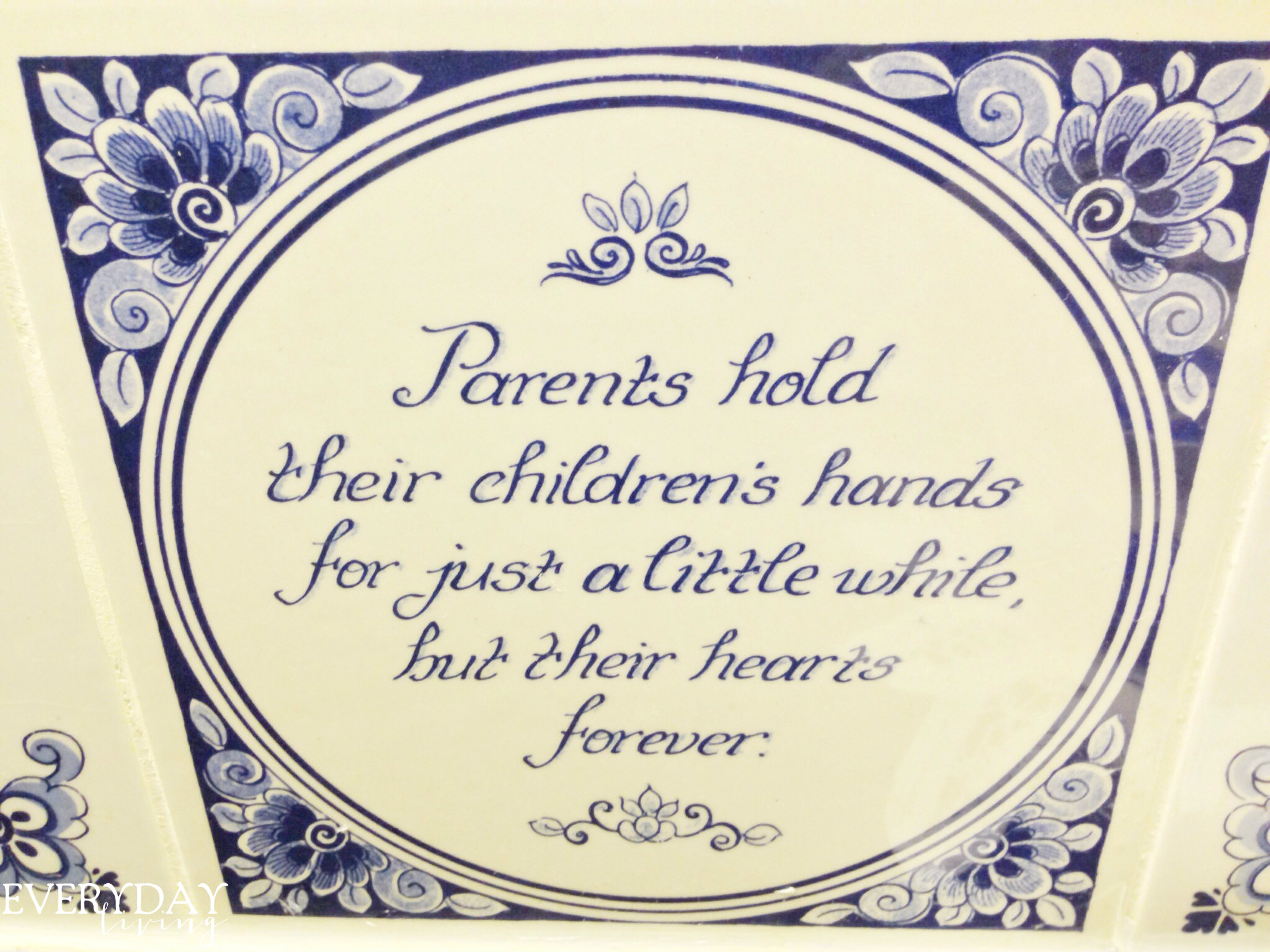 Patti selected quotes that were meaningful for randomly placed tiles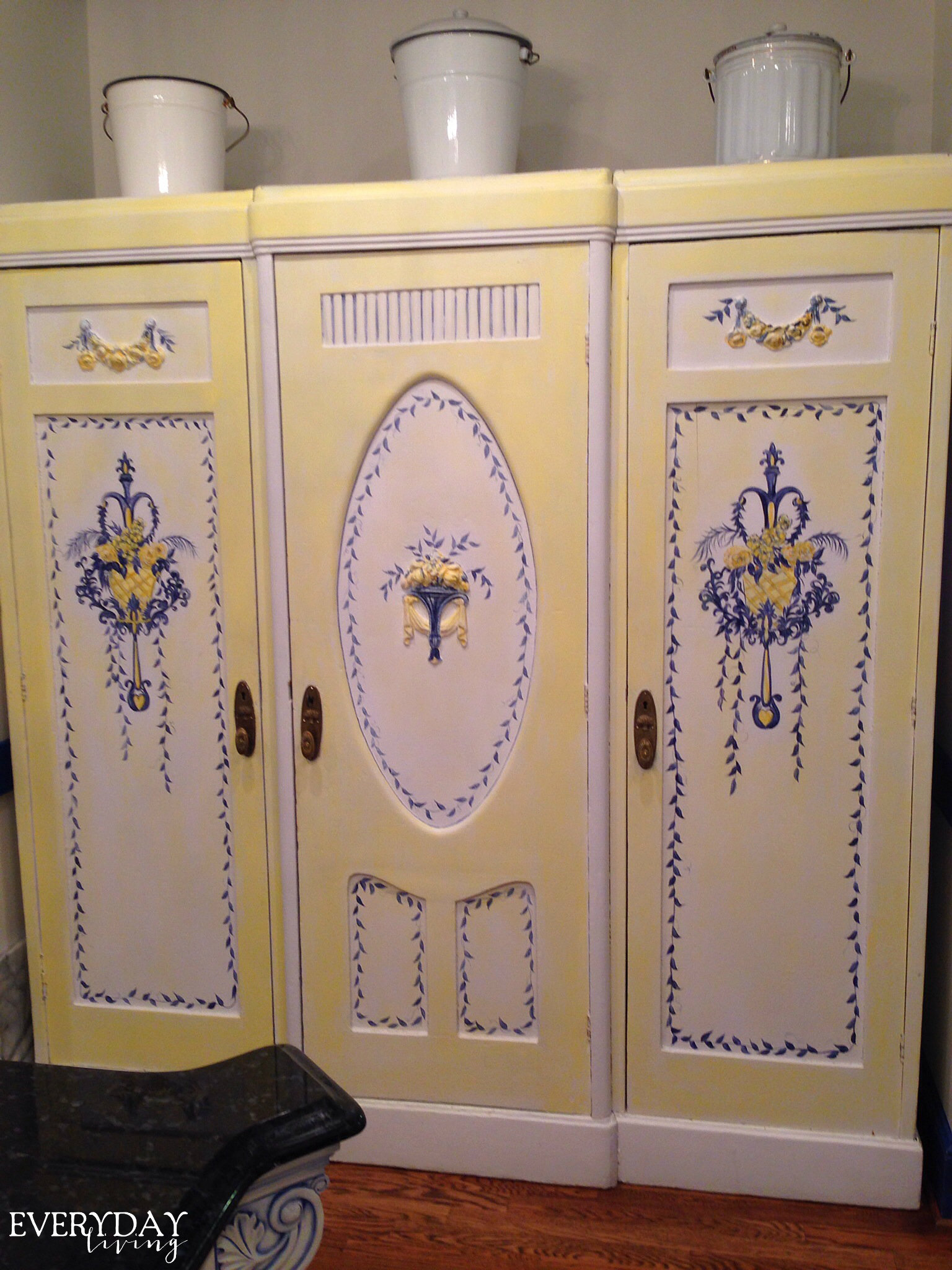 An antique cabinet used as a pantry and hand painted by Donna, an artist that I have worked with on dozens of projects!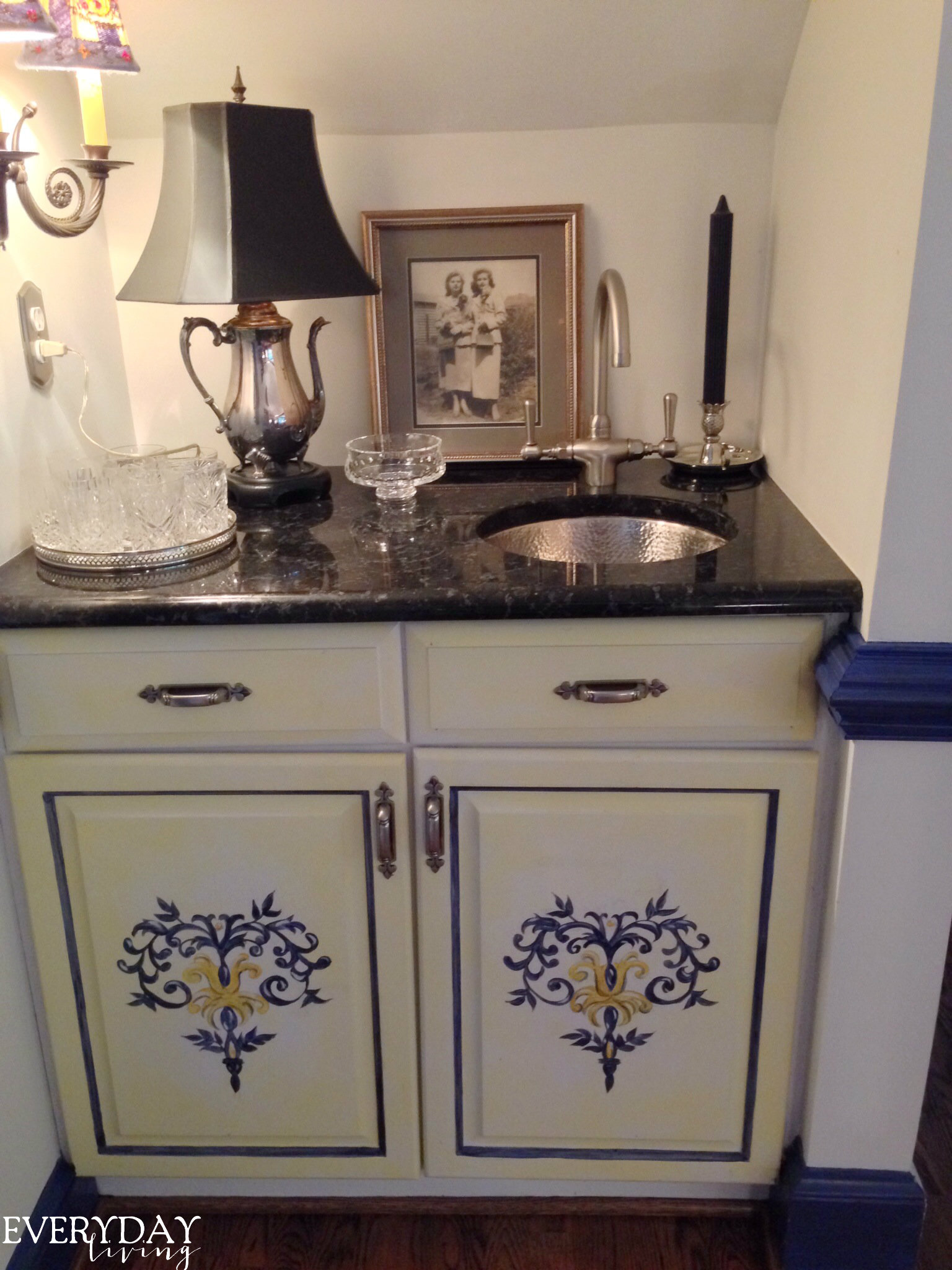 Small wet bar with hammered nickel sink and hand-painted cabinetry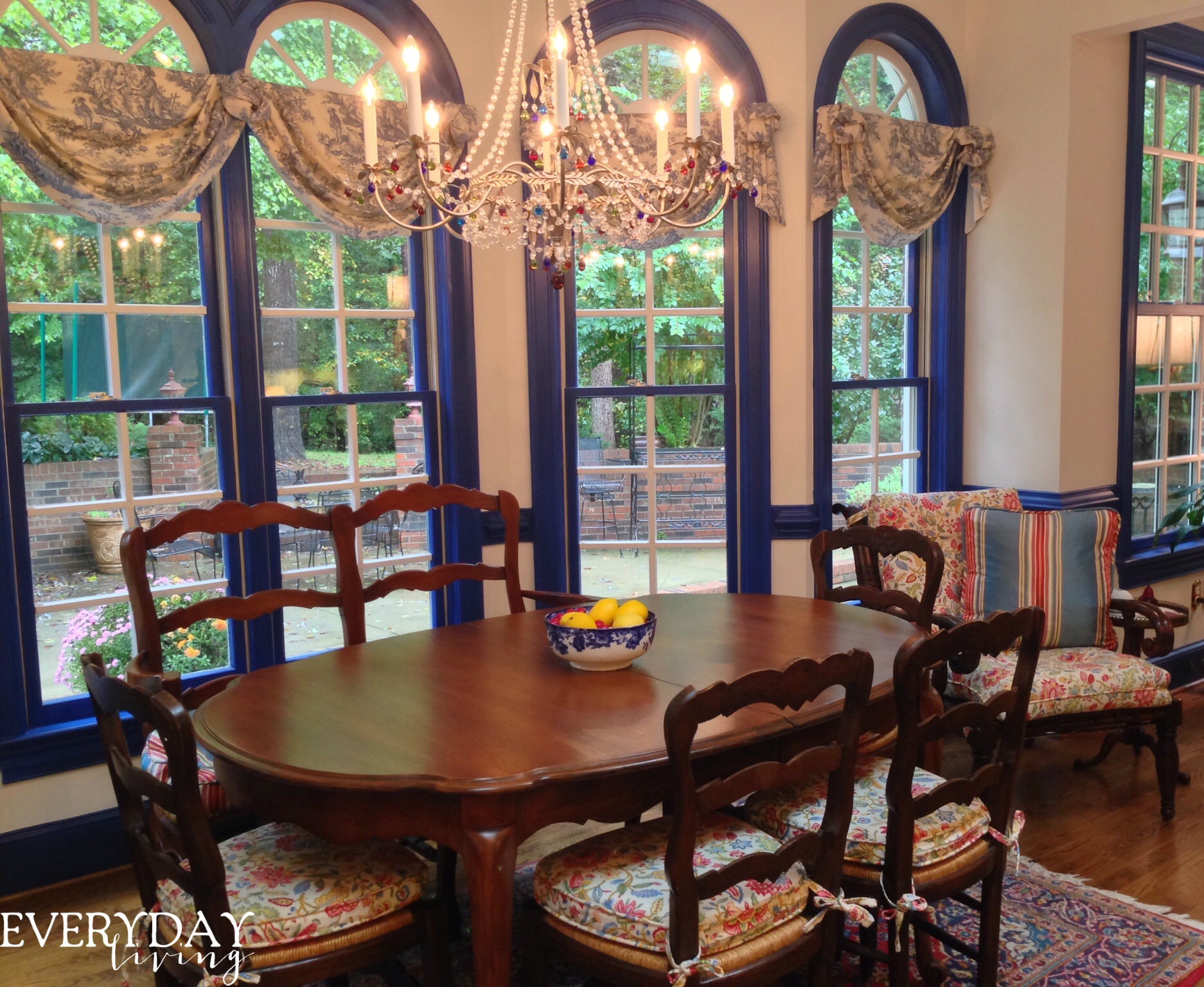 Beautiful arched windows with toile swags and Schonbek chandelier lighting the space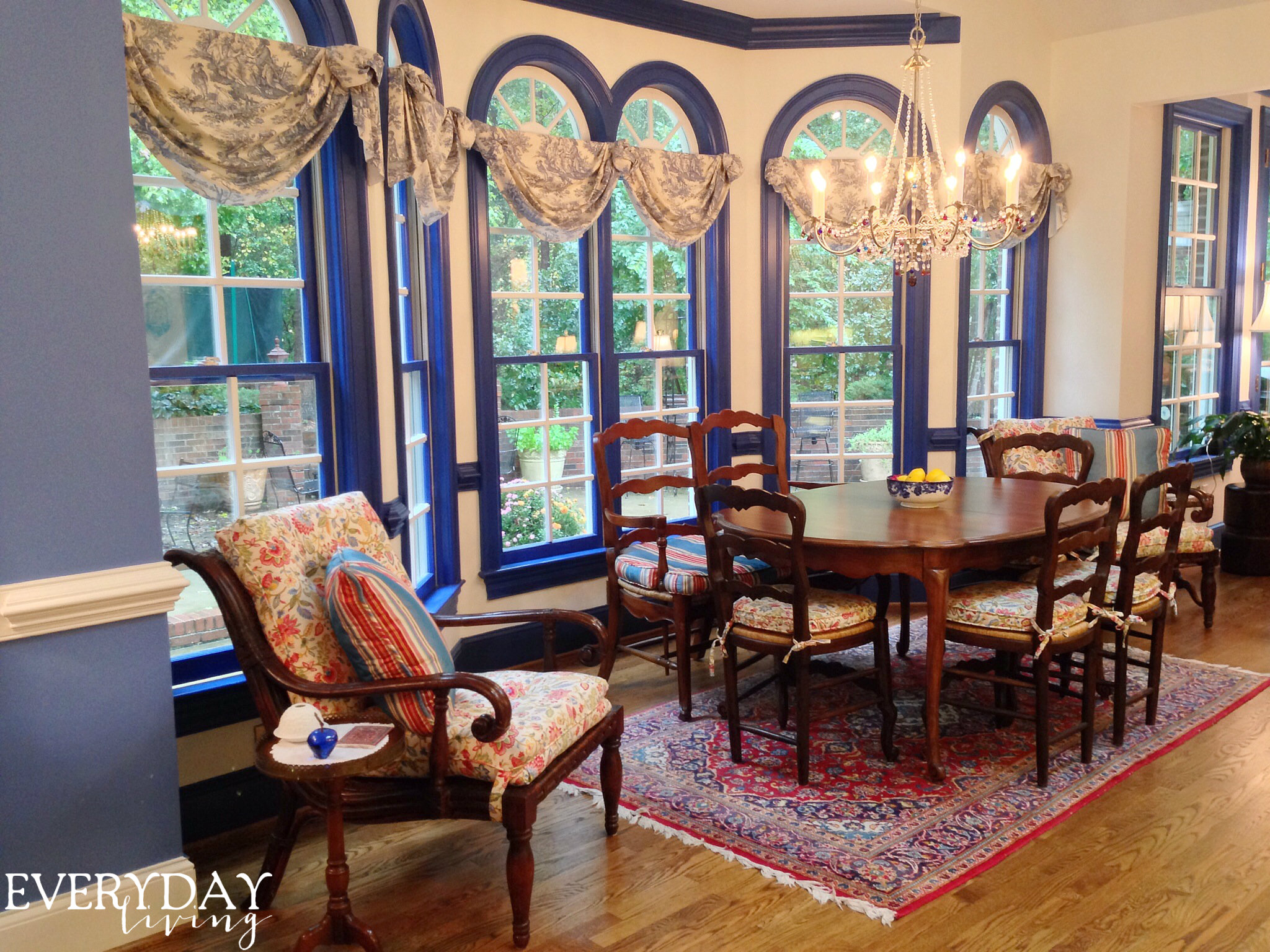 Antique French table and chairs make for an inviting place for morning coffee in the breakfast room!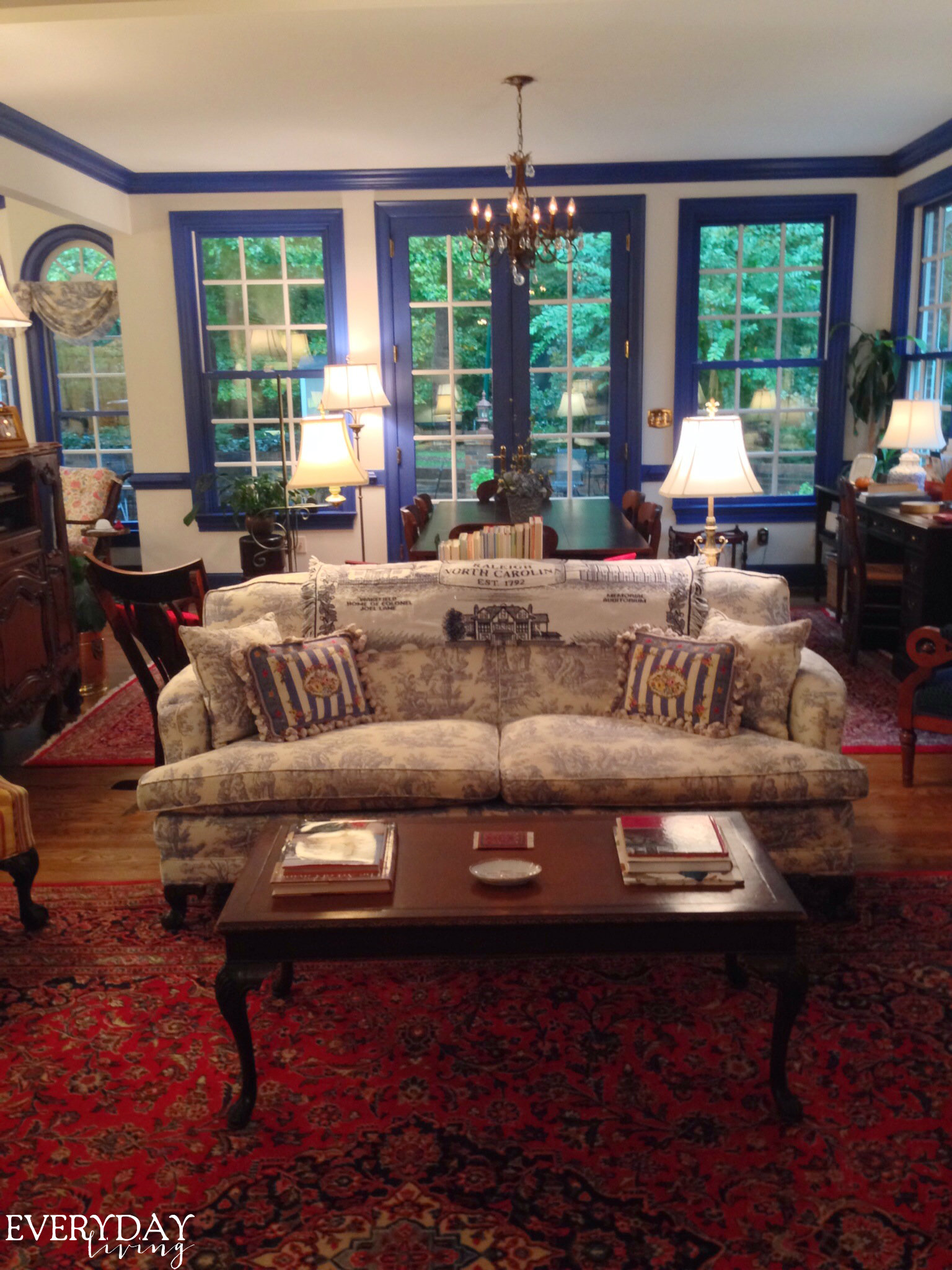 Antique French sofa covered in a linen toile with needlepoint pillows.  Behind the sofa sits an antique table and chairs (barely visible) used for large family gatherings.  This room truly functions as a family room with plenty of seating and a large table for eating.  Also pictured is a desk used for work and to manage the household.  Mike and Patti's home is a classic Georgian with it's brick facade and symmetry. The interior furnishings, however, lean towards Patti's love for French antiques.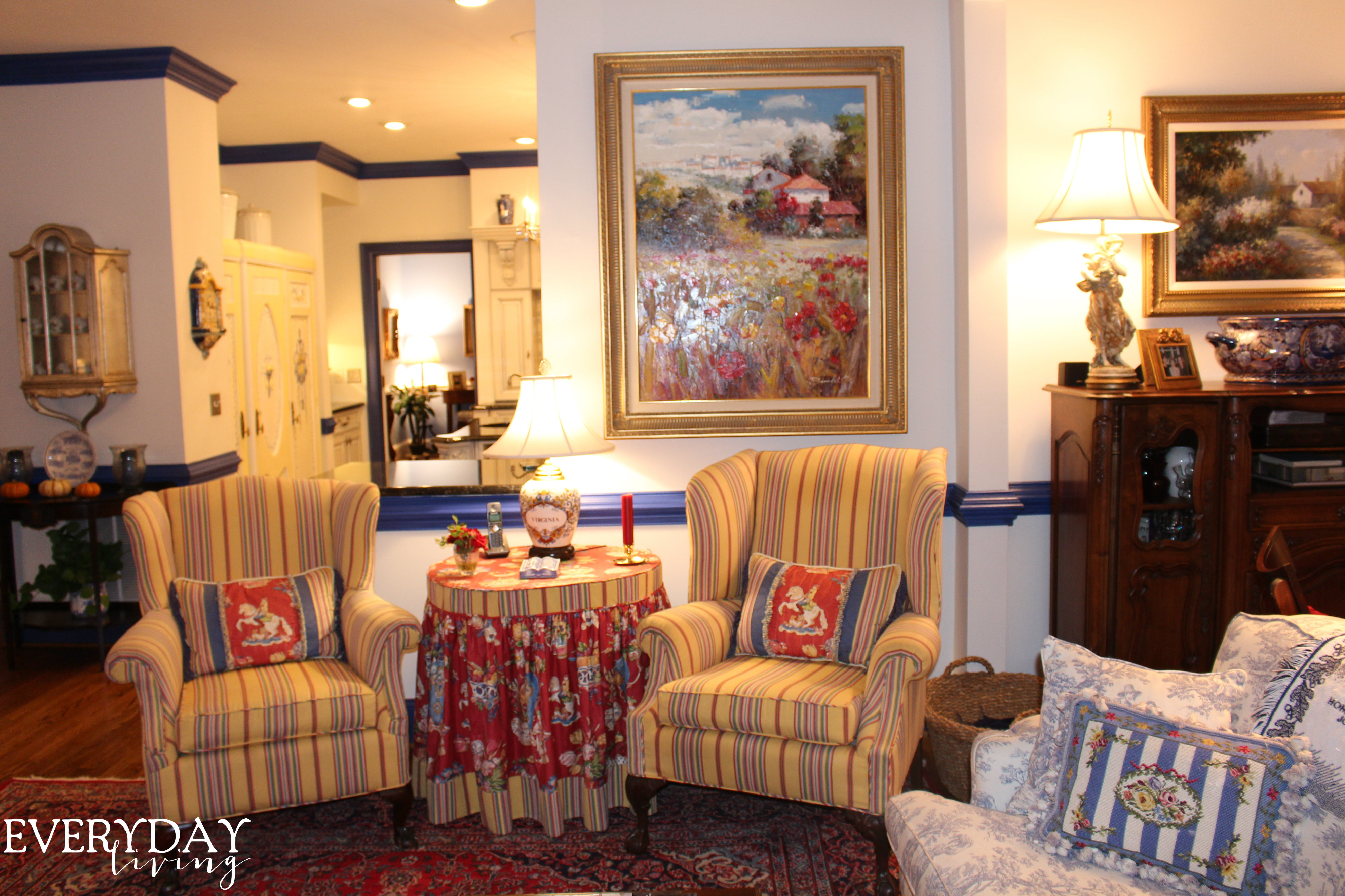 A skirted round table that I designed with a pair of wing chairs upholstered in a striped linen fabric make for a perfect place to relax or watch TV!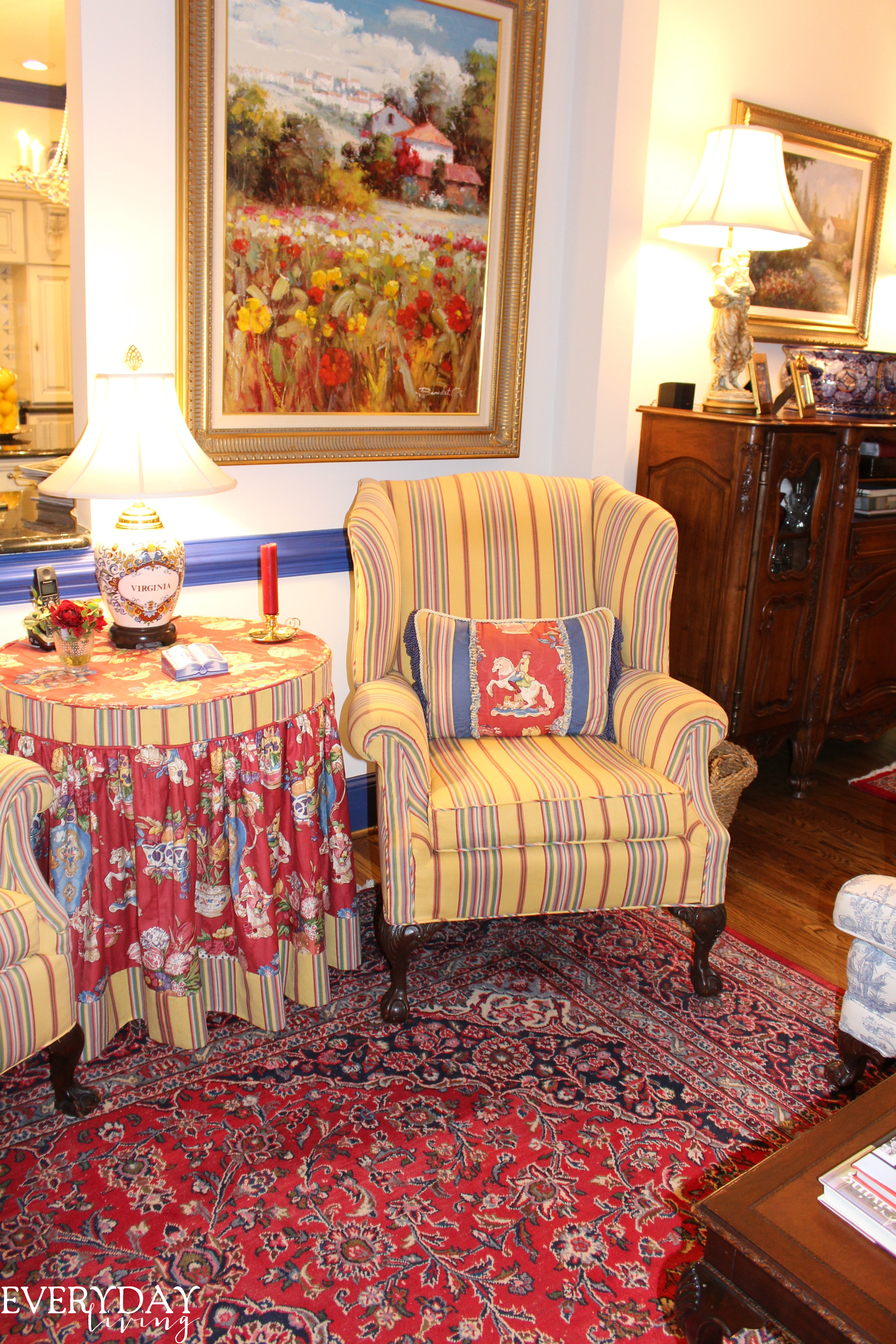 To the right of the chair is an outstanding sideboard often used for serving when Patti entertains.  A French landscape complements this vignette.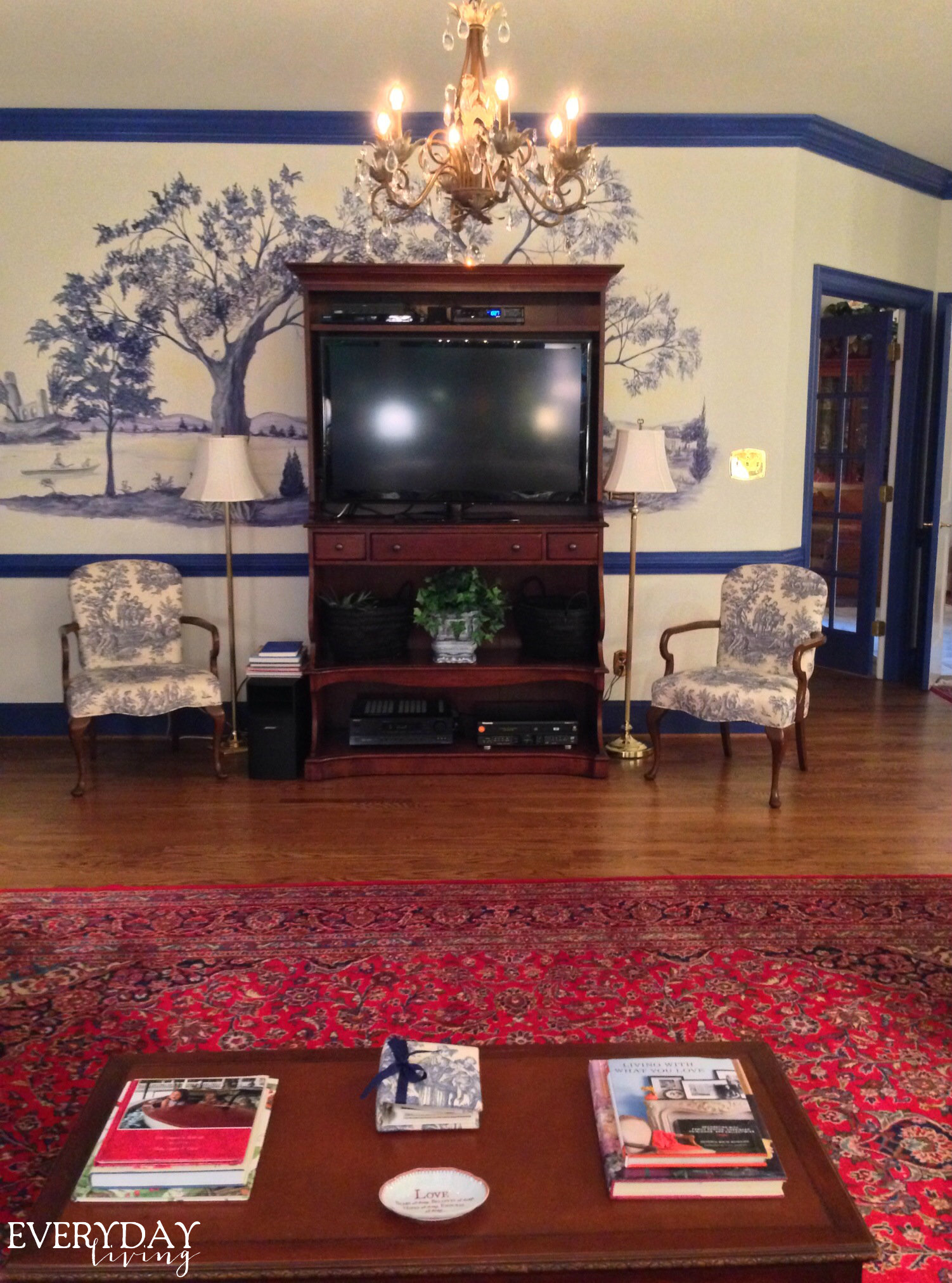 Hand-painted toile scene in the family room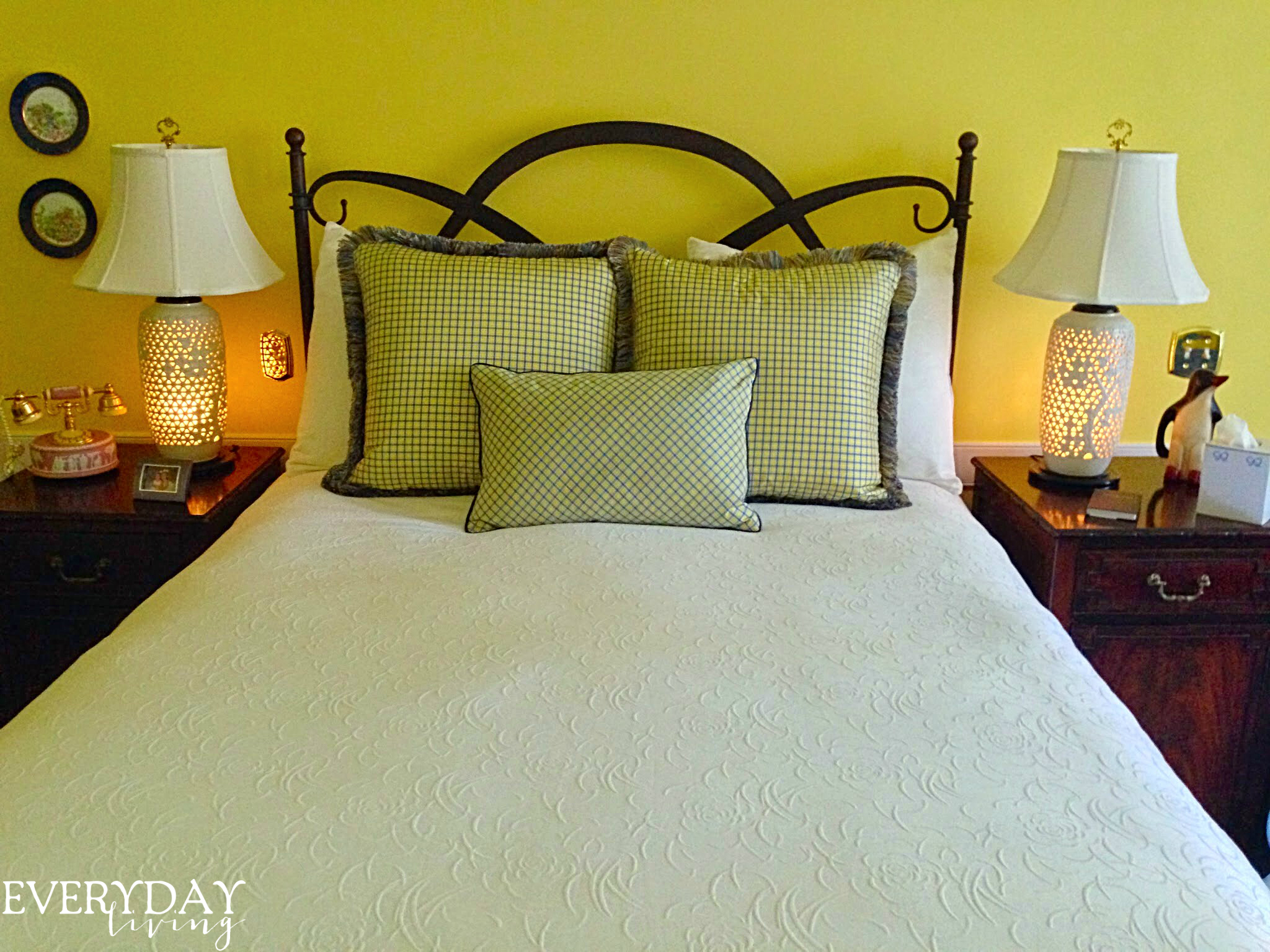 On my visit in January, I attempted to photograph the master bedroom.  It was a cloudy day and my photos didn't turn out as well as I hoped!  The bedroom is a sunny shade of yellow!  The iron bed is classic with matelasse coverlet.  The lamps were added while I was visiting and they work perfectly in the space!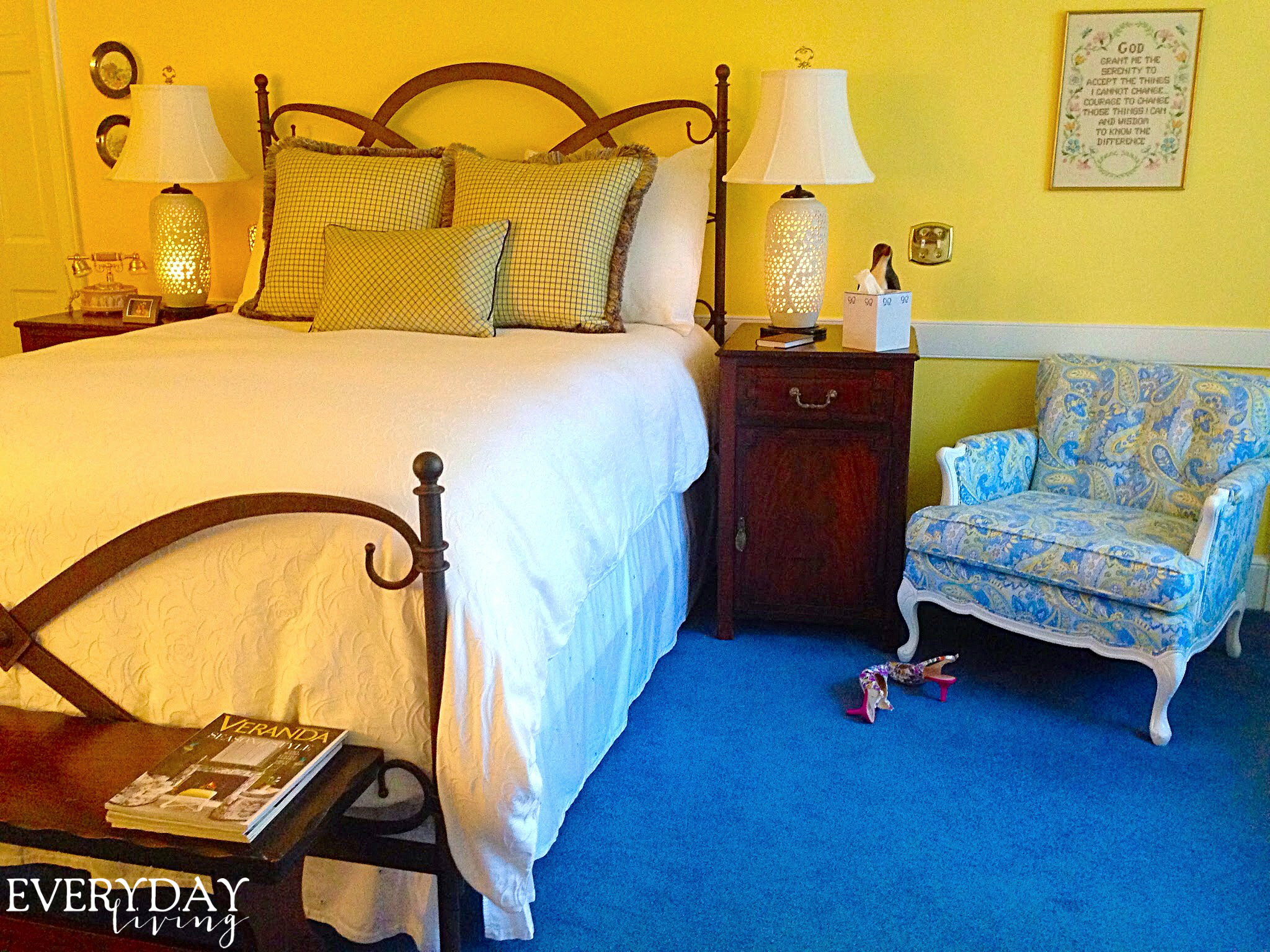 Small French chair is upholstered in toile.  An antique bench sits at the foot of the bed!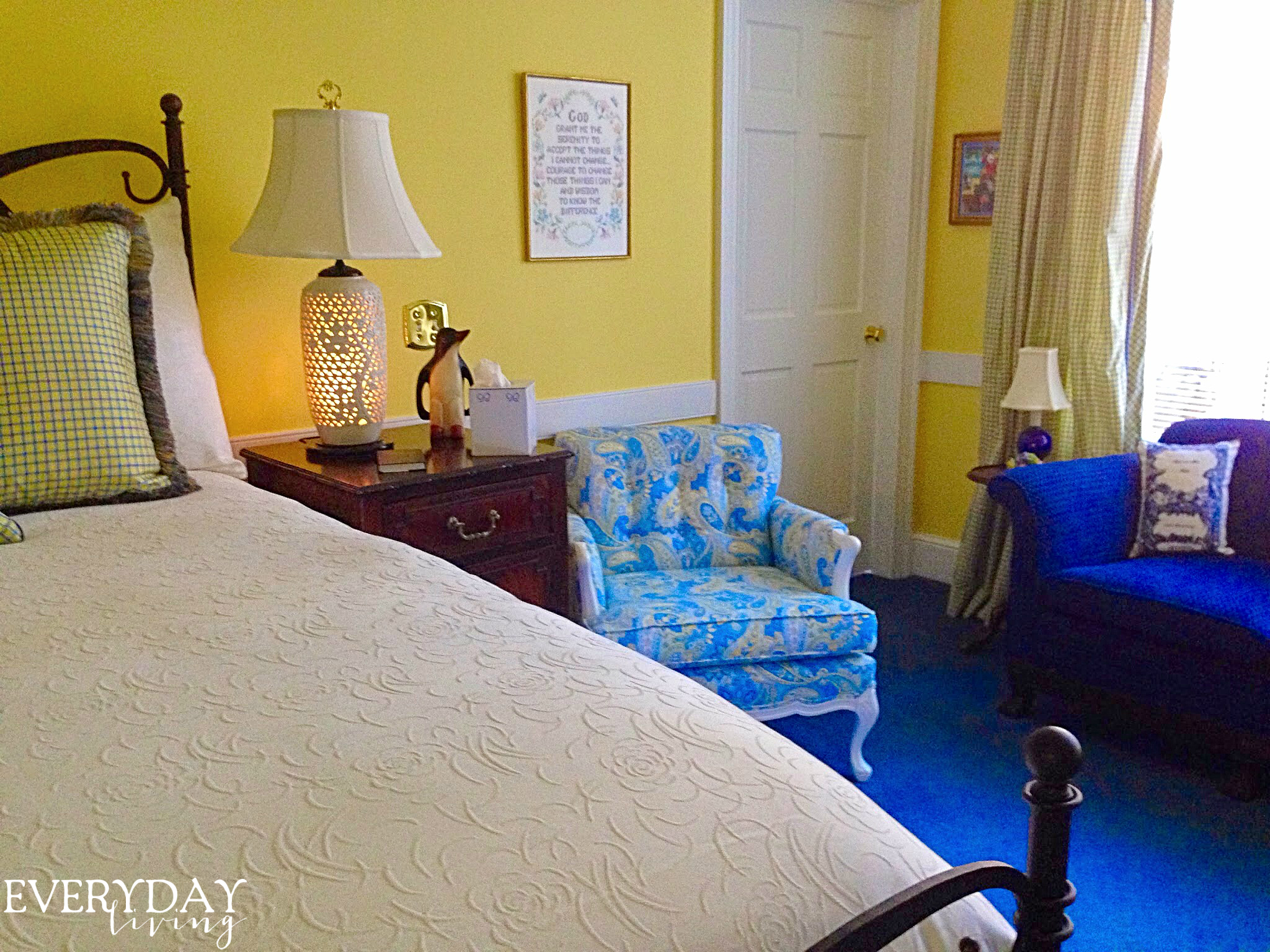 Silk plaid window treatments complement the triple window!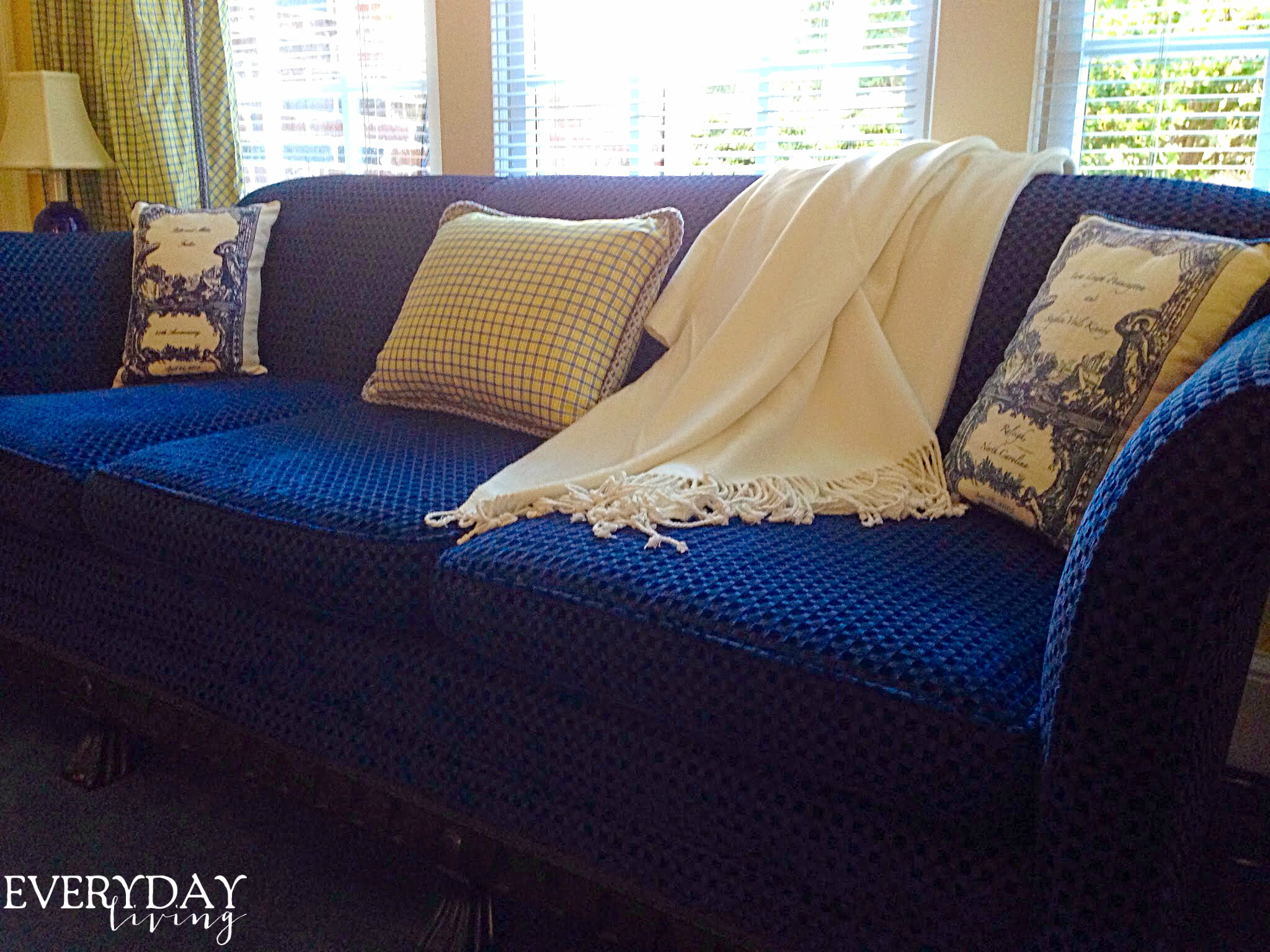 Velvet sofa makes a comfy spot for reading and watching TV!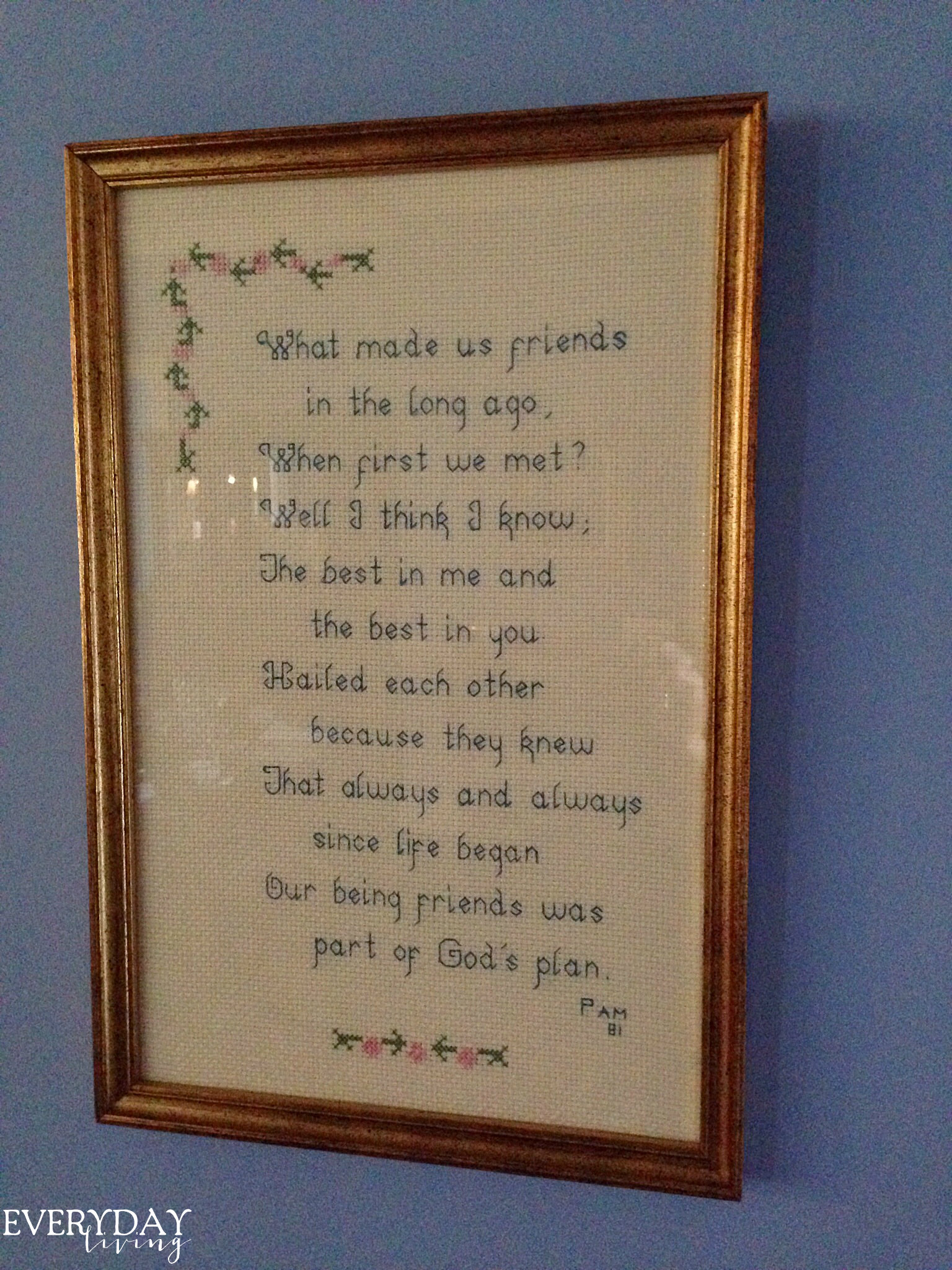 Cross-stitch that I made in 1981 as a gift to Patti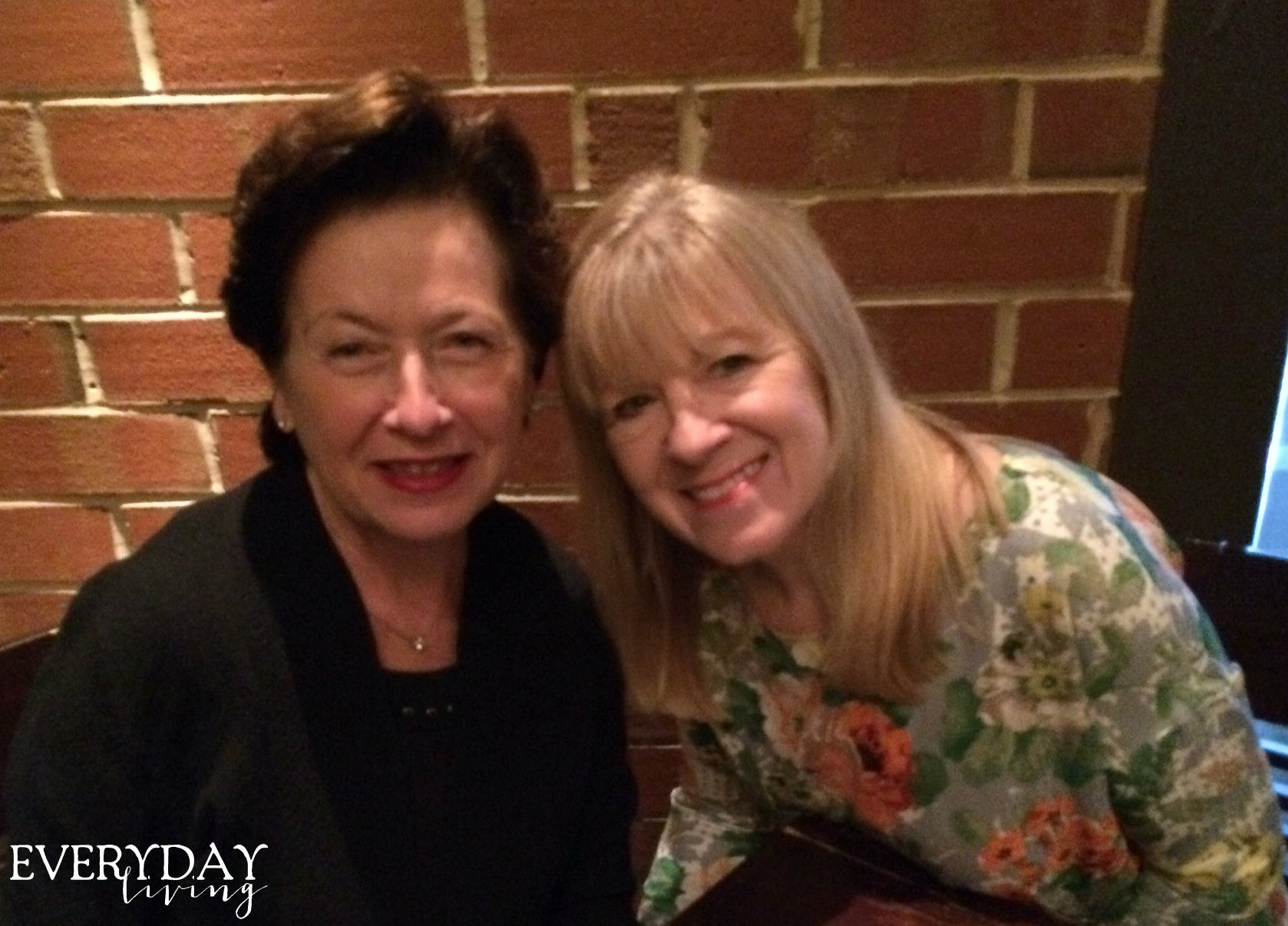 A treasured friendship for forty years!
"True friendship multiplies the good in life and divides its evils.  Strive to have friends, for life without friends is like life on a desert island…to find one real friend in a lifetime is good fortune; to keep her is a blessing"
Baltasar Gracian
This post originally appeared here: Everyday Living at Patti's
Linking with Pieced Pastimes, Silver Pennies, Life on Lakeshore Drive, Thoughts From Alice, Mod Vintage Life, Coastal Charm, My Uncommon Slice of Suburbia, The Dedicated House, Dwellings-Heart of Your Home, Savvy Southern Style, Ivy and Elephants, French Country Cottage, From My Front Porch To Yours, Stone Gable, Confessions of a Plate Addict, Worthing Court, Between Naps on the Porch, Cedar Hill Farmhouse, A Stroll Thru Life, The Style Sisters, The Charm of Home, The Winthrop Chronicles, Cornerstone Confessions, A Delightsome Life, Imparting Grace, Posed Perfection, Katherines Corner, My Romantic Home, Chic On A Shoestring Decorating, Rooted In Thyme, Share Your Cup, TheEnchanting Rose, Alabama Women Bloggers, 21 Rosemary Lane, Northern Nesting, Oh My Heartsie Girl,  Cozy Little House, Rattlebridge Farm, The Turquoise Home, My Flagstaff Home, In The New House, Natasha in Oz, Vintage Refined