"Keep your heart with all vigilance, for from it flow the springs of life"
‭‭Proverbs‬ ‭4:23
 From now on, you can call me Professor Richardson.  Ok, not really, but I have taught college classes…at the University of Alabama.  Ok, ok, so maybe I haven't taught college classes, but I did teach one college class two weeks ago.  Alright, it wasn't exactly a college class.  It was a tablescaping class at the University of Alabama Gadsden Center, and that's the truth.  I was honored to be invited to teach at OLLI, an academic cooperative that provides an opportunity for adults to learn for the pure joy of learning!
Students, its time to have a seat and get quiet…class is in session!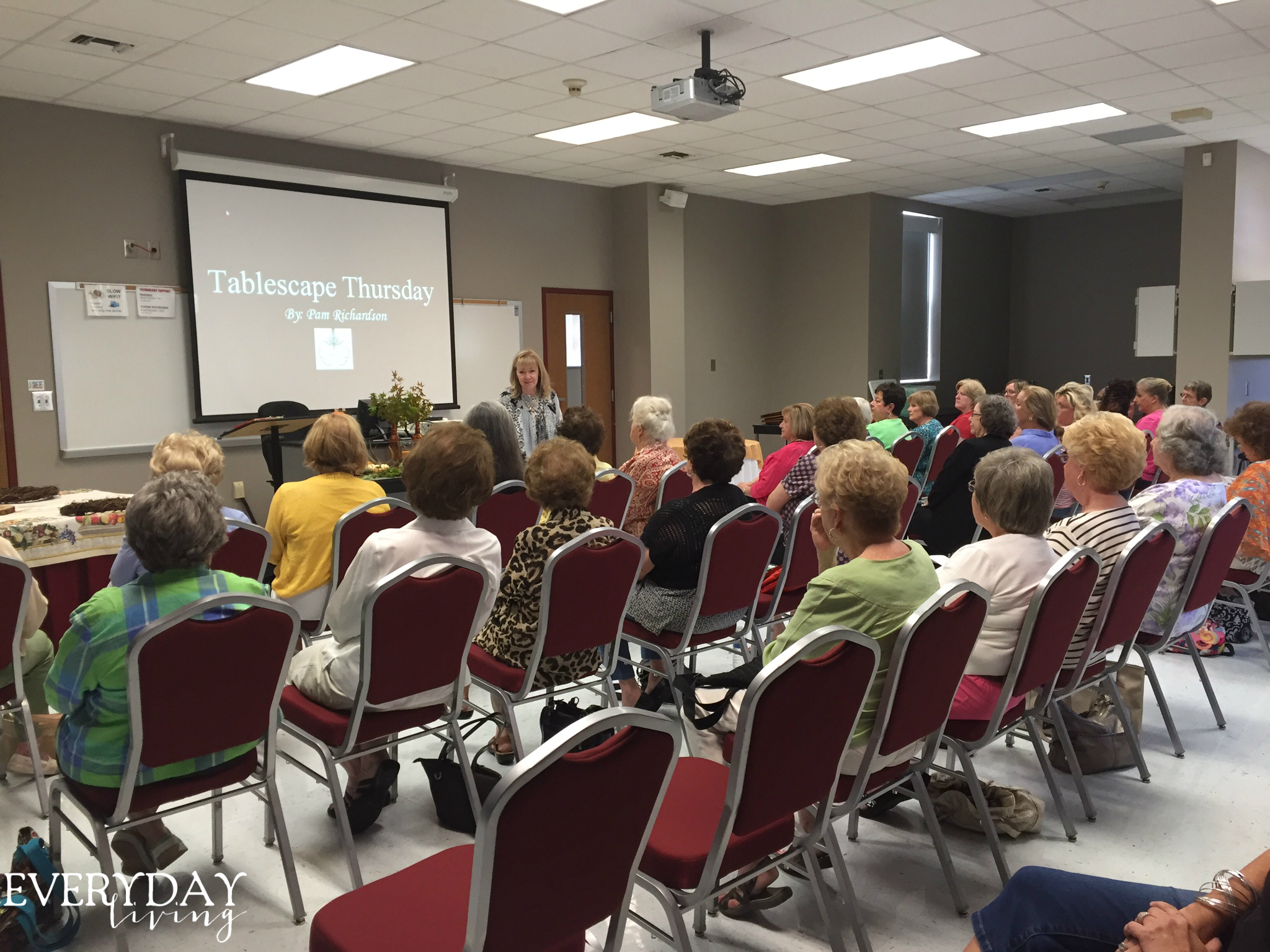 You can imagine my surprise when thirty-seven ladies and one confused man showed up.  And early, I might add!  I had no idea anyone would be excited about an hour and a half tablescaping class, but I felt the anticipation fill the room as some of the ladies arrived 30 minutes early!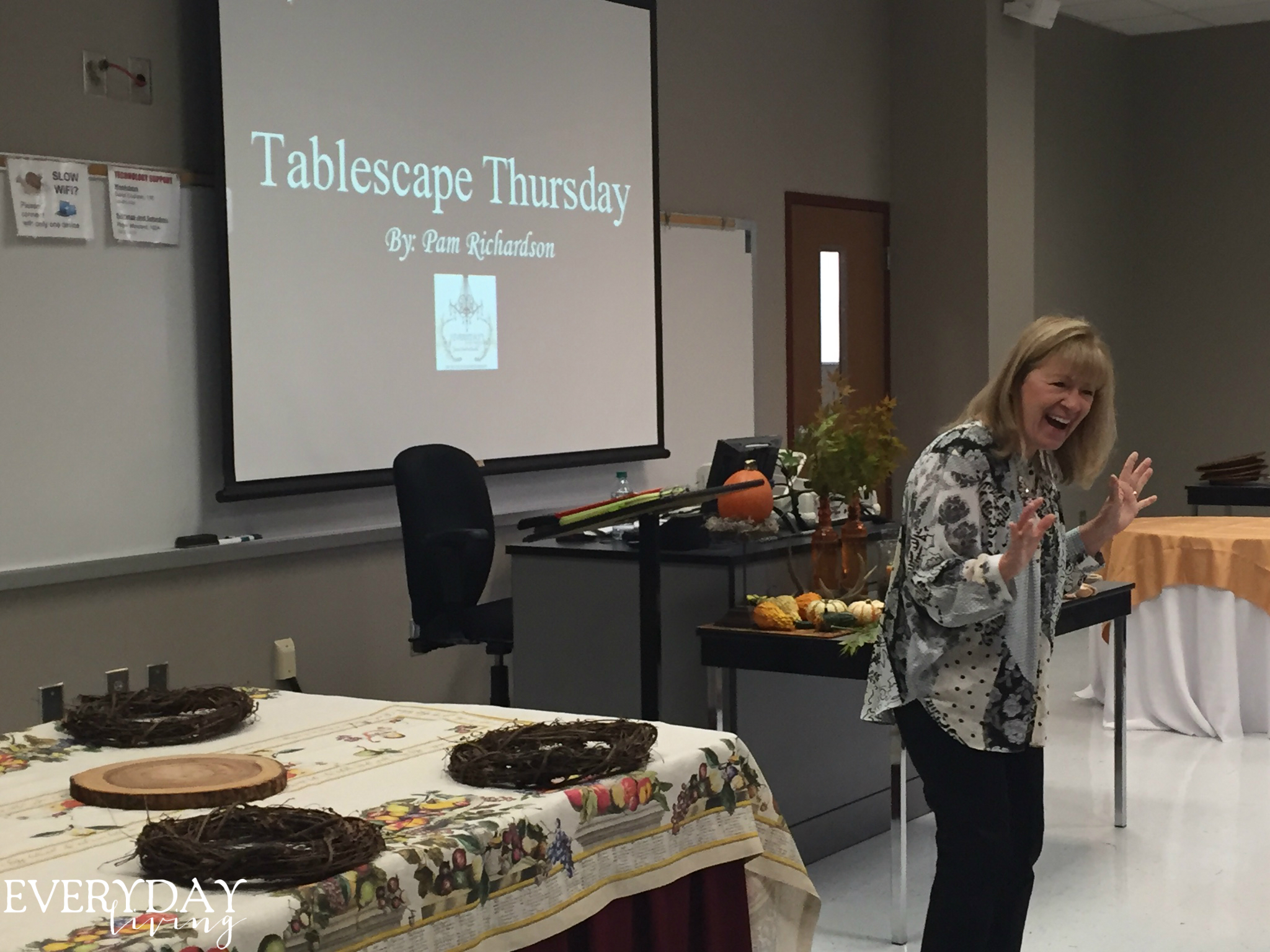 Obviously, I had a blast!  Who knew tablescaping could be so fun?!  This is what happens when you love what you're teaching!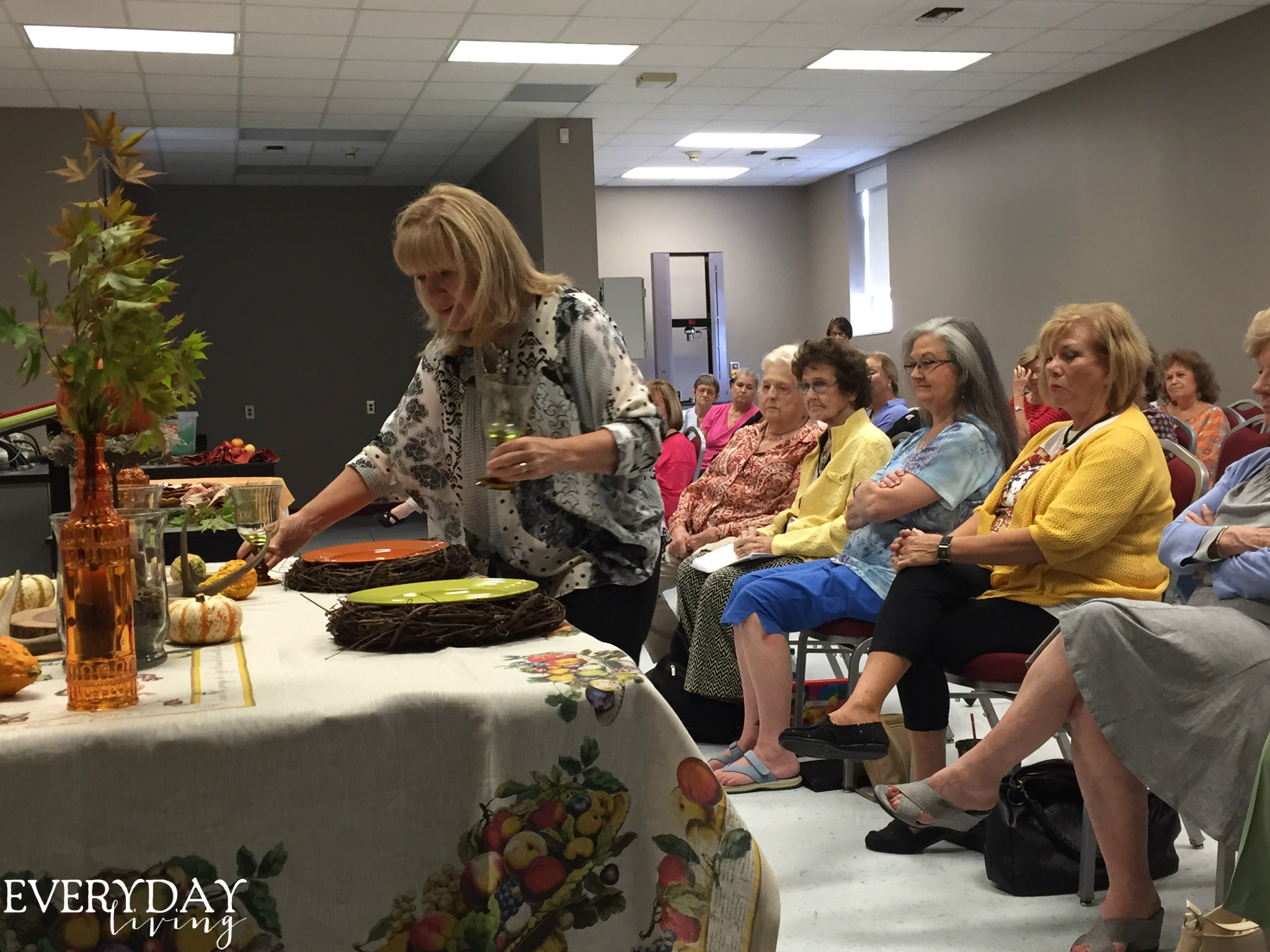 Although I have worn many hats, a "hands-on" approach to teaching was new territory for me.  And guess what?  I didn't even break anything while trying to talk and tablescape at the same time!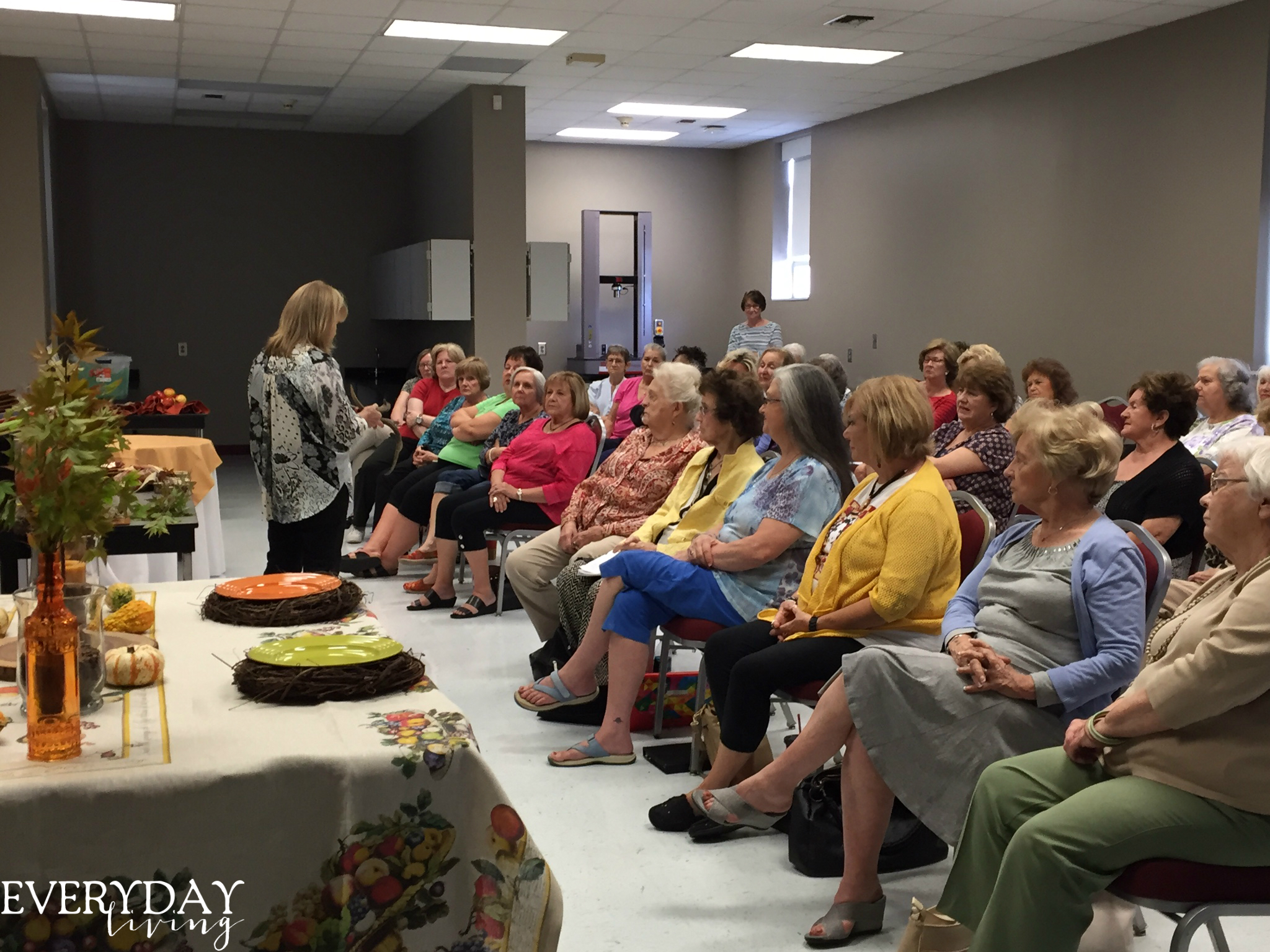 My students were so engaged and friendly…and trust me when I say they asked  lots of questions!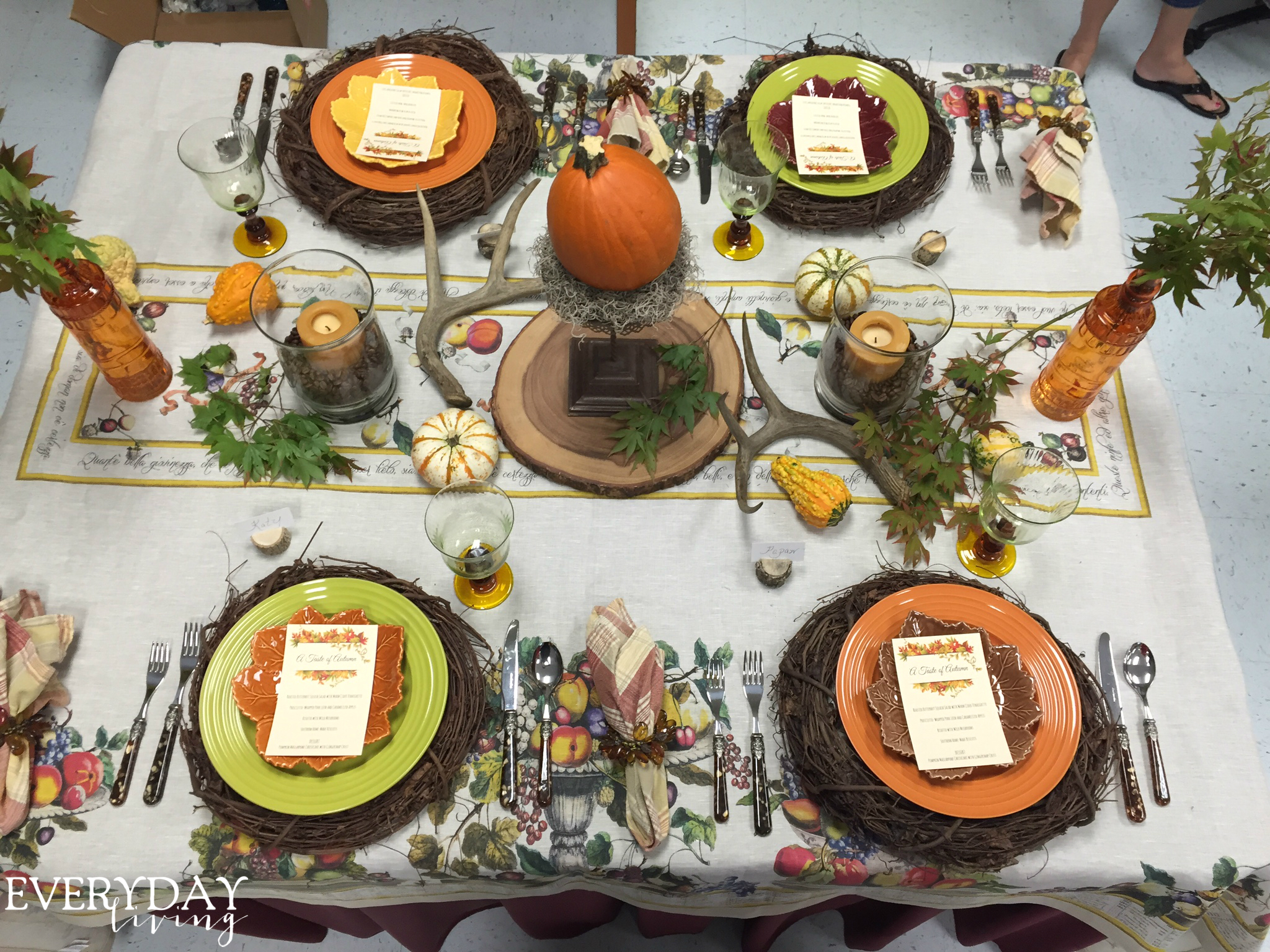 I had in my mind that I would have plenty of room to set a table for 6, but plans changed when I saw the tables.  No big deal!  Sometimes, you just roll with it!  
After the first table was set, I gave them an opportunity to come closer for a birds eye view!  They whipped out their phones and cameras and started snapping away!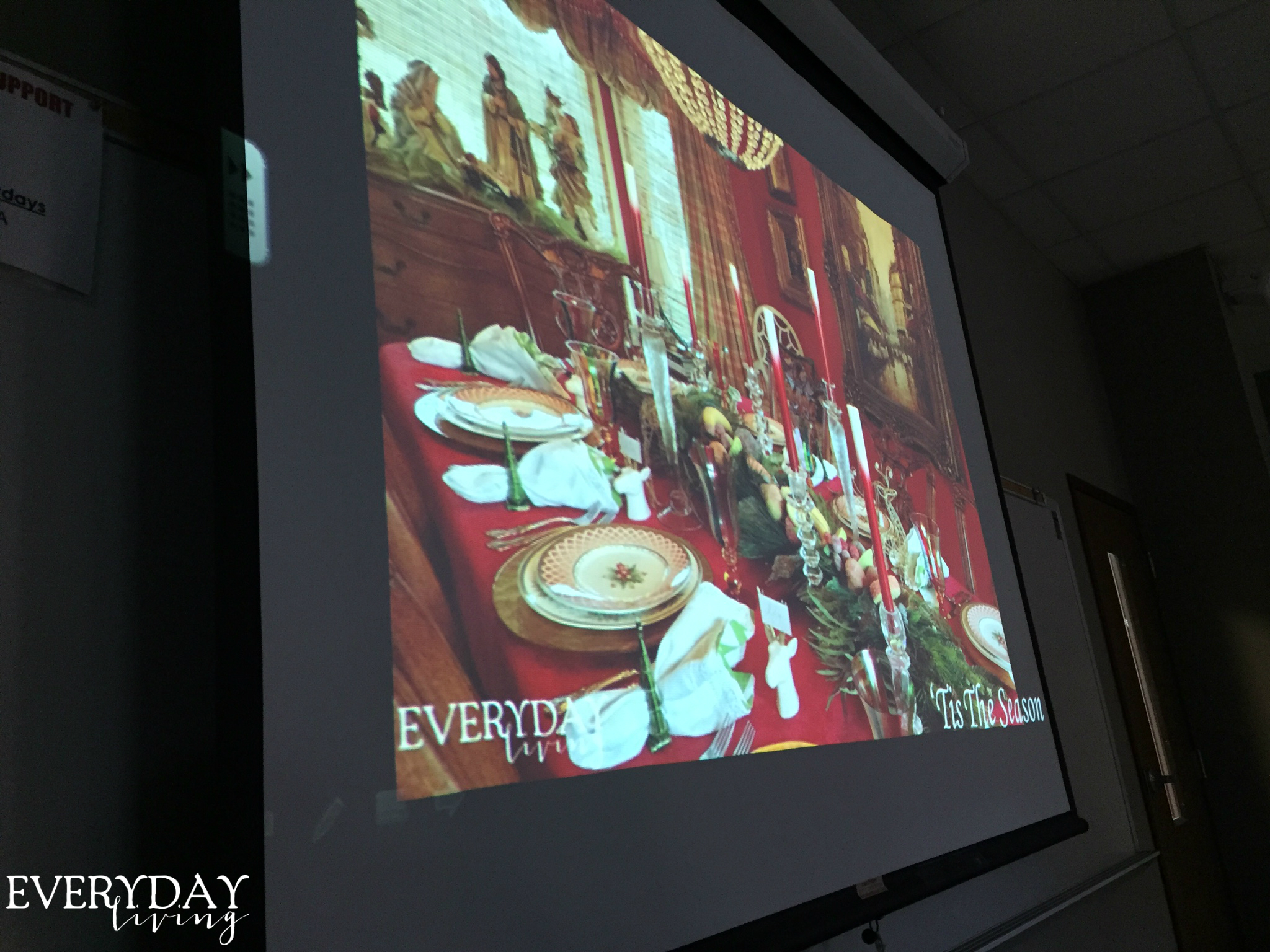 My first ever power point presentation…these ladies got to see what you wonderful readers see every week on Tablescape Tuesday.  It was so much fun to reminisce on some of the tables I have put together over the last fourteen months of blogging!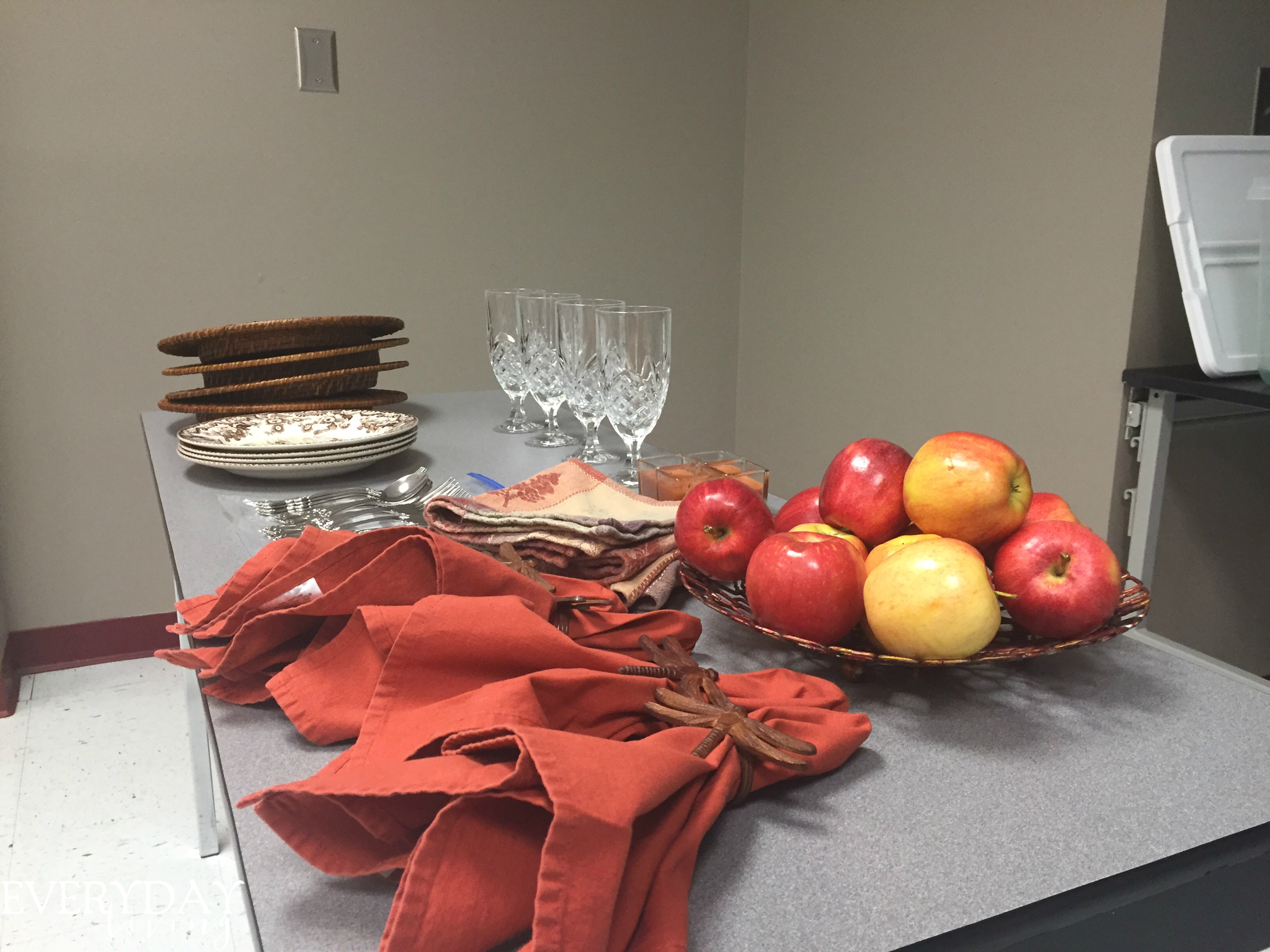 All of this stuff is waiting patiently to be tablescaped!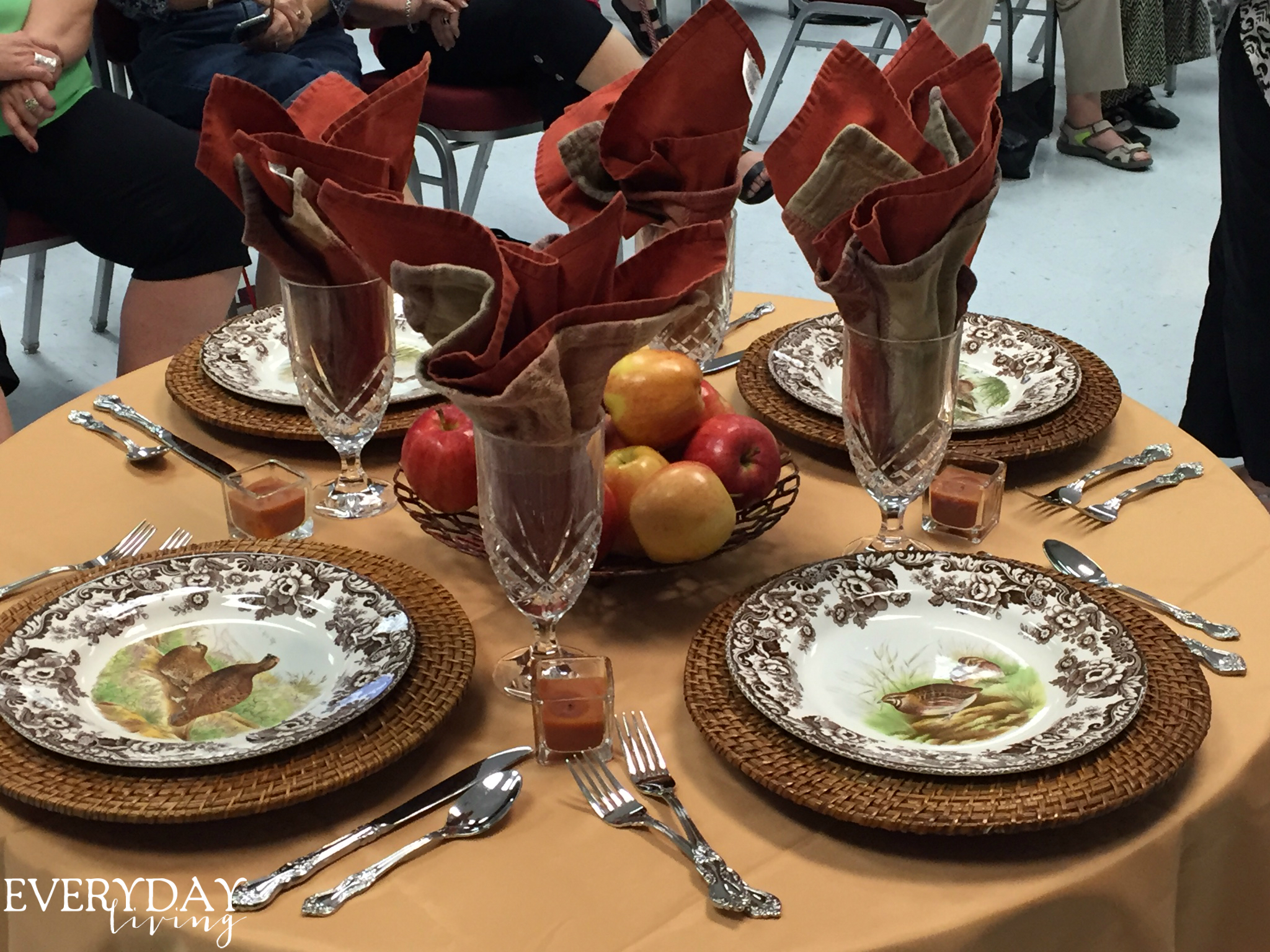 This is the second table that I put together.  I had not originally planned to put the napkins in the glasses, but this is where they landed!  Take note: when in a hurry, your dinner and salad fork may criss-cross…perhaps a new trend!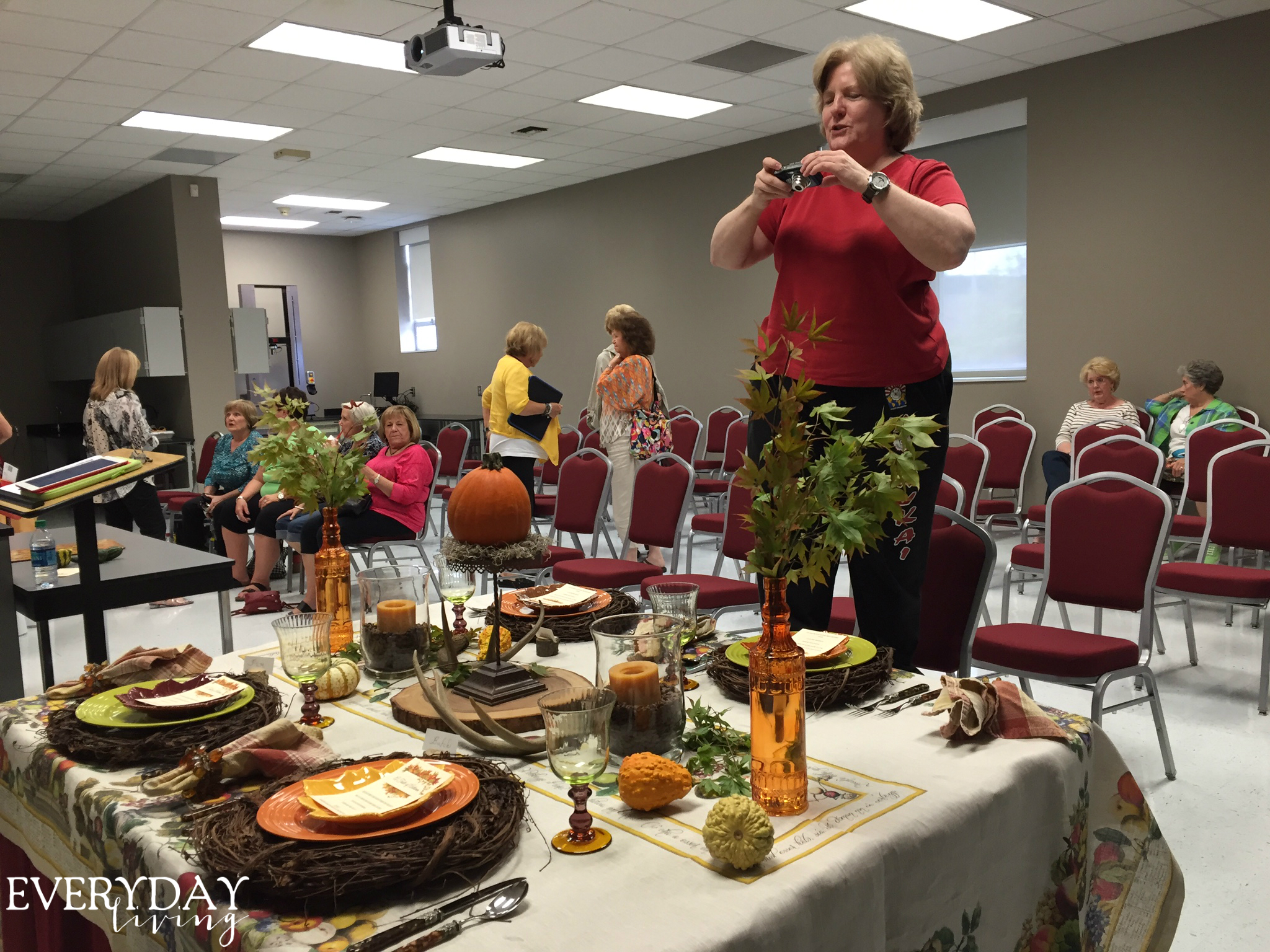 Oh, the measures we ladies take to get a good photo! No one was injured in the taking of this picture!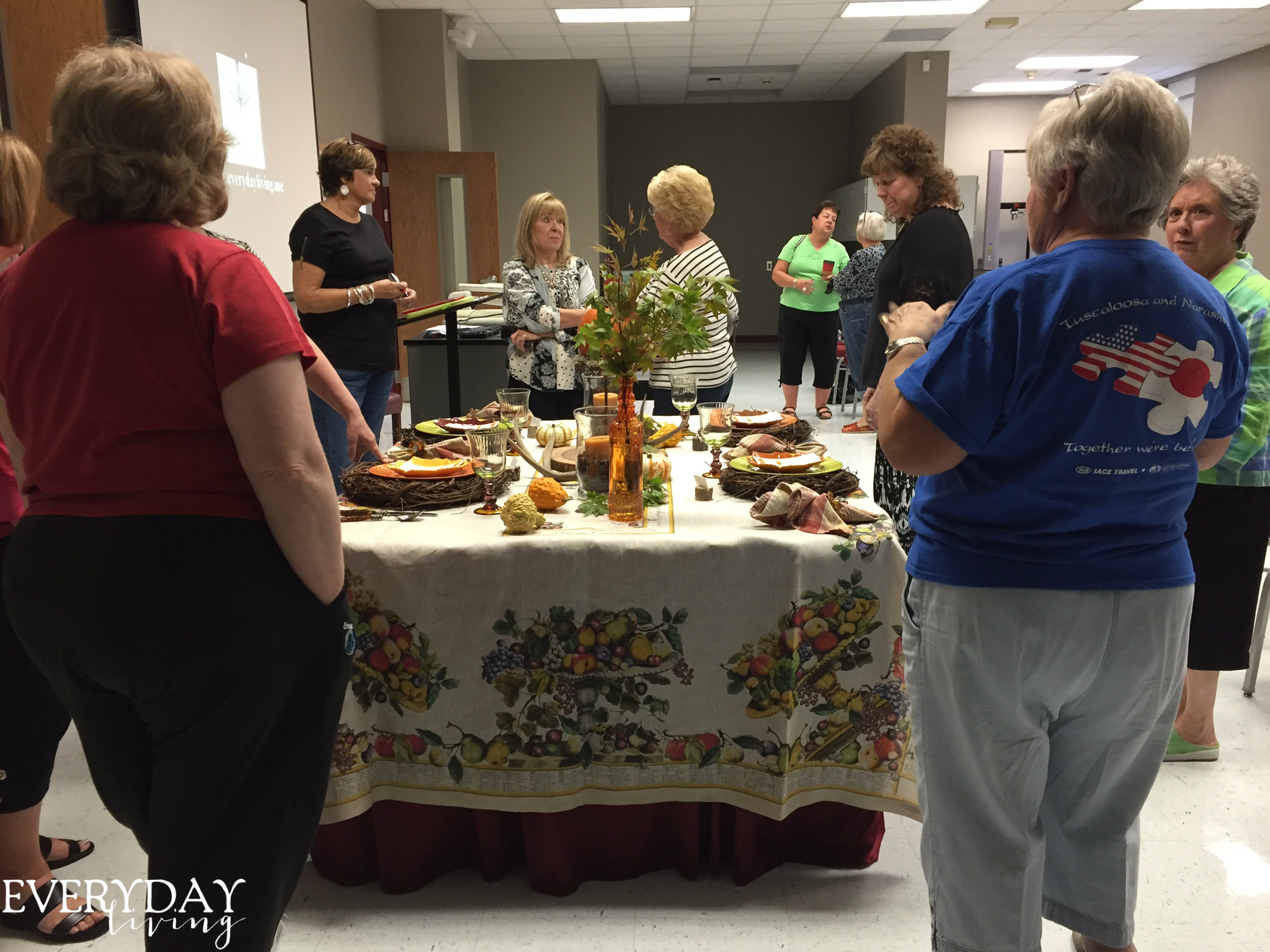 I could have stayed all night to chat with these ladies and answer their questions!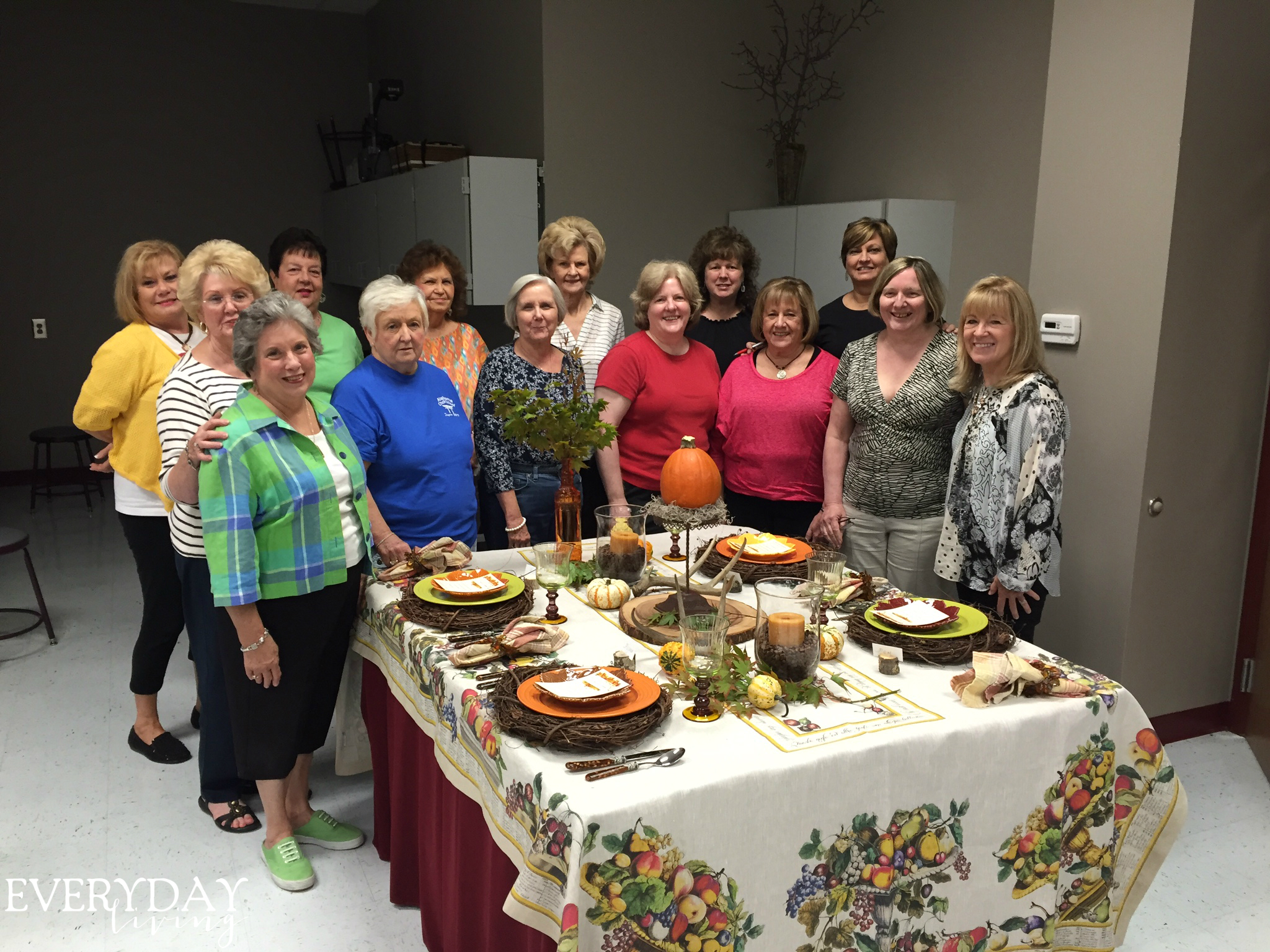 I got carried away talking to everyone, and by the time I remembered to take a group photo, these were the students that were still hanging around!  They were so fun!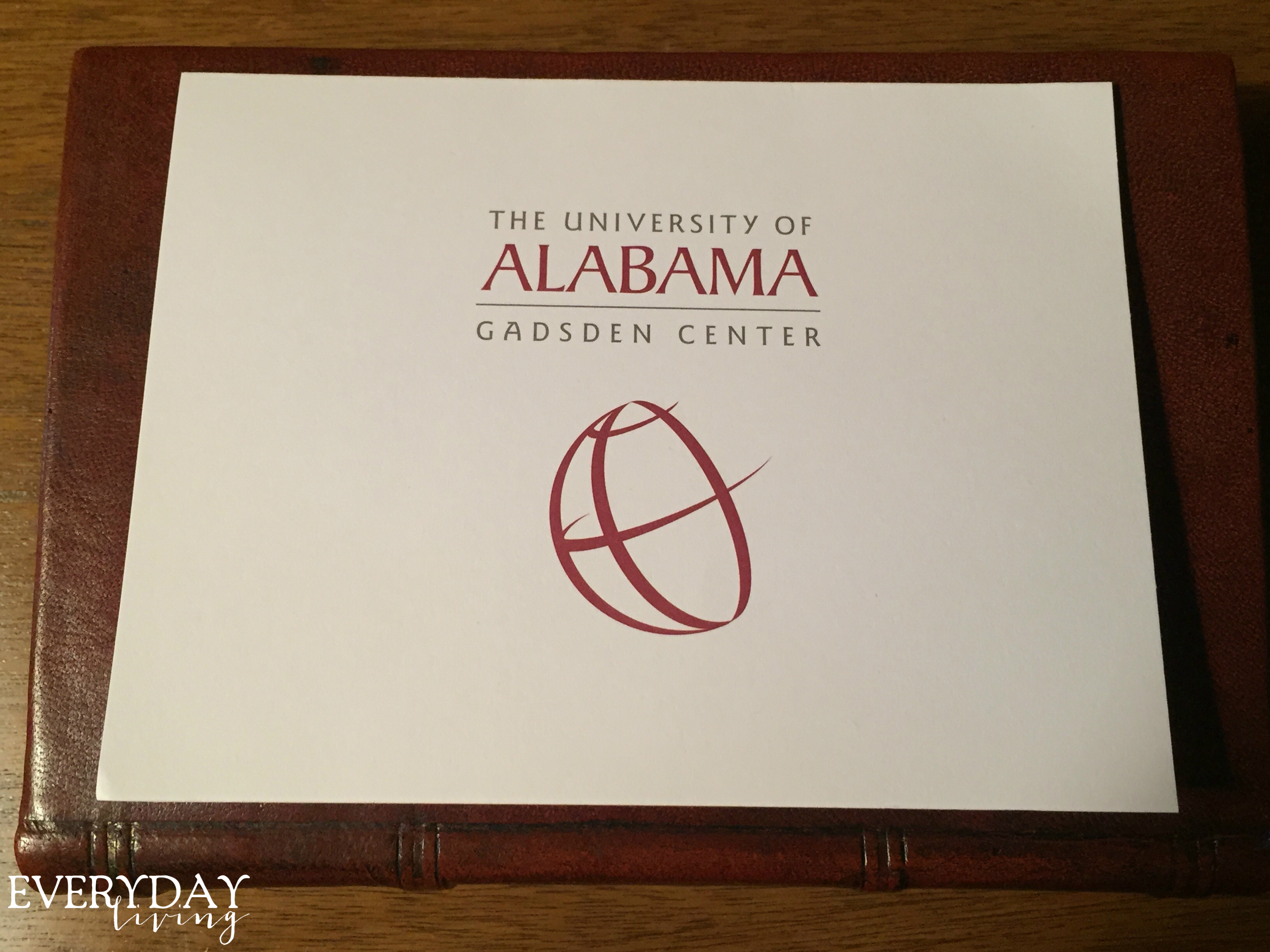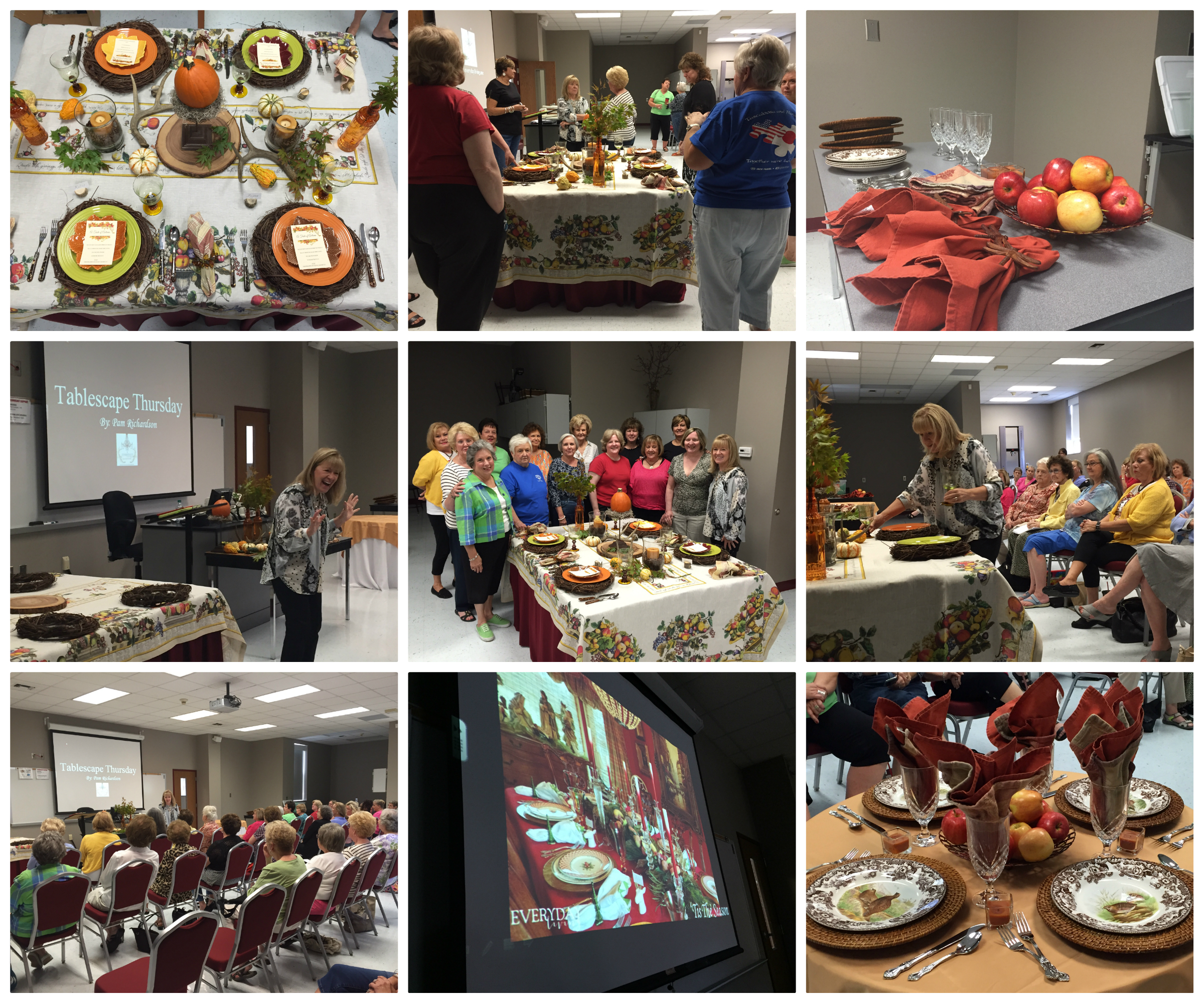 It was a joy to teach at the University of Alabama Gadsden Center, and hopefully everyone walked away with a few more ideas for tablescapes.
Class is dismissed!
Linking with Pieced Pastimes, Silver Pennies, Life on Lakeshore Drive, Thoughts From Alice, Mod Vintage Life, Coastal Charm, My Uncommon Slice of Suburbia, The Dedicated House, Dwellings-Heart of Your Home, Savvy Southern Style, Ivy and Elephants, French Country Cottage, From My Front Porch To Yours, Stone Gable, Confessions of a Plate Addict, Worthing Court, Between Naps on the Porch, Cedar Hill Farmhouse, A Stroll Thru Life, The Style Sisters, The Charm of Home, The Winthrop Chronicles, Cornerstone Confessions, A Delightsome Life, Imparting Grace, Posed Perfection, Katherines Corner, My Romantic Home, Chic On A Shoestring Decorating, Rooted In Thyme, Share Your Cup, TheEnchanting Rose, Alabama Women Bloggers, 21 Rosemary Lane, Northern Nesting, Oh My Heartsie Girl,  Cozy Little House, Rattlebridge Farm, The Turquoise Home, My Flagstaff Home, In The New House, Natasha in Oz, Vintage Refined, Rustic & Refined, Must Love Home, Grammie Time