"Therefore the Lord waits to be gracious to you, and therefore he exalts himself to show mercy to you.  For the Lord is a God of justice; blessed are all those who wait for him"
Isaiah 30:18
Here at Everyday Living, you have been on lots of trips with us!  We've taken you halfway across the world, but it's not necessary to travel out of the country to see such scenery-we do have some of the most beautiful places right here in the good ole' US of A!  The drive down the Pacific Coast Highway from Monterey to San Simeon is like no other!  Butch and I flew into San Francisco and rented a car and headed to Monterey where we stayed for three days as we enjoyed driving along the Pacific Ocean, Pebble Beach, Carmel, and Big Sur.  We then drove back to San Francisco for a couple of days before flying to sweet home Alabama!  The weather was beautiful and we had very little fog.  October is a perfect time to go!  Since Northeast Alabama has experienced below freezing temps and even a "dusting" of snow this past weekend, we thought it might be fun to re-visit sunny California on this winter's day!
Monterey is on the central coast of California.  Cannery Row is the waterfront street and was the site of a number of sardine canning factories.  It was here that the setting of John Steinbeck's novel Cannery Row took place!
The crashing waves on the rocks are magnificent!
The Pacific coast is so different than our more familiar Gulf Coast.  Each one has its own beauty!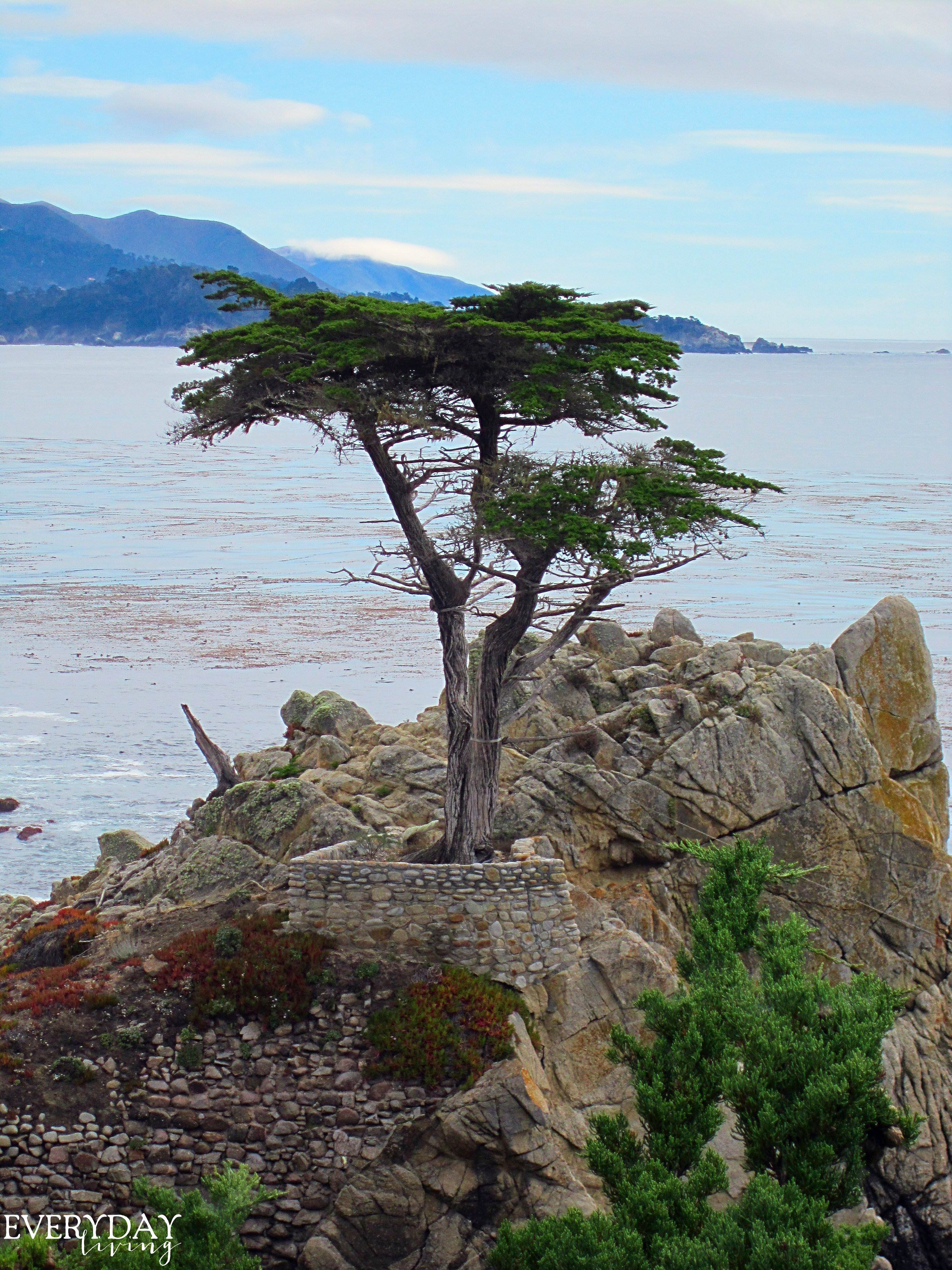 The Lone Cypress, standing on a granite hillside off California's scenic 17 Mile Drive in Pebble Beach, is said to be the most photographed tree in North America.  It is possibly as old as 250 years and has been scarred by fire.

More scenery along the 17 Mile Drive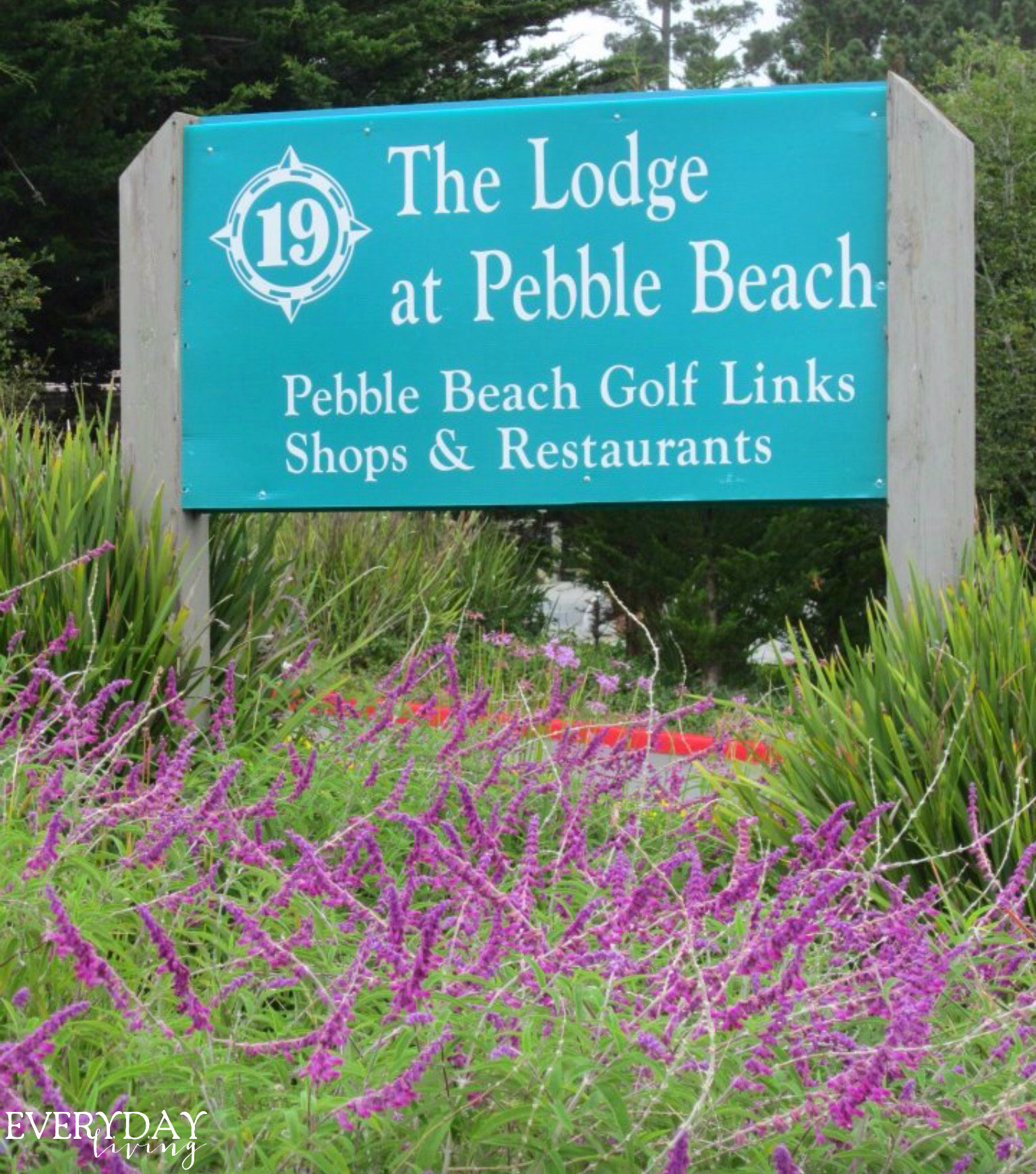 The golf is legendary at Pebble Beach
The lodge envelopes the 18th green of the Pebble Beach Golf Links, one of the most exciting closing holes in golf.  Love the ocean view from the entrance!

To enjoy the scenery along the Pacific Coast Highway, you must rent a convertible!
Big Sur offers stunning views!  Many classify Big Sur as the segment of California State Route 1 from Carmel south to San Simeon
Butch and I had to take a short hike to see these magnificent rock formations in the Pacific!
The water is very cold in comparison to the warm waters of the Gulf!
Elephant seals come ashore and form colonies for only a few months of each year to give birth, breed, and molt.
The Hearst Castle built by William Randolph Hearst is a prominent landmark in San Simeon along Highway 1
 * 
**
This massive assembly room in the castle is adorned with historic Renaissance and Baroque tapestries and masterpieces of neoclassical sculptures
The expansive gardens!
Spectacular Neptune Pool with its colonnades and statues provided the setting for lavish parties for Mr. Hearst and his guests!
The meticulously detailed indoor Roman Pool was modeled after ancient Roman baths. It is tiled from ceiling to floor, and features copies of eight ancient Roman marble statues.
Old Fisherman's Wharf in Monterey
Chateau Julien in Carmel
We have been fans of John Denver since we were married in 1973.  Butch has been told more times than we could count that he sounds just like him singing!  It was out from these rocks that his experimental airplane crashed in 1997.
"This is my autograph, here in the songs that I sing.  Here in my cry and my laugh, here in the love that I bring.  To be always with you and you always with me."
 John Denver
We enjoy our time spent together!
"Mightier than the thunders of many waters, mightier than the waves of the sea,
the Lord on high is mighty!"
Psalm‬ ‭93‬:‭4‬

Linking with Pieced Pastimes, Silver Pennies, Life on Lakeshore Drive, Thoughts From Alice, Coastal Charm, My Uncommon Slice of Suburbia, The Dedicated House, Dwellings-Heart of Your Home, Savvy Southern Style, Ivy and Elephants, French Country Cottage, From My Front Porch To Yours, Stone Gable, Confessions of a Plate Addict, Worthing Court, Between Naps on the Porch, Cedar Hill Farmhouse, A Stroll Thru Life, The Charm of Home, Cornerstone Confessions, A Delightsome Life, Imparting Grace, Posed Perfection, Katherines Corner, Rooted In Thyme, Share Your Cup, The Enchanting Rose, Alabama Women Bloggers, 21 Rosemary Lane, Northern Nesting, Cozy Little House, Rattlebridge Farm, Karens Up On The Hill