"From the rising of the sun to its setting, the name of the Lord is to be praised!"
Psalm‬ ‭113‬:‭3‬
 Have you ever been a guest in someone's home, but instantly felt welcomed and like you were family?  When Pam and I went to Raleigh a few weeks ago, I had only met Patti once before, but this proved to be the case.  We were greeted with hugs and a delicious meal and their hospitality remained consistent the entire weekend!  We even left with gifts!  She sent us home with the most wonderful coffee and her husband Mike gave us the coziest winter hats!  Such hospitality!  Our purpose in going to Raleigh was, of course, for some fun girl time, but also to photograph some of the beautiful home that you know as Patti's. Patti, along with Pam's expertise, has been decorating her home since 1988, and it has been an on-going project ever since.  They (not me–I have no decorating ability what-so-ever!) had a tablescaping marathon that weekend and let me tell you: these two are hilarious together.  I guess that is what happens when you are friends with someone for over forty years-alot of history and good times!  What a beautiful friendship they have!  Today, you will get even more of a glimpse into Patti's home, and hopefully into her beautiful heart of hospitality!  This is the bedroom that I stayed in that weekend, and it was so cheery with the sunshine coming in the triple windows behind the bed!  I know you will enjoy it as much as I did!
-Katy
Decorating Patti's house has been a fun process over the years!  This room, along with the one you saw here: A Breath of Fresh Air! were both decorated in 2000, and the one you saw here: Everyday Living at Patti's  a few years later.  And now without further delay, I (Pam) will show you more of the beautiful Fralix home!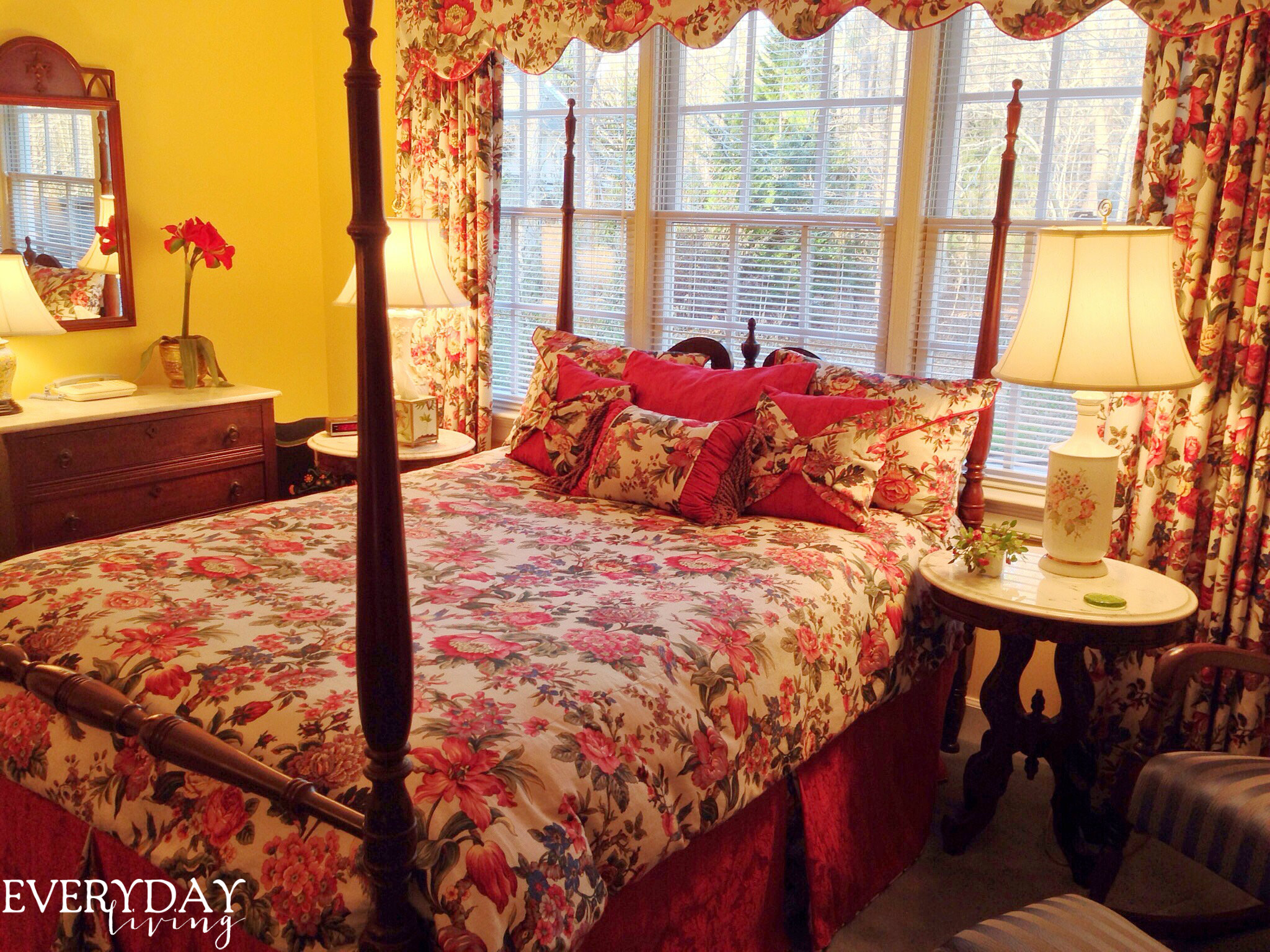 Lemon walls, floral fabric, and pops of red & blue make for a fabulous guest room!  Actually, Patti and Mike have numerous guests that enjoy the welcoming accommodations, delicious food, and warm hospitality!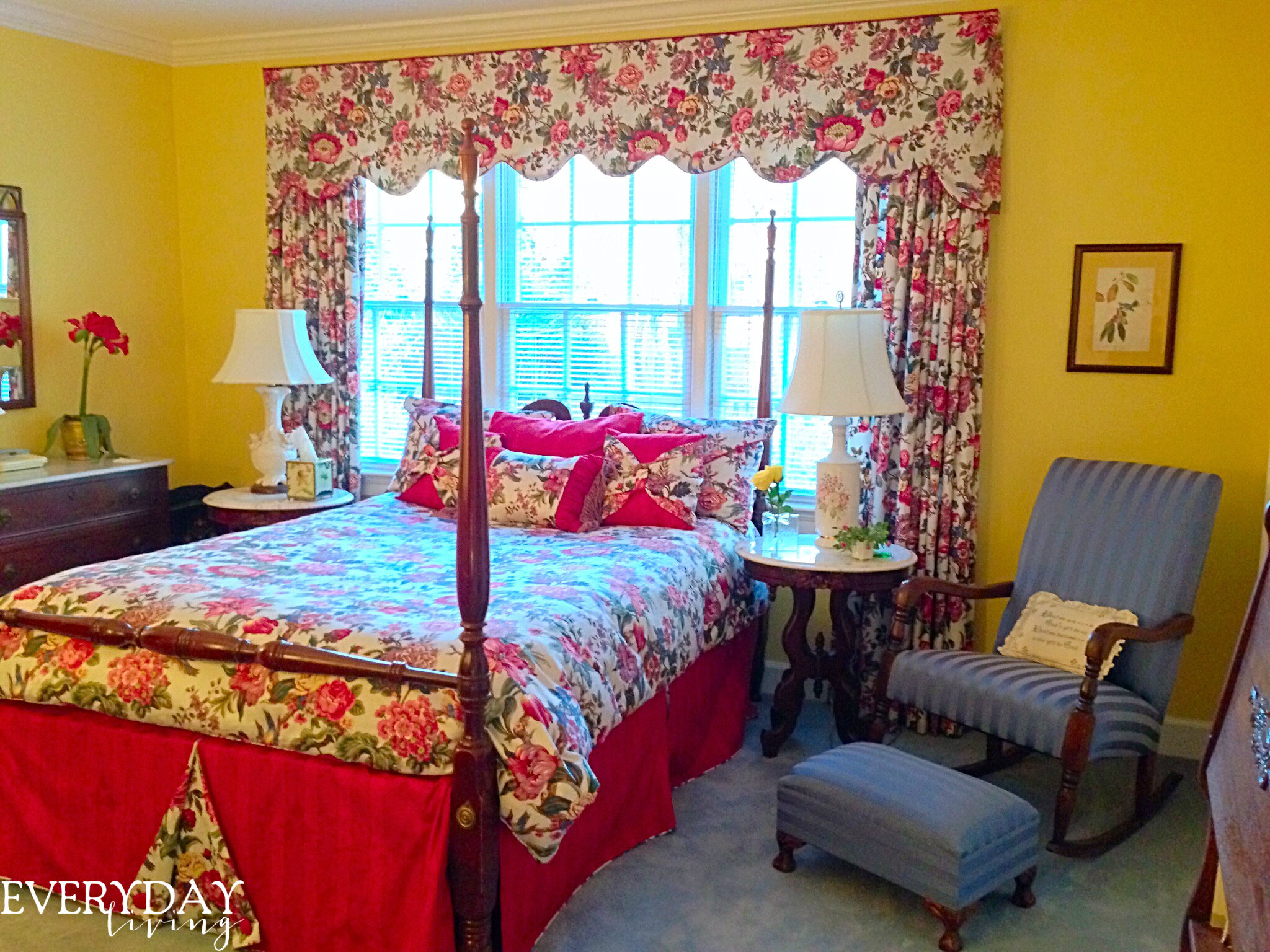 I love that Patti never shies away from color!  She chose the fabric and I designed the window treatments and bedding.  Both mahogany, the poster bed was Tara's (Patti's oldest daughter) and the antique rocker has been passed down through Mike's family.  It and the antique footstool are both upholstered in a blue tone on tone stripe fabric.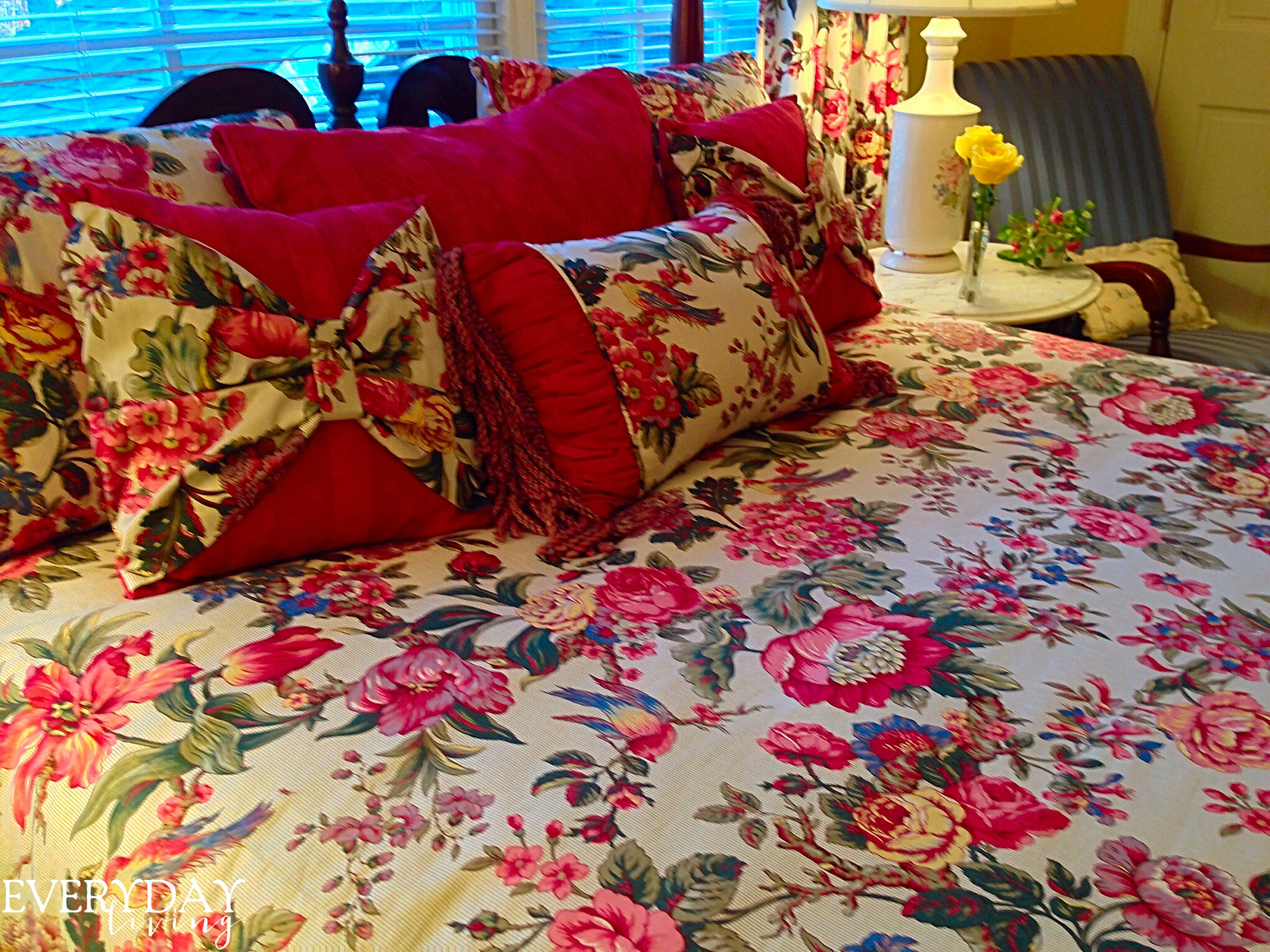 The floral fabric has Patti's favorite color (have you guessed?!)…blue!  A guest bedroom is perfect for more pillows on the bed!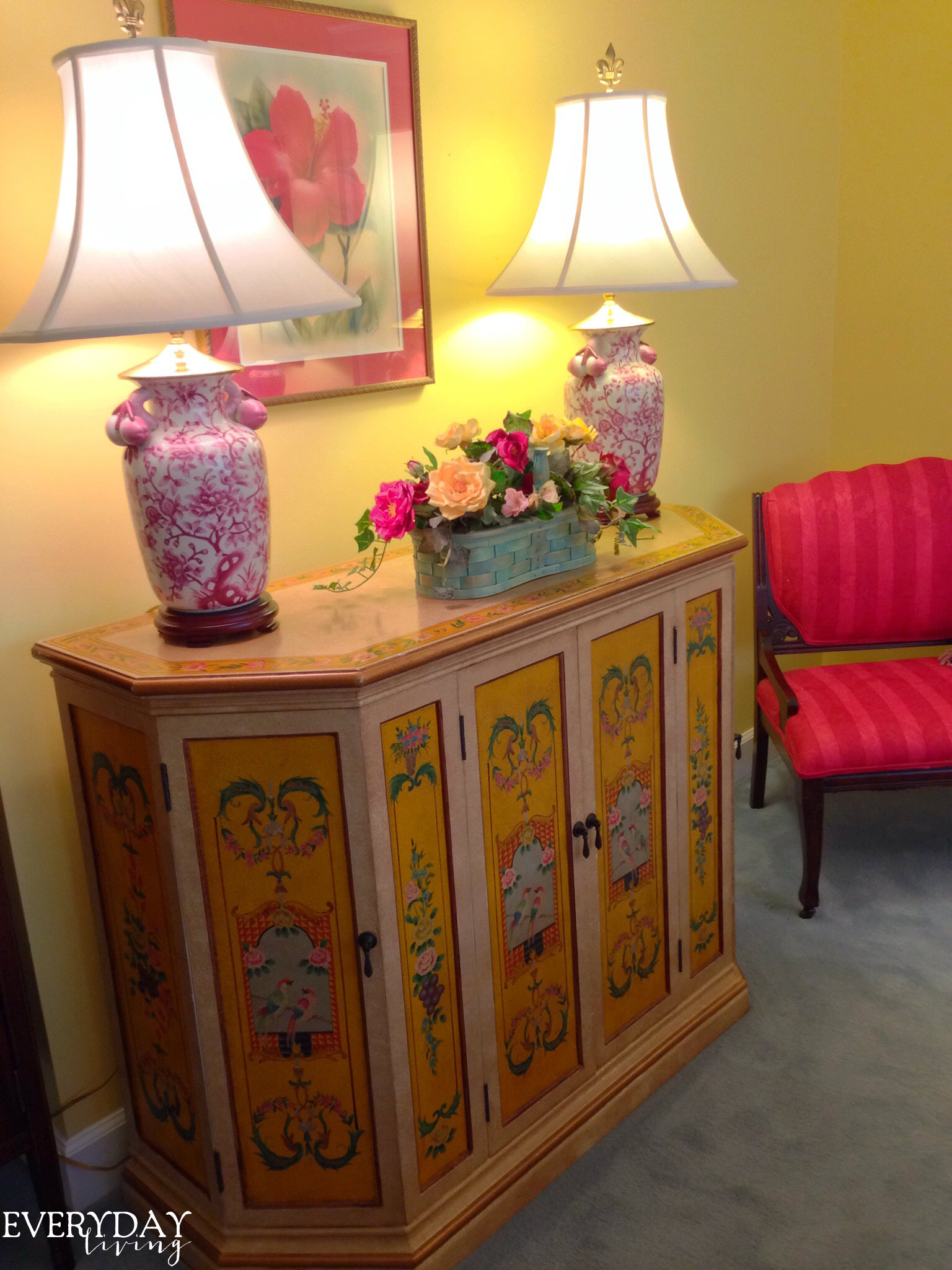 Decorative hand-painted chest with chinoiserie lamps that I moved from her dining room while visiting a few weeks ago!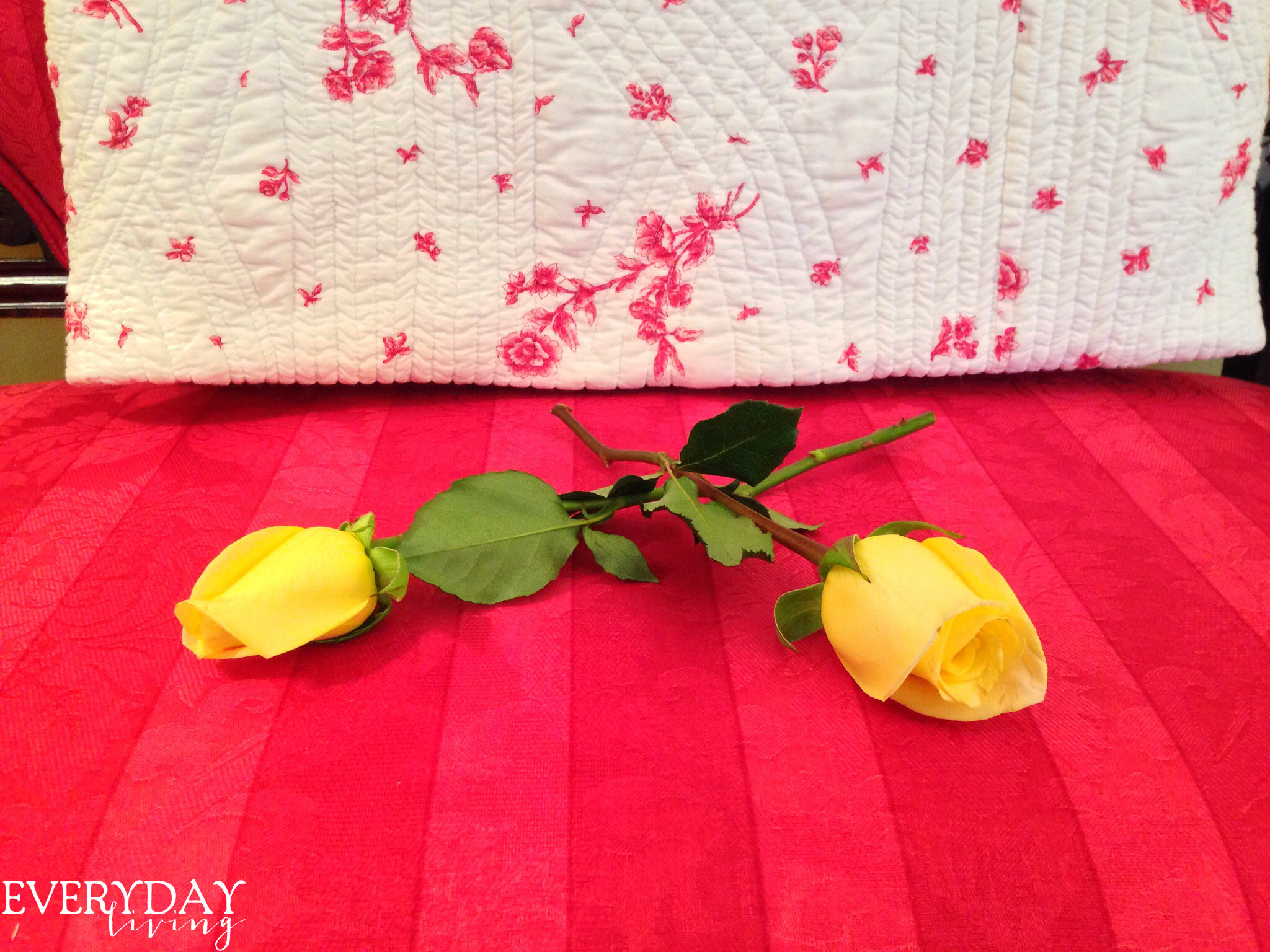 Close-up of a lovely quilt Patti found for this room!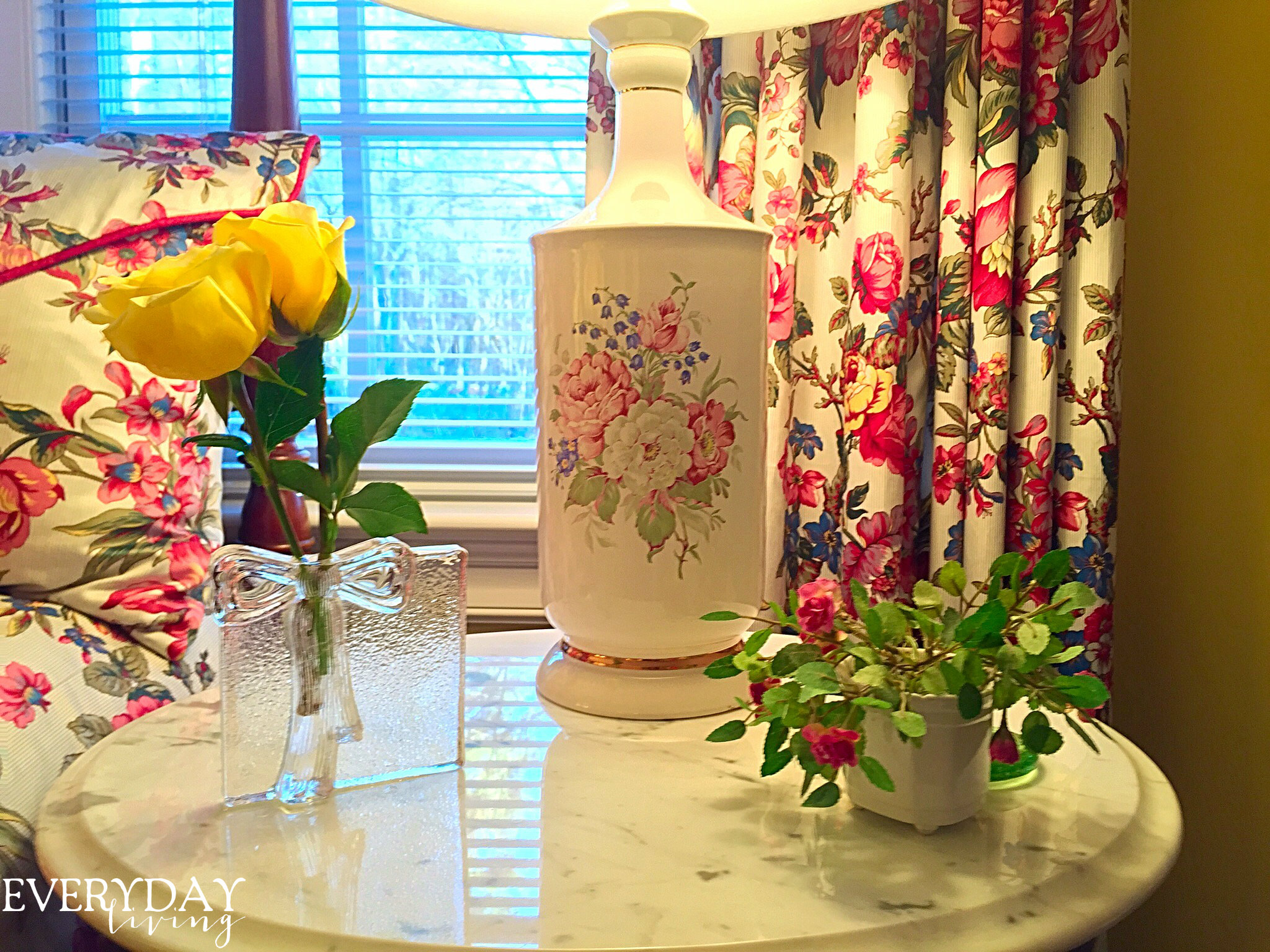 Antique floral lamp base of unknown provenance!  The bow vase with yellow roses is vintage.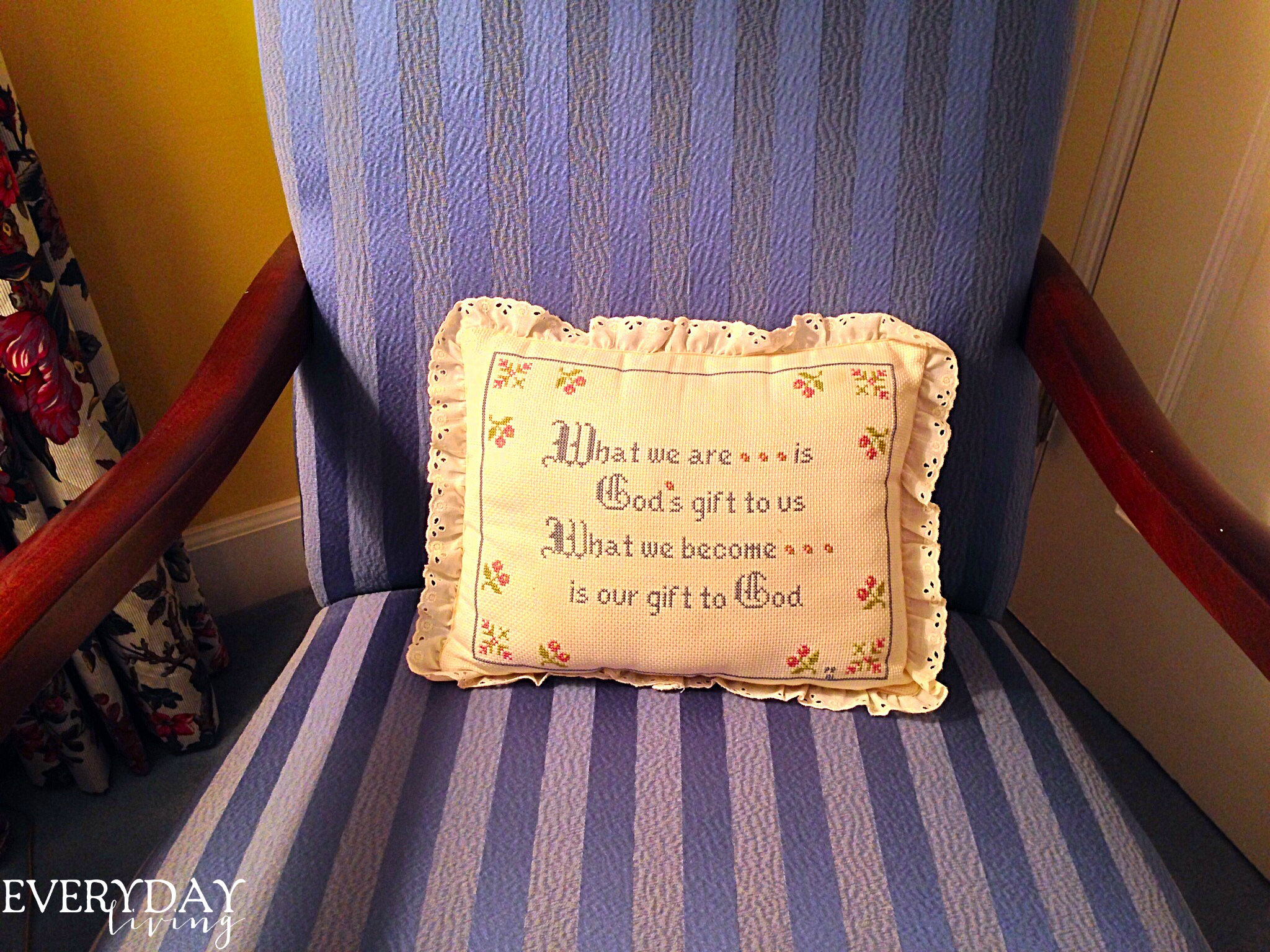 I made this cross-stitch pillow in 1981 as a gift for Patti. If you will remember from previous posts, she displays hand-crafted gifts throughout her home.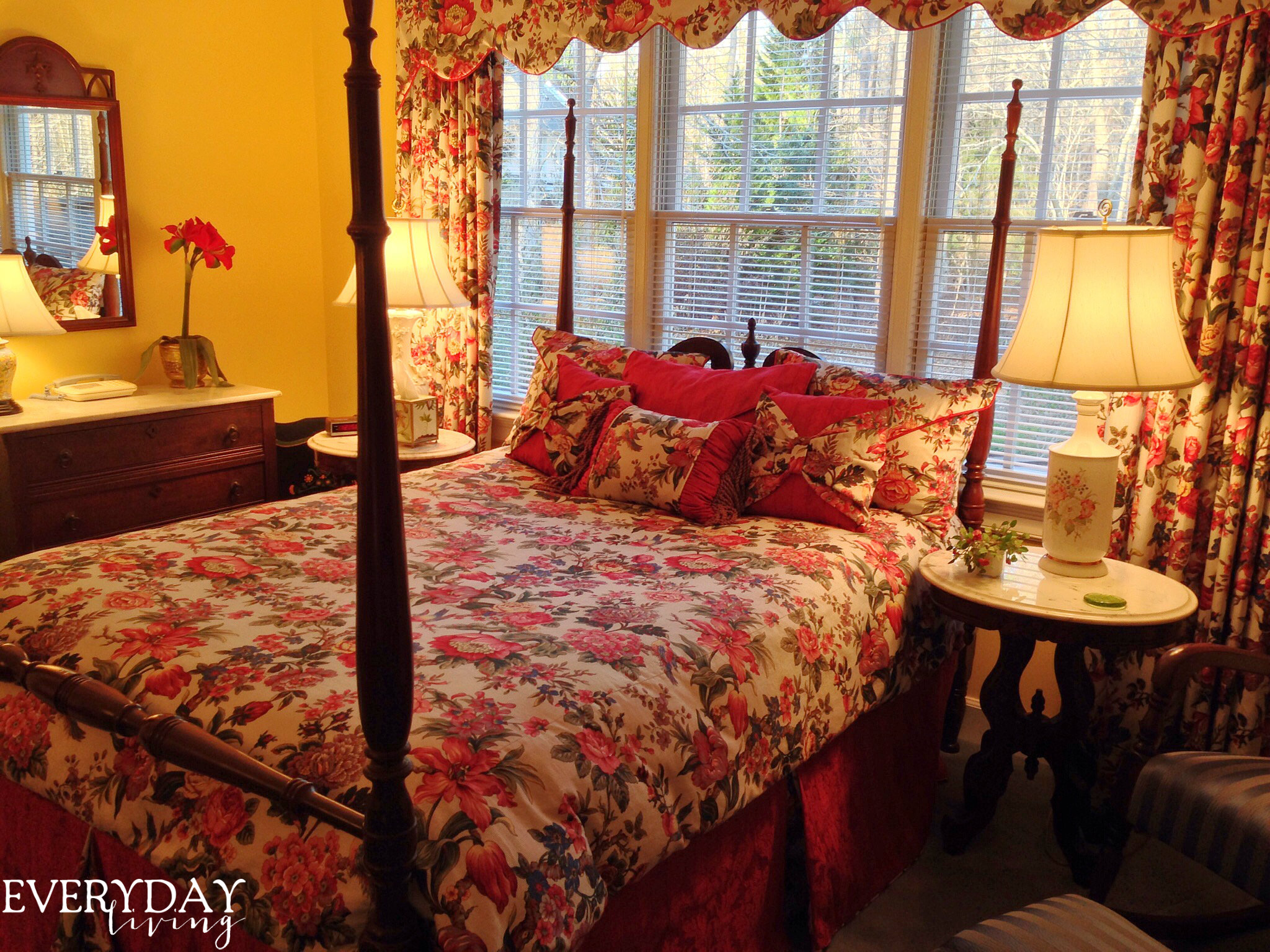 The pair of antique Victorian bedside tables are from Patti's mother.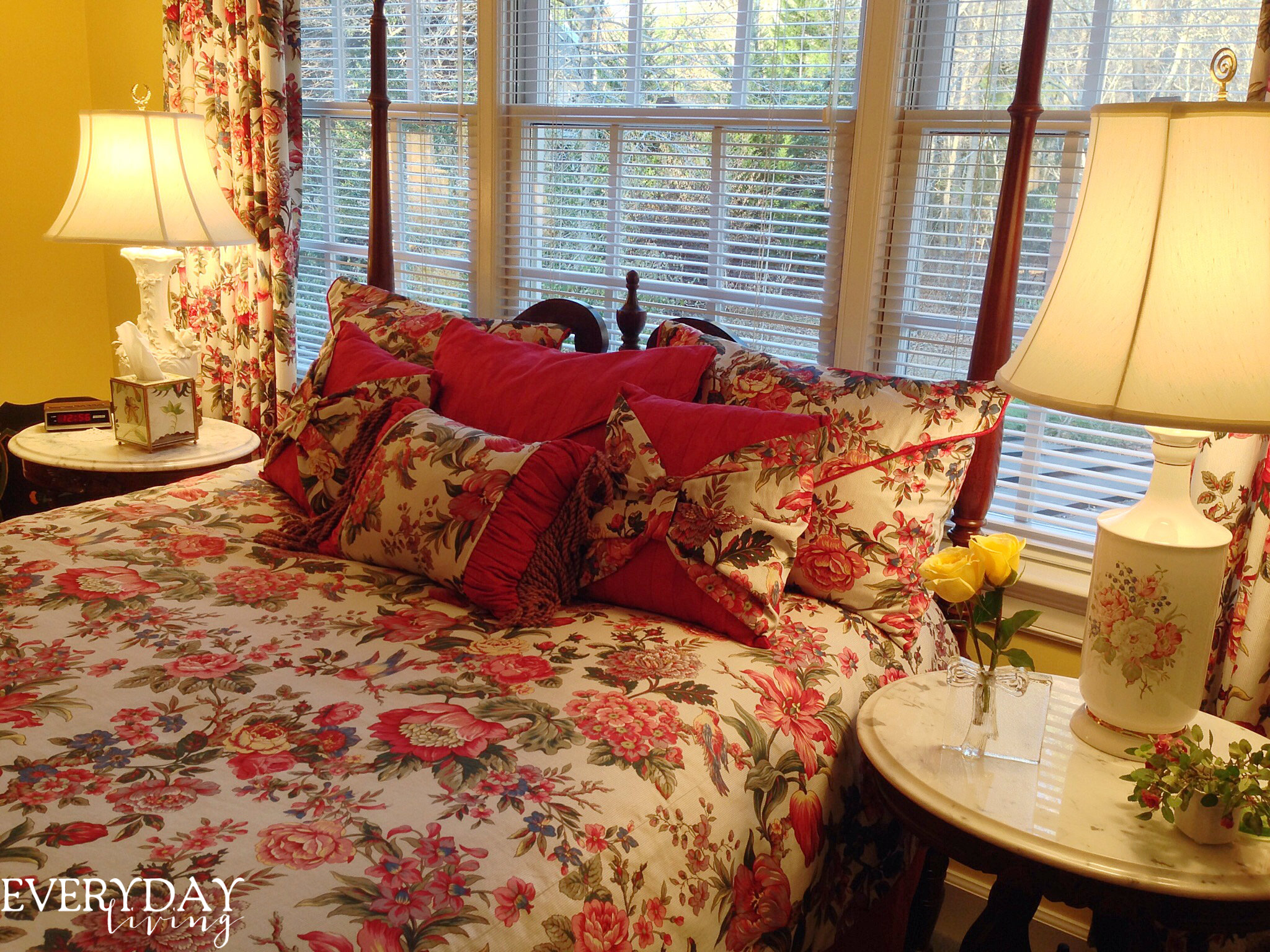 The guest room has a nice wooded view from its second story location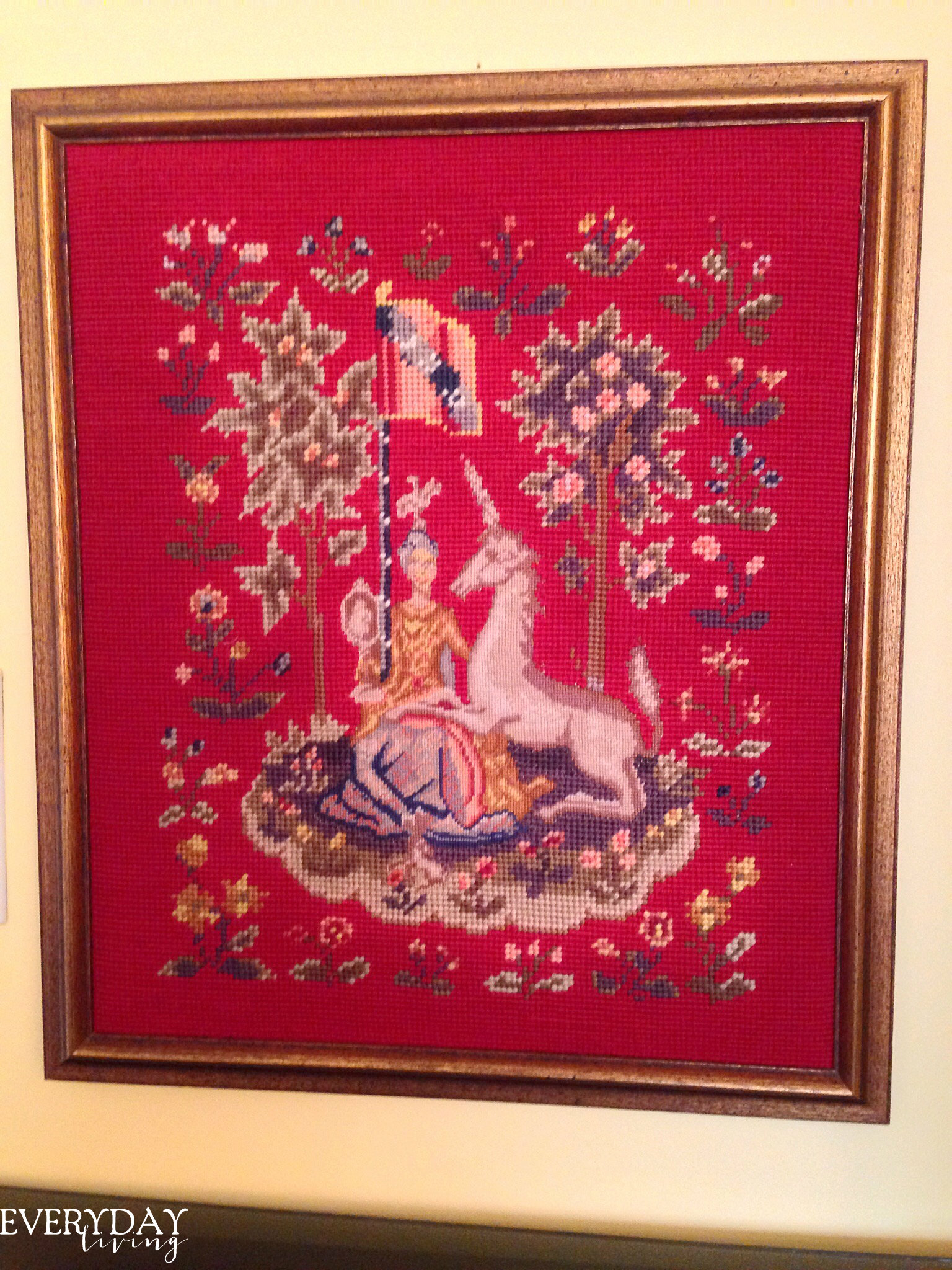 An intricate needlepoint piece purchased recently.  Look at all the detail!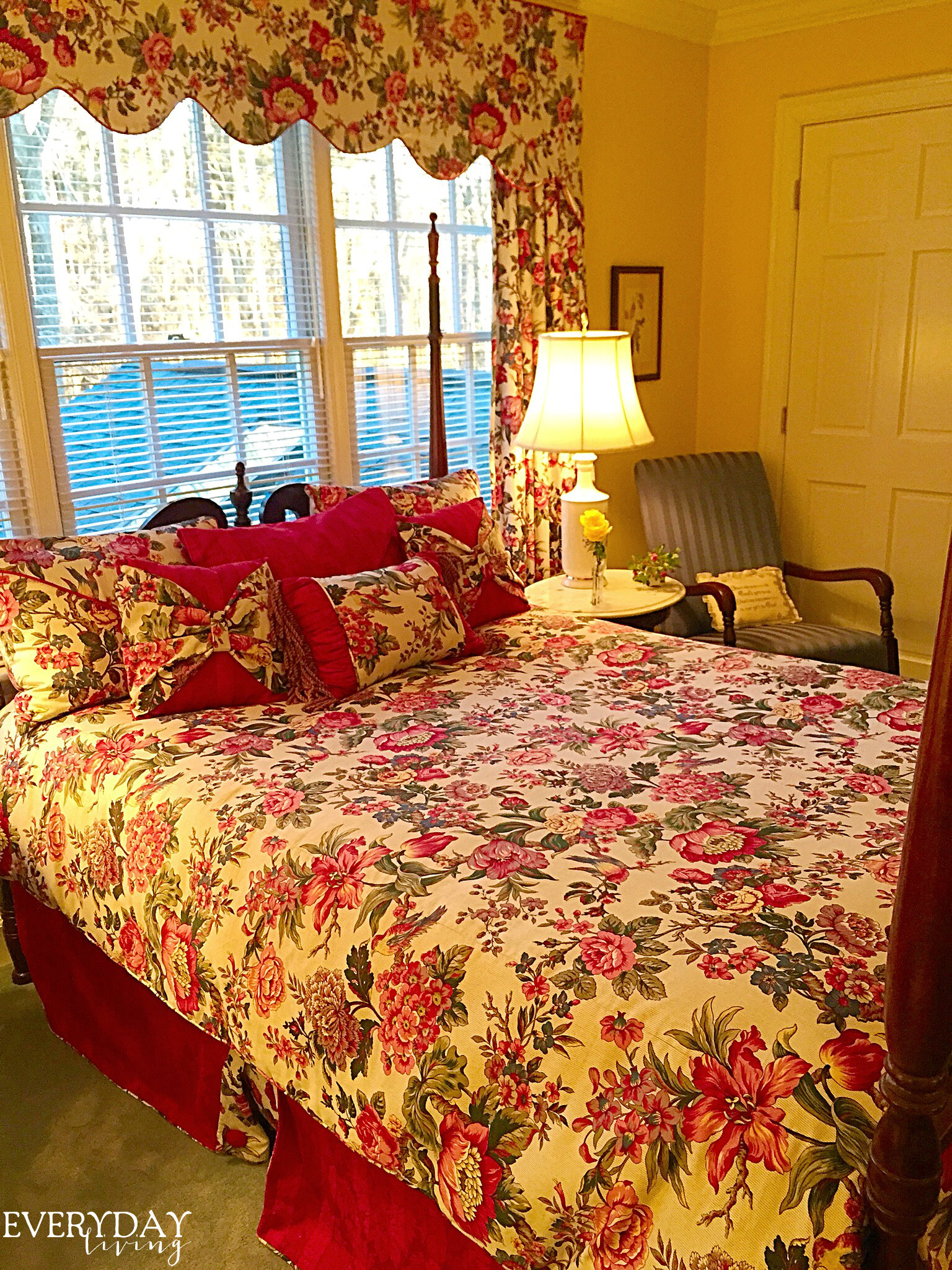 The triple windows welcome the morning sunshine into this happy space!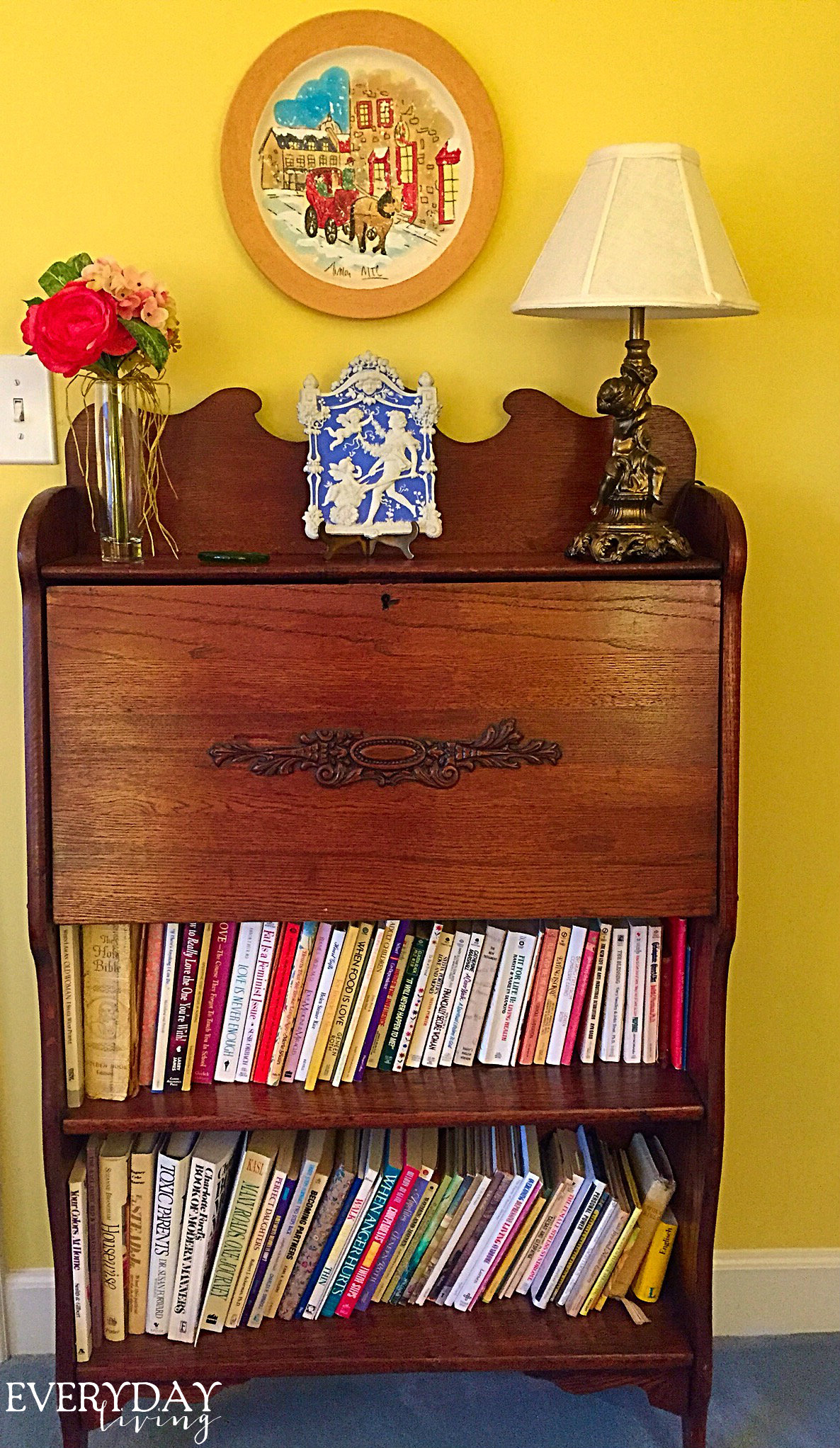 The drop-down oak desk and bookcase was inherited from Patti's grandparents.  Over the desk hangs a hand painted plate from a ceramicist artist from Quebec and  it was a gift from a Canadian friend!  Patti may have as many books as I do!
A lovely Wedgwood piece sits on the desk-I considered putting it in my suit case!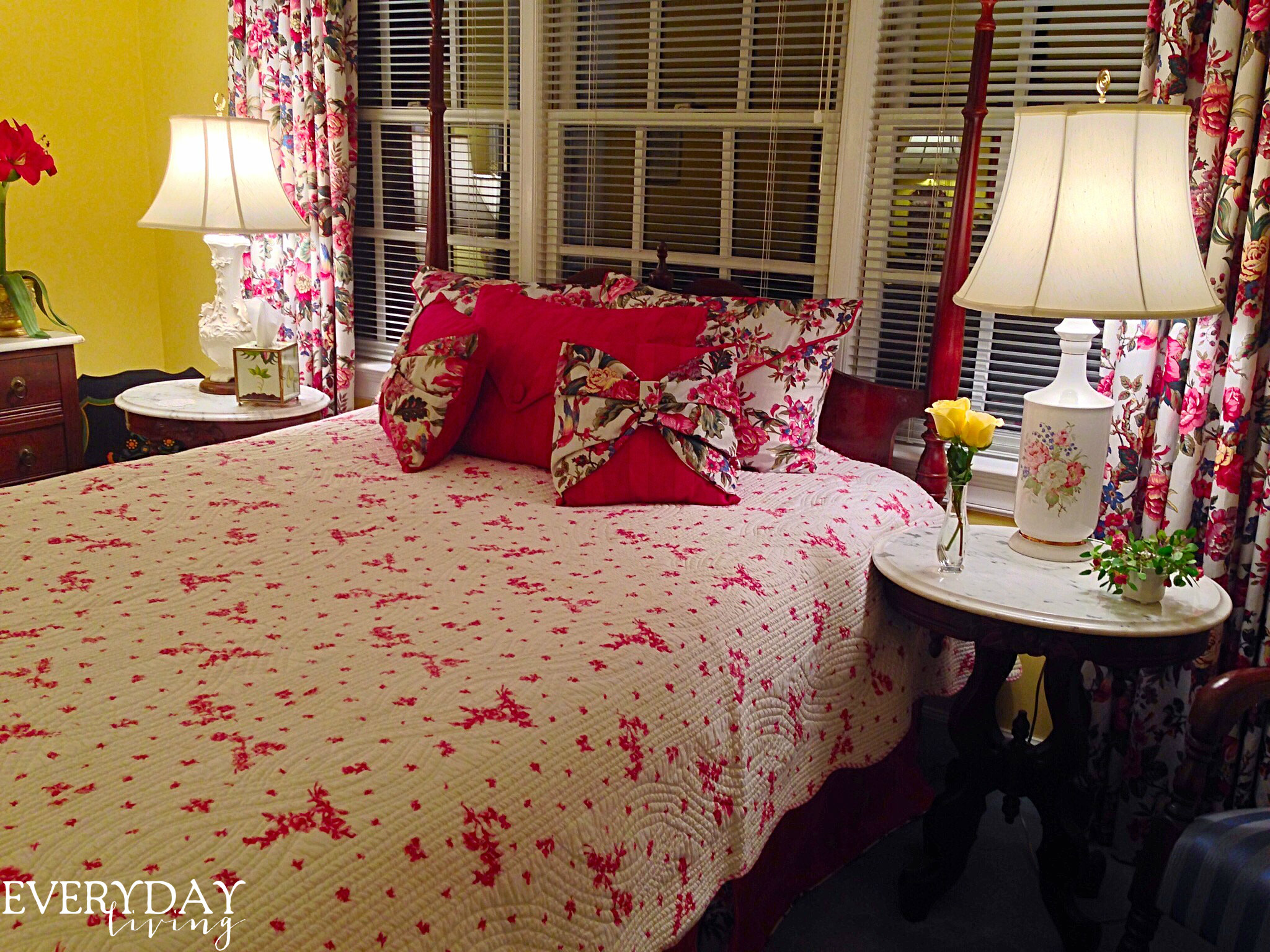 While visiting a few weeks ago, I decided to layer the quilt on top of the bedding for a change.  As you can see, it works really well!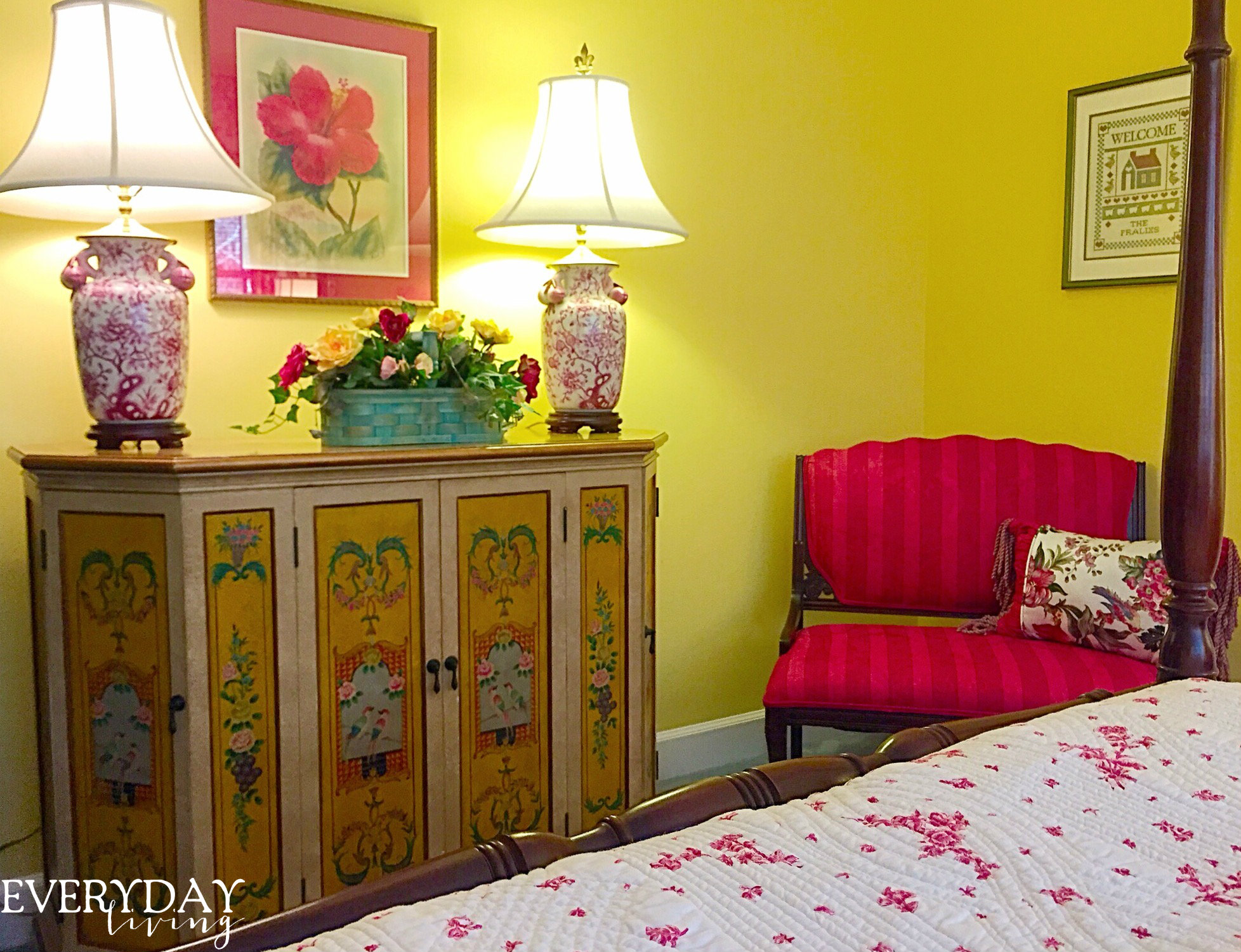 The cherry color upholstered love seat is an antique and Patti thinks she bought it from me and I just don't remember. After all, we are talking about a 40 plus year friendship!!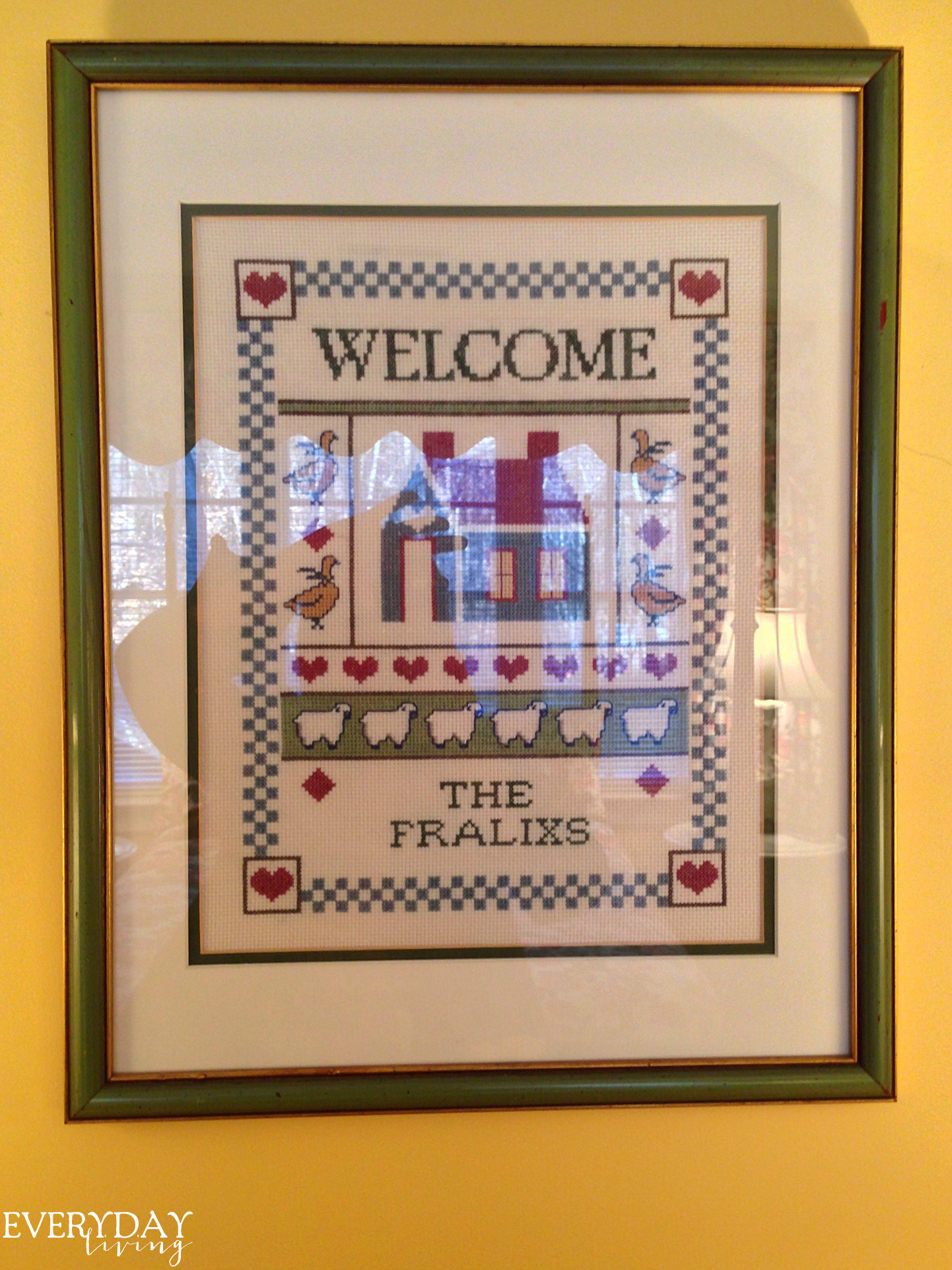 Hanging over the love seat is a beautiful cross-stitch sampler made by Patti's Mother-what a priceless piece!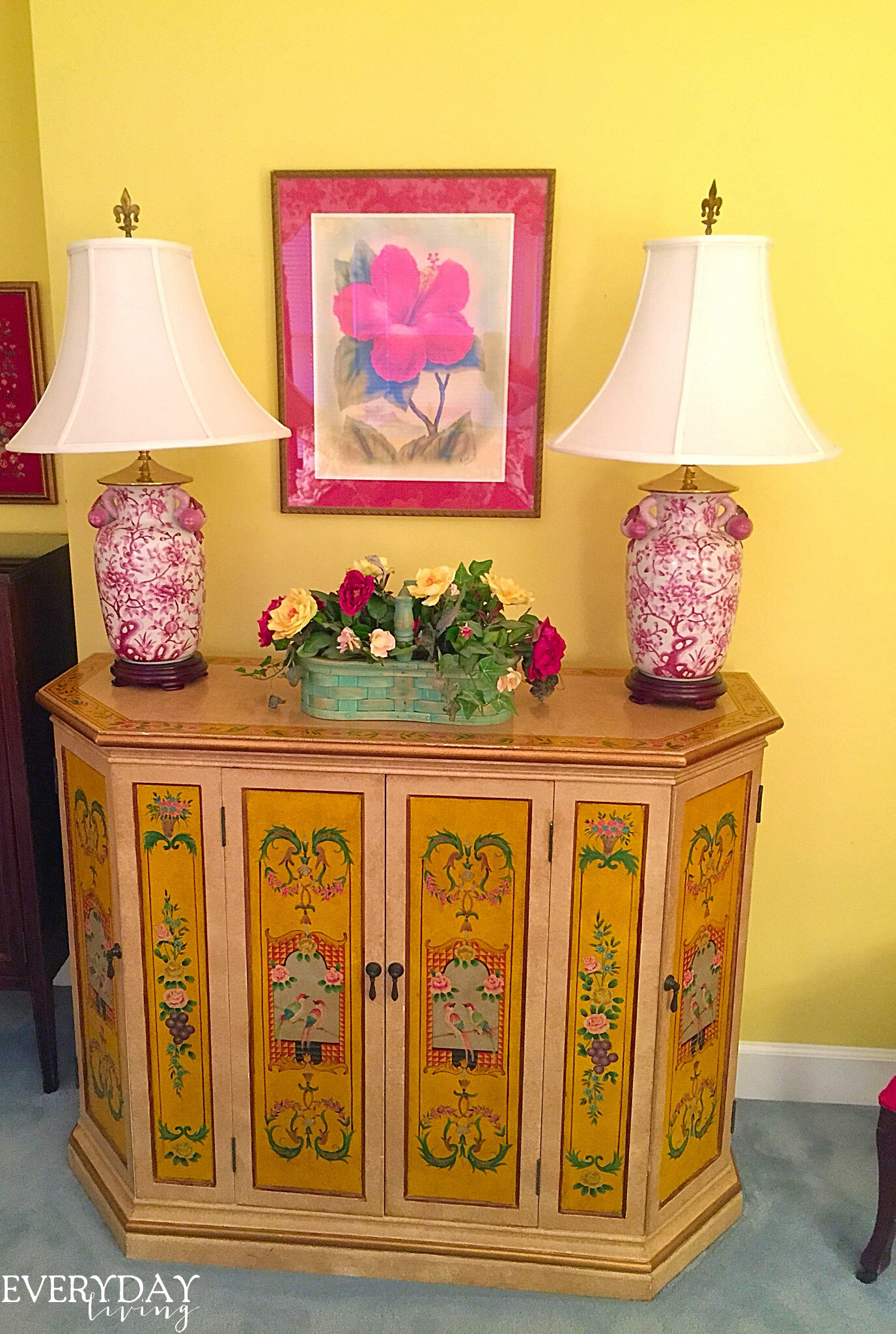 The watercolor painting of a hibiscus flower is by a Hawaiian artist!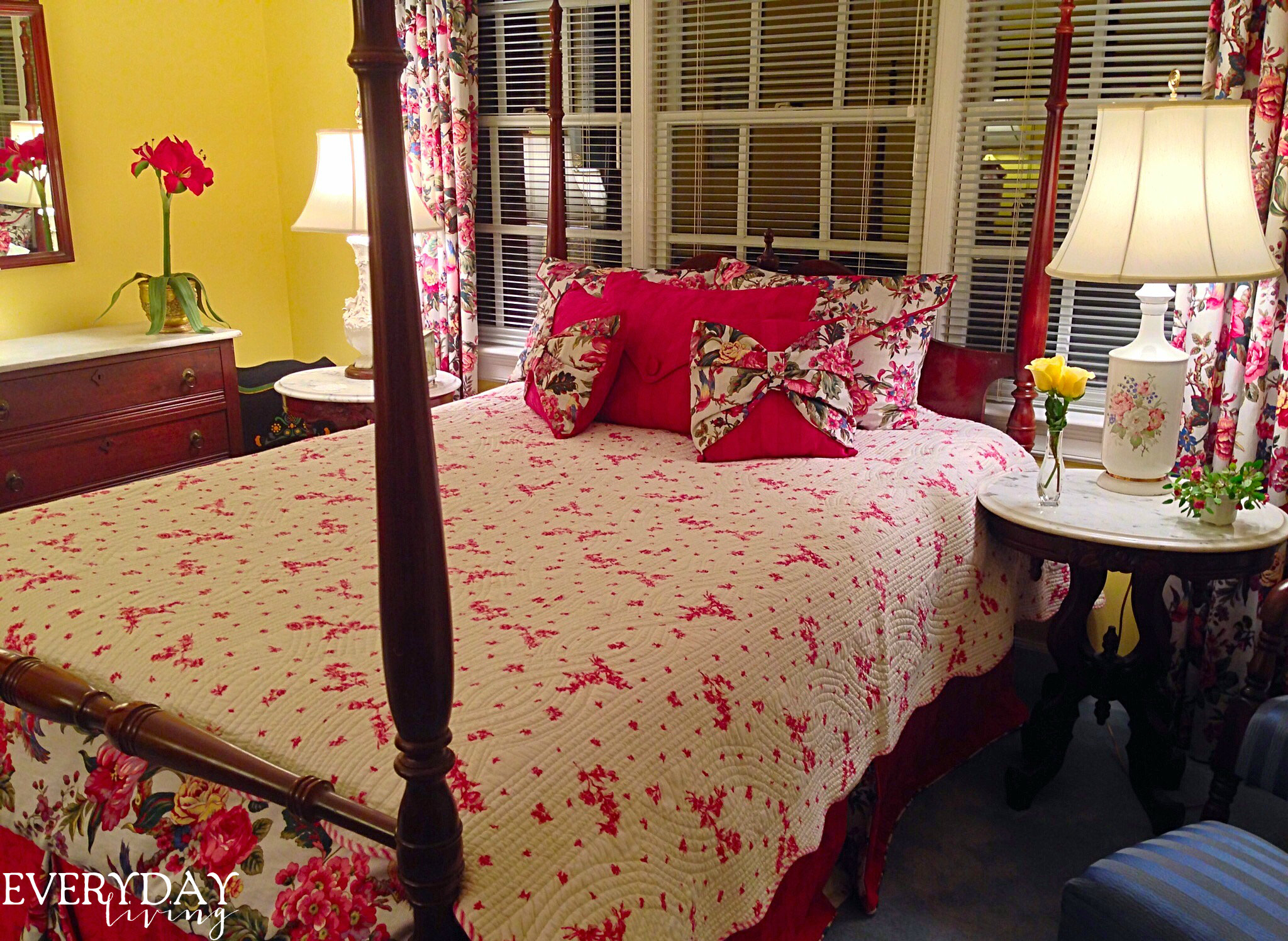 "Let brotherly love continue.  Do not neglect to show hospitality to strangers,
for thereby some have entertained angels unawares"
Hebrews 13:2
Linking with Pieced Pastimes, It's Overflowing, Be Different Act Normal, Silver Pennies , By Stephanie Lynn, Life on Lakeshore Drive, Thoughts From Alice, Creatively Living, Rustic-Refined, Three Mango Seeds, Pink When, Mod Vintage Life, Coastal Charm, Knick of Time, My Uncommon Slice of Suburbia, The Dedicated House, Dwellings-Heart of Your Home, Savvy Southern Style, Ivy and Elephants, French Country Cottage, From My Front Porch To Yours, Stone Gable, Confessions of a Plate Addict,Worthing Court, Between Naps on the Porch, Cedar Hill Farmhouse, A Stroll Thru Life, The Style Sisters, The Charm of Home, The Winthrop Chronicles, Cornerstone Confessions, A Delightsome Life, Imparting Grace, Craftberry Bush, Posed Perfection, Katherines Corner, The Vintage Farmhouse,  My Romantic Home, Chic On A Shoestring Decorating, Rooted In Thyme, Share Your Cup