"A word fitly spoken is like apples of gold in a setting of silver"
Proverbs‬ ‭25‬:‭11‬ 
You know when something unexpected just takes you "back"?   By that, I mean that you are taken to a special time and place-one that could never be recreated or replaced!  As I was putting this tablescape together, my mind and heart were flooded with memories of when Seth was about three years old.  He loved Winnie the Pooh-and I, of course, watched with him!  I can't even begin to tell you the hours spent watching the antics of A.A. Milne's classic characters in the "Hundred Acre Wood"!  We would hit rewind on those video tapes so many times we had them memorized.  In one of our favorite episodes, "Party Poohper", Rabbit was planning a party. He was the practical one and the self-appointed leader among his friends in the Hundred Acre Wood.  Much time and effort went into the planning of Rabbit's party, only for it to completely fall apart.  And I love the comfort that Rabbit found, even when his well-planned party didn't pan out…
"Who needs a schedule for a party?  Parties are supposed to be fun!  And you can have fun whenever you want"
I still have a love for rabbits, and I can nearly bet that it started with this sweet memory.  We welcome you to this, our second spring tablescape.
Lucky for us, our party didn't fall apart as Rabbit's did…but even if it did, we would still have fun!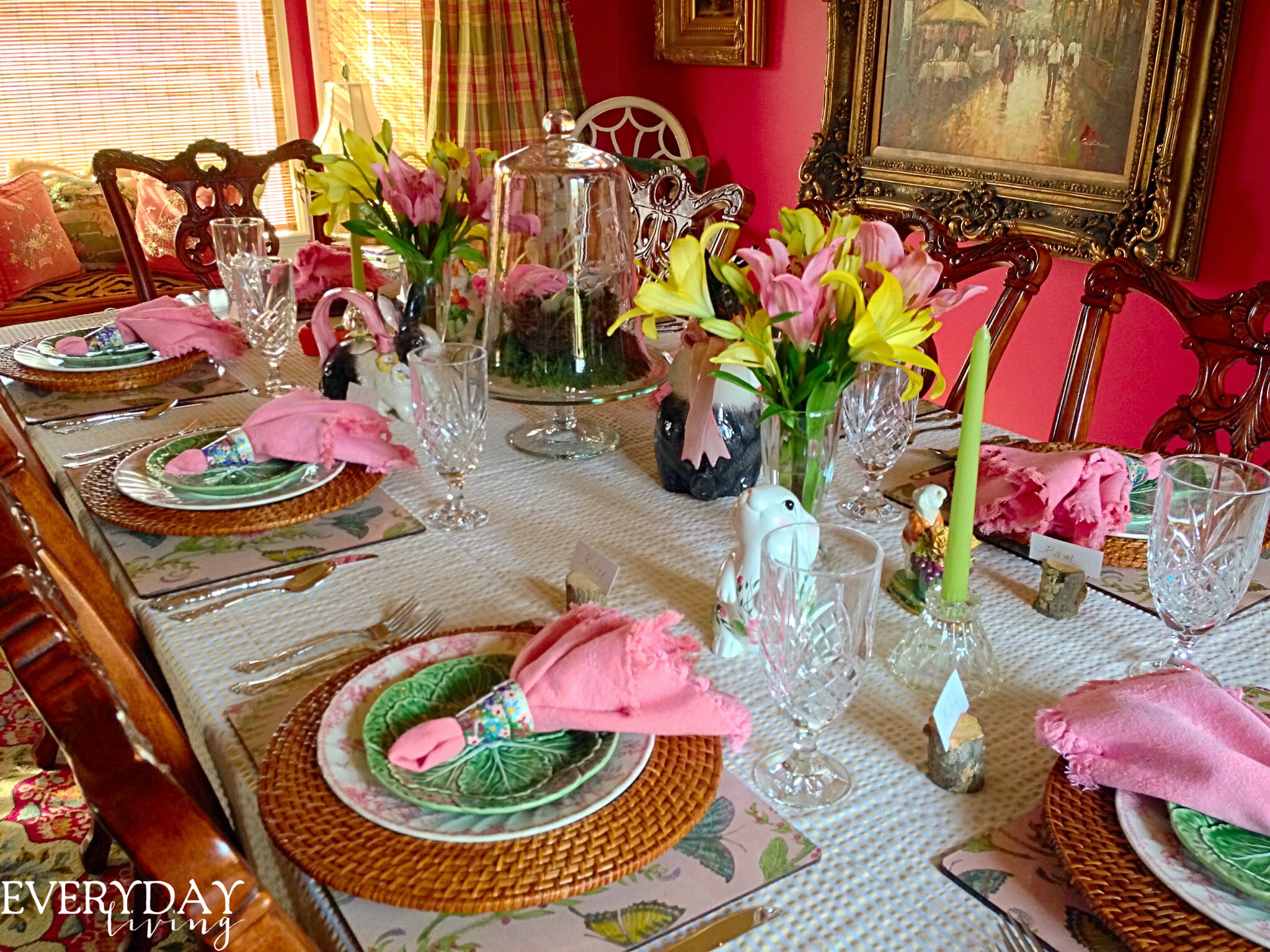 The sun was actually in abundance on Sunday morning!  It has been so rare over the past weeks that Butch asked me what that "bright light" was!  As I was shooting the pics, I was grateful to see the sunshine coming through the bamboo shades and the promise of spring's arrival!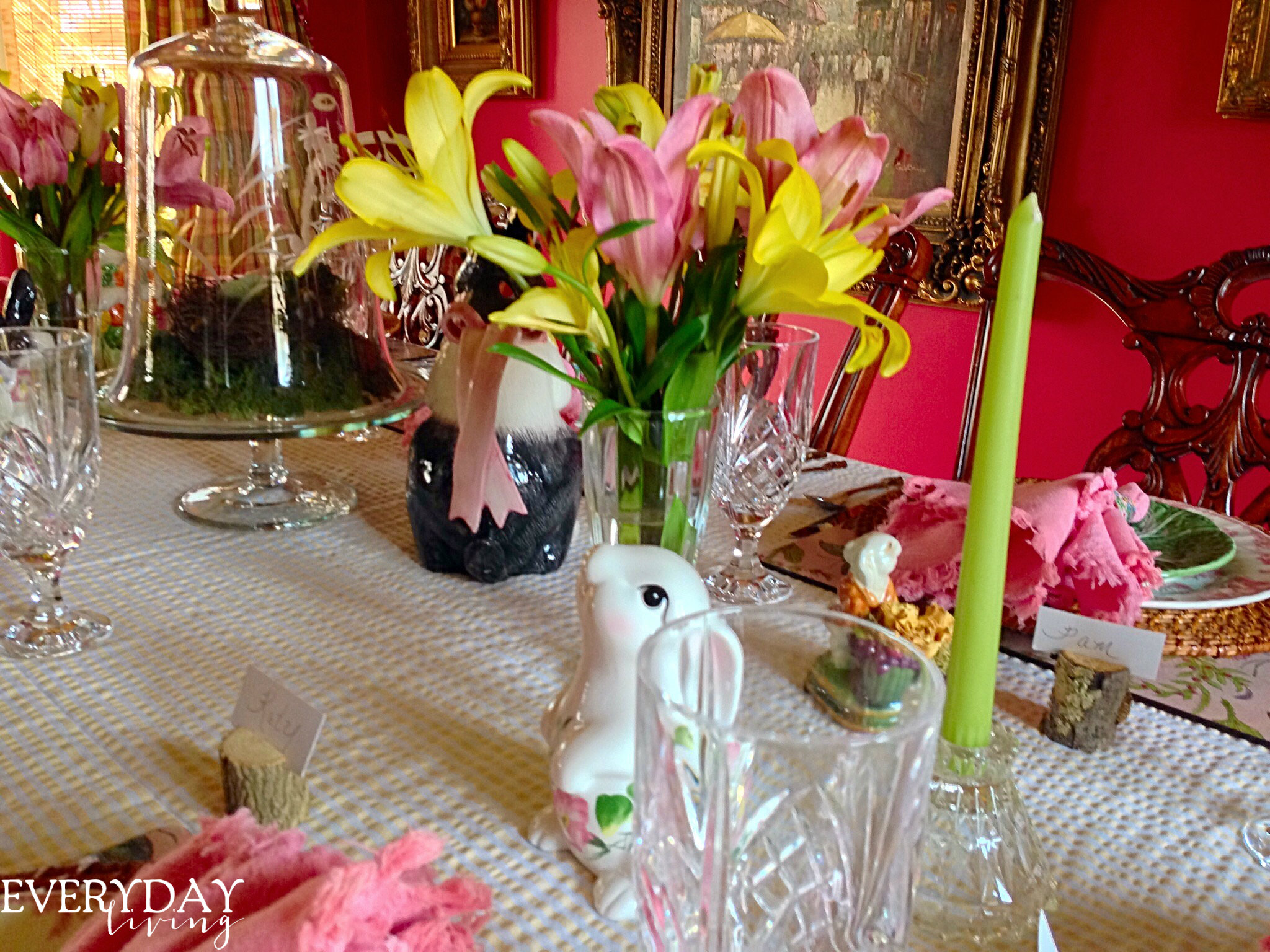 Even though spring has not officially "sprung", I was ready to see happy colors on our dining table!
I have always enjoyed watching the rabbits from my kitchen window.  It seems that over the past few years they have increased in population (we all know what rabbits do!). I have a small collection of ceramic rabbits that I have acquired along with oil paintings of bunnies!
This is a Fitz and Floyd rabbit pitcher that my sweetie gave me!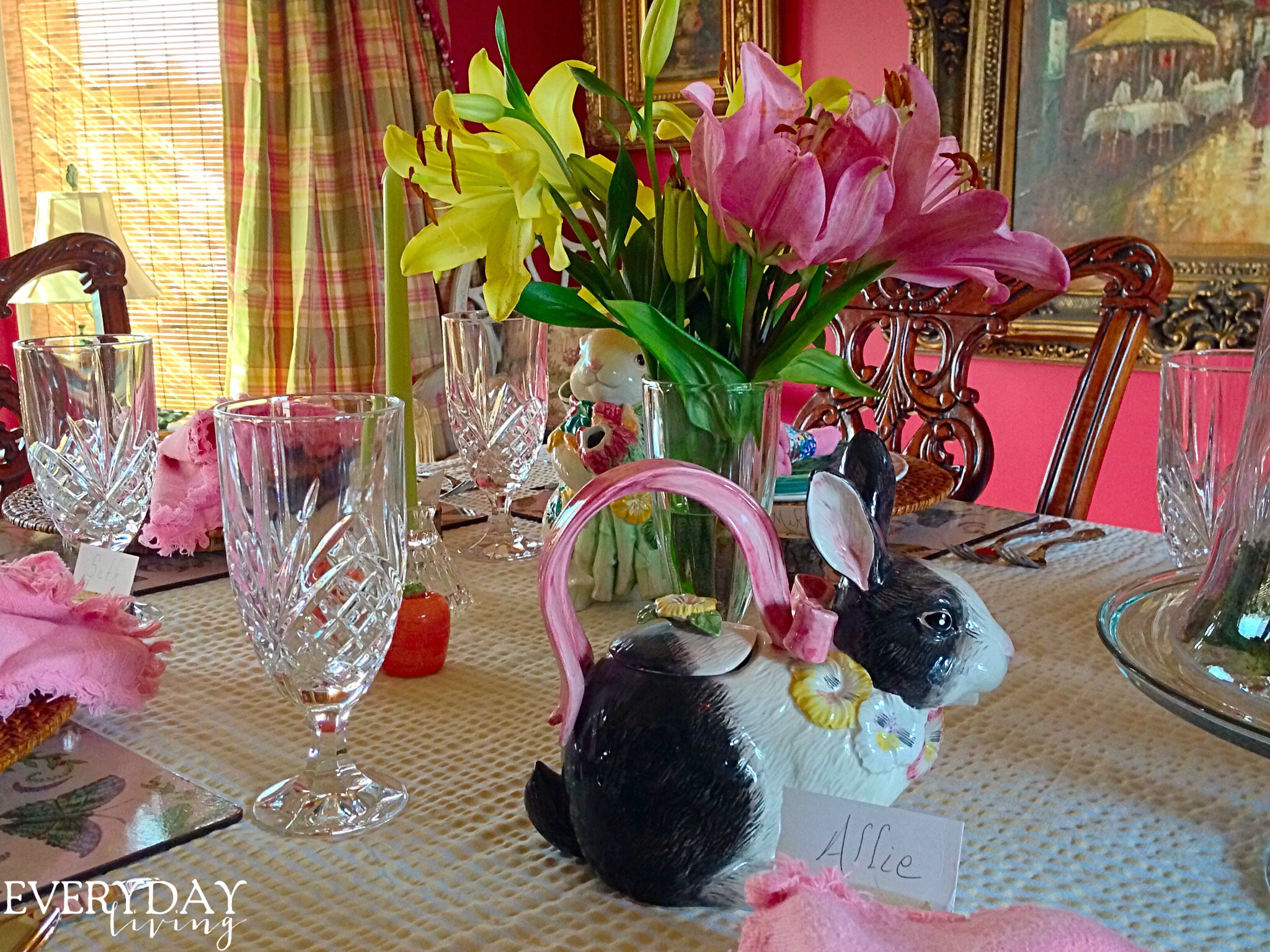 This is the companion bunny tea pot!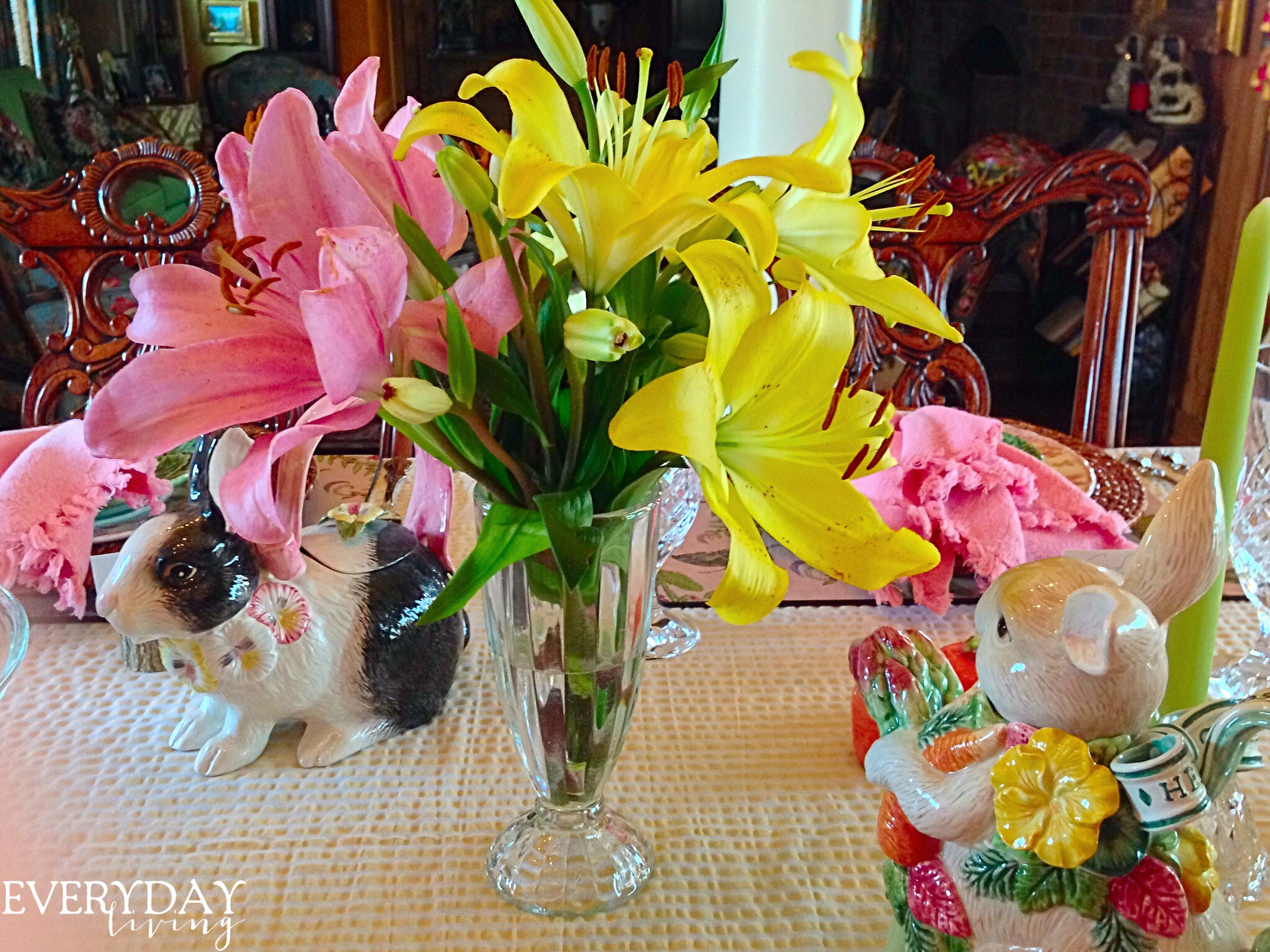 Pink and yellow lilies in ice cream sundae glasses were the perfect addition to our bunny family!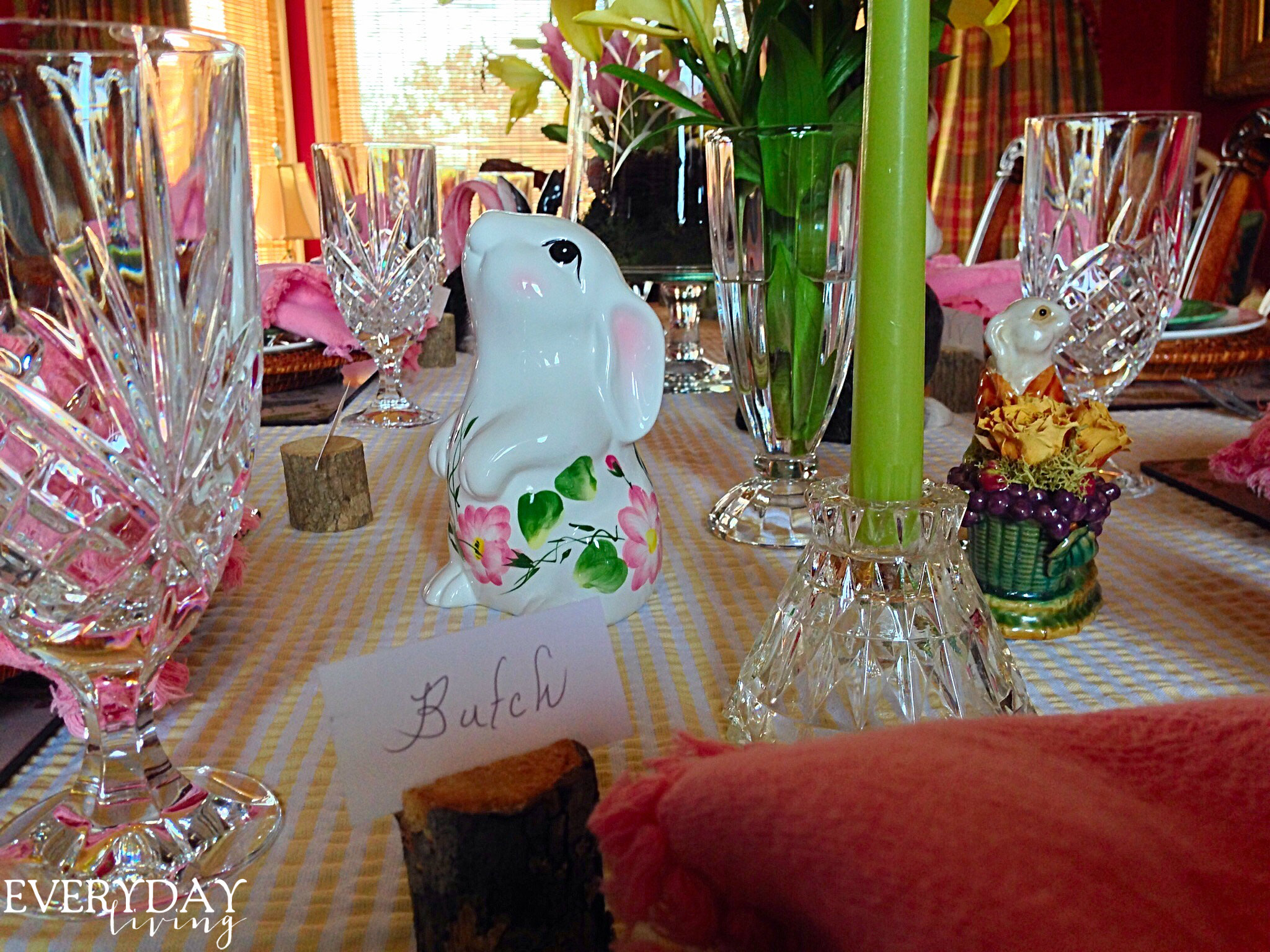 This sweet bunny was a gift from my friend, Kathy's granddaughter, Nalin!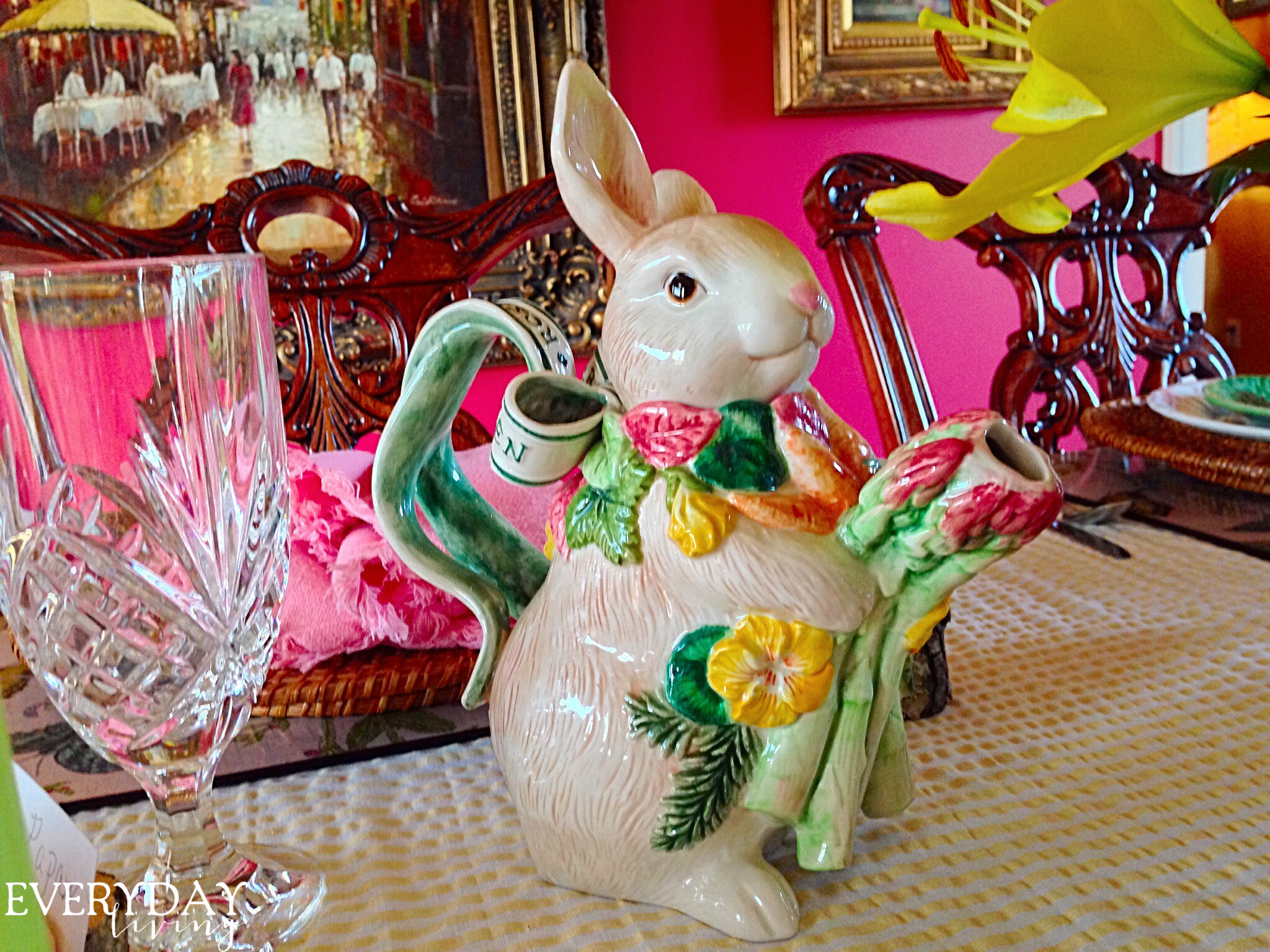 The "Herb Garden" FF bunny is part of the set seen here:  Anxiously Awaiting Spring.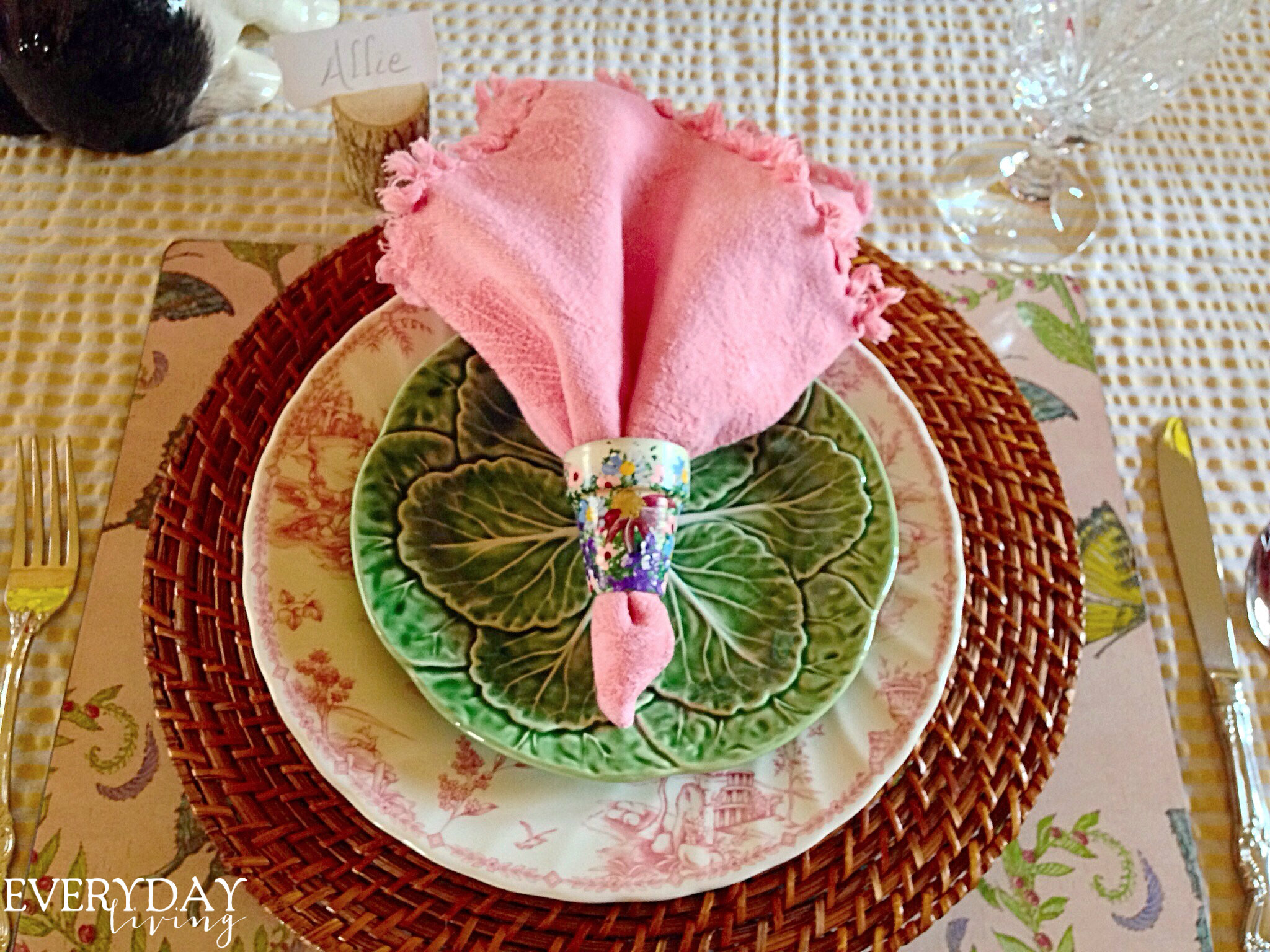 The setting began with a new yellow and white seersucker tablecloth recently purchased from TJ Maxx.  The hardboard cork-backed placemats have a floral and butterfly design.  You often see the pink and white toile dinner plates by Churchill along with the wicker chargers.  The cabbage salad plates were a Tuesday Morning find a few years ago!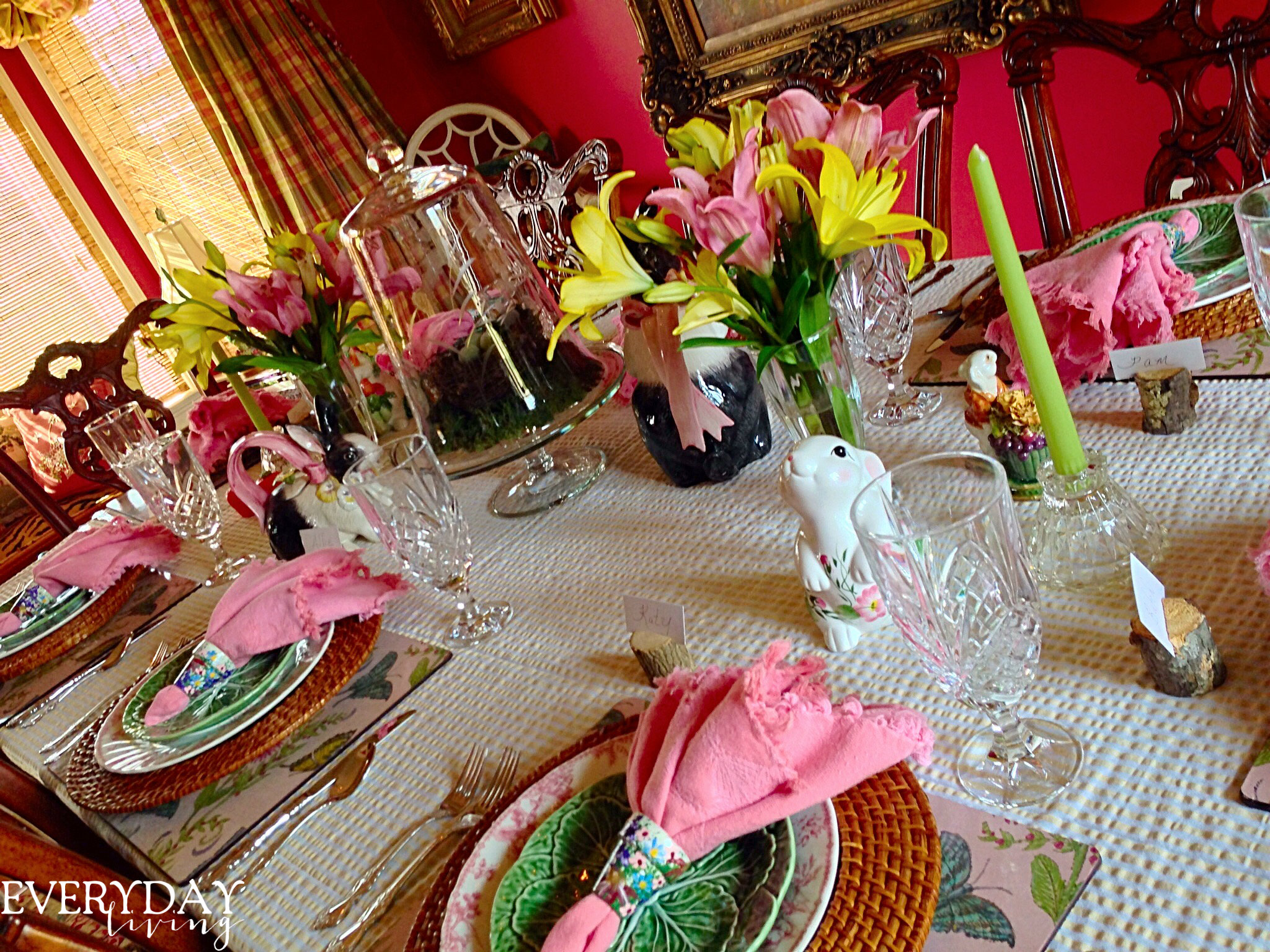 The pink napkins are in one of my favorite napkin rings-hand painted mini clay pots! I bought these from a craft vendor at the Huntsville Botanical Gardens.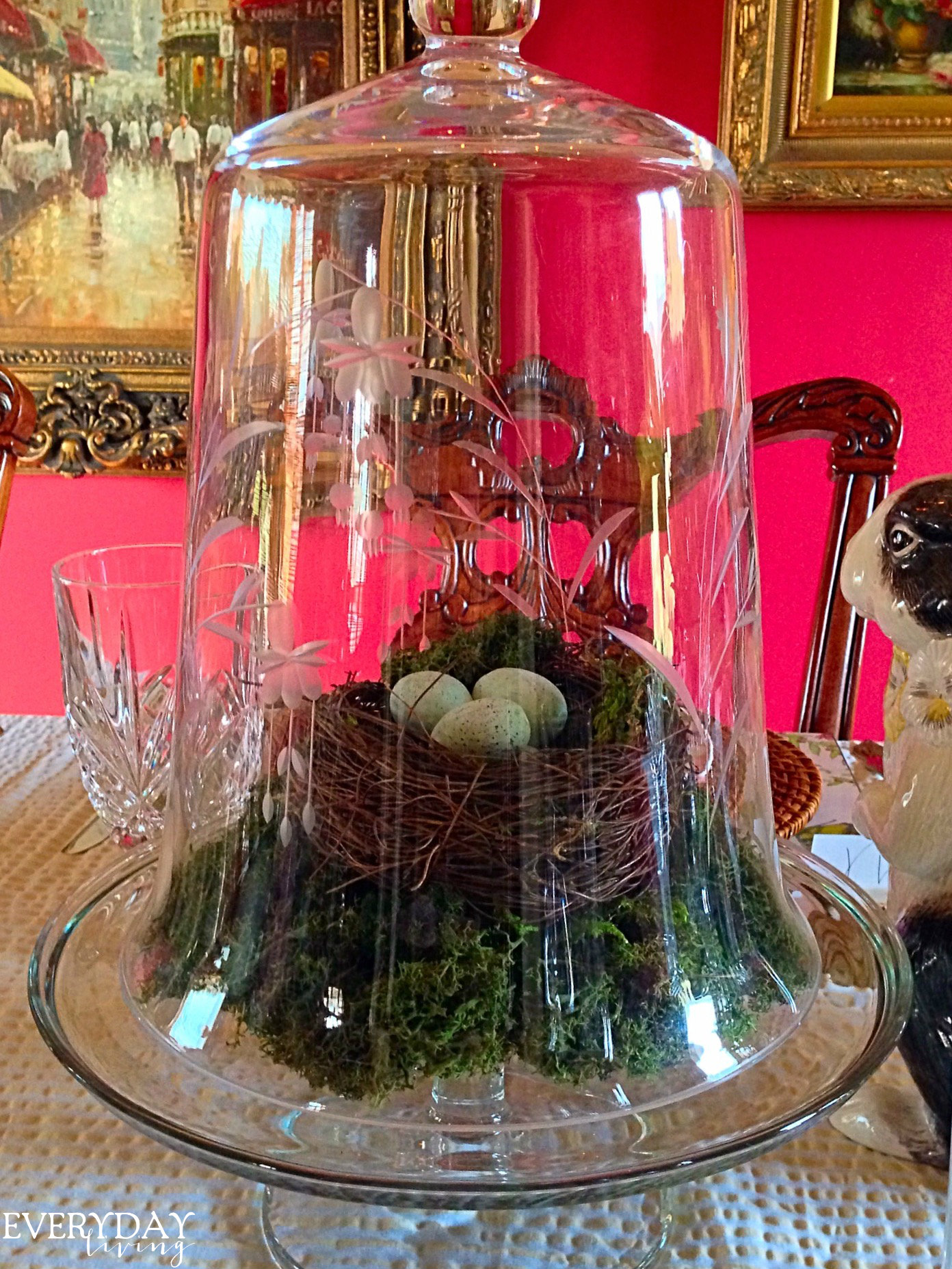 For the center piece, I used a cake stand with a bird's nest and eggs tucked in moss.  It's topped with a glass cloche for protection from the bunnies!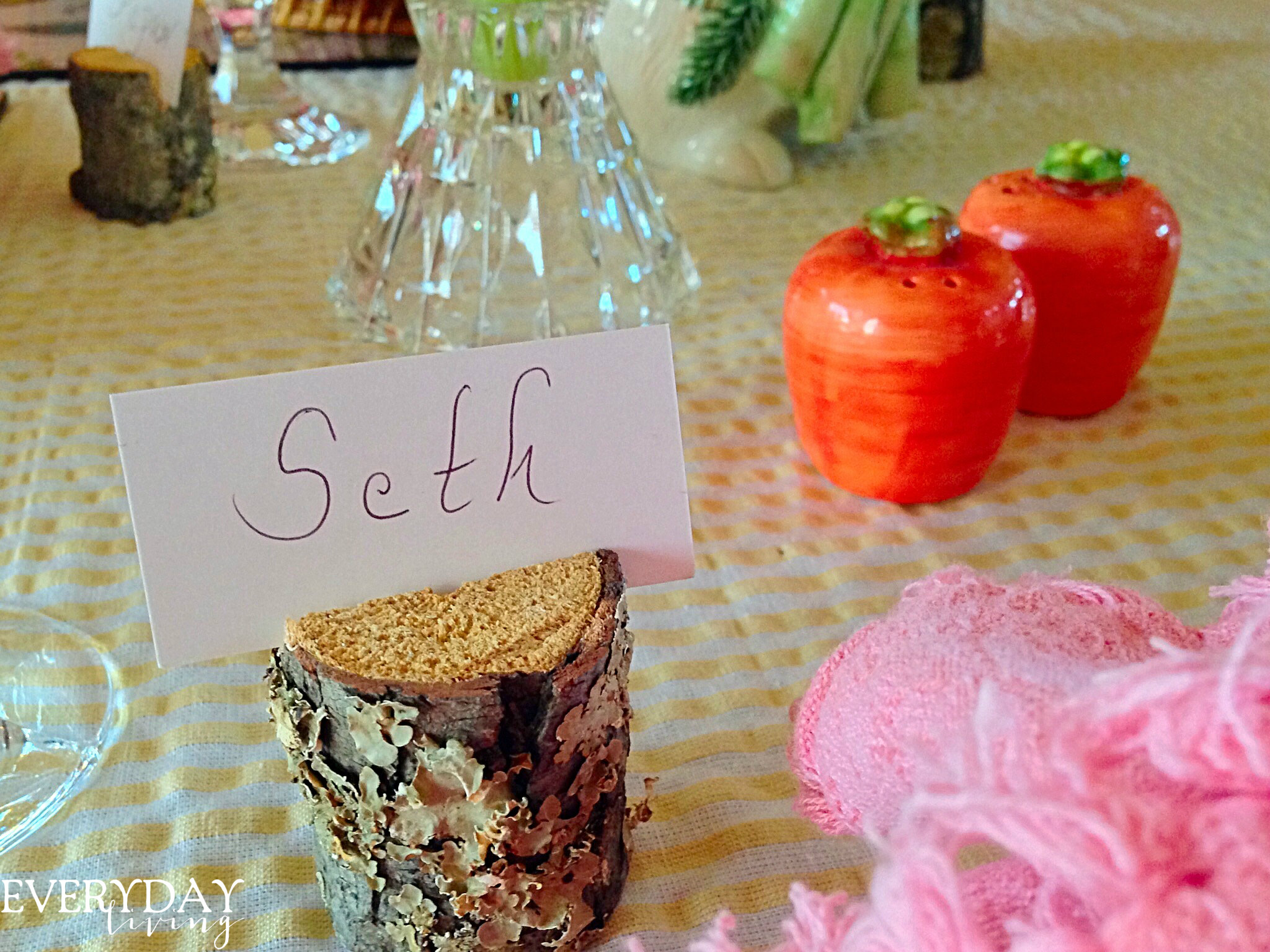 The rustic place card holders made by my friend, JoAnn for Seth and Allie's wedding add to our spring table. The carrot salt and pepper set was a gift from Katy!  Carrots and rabbits go together, right?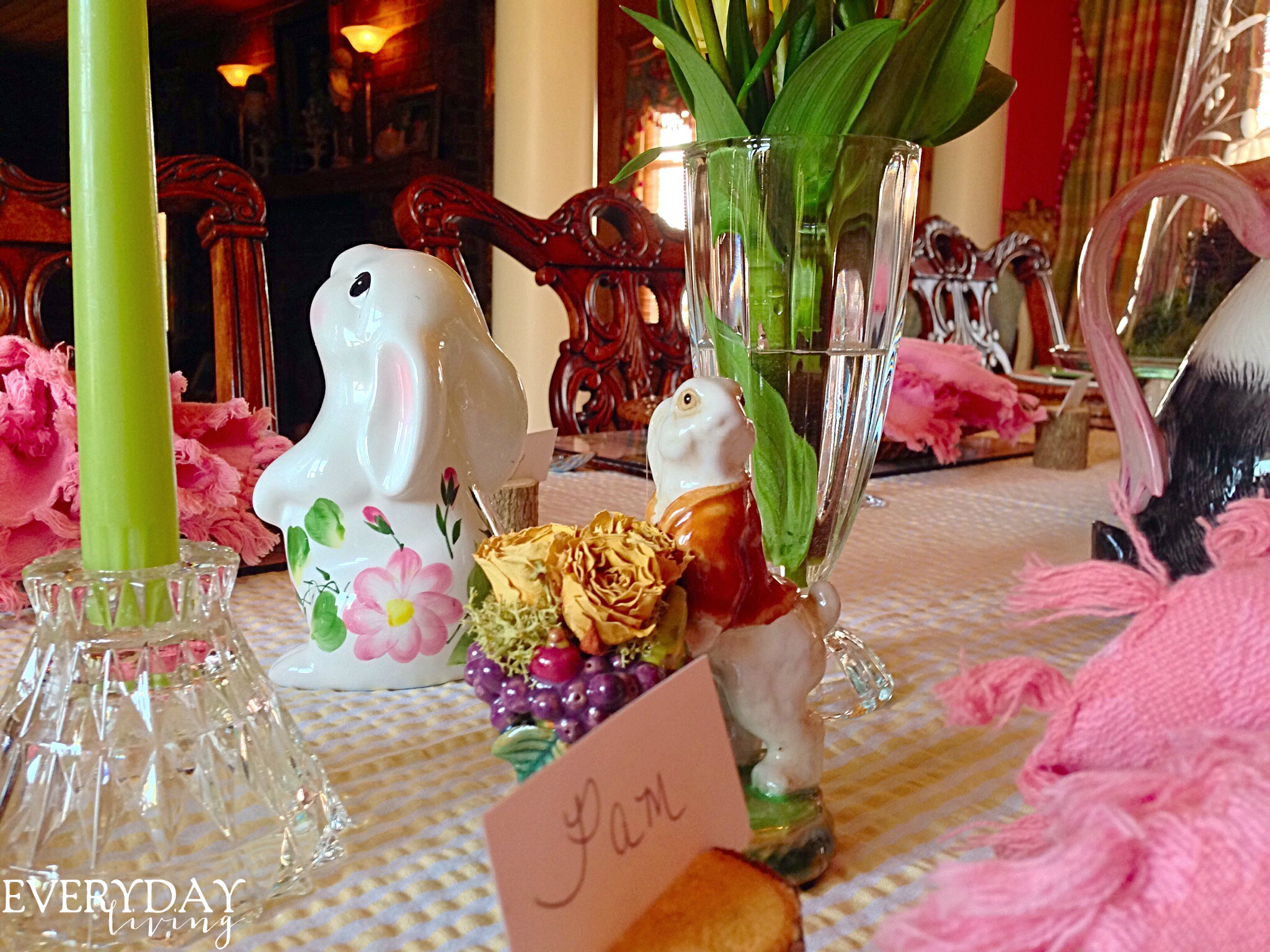 A small bunny carrying dried roses!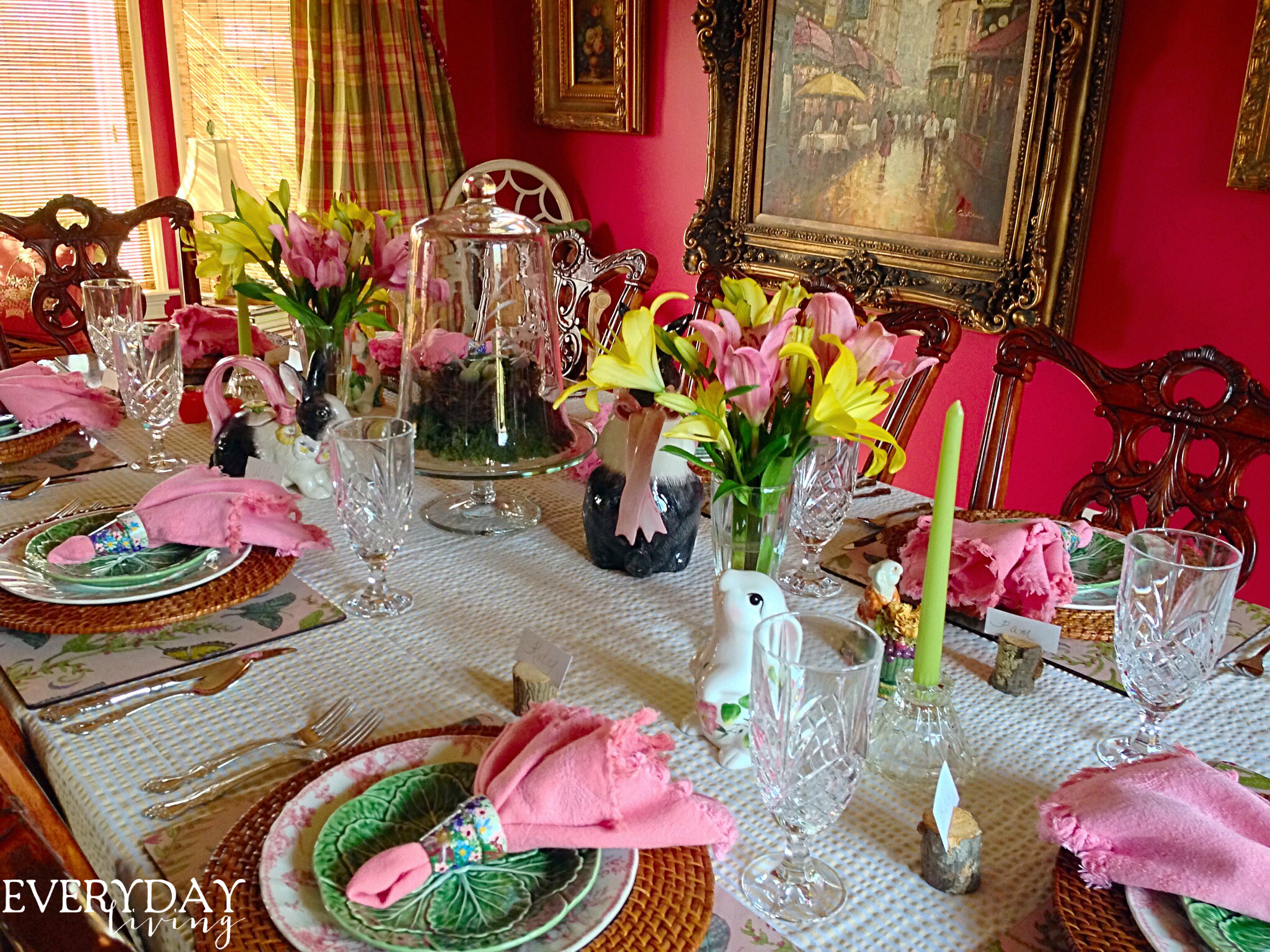 The bunnies seem to be hiding under the lilies!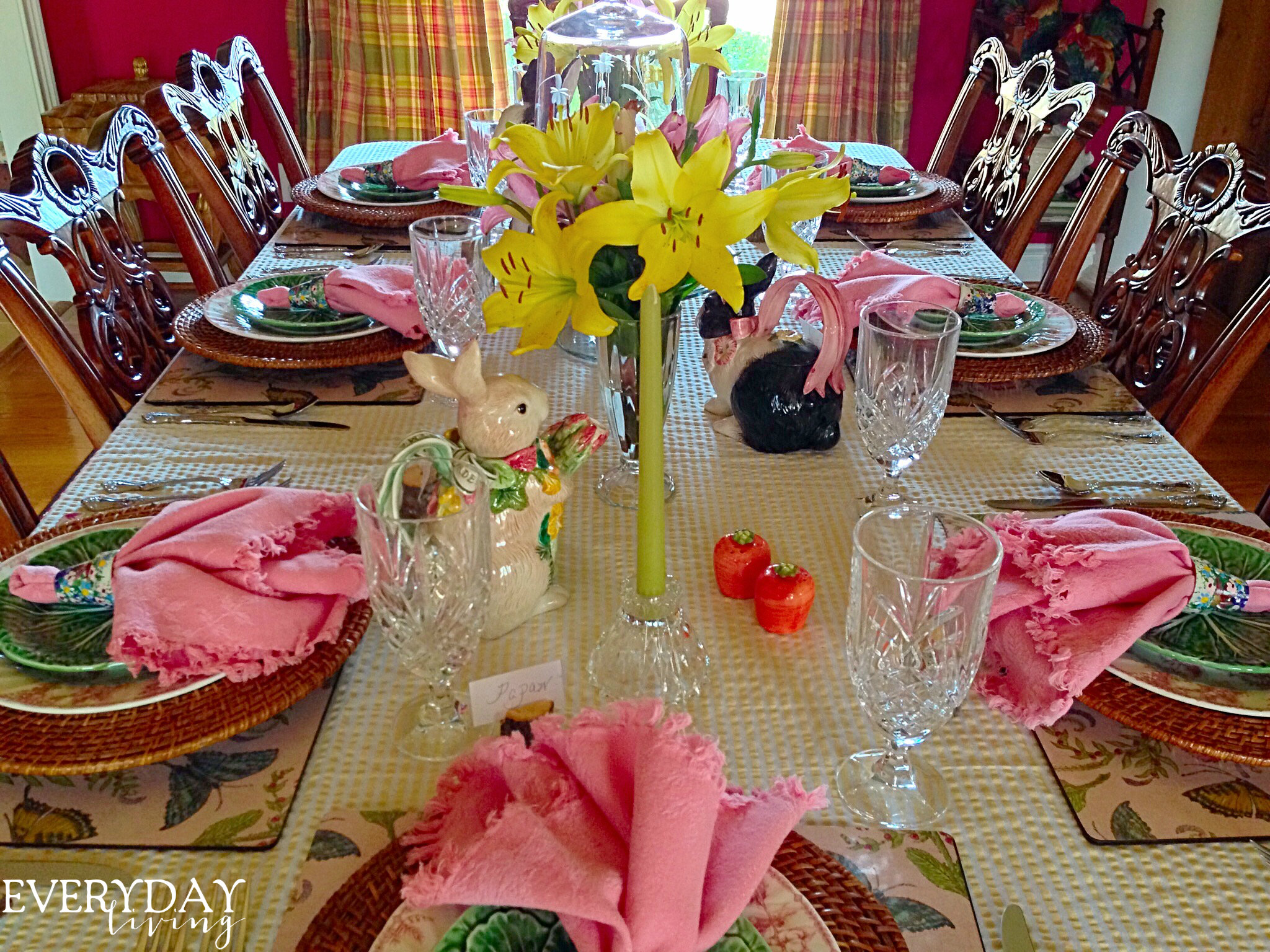 For a pop of color, a pair of green taper candles in crystal holders was placed on our tablescape!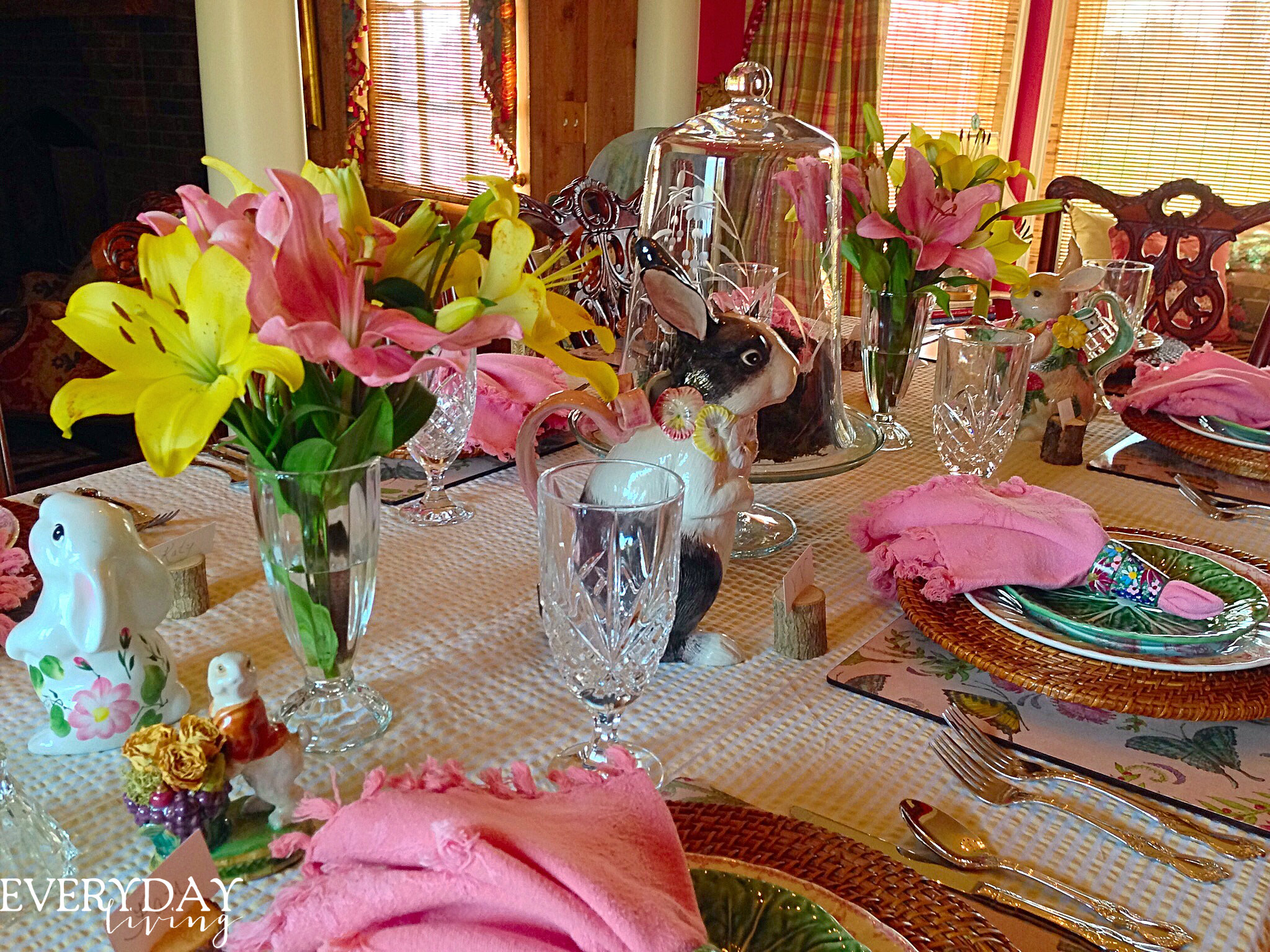 I love welcoming spring to my dining room!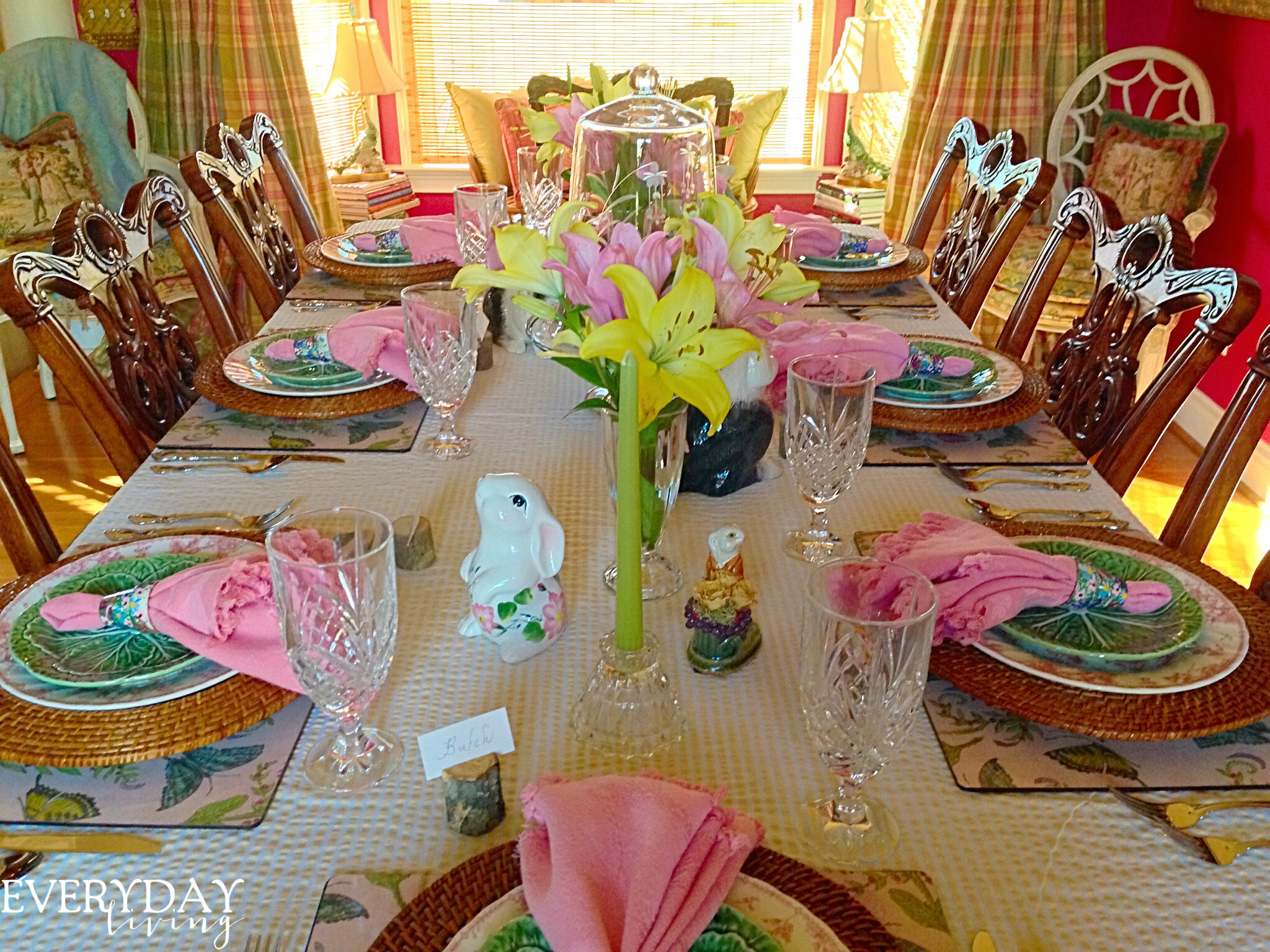 "If we had no winter, the spring would not be so pleasant; if we did not sometimes taste of adversity, prosperity would not be so welcome"
-Anne Bradstreet