"But you, O Bethlehem Ephrathah, who are too little to be among the clans of Judah,
from you shall come forth for me one who is to be ruler in Israel,
whose coming forth is from of old, from ancient days"
Micah‬ ‭5‬:‭2‬ 
We would like to welcome you back to "our refuge" first seen here: Our Refuge. This is our favorite place to spend time and is always the first place we decorate for Christmas!  I am sharing some of my favorite collections with you today.  Christmas evokes so many wonderful memories of family, friends, and places.  This wonderful holiday lifts the spirits and involves all of our senses: the sight of twinkling lights…the smell of  fresh cut pine…the sound of a favorite carol…the taste of home-baked gingerbread cookies…and the touch of a loved one.  It is truly a magical time!  The magic of Christmas is alive today, but it all began in Bethlehem over two thousand years ago.  When God robed himself in human flesh and entered our world as a man, but no less God, he changed the course of human history.  He came to set his people free.  A baby, a king.  Jesus, there's just something about that name!
The French chest between our two chairs holds a very precious collection.  My Mother made ceramics in the late 70's and throughout the 80's.  She made six of the Santas!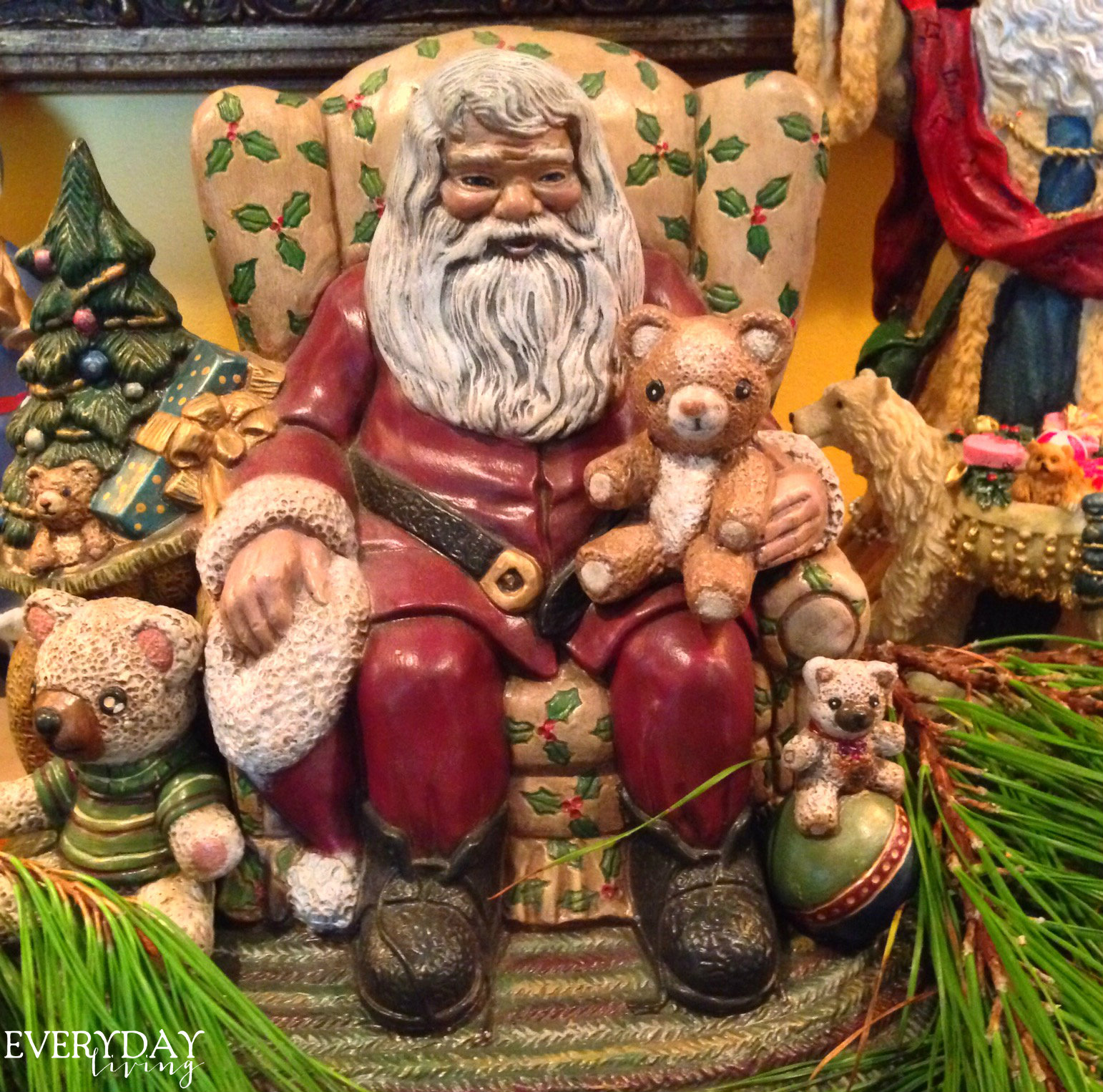 This is the largest and is also the last one that she made.  She made several like this and gave them as gifts!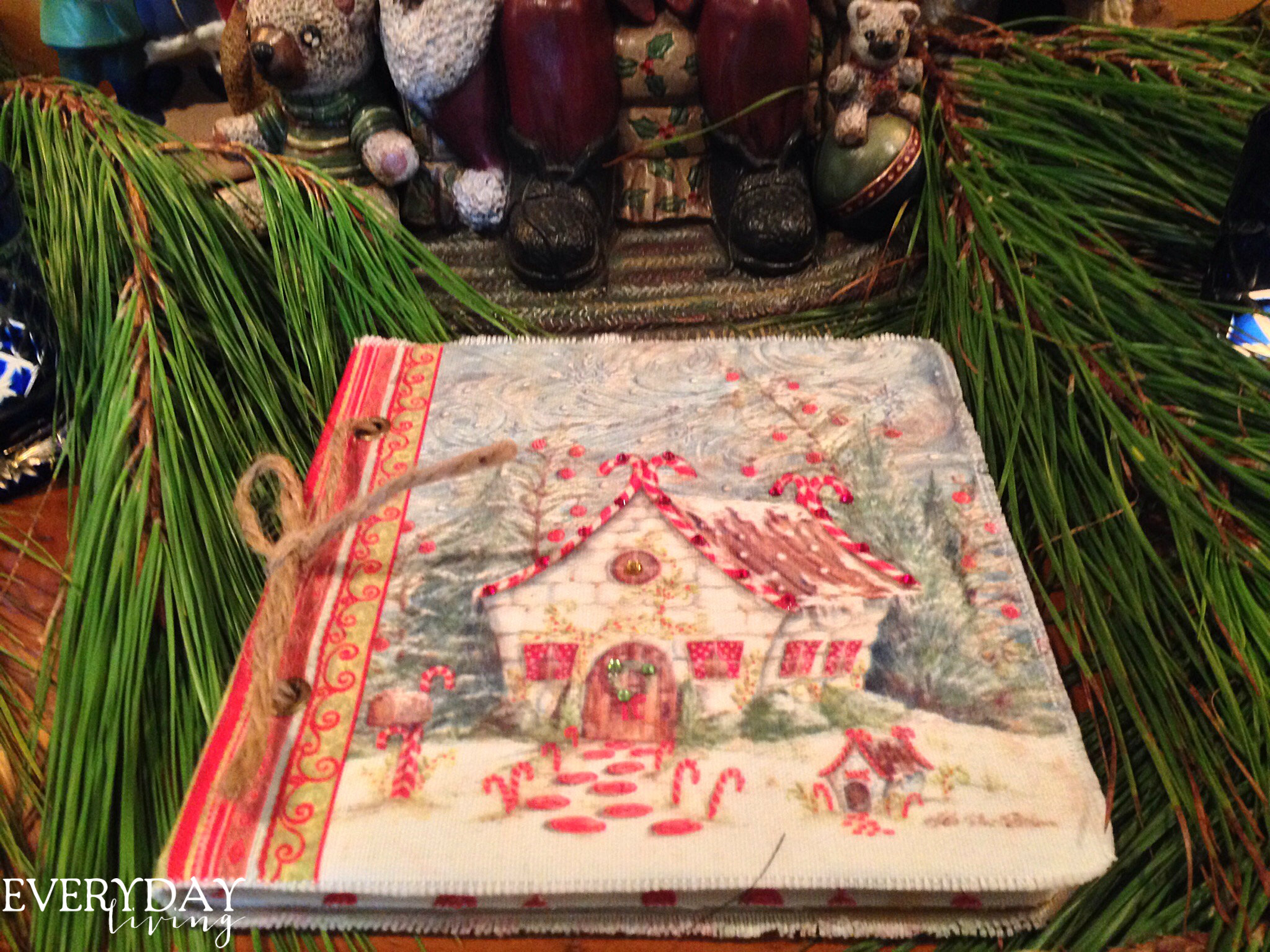 I bought this Christmas journal in 2011 at the Biltmore gift shop in Asheville, North Carolina.  It was a special trip that Butch and I made the first of December that year.  The Biltmore  was decked in all of its finery as we had scheduled the evening candlelight tour!  Oh, how I wished that I had started a Christmas journal when Seth was born!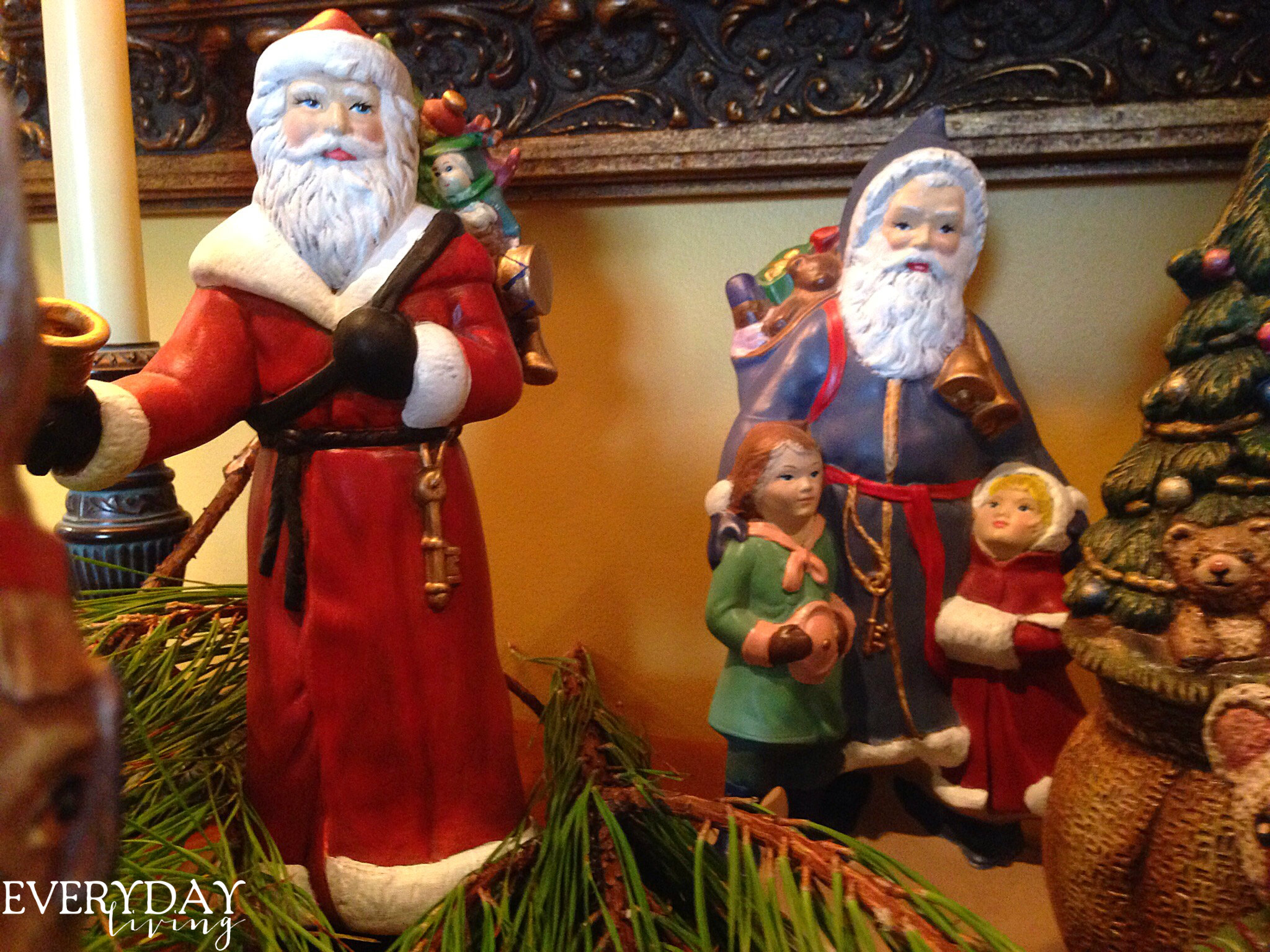 Mother painted beautiful faces on the Old World Santas!
The Santa on the back was a gift from a friend-and the only one not made by Mother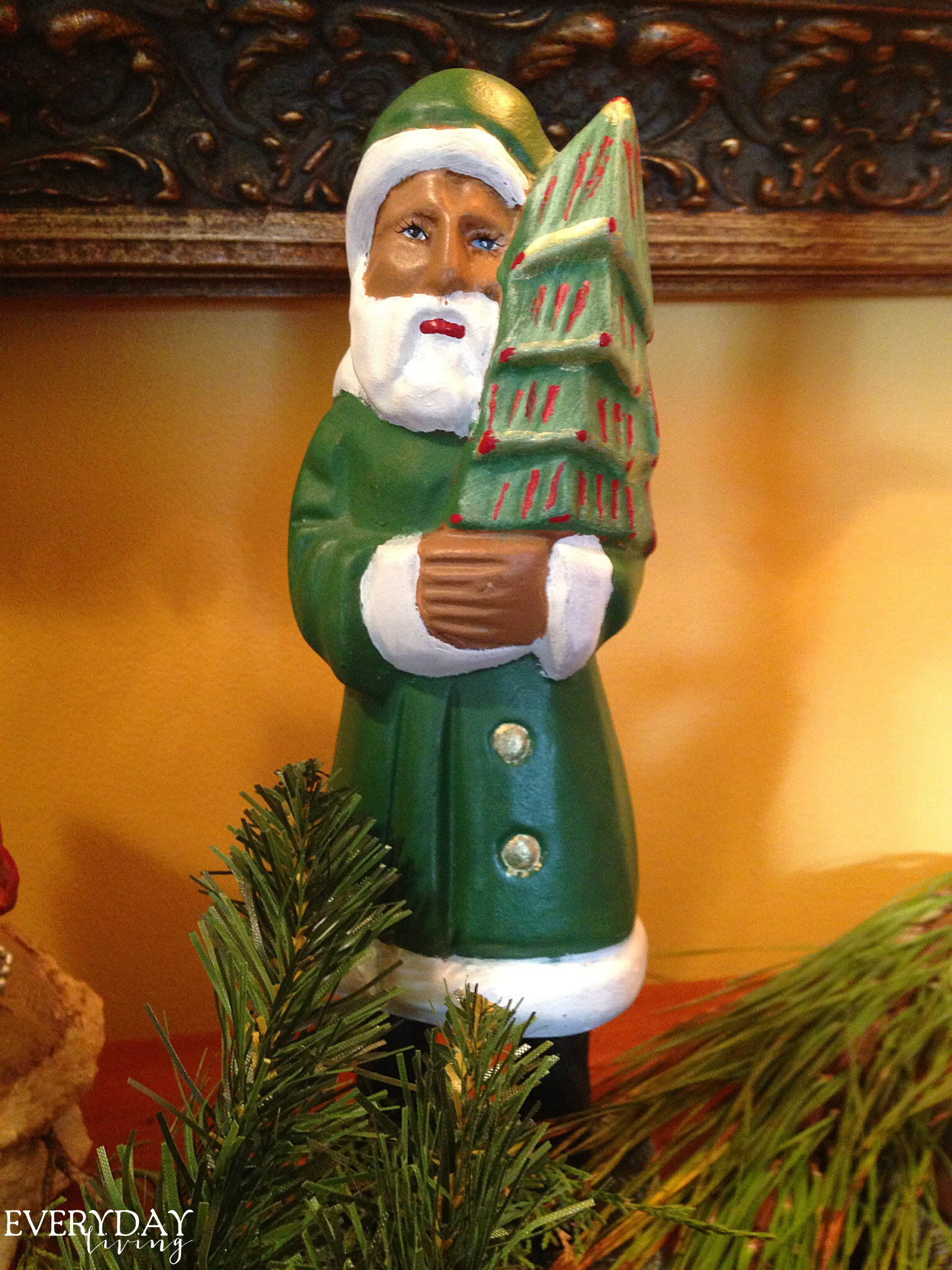 This Santa always makes us laugh!  Nanny (Mother) let Seth paint him when he was about 6 years old.  He chose the colors and she only painted his face!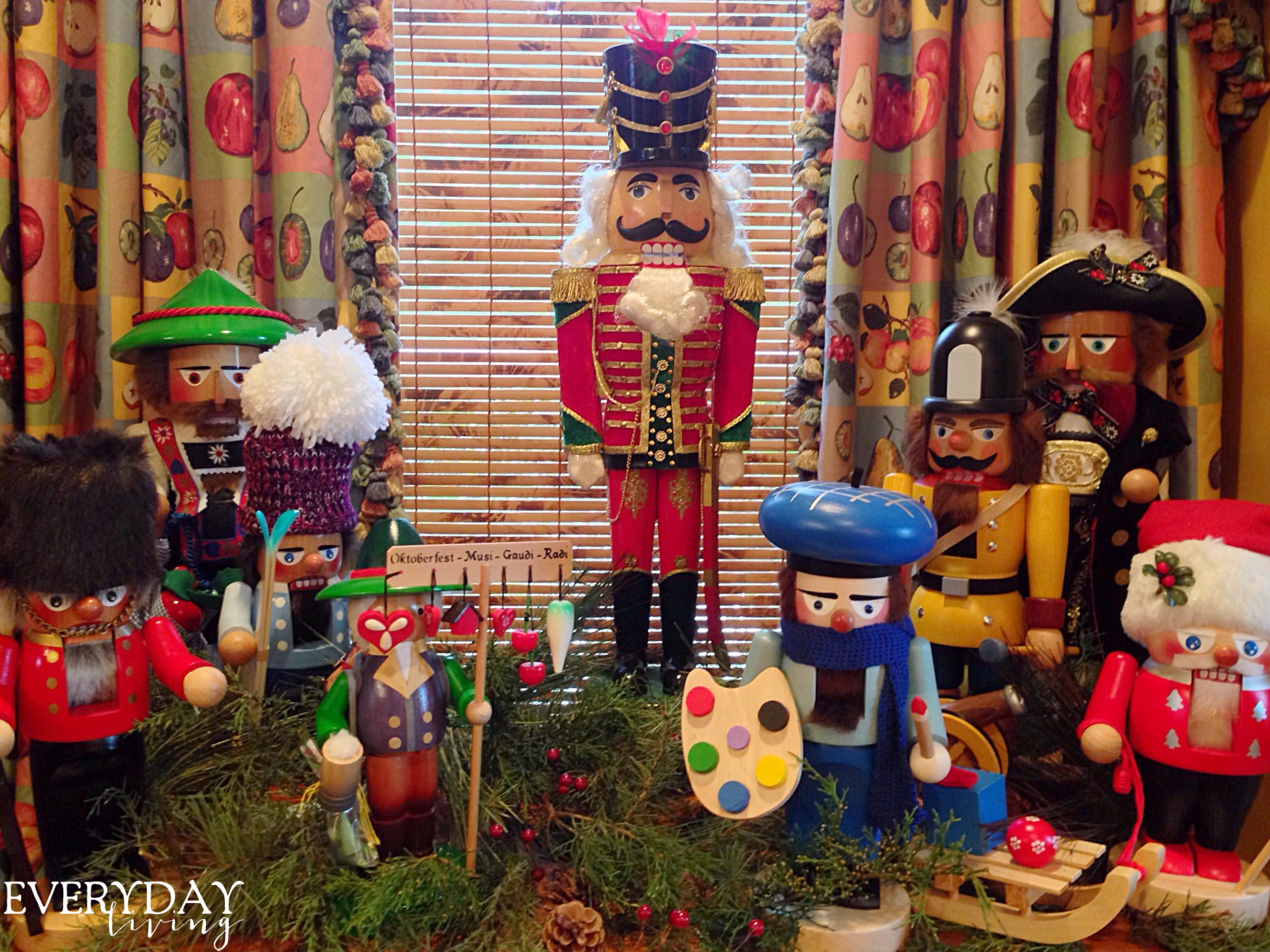 These are all German Steinbach nutcrackers except the tall one-which is a Radko music box!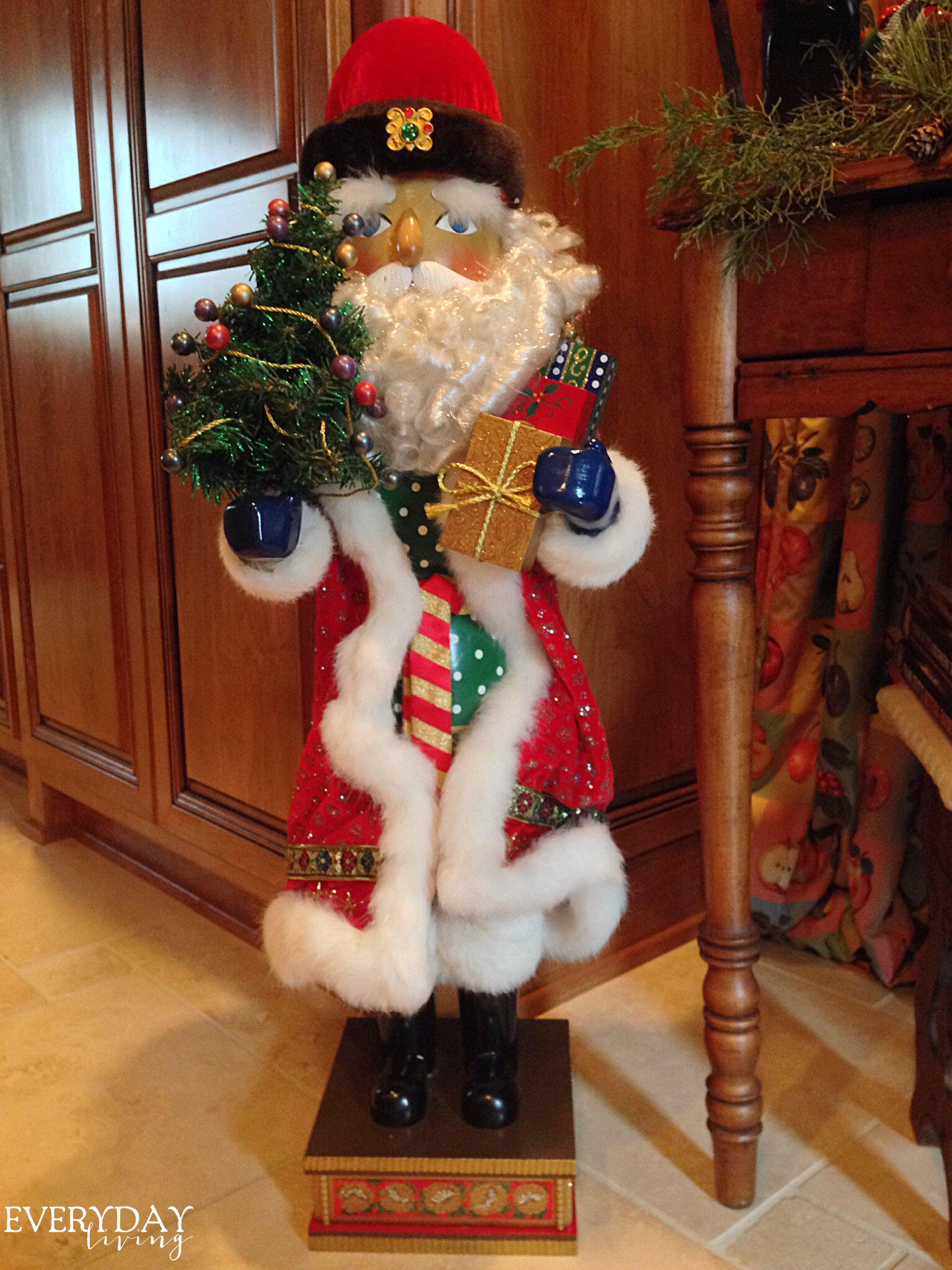 My friend, Brenda started my collection of nutcrackers when she gave me this large Christopher Radko music box.  She also gave me the tall one on the table.
My sweet friends, Janice and Brenda gave me several of the Steinbach's and I have added to the collection!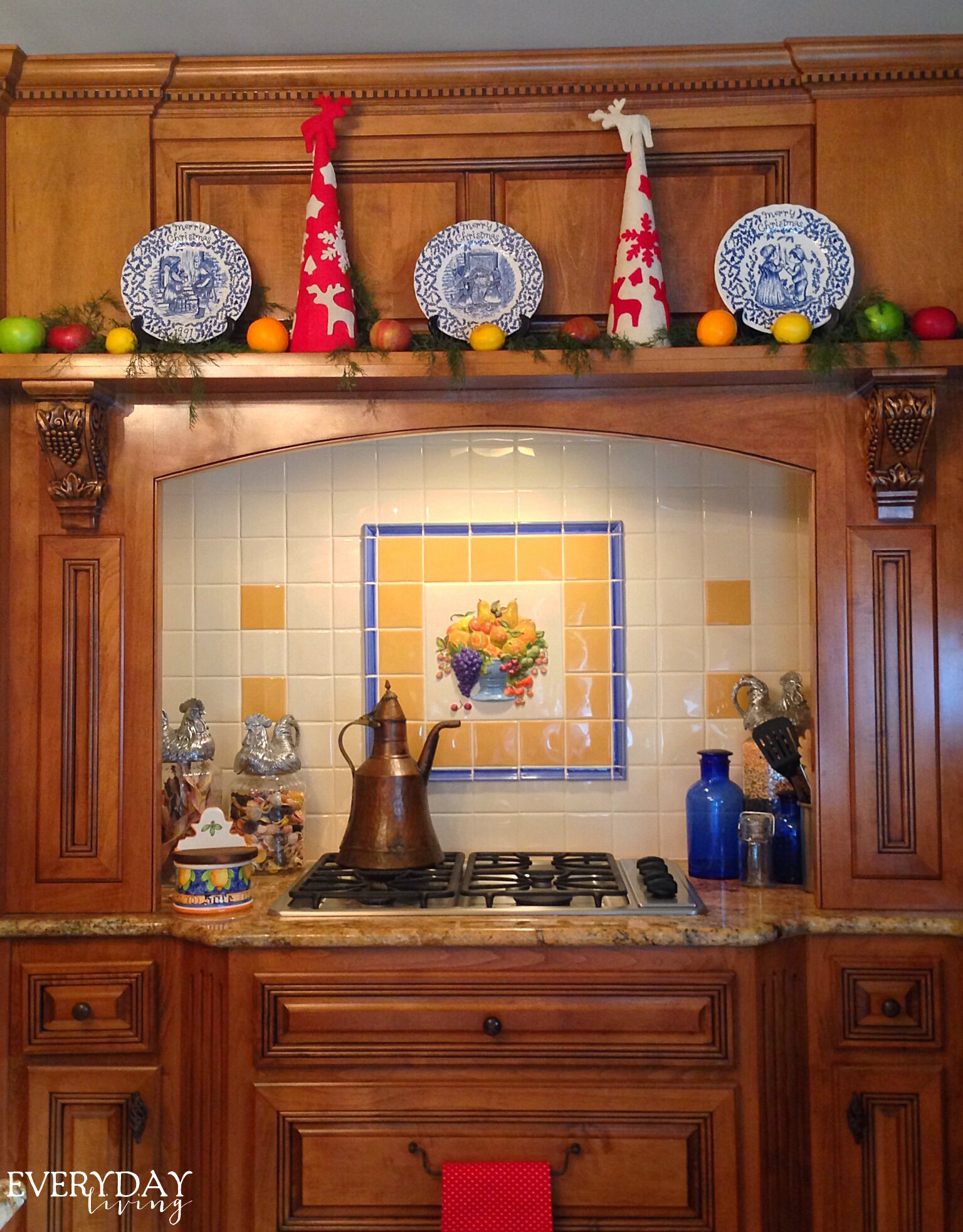 The mantle above my cooktop is simple with fresh cedar and fruit.  The plates are dated 1989, 1990, 1991 and were given to me by my friend, Pam!  The reindeer cones were purchased this year at TJ Maxx!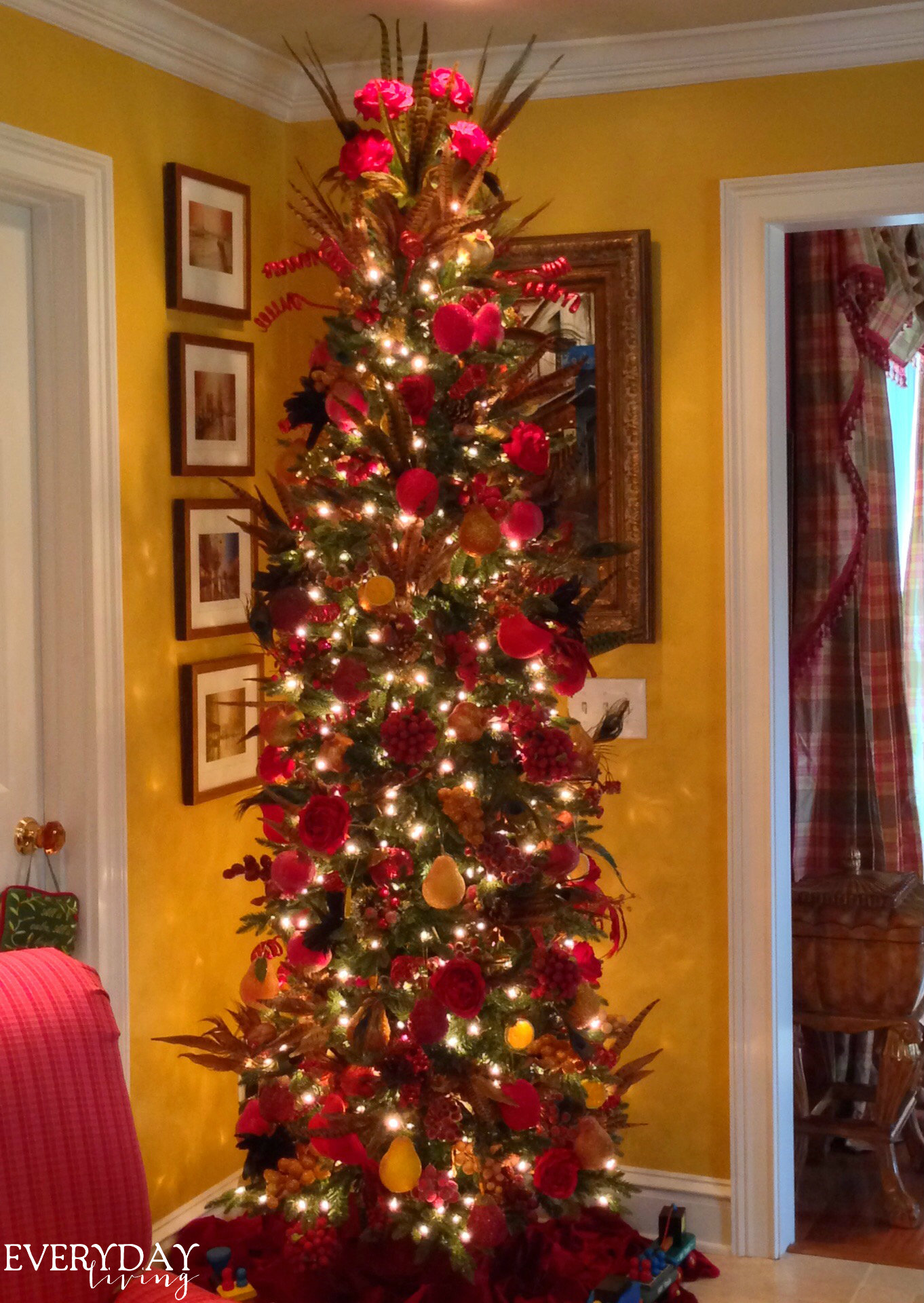 I always decorate the pencil tree with fruit, roses, and feathers!
I enjoy using the ceramic gingerbread house with candles inside to provide ambiance.  The house had a pretty base that my sweetie broke last year.  The carolers were found at Cracker Barrel's gift shop!
Nanny and Pawpaw (my Mother and Daddy) gave the Aladdin costume to Seth.  As a child, he would dress as a different character every day…Batman, Peter Pan, Superman, Aladdin – the list is endless!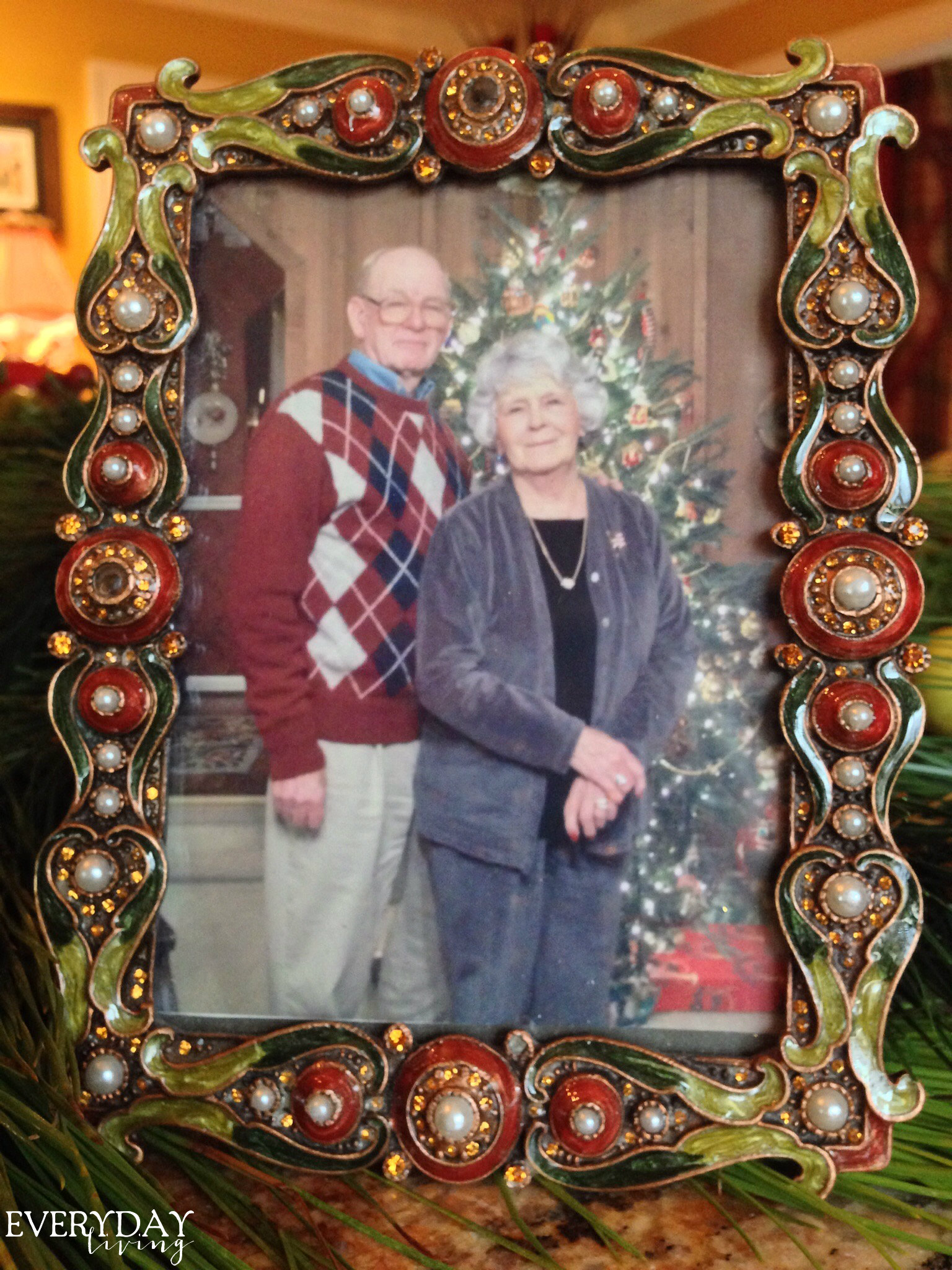 Mother and Daddy 1995. We are so blessed to have my Daddy still with us.  He is the sweetest man!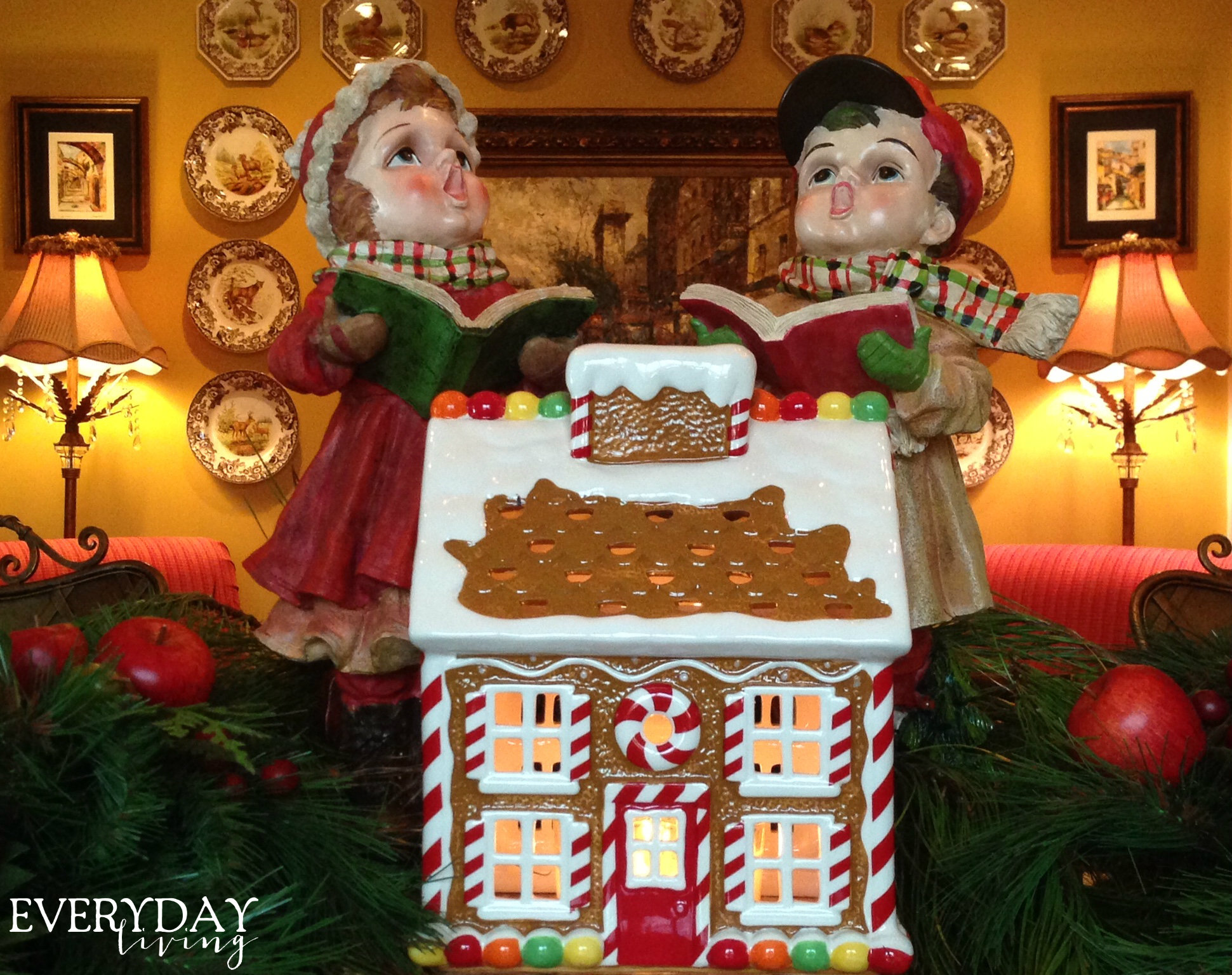 As always, thank you for sharing in our everyday living.  We love your comments!
"O holy Child of Bethlehem, descend to us, we pray;
Cast out our sins and enter in, be born to us today
We hear the Christmas angels the great glad tidings tell
Oh, come to us, abide with us, our Lord Emmanuel!"
-O Little Town Of Bethlehem
Linking with Pieced Pastimes, It's Overflowing, Be Different Act Normal, Silver Pennies , By Stephanie Lynn, Life on Lakeshore Drive, Thoughts From Alice, Creatively Living, Rustic-Refined, Pink When, Mod Vintage Life, Coastal Charm, Knick of Time, My Uncommon Slice of Suburbia, The Dedicated House, Dwellings-Heart of Your Home, Savvy Southern Style, French Country Cottage, From My Front Porch To Yours, Stone Gable, Confessions of a Plate Addict, Worthing Court, Between Naps on the Porch, Cedar Hill Farmhouse, A Stroll Thru Life, The Style Sisters, The Charm of Home, The Winthrop Chronicles, Cornerstone Confessions, A Delightsome Life, Imparting Grace, Craftberry Bush, Posed Perfection, Katherines Corner, The Vintage Farmhouse,  My Romantic Home, Chic On A Shoestring Decorating, Rooted In Thyme, Share Your Cup