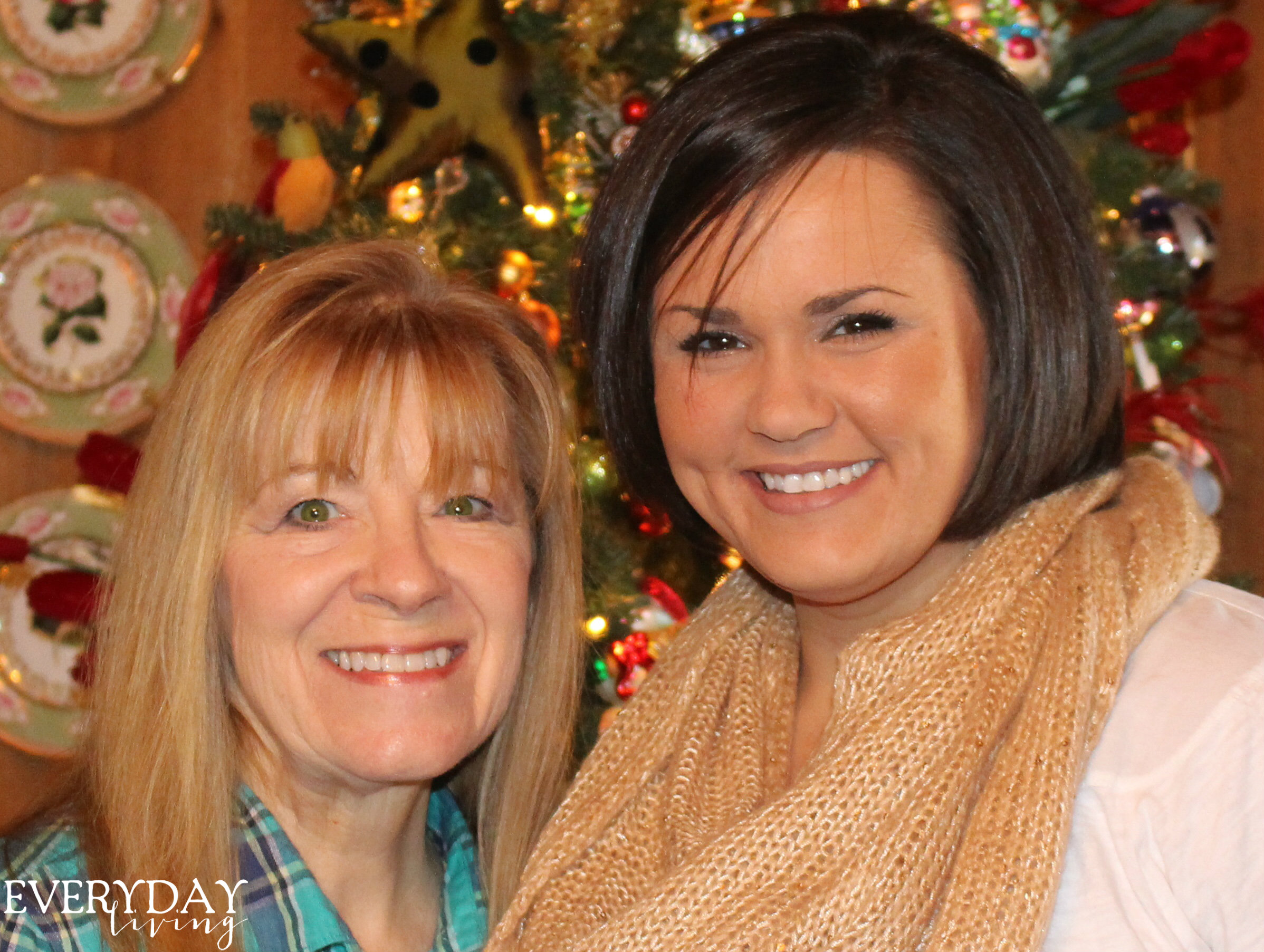 Memories.  Christmas always evokes memories for me, as I'm sure it does most of you.  Unwrapping ornaments from our varied travels both far and wide, pulling out my Mother's tattered  fruitcake recipe to bake for my Daddy, removing the dust from Seth's first little train and placing it under the tree, and even singing a beloved Christmas carol like "Silent Night, Holy Night"! Today also holds a very special memory.  On this day two years ago, I invited a casual acquaintance for coffee.  From that beginning, God has brought a deep and meaningful friendship and a "chosen daughter" into my life that I never expected. I have asked Katy to share a Christmas memory.  She is no stranger to our blog.  Katy wrote an inspirational post for us in September and you can read here: Don't Whittle It Away!
Our desire is that you see that the Light has come!
"Again Jesus spoke to them, saying,
'I am the light of the world. Whoever follows me will not walk in darkness, but will have the light of life'"
John 8:12
There is something about lights during the Christmas season that always has and probably always will catch my attention.  As a little girl, my parents would drive us around to see Christmas lights several nights during December!  My paternal grandfather DECKED his house out for as long as I can remember with the big colored lights, reindeer on his rooftop, and plastic carolers in his yard.
All of my life, we have gathered at my Nana's on Christmas Eve.  I have ten first cousins, so we packed out their small home on a farm in Cedartown, GA.  We would always scarf down our traditional Christmas meal so that we could open our gifts, but that isn't the main reason we were in a hurry!
About three miles from their house sits the county fairgrounds.  There are tall towers that you can see for miles-and one has a blinking red light on the top.  In my eyes, as a little girl, it was none other than Rudolph himself-and it was magical!  (Keep in mind that every night of the year, you could see this light.  But every year on Christmas Eve, it seemed to shine a bit brighter!) So, we would eat really fast, open our gifts and all run outside to see the light—and make our best guess as to where Santa was.  I have always been a little type A, so I was annoying about getting home and in the bed so that Santa and Rudolph would be sure to stop by my house!  Undoubtedly it was the only night out of 365 that I actually wanted to go to bed! That light made me want to be a good little girl and obey!
There really is just something about lights that truly are magical!  My grandfather passed away in 2009 and he still had those big bulbs stapled to his house.  I have one of those bulbs in a shadow box along with a picture of his house all lit up that I pull out every year around this time.  Precious, precious memories!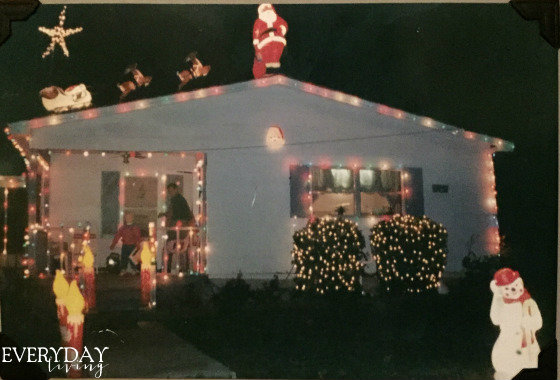 Now, as an adult, my focus has shifted from those kinds of lights and that blinking red light at the county fairgrounds to the True Light that has come into the world.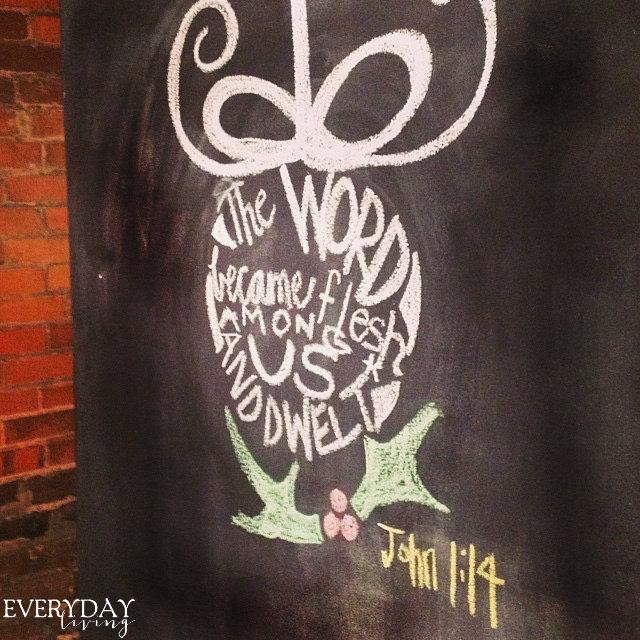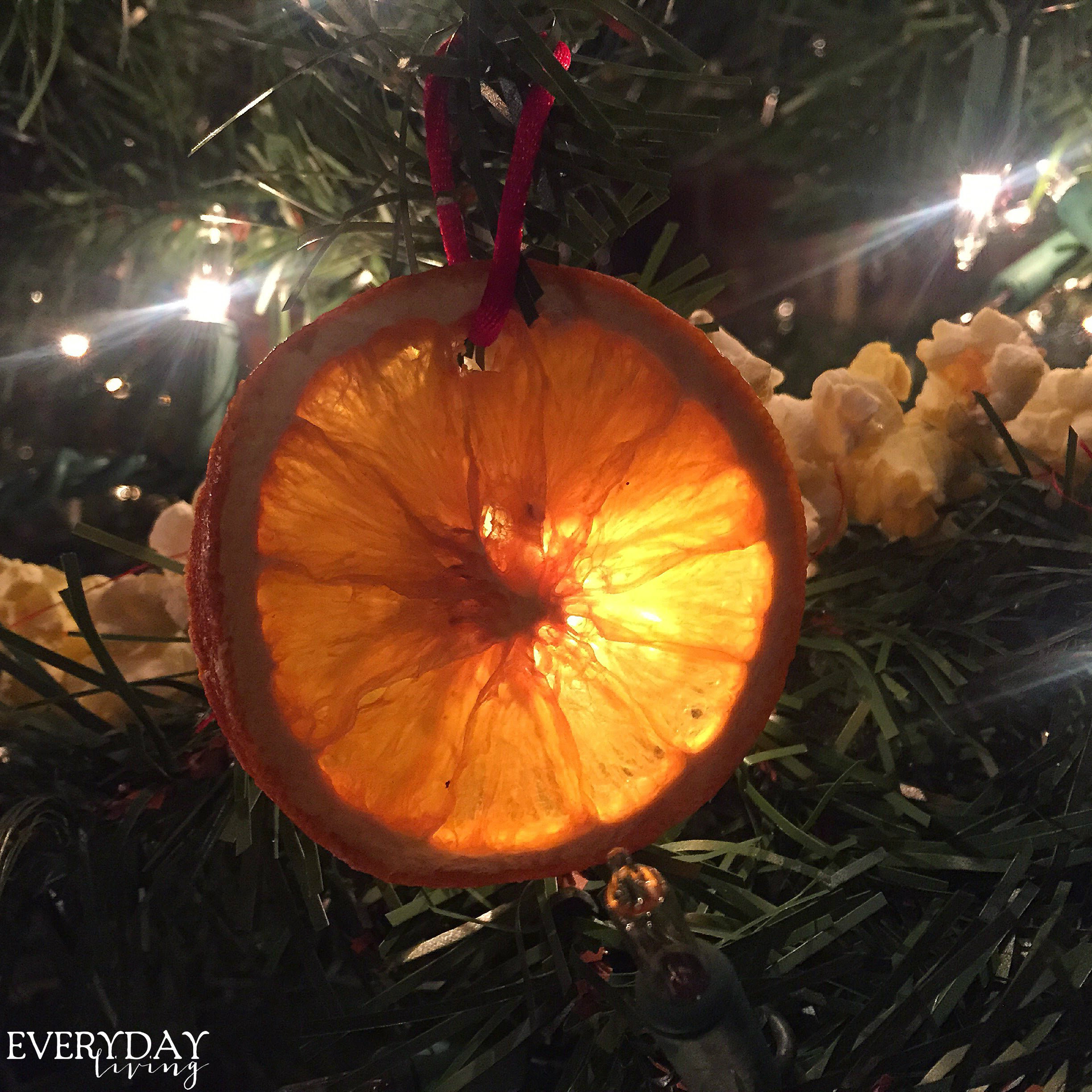 I am just now learning my decorating style, and I am a "less is more" kind of girl.  I decided to go all natural for Christmas!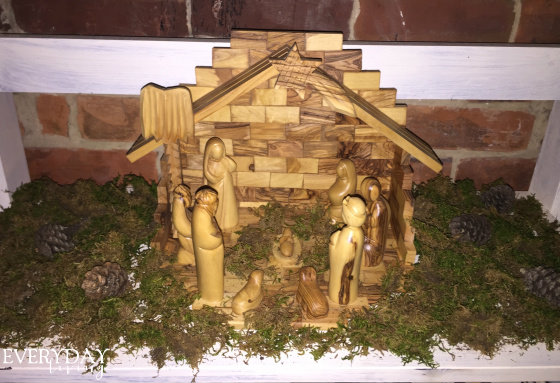 My first nativity, a gift that will always be so very special to me, given to me a few weeks ago!  I love it because it is simple and has meaning- handcrafted from real olive trees in Bethlehem!  It was the first Christmas that I put out this year and my prayer is that it stays the focal point!
"Rejoice, O world, your Savior has come
Through the love of a virgin's womb
Son of God, Son of man
You were born that we may have life"
-Chris Tomlin
Linking with Pieced Pastimes, It's Overflowing, Be Different Act Normal, Silver Pennies , By Stephanie Lynn, Life on Lakeshore Drive, Thoughts From Alice, Creatively Living, Rustic-Refined, Three Mango Seeds, Pink When, Mod Vintage Life, Coastal Charm, Knick of Time, My Uncommon Slice of Suburbia, The Dedicated House, Dwellings-Heart of Your Home, Savvy Southern Style, Ivy and Elephants, French Country Cottage, From My Front Porch To Yours, Stone Gable, Confessions of a Plate Addict,Worthing Court, Between Naps on the Porch, Cedar Hill Farmhouse, A Stroll Thru Life, The Style Sisters, The Charm of Home, The Winthrop Chronicles, Cornerstone Confessions, A Delightsome Life, Imparting Grace, Craftberry Bush, Posed Perfection, Katherines Corner, The Vintage Farmhouse,  My Romantic Home, Chic On A Shoestring Decorating, Rooted In Thyme, Share Your Cup