"The Spirit of God has made me, and the breath of the Almighty gives me life"
Job‬ ‭33‬:‭4‬
This past weekend, Katy and I took advantage of the beautiful weather and took a road trip to Raleigh, NC to visit my long-time friend, Patti and her husband, Mike.  We had a wonderful time and made lots of new memories by eating good food, sharing lots of laughs, and of course shopping!  We also had a tablescaping marathon that will soon be making it's appearance on the blog!  I first introduced Patti to the blog here: Everyday Living at Patti's  and also shared two tablescapes here: Roadtrippin' and Tablescapin' and It's A Girl Thing from her home.  I must share with you again her love for the color blue, antiques, and traditional style.  I have guided Patti in decorating her beautiful home for years even across the miles!  Today, I hope you will enjoy visiting one of her guest rooms.  The weekend was a breath of fresh air, and I think you will agree that this room is, too!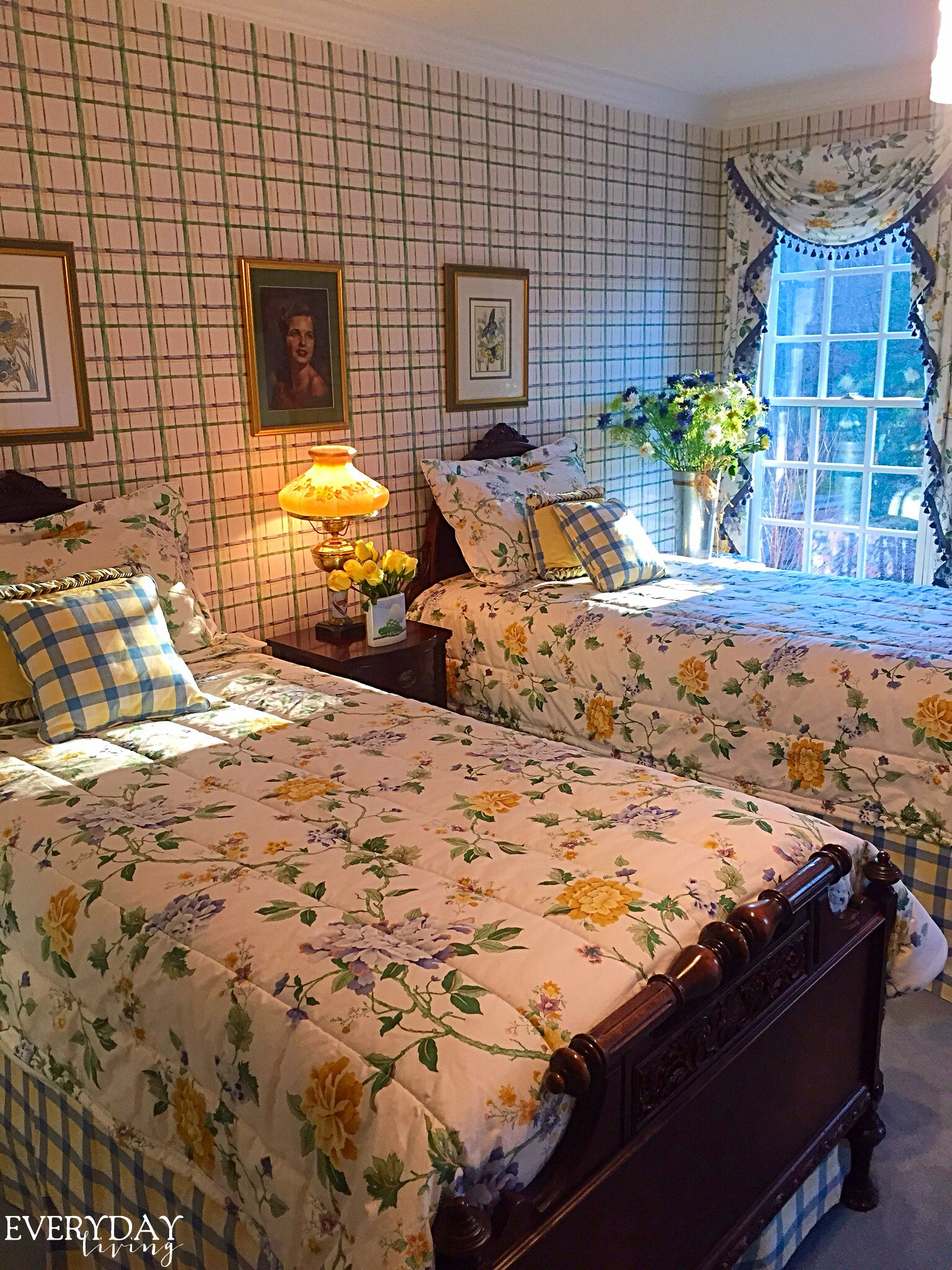 This lovely guest bedroom has been named "the Chatham" by me.  Chatham is Patti and Mike's youngest daughter, and this was her room while she was growing up.  The room was decorated by Patti and me in 2000 (we think).  Fifteen years later, it remains a welcoming space, as Patti is the consummate hostess!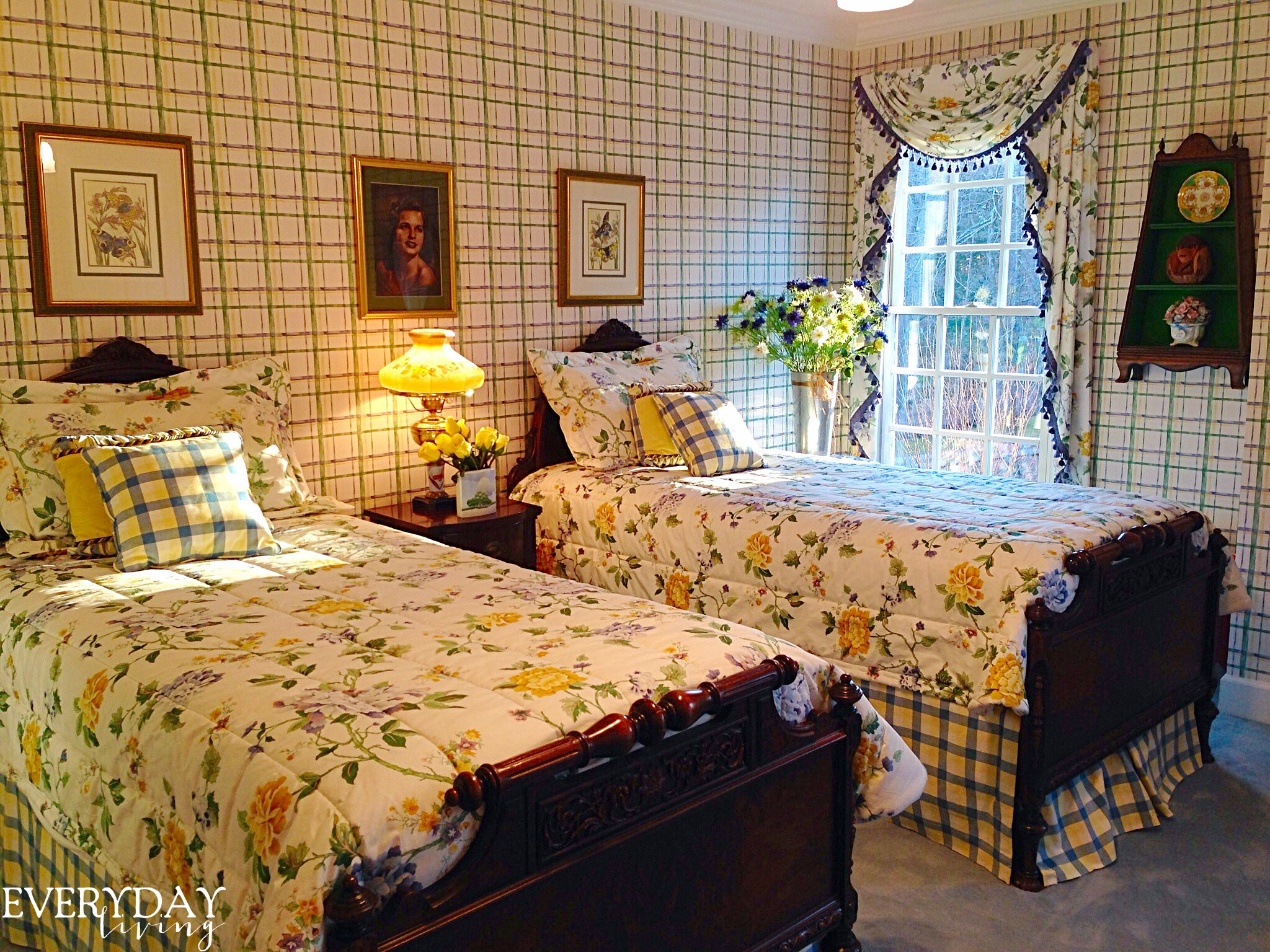 After Chatham left for college, Patti decided on twin beds for this bedroom.  A client of mine was selling these English mahogany beds and I thought they would be perfect for the guest room.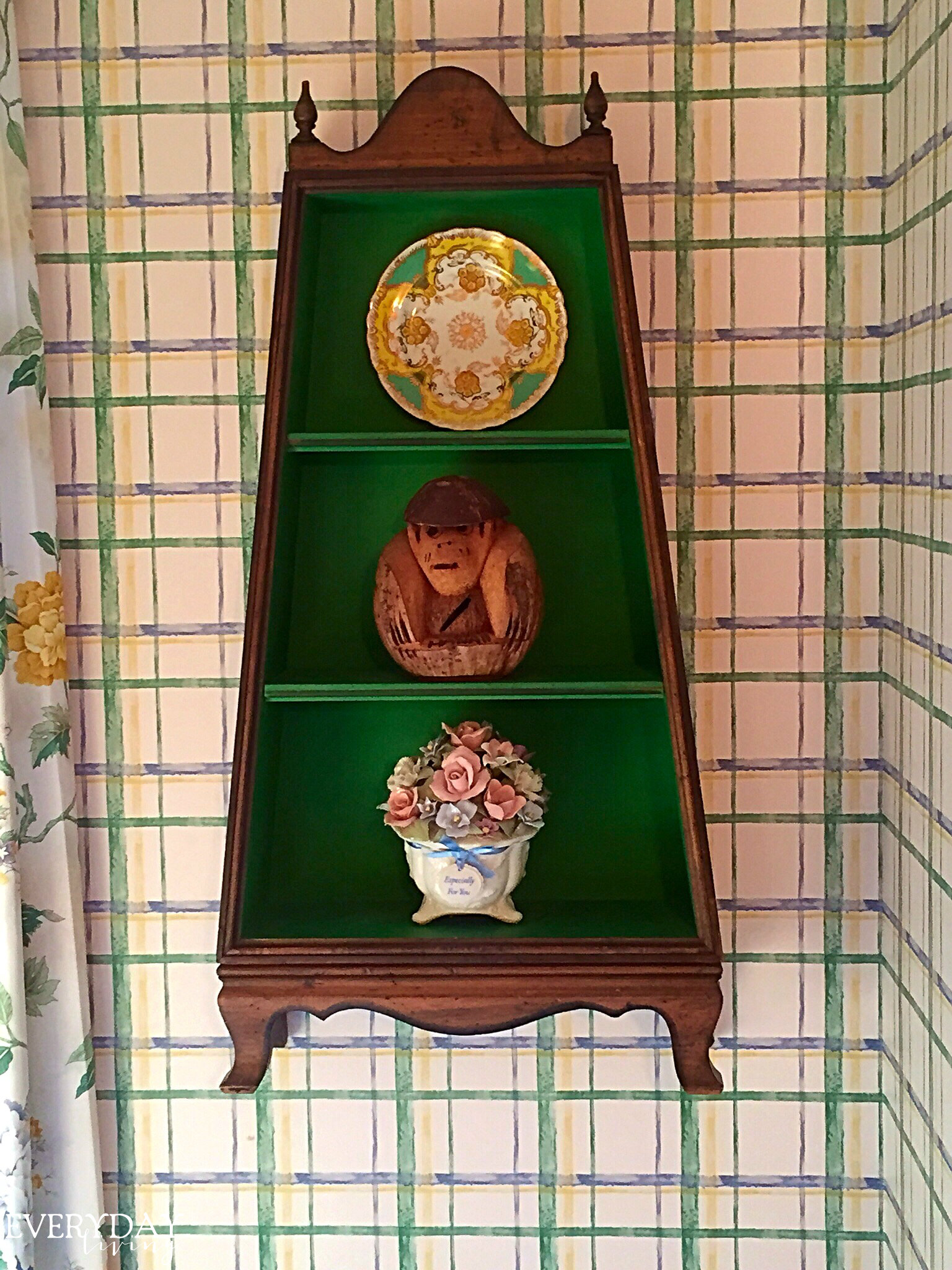 This antique French walnut display cabinet definitely makes a statement!  On the middle shelf is a coconut sculpture that Patti and Mike discovered on their Hawaiian honeymoon in 1984!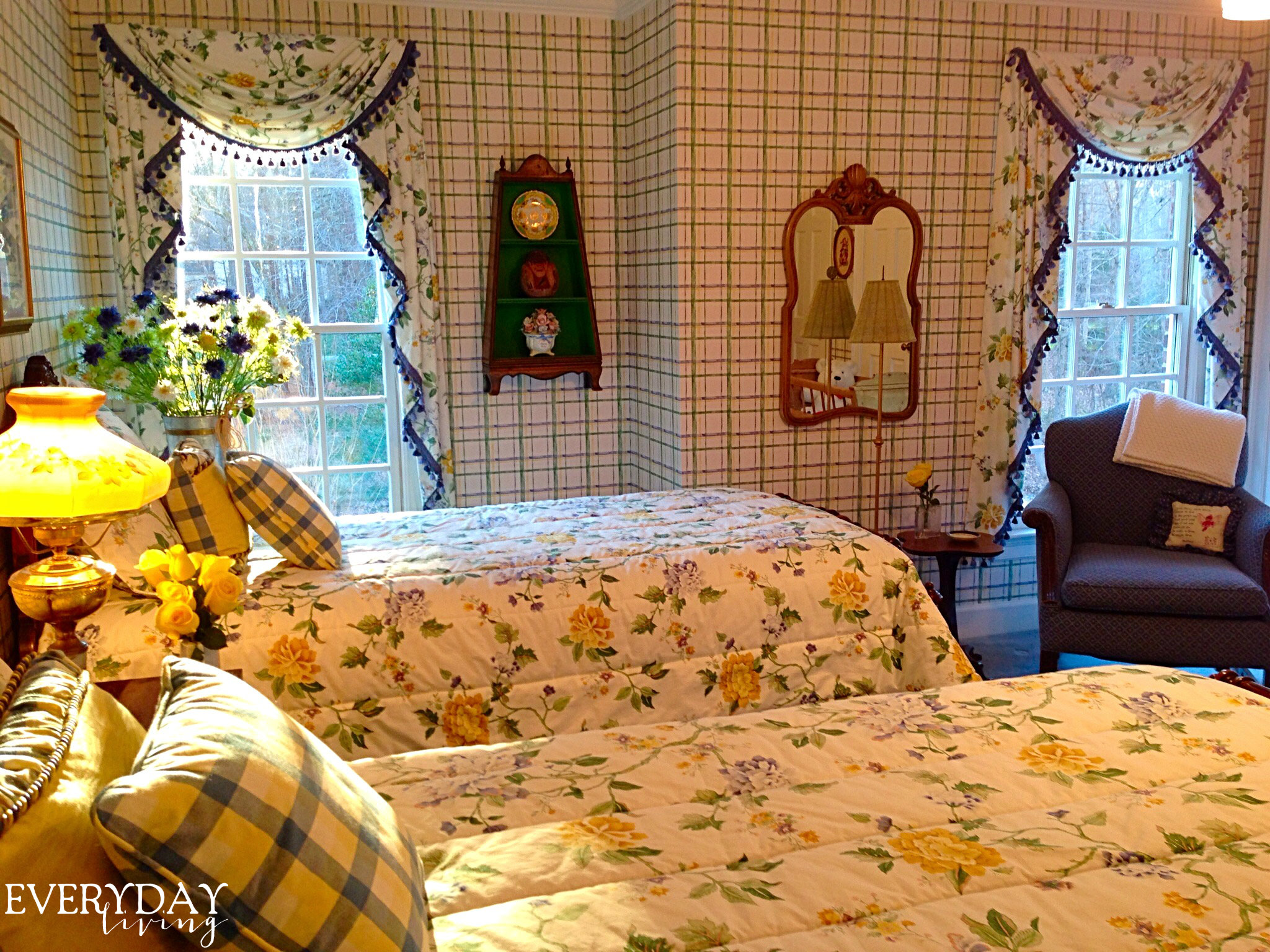 The floral fabric is by Schumacher and we mixed it with a blue and yellow check.  The window treatments are traditional in style and are custom made along with the bedding.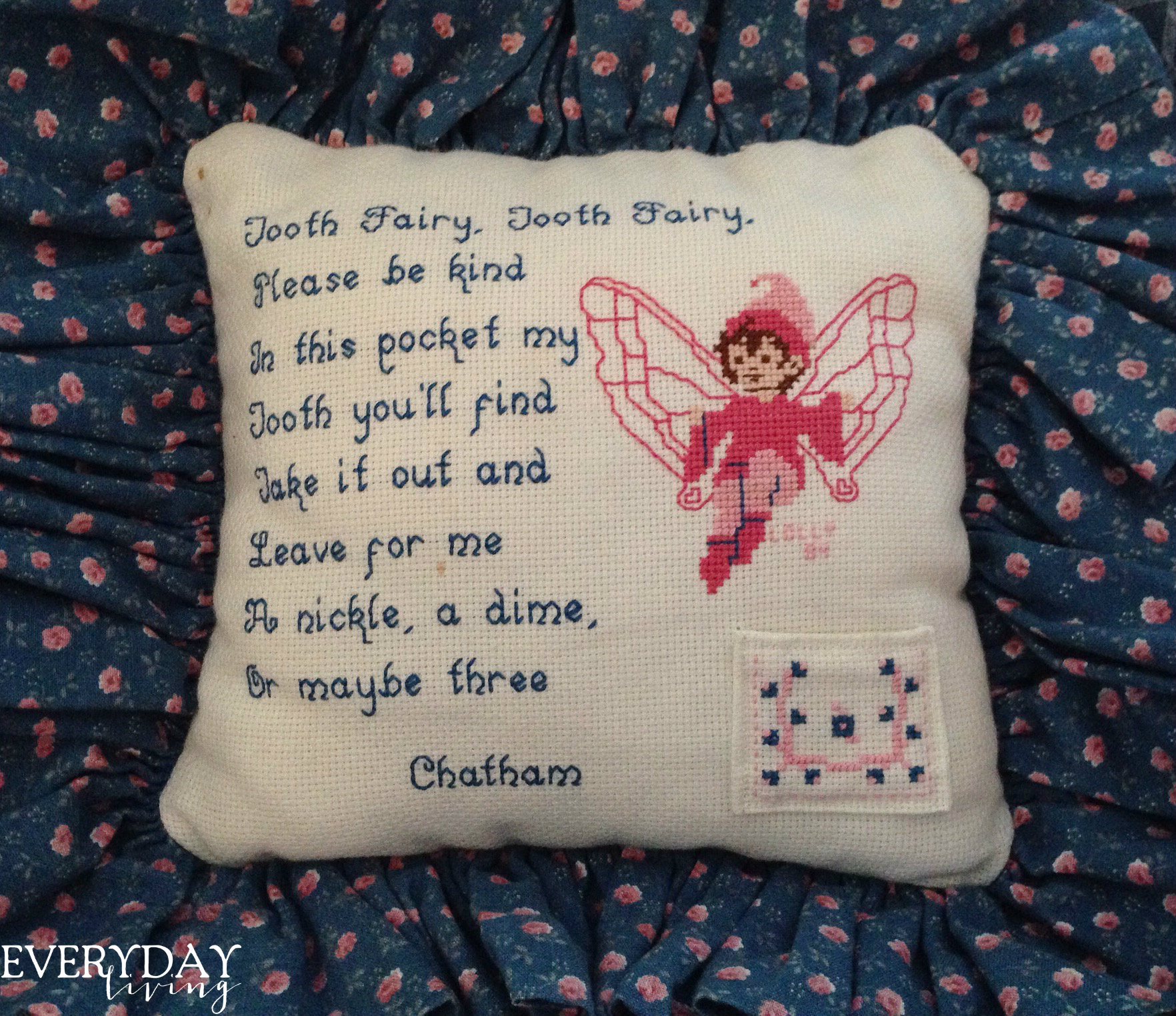 This cute pillow was made by a sweet relative.  Note the date, 1984- I love that Patti keeps these memories displayed rather than packed away!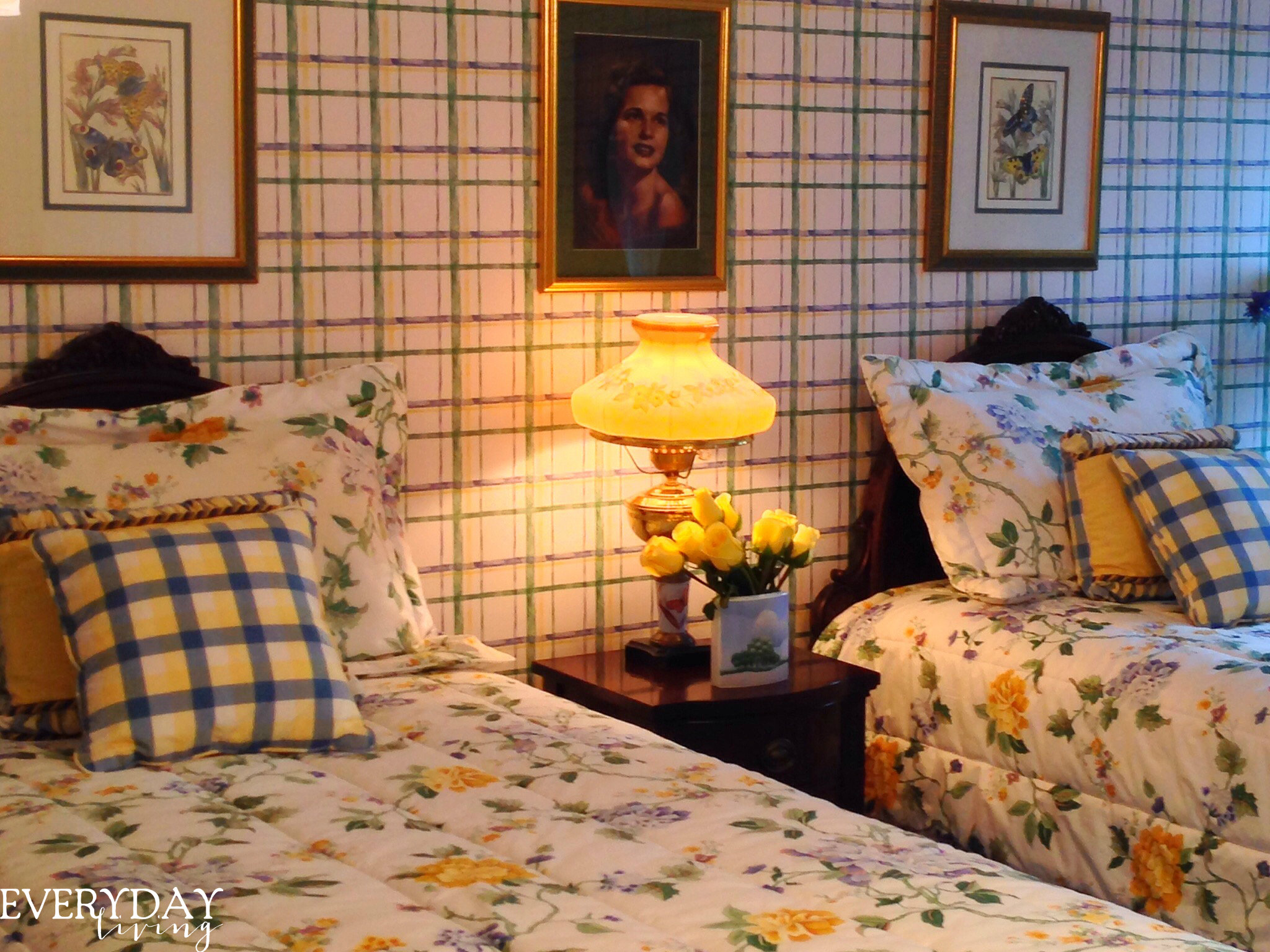 An antique Victorian lamp of brass and marble sits on an antique mahogany table between the beds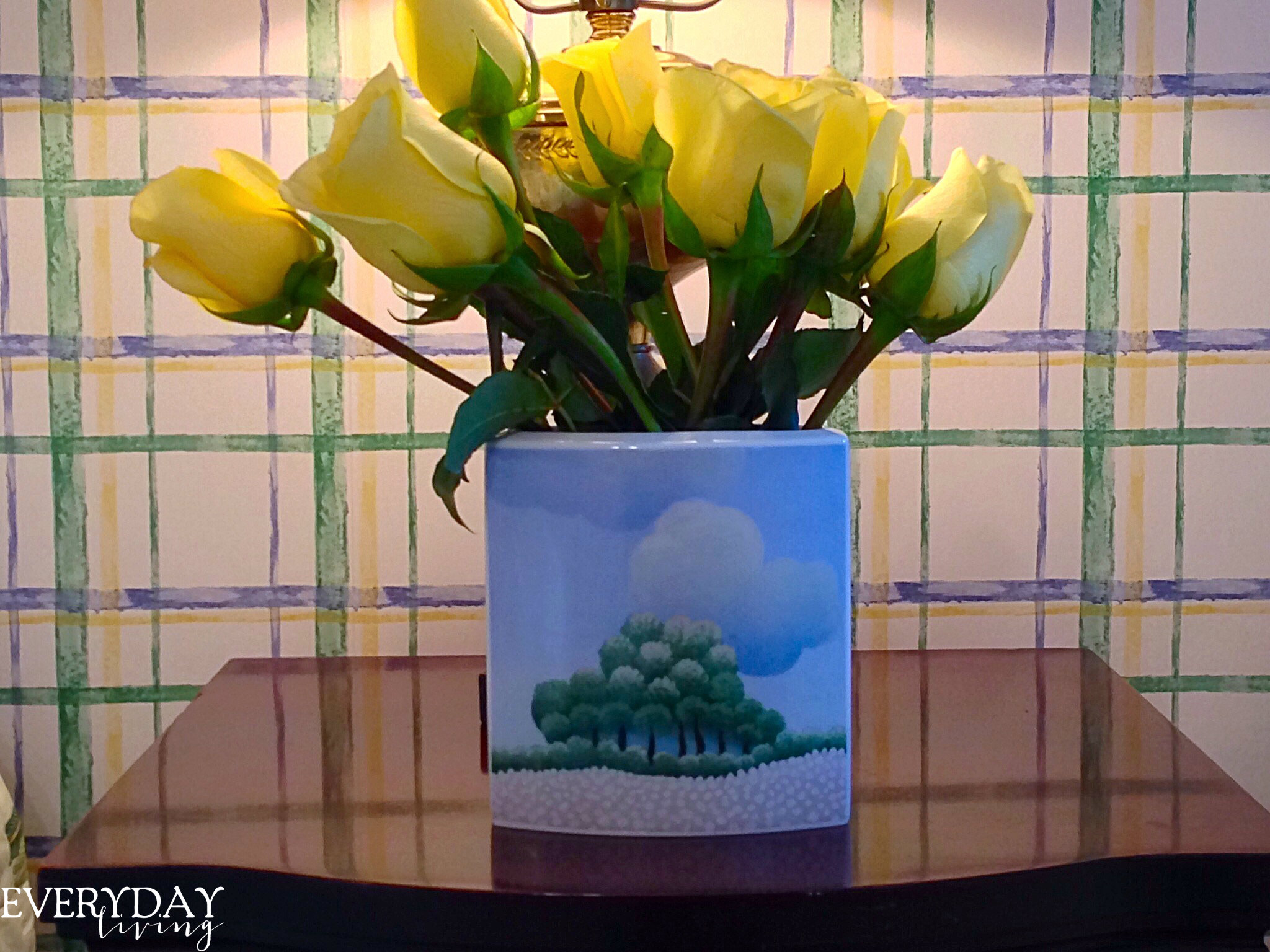 Fresh yellow roses placed in a vintage Rosenthal vase that Patti discovered on a trip to Germany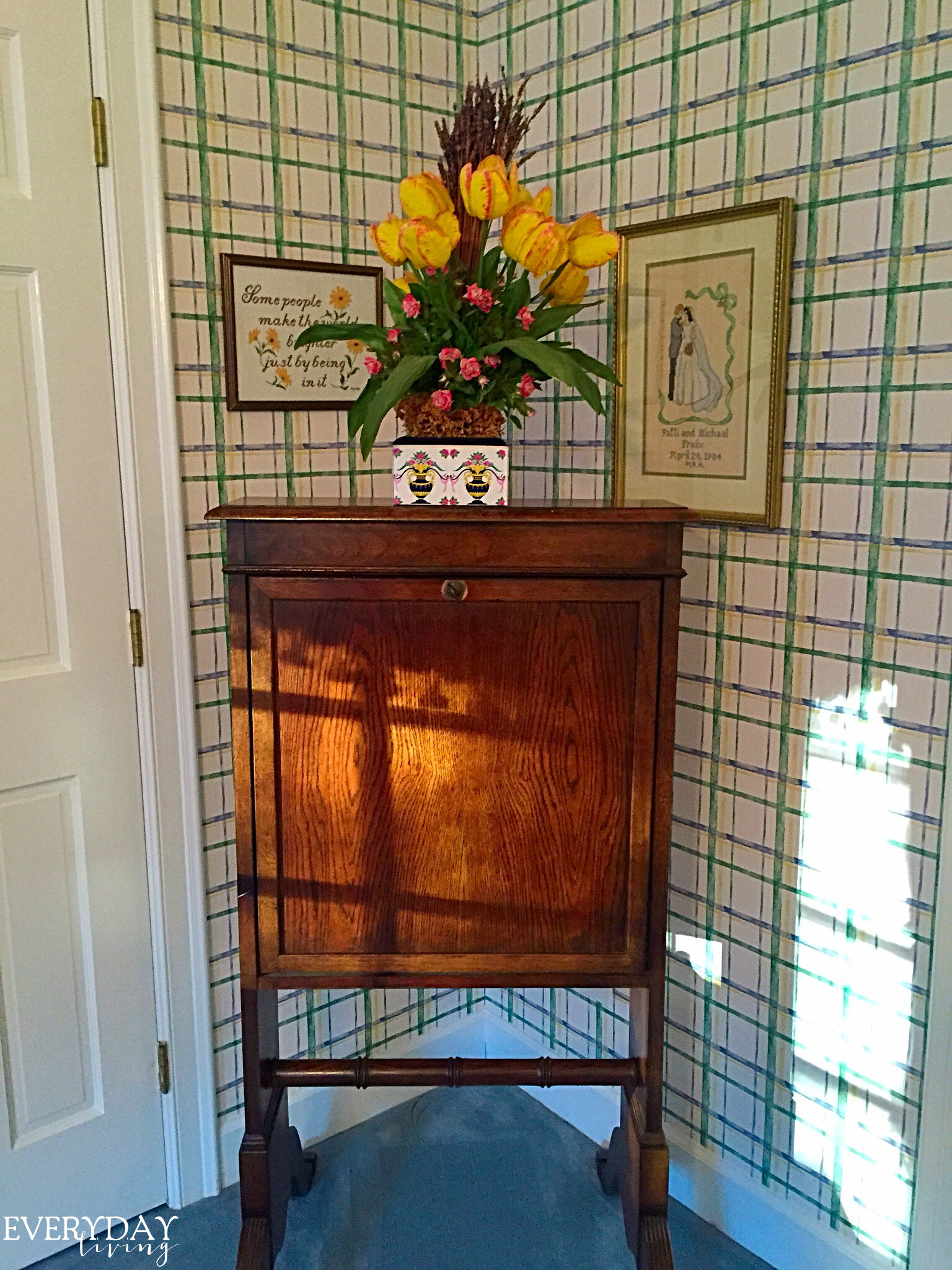 A unique Ethan Allen pull-down desk made of walnut wood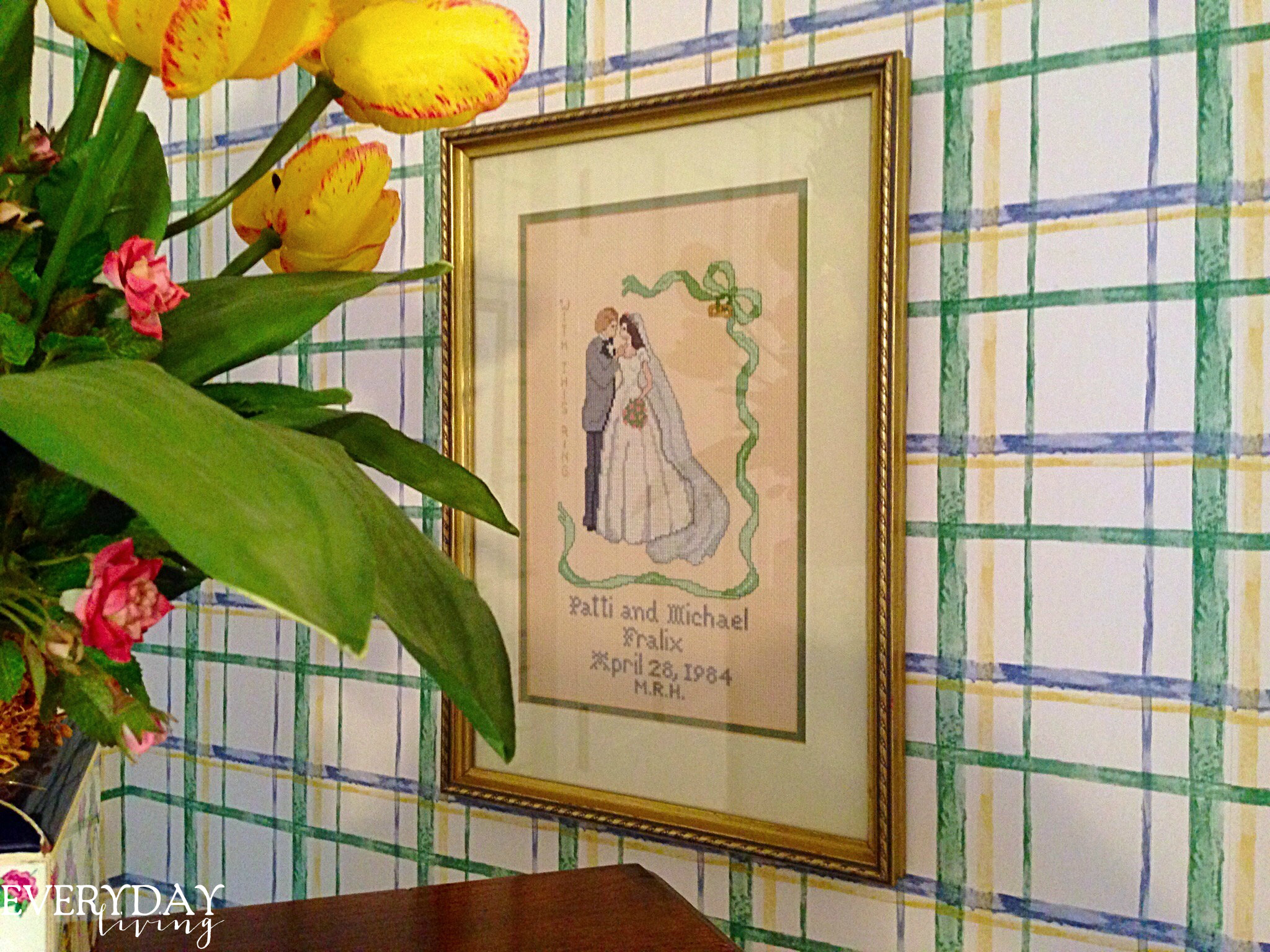 Lovely cross-stitch needlework that was made as a wedding gift for Mike and Patti!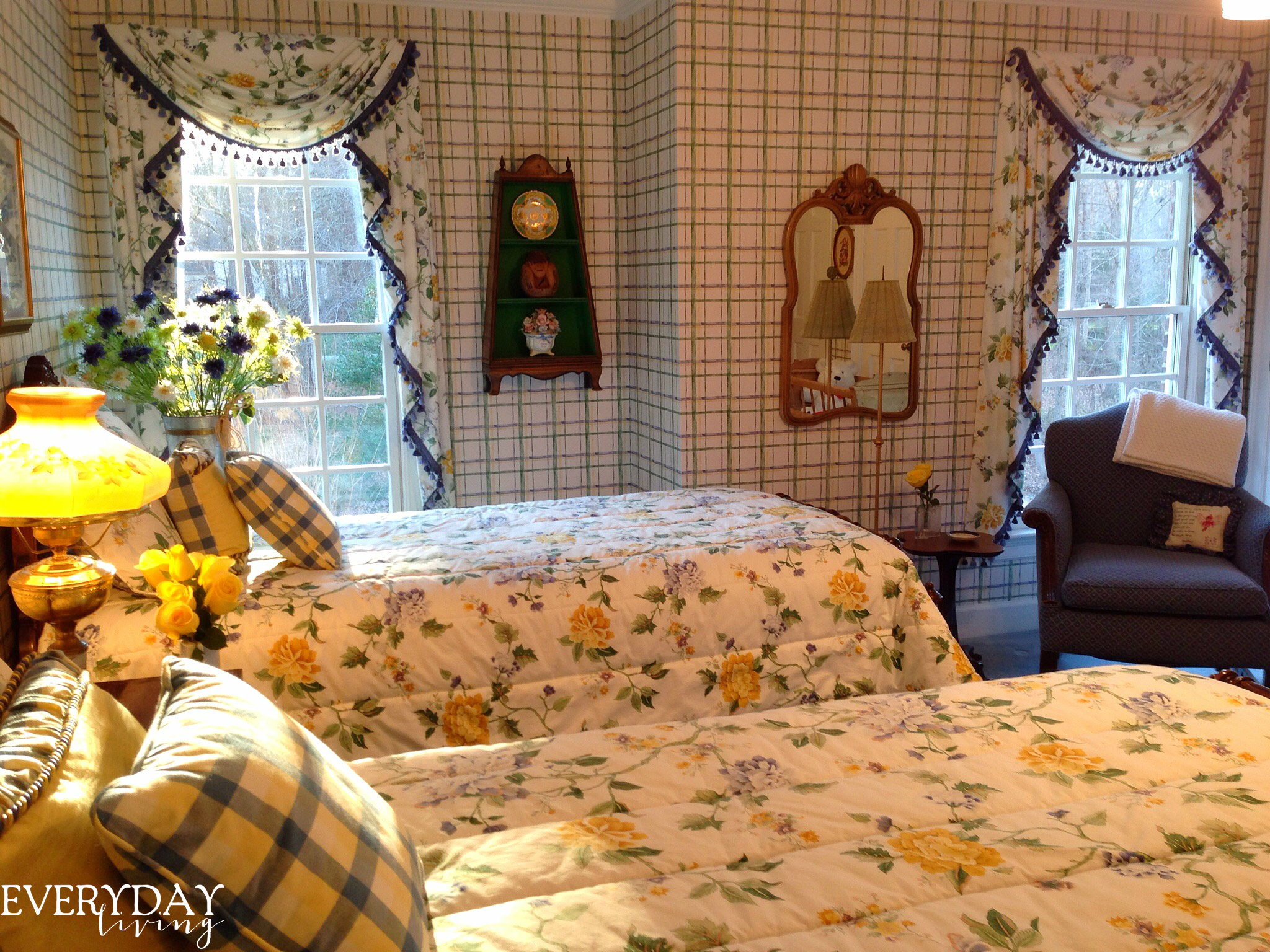 The antique gold mirror brings additional light to the room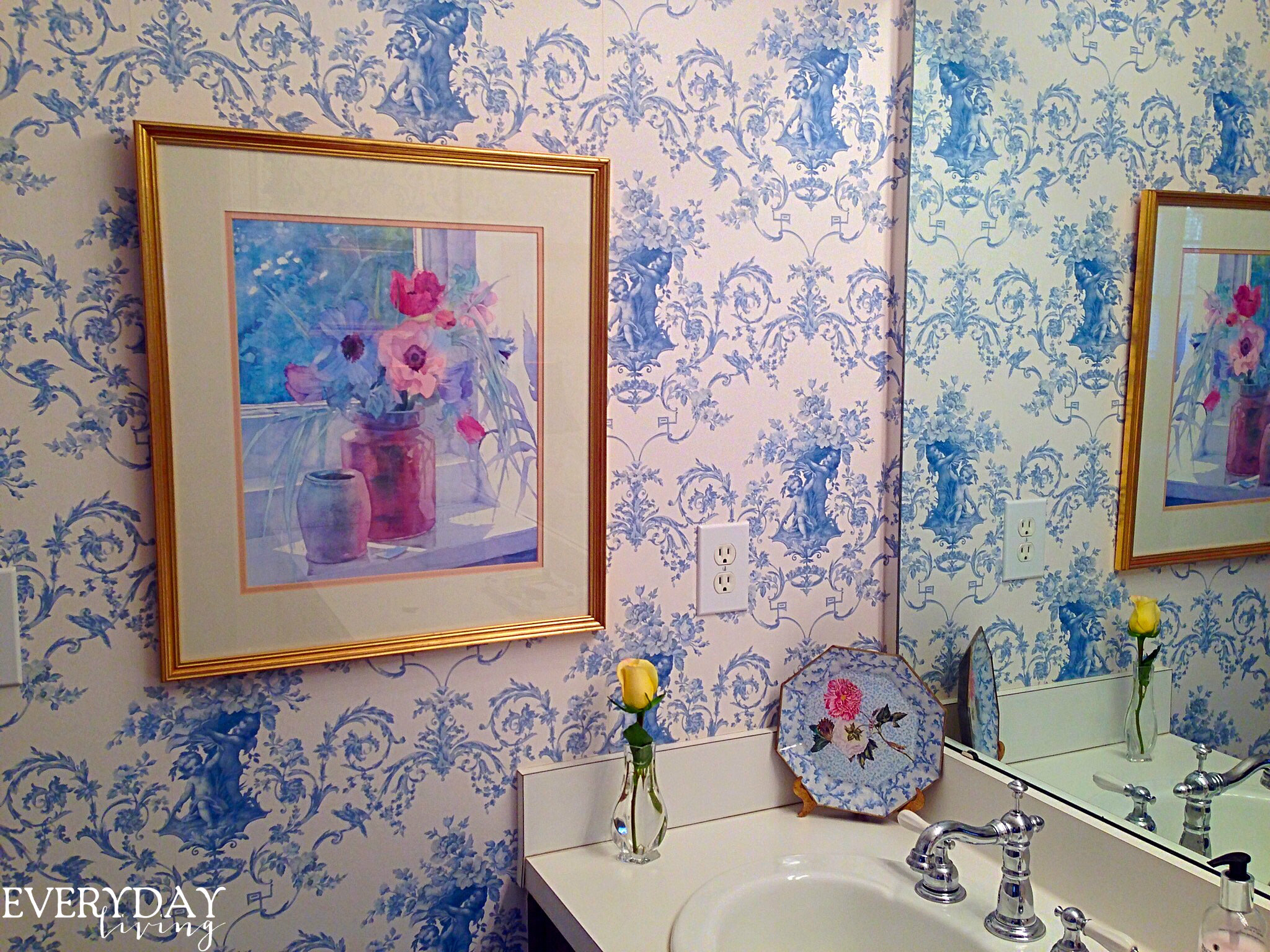 A small peek into the guest bath with its blue and white toile wallpaper and framed watercolor painting!
Print by English artist John S. Goodall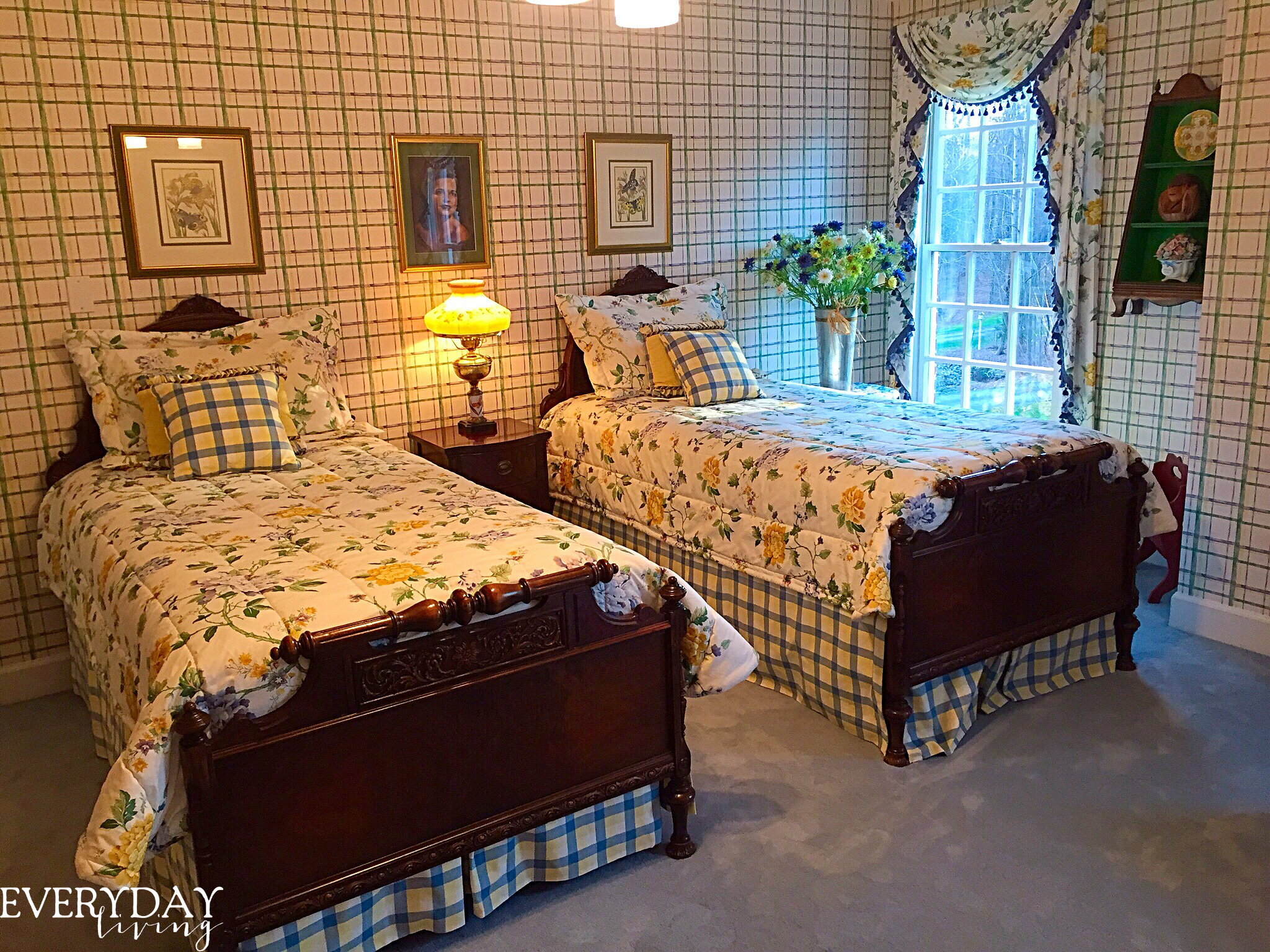 The guest room receives winter sunlight which makes it warm and inviting!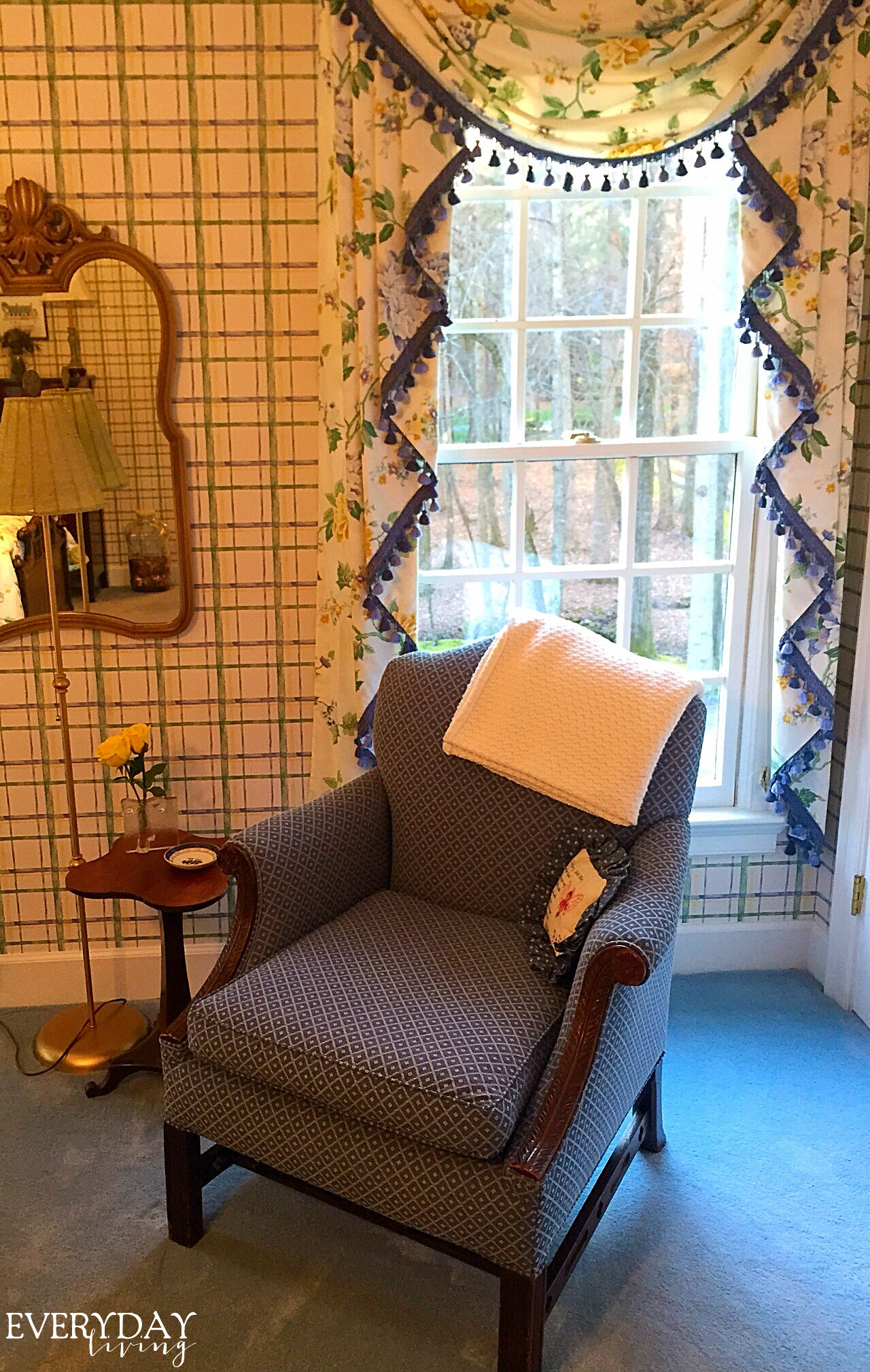 Patti provides comfort for her guests with the English mahogany antique chair for reading or relaxing!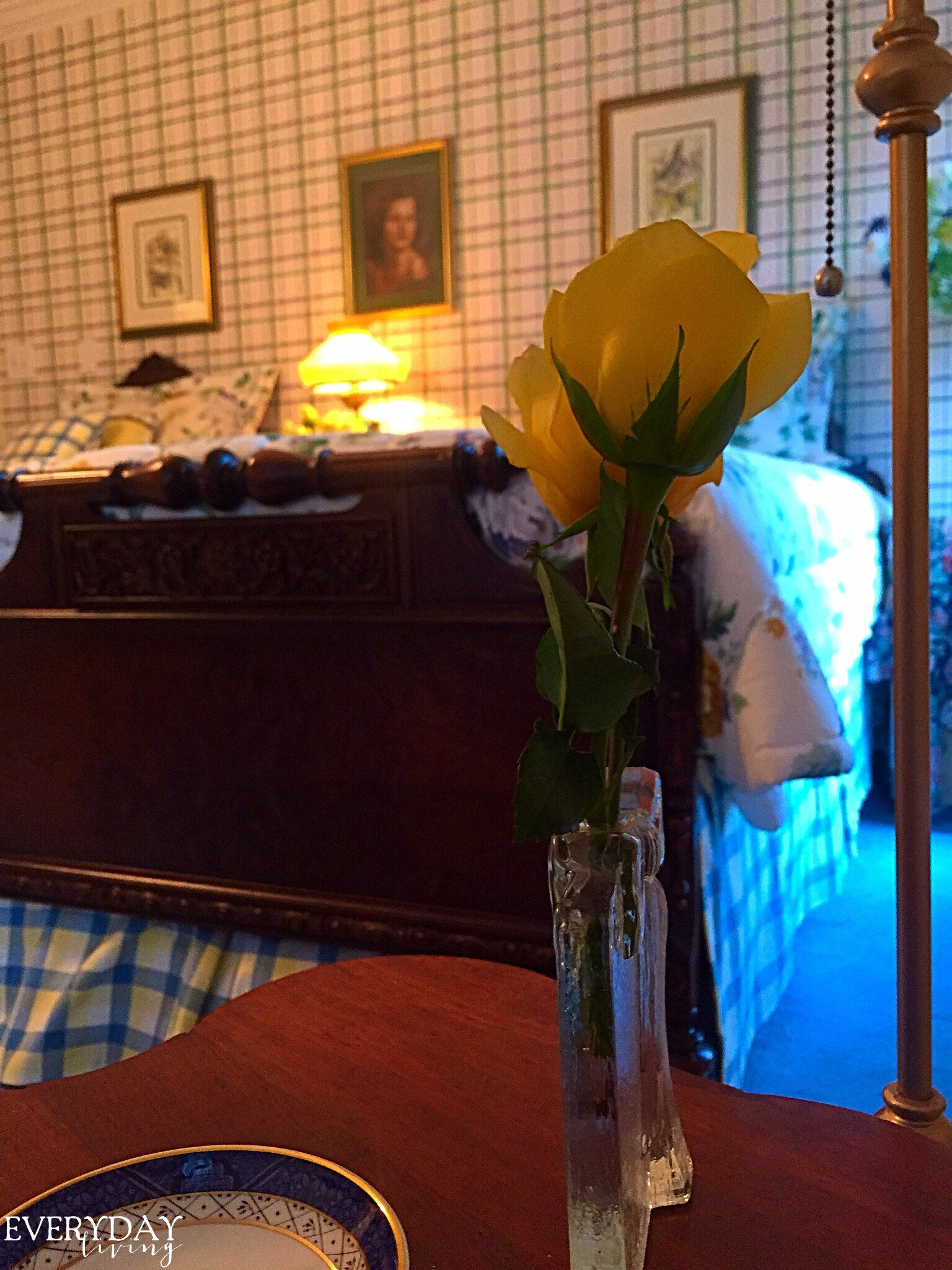 A pair of prints hang over the beds with a family portrait in between.
Once again, we are grateful to you, our readers, for joining in our everyday living!  Stay tuned for more of Patti's home in the very near future!
"This is the air I breathe 
Your holy presence living in me
And I'm desperate for you
And I'm, I'm lost without you"
-Michael W Smith
 Linking with: Pieced Pastimes, It's Overflowing, Be Different Act Normal, Silver Pennies , By Stephanie Lynn, Life on Lakeshore Drive, Thoughts From Alice, Creatively Living, Rustic-Refined, Three Mango Seeds, Pink When, Mod Vintage Life, Coastal Charm, Knick of Time, My Uncommon Slice of Suburbia, The Dedicated House, Dwellings-Heart of Your Home, Savvy Southern Style, Ivy and Elephants, French Country Cottage, From My Front Porch To Yours, Stone Gable, Confessions of a Plate Addict,Worthing Court, Between Naps on the Porch, Cedar Hill Farmhouse, A Stroll Thru Life, The Style Sisters, The Charm of Home, The Winthrop Chronicles, Cornerstone Confessions, A Delightsome Life, Imparting Grace, Craftberry Bush, Posed Perfection, Katherines Corner, The Vintage Farmhouse,  My Romantic Home, Chic On A Shoestring Decorating, Rooted In Thyme, Share Your Cup, Alabama Women Bloggers