"And the effect of righteousness will be peace, and the result of righteousness, quietness and trust forever"
Isaiah‬ ‭32‬:‭17‬
If you know French Country design, the name Charles Faudree probably rings a bell. I remember being captivated by Faudree's unmatched talent the first time I saw his work in an edition of Traditional Home in the late 80's!  Since then, I have followed all of the national publications of his work and have all six of his books in my collection!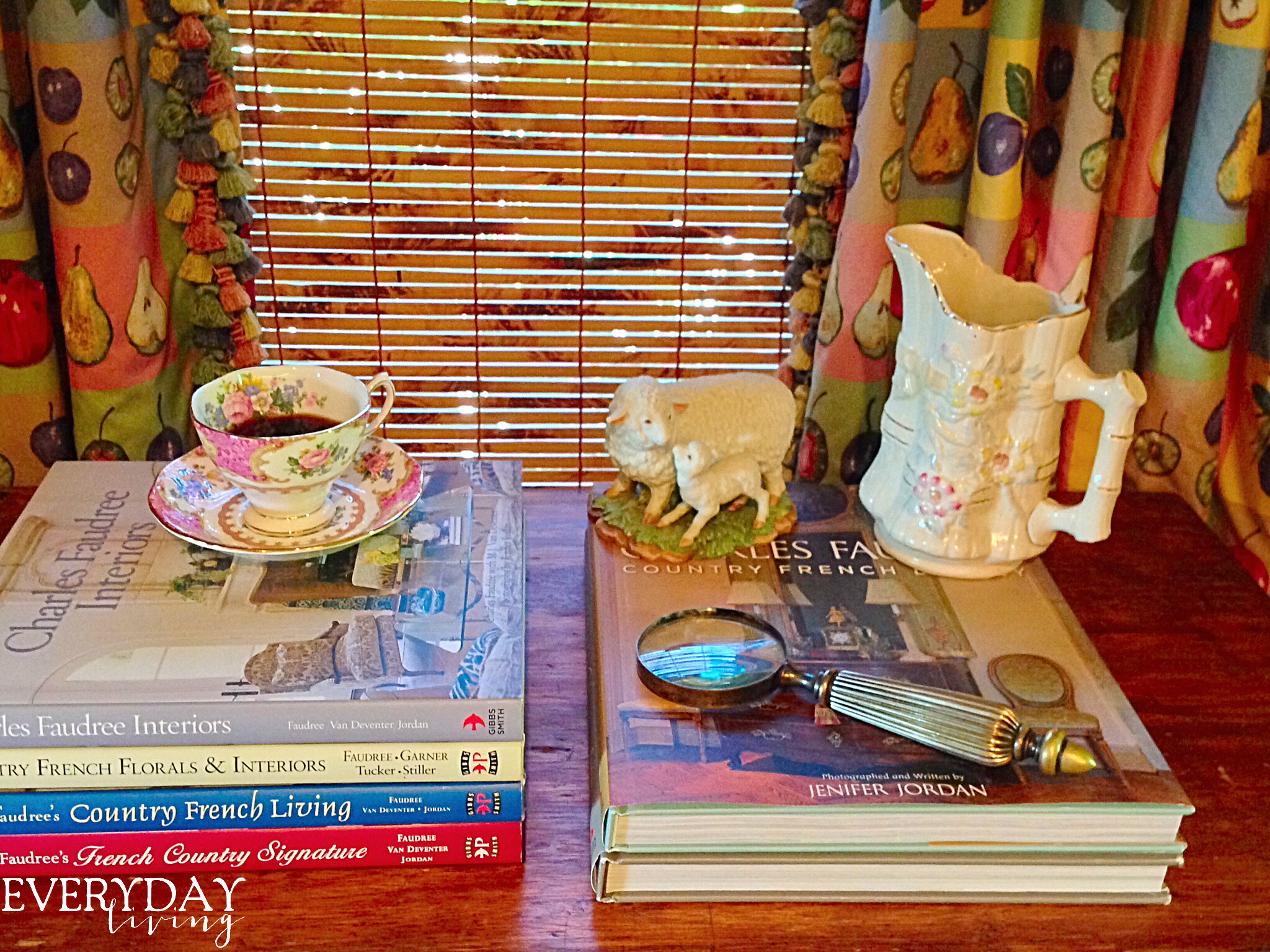 As an interior decorator, I pored over every picture and paid attention to the tiniest details of every room that he designed, in hopes to learn from the master of Country French design!  It was only a few months after his first design book, "Charles Faudree's French Country Signature", was released that he was invited to my city to speak to a group at the country club.  He was so gracious to answer questions and autograph his book!  He could not have been kinder as he took time to chat with me.  In his own words he said, "I would like to think I have elevated French Country to a fine art," …and that he did!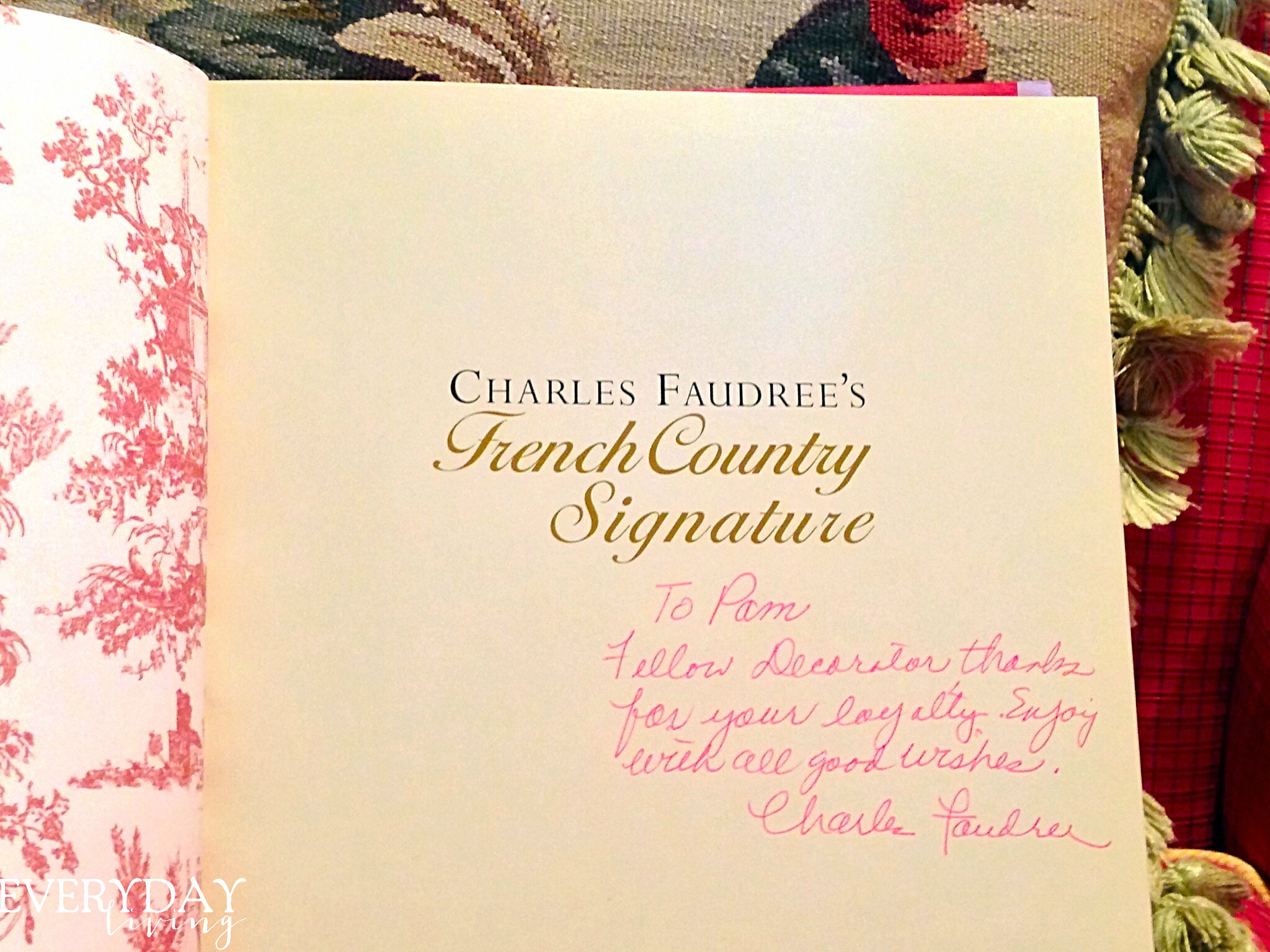 Faudree passed away last November and many fellow bloggers have featured his work since.  I have been so inspired by his distinctive ability to mix: past and present, old and new, rustic and refined…all of which create his coveted style of casual, understated elegance!  Today,  I want to share some of his amazing talent with you, my readers!  When asked to define his style, he responded, "Oh, it's all in the mix, not the match!"   I seemed to have adopted that design philosophy!
The following photos were taken from my Pinterest board, Charles Faudree. Each photo is linked to the original source.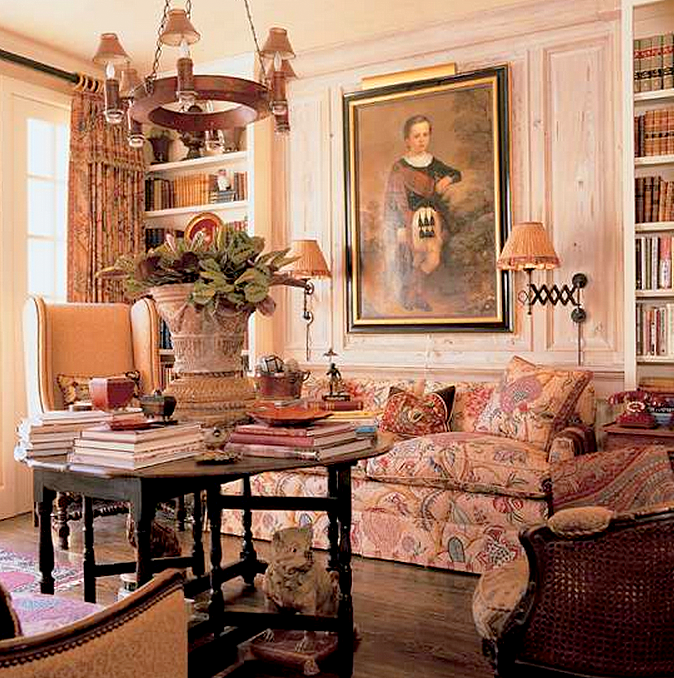 Many things catch my eye…bookcases, tole chandelier, the antique gate leg table with stacks of books!
"Part of the charm of a living room is a skillful blend of rustic and refined antiques and furnishings, with fabrics, colors, collections, and accessories that create a beautiful, cohesive room."
C. Faudree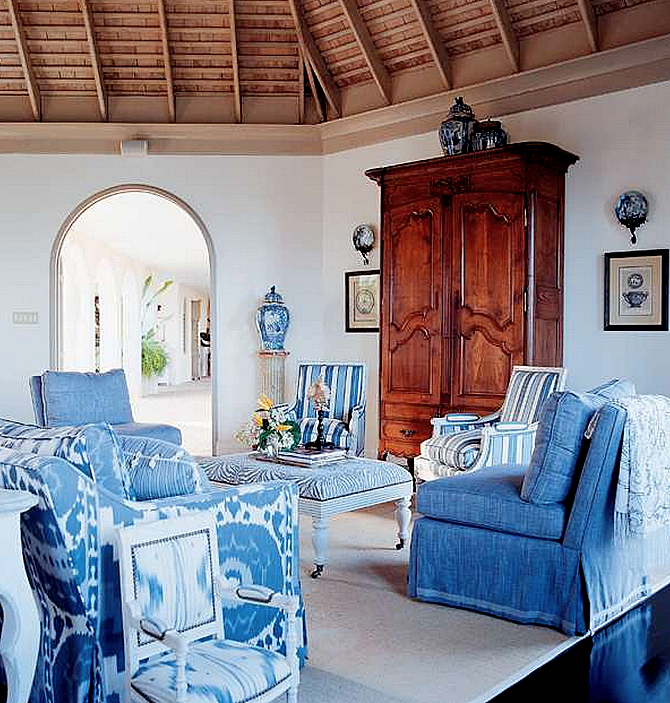 A house in the Caribbean with its living room beautifully dressed in classic blue and white with a mix of fabrics!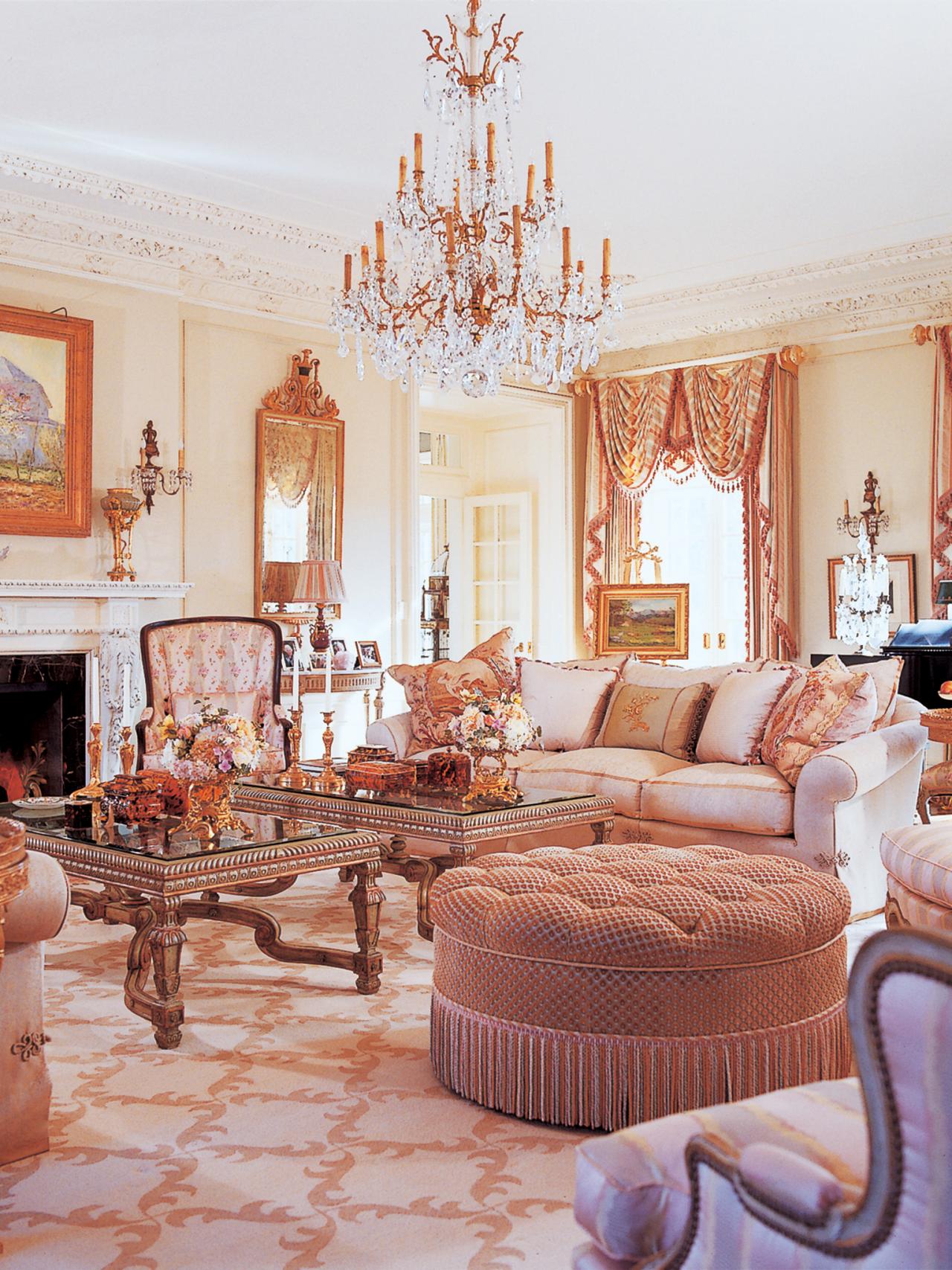 A pair of Louis XIV-style gilt wood tables in a traditional styled room with a splendid chandelier and luxurious fabrics!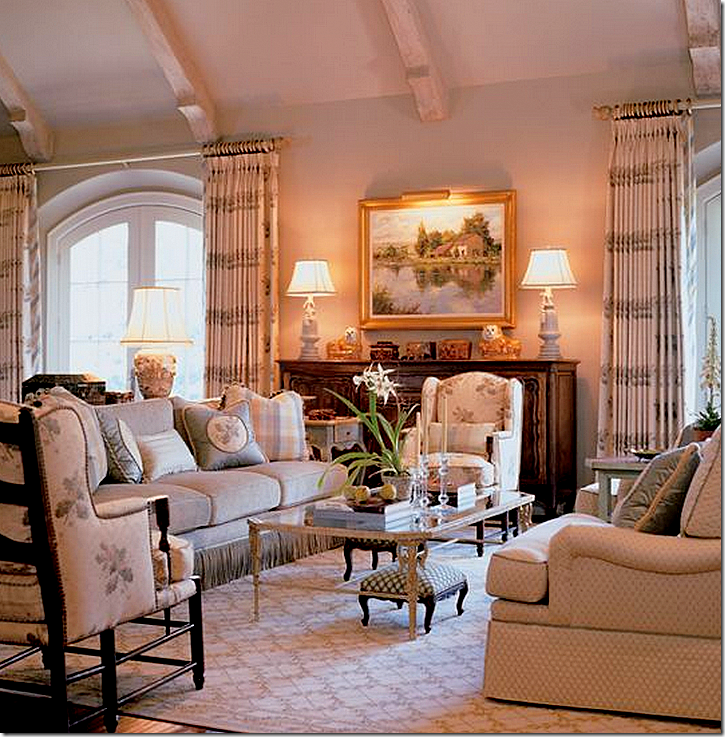 A lighter touch in this room!
"Furnishings used in pairs add elegance to a room." 
C. Faudree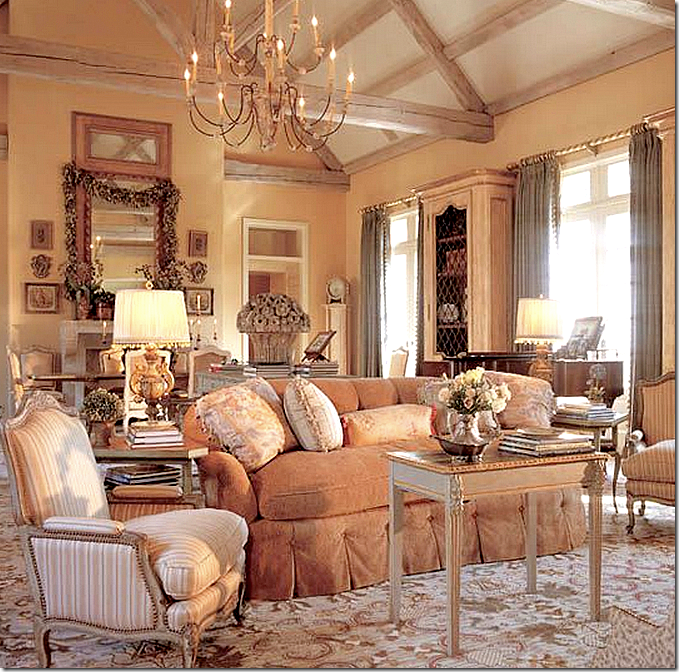 Faudree was a master of layering his rooms!  They unfold before your eyes!
"Comfortable seating should never be a victim of great style." 
C. Faudree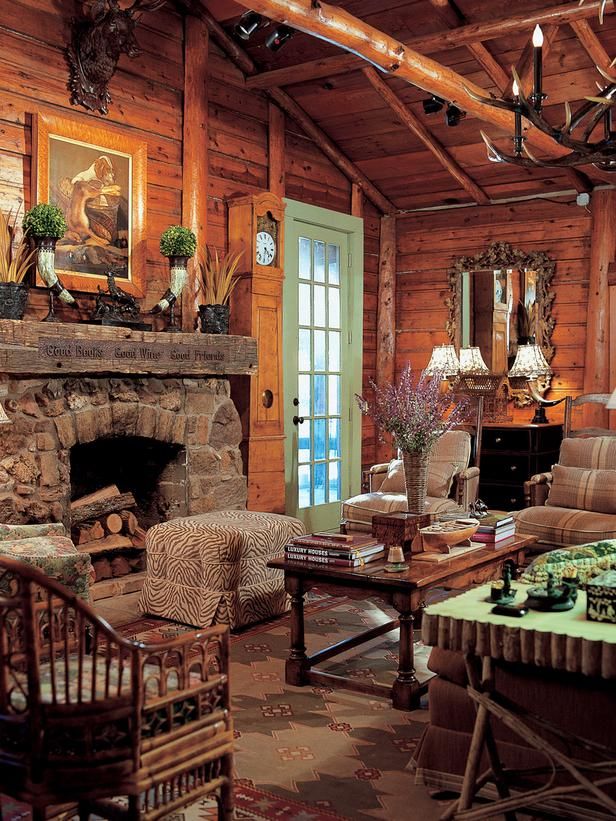 A beautifully appointed rustic room with stone fireplace, antler chandelier, and warm wood walls and ceiling!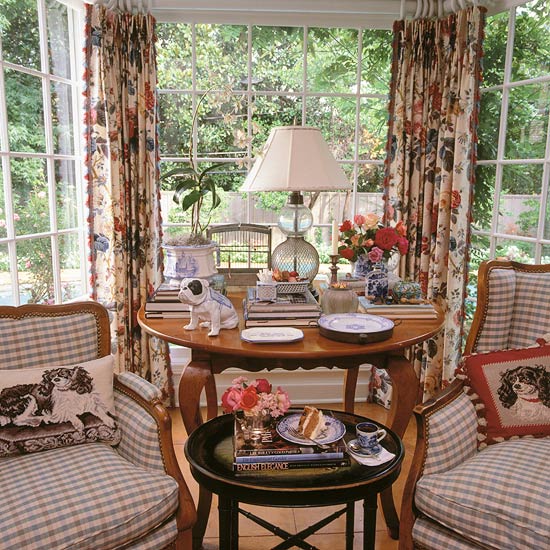 French chairs, florals, plaids,needlepoint pillows, and books make an inviting sitting  area in a bay window!
"Personal items add flavor to decorating." 
C. Faudree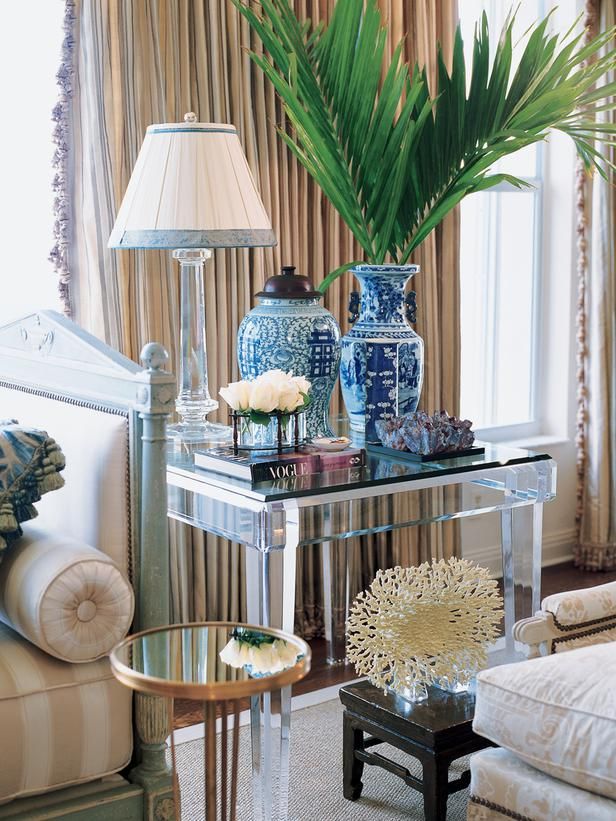 A perfect example of the mix and not the match – French antiques with a lucite table!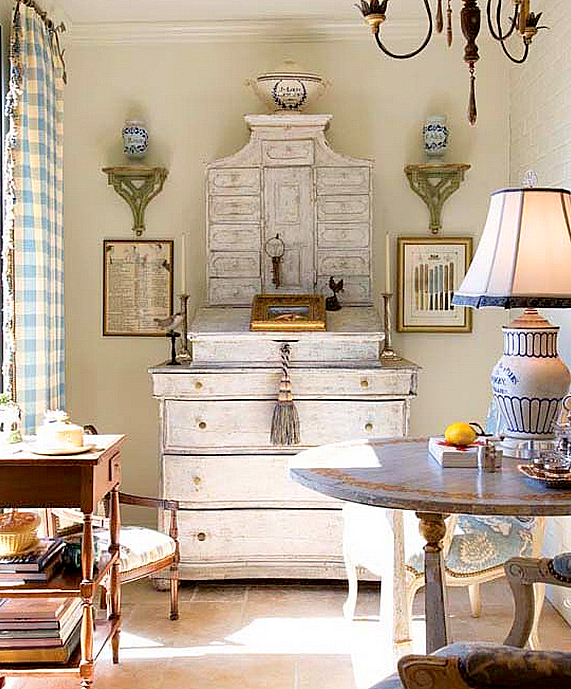 A lovely light-filled breakfast room with the piece de resistance-a Swedish secretary!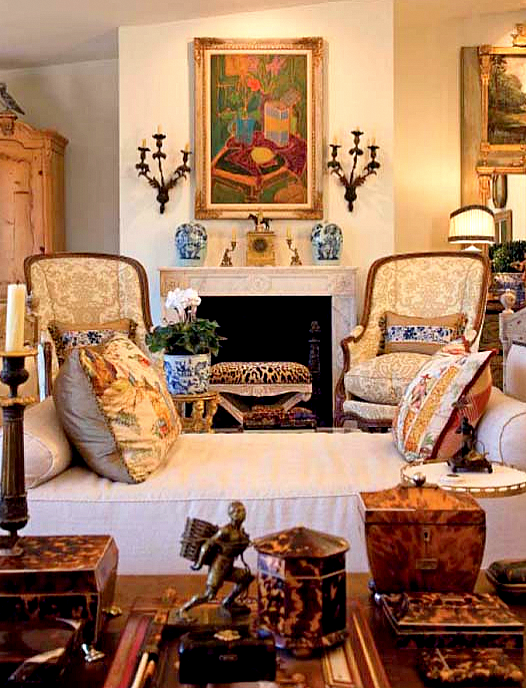 A French daybed in front of the fireplace with bergeres on either side with a collection of exquisite tortoise shell boxes atop the tea table!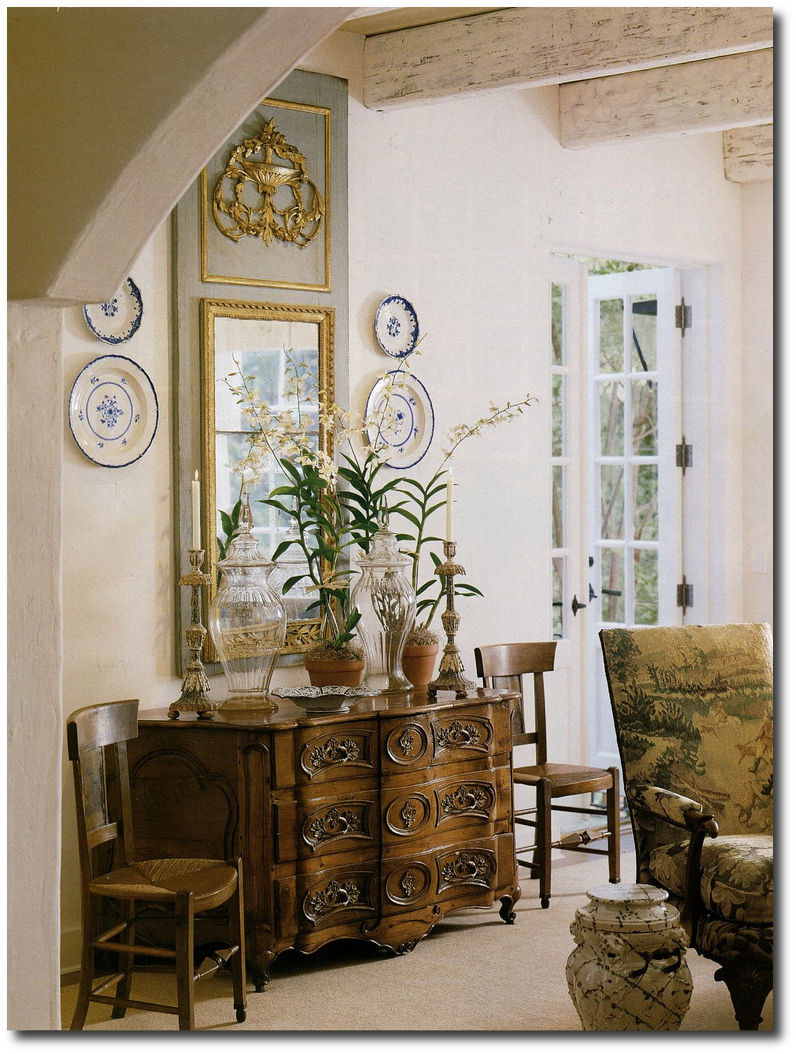 Faudree often used Country French commodes and trumeau mirrors!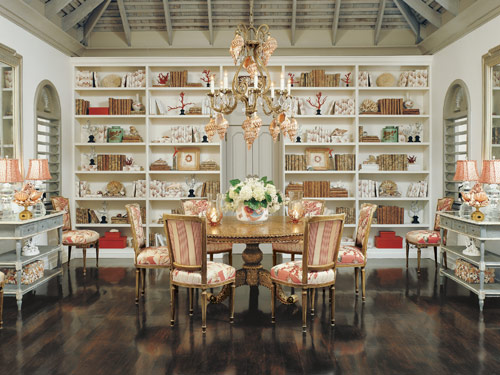 I would love dining in this room with the whimsical book shelves and the coral accents!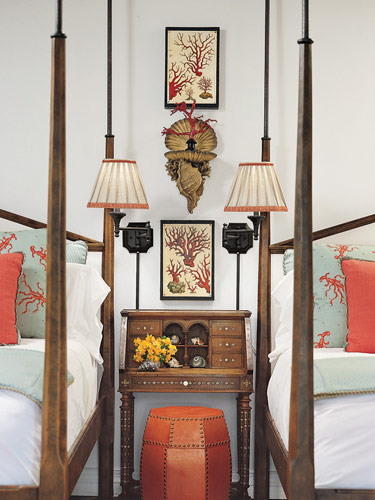 "Details are like frosting on the cake, and who doesn't like frosting best?"
C. Faudree
Coral inspired bedroom!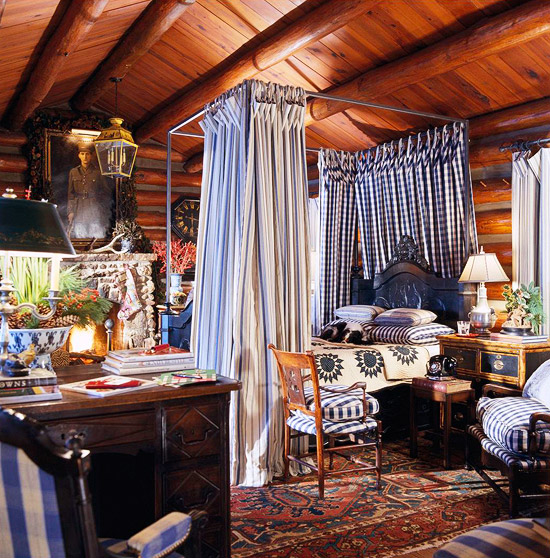 Cozy and country with warm furnishing!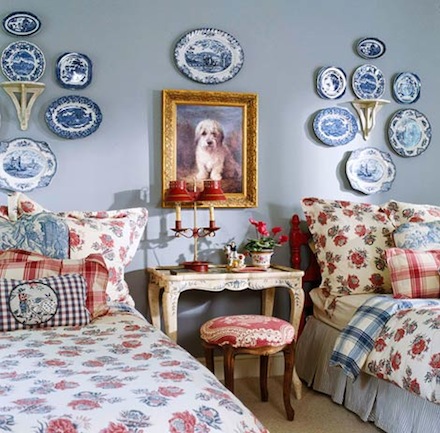 "Too much is never enough"
C. Faudree
Bold buffalo checks, ticking stripes, florals, and toile fabrics mix together for a lovely guest room!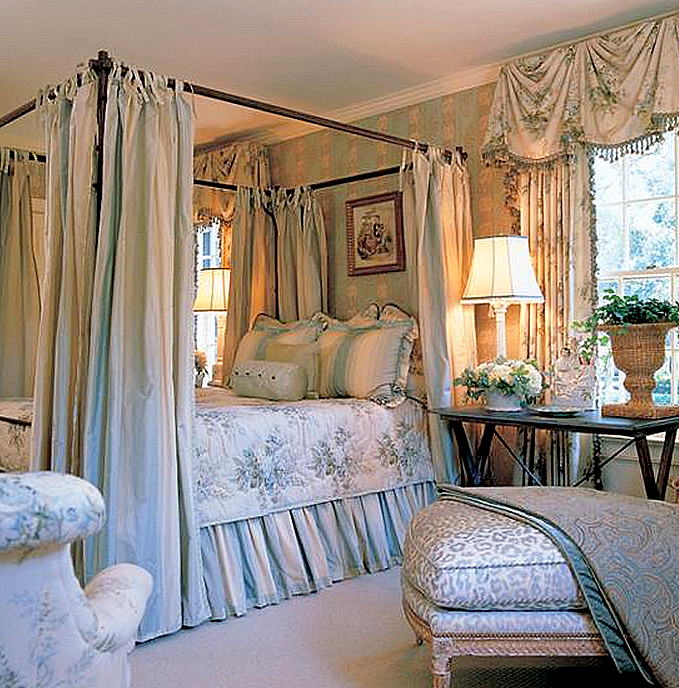 Lush window treatments and bedding with soft colors in a spacious master bedroom!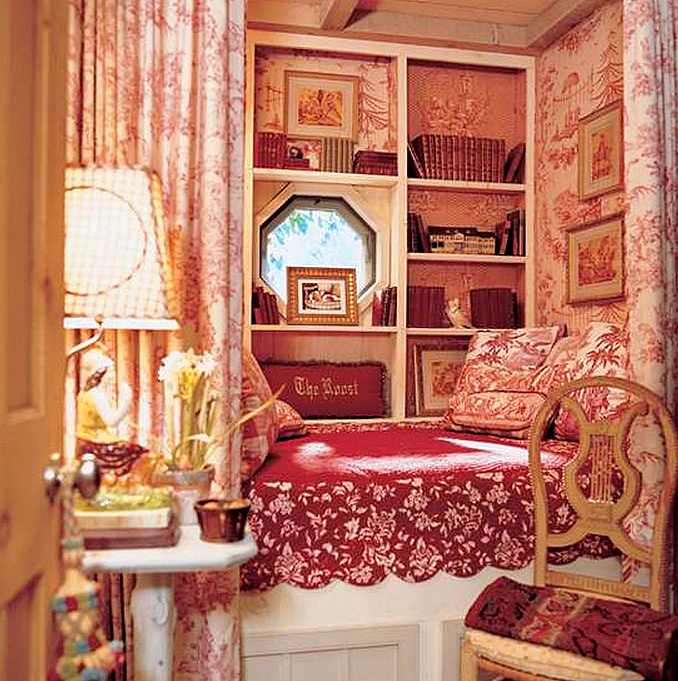 Faudree often used red toile…the perfect small bedroom
"Accessories are as important as the furniture itself." 
C. Faudree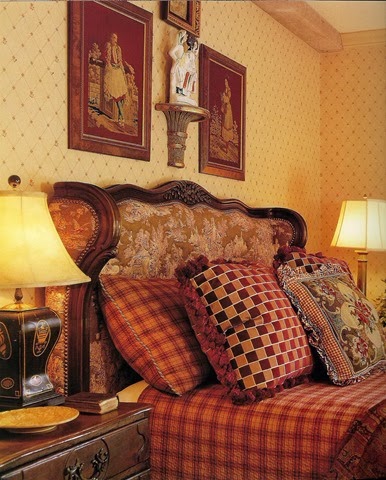 Once again…it is about the mix!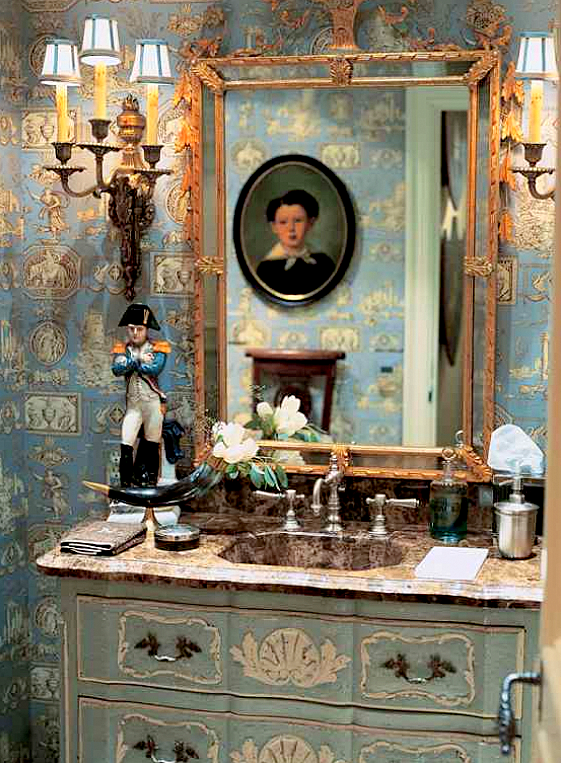 A powder room with a Provençal chest used as a vanity and French toile wallpaper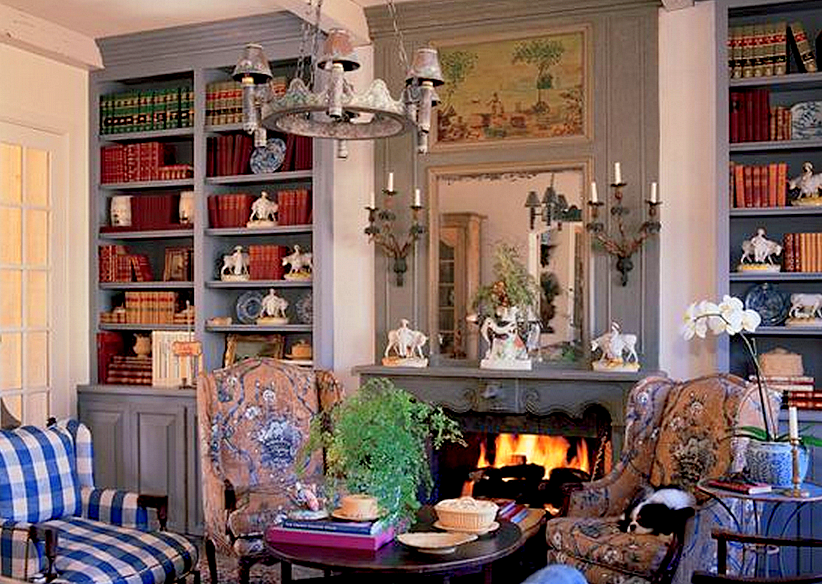 An inviting living room in the French Country style of which Charles Faudree was the master!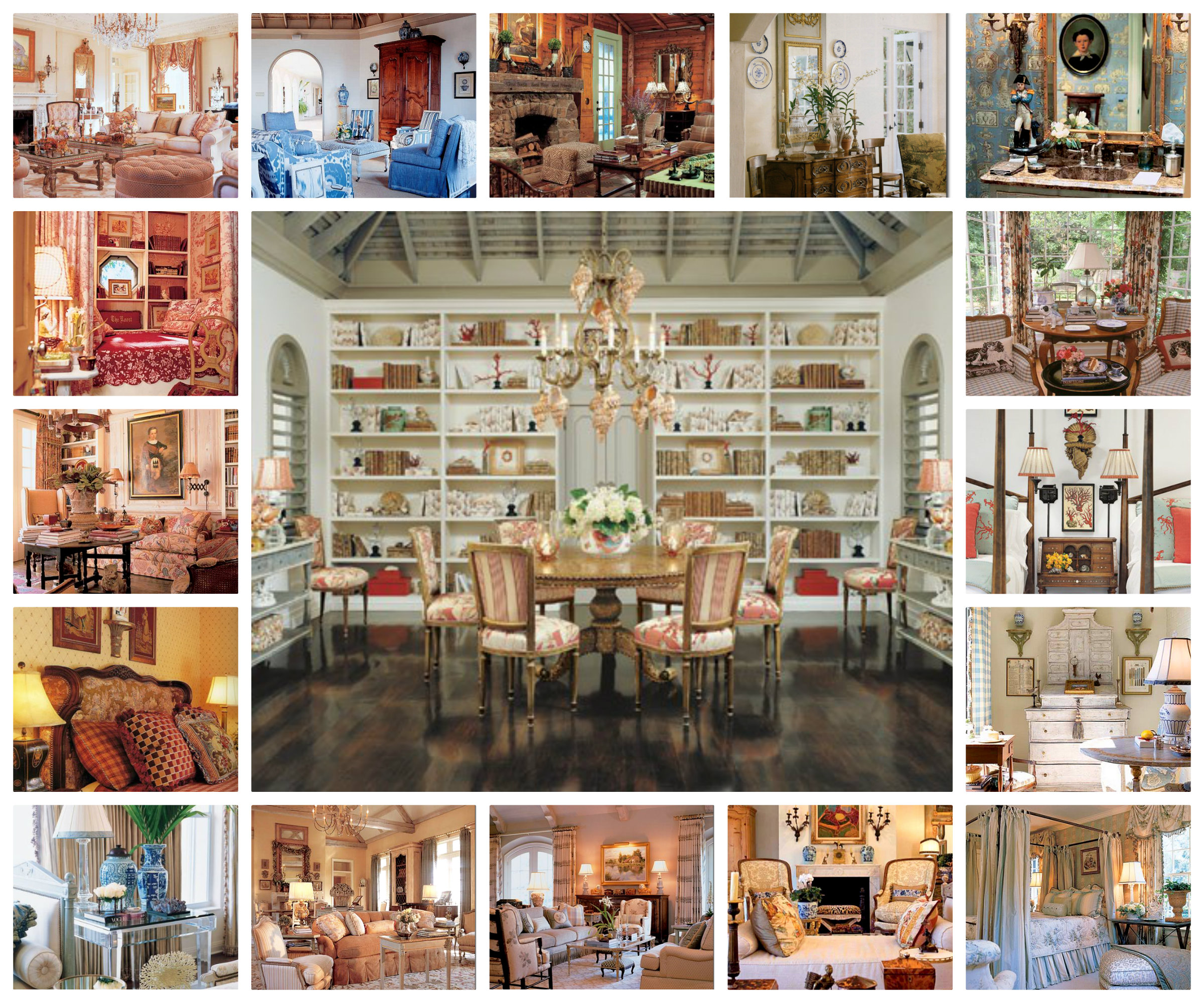 Linking with Pieced Pastimes, Silver Pennies, Life on Lakeshore Drive, Thoughts From Alice, Mod Vintage Life, Coastal Charm, My Uncommon Slice of Suburbia, The Dedicated House, Dwellings-Heart of Your Home, Savvy Southern Style, Ivy and Elephants, French Country Cottage, From My Front Porch To Yours, Stone Gable, Confessions of a Plate Addict, Worthing Court, Between Naps on the Porch, Cedar Hill Farmhouse, A Stroll Thru Life, The Style Sisters, The Charm of Home, Cornerstone Confessions, A Delightsome Life, Imparting Grace, Posed Perfection, Katherines Corner, My Romantic Home, Chic On A Shoestring Decorating, Rooted In Thyme, Share Your Cup, The Enchanting Rose, Alabama Women Bloggers, 21 Rosemary Lane, Northern Nesting, Oh My Heartsie Girl,  Cozy Little House, Rattlebridge Farm, The Turquoise Home