"For you shall go out in joy and be led forth in peace;
the mountains and the hills before you shall break forth into singing,
and all the trees of the field shall clap their hands"
Isaiah 55:12
It's finally here!  We are so excited to reveal our new landscaping and garden project in our back yard space!  We have been talking about it on the blog forever it seems! We've talked about endless possibilities, and many of you chimed in! If you haven't already, you can read the posts about it here:
How Does Your Garden Grow?
Patio Possibilities?
Backyard Beginnings
On our property of 15 acres, you will find hay fields, woods, and lovely views of the Appalachian foothills!  We have always loved the wide open space in our back yard, and it has been everything from a baseball field to a track for a battery operated jeep to a home for an above ground pool for 19 years!  When Butch removed the pool in 2013, we decided we would wait before landscaping!  But now, the wait is over!  The work began this spring, and now we hope to enjoy it for many years to come!  I plan on adding lots of perennials this fall and yes, there will be many dinners for the two of us al fresco style!  So, welcome to our not so secret garden!!!  Come on…let's take a walk around…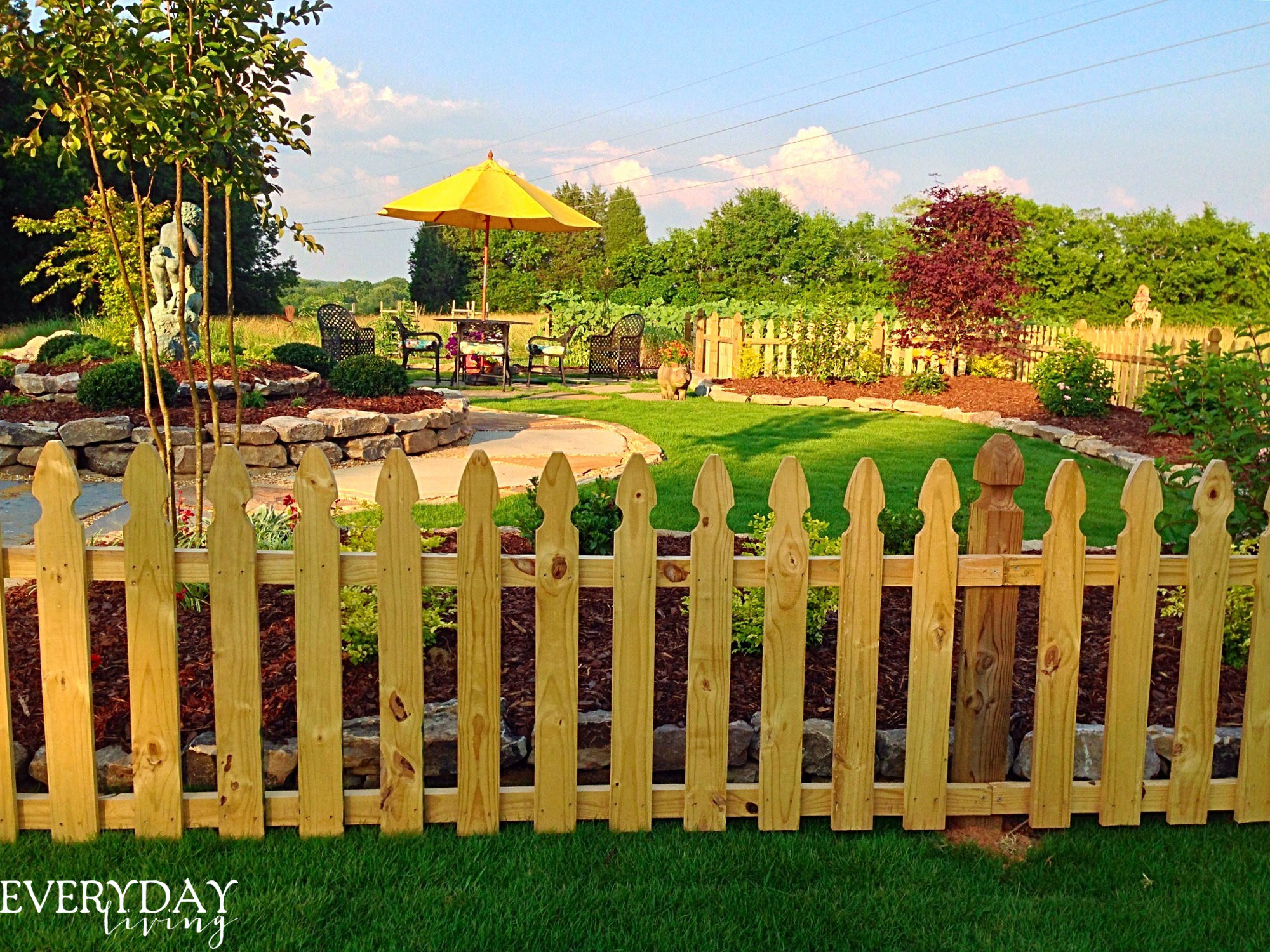 As we enter from the side, you will notice our picket fence!  Butch worked tirelessly installing it!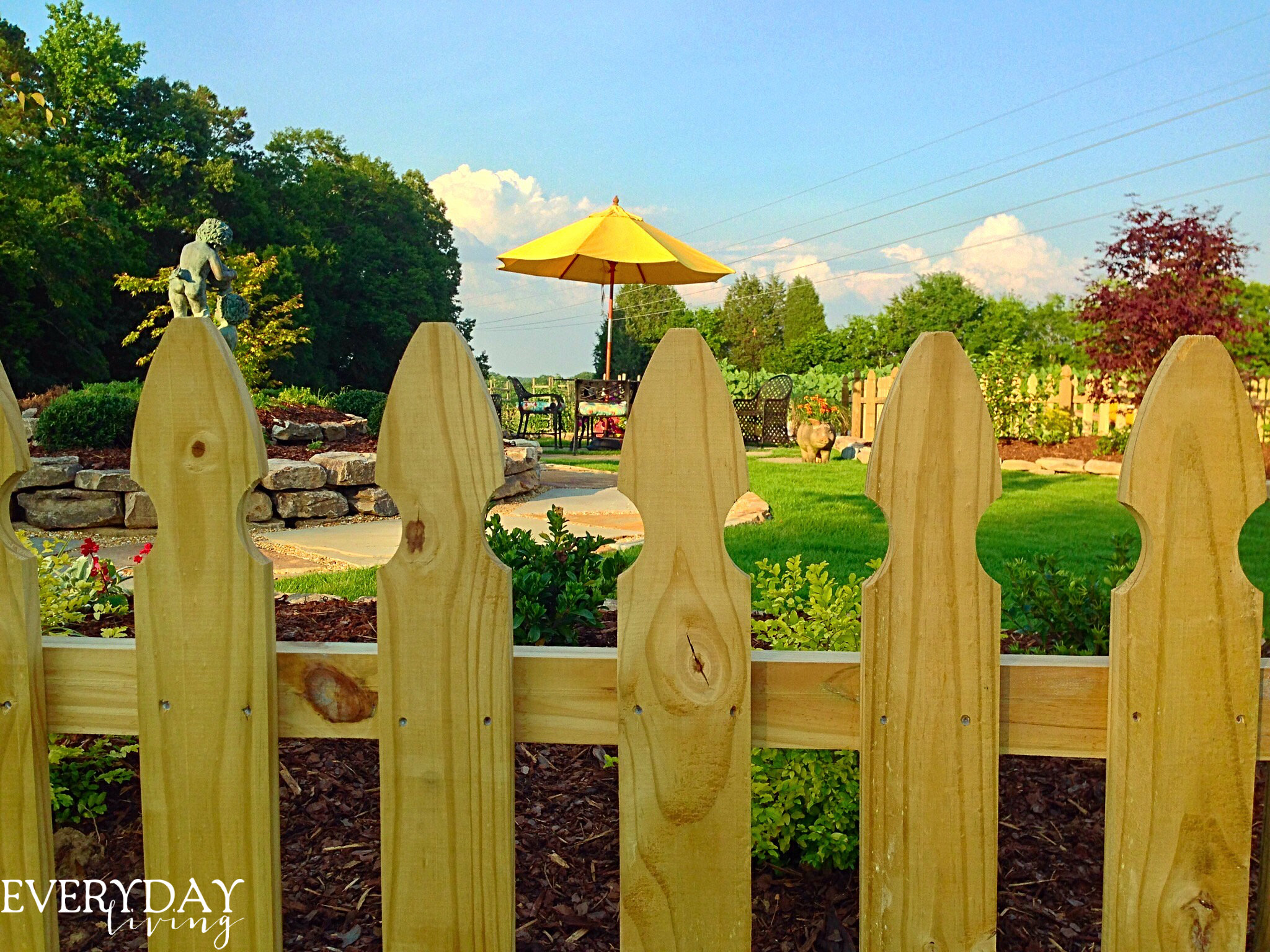 Getting closer, you can see a little more…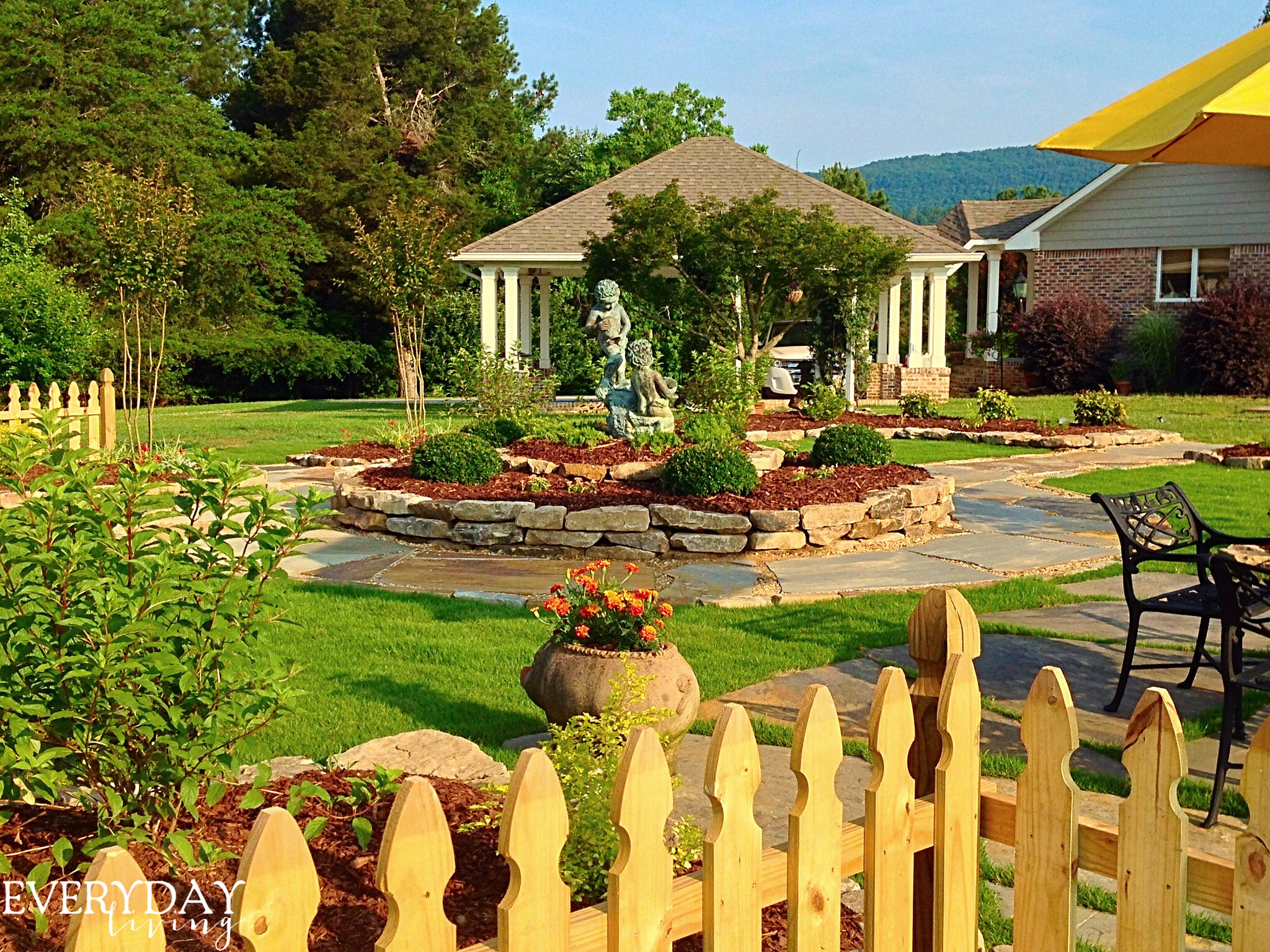 As you can see, a lot of stone was involved!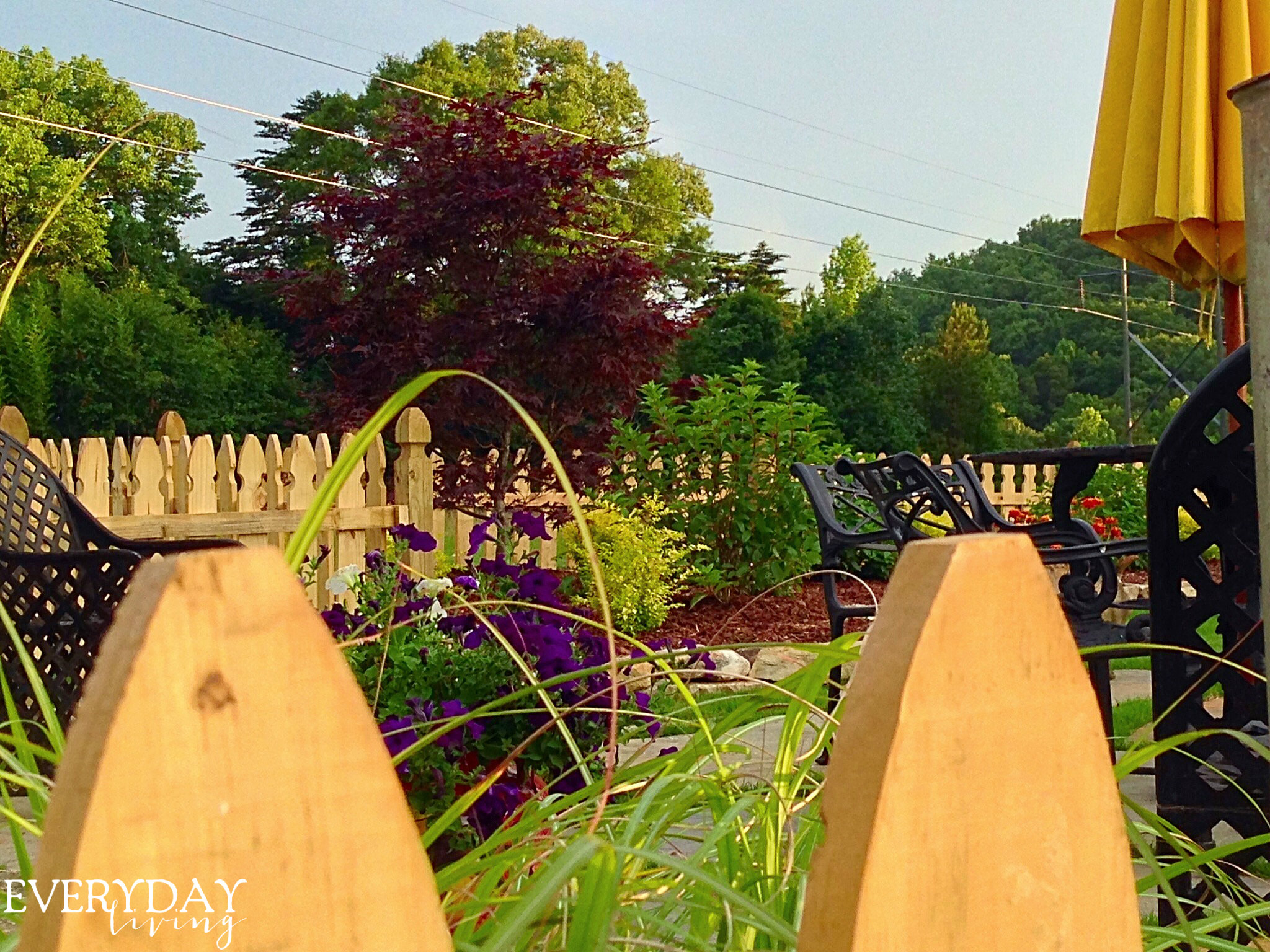 Can you tell much about it so far?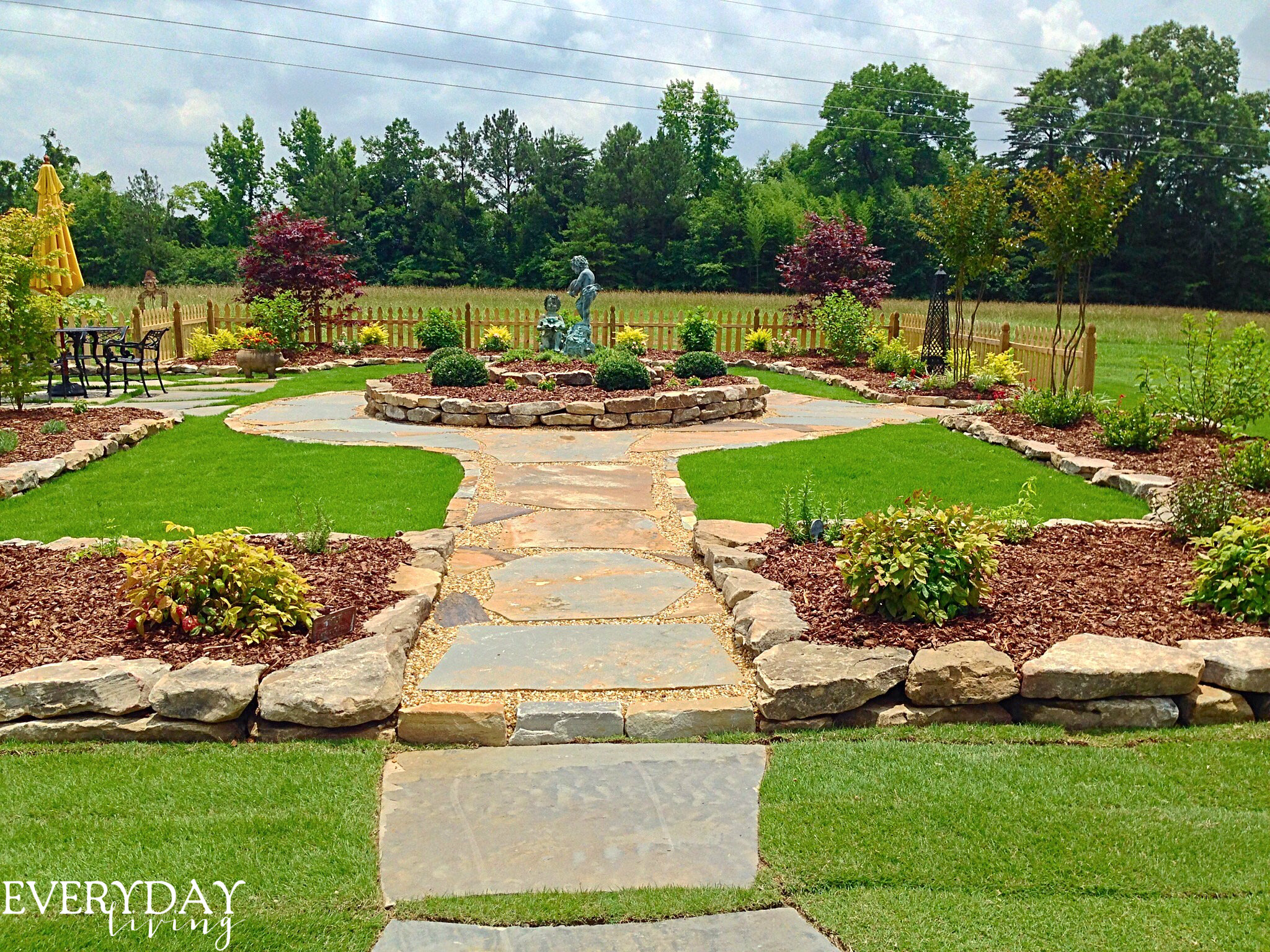 How about now?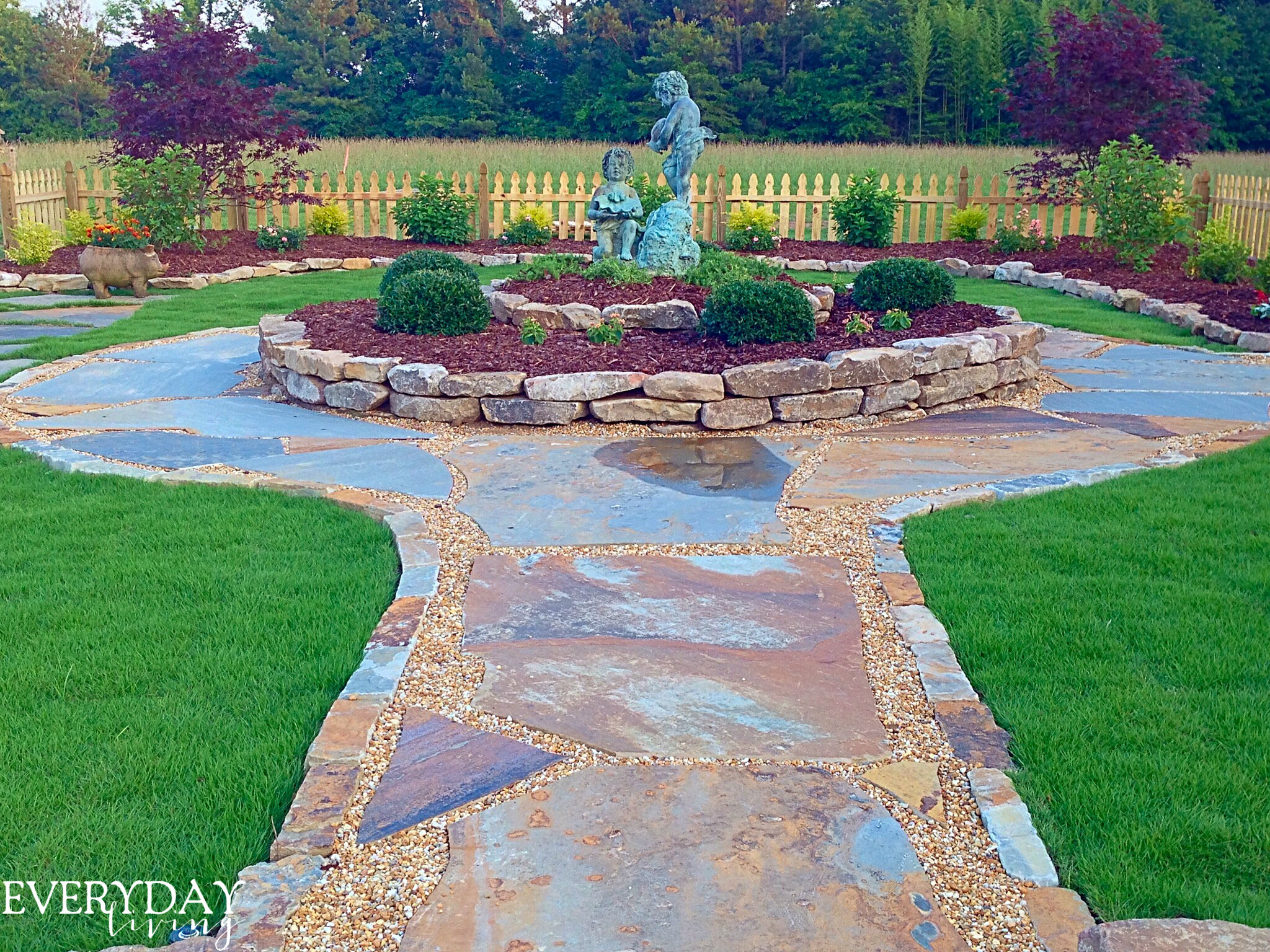 As we approach the focal point…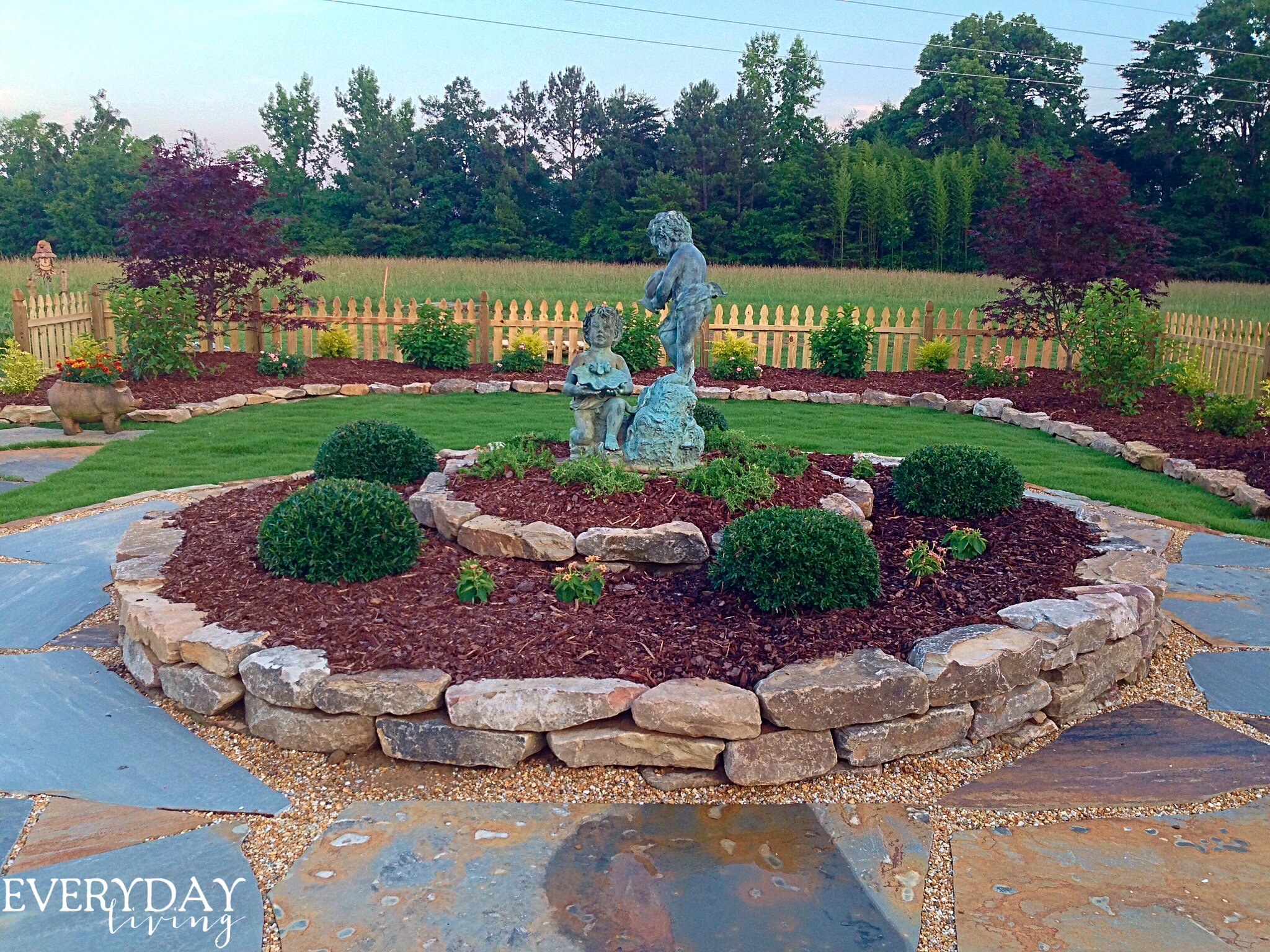 …the bronze statue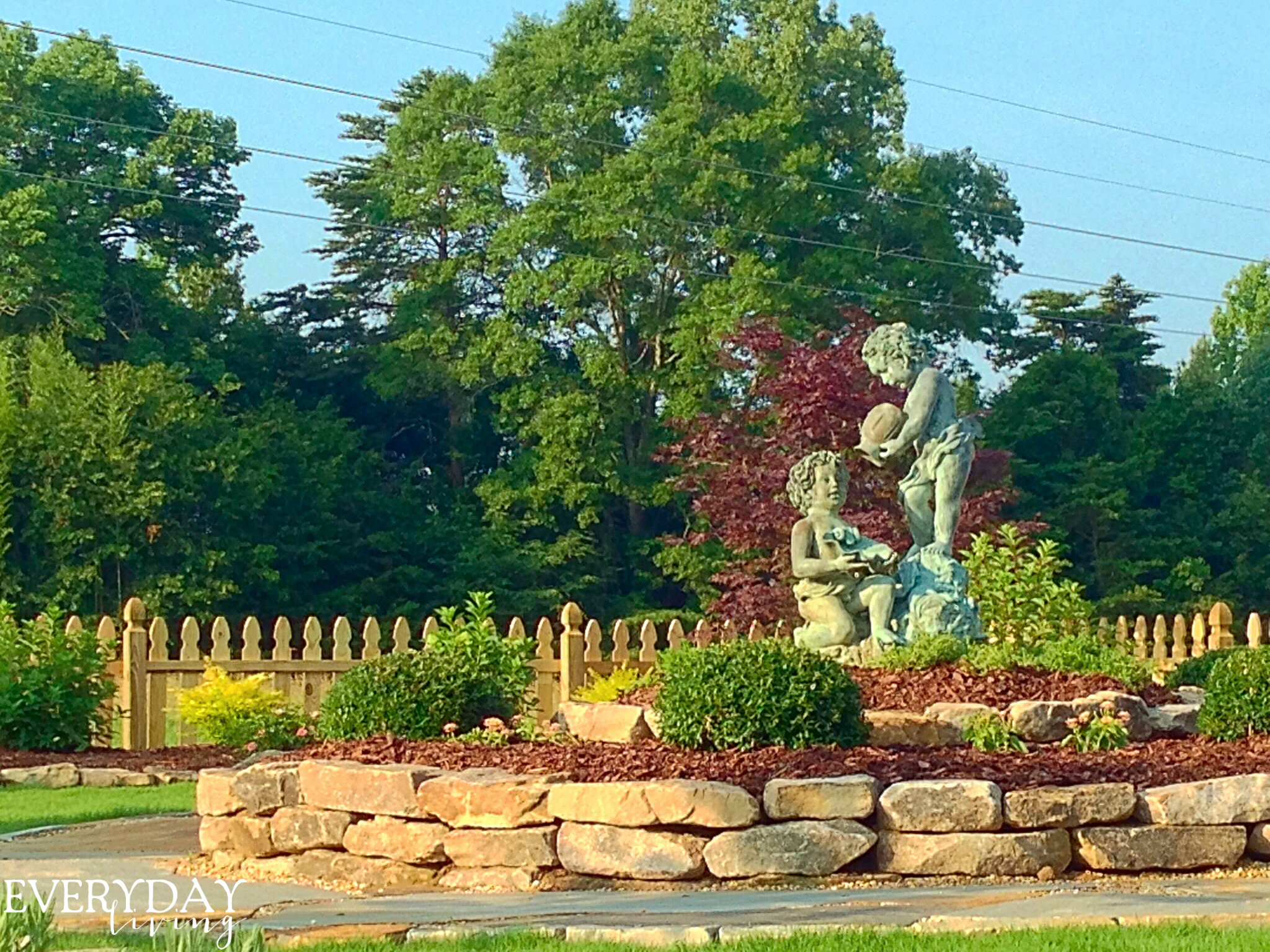 The landscapers did such a great job.  We are very pleased!  Do you all remember what it looked like before?  Lets take a look…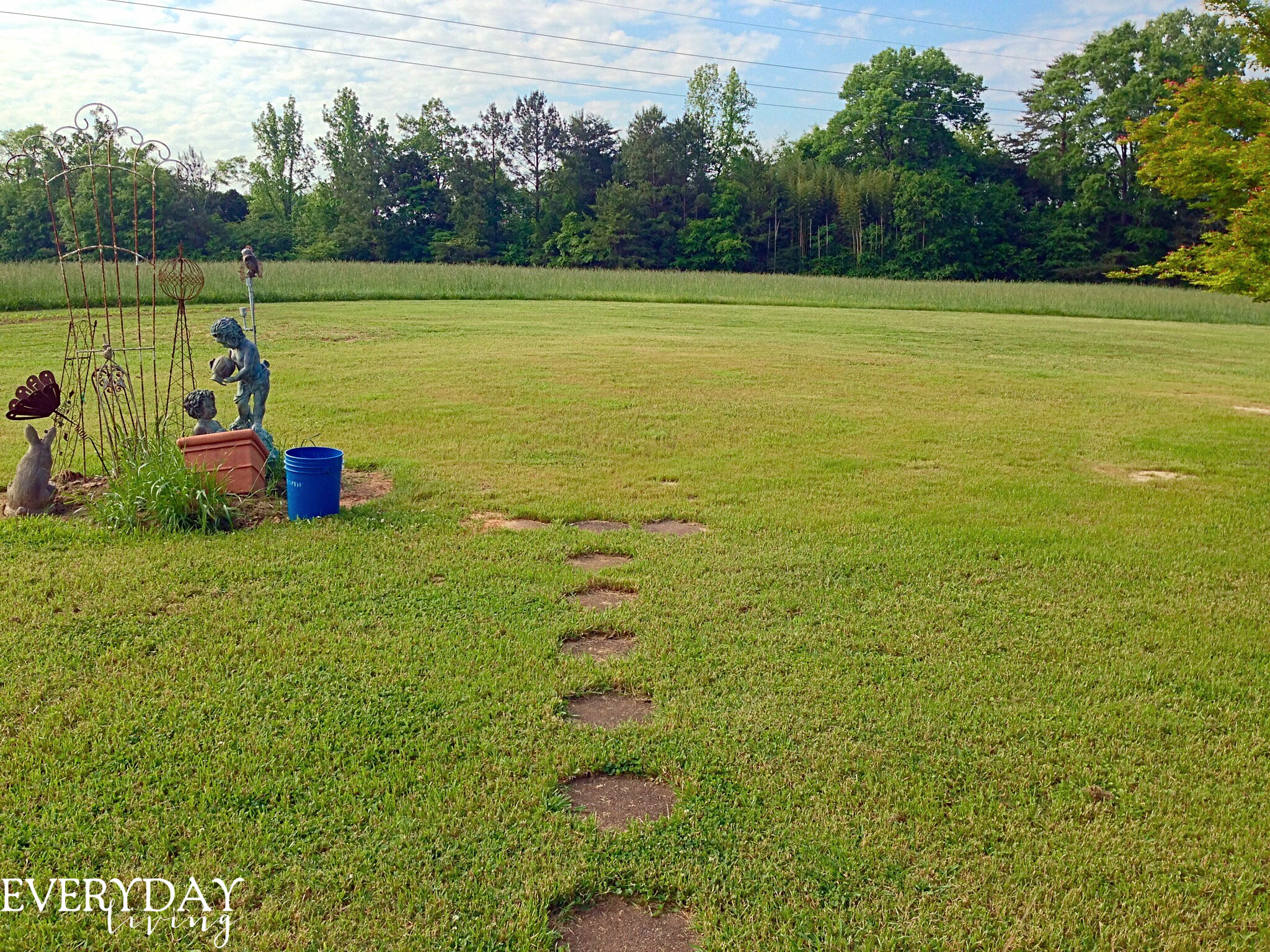 I would say they definitely transformed our backyard into a brand new place!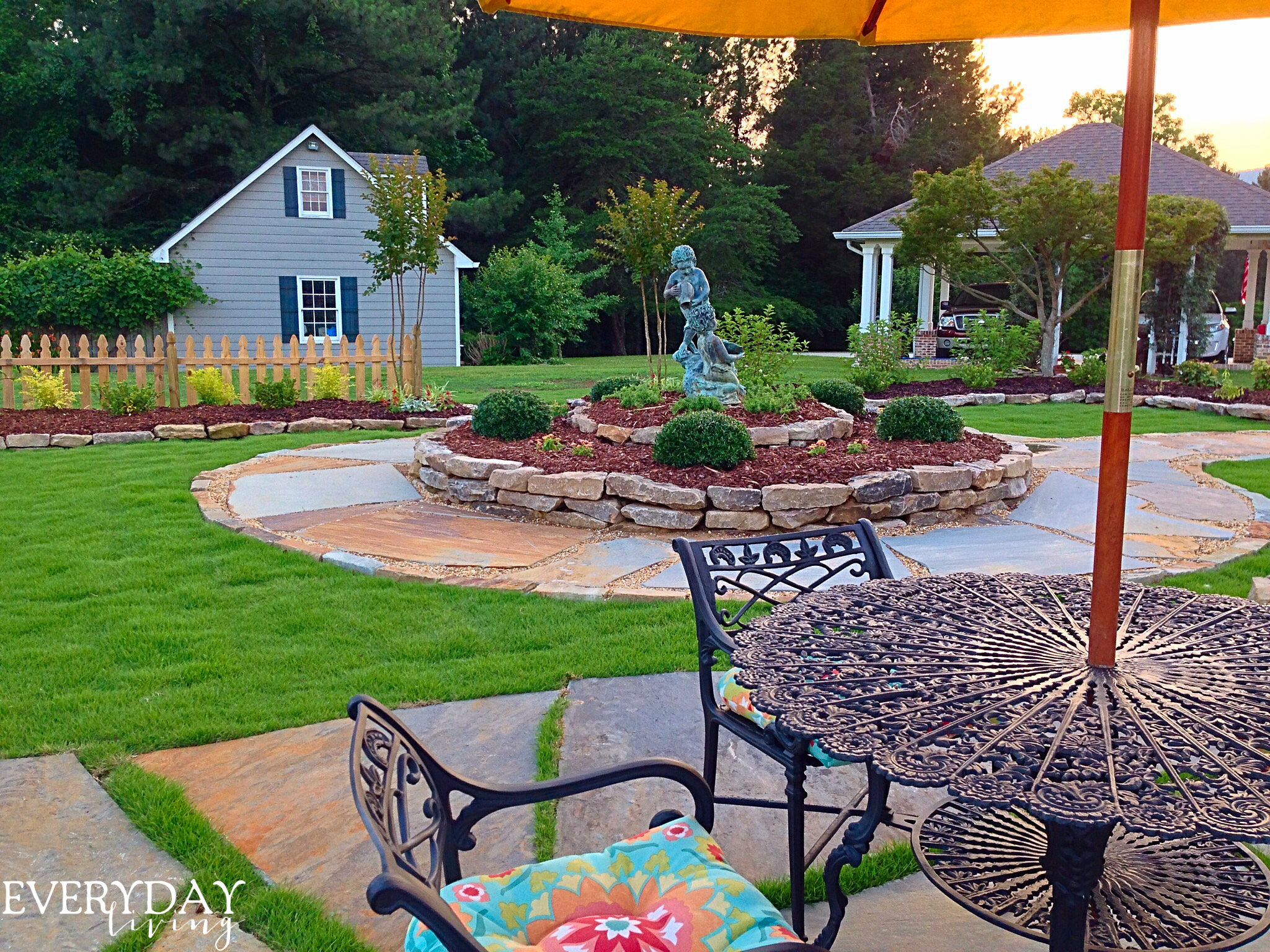 One of my priorities was to have a space for eating al fresco!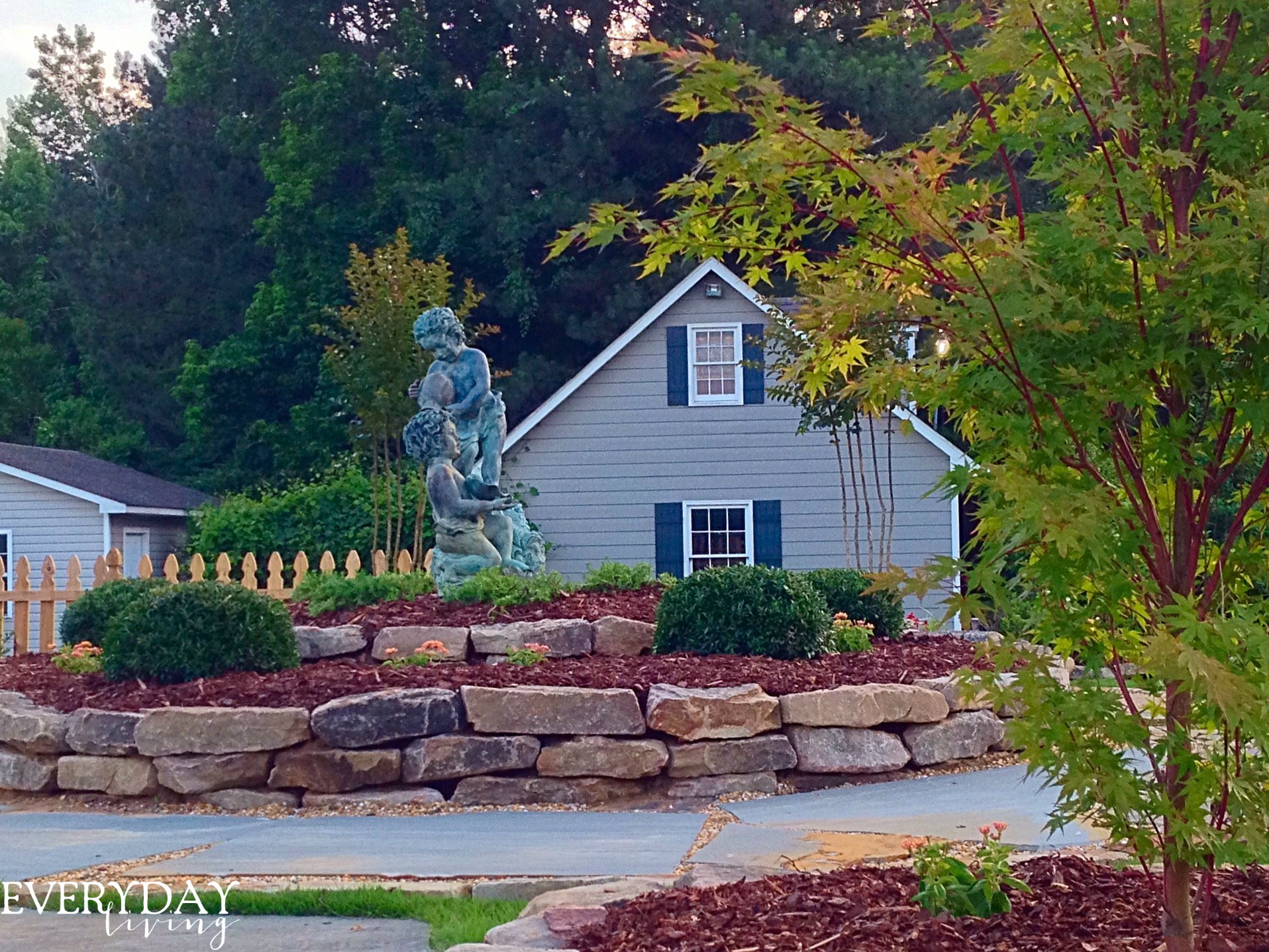 The bronze statue is actually a fountain, but Butch said emphatically, "No!!!" to the upkeep of a fountain!  I love it as an architectural piece.  Surrounding the statue is white thrift that will fill in to make a nice ground cover.  The bottom tier is planted with soft touch holly and lantana for color!  I will replace the lantana in late fall with pansies!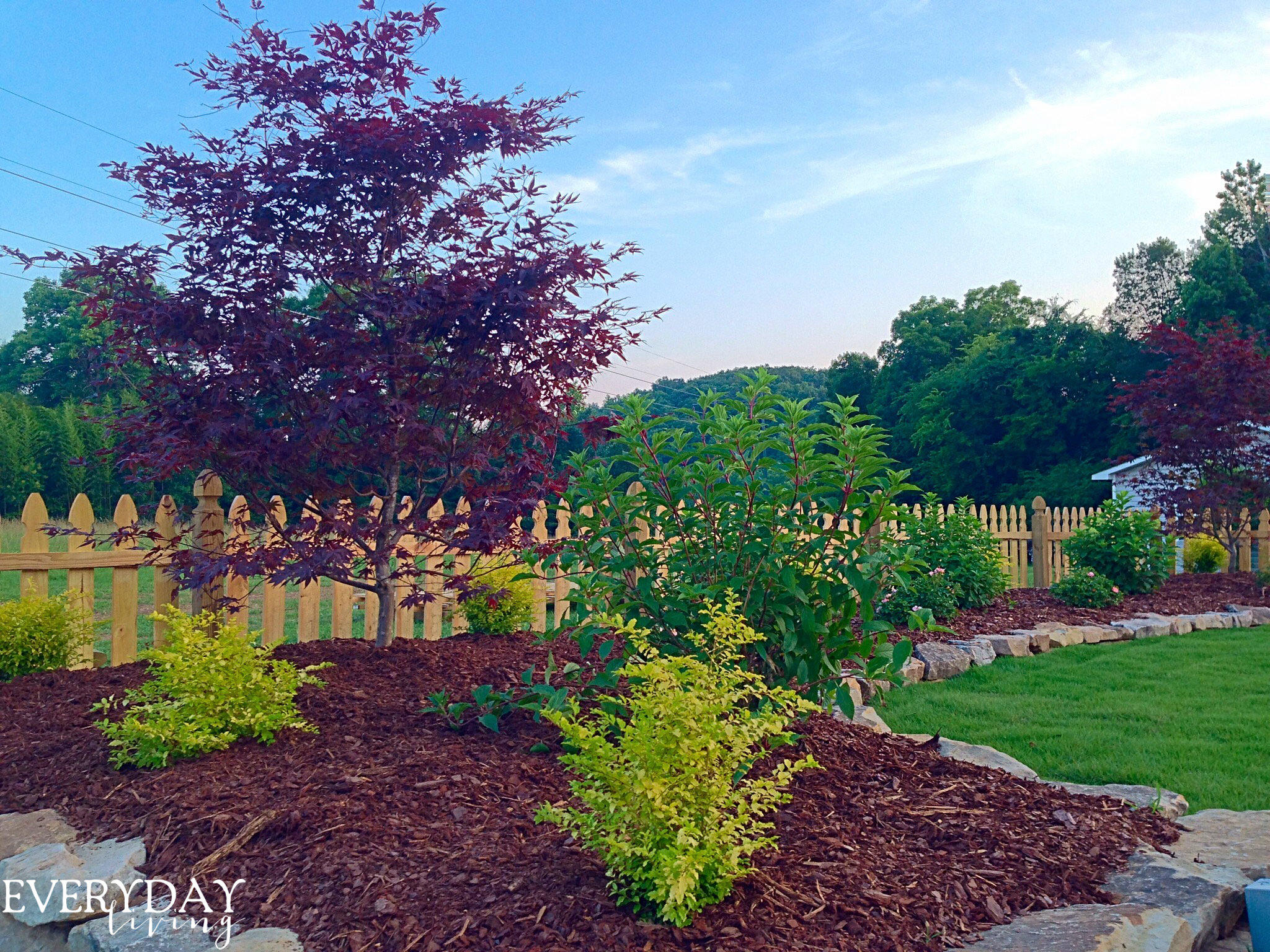 Bloodgood Japanese maples were placed in each rear corner.  The lime green plants are sunshine ligustrums!  I really like the vivid burst of color that it adds to the garden!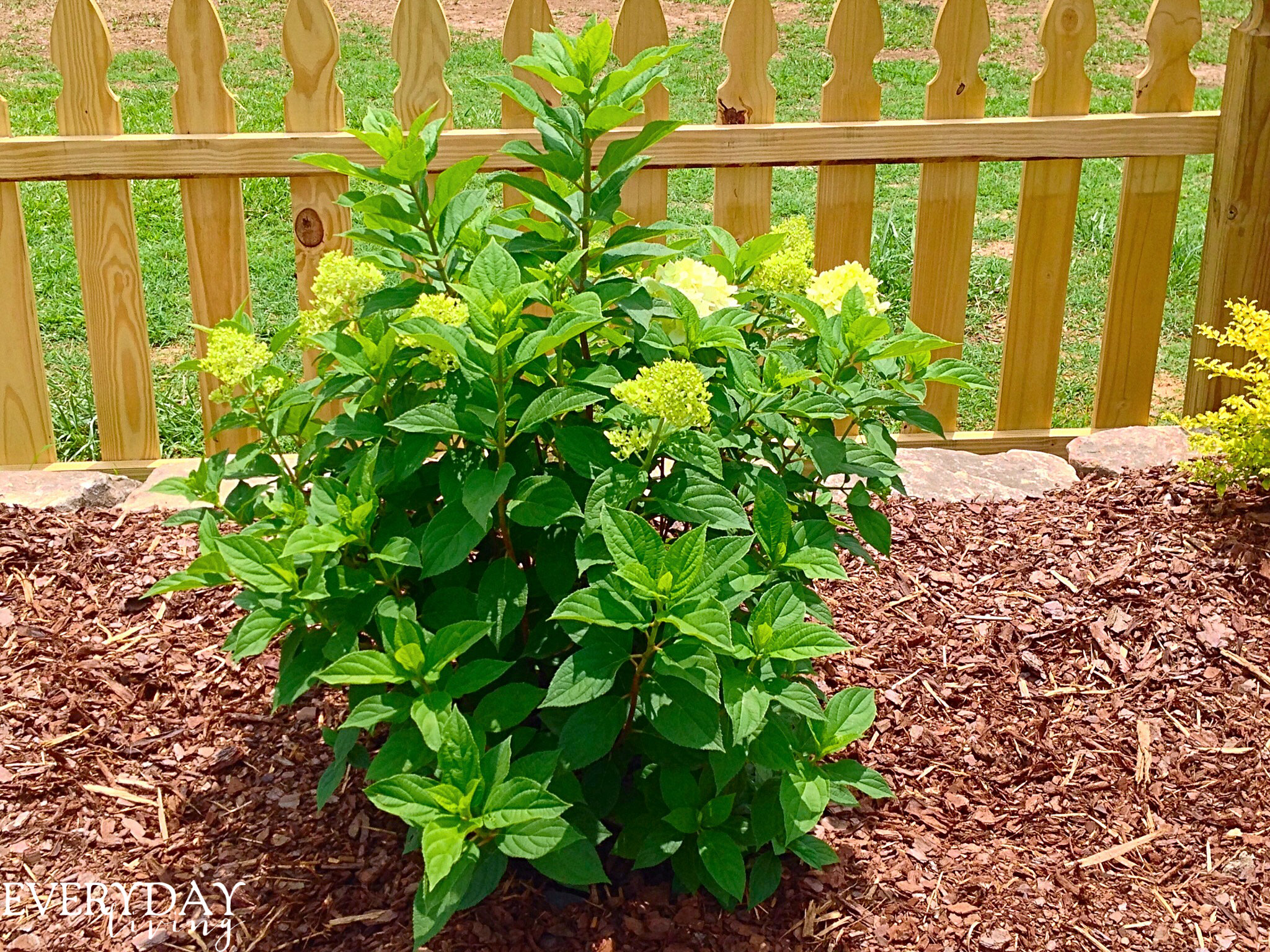 Limelight hydrangeas are beginning to bloom!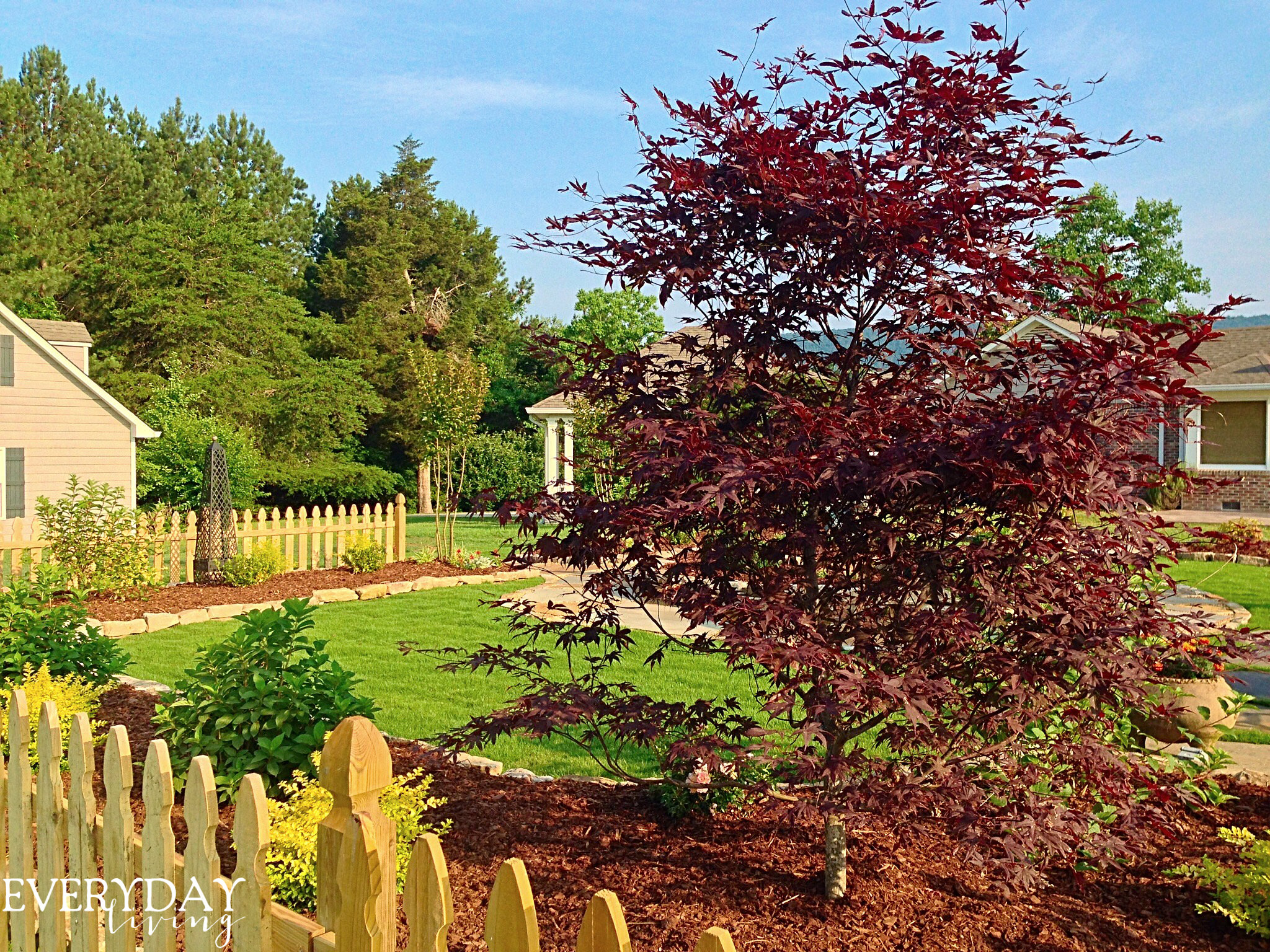 A view from the back corner!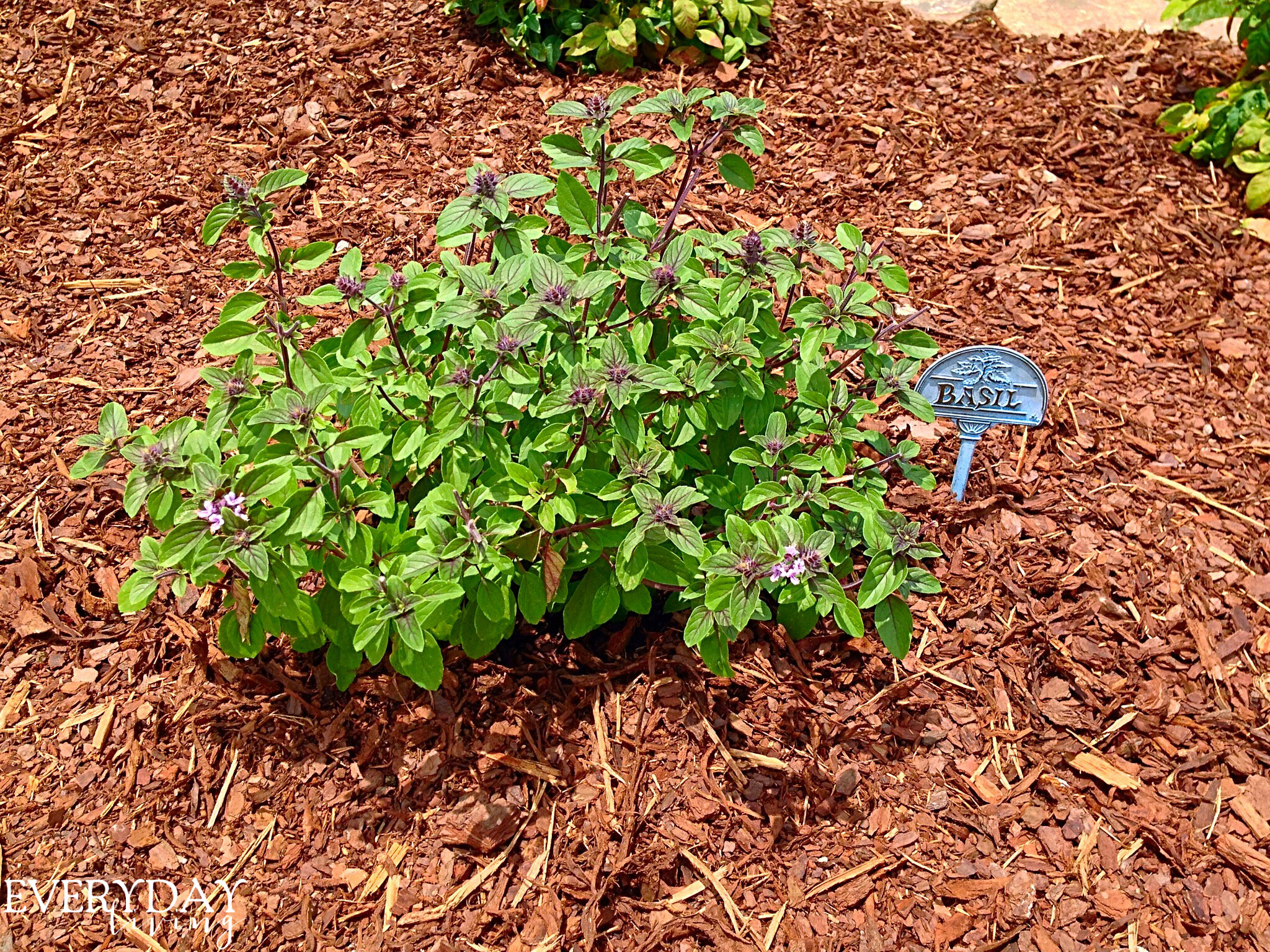 Herbs were another priority!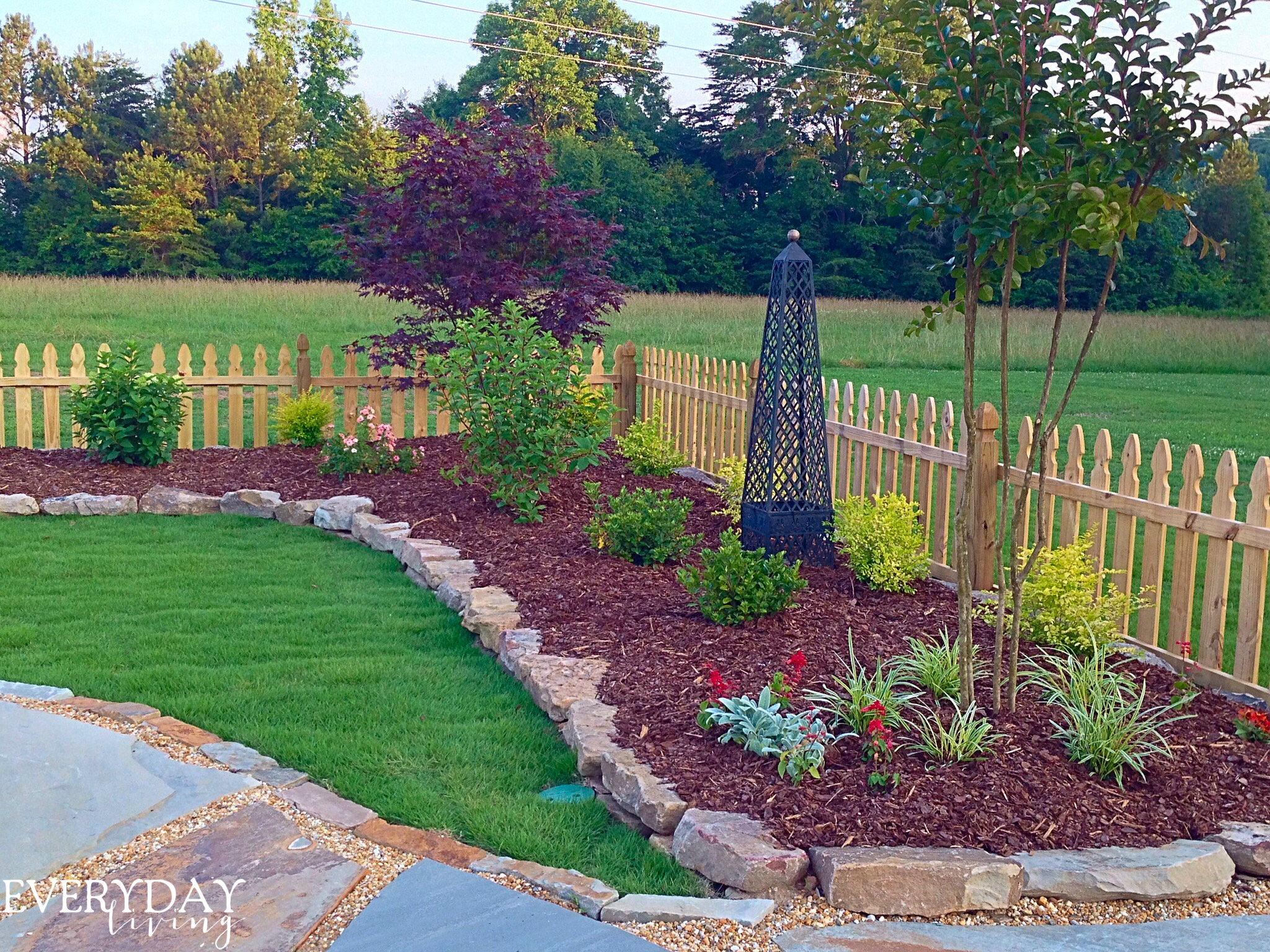 The texture of lamb's ear, the bright red salvia blooms, along with variegated liriope fills in the base surrounding the crape myrtle!  The low growing plants in front of the garden ornament are daisy gardenias-already anticipating their heavenly scent!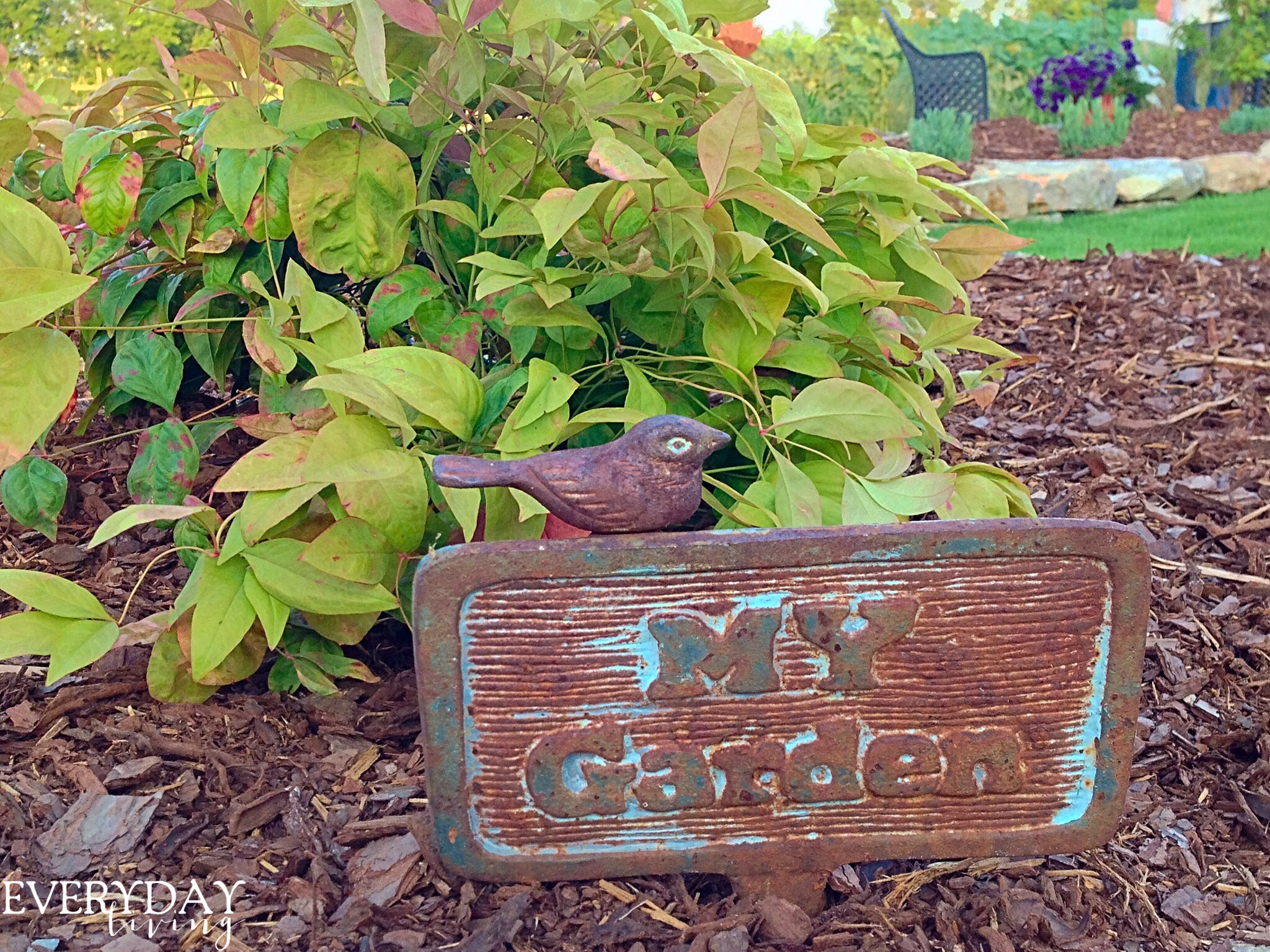 Blush nandinas line the front!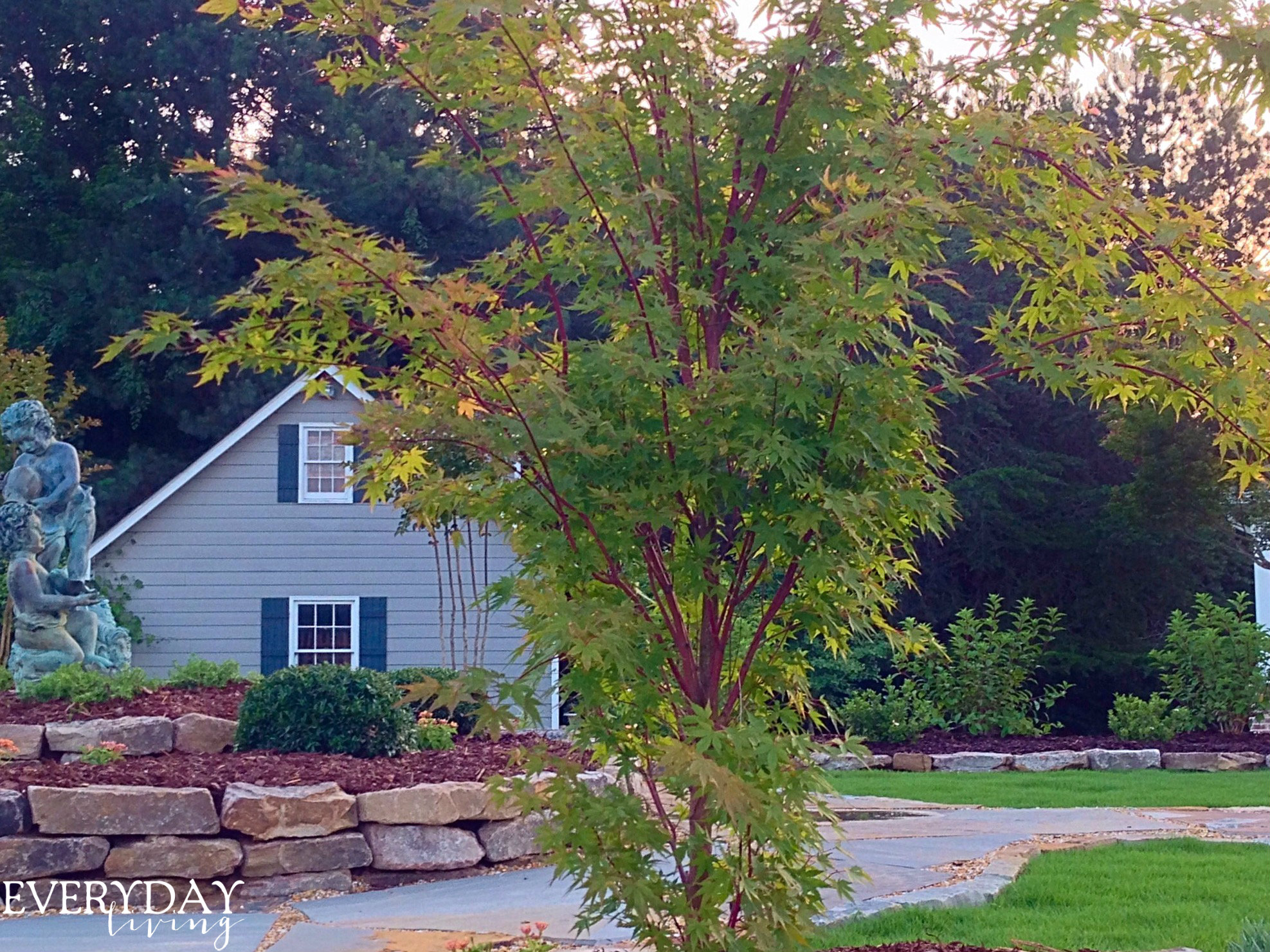 Coral bark Japanese maple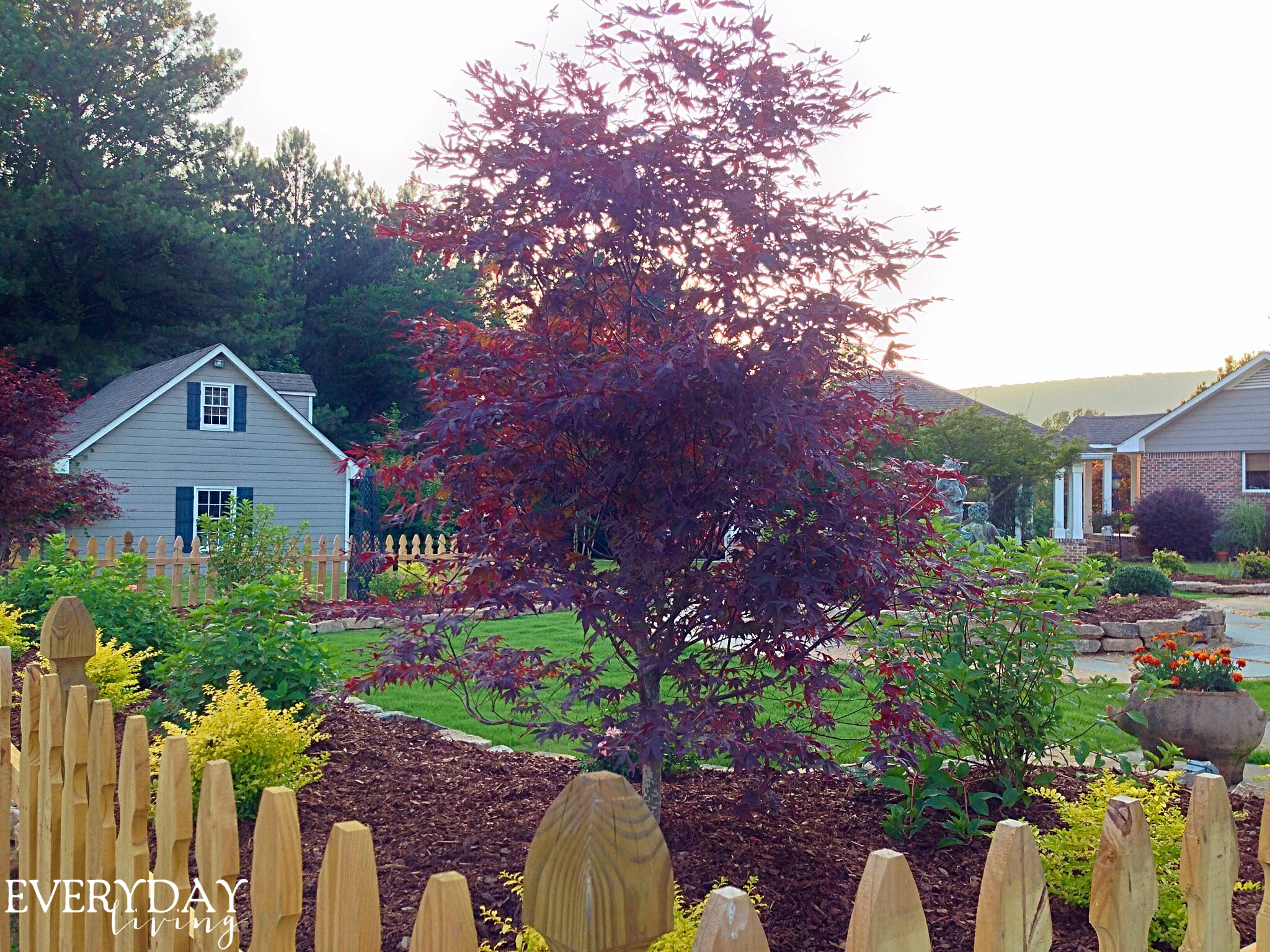 Late afternoon light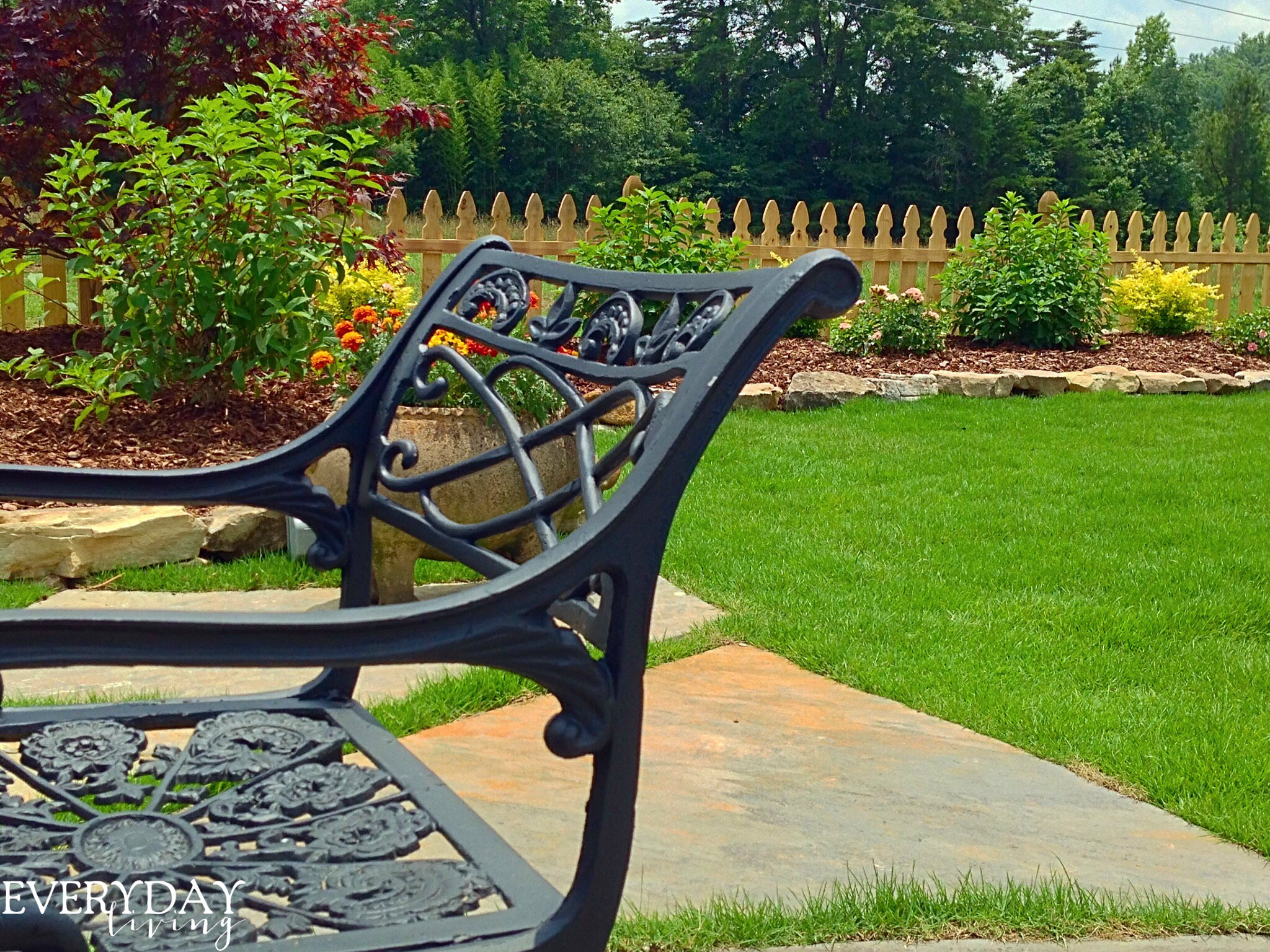 Zoysia sod is really looking good!
  Can't wait for the sunflowers (behind the fence) to bloom!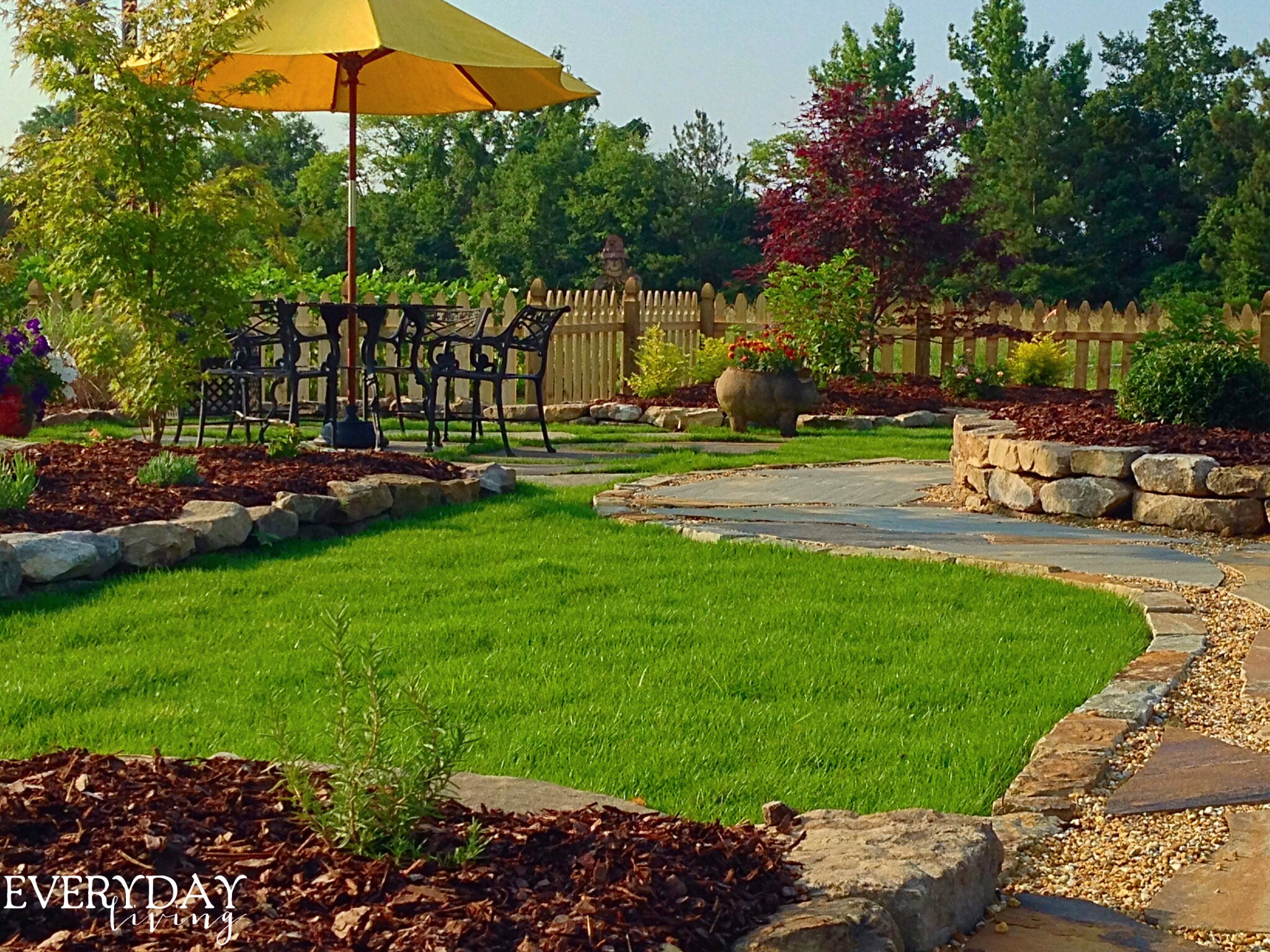 Butch planted okra seed on the far left side on Saturday morning…it is already up!  I see fried okra on our plates for summer!
 My sweetheart has always wanted a picket fence…and he made it happen!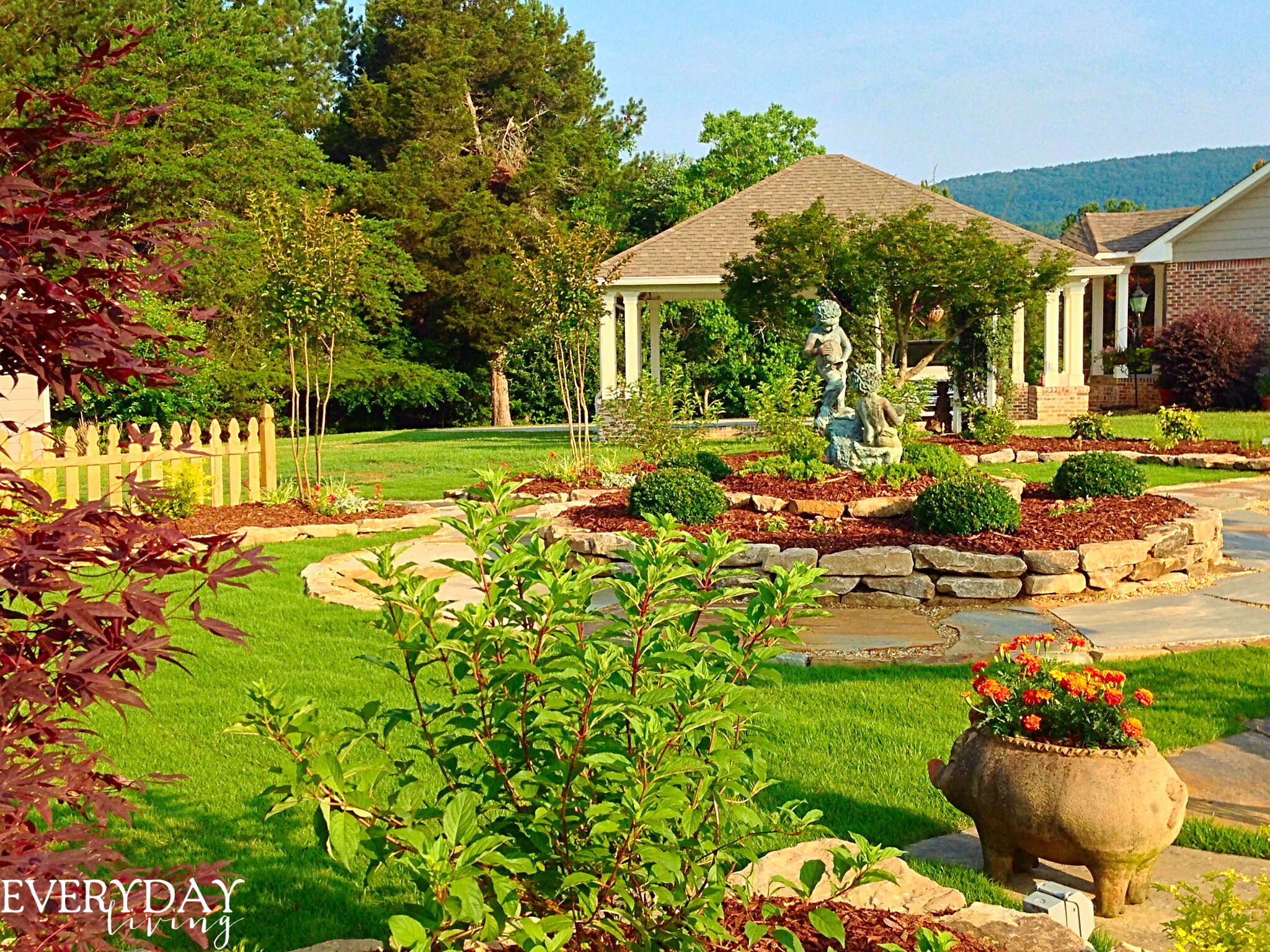 Early morning light on the garden!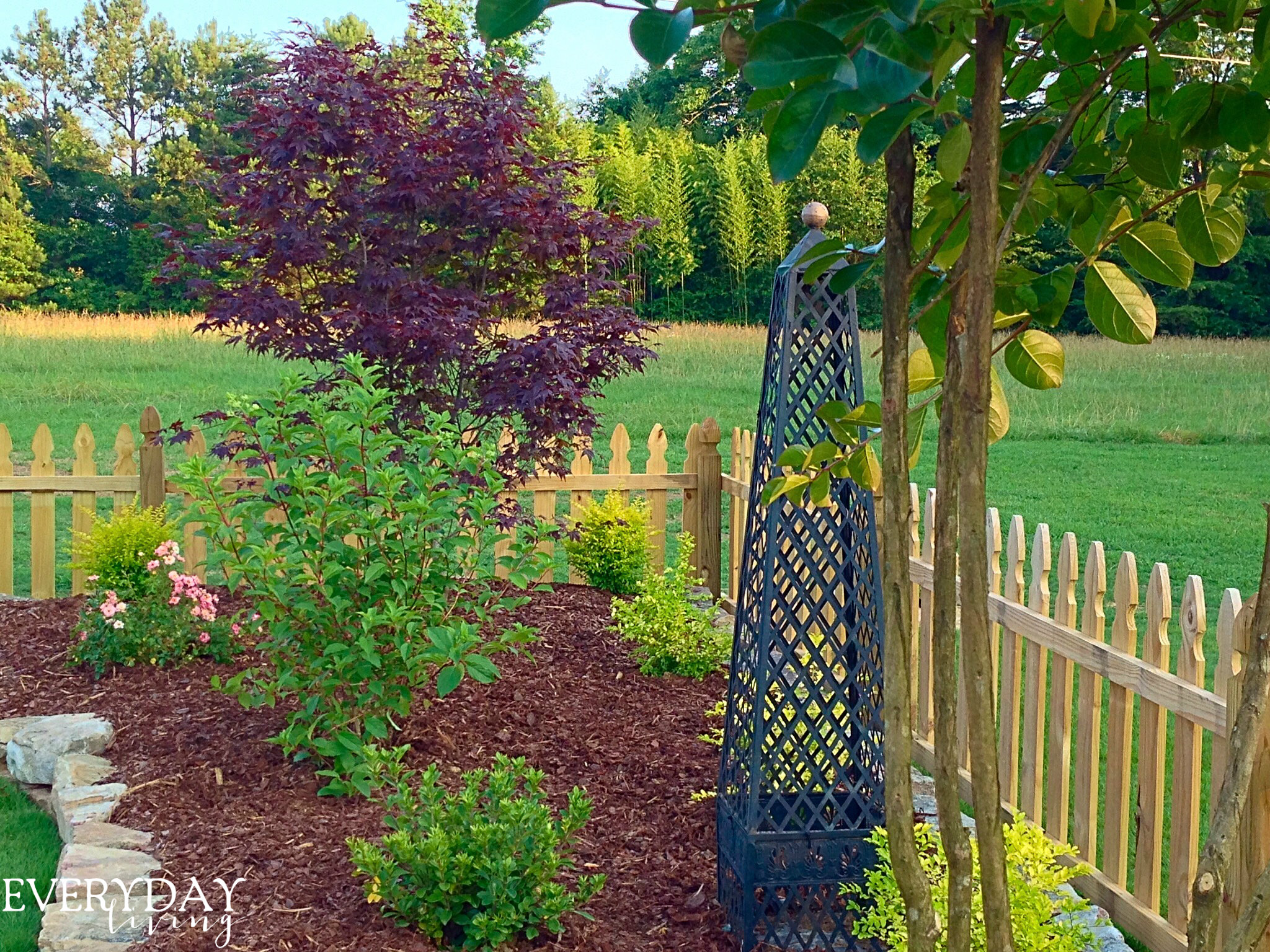 Apricot drift roses will provide summer color!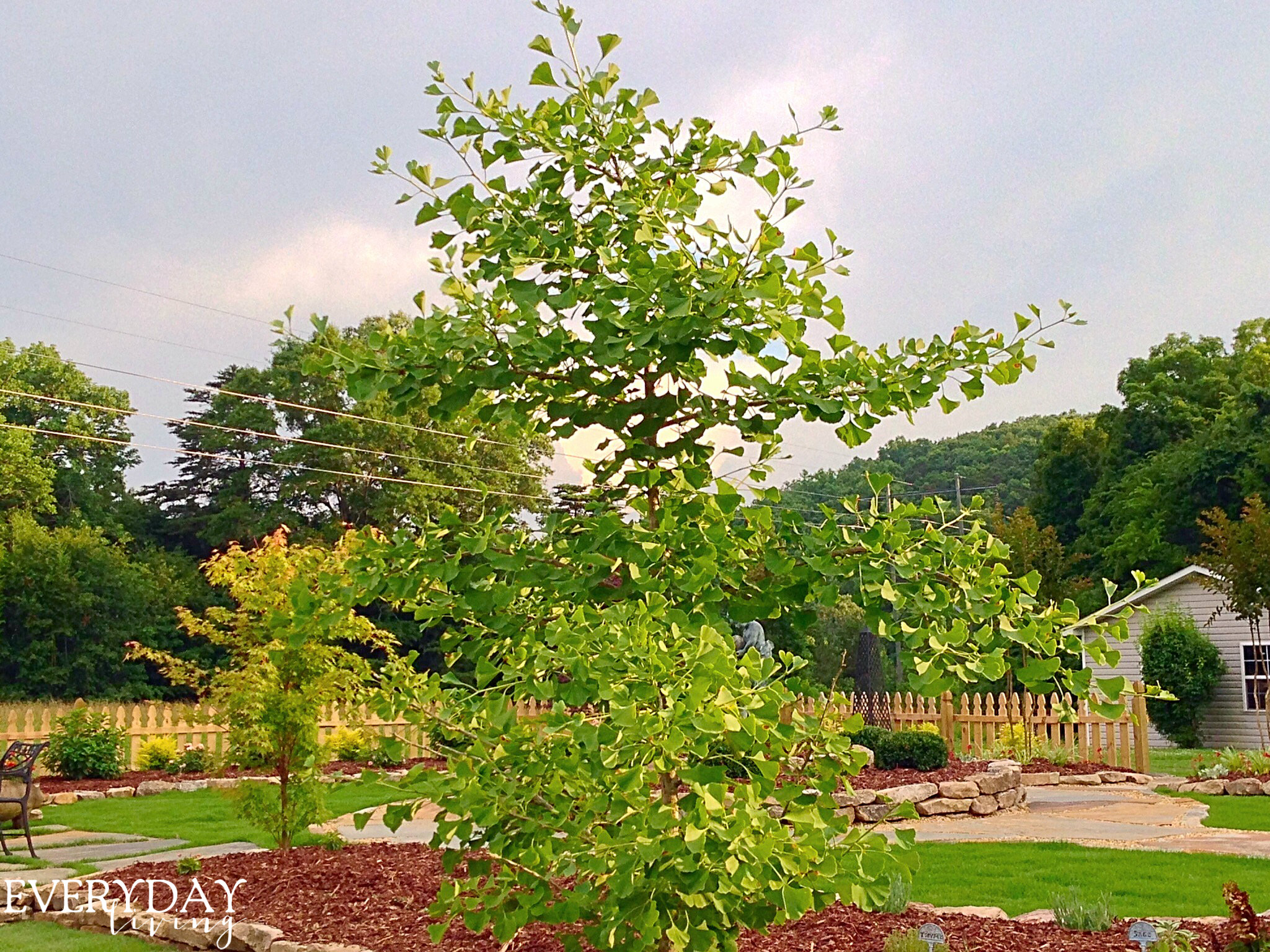 We moved a smaller ginkgo tree from another spot and planted it at the front corner to be a garden feature.  Its colorful leaves in autumn will be a great addition!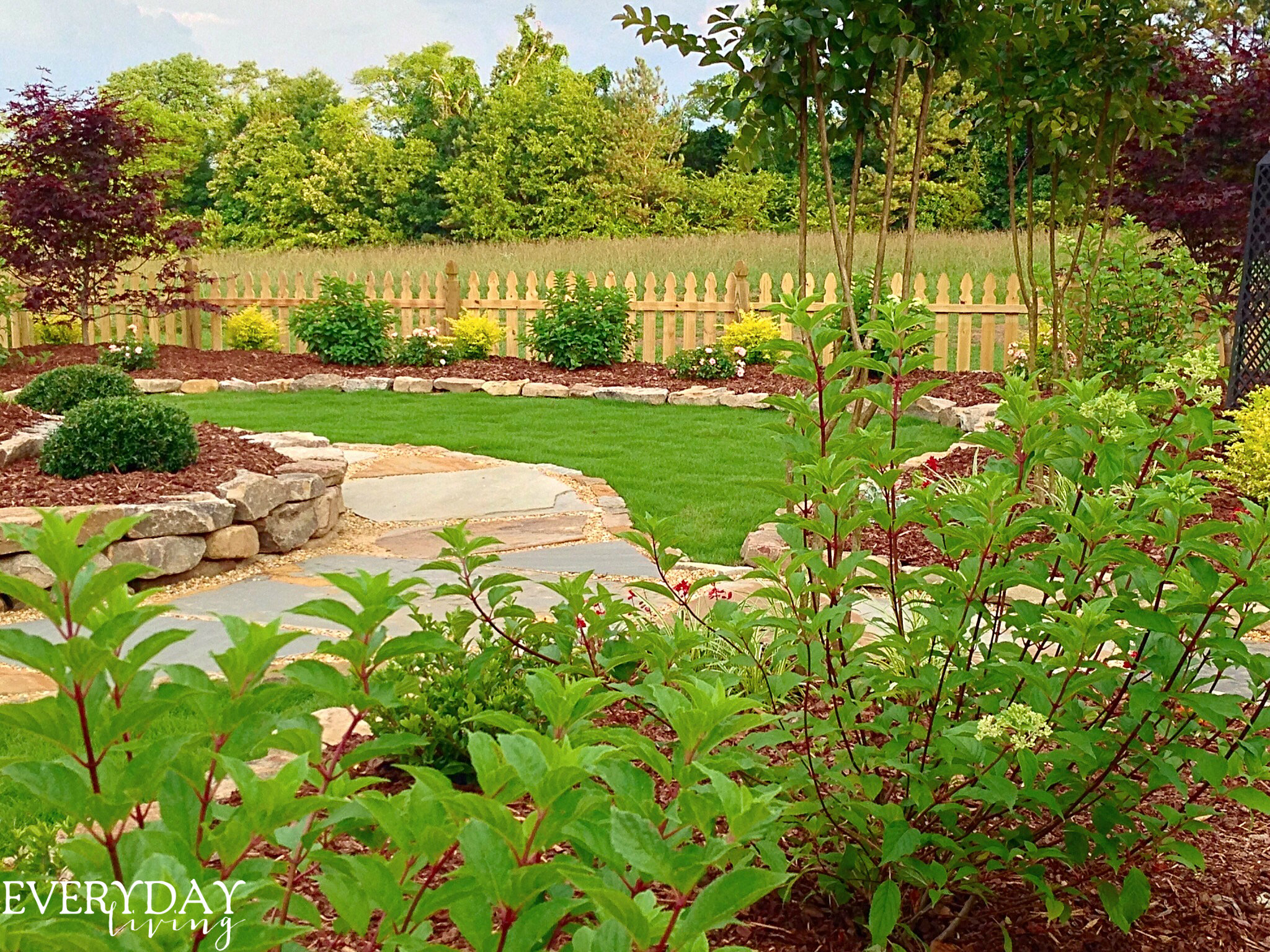 I am excited about the vanilla strawberry hydrangeas that are just showing signs of blooms!  I have never seen one in bloom!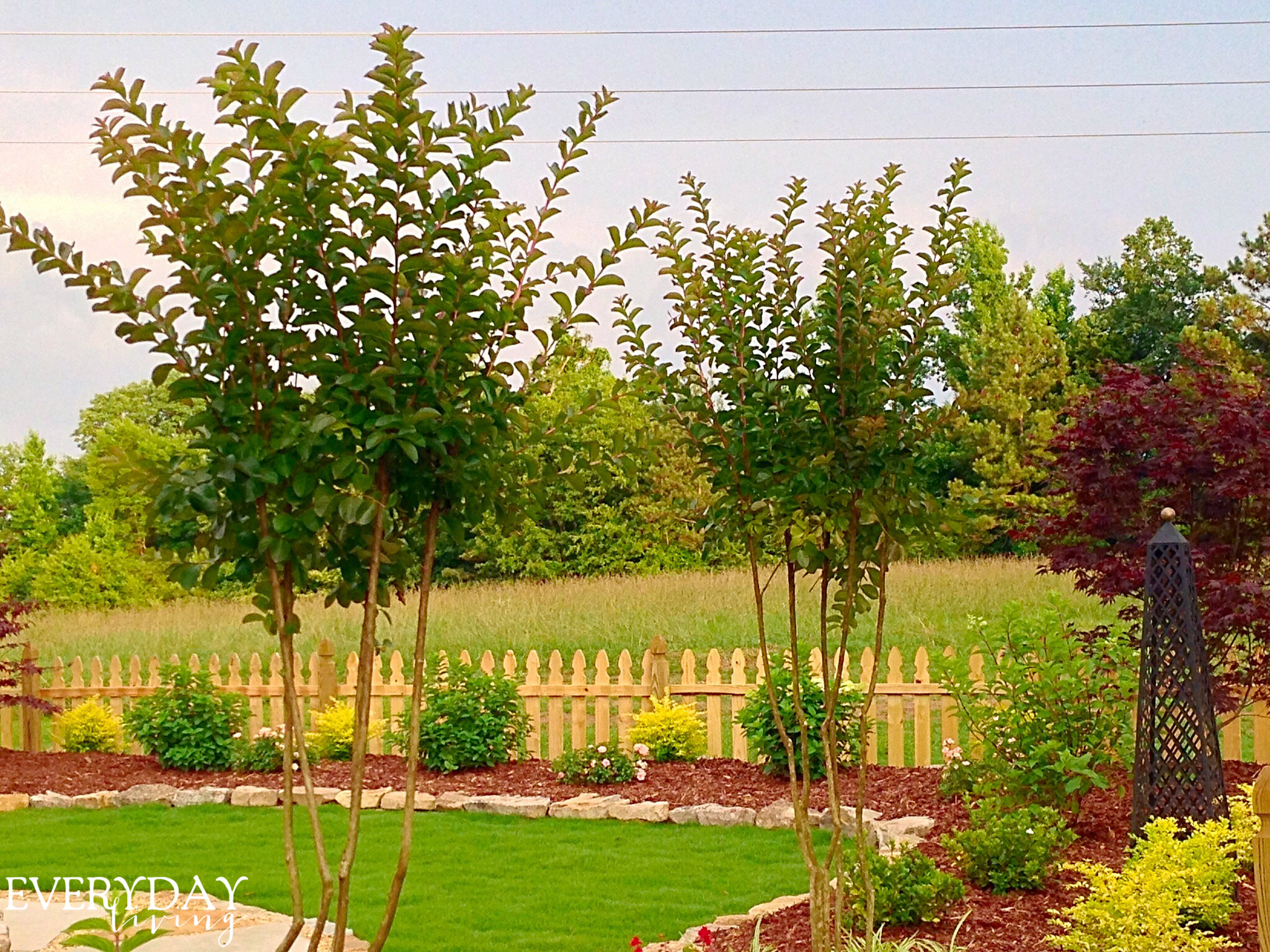 A pair of Sioux crape myrtles border a side entrance!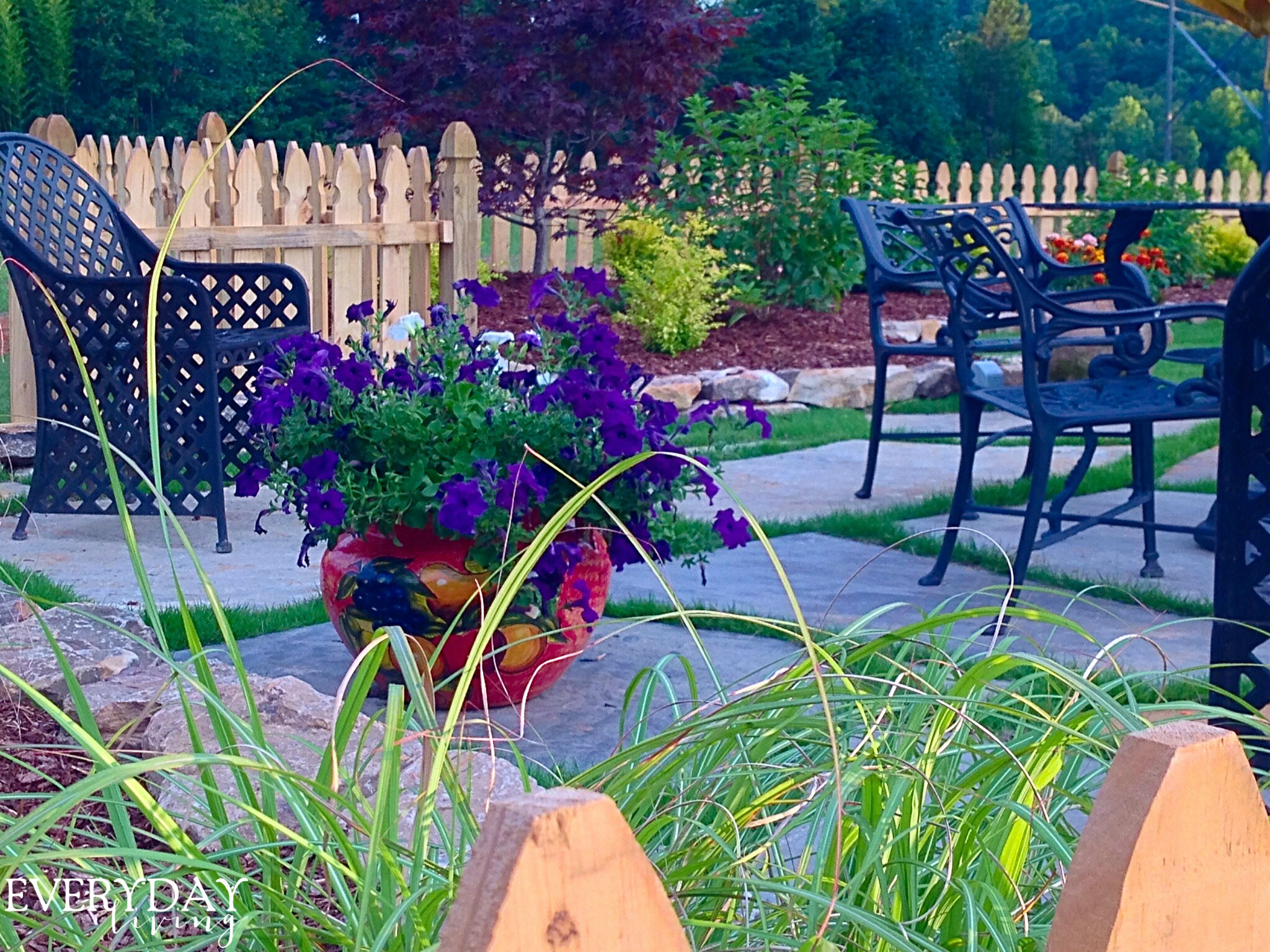 Butch loves ornamental grasses…a trio of adagio maiden grasses are planted behind the dining area!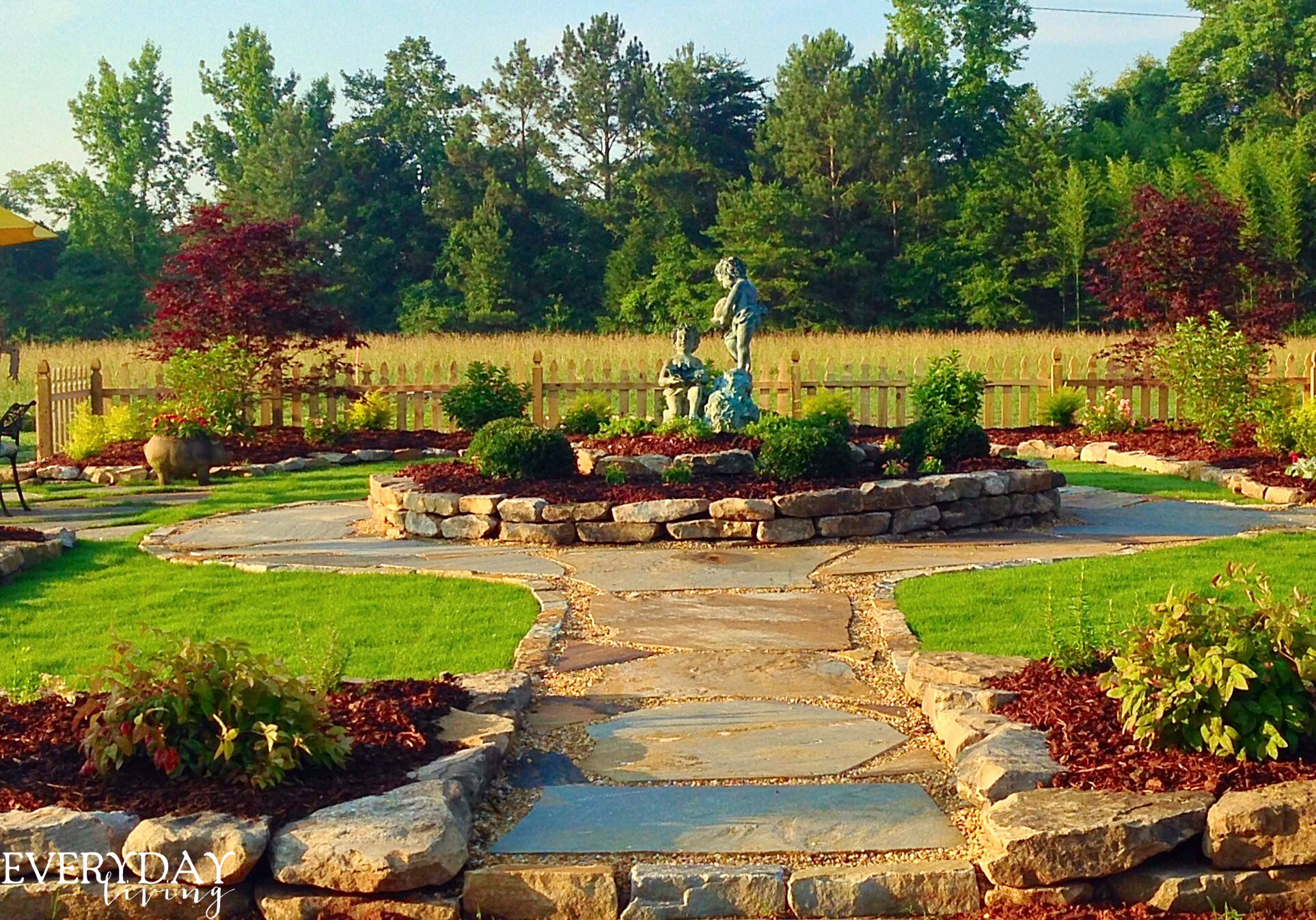 Behind the picket fence is pasture with acres of wooded area that borders the river!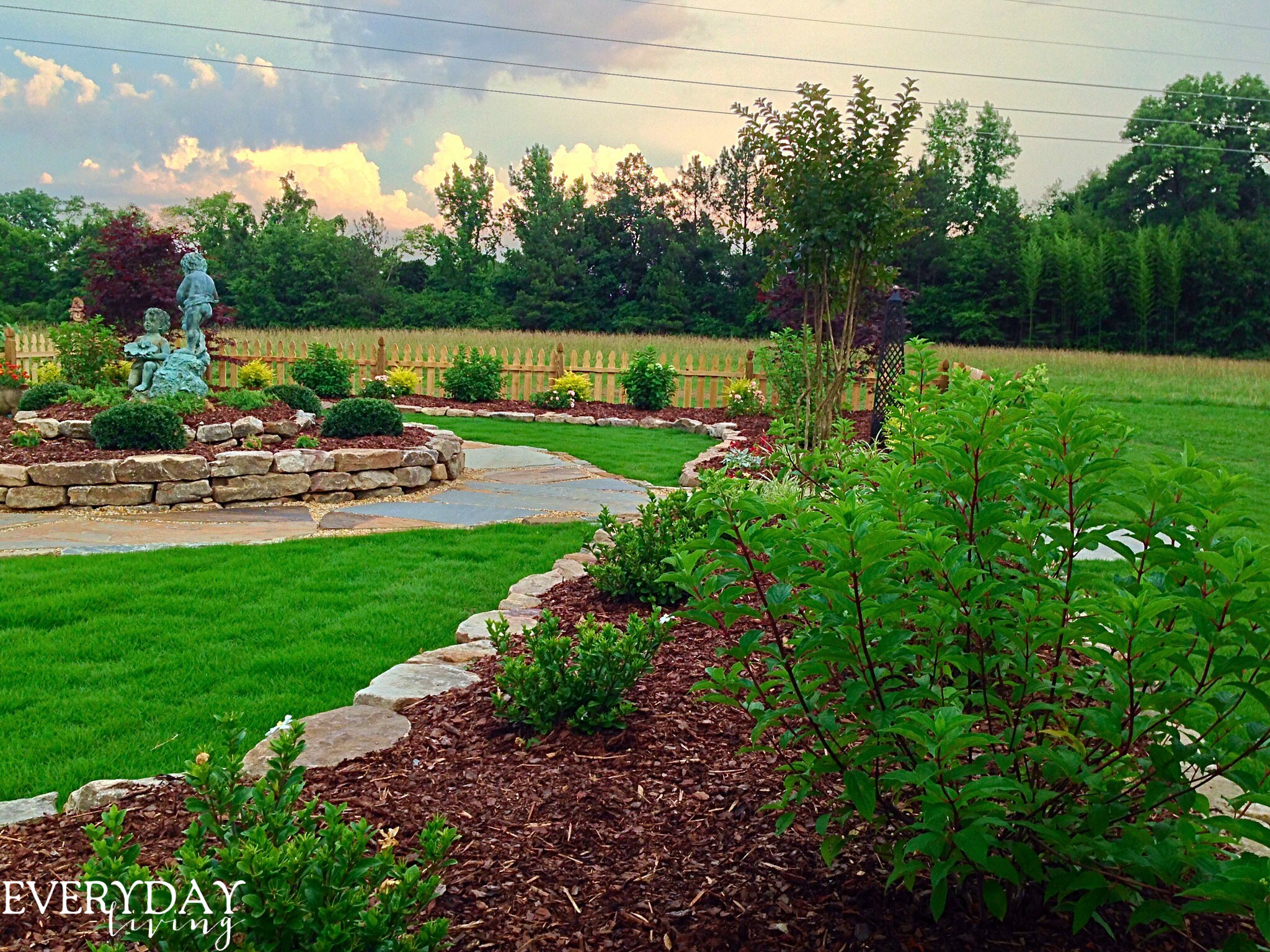 The cloud formations on Tuesday evening were awesome!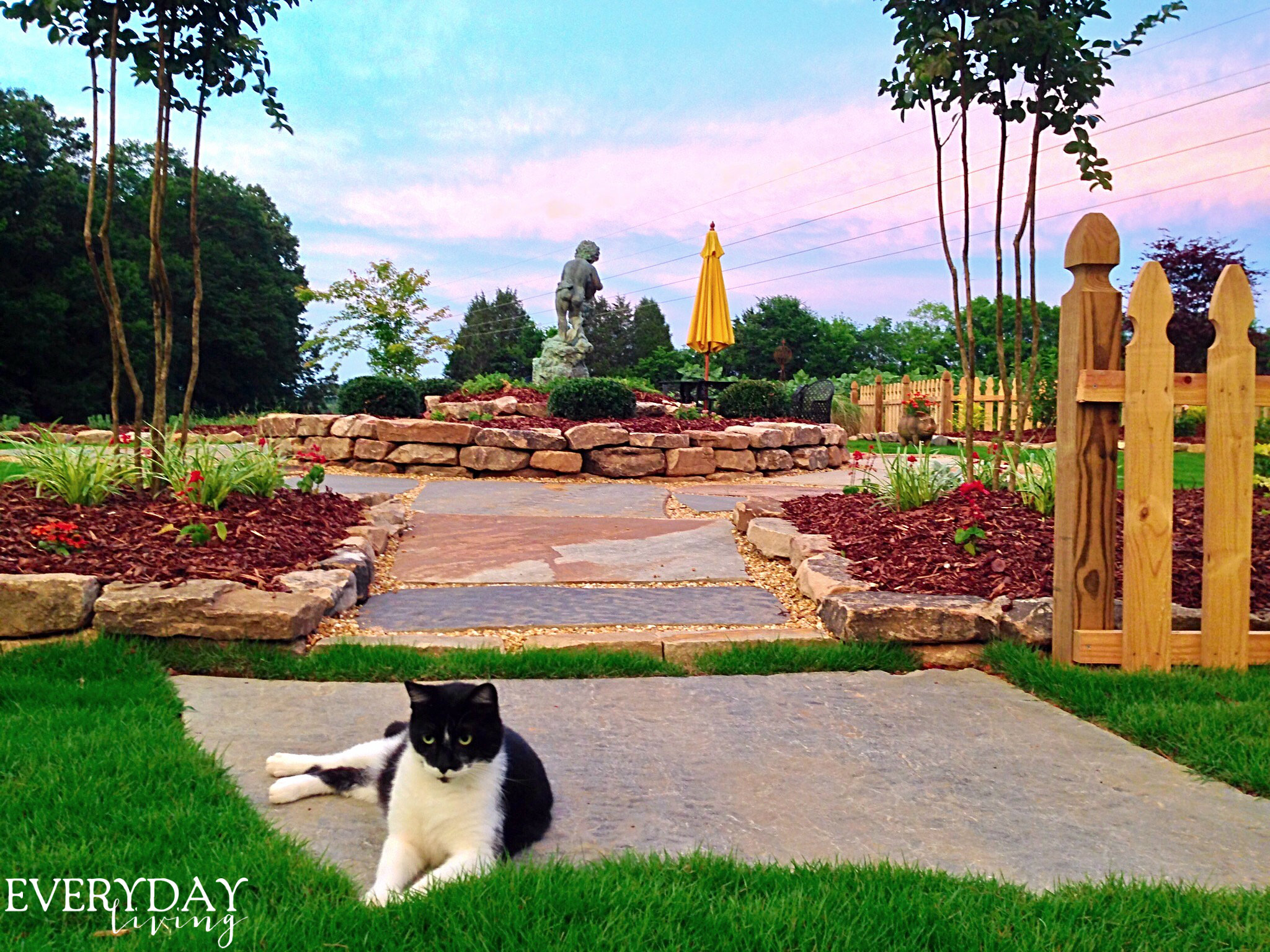 The landscaping has been Oreo approved!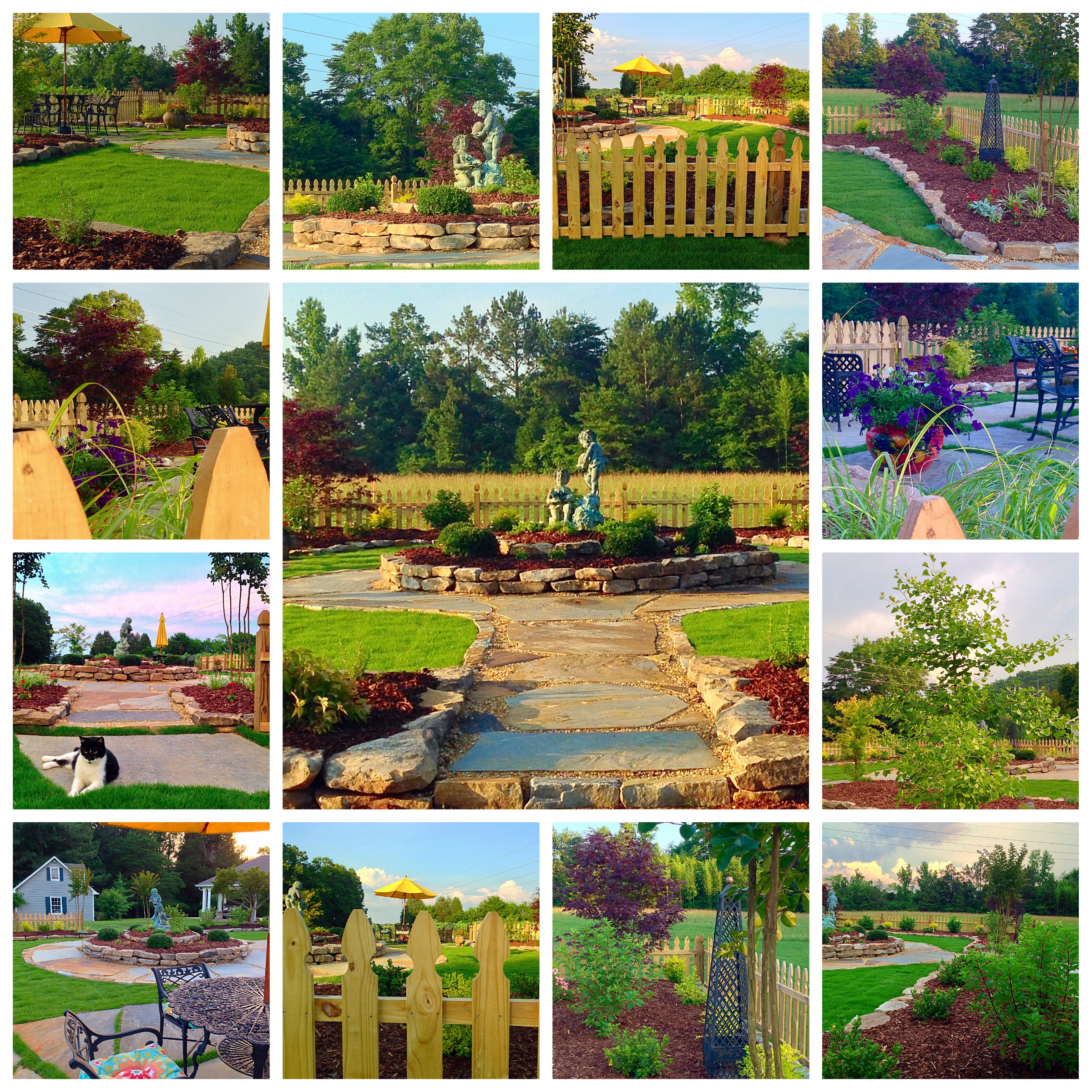 Thank you all for taking a stroll through our garden!  We love each of your comments and sharing our everyday living with you!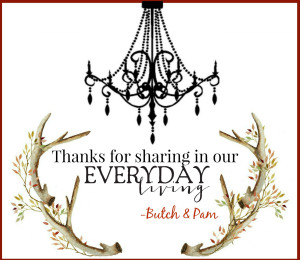 Linking with Pieced Pastimes, Silver Pennies, Life on Lakeshore Drive, Thoughts From Alice, Mod Vintage Life, Coastal Charm, My Uncommon Slice of Suburbia, The Dedicated House, Dwellings-Heart of Your Home, Savvy Southern Style, Ivy and Elephants, French Country Cottage, From My Front Porch To Yours, Stone Gable, Confessions of a Plate Addict, Worthing Court, Between Naps on the Porch, Cedar Hill Farmhouse, A Stroll Thru Life, The Style Sisters, The Charm of Home, Cornerstone Confessions, A Delightsome Life, Imparting Grace, Posed Perfection, Katherines Corner, My Romantic Home, Chic On A Shoestring Decorating, Rooted In Thyme, Share Your Cup, The Enchanting Rose, Alabama Women Bloggers, 21 Rosemary Lane, Northern Nesting, Oh My Heartsie Girl,  Cozy Little House, Rattlebridge Farm, The Turquoise Home