"He has made everything beautiful in its time. Also, he has put eternity into man's heart, yet so that he cannot find out what God has done from the beginning to the end"
Ecclesiastes 3:11
There is something about sunflowers that just make me smile!  Maybe it's the way their brightness represents the sun.  Or it could be that when I look at one, it's as if I see it smiling back at me! Or maybe it's the way the vibrant yellow contrasts with the beautiful blue skies.  Or maybe a combination of all three!  Whatever it is, sunflowers bring a little joy and "happy" to my day!
As a young bride, I will never forget seeing a bedroom in a friend's home that was decorated in a sunflower theme.  The comforter, window treatments, artwork were all dressed in sunflowers.  The room just oozed happy!!  And now, as years have gone by, sunflowers are still my flower of choice from the grocery store to make a happy bouquet for the kitchen or dining room table.
Butch and I have talked many times about planting  sunflowers…after all, we have almost 15 acres of land!  Last July, while visiting the Texas Hill Country, we stopped at a remarkable wild seed farm outside of Fredericksburg (www.wildseedfarms.com).  We could have spent the entire day at this real working wildflower farm and its lovely shops!  Fields of wild flowers were ablaze with color…and of course, our eyes were caught by a sea of the most gorgeous sunflowers!  That's when we knew that these beauties had to be planted here at our home in Northeast Alabama! So, with expert help from their staff, we selected one pound of Grey Stripe Sunflower seed! Now, we tend to buy things and put them away, never able to find them again.  But I made sure that didn't happen to our seeds…I placed the seeds in plain view as I open my pantry door to serve as a reminder!  So when the warmer weather rolled in, Butch prepared a little plot to plant the seeds!  And now we have our very own sunflower patch to enjoy and to share with you, our readers!  Maybe it will add a little "happy" to your day as it does mine, each time I look out my kitchen window!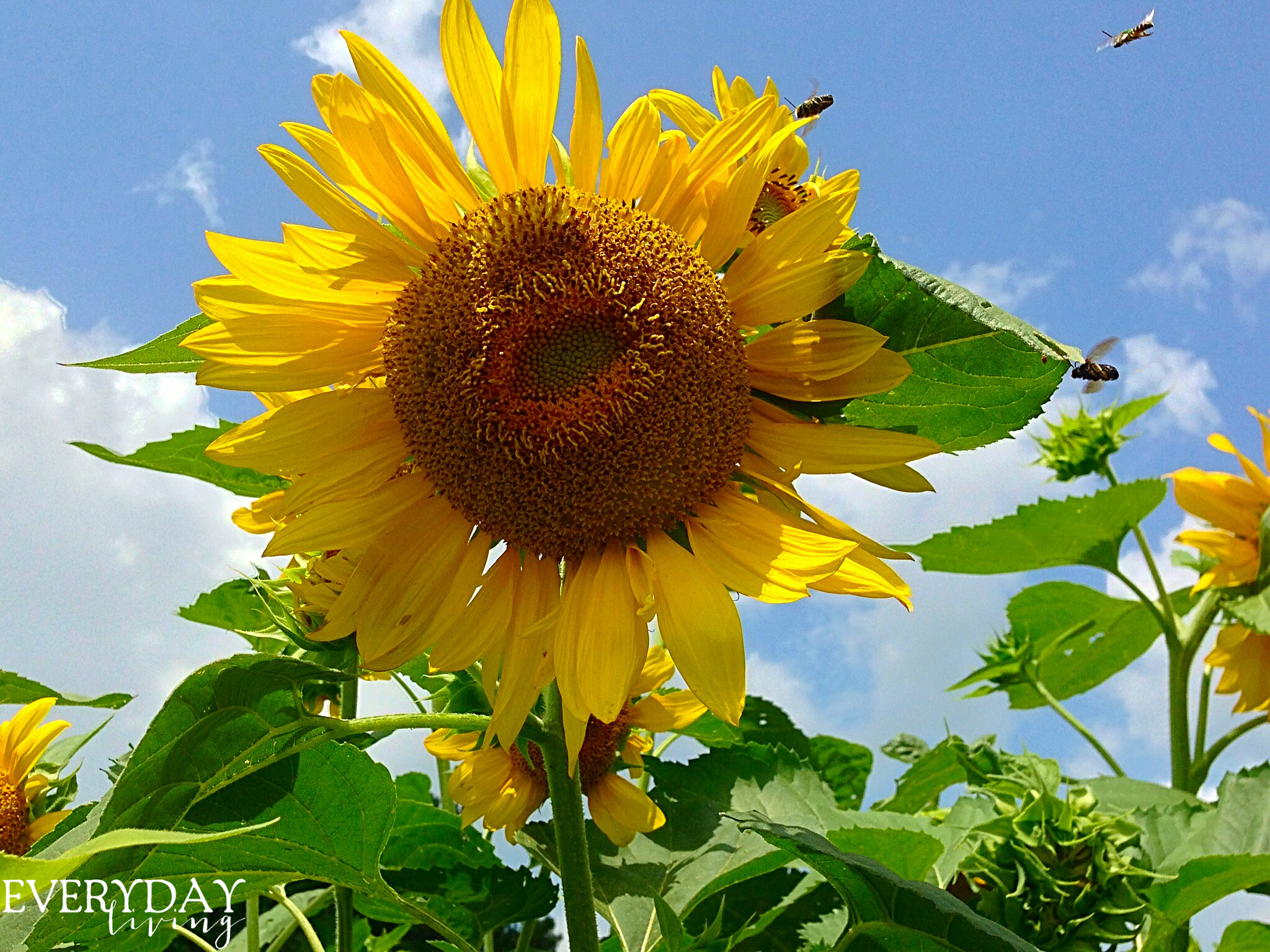 Sunflowers attract good bugs!  The big round landing pad packed with pollen is yelling, "Eat here"!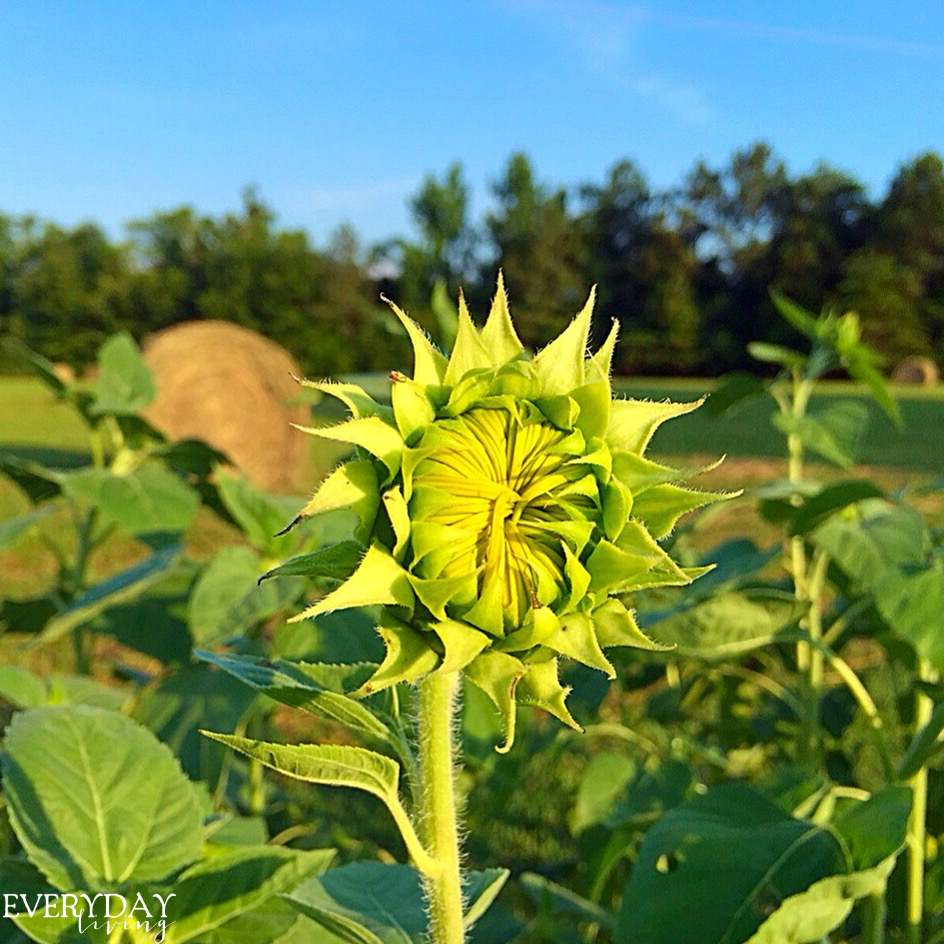 Our first sign of a bloom!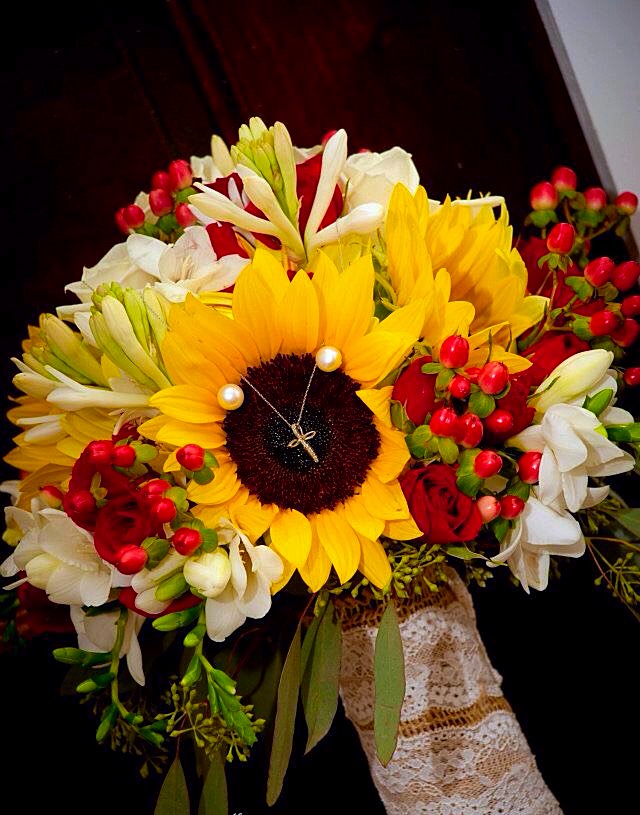 Allison, our daughter-in-love, chose sunflowers as her primary flower for their wedding!  You can see more here: The Wedding Edition.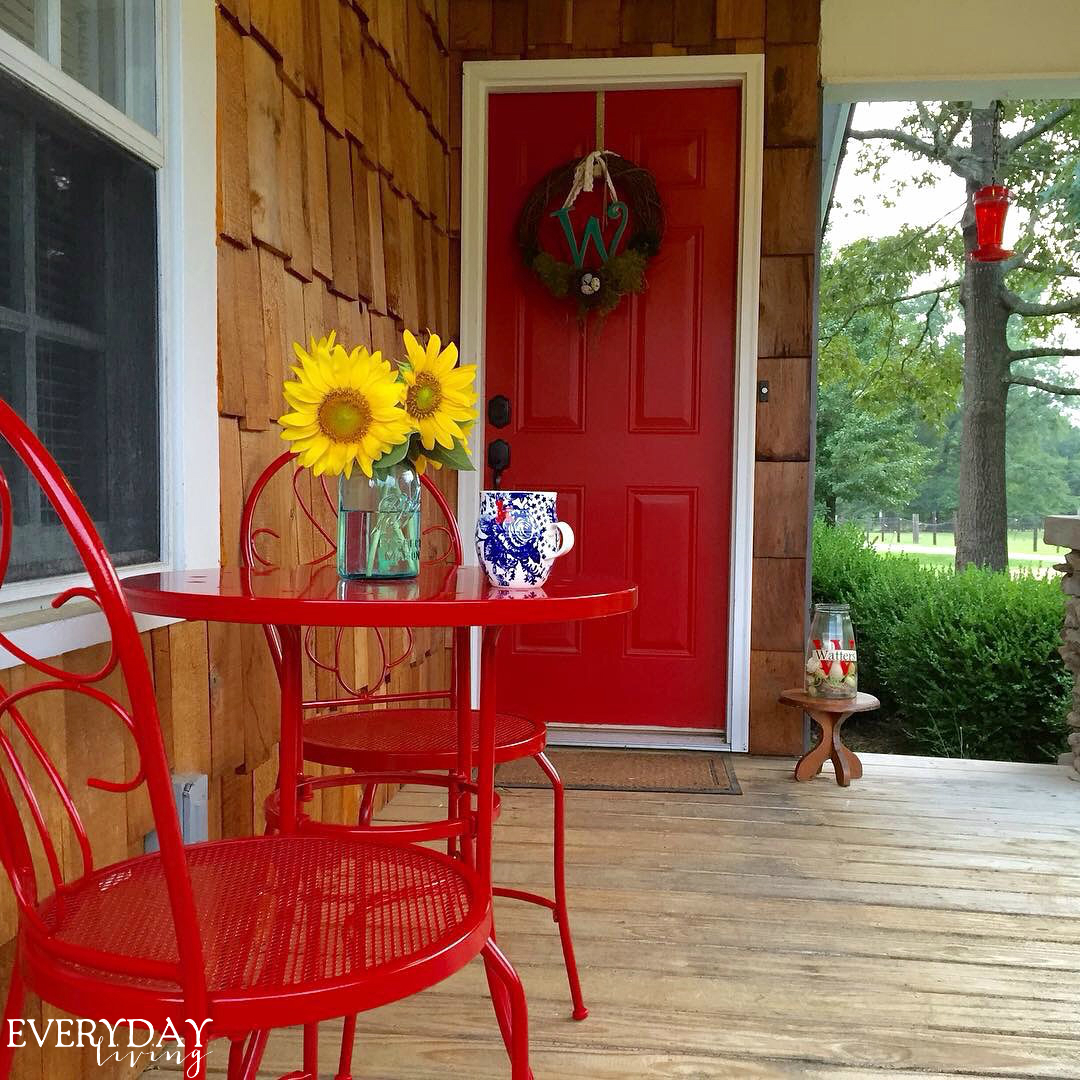 Katy, our chosen daughter, cut sunflowers from our patch to add more color to the porch of her new house!  The red door and bistro set are just too fun!  Stay tuned as we decorate her home!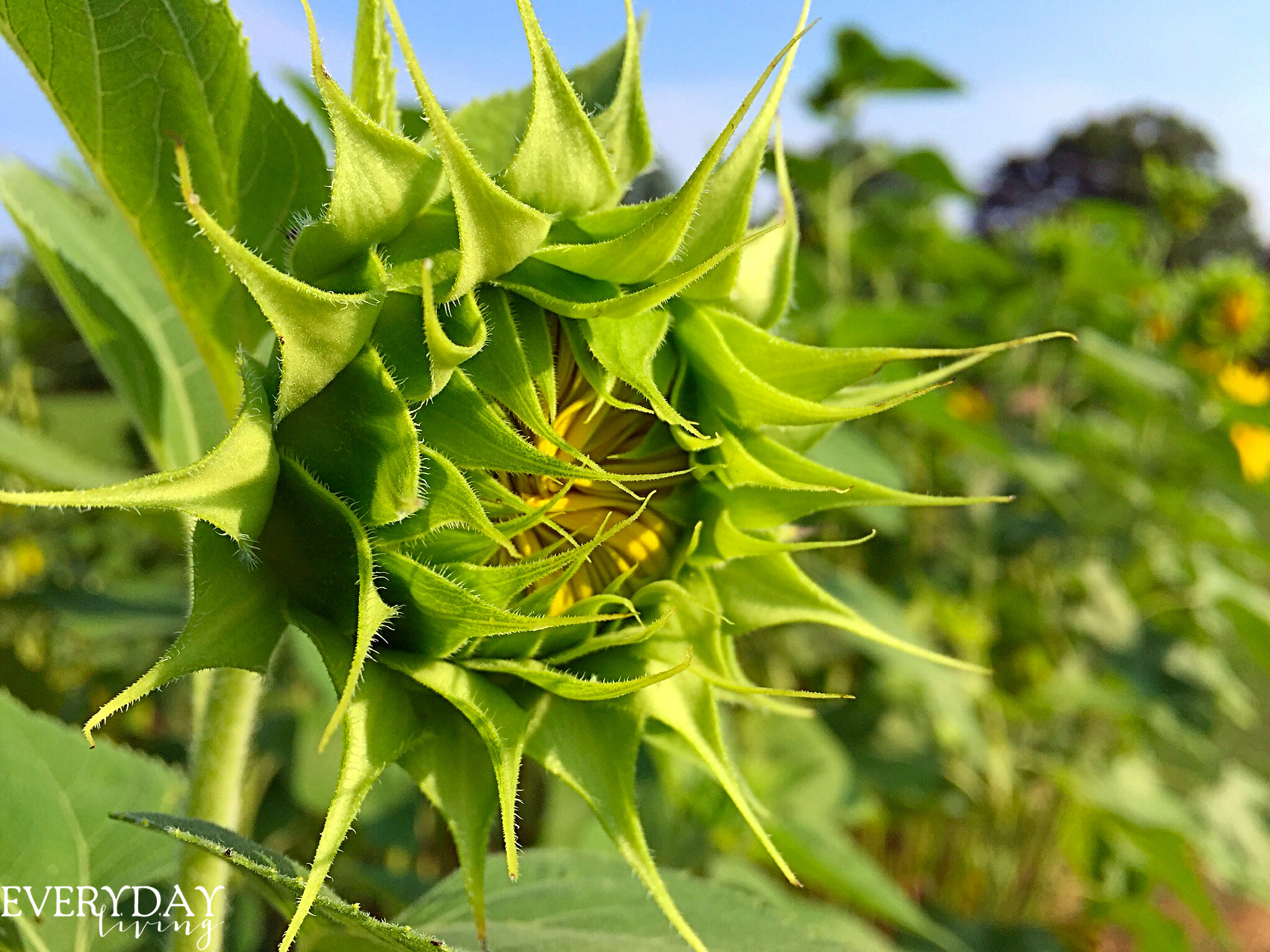 Birthing of a bloom!!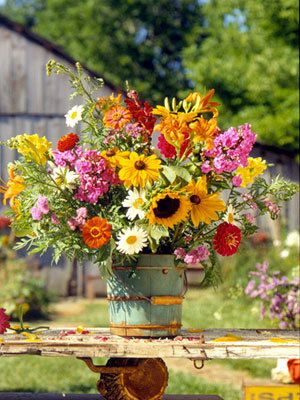 A bucket full of beauty!!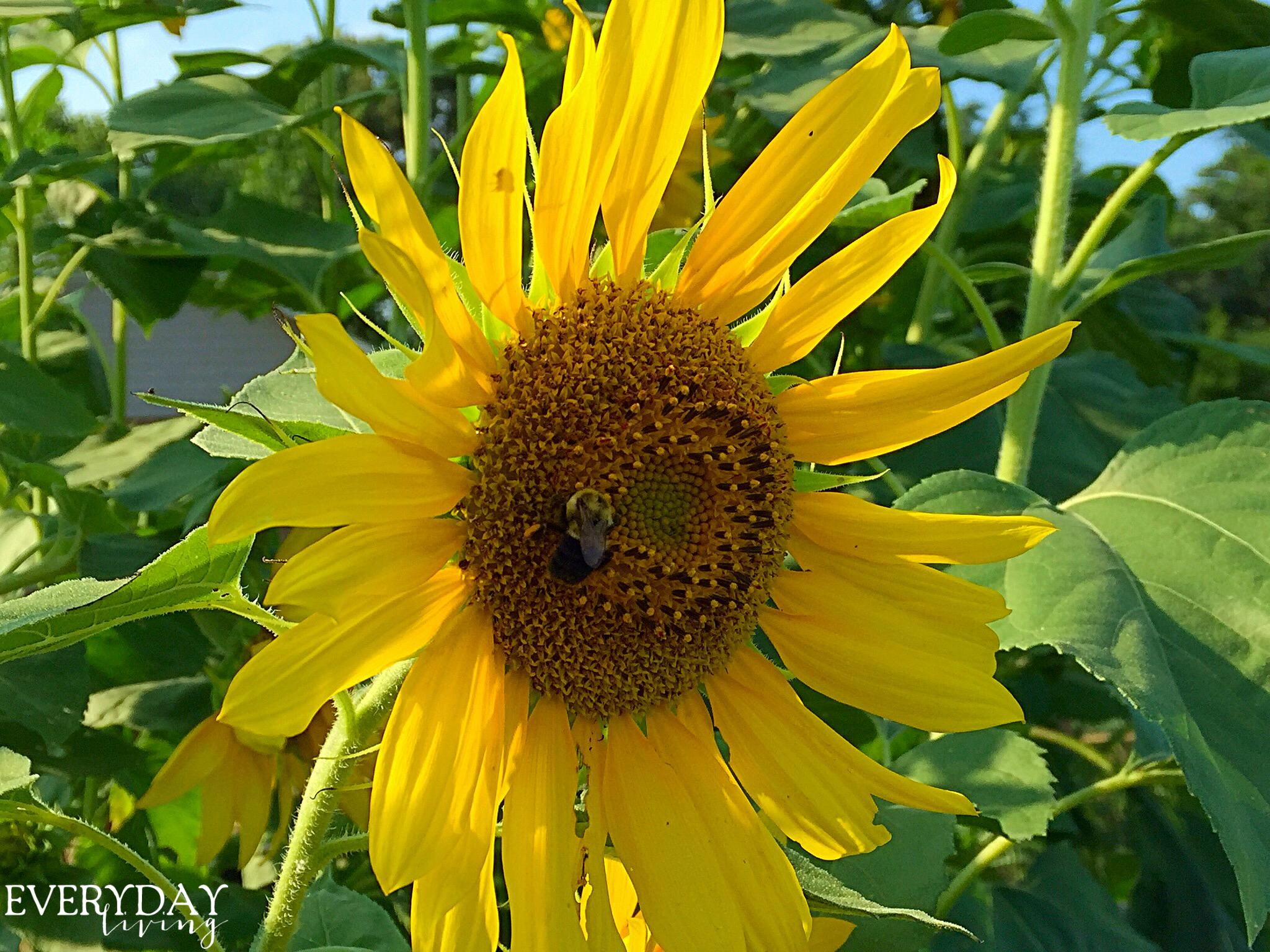 Our Grey Stripe sunflowers are considered a giant among sunflowers!  They can reach 12 feet in height and produce 10″ – 12″ flowers!
 Allie's bridal bouquet!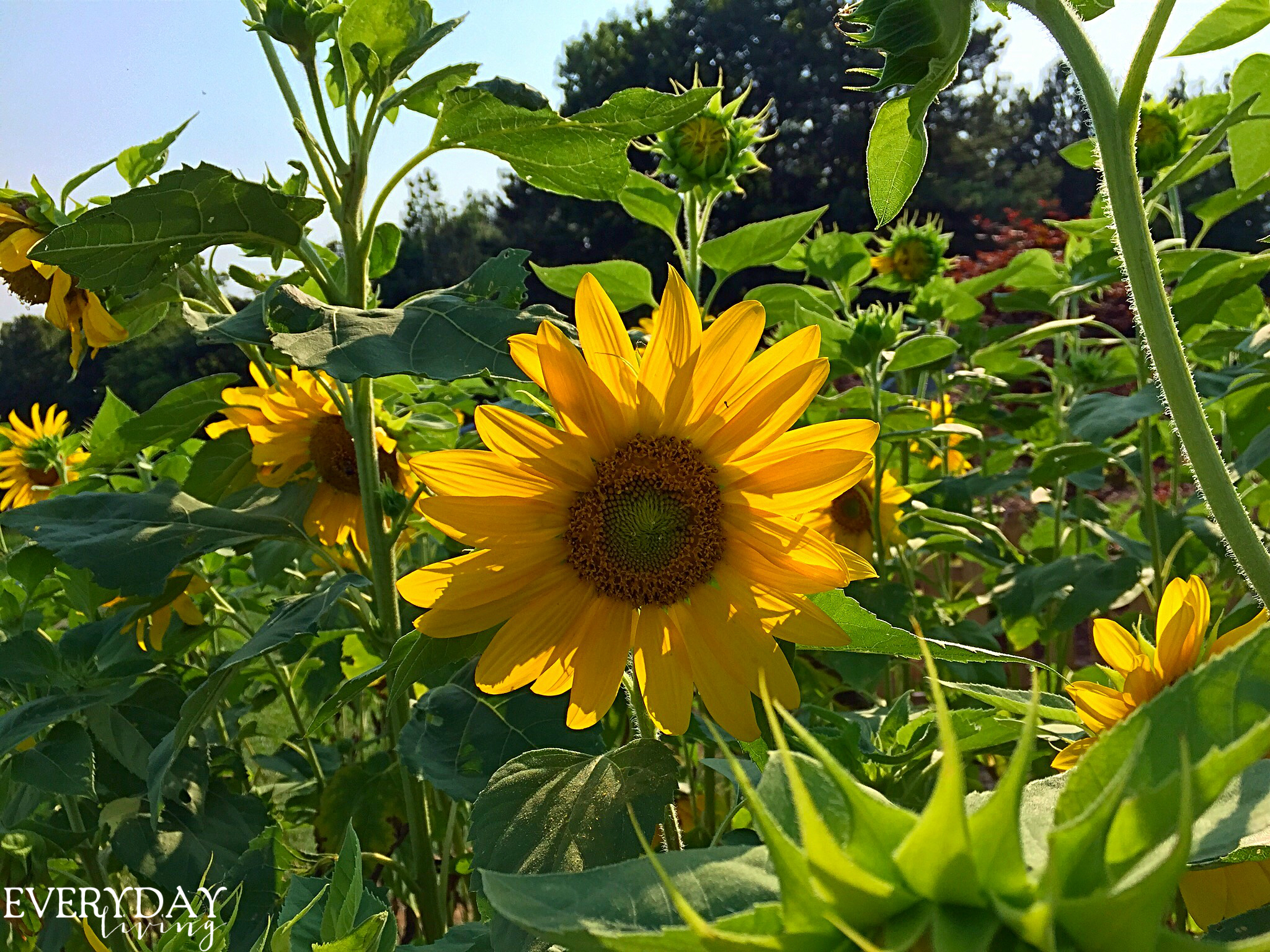 Sunflowers, of course, thrive in full sun. The Grey Stripe variety is drought tolerant and makes plump tasty seeds!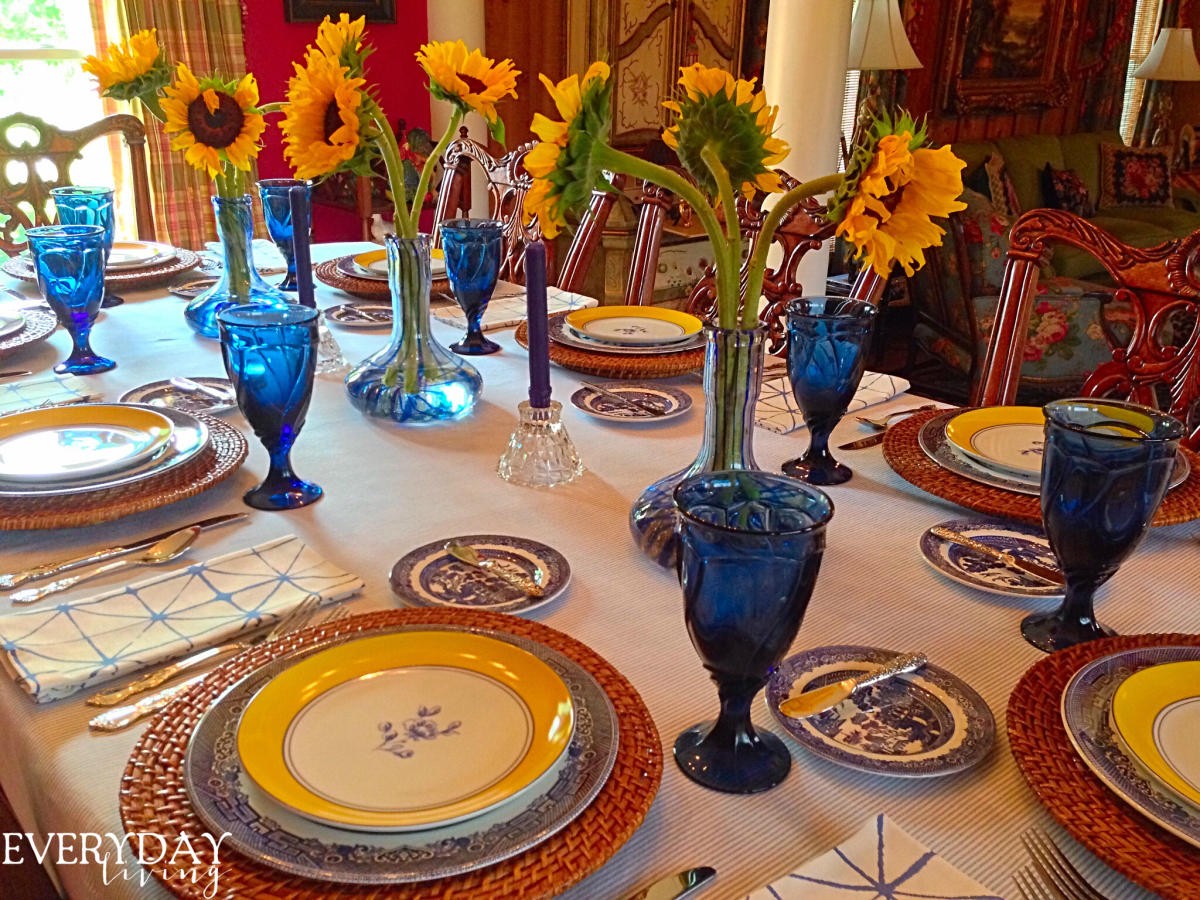 A recent Tablescape Tuesday with happy sunflowers as the centerpiece!  You can see it here: Sunflowers & Summer.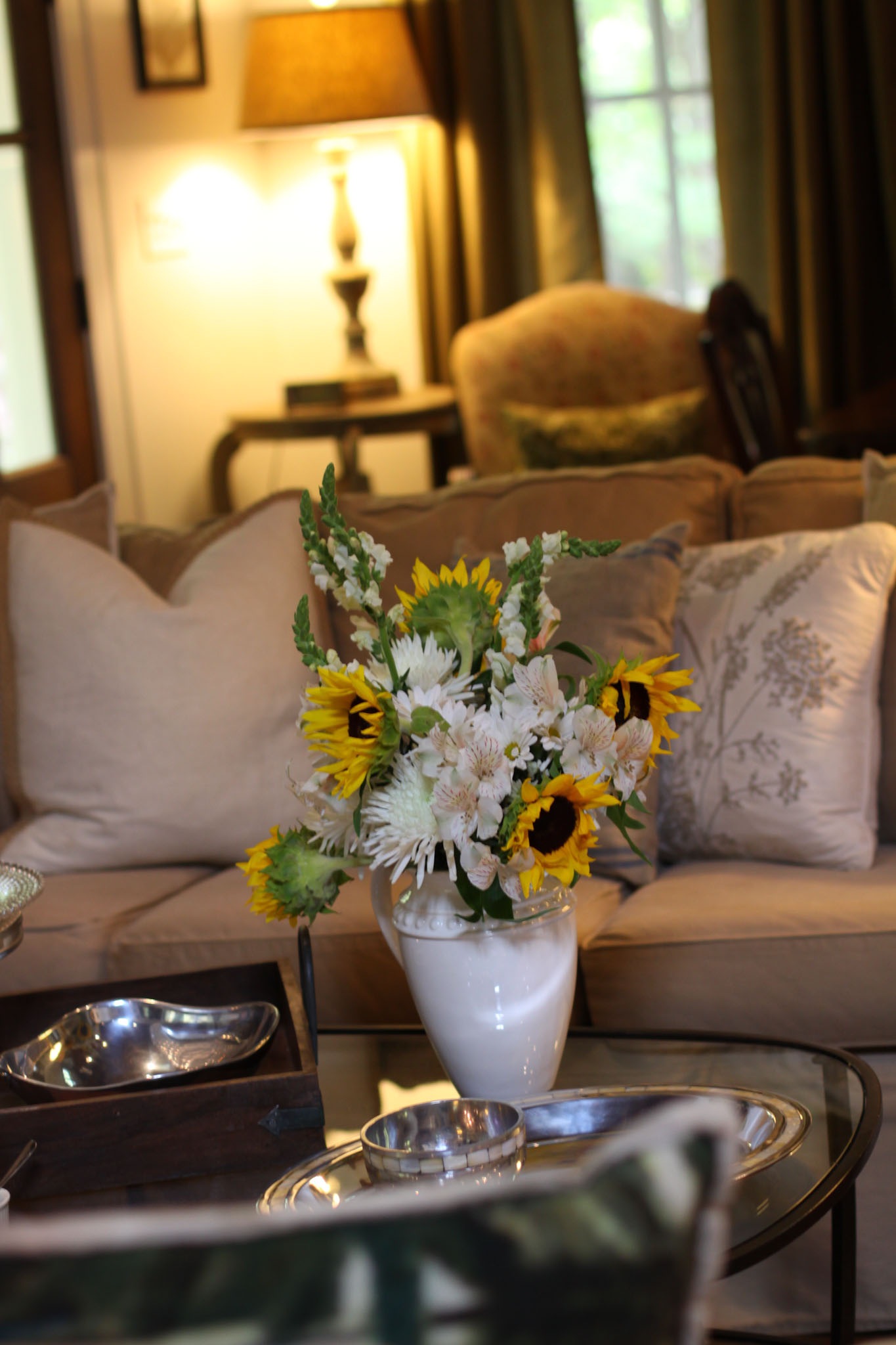 Sweet sunflower arrangement awaiting Allison and her bridesmaids in the carriage house!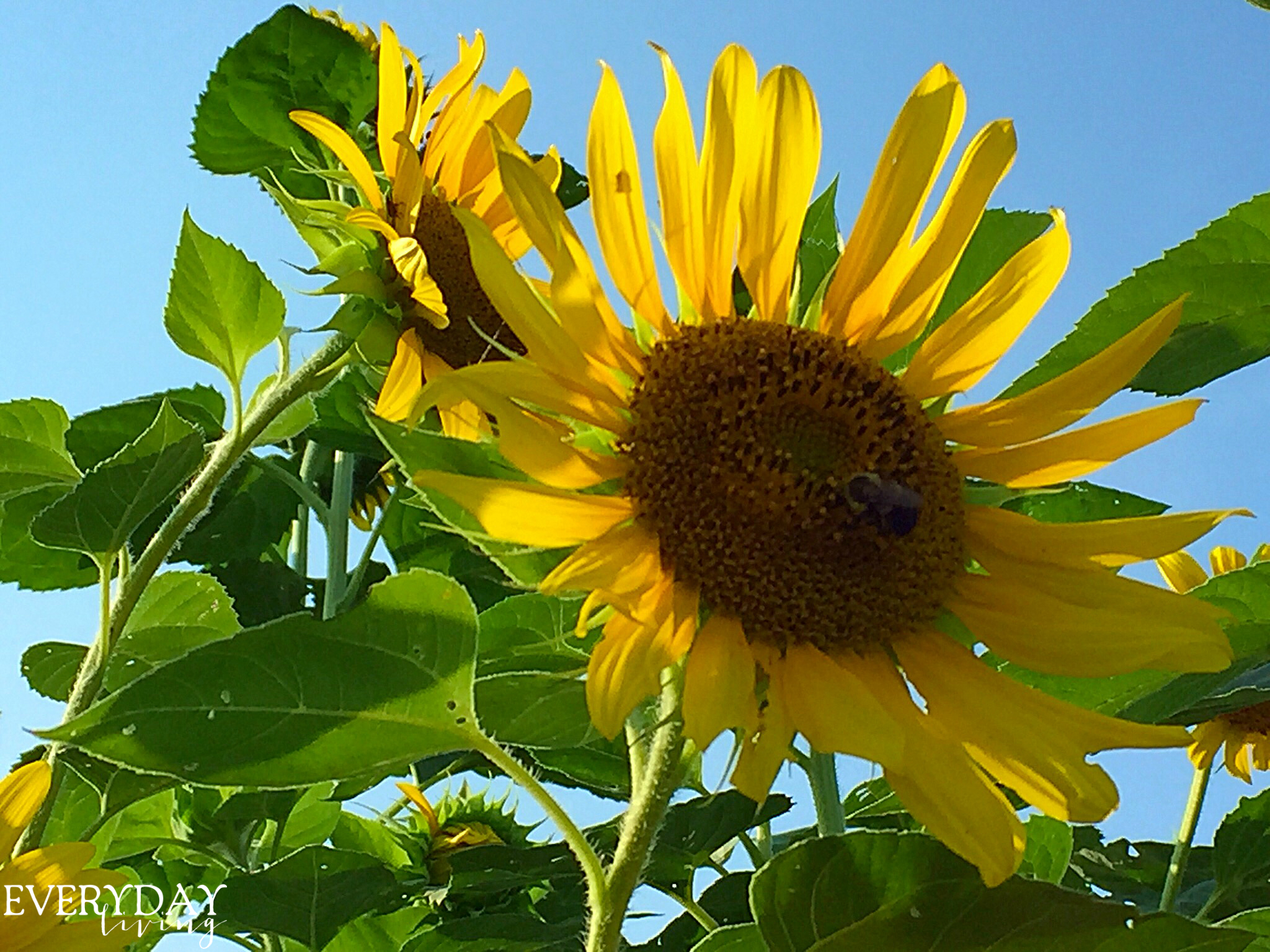 Our Grey Stripes are easy to grow and are not fussy about soil!  Their seeds invite birds.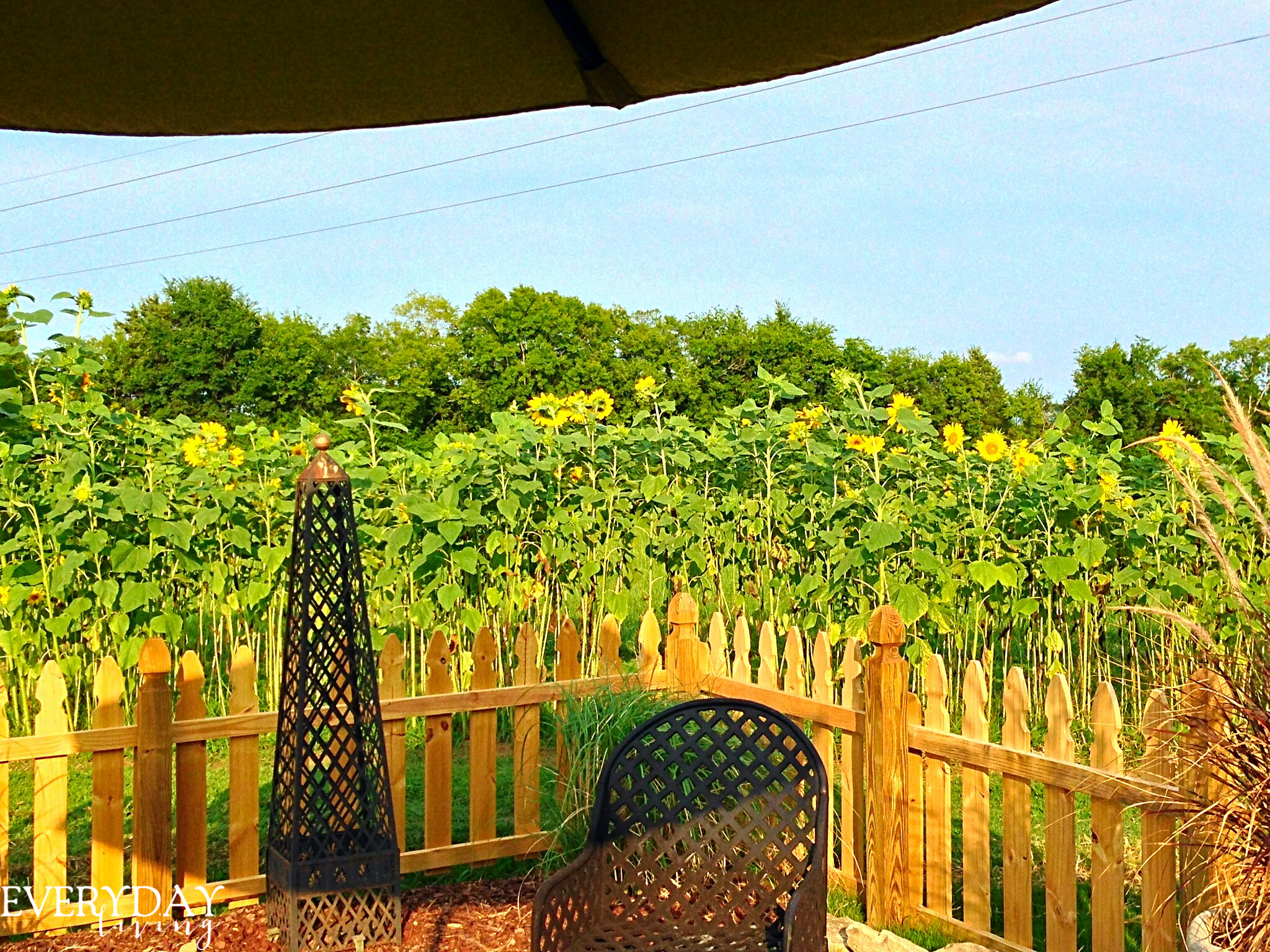 The eating area in our garden provides us with a bird's eye view!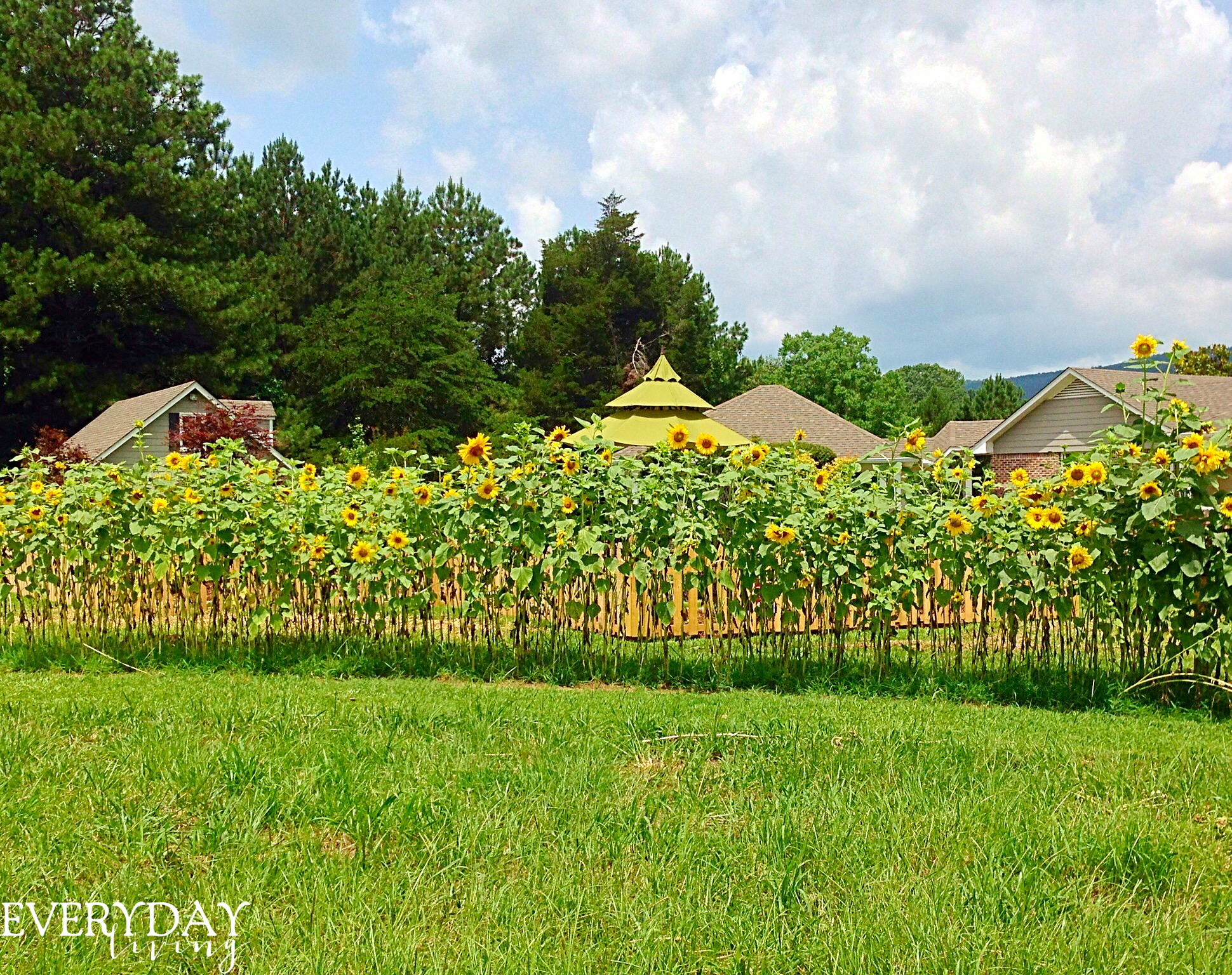 Pasture view of our happy patch!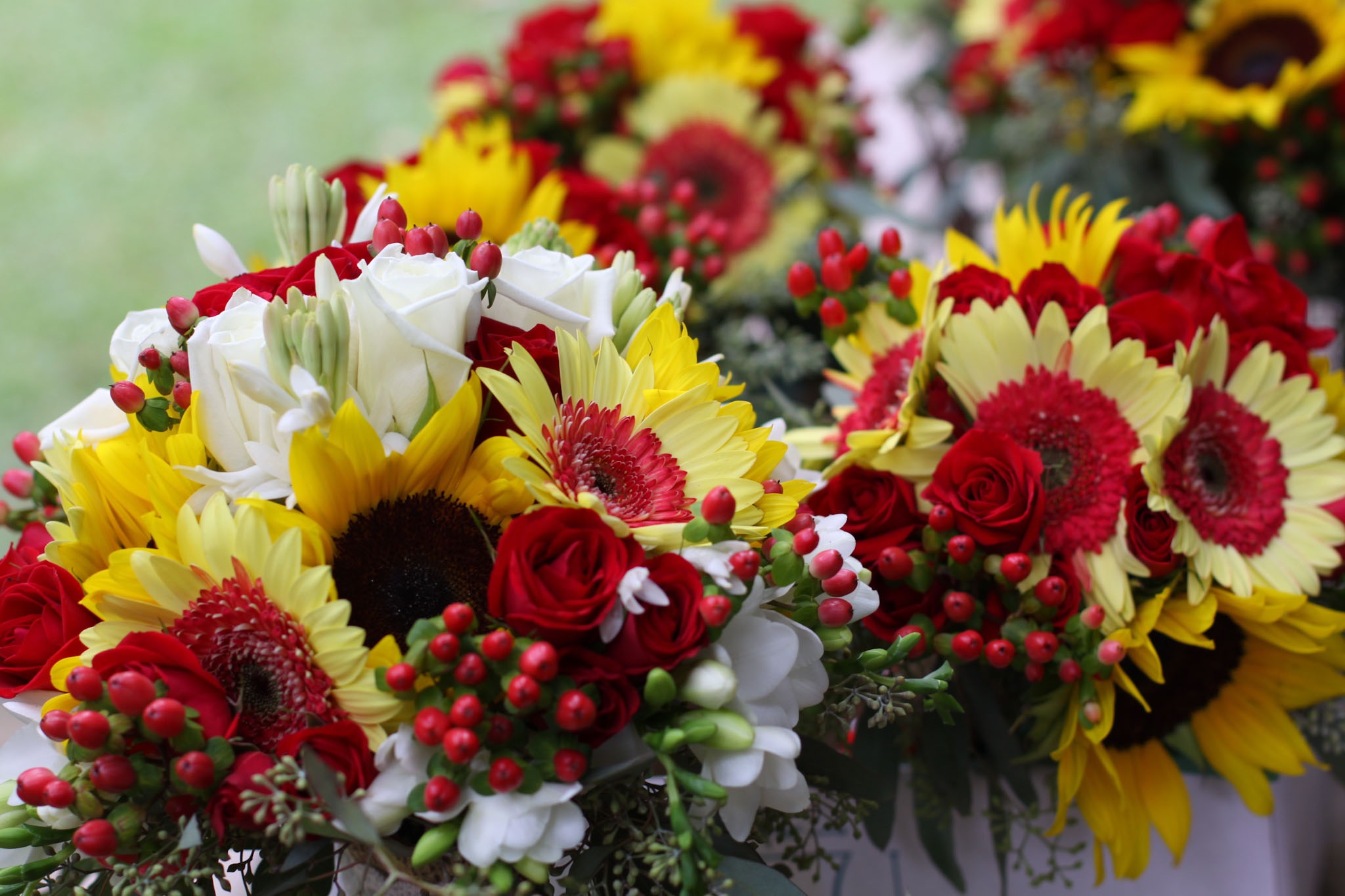 Allie's bridesmaids' bouquets!
 The sunflower is an important source of food.  Sunflower oil is a valued and healthy oil and sunflower seeds are a nutritious and tasty snack!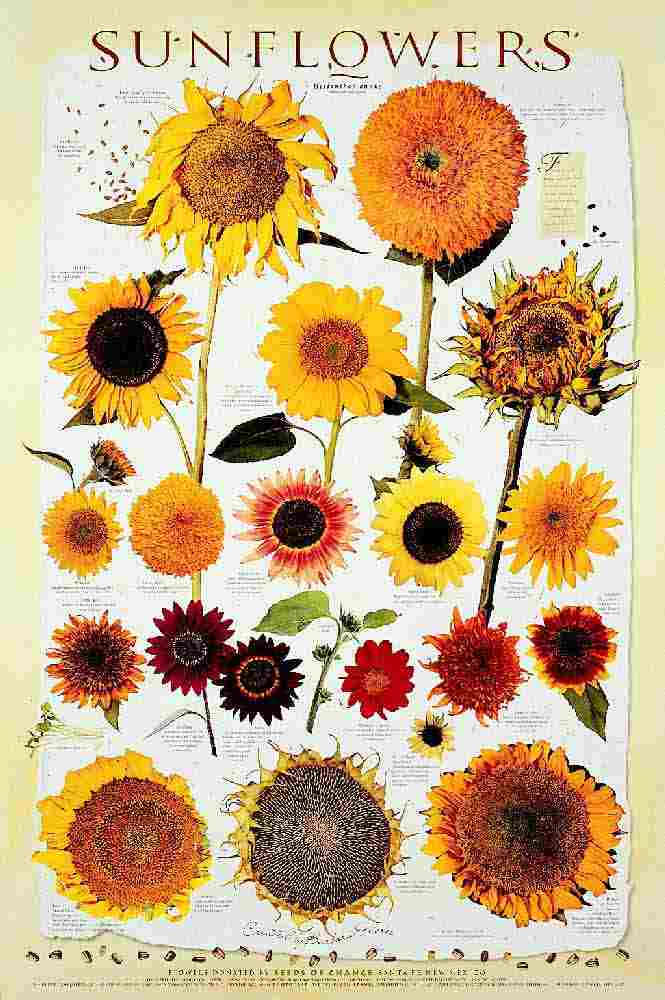 Sunflower varieties!  Sunflowers belong to the genus Helianthus, which contains over 80 different species!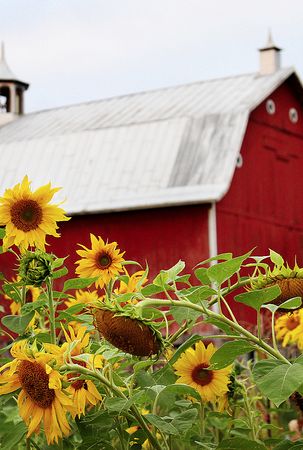 Ah…red barn and sunflowers!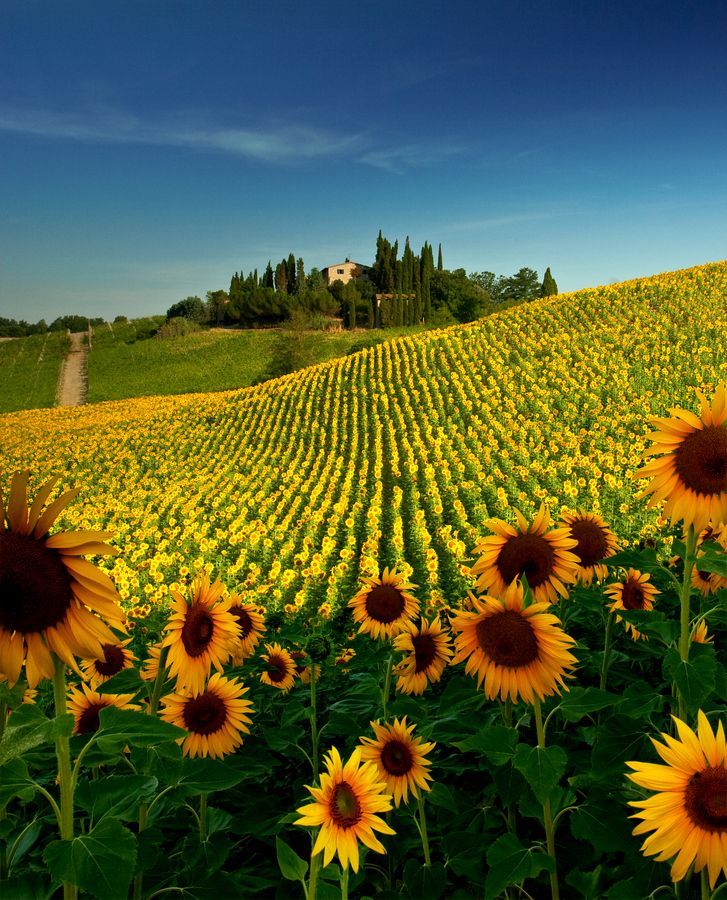 A field near San Gimignano in Tuscany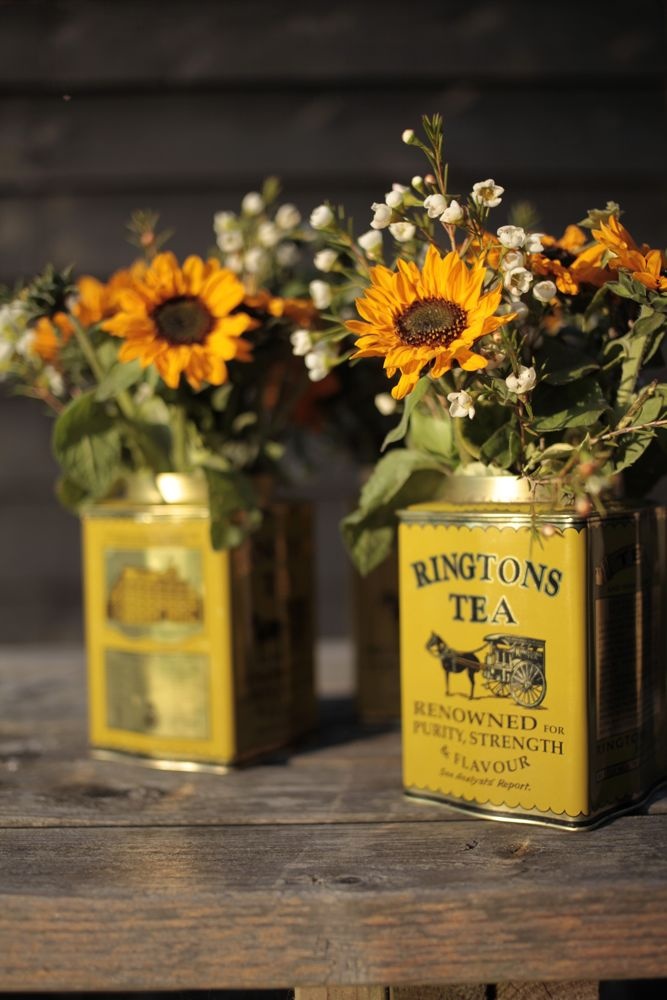 Sunflower loveliness in vintage tea canisters!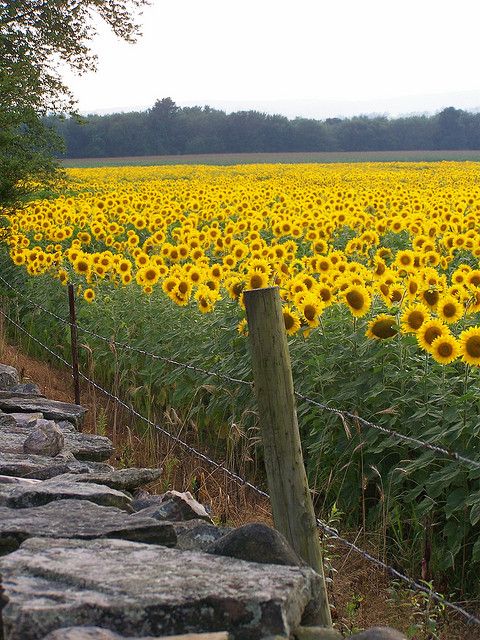 A field of sunflowers…bliss!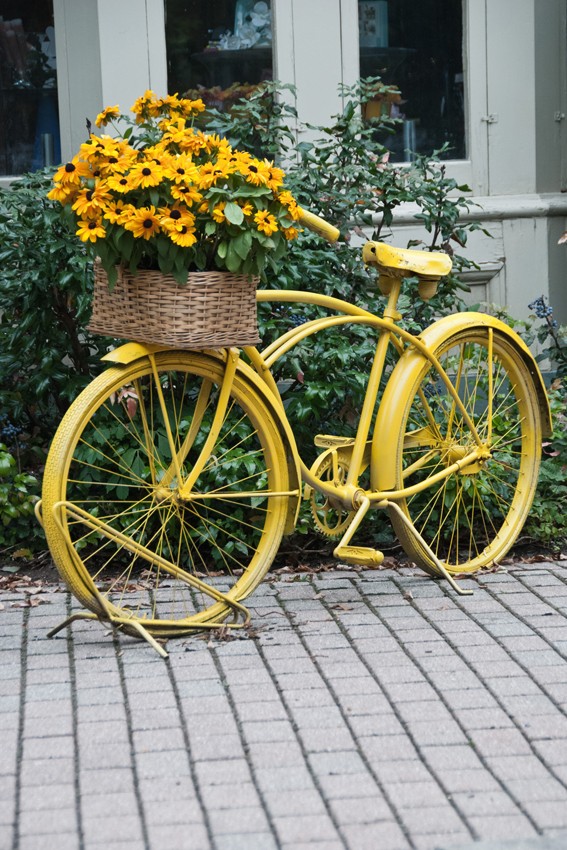 A basketful of sunshine!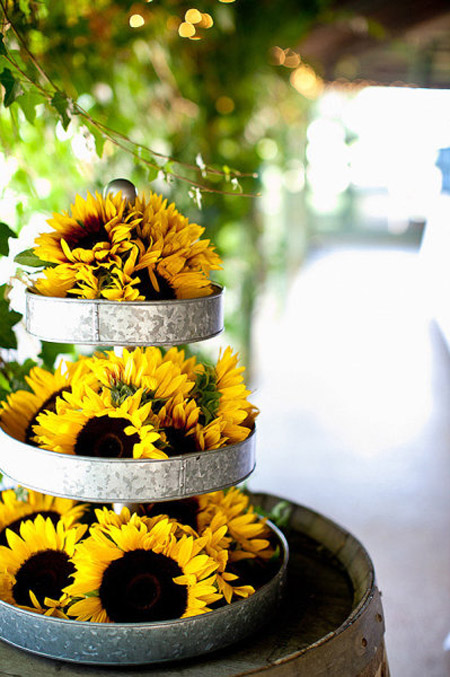 A creative display!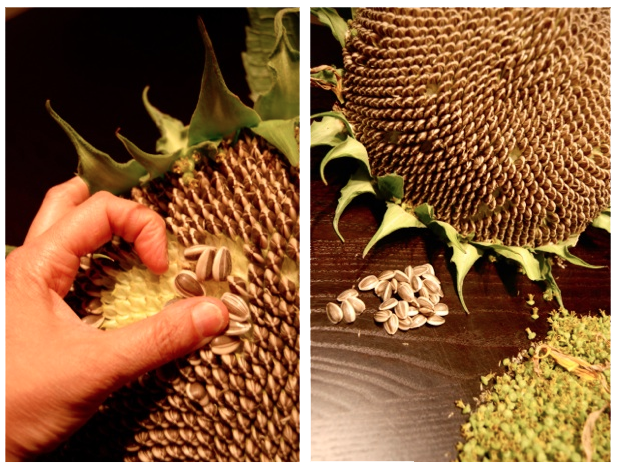 Harvesting and drying sunflower seeds!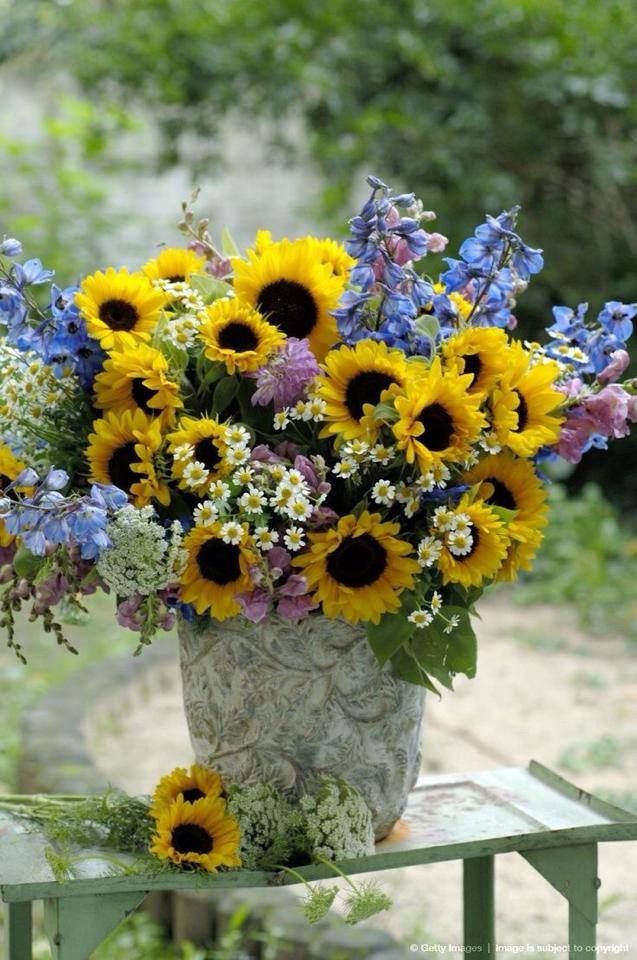 Sunflowers mix so well with other flowers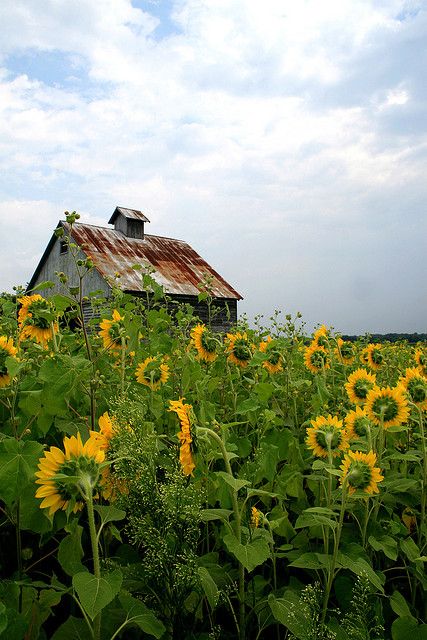 Some of these images have been pulled from my Pinterest boards, Country Living and Baubles and Bouquets and are linked back to the original source.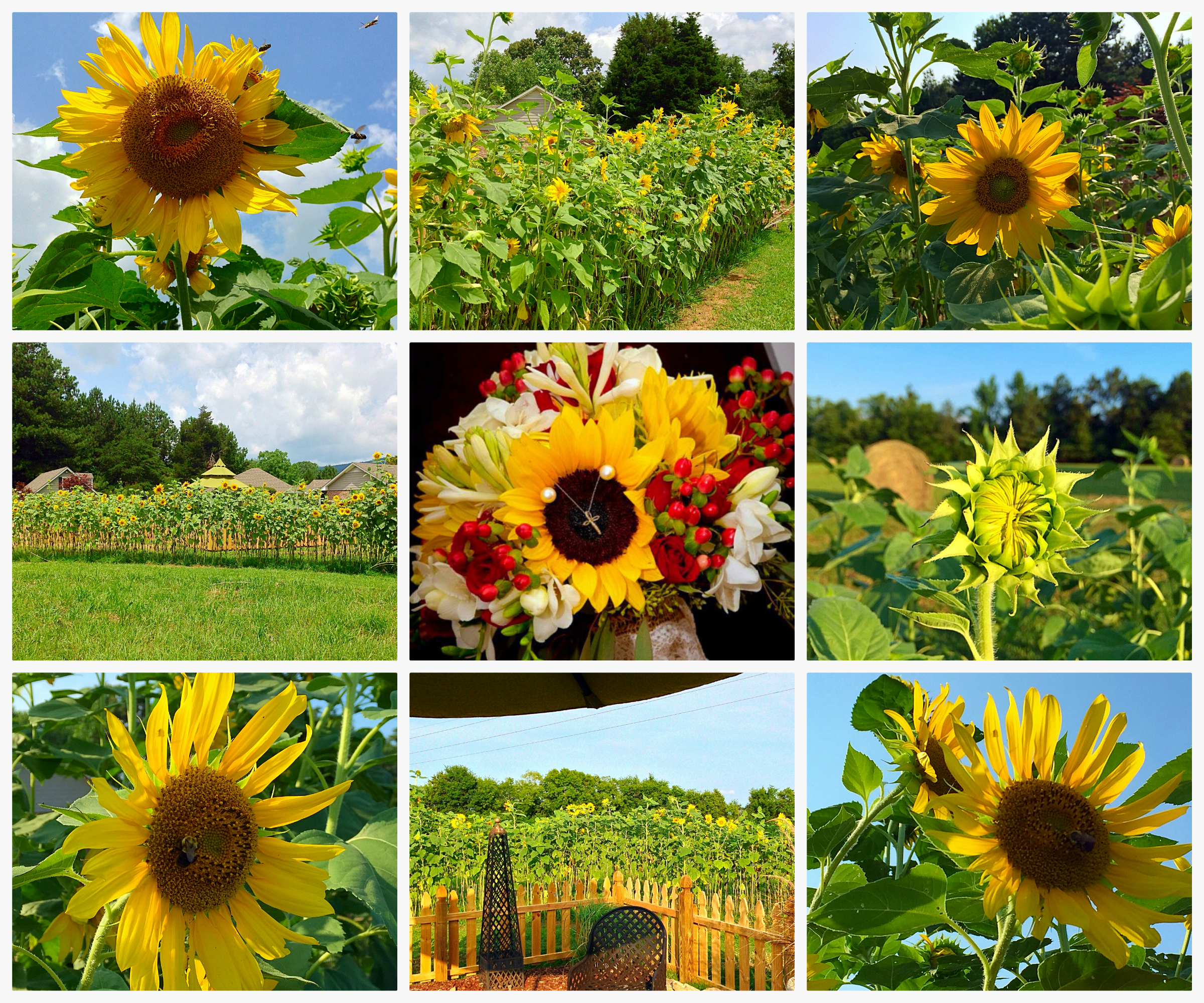 Thank you for taking a stroll through our sunflower patch with us today!  We love sharing our everyday living with you!
Linking with Pieced Pastimes, Silver Pennies, Life on Lakeshore Drive, Thoughts From Alice, Mod Vintage Life, Coastal Charm, My Uncommon Slice of Suburbia, The Dedicated House, Dwellings-Heart of Your Home, Savvy Southern Style, Ivy and Elephants, French Country Cottage, From My Front Porch To Yours, Stone Gable, Confessions of a Plate Addict, Worthing Court, Between Naps on the Porch, Cedar Hill Farmhouse, A Stroll Thru Life, The Style Sisters, The Charm of Home, The Winthrop Chronicles, Cornerstone Confessions, A Delightsome Life, Imparting Grace, Posed Perfection, Katherines Corner, My Romantic Home, Chic On A Shoestring Decorating, Rooted In Thyme, Share Your Cup, TheEnchanting Rose, Alabama Women Bloggers, 21 Rosemary Lane, Northern Nesting, Oh My Heartsie Girl,  Cozy Little House, Rattlebridge Farm, The Turquoise Home, My Flagstaff Home, In The New House, Natasha in Oz, Vintage Refined