"Whoever brings blessing will be enriched,
and one who waters will himself be watered."
‭‭Proverbs‬ ‭11:25‬ ‭
Now that the autumn season is upon us, our minds start wandering off to the upcoming holidays! Thanksgiving and Christmas will be here before we know it!  And of course, with those two major holidays come the parties!  Having guests into your home can be quite intimidating, and I have to confess that I have an ongoing struggle with entertaining versus hospitality.  Entertaining makes me think of perfection…perfectly set table, perfectly presented home cooked food, and of course the perfectly dressed hostess.  With that said, I fail miserably…I have never considered myself a Carolyne Roehm or Martha Stewart!  But on the other hand, hospitality is not about perfection, but opening your heart and home for fellowship and sharing of God's blessings.  More times than not, it is our own expectations that keep us from experiencing the joy that comes with being hospitable!
Today, I am sharing something I did for my family on Labor Day, and it is an easy plan for you to share with your guests!  As I said before, it can be intimidating to have people into your home for several reasons.  Maybe you are not confident in your cooking ability, or money is tight, or you just don't have time to go "all out" with the full spread.  Well, this is a "no excuse" way of serving guests.  No cooking required, very little time to prepare, and no special equipment needed!  Everything is purchased from TJ Maxx and our local grocery store!  Come on, let's get this party started!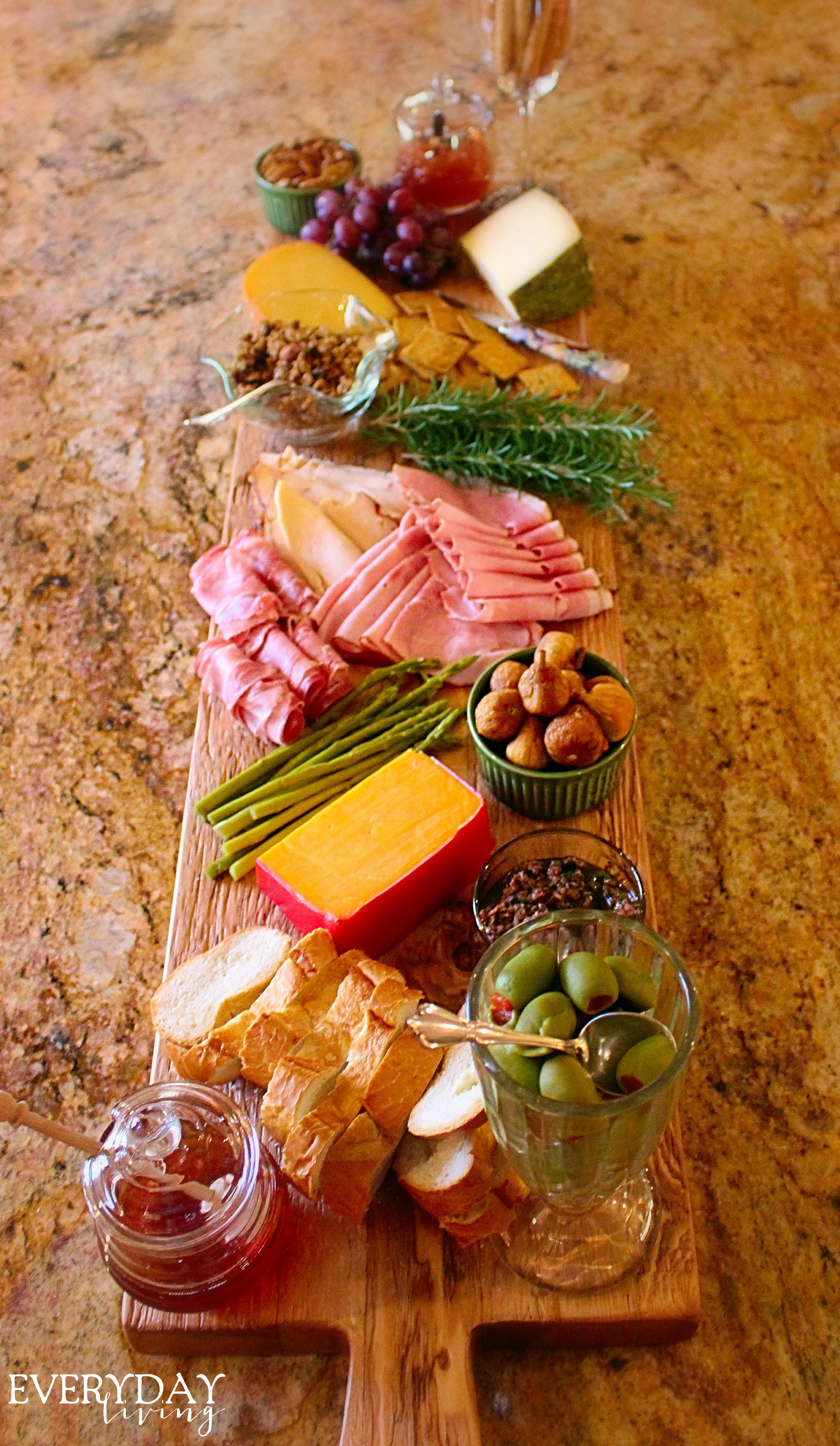 The European charcuterie board was made from 19th century wood and we found it in the gift shop at Blackberry Farm.  Mineral oil has been applied several times to keep it food safe!  You could use a bread board, a serving tray, or a marble/granite remnant instead of a charcuterie board.  Be creative and use your own ideas!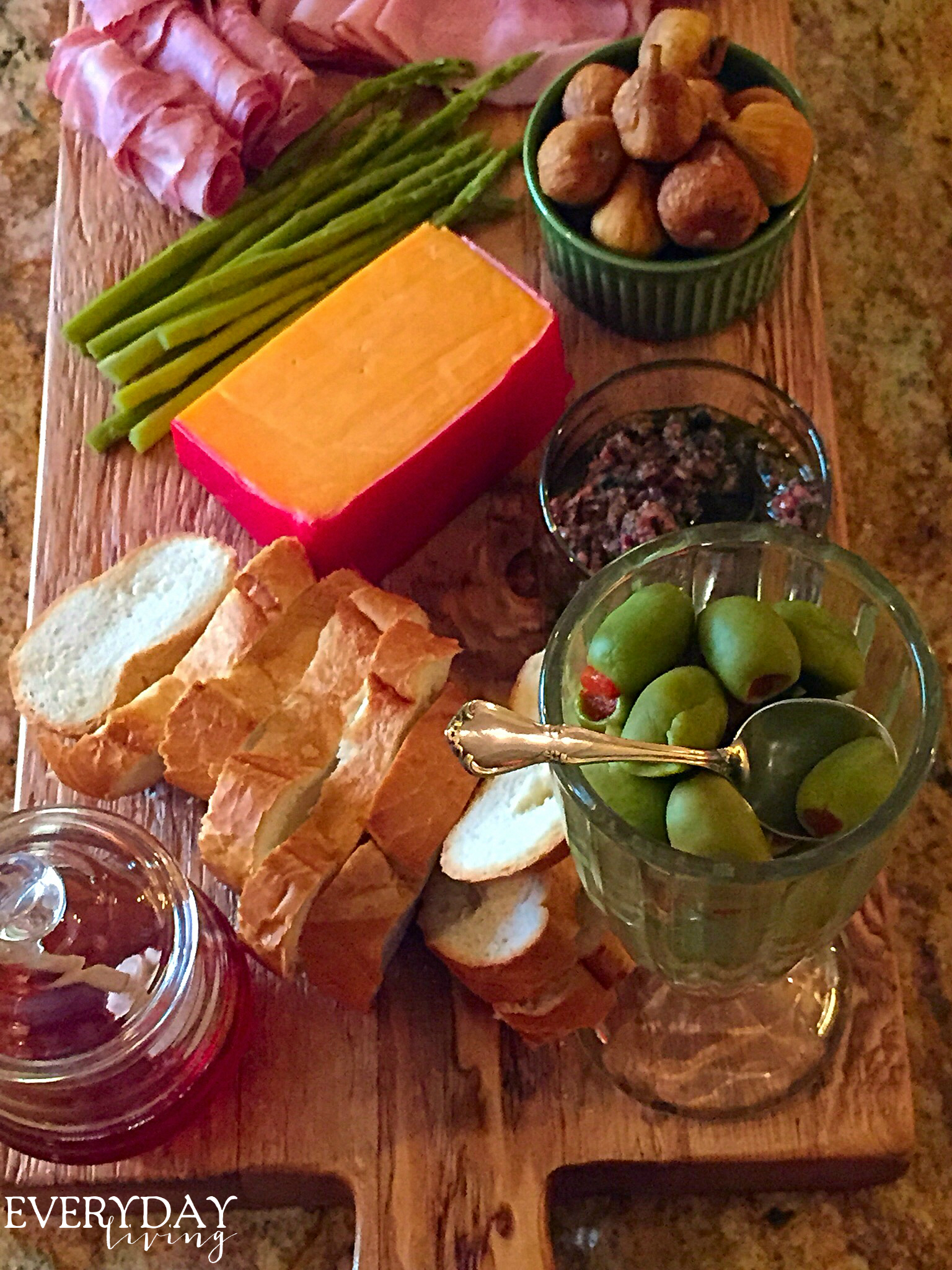 I love the idea of nibbles or appetizers before a meal.  Monday night, we had our family for dinner and they enjoyed all this board had to offer!  Let's deconstruct the board:   Local honey, toasted baguette, olives stuffed with red peppers!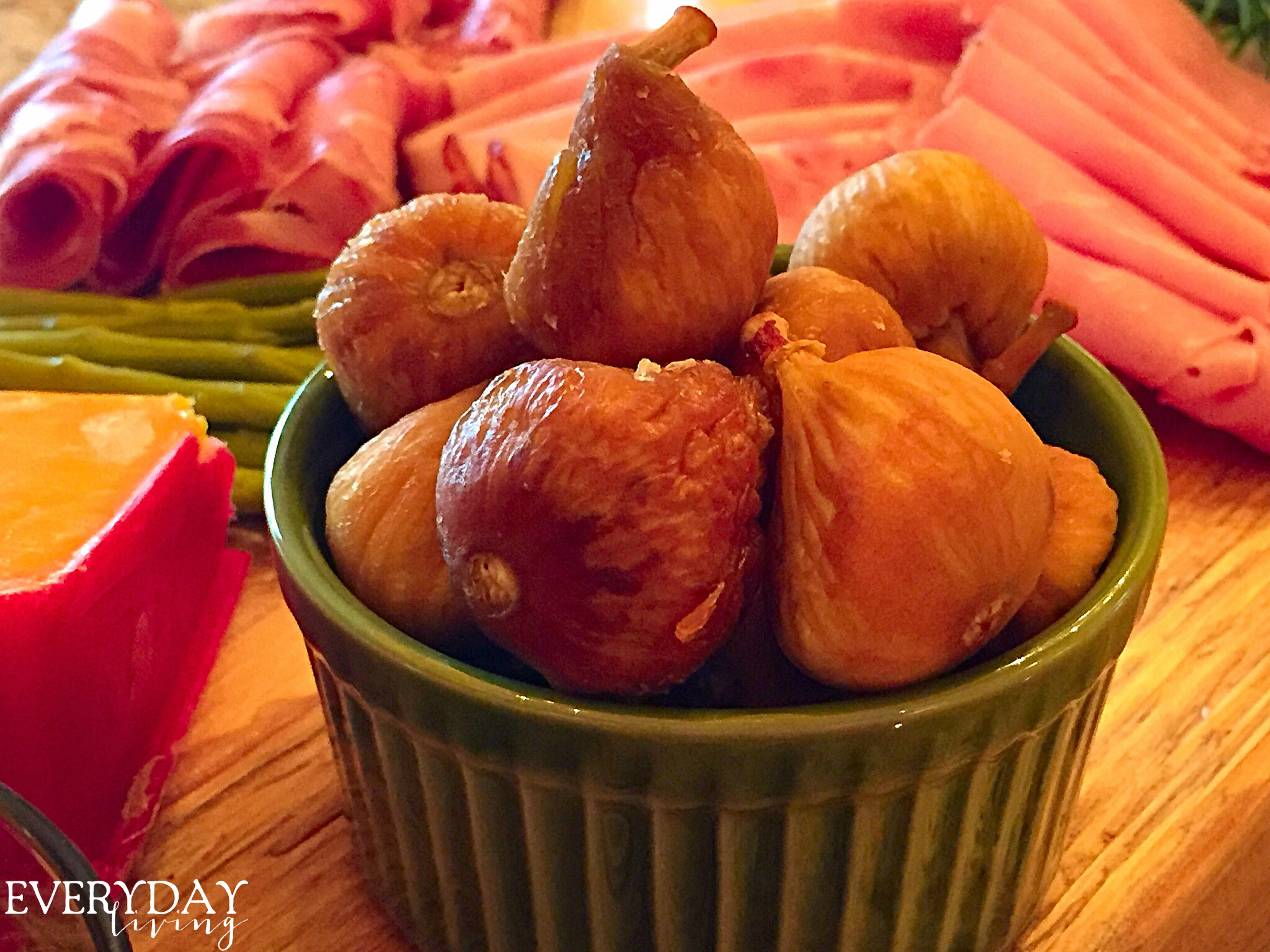 The sweetness of dried figs is a great accompaniment to cheese!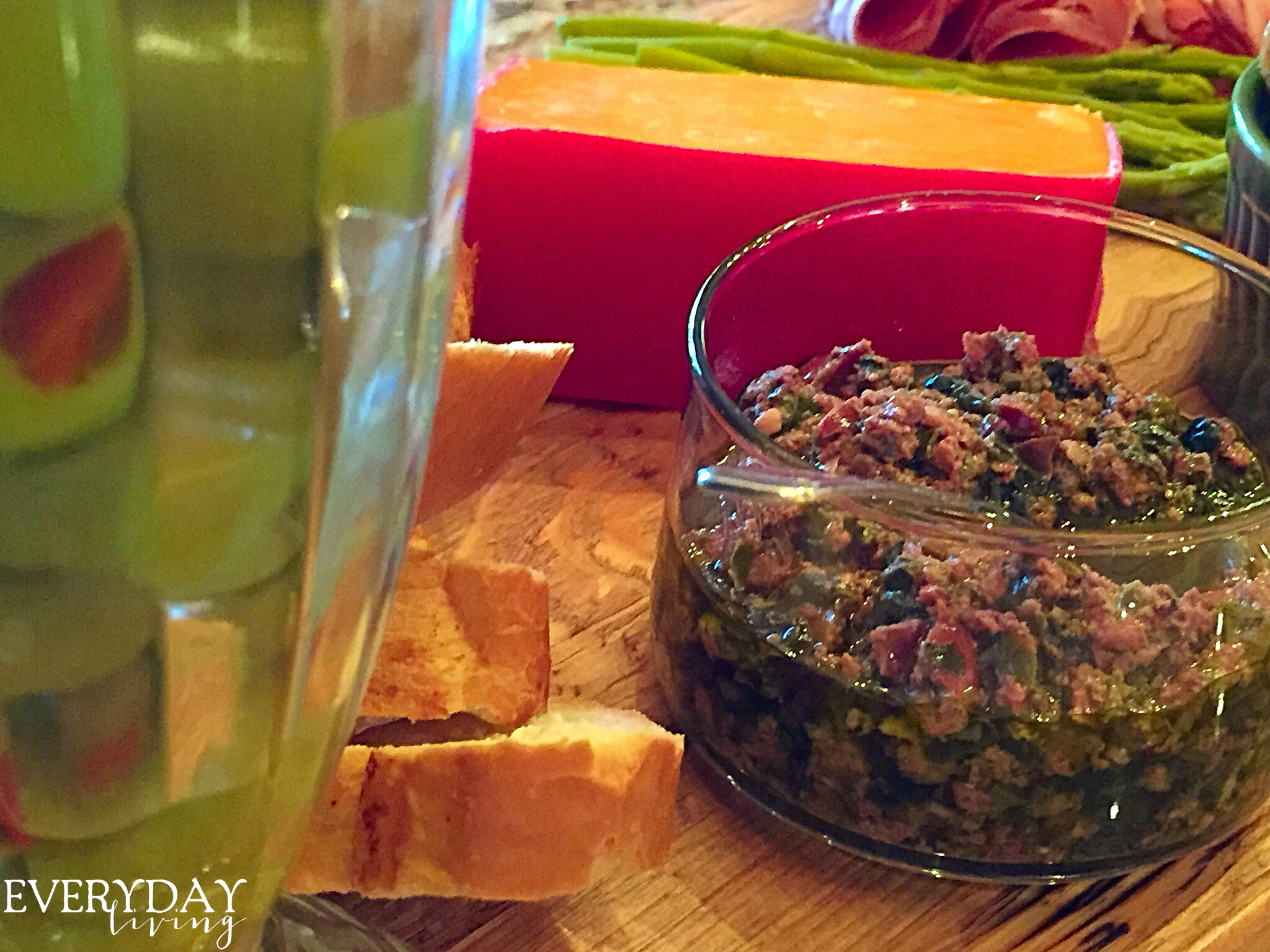 Basil, black olives, and feta pesto is a tasty spread for crackers or crostini!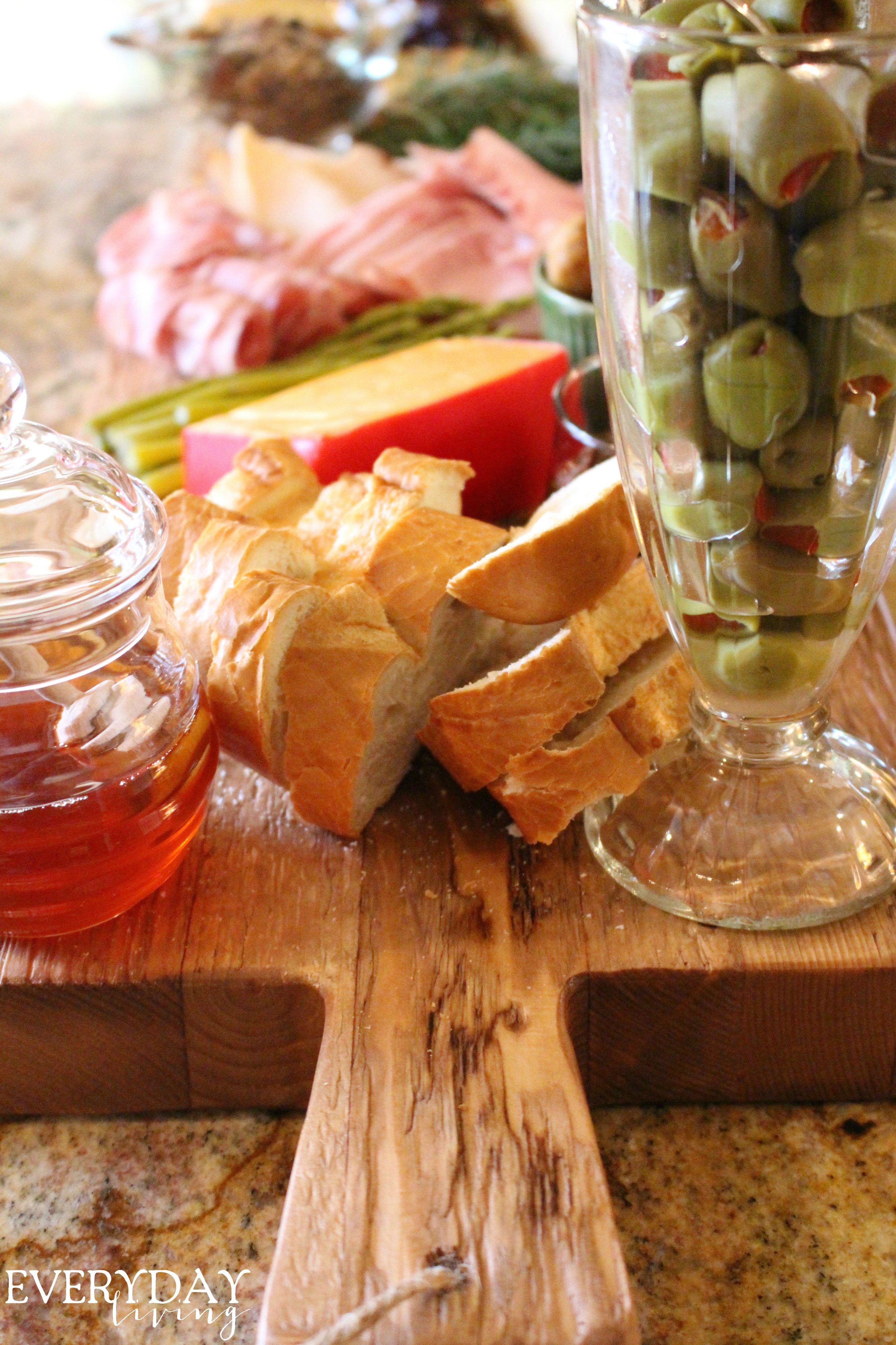 Butch loves a sharp cheddar hoop cheese, it is so good paired with honey or the pesto on the baguette!
 I am a firm believer in buying local honey.  There are so many uses for this sweet and natural ingredient!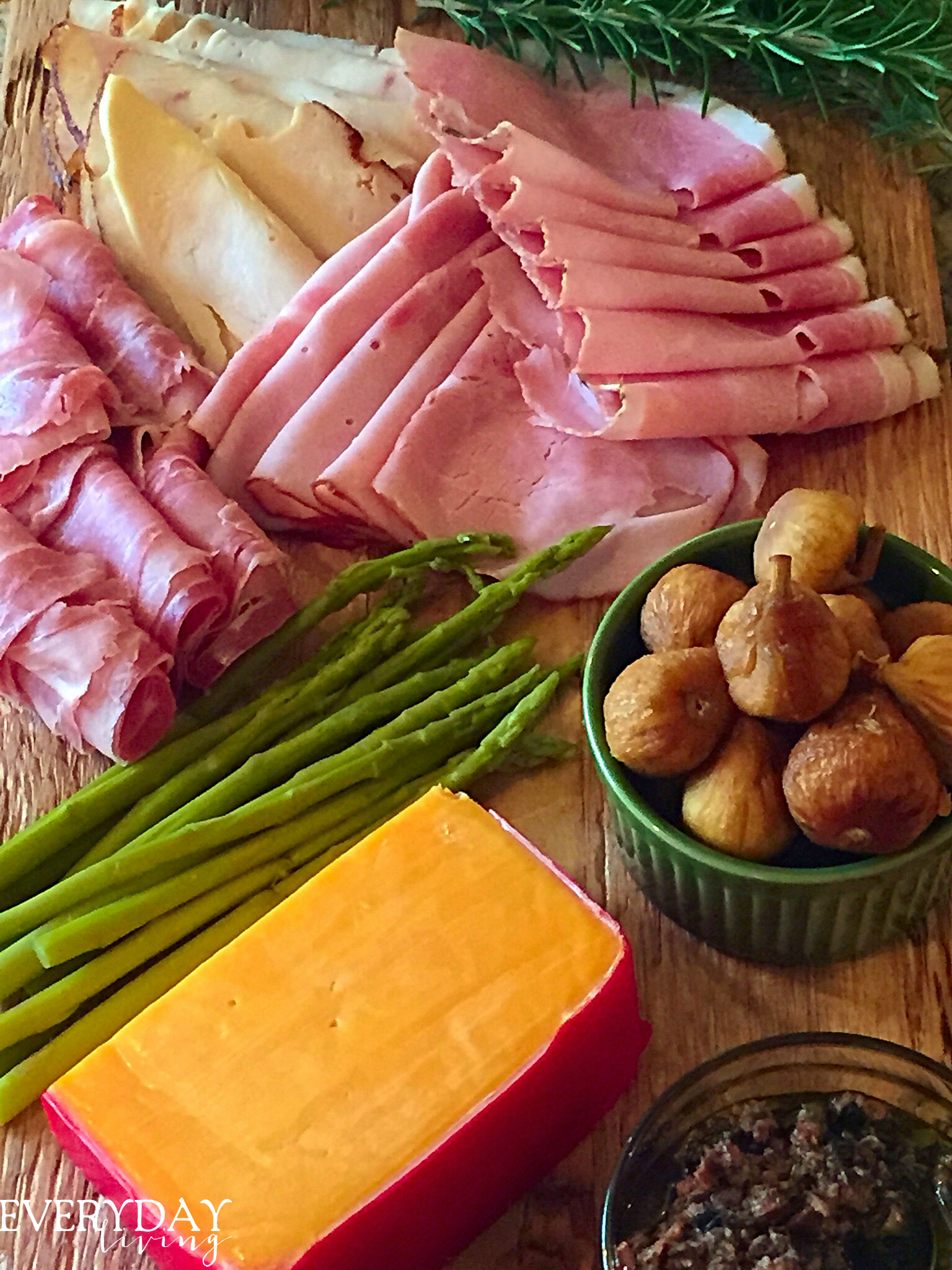 Next to the sharp cheddar is pickled asparagus!  I discovered this product at TJ Maxx and it is excellent and it adds beautiful color next to the meats!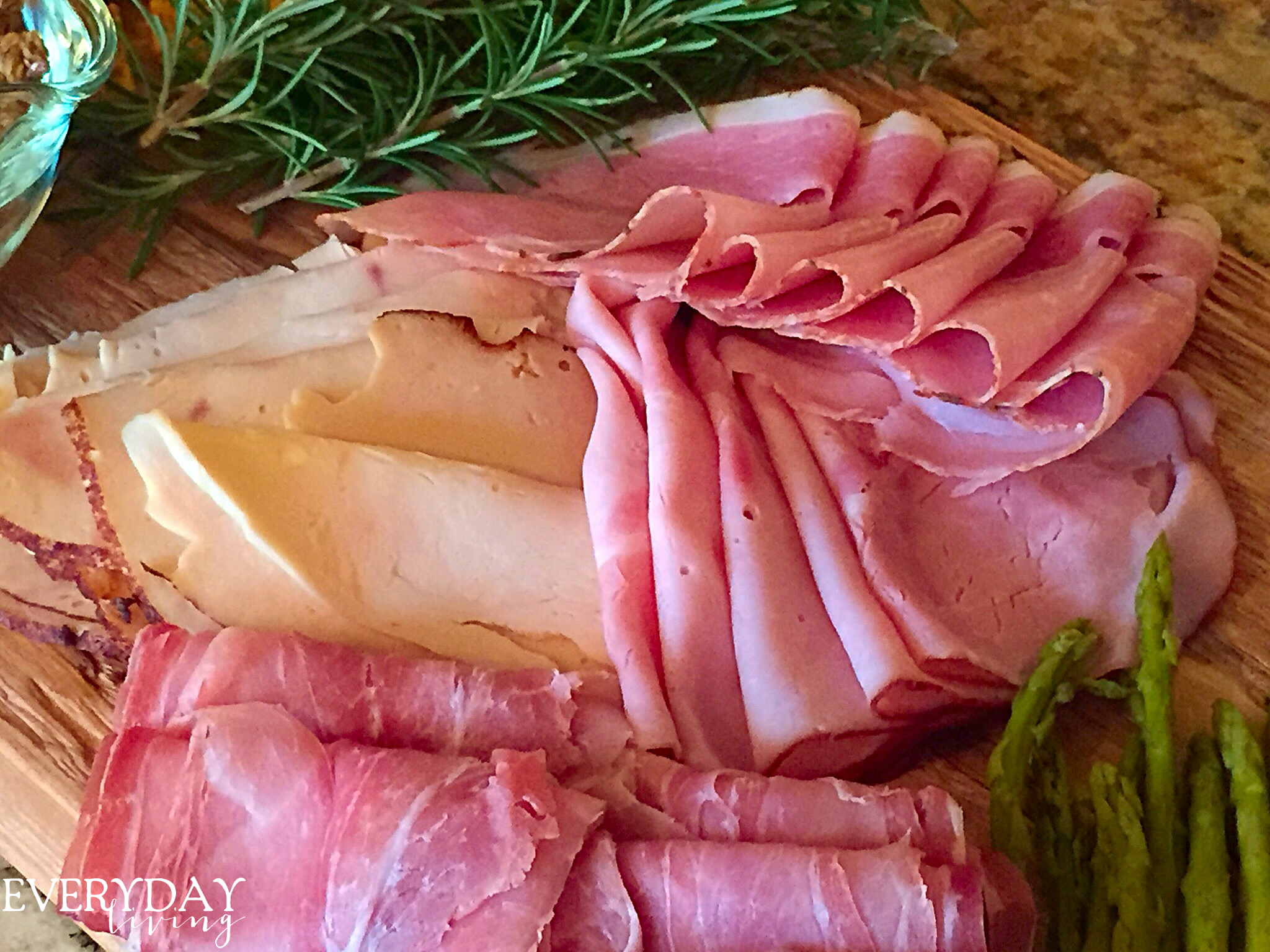 Charcuterie is the French term for "prepared meats". The charcuterie board usually consist of pork products, but I think your own creativity works best!
My selections are prosciutto in the foreground, smoked barbeque chicken, applewood smoked ham in the back, and rosemary ham!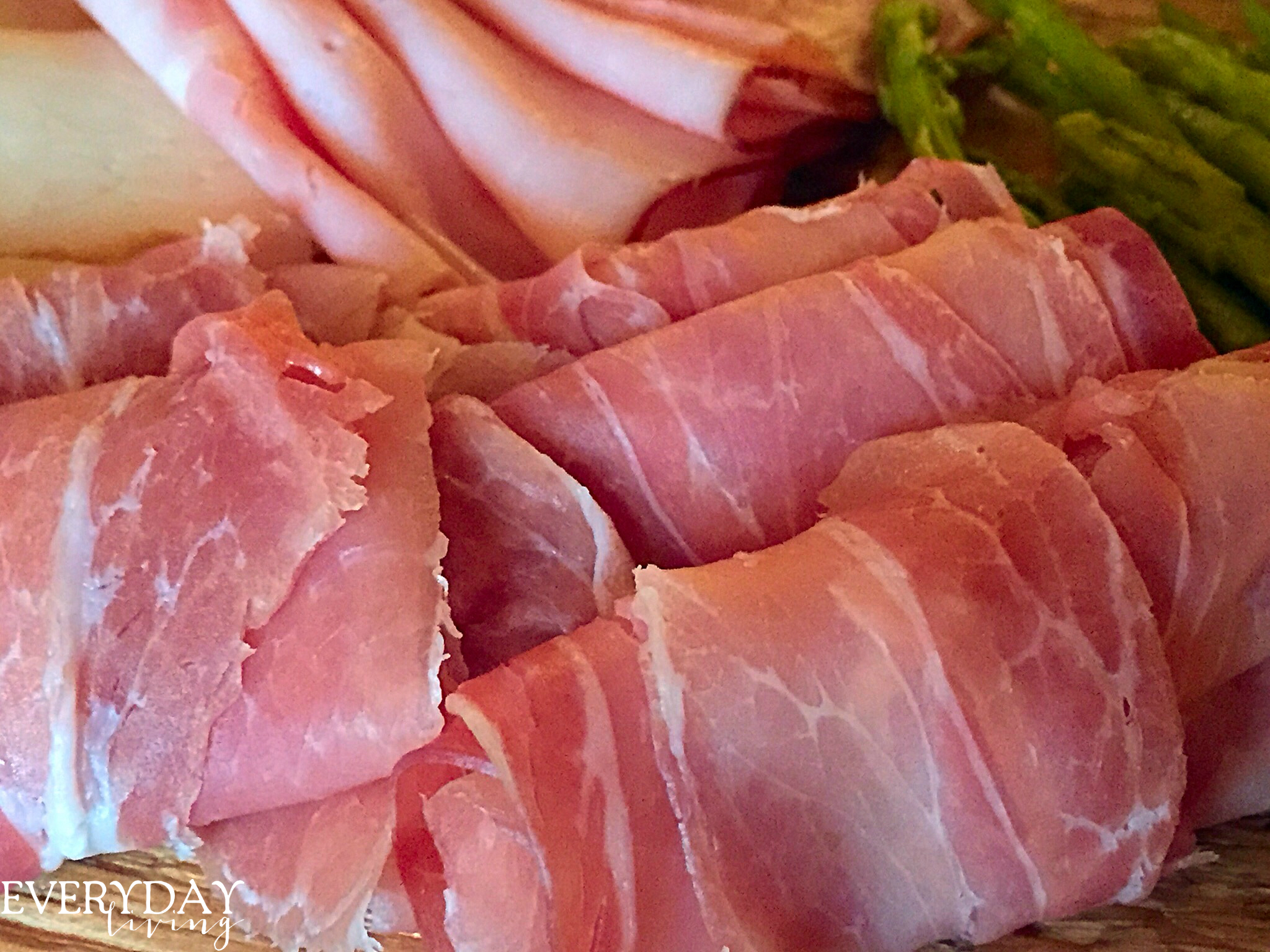 If you haven't tried prosciutto before, I urge you to try this Italian mainstay!  It pairs beautifully with melon, peaches, and figs!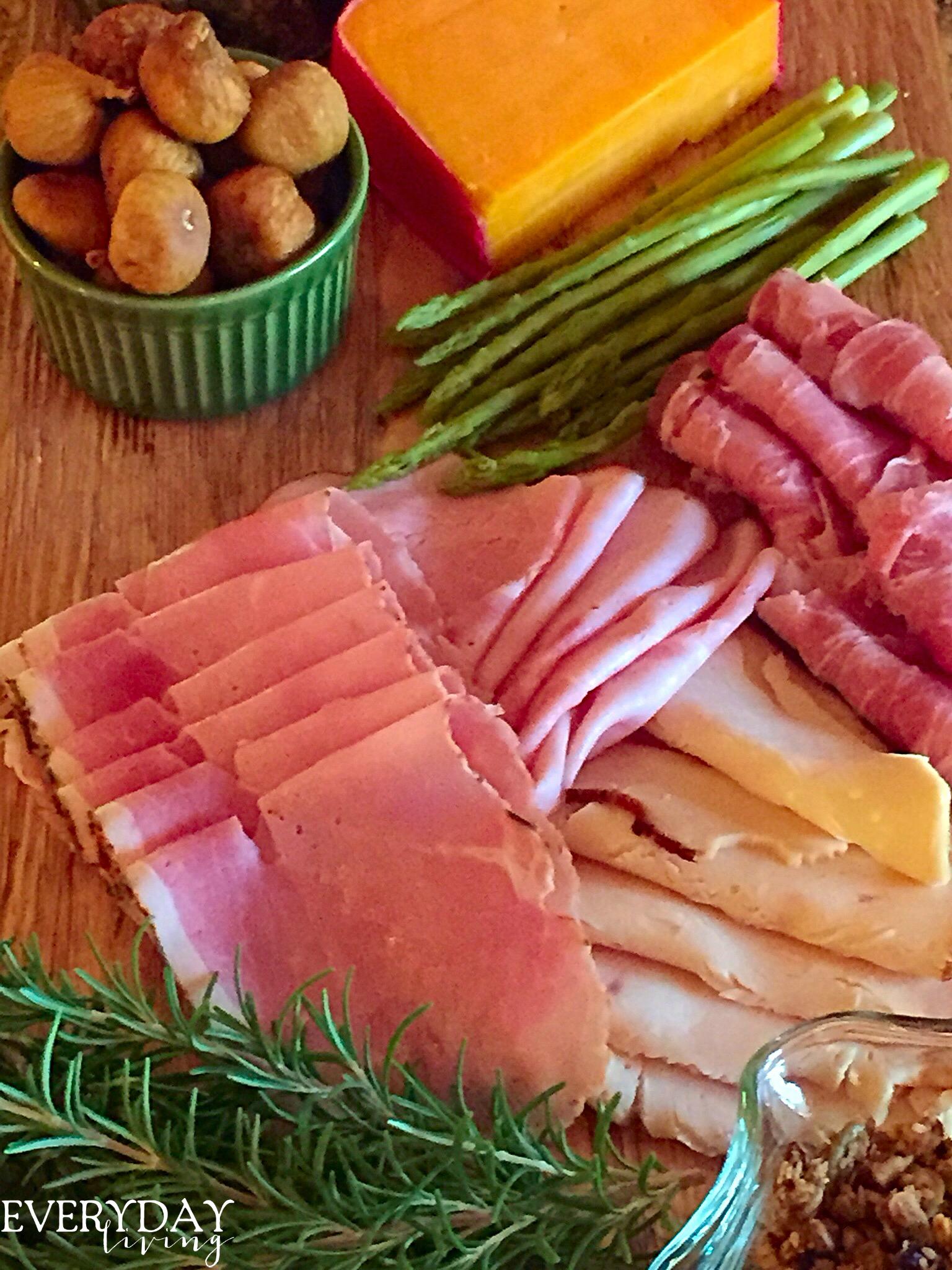 Fresh rosemary from my garden adds it's beautiful scent and color to the board!
Sesame breadsticks in the foreground.  Not only is this easy, but it is also inexpensive for hosting a crowd!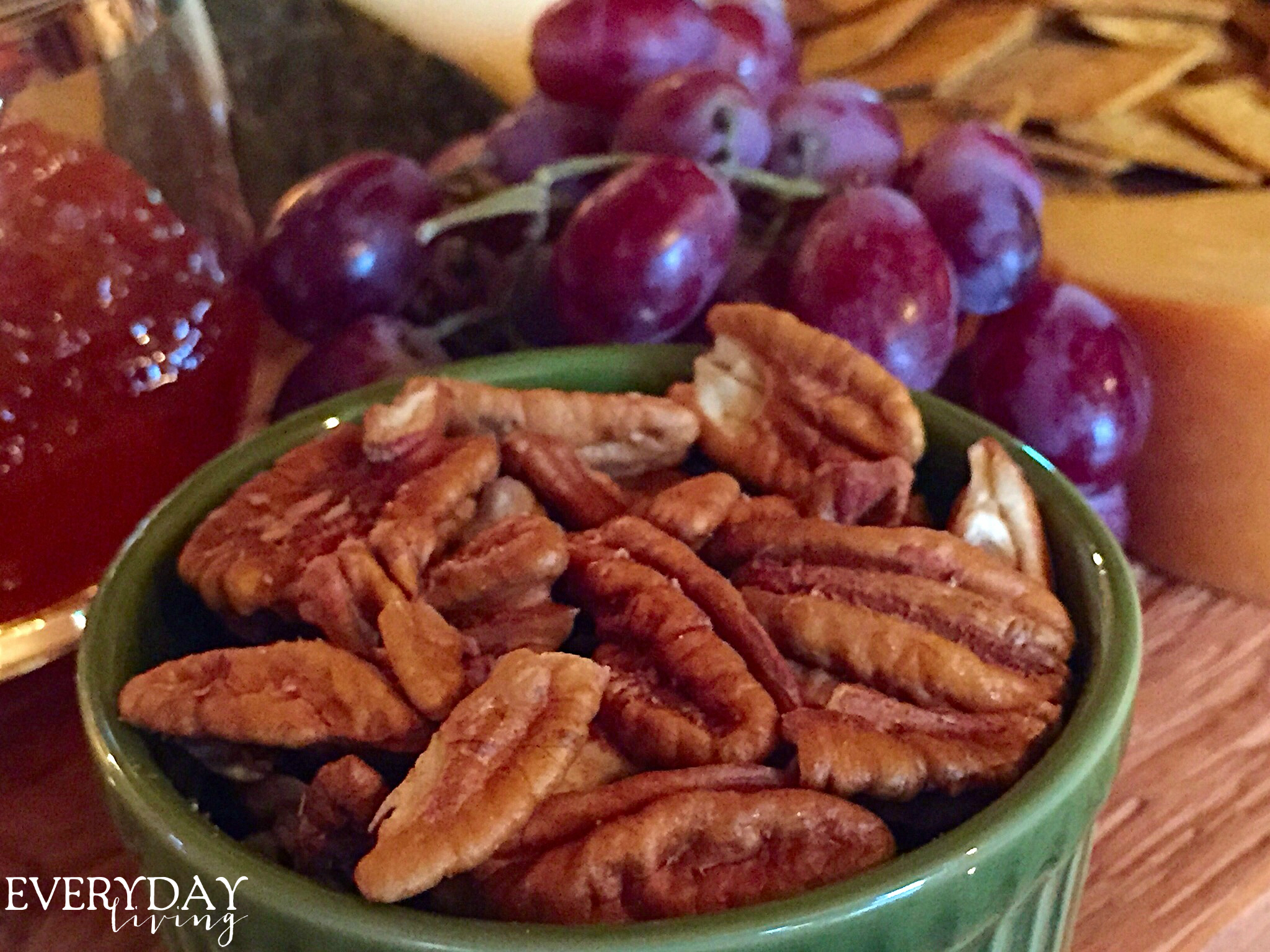 Local pecans add crunch and grapes are a must…their sweetness pairs with the saltiness of the cheeses!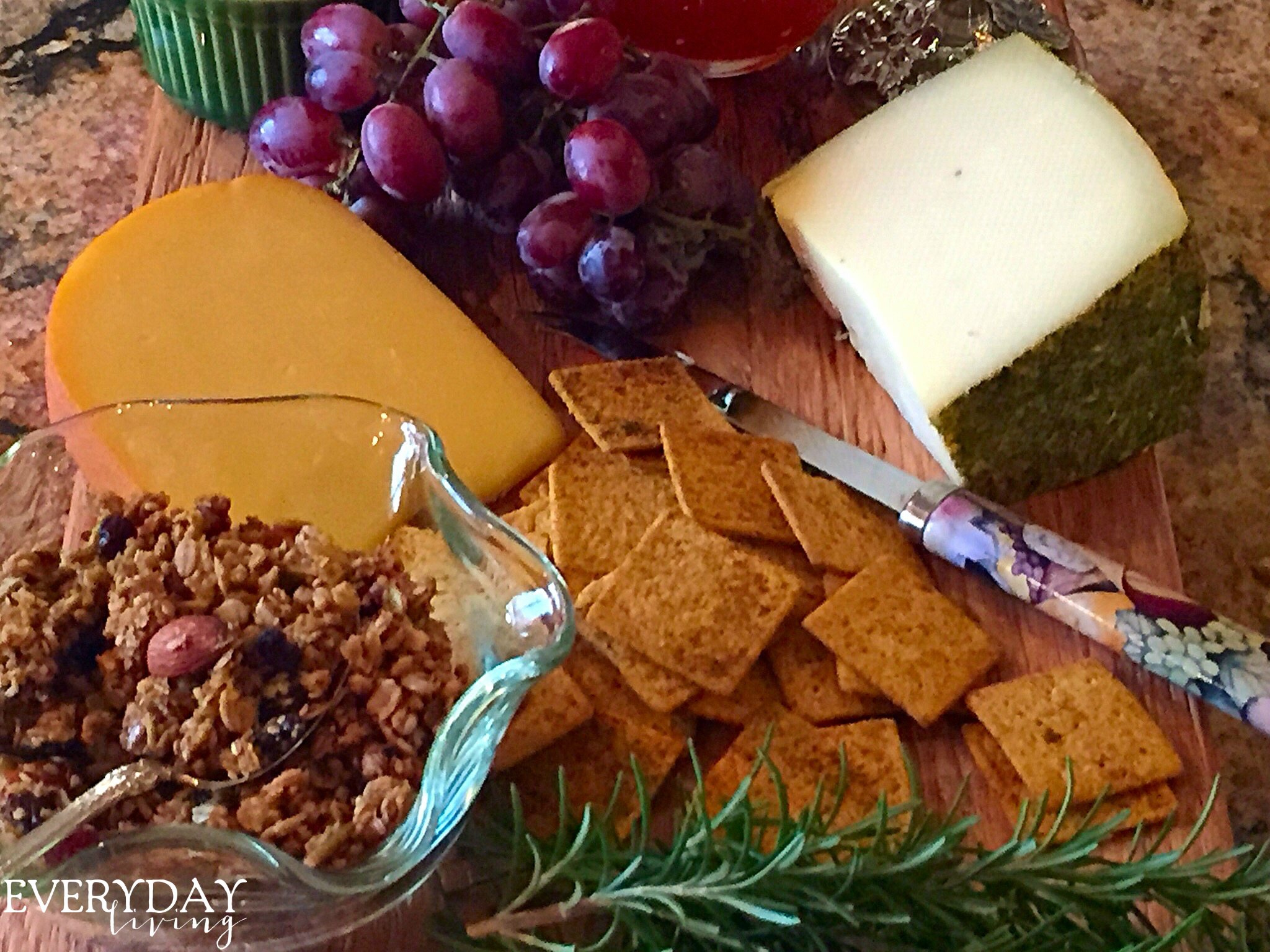 The two cheeses are smoked gouda on the left and a soft, honey cheese on the right!  Granola rounds out sweetness and crunch!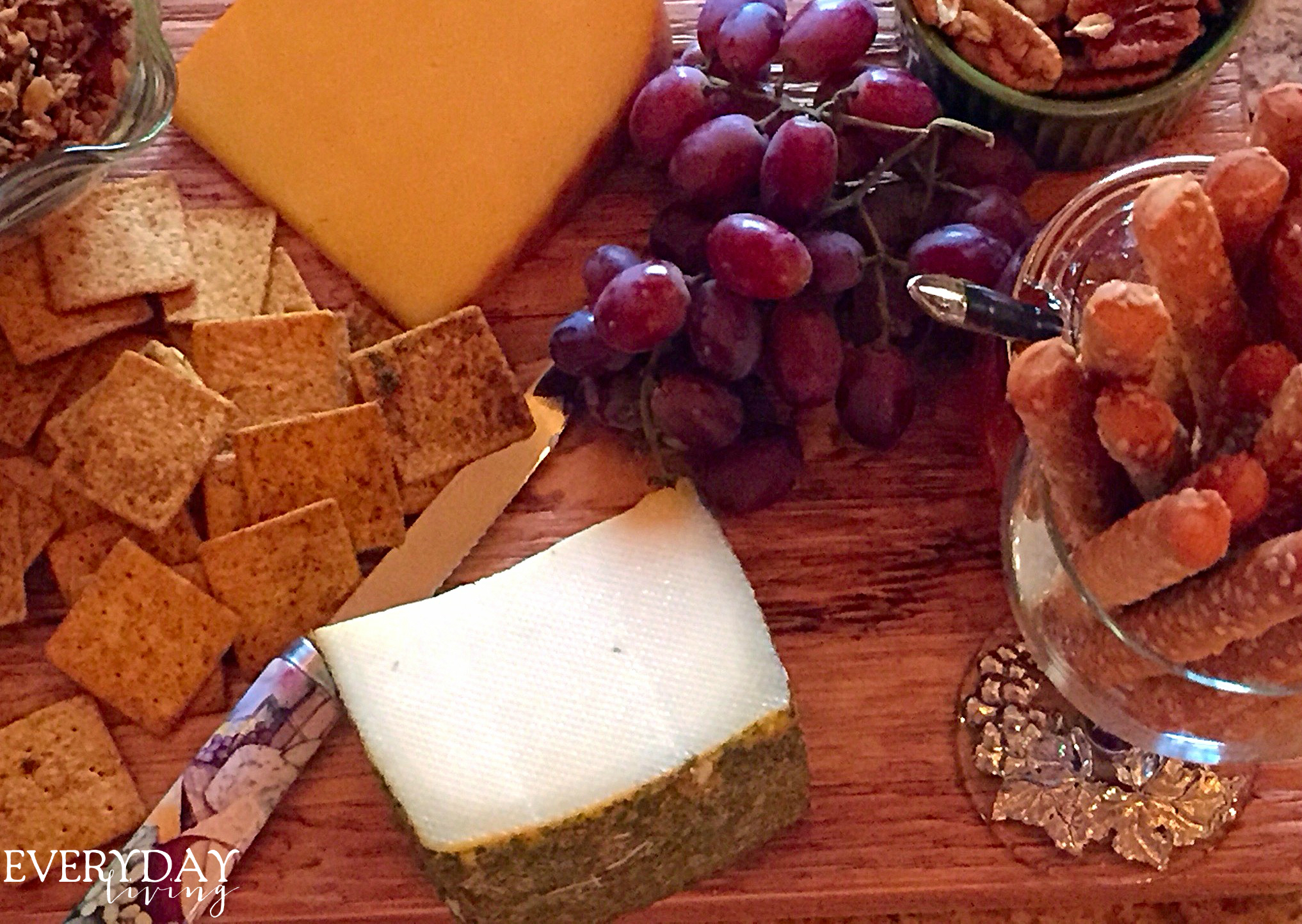 On our recent visit to St. Maarten, we visited a lovely Dutch cheese shop.  If you read my post you will recall that the island is divided in half between the Dutch and the French, so there are many authentic shops.  You can read more about our trip here: Taken By Storm: A Week In St. Maarten.  Upon our arrival at the Amsterdam Cheese Shop, we were greeted by helpful experts on the many cheese offerings and they invited us to enjoy free tastings-we love free! The Dutch make fabulous cheeses including Gouda. We brought home this honey cheese that we had tasted, and I don't have the words to describe how delicious it is!  Tomato basil crackers add a punch of flavor!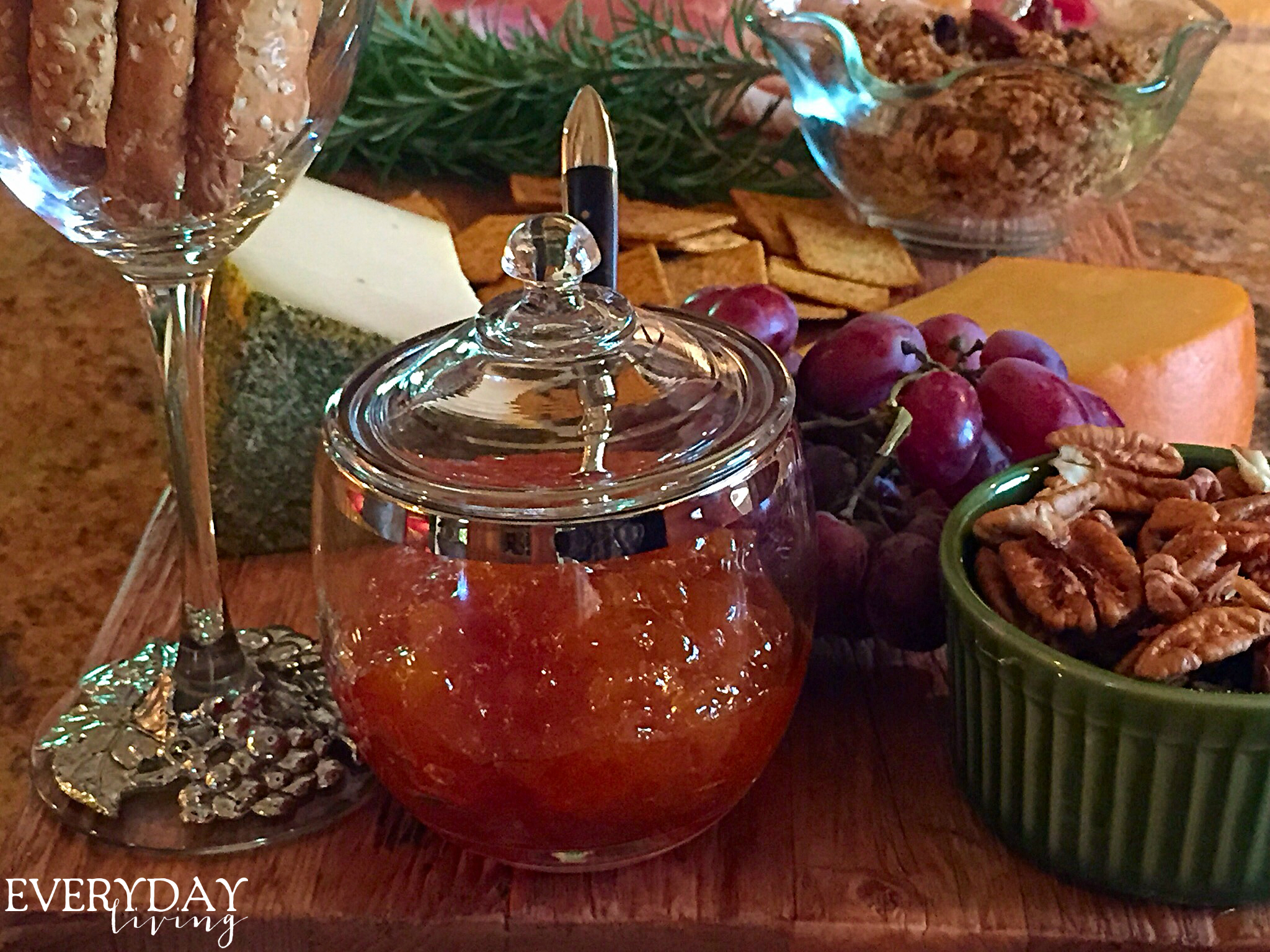 Apricot preserves are an excellent spread for the baguette and sesame sticks! 
 For more charcuterie and appetizer ideas, see my Pinterest board: Foodie Presentations.
 It is my hope that this blog post will give you confidence that you can be a hostess with the gift of hospitality!  I believe your guests will feel special…and most of all, loved!
The Details:
Red pepper stuffed olives/basil, black olives,
and feta pesto/dried figs/pickled asparagus/granola – TJ Maxx
Meats, cheeses, and crackers – local Winn Dixie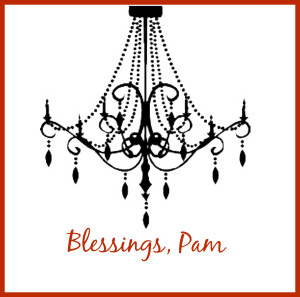 Linking with Pieced Pastimes, Silver Pennies, Life on Lakeshore Drive, Thoughts From Alice, Mod Vintage Life, Coastal Charm, My Uncommon Slice of Suburbia, The Dedicated House, Dwellings-Heart of Your Home, Savvy Southern Style, Ivy and Elephants, French Country Cottage, From My Front Porch To Yours, Stone Gable, Confessions of a Plate Addict, Worthing Court, Between Naps on the Porch, Cedar Hill Farmhouse, A Stroll Thru Life, The Style Sisters, The Charm of Home, The Winthrop Chronicles, Cornerstone Confessions, A Delightsome Life, Imparting Grace, Posed Perfection, Katherines Corner, My Romantic Home, Chic On A Shoestring Decorating, Rooted In Thyme, Share Your Cup, TheEnchanting Rose, Alabama Women Bloggers, 21 Rosemary Lane, Northern Nesting, Oh My Heartsie Girl,  Cozy Little House, Rattlebridge Farm, The Turquoise Home, My Flagstaff Home, In The New House, Natasha in Oz, Vintage Refined, Rustic & Refined, Must Love Home, Grammie Time