"Blessed be his glorious name forever; may the whole earth be filled with his glory!  Amen and Amen!"
Psalm 72:19
I guess I can now officially say Happy Autumn! Summer 2015 is off the calendar, and although not in its full glory yet, the signatures of Autumn are on their way!  With every seasons change come new graces…God gives us new sights, smells, tastes, and weather to remind us we have entered into something new and refreshing.  One of the most notable changes we experience as summer gives way to autumn is the glorious leaves and the rich, deep colors that are so pleasing to the eye!  Today, we are revisiting some of our favorite autumnal scenes from the most recent years.  Come along as we travel the roads of the deep south and we will even make a stop by our home in the Appalachian foothills!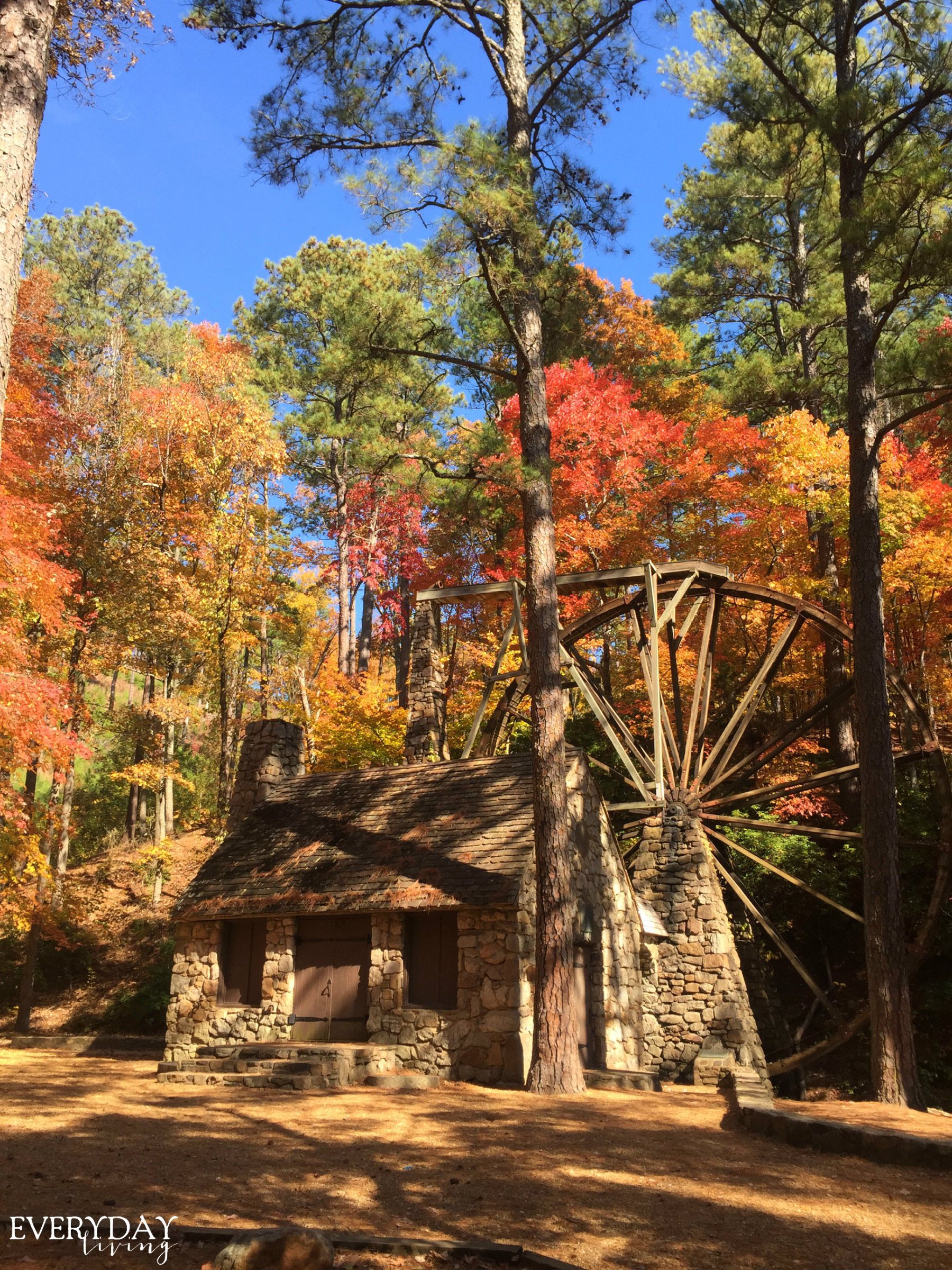 "By all these lovely tokens September days are here, with summer's best of weather and autumn's best of cheer"
Helen Hunt Jackson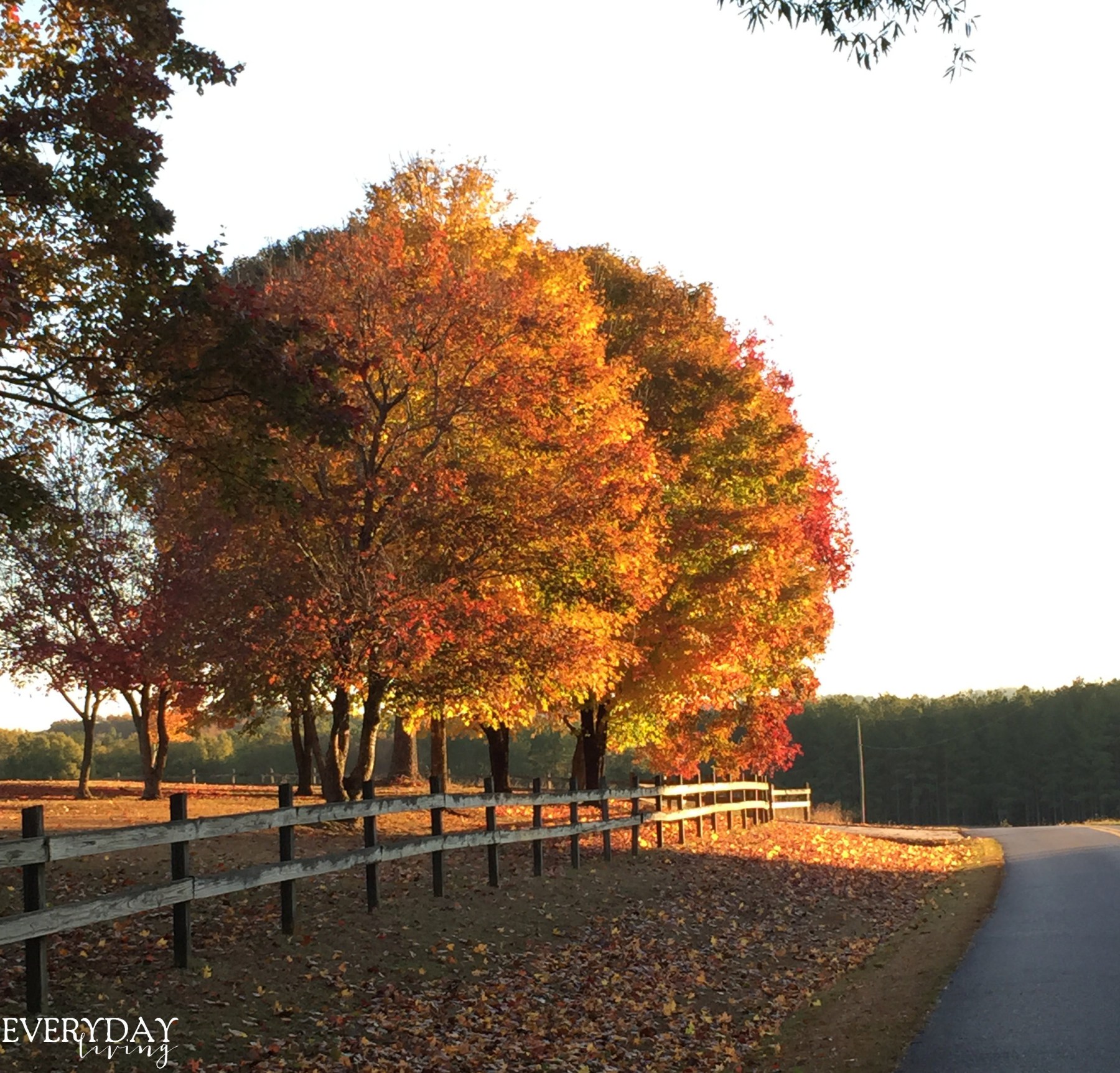 "And God said, 'Let there be lights in the expanse of the heavens to separate the day from the night. And let them be for signs and for seasons, and for days and years,  and let them be lights in the expanse of the heavens to give light upon the earth.' And it was so"
Genesis 1:14-15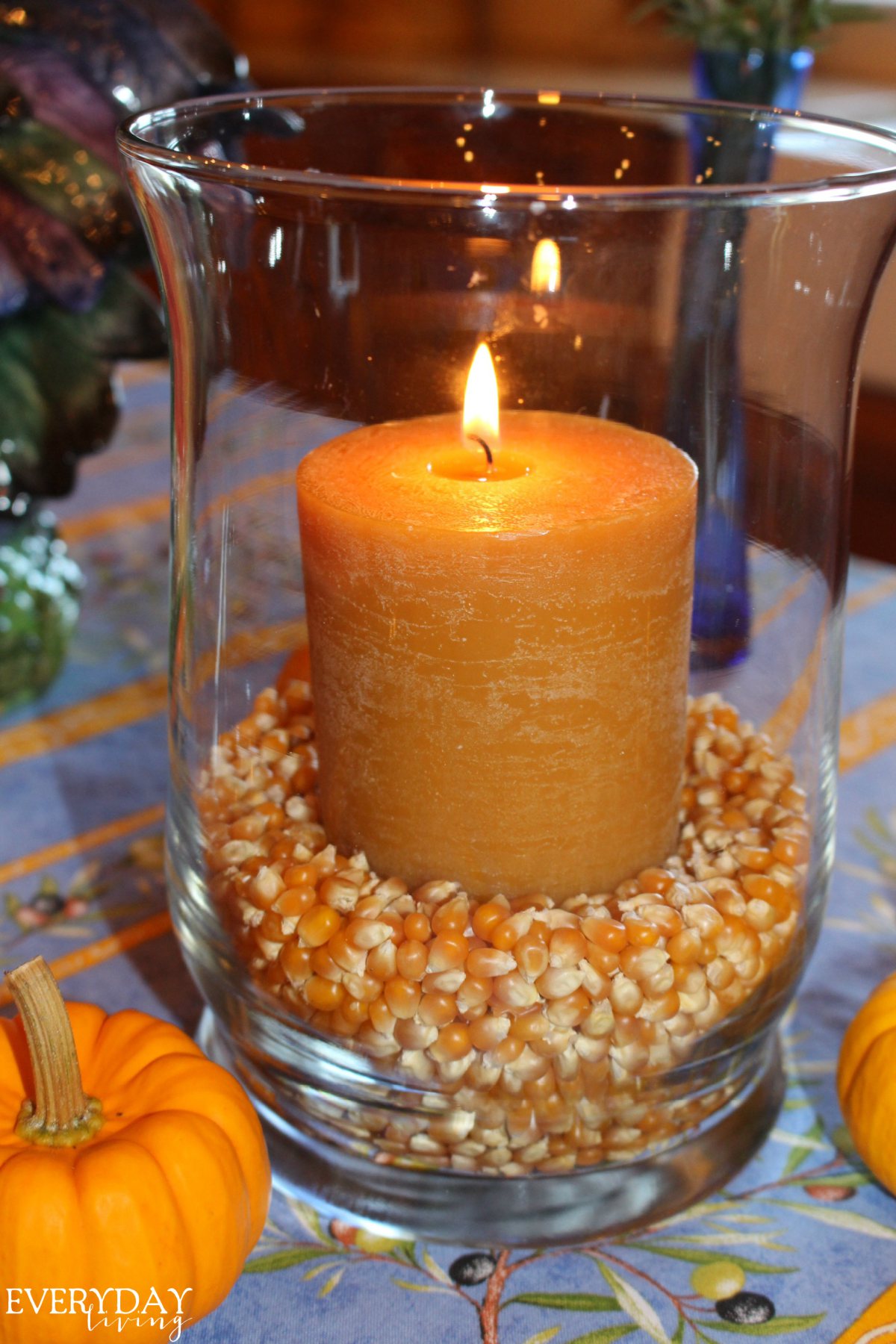 A simple vignette graces our kitchen island!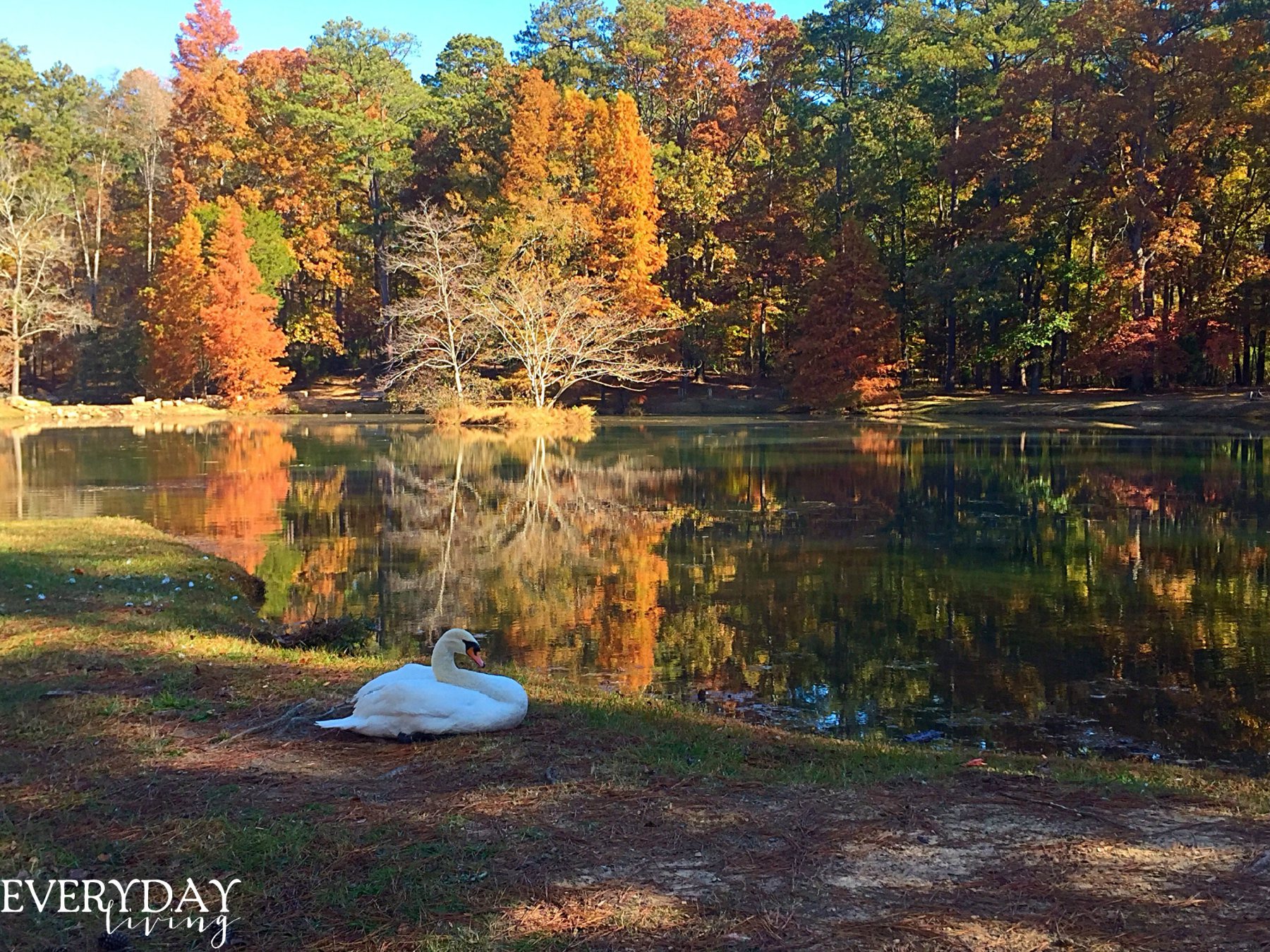 "Listen!  The wind is rising, and the air is wild with leaves, we have had our summer evenings, now for October eves"
Humbert Wolfe

The rustic barn where Seth and Allison were married!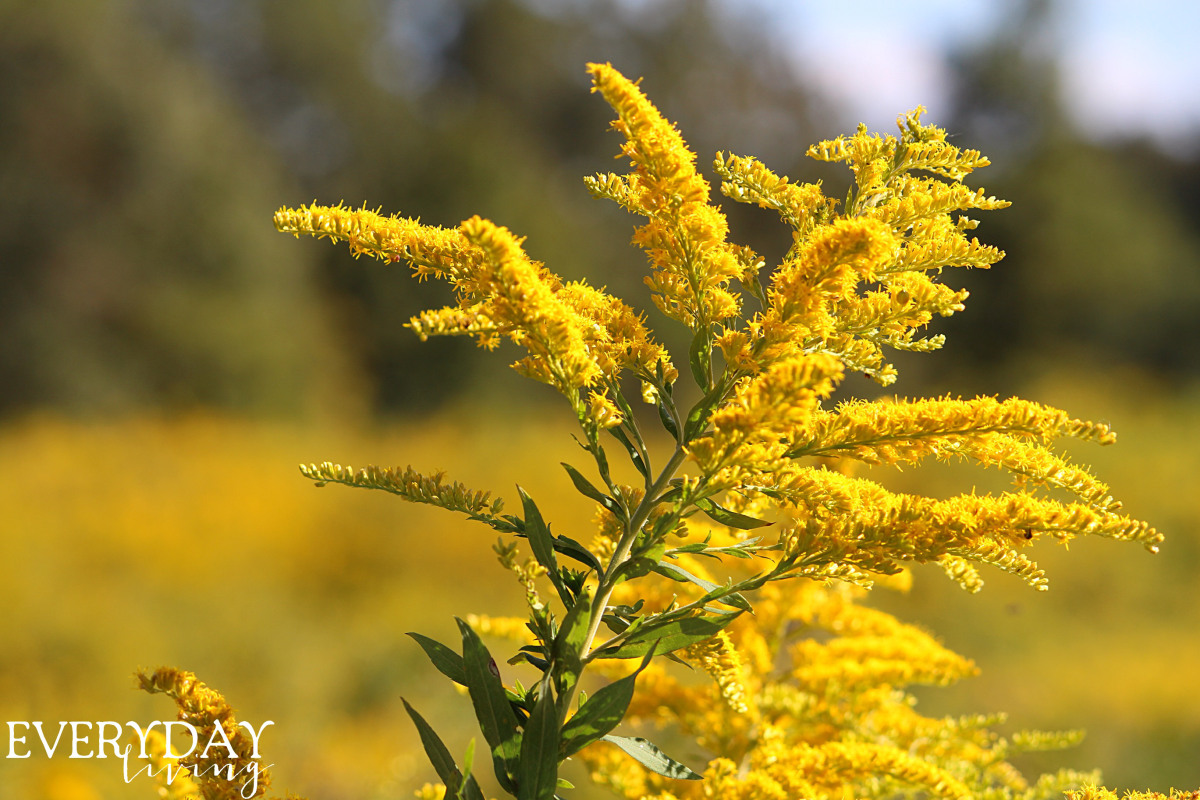 "The grass withers, the flower fades, but the word of our God will stand forever"
Isaiah 40:8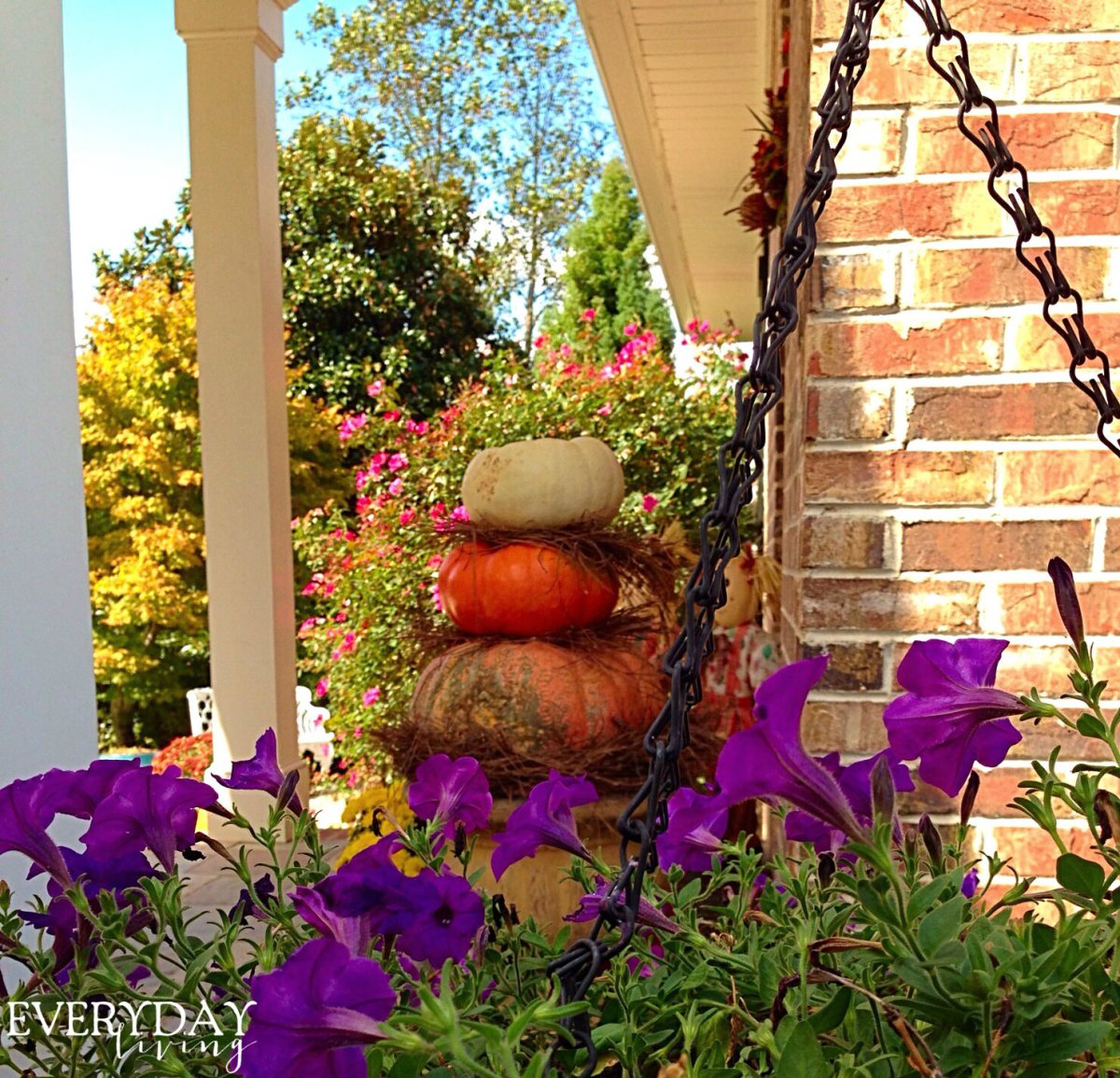 The sweet hubby made the pumpkin topiary on our kitchen porch!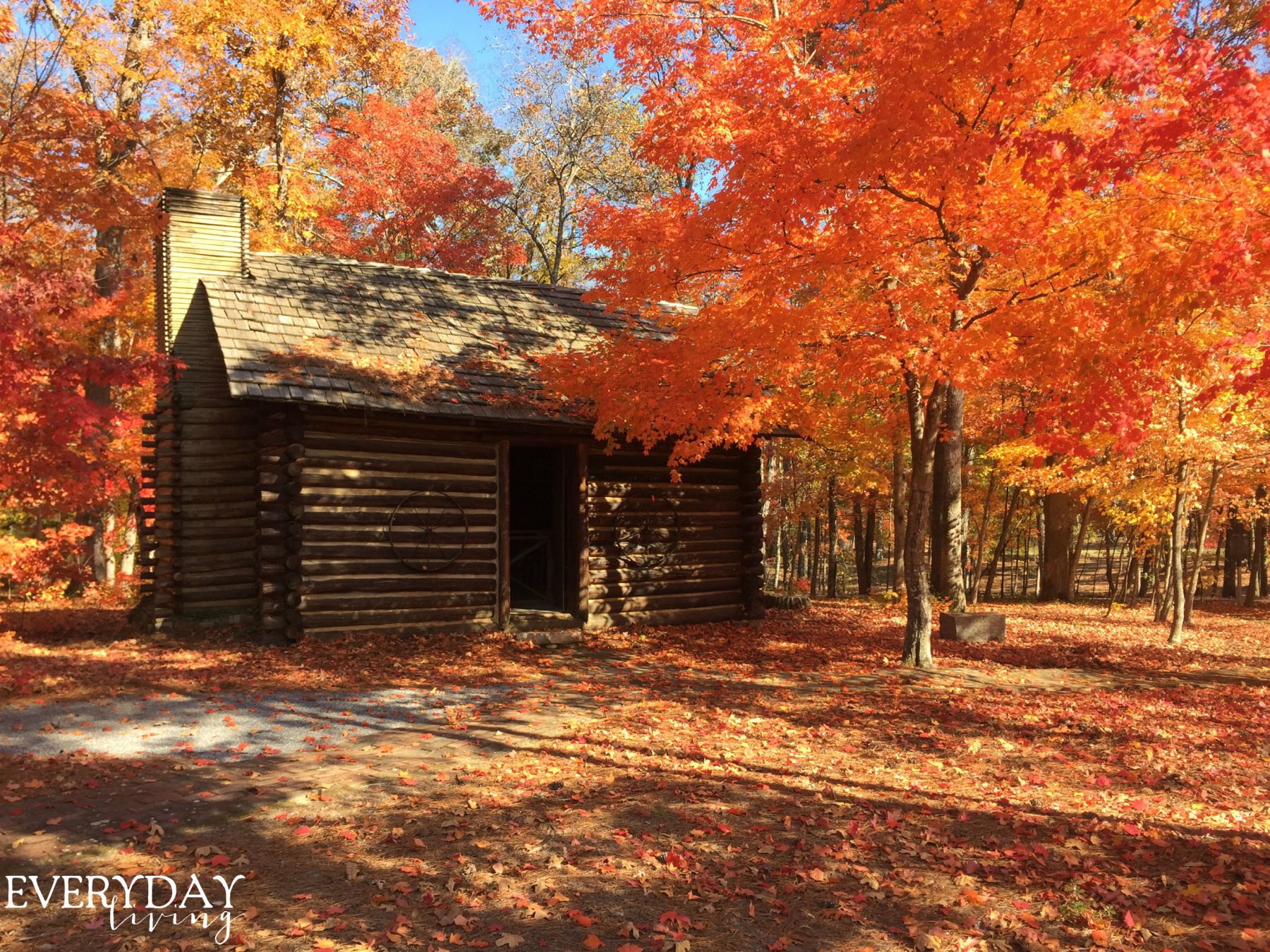 "Every leaf speaks bliss to me, fluttering from the autumn tree"
Emily Bronte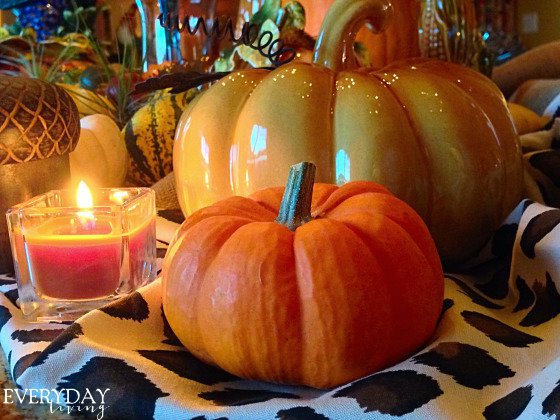 Mixing porcelain and real pumpkins for an autumnal tablescape!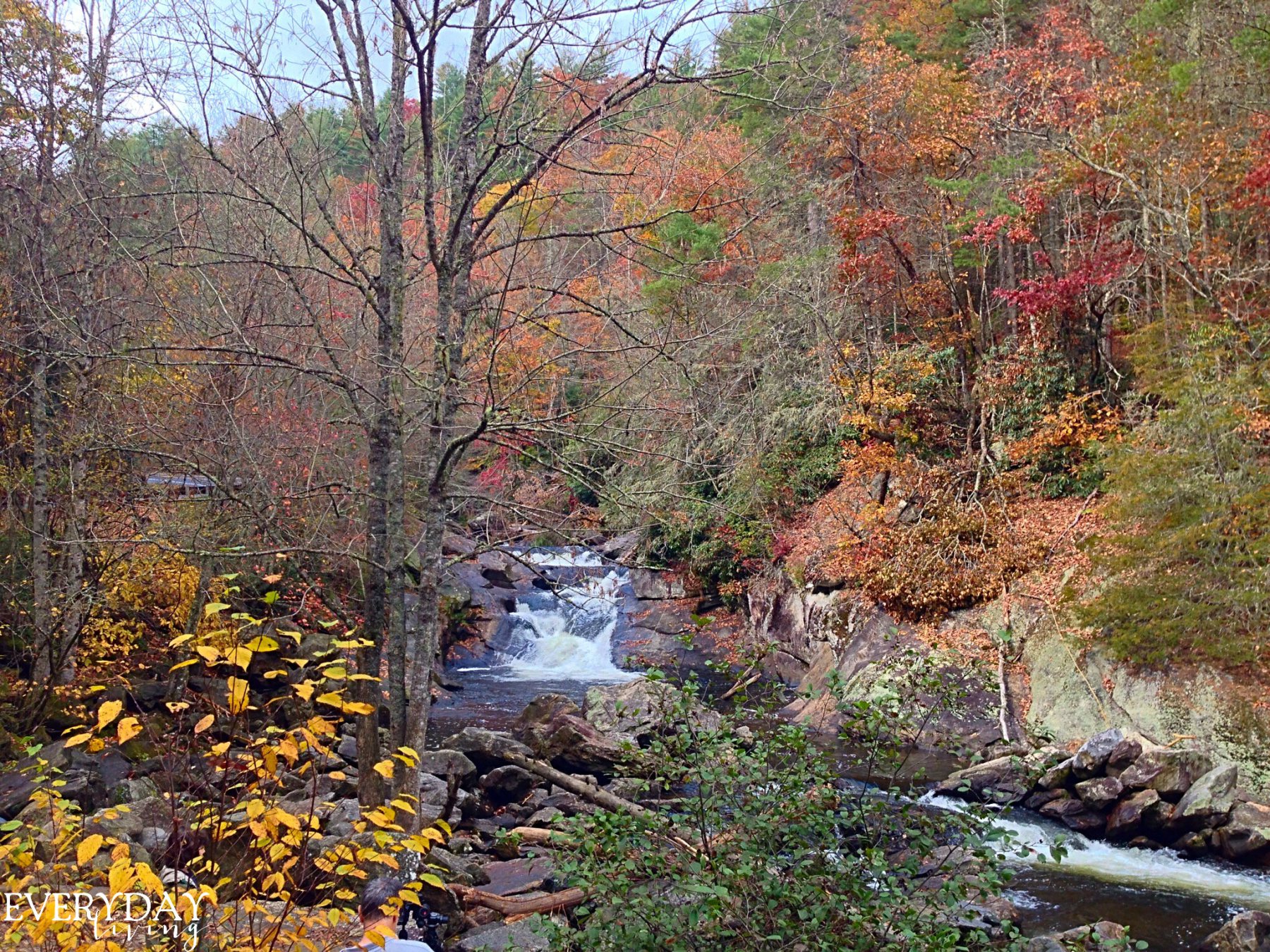 "No spring nor summer beauty hath such grace as I have seen in one autumnal face"
John Donne
My cute little wheelbarrow with a bounty of autumn's goodness!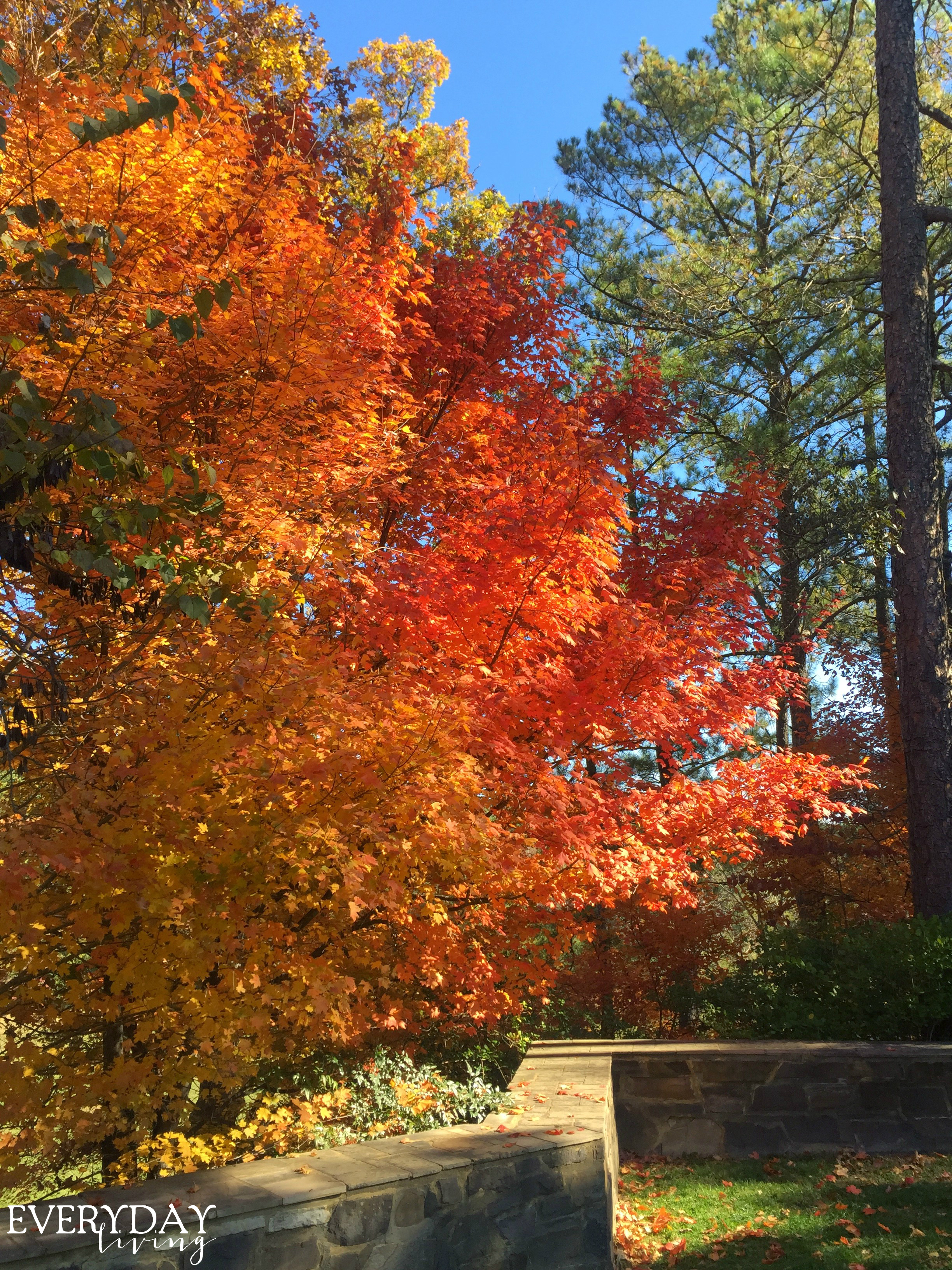 "Fall has always been my favorite season.  The time when everything bursts with its last beauty, as if nature had been saving up all year for the grand finale"
Lauren DeStefano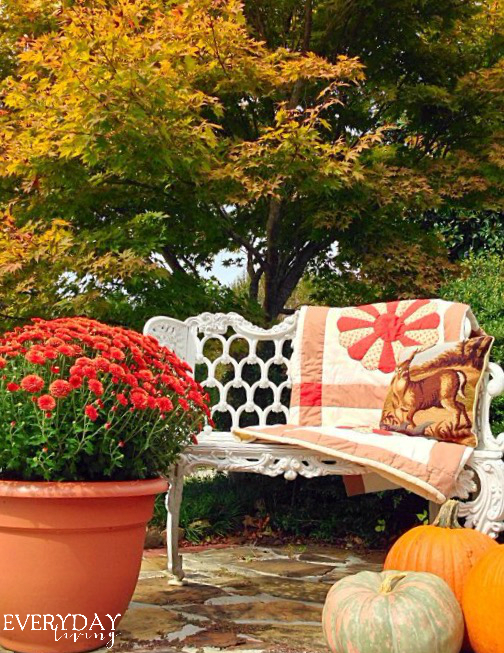 Seasonal color is making an appearance in our courtyard!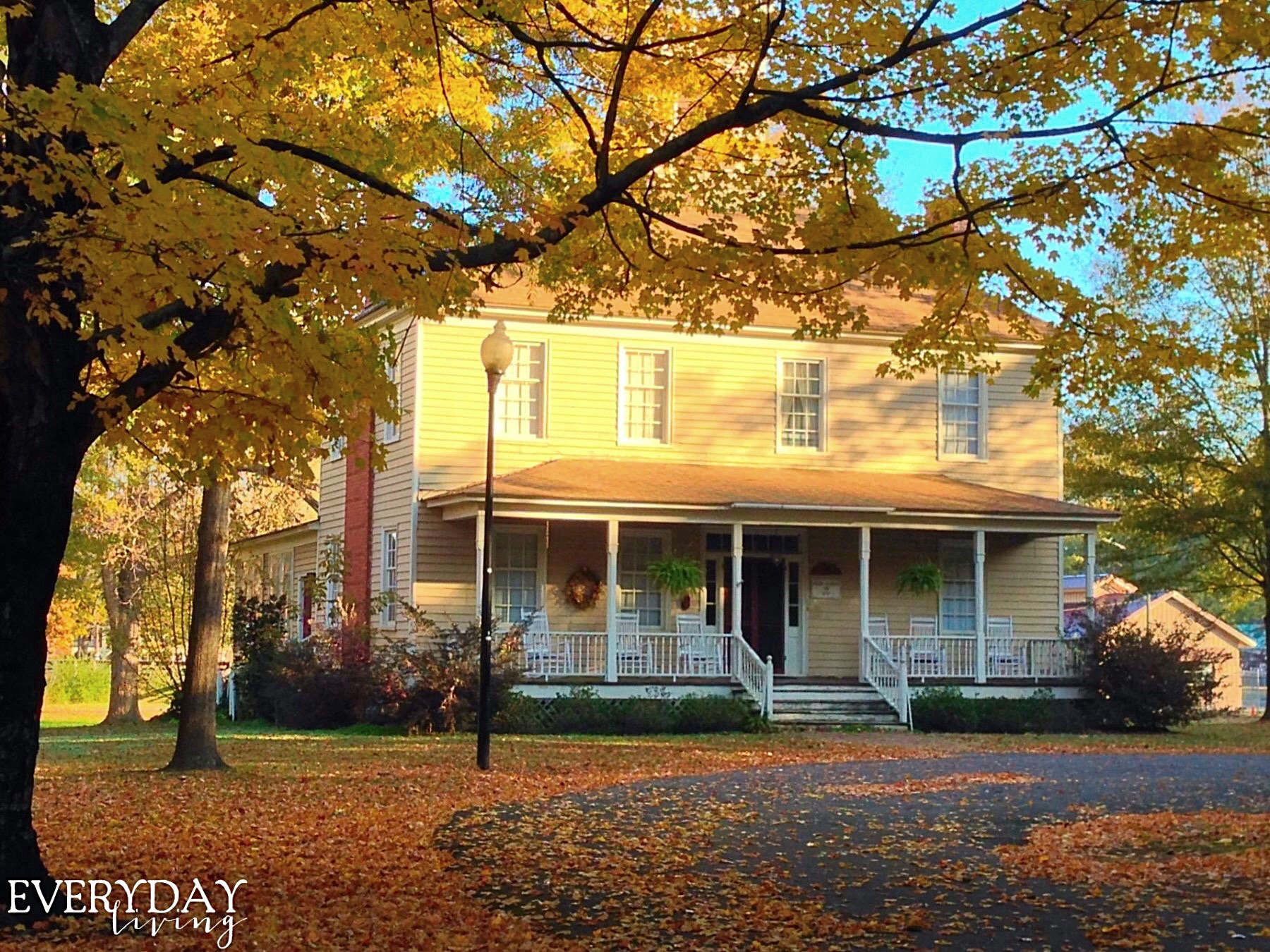 "I'm so glad I live in a world where there are Octobers"
Anne of Green Gables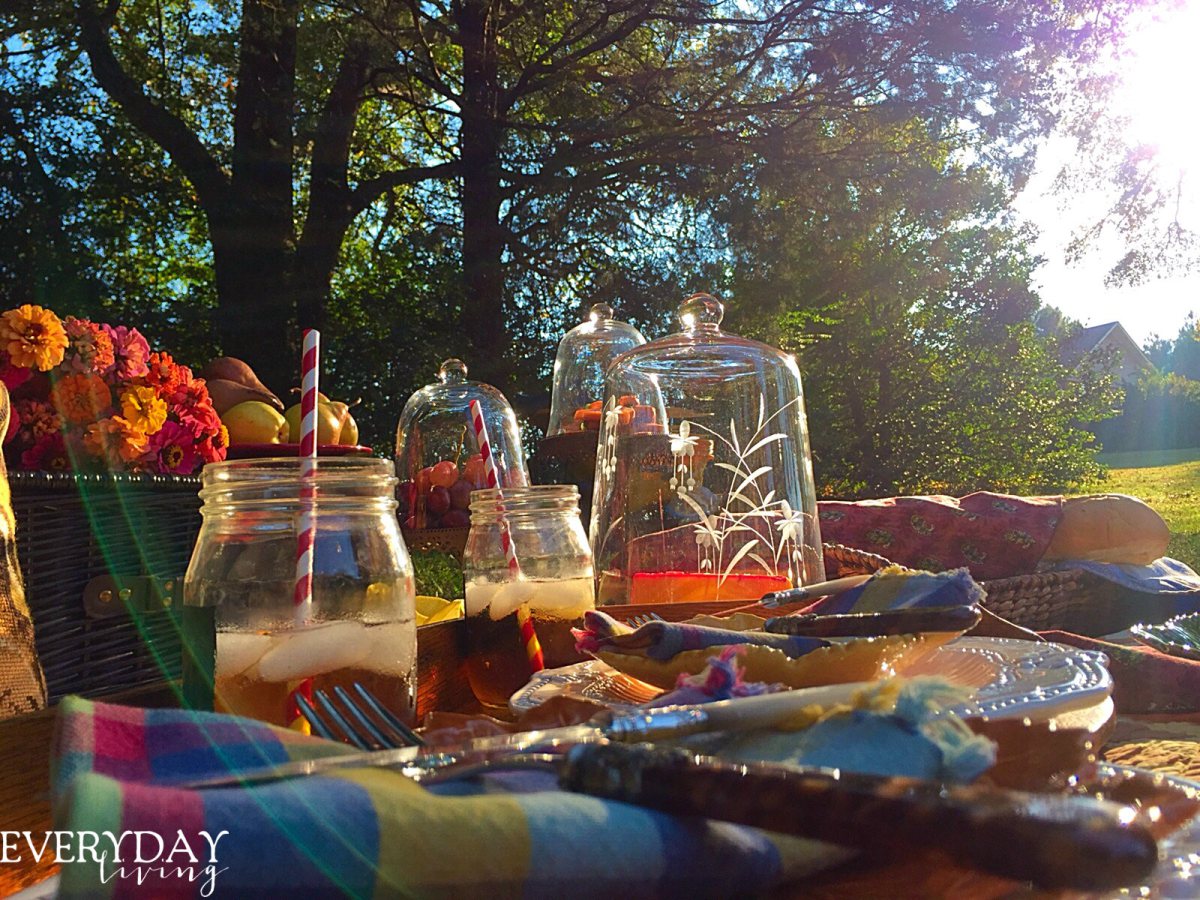 We love to picnic – even in our yard!
"Autumn, the year's last loveliest smile"
William Cullen Bryant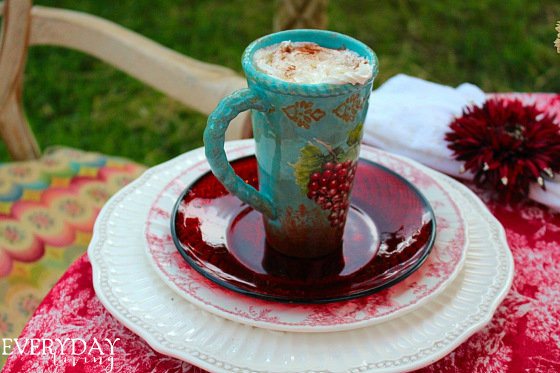 What better place to enjoy a steaming mug of hot chocolate…under the rose arbor!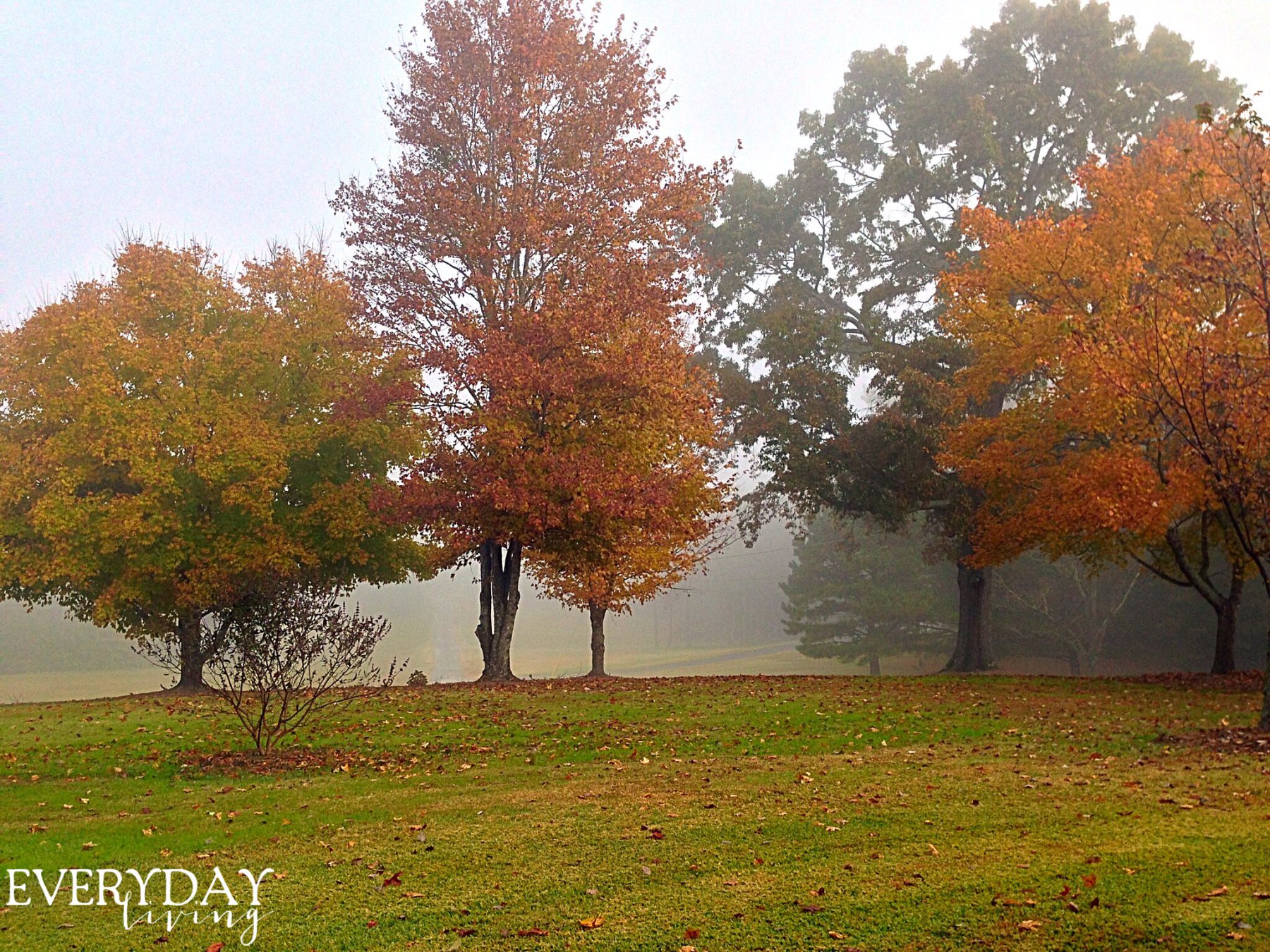 "He changes times and seasons; He removes kings and sets up kings; He gives wisdom to the wise and knowledge to those who have understanding"
Daniel 2:21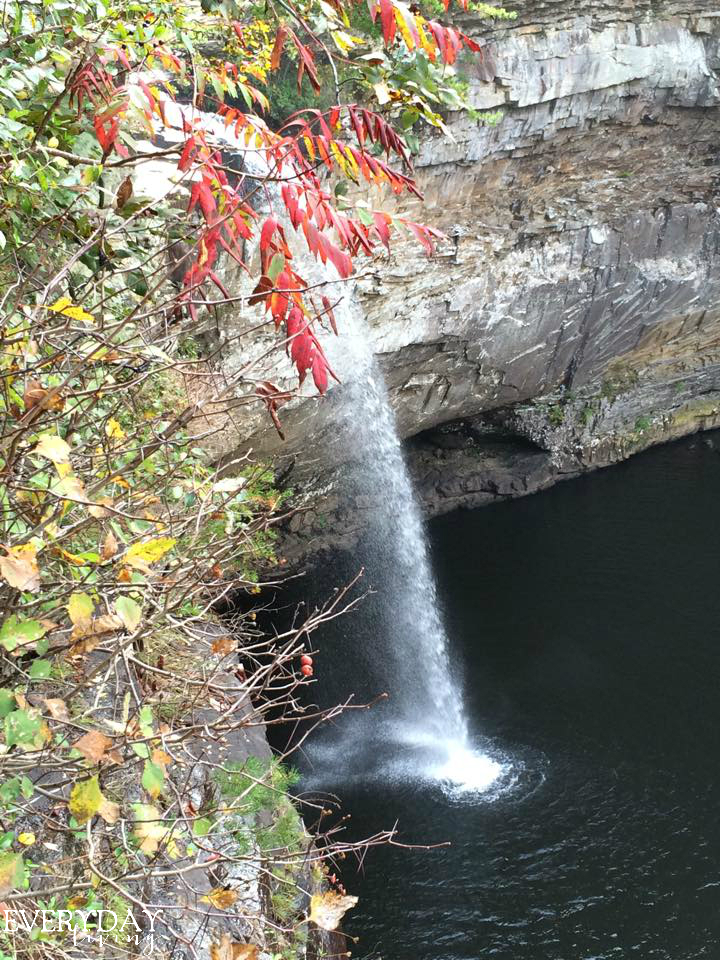 "Life starts all over again when it gets crisp in the fall"
F. Scott Fitzgerald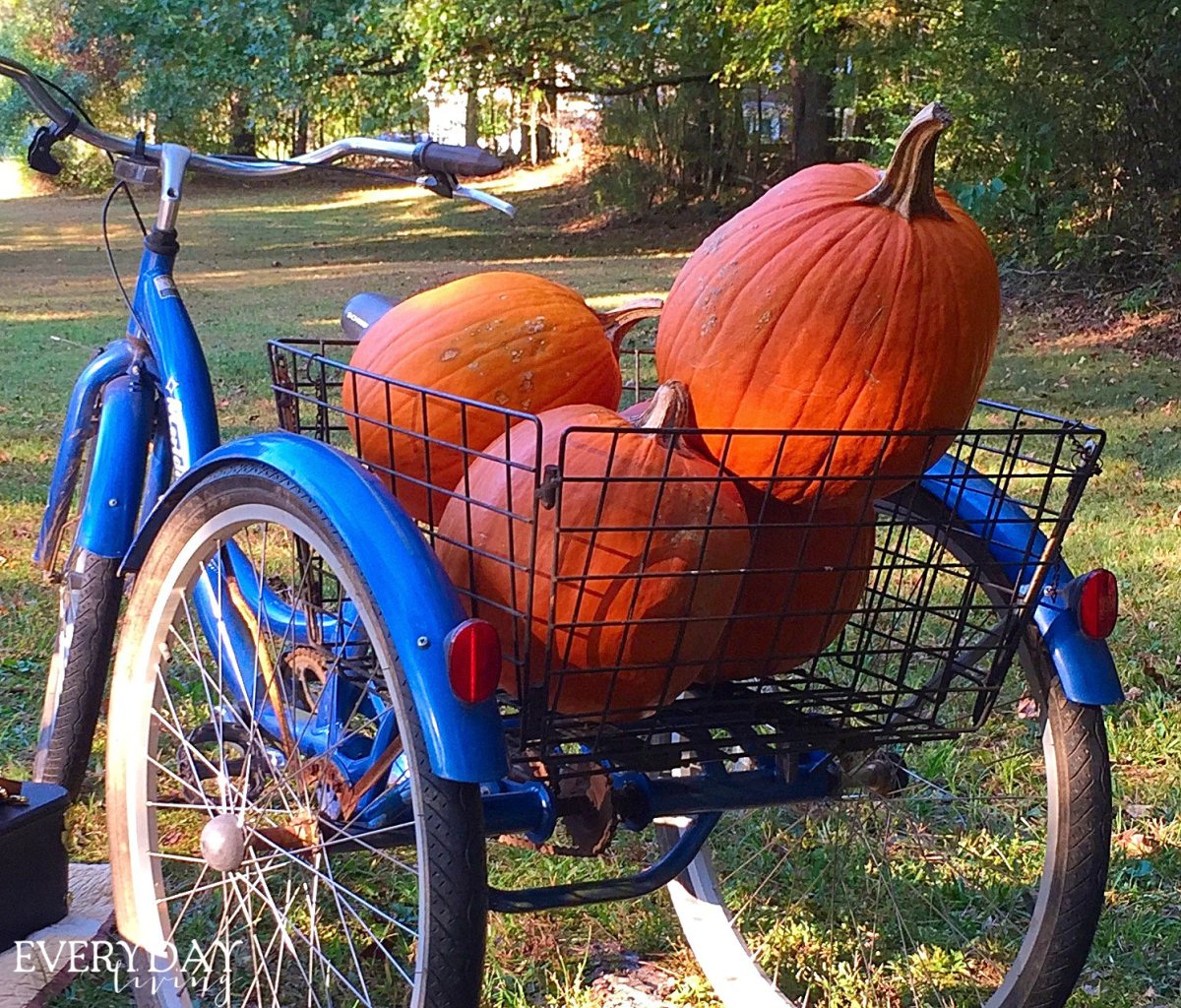 Our three-wheel bicycle is perfect for hauling pumpkins!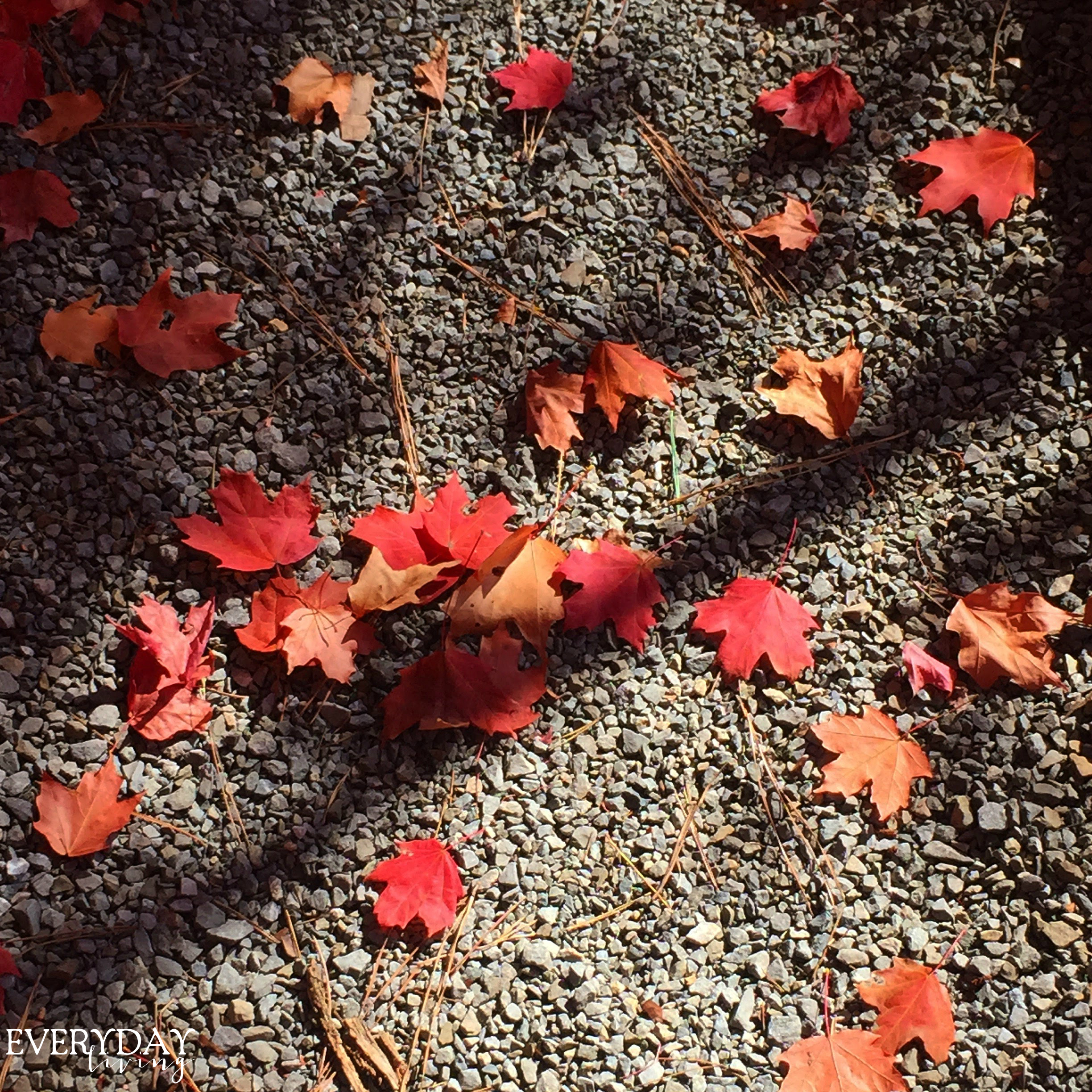 "Autumn is a second spring when every leaf is a flower"
Albert Camus

Linking with Pieced Pastimes, Silver Pennies, Life on Lakeshore Drive, Thoughts From Alice, Mod Vintage Life, Coastal Charm, My Uncommon Slice of Suburbia, The Dedicated House, Dwellings-Heart of Your Home, Savvy Southern Style, Ivy and Elephants, French Country Cottage, From My Front Porch To Yours, Stone Gable, Confessions of a Plate Addict, Worthing Court, Between Naps on the Porch, Cedar Hill Farmhouse, A Stroll Thru Life, The Style Sisters, The Charm of Home, The Winthrop Chronicles, Cornerstone Confessions, A Delightsome Life, Imparting Grace, Posed Perfection, Katherines Corner, My Romantic Home, Chic On A Shoestring Decorating, Rooted In Thyme, Share Your Cup, TheEnchanting Rose, Alabama Women Bloggers, 21 Rosemary Lane, Northern Nesting, Oh My Heartsie Girl,  Cozy Little House, Rattlebridge Farm, The Turquoise Home, My Flagstaff Home, In The New House, Natasha in Oz, Vintage Refined, Rustic & Refined, Must Love Home, Grammie Time